Where to stay in Bari? It's a question that every visitor has. There are many neighborhoods and each one is unique, so it depends on what you're looking for. The best areas to stay in Bari are Murat, Barri Vecchia, Porto, Bari Palese, San Nicola Stadium.
A byzantine city built over ancient Roman ruins; Bari is the 2nd most important economic centre in mainland southern Italy. While not as famous as some of Italy's other cities, it offers a unique history and culture that you are unlikely to find elsewhere.
Due to the fact that it's a less popularised city, many first-time visitors will be unsure of exactly where they should stay, in order to best achieve the type of vacation they're planning. If that sounds like you, I would highly recommend reading on, as in today's article I will be looking at the best areas to stay in Bari and giving you all the tips and info you require to make a fully informed decision.
Read more about Italy: Where to Stay in Florence Italy
Before we begin, I want to give you some tips and information that will make narrowing down your search considerably easier. These are things that you may or may not have considered which, by highlighting from the start, will give you a much better idea of which location is best suited to you.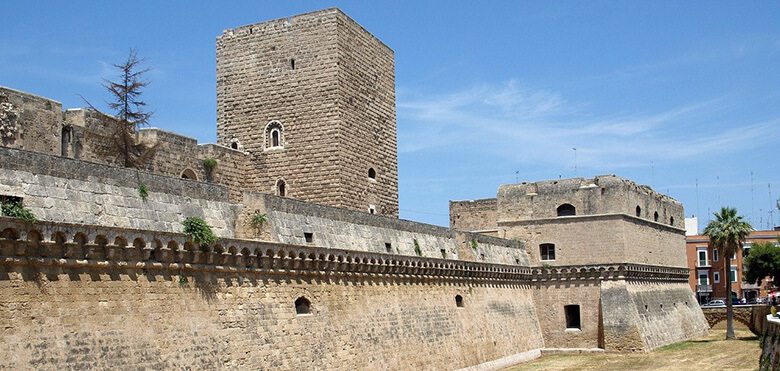 For example, if your main interest during your stay is uncovering come of the cultural and historic wonders of the city, then staying in Barri Vecchia, the old town of the city, will be the destination most likely to give you the trip you desire. On the other hand, if you are simply looking to enjoy a laid back, relaxing vacation, enjoying the local shops, bars and restaurants while soaking up the sun, then Murat, in central Bari, would probably be your best bet.
There are also some more specific things to consider as well. Anyone coming to Bari to see a football match or other major event will likely want to stay as close as possible to where it's being held, San Nicola Stadium. Perhaps you are planning to take a boat trip during your stay or are simply someone who enjoys watching boats bob up and down in the marina, in which case I would strongly suggest considering the harbor, Porto.
Maybe you prioritize staying near the airport while you're away, either to avoid missing your flight home or simply for convenience. If so, staying in Bari Palese would be your most suitable option.
Whatever it is you are looking for, if you make note of it before you begin reading, it will make coming to your decision as quick and easy as possible.
>> FIND BEST HOTELS IN BARI <<
📌Where To Stay In Bari, Italy: 5 Best Areas to Stay in Bari
So, now you know what to look out for while reading, allow me to show you what I believe to be the 5 best areas to stay in Bari. I will explain exactly what each one has to offer, where it is, and who it may be ideal for. This should allow you to easily identify which one best matches what you're personally looking for to complete your dream vacation.
The popular tourist attractions are the Basilica of San Nicola, the Church of San Sabino, Bari Castle, Bari old town, Lungomare Nazario Sauro, Bari Provincial Art Gallery, Via Sparano, Piazza Mercantile, Lido San Francesco, Altamura town, Egnazia, and Teatro Petruzzelli.
Best areas to stay in Bari Map
1. Murat (Central Bari), where to stay in Bari for first time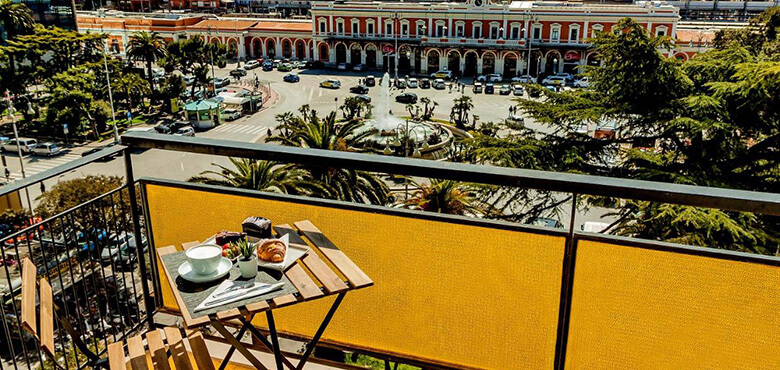 In most cities you find that the center of town is the busiest hub of activity, and that is no different in Bari, where its central area of Murat contains everything your average tourist is looking for.
The city is filled with shops, bars and restaurants, providing visitors with a fabulous collection of both local and international wares, foods and drinks. While often overlooked, it also contains some of the most fabulous beaches in all of Italy, with long stretches of golden sand sprawling along the stunning coastline. Combine both of these together and you have a recipe for an idyllic vacation, all about relaxing and treating yourself.
There's plenty of iconic attractions to keep you entertained as well. Even without venturing into the old town, locations like the iconic opera house or renowned university demonstrate the beautiful architecture of the region. If you time your trip right, you could even catch a show while you're in the city as well.
You have a s eafront promenade – Lungomare Nazario Sauro, Corso Vittorio Emanuele II, Piazza Umberto I, the Università Degli Studi, the Liberty-style Margherita Theater, the Municipal Theater, Prefecture Palace, Fizzarotti Palace; On Via Sparano, you will find the Art Nouveau, the church of San Ferdinando, and Mincuzzi Palace.
Stay in Murat (Central Bari) if you want a relaxing beach vacation; you like a great choice of shops, bars, and restaurants; you hope to see a show at the opera house; you are or are visiting, a student at the university.
Best places to stay in Murat (Central Bari):
TRAVEL STATION is a perfect place to stay, provides accommodation conveniently situated in Bari, within a short distance of Teatro Margherita, Bari Cathedral, and Petruzzelli Theatre. Close to the attractions such as the Orthodox Church of Saint Nicholas, Ferrarese Square, and Mercantile Square. This bed and breakfast offers air conditioning rooms with a flat-screen TV, a private bathroom with a shower and slippers, a fridge, a minibar and toaster are also provided, as well as a kettle and a coffee machine.
B&B Murex is within walking distance from Basilica San Nicola, Bari Cathedral, close to B&B Murex include Teatro Margherita, Castello Svevo and Ferrarese Square. Easy to find and drop things from the car and then easy access to the old town and shopping area. This B&B offers rooms with a flat-screen TV and a private bathroom with a hairdryer, free toiletries, and a bidet.
Palazzo Calò Offering a stunning rooftop terrace with views across Bari, Palazzo Calò offers unique studios with free Wi-Fi and Sky TV. It has an ideal location between the city's shopping and historic districts. Studios have wood-beamed ceilings and exposed brick walls, air conditioning, a 32" LED TV, and a kitchenette.
Fourooms Bari is located close to Pane e Pomodoro Beach, Teatro Margherita and a 13-minute walk from Bari Cathedral, Basilica San Nicola, Petruzzelli Theatre and Ferrarese Square. It is only a short walk away from the historic center and the train station.
Check out my virtual tour about the best places to stay in Bari in this video or continue reading:
See more:
2.💖 Barri Vecchia (Old Town), the capital city of Bari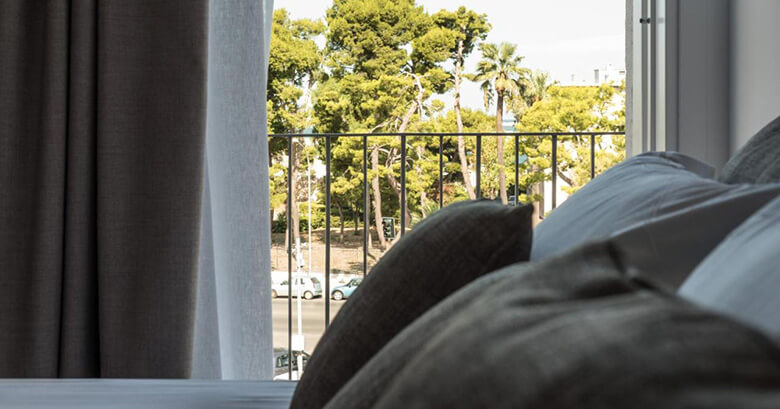 Also known as San Nicola, this is the historic part of the city, located within ancient walls. Featuring a traditional medieval layout, it represents the folkloric portion of the city, where many ancient traditions are still practised.
The remains of the original Roman city are buried deep beneath the modern one, with very little certainty known about what it would actually have looked like at the time. However, Barri Vecchia still dates back to the Byzantine era, meaning even though it is not as old as some parts of Italy, it is still a long-standing, historic location.
As is common in Italian cities, Romanesque buildings are featured in abundance in this area, as are those with religious significance or background. Perhaps the most famous is the 12th-century Basilica Of San Nicola, which is considered a masterpiece of Apulian Romanesque architecture.
The nearby Cathedral Of San Sabino is another stunning attraction, with its incredible crypt and archives still largely intact. Supporting these prominent sites are dozens of smaller churches, all with their own unique beauty and architecture, which you can stroll through to your hearts content.
It isn't just churches that this district has to offer though. Fortifications such as the Norman-Swabian Castle and the Fort Of Sant'Antonio Abate display the rich military history of the area, while an immense collection of Palazzo's display its more regal side as well.
Joined together by a web of piazzas and squares, as well as traditional cafes, shops, and restaurants, Barri Vecchia is the ideal destination for those prioritizing history and culture.
Stay in Barri Vecchia (Old Town) if you are interested in the history and culture of the city; you want to see the historic cathedrals and fortifications.
Best places to stay in Barri Vecchia (Old Town):
Al Pescatore – B&B is in a very nice location in the middle of the old town of Bari. Close to Pane e Pomodoro Beach, Bari Cathedral,Teatro Margherita, Castello Svevo and Ferrarese Square. The hotel offers free WiFi, air conditioning, a restaurant, and a shared lounge.
B&B La Maison Del Borgo Antico offers modern rooms with a roof terrace that looks straight onto the Bari Cathedral & is stunning, very close to Castello Svevo Castle and Bari Harbour, where you can catch ferries to Croatia and Greece. Other attractions nearby including Basilica San Nicola, Mercantile Square, Ferrarese Square, Teatro Margherita, Petruzzelli Theatre, and University of Bari.
Hotel Boston is just 5-minute walk from Bari's historic centre and St Nicholas's Cathedral. It is also close to shopping area of Via Sparano, Bari Centrale Train Station and the beautiful promenade just 3 minute walk away. Beaches nearby are Pane e Pomodoro Beach and Lido San Francesco Beach.
3. Porto (The Harbour), a port serving Bari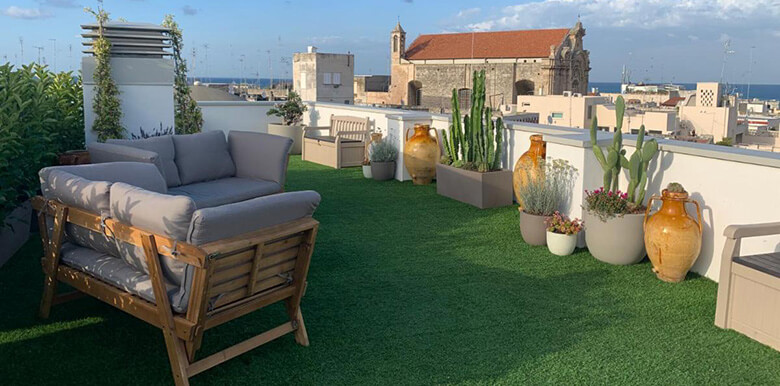 Porto Bari is located to the west of our previous two destinations and centers around a stunning harbour and marina, surrounded by a number of pleasant bars, shops, and restaurants.
Serving more than 2 million passengers a year, the harbor is considered to be Italy's gateway to the Balkans, with regular ships taking passengers across the ocean on a daily basis. If you plan to take a cruise while you're in Bari or are stopping here while already on one, this is an ideal place to stay.
Meanwhile, its beautiful marina is full of stunning boats, both non-commercial, as well as some providing private tours and trips. This makes it an equally fabulous choice for those either hoping to hire one or who simply enjoy watching the boats bob up and down in the water with a drink or a meal.
Stay in Porto if you are planning to take a cruise or hire a boat; you are making a stop off while already on a cruise; you enjoy watching the boats in the marina.
Best places to stay in Porto (The Harbour):
B&B Dei Cardinale offering a terrace and a shared lounge, that is complemented with a bar, B&B Dei Cardinale is set in Bari, 600 m from Basilica of Saint Nicholas. Free WiFi is available in the bed and breakfast, located 2.4 km from Petruzzelli Theatre. It also close to Fiera del Levante and just 700m to Bari habour.
Cattedralflats is very well located in the old town, everything is within a 10 minute walk. The rooftop terrace is absolutely stunning!
4. Bari Palese – Airport Area, where to stay near airport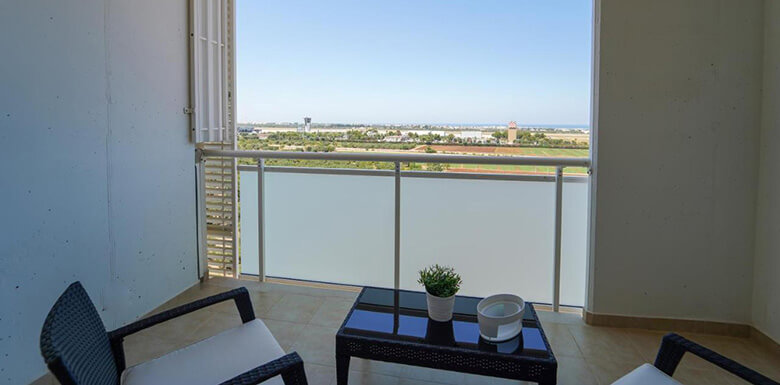 As far as destinations go, our next option is going to appeal to an extremely specific type of traveler. Located in the far west of the city, it is largely detached from the rest of Bari, with its only real claim to fame is it is the location of the city's international airport. This makes its an ideal place to stay for those on a layover, people who are worried about missing their flight home, or anyone who simply wants to avoid dragging their luggage all over town.
While sightseeing options here are limited and you will need to be willing to travel the 12km into town to see any of the iconic landmarks, that doesn't mean there's nothing for you to do or see during your stay. A collection of pleasant local shops, bars and restaurants are scattered around the area, focused less on tourists than the city centre, providing a slightly more authentic feel.
There are also some lidos throughout the area as well, giving you the opportunity to enjoy the ocean and the stunning coastal views, without the crowds you will likely find at the city's famous beaches.
Stay in Bari Palese – Airport Area if you are on a layover or just want to stay near the airport; you want a quieter destination with a slightly more local feel.
Best Hotels in Bari Palese – Airport Area:
Coco'S Rooms is a great choice for those who want/need to stay near the airport. Coco'S Rooms offers accommodation with free WiFi, air conditioning and feature a flat-screen TV and a private bathroom with shower and a hairdryer.
Wojtyla Airport Bari is a sensible place to stay if you have to catch an early plane. Consider getting to or from the airport via the Bari Europa railway station, only a short walk from the accommodation. The local restaurant is also very good.
Airport bari – palese 1 The location is truly convenient should you have either early or late flight from Bari Airport and you need an accommodation close by.
5. San Nicola Stadium, a residential area in Bari
San Nicola Stadium is a multi-use, all seater stadium on the outskirts of the city, capable of hosting events in front of live audiences of over 58,000 people. Designed by Renzo Piano, it has been crafted in the style of a flower, broken up into 26 individual sections that look like petals.
Despite being a multi-use stadium, it is primarily used to host professional football matches, having been originally constructed to host matches at the 1990 World Cup and being the current home of S.S.C Bari.
The area surrounding the stadium is largely residential, providing a generally quieter experience than many other locations in the city, although that obviously won't be the case on event days. Shops, bars and restaurants are generally catered more to locals than the traditional tourist crowds, who tend to prefer areas in the heart of the city or by the beach.
If you are coming to the city to attend an event at the stadium, staying in the surrounding area will not only provide you with convenience on the day of the event but it will also allow you to get a much more authentic feel of the city, staying and dining with locals.
Stay in San Nicola Stadium if you are attending an event at, or want to see, the stadium; you prefer to stay in a more residential area; you want to stay in a location with a more authentic feel.
Best Hotels in San Nicola Stadium:
Mercure Villa Romanazzi Carducci Bari Featuring a free wellness centre and a large garden with outdoor pool, Villa Romanazzi Carducci offers air-conditioned rooms 10 minutes' walk from Bari Centrale Station. The Bari Quintino Sella Station with links to Bari Airport is 5 minutes away on foot.
The Nicolaus Hotel offers stylish rooms, free Wi-Fi, and a fully equipped wellness area with indoor pool, gym, sauna, Turkish bath and hot tub. It is in Poggiofranco, a residential area of Bari. This 4-star hotel has 2 restaurants: The Roof, on the 14th floor with roof garden, serves high-class cuisine and caters for private functions and banquets. The Seasons restaurant specialises in a mix of Italian and Puglia specialities.
FAQs on Where to Stay in Bari, Italy
Well, there you have it, the 5 best areas to stay in Bari. While most of you will now probably be much more assured of where you want to stay during your trip, I know there will still be a few of you out there that remain a little unsure.
With that in mind, allow me to answer a few of the most frequently asked questions people have about Bari, to try and make sure each and every one of you can find a destination that's absolutely perfect for your own personal requirements.
Is Bari, Italy Worth Visiting?
Determining if a place is worth visiting or not depends largely on what you are hoping to get out of it. If you are looking to explore endless Roman ruins, spend days lazing on activity filled beaches or enjoy high end shopping and dining promenades, then you will be much better suited travelling to another part of Italy.
However, if you are looking to uncover its unique culture, explore an Italian city without such huge mobs of tourists or relax in a quaint and beautiful city and on stunning beaches, then yes, Bari is definitely a destination you should consider.
Where To Stay In Bari Near The Airport?
Perhaps unsurprisingly, given that it is known as the airport area, I am going to suggest Bari Palese as the best area to stay for anyone who prioritises remaining near the airport. Not only is it just a short distance away but it also lies right on a stretch of beautiful coastline, providing a perfect combination of relaxation and convenience.
That makes it ideal for anyone who is worried about missing their flight or doesn't want to drag their luggage all over town, while at the same time providing you a beautiful location.
As for which hotel to choose, I would highly recommend the Parco Dei Principi Hotel Congress & Spa. A beautiful 4-star hotel, it features stylish, soundproofed, eco-friendly rooms, all with an LCD TV and mini bar.
A range of amenities that includes an indoor pool, a fully equipped gym, a hydromassage centre, hot tub, Turkish bath, sauna and spa will ensure you're entertained throughout your stay. Meanwhile, a choice of 2 restaurants that open for lunch and dinner, a bar and a daily breakfast ensure there's always plenty of food and drink available.
Beyond that, a free airport shuttle and facilities for disabled guests ensures it is as convenient as possible for all manner of guests, meaning it offers everything you could want from a hotel.
When Is The Best Time To Visit Bari?
When it comes to choosing the best time of year to visit Bari, I would highly recommend going between June and August. Not only are these the warmest months of the year, but they are also the driest too. That means you can almost guarantee a beautiful trip soaking up the sun, without ever having to worry about the weather becoming an issue.
While many people look to avoid this time of year, due to temperatures raising too high or crowds getting too big, neither of those are issues that you face in Bari.
Firstly, while the temperature certainly gets nice and hot during the height of summer, it never reaches a level where it gets too overpowering, to the point that you don't feel like doing anything.
As for the crowds, while it certainly gets busier during the summer months than at other times of year, it isn't a destination that's known as an overly touristic city, meaning you aren't likely to encounter the same sort of crowds as you might elsewhere.
How Long To Stay In Bari?
While Bari has plenty to offer visitors in the way of culture and attractions, it's a city that is reasonably small in comparison to some of the more famous destinations of a similar nature.
With that in mind, I would suggest a long weekend, around 4 days or so, is an ideal length of time to put aside for your trip. This should give you a chance to explore the different sides of the city; take in the history, enjoy the beach, embrace the culture, and attend an event. Even those with the fullest itineraries will likely be able to get everything ticked off and still be able to do it all at a relaxing pace.
While you certainly could stretch it out over a longer period, something which plenty of people will indeed enjoy doing, my recommendation of 4 days is for the average tourist. That's because the last thing you want is to feel like you're starting to drag it out, to the point that you find you're struggling for things to keep you occupied.
Likewise, some may think trying to cram it all into an even smaller timeframe is the way to go as well. While, again, it's certainly possible, you're likely to run the risk of being so rushed to fit everything in that you don't have time to actually take in what you are seeing, and the trip could end up feeling more like a chore than something that you truly enjoy.
See More:
Bari is a beautiful city with a unique history and appeal. While not for everyone, it's a place that many people love and one that has a number of different sides to explore. Hopefully after reading this article, you should have determined which side of it you are most interested in and where to stay in order to take full advantage of that.
With that in mind, all that's left for you to do is go and start getting everything booked, so you can go and explore its wonders for yourself.