The best areas to stay in Lake Como for first-timers are the towns of Como, Bellagio, Varenna, Menaggio, Cernobbio, and Tremezzo. These towns are the most beautiful places in Lake Como and offers wide variety of tourist attractions and amenities. 
In this guide, I will help you to decide where to stay in Lake Como without a car, for families, couples, on budget, as well as best things to do in each town.
Located in in northern Italy's Lombardy region, Lake Como is the third-largest lake in Italy after Lake Garda and Lake Maggiore, there are tons of settlements and resorts scattered around the area. You will have your pick of charming villages and vibrant towns, packed with history and culture.
Como City is the best place to stay in Lake Como for first time touist because it's the all year around destnation with plenty of nightlife, shopping, dining, and lodging. It can easily reach from two of its trains station: Trenord Como Lago and Trenitalia Como San Giovanni. Como is also best town for family holiday because it has all the modern conveniences you will need to keep kids of all ages entertained and content.
If you'd rather a smaller town. Bellagio in the centre and Menaggio in the west side are both great options too, with tons of fabulous bars and restaurants. Lake Como is a popular location for romantic breaks. The whole area is honeymoon and couples ready but Bellagio and Varenna particularly stand out.
Varenna is the best area to stay in Lake Como without a car because you can easily travel to Milan and Bergamo in an hour with Varenna-Esino train station. There is also regular ferry services that take you to Bellagio, Menaggio and Cadenabbia in fifteen minutes. Between the buses, trains, and ferries, you will have no trouble hopping between the various little villages around the region.
🎬 To get an overall idea of where to stay in Lake Como, check out this short video:
Where to stay in Lake Como: 16 Best Towns and Areas
1. Como, where to stay in Lake Como for first-timers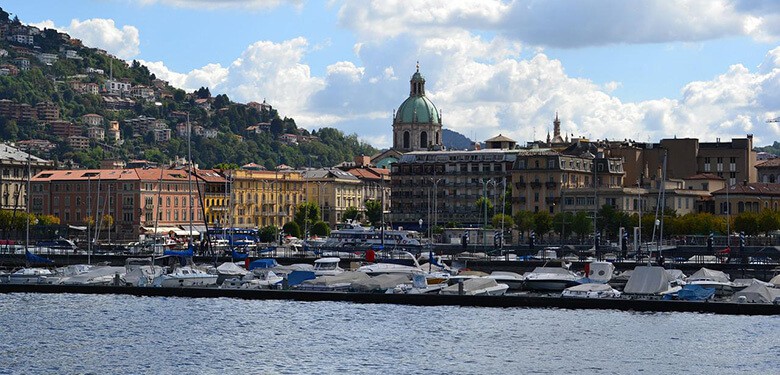 Located on the Italian-Swiss border, at the southern end of the lake, Como is the largest town in the area and a getaway to other towns around the lake. It's a great base for first-time tourists. There are also tons of sights to see in and around the town. If you plan to stay in just one area but still want plenty to keep you busy, Como is certainly one of the best options.
With all the conveniences you would expect from a small city, Como is the best option for anyone traveling with children, particularly younger ones. There are plenty of restaurants to choose from, so you will always be able to satisfy your fussy eaters. Plus, there are tons to keep the whole family entertained, no matter the time of day.
As the only town on the west leg of the lake with a train station, Como is the best option for anyone planning to travel around the region without a car. The train lines of Como S. Giovanni and Como Nord Lago connect to various towns and cities, including Milan; perfect for a day trip.
The busy harbor also provides a gateway to locations across the lake. Just hop on one of the many ferries and enjoy a relaxing cruise to various stunning destinations. Alternatively, take the Brunate funicular railway up to nearby Brunate. Aside from granting you some stunning hilltop views across the lake, Brunate is a convenient stepping-off point for various hiking trails through the surrounding mountains.
The Old Town center is where you will find some exceptional historic buildings to admire. The area has a delightfully charming atmosphere, compounded by the cozy cafes and little boutiques that dot the streets, housed within pretty, ancient buildings.
Parts of the old city wall still remain. The Torre Gattoni and Porta Torre are two of the best-preserved pieces, dating back to the 12th century. A weekly market is set up in the street in front of them, so you can browse local produce and crafts whilst appreciating the area's history.
The centerpiece of Como is the beautiful Cathedral of Como (Duomo di Como) with its Romanesque Bell towel. Dating back to the 14th century, but not completed until nearly four hundred years later, the cathedral is a striking blend of many Romanesque, Renaissance, and Baroque architectural styles.
Of course, no Italian city would be content with just one impressive church. The grand, 12th-century Basilica di San Fedele is just a hundred meters from the cathedral. San Provino Church is even older. Though only the façade still remains, it's literally just around the corner from the cathedral, so certainly worth walking by.
Meanwhile, the impressive Basilica di Sant'Abbondio, dating back to the 11th century, is a little further towards the western edge of town. Its twin bell towers and beautiful frescoes surrounding the altar are well worth the extra walk.
As you would expect from the main city in the area, there are also plenty of curious museums for you to explore. Ideal if you want to retreat into the refreshing chill of air-conditioning on a hot Italian day. The Museo Archeologico Giovio and the Museo Storico Giuseppe Garibaldi both cover various aspects of the local area's history and heritage.
The Tempio Voltiano museum is a little more niche. Located right by the lakeside, the museum is devoted to the inventor of the electric battery, Alessandro Volta. It's set at the edge of a park, in between two impressive war memorials, so just the walk to the museum is a trip worth making.
Being a larger town, with a bigger resident population, this is one of the best places to stay if you are visiting Lake Como outside of the peak tourist season. You won't have to worry about the entertainment and amenities shutting down for lack of tourists when there are plenty of locals to cater to throughout the year.
As the largest town in the area, it also has the widest variety of accommodation. You can pick from stunning luxury hotels, boutique apartments, or affordable guesthouses, hostels. Como has something for every budget.
Stay In Como If this is your first visit to Lake Como; you want good public transportation; you want a thrilling nightlife scene, great shopping, and dining; You are traveling with family and young children; You'd like to take a day trip to Milan;
Best places to stay in Como Town:
luxury ($$$): Vista Palazzo – Small Luxury Hotels of the World This 5 star hotel is located Como, close to the bus and train stations, and the Ferry Terminal, as well as the famous Cable Car Como-Brunate. It has spacious guest rooms with air conditioning, flat-screen TV. There is also family rooms, private car parking, as well as continental and American breakfast.
mid-range ($$): Hilton Lake Como This 4-star hotel is located within walking distance from Como town, and Villa Olmo. It offers a rooftop infinity pool, the Terrazza 241 rooftop restaurant and bar, the Satin restaurant and the Taffeta lobby bar. Guest can enjot relax in Eforea spa & health club with an indoor pool, a Finnish sauna, hot tub and Turkish bath.
budget ($): Albergo Firenze Situated in the real heart of Como, offers guest rooms with air conditioning, a TV, a minibar, and buffet breakfast. The hotel overlooks Piazza Volta in the historic centre of Como. It is within walking distance from shores of the lake and the Como Nord Lago Train Station.
FIND BEST HOTELS IN COMO
See more: Where to Stay in Milan; Where to Stay in Rome
2. Menaggio, central location, good base for sightseeing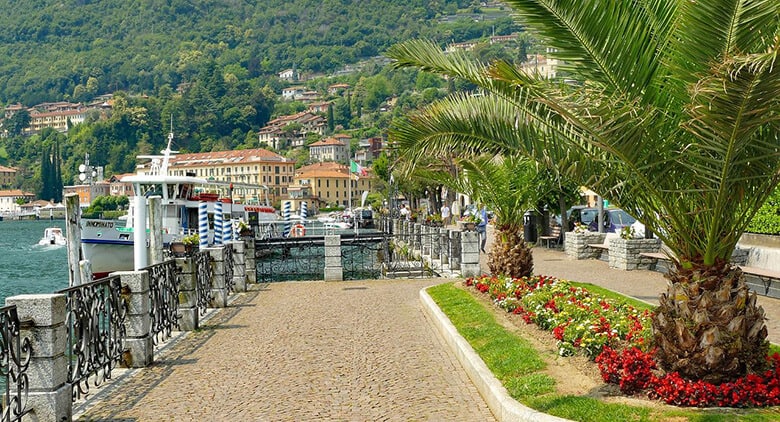 Located on the western shore of Lake Como in the central of the lake, laid-back Menaggio is one of the best choices for anyone looking for sightseeing and a relaxing vacation spent chilling out in a beautiful location.
You can explore its lakeside promenade, a main square, and a historic centre. With stunning swimming spots, welcoming lakeside cafes and bars, and gorgeous surroundings, Menaggio is a town where you can just relax, kick back and unwind.
The pedestrian-only center is flatter than you will find in most areas around Lake Como, so it is easier for people with mobility issues to navigate. You will get all the stunning views without the struggle of steep stairways and harsh inclines.
There is tons of history here to explore, not to mention modern hospitality and entertainment. Remains of the ancient city wall are still scattered around the town center, so keep your eyes peeled when walking around. The 17th-century Chiesa di San Stefano is worth a visit for its beautiful frescoes and intricate moldings.
Coming back to that point about relaxing, head to Spiaggia Lerai. Mostly pebbly, there are some patches of soft sand for you to stretch out on and sunbathe, before heading for a dip in the lake.
If you prefer something a little more contained, Lido di Menaggio is a lovely pool right by the lakeside. There are plenty of sun loungers to lay back on and appreciate the stunning views in peak comfort.
If you get tired of splashing about, you might want to spend some time exploring the natural landscape instead. Menaggio is surrounded by mountains, full of hiking trails leading past old ruins to stunning viewpoints.
Piazza Garibaldi is a hub of nightlife, surrounded by bars and restaurants overlooking the lake. If you want a colorful but laid-back nightlife scene, then Menaggio is perfect for you.
Menaggio is well connected to public transport, making it the perfect location for anyone who wants to explore other towns but won't have a car. Bus routes connect you to nearby villages whilst the ferry terminal lets you easily visit towns all around the lake.
If you do have a car, however, then you also have the option of popping across the border to Switzerland. You will be just a few miles from the Swiss town of Lugano, directly connected by route SS340, so you won't have to worry about getting lost.
One of the more affordable choices but no less classy, Menaggio is perfect for anyone looking for a slice of reasonably priced luxury. There are a few higher-end hotels, but also plenty of cozy bed and breakfasts and low-cost but high-quality hotels.
Stay In Menaggio you want to do sightseeing; You want to be able to explore various villages and towns around Lake Como but won't have a car; You would be interested in a day trip into nearby Switzerland
Best places to stay in Lake Como in Menaggio:
luxury ($$$): Grand Hotel Victoria concept & spa, by R Collection Hotels Located in Menaggio, this 5-star hotel offer breathtaking view of the lake. It has gardens, a large swimming pool and free WiFi. Some rooms have a private balcony. You can enjoy a meal at a terrace in its on-site à la carte restaurant.
mid-range ($$): Grand Hotel Menaggio Located next to the ferry terminal for boat trips across the lake, this 4-star hotel provides a heated swimming pool, spacious rooms, free car parking, free wifi, and daily buffet breakfast. The 2 hotel restaurants, Sala Clio and La Veranda, both with views of the garden and lake.
budget ($): Hotel Garni Corona Located only 30 m from Lake Como, this 3-star hotel offers easy access to public transport, restaurants, and shops. It has a continental breakfast buffet. Guest rooms are with air-conditioned, a satellite TV, safe, work desk and minibar, and the private bathroom.
FIND BEST HOTELS IN MENAGGIO
3. Bellagio, where to stay in Lake Como in luxury town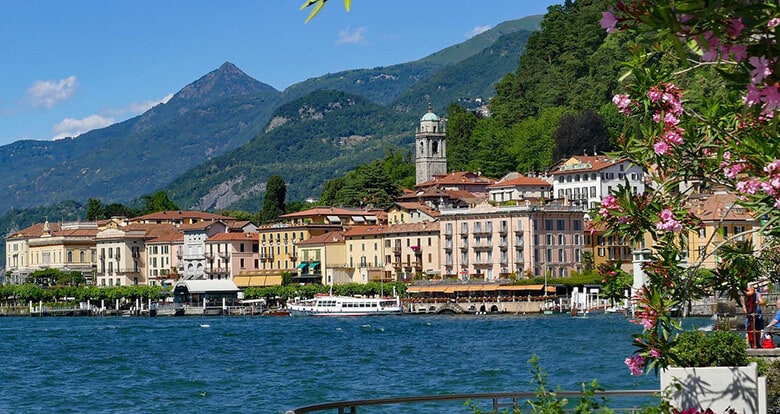 Belaggio is located on the north shore of Lake Como. Believed by many to be the most famous town in Lake Como, Belaggio is often referred to as the Pearl of Lake Como. One of the more upscale towns in the region, Belaggio is a particularly classy destination known for its stunning villas overlooking the water.
The cobbled streets, historic buildings, and scenic locations lend Bellagio a particularly romantic atmosphere. If you are planning a romantic getaway or honeymoon, Bellagio is easily one of the top choices around Lake Como. Bellagio is better than Como Town if you want to stay a small quaint village, less nightlife scene but nice restaurants and winebars.
Located right at the center of the Y-shaped lake, Bellagio boasts almost panoramic water views. Those views are even better due to the town being located at the top of a hill, allowing you to appreciate the landscape for miles around.
You don't just have to admire the view of the lake from here either. The local ferry terminal connects you to several routes and locations across the lake. If you get tired of the local entertainment, you can easily head out to explore other areas.
It is no surprise that Bellagio is one of the most popular and well-known towns around Lake Como. It has plenty to offer visitors, from first-class hospitality and entertainment to beautiful sights. The shopping situation is nothing to sniff at either.
The Villa Melzi is one of the top sights to visit in Bellagio. The villa is a national monument, built-in 1808, and a beautiful example of the period architecture found throughout Bellagio. As pretty as the villa is, its grounds are the real star. Its leafy, lakeside gardens are the perfect place to take a walk past historic monuments and exotic plants.
The 15th century Villa Serbelloni is another beautiful location to visit. Currently a high-end hotel, only guests are permitted to explore the villa itself, but the fifty acres of gardens around it are open for visiting by the public.
If you want relax on the beach, head to Lido de Bellagio which is located rightnext to the Melzi Gardens. The old fishing village of Pescallo is also a great place to relax!
Bellagio's main church is the Basilica of St. Giacomo. Built in the 11th century, it is one of the most historic buildings in the town. Perched at the top of the hill, you can see the basilica's bell tower throughout the town so you will have no trouble finding it.
If you walk along Via Giuseppe Garibaldi in the old town center, you will get to Punta Spartivento. There are tons of chic bars and fashionable restaurants, at varying levels of exclusivity. Most of them come with stunning lake views to enjoy while you party. In the evenings, Bellagio becomes one of the best places around Lake Como for nightlife.
As popular and luxurious as Bellagio is, it comes as no surprise that it is pretty expensive too. There are plenty of lovely hotels to choose from here, but they mostly fall into higher price brackets. Bellagio is best for luxury vacations, not so great for budget travelers.
Stay In Bellagio you want a romantic holiday; If You are planning a luxury vacation with a generous budget; You like to stay in places that feel exclusive; A vibrant nightlife scene is a priority;
Best places to stay in Bellagio:
luxury ($$$): Grand Hotel Villa Serbelloni This luxury 5-star hotel offers views of Lake Como and the Alps. It has 2 gardens, indoor and outdoor swimming pool. It provides spacious rooms with elegant decor. You can enjoy the meal in the Mistral Restaurant which was awarded with a Michelin star in 2005.
mid-range ($$): Hotel Belvedere Located just a stone's throw away from Bellagio center, the marina, Villa Melzi and Villa Serbelloni, this hotel offers panoramic views of Lake Como. The private garden has a swimming pool with a hot tub. The panoramic restaurant has a beautiful terrace with a superb view of the lake and mountains.
budget ($): Borgo Le Terrazze Located on the hill of Vergonese, a small village of Bellagio, you can enjoy fanstastic lake views from private balcony or garden. The suites and studios are equipped with modern amenities.
FIND BEST HOTELS IN BELLAGIO
4. Varenna, where to stay in Lake Como without a car

Located on the northeastern shore of Lake Como, Varenna is better than Como Town if you are looking for a super laid-back vacation in a quiet, tranquil little town, and experience daily life like the locals.
Varenna has direct train to Milan Central Station which is just an hour train ride from Milan and 15 minutes away by ferry from busy town of Bellagio. It is one of the great base to travel to Lake Como without a car.
Once a bustling fishing village, Varenna maintains the vibe of an authentically local Italian town. Without the trappings of your typical tourist resorts, Varenna is full of cozy bars and cafes, where you can mingle with the locals.
There's more to Varenna than just its small-town vibe though. It is known to be particularly pretty, even compared to the other villages around Lake Como. Its defining feature is the brightly colored houses that line the lakefront, making it especially lovely to view from the water.
The beautiful lake promenade Passeggiata Degli Innamorati, also know as Lover's Walk is a romantic place with charming views of the lake and moutain. It will take you to the town centre and the Riva Grande.
With its vibrant, traditional architecture, cobbled streets, and particularly stunning views, Varenna is one of the most romantic towns in the area. It makes a popular destination for honeymooners and couples who appreciate the town's beauty and intimacy.
Amongst historic buildings and winding streets, there are various interesting sights to discover. The 14th century Church of San Giorgio houses some beautiful, gold idols. Meanwhile, the nearby 11th century Church of San Giovanni Battista boasts impressive 16th-century frescoes.
Villa Monastero is the top spot that you have to visit if you are in Varenna. The lakeside monastery was built in the 16th century and has served as a focal point of the town ever since. The monastery is home to sprawling botanical gardens that house numerous exotic plant species. Part of Villa Monastero has also been converted into a museum, exhibiting the history of the local area.
If museums are what you are after, there is also the Civic Museum of Ornithology and Natural Sciences. Perfect for bird lovers, but it has plenty to offer fans of general science too.
If you are up for a bit more of a walk, you can head up to the 11th century Castello di Vezio. You can spot the castle towers peeking out of the trees at the top of the hill overlooking Varenna. Aside from being an impressive medieval relic, the castle hosts a variety of both permanent and temporary art exhibitions.
The beaches in the area are mostly all pebbly, so not ideal for laying down and relaxing on. If you do want to do some sunbathing, head to Fiumelatte or the Lido di Varenna-Perledo. It has plenty of comfortable sunbeds for you to lay back and soak up the Italian sun.
One thing to consider is that Varenna is spread across various levels in the hills. Like many of the towns in the region, there are lots of stairs and steep roads, so it is not ideal for those with mobility issues.
Stay In Varenna If you don't plan to travel with a car; you want to stay somewhere with an authentic, local atmosphere; you are looking for the most romantic towns for couples; you don't have mobility issues that would give you trouble navigating stairs and slopes
Best places to stay in Lake Como in Varenna:
luxury ($$$): Hotel Villa Cipressi, by R Collection Hotels This hotel is located in the best rated area in Varenna, right on the shores of Lake Como. It has a gourmet restaurant, spacious en suite rooms, and buffet breakfast. it is only one hour drive by car from Como and Bergamo Orio al Serio Airport.
mid-range ($): Hotel Olivedo Located just a stone's throw from the beach, Varenna's pier, and Varenna-Esino Train Station. Enjoy traditional dishes of Lombardy region at its lake-view restaurant. You can choose the room that have lake views, conditioning, a flat-screen TV, and free wifi.
budget ($): Bed & Breakfast il Bolentino Varenna This B&B is just within easy walking distance from the train station, ferry dock, and the Vezio Castle. Each room has a private bathroom, a TV, wardrobe and electric kettle. Beautiful location for couples.
FIND BEST HOTELS IN VARENNA
5. Lecco, second city on Lake Como, budget friendly accommodation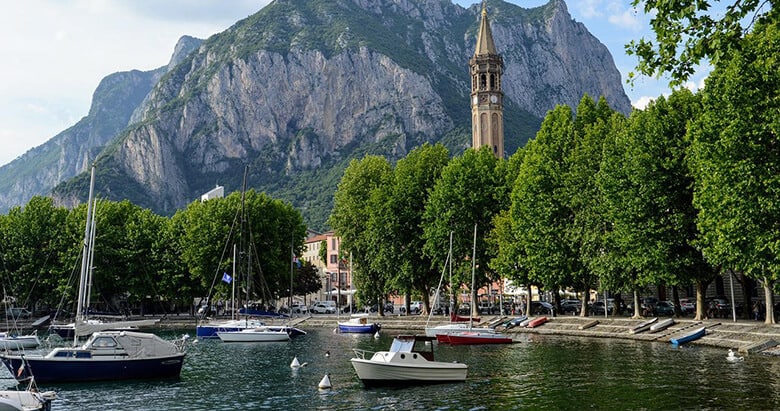 The town of Lecco, at the southern end of the eastern leg of Lake Como, is one of the largest cities in the area. If you like lively, bustling, urban spaces with a lake town twist, Lecco is for you.
With plenty of hotels to go around, Lecco is an affordable location with a high-end atmosphere. It is perfect for budget travelers who don't want to compromise price for the quality. You can find tons of great accommodation options, from boutique hotels to chic apartments at very competitive prices.
There's plenty within the city to keep you entertained for the duration of your stay, no matter how long that might be. Lecco is also just across the historic Visconti Bridge from the neighboring towns of Malgrate and Valmadrera, so you will have even more to explore if you manage to exhaust Lecco.
You will also have access to other destinations around the lake, thanks to the great transport links within Lecco. You will be able to take advantage of buses, trains, and ferries, to explore further afield.
You will have countless excellent cafes, restaurants, and bars to choose from. The city is particularly famous for its Sicilian style ice-cream, so make sure to stop by a dessert parlour.
Take a stroll around the medieval town center, stopping in Piazza Roma, little boutiques, and local stores. Then head down to the lakefront promenade for a walk by the water. There are various monuments to keep an eye out for along the path suc as belltower, Piazza XX Settembre, and Piazza Zermenati.
One of the main attractions of the town is the Church of Saint Nicolò. First established in the 11th-century, it has undergone various alterations and restorations throughout its history. Its most iconic feature is its 96-meter tall, octagonal bell tower, which has become one of the principal symbols of the city.
Of course, there are also museums to browse, markets to wander, and parks to relax in. There are various beautiful villas including the Villa Manzoni on Via Amendola, and the ancient city wall to explore.
Stay In Lecco If you are working with a smaller budget; you prefer cities over small towns; you want plenty of choice for restaurants, shops, and entertainment; you want to be able to easily travel to other destinations around the lake;
Best places to stay in Lake Como in Lecco:
mid-range ($$): NH Lecco Pontevecchio This 4-star hotel is located within easy walk from Lecco's historic centre and the train station. It is a beautiful locaiton for couples, hiking, cycling and skiing tours. There is buffet breakfast, private car parking, free wifi, and an on-site restaurant.
budget ($): Agriturismo Deviscio This is a farm stay accommodation located in Lecco. Each unit has a private bathroom with bidet, a hairdryer, and free toiletries. It is around 40km from Bergamo and Orio Al Serio International Airport.
FIND BEST HOTELS IN LECCO
6. Tremezzina, where to stay in Lake Como for families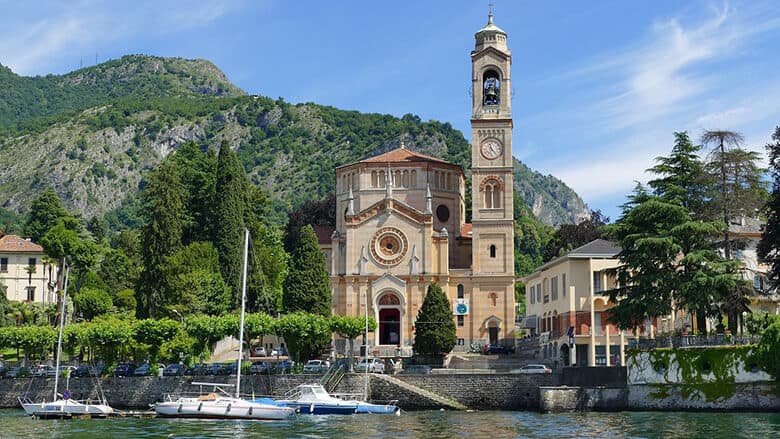 Tremezzina region, also known as Borgo dei Giardini, is located in the western shore of Lake Como, facing Bellagio and Isola Comacin,. It has several little villages and towns located along the lakefront here such as Lenno, Mezzegra, Ossuccio, and Tremezzo, but the most notable of which is Tremezzo.
One place you should definitely visit when you are in the area is Villa Carlotta. The stunning waterside villa boasts fifteen acres of botanical gardens, with over five hundred species of plants from all around the world. The villa itself houses an art gallery, with stunning sculptures and artwork commissioned by Napoleon.
Alternatively, Villa Balbianello on the tip of the Laveno headland is pretty enough that it is a popular filming location for Hollywood blockbusters. Having been used for both Star Wars and James Bond, you should take a look and see if you can recognize it from any movies.
The area is particularly popular with hikers, who like to head out along the many trails winding through the mountains and valleys. The Monte Crocione hiking trail is an especially favored route. The trail heads up to one of the highest mountain peaks in the region, offering stunning, uninterrupted views over the lake and surrounding landscape.
There are several sights on or near the route to keep an eye out for, such as the Madonna Degli Alpini monument. A different route will take you down into the valley, where you can find the Monastero di San Benedetto in Val Perlana. The 11th-century monastery is wonderfully preserved thanks to conservation efforts, making it well worth the journey.
If you are not so interested in spending your whole vacation pounding the trails, perhaps you would rather spend your time relaxing on some of Lake Como's best beaches and lidos? With tons of open space to spread out and stretch your legs, plus plenty of lovely beaches to relax on and play in the water by, the Tremezzina area is ideal for family vacations.
Stay In Tremezzina If you want to stay close to some of the best hiking routes in the region; you are planning a family vacation; you want to spend a good deal of time relaxing on the beach or swimming in the lake;
Best places to stay in Tremezzino:
luxury ($$$): Grand Hotel Tremezzo This five-star hotel islocated within easy walk from Cadenabbia harbour, as well as Villa Carlotta and its botanic garden. With its beautiful lake views, relaxation lounge, and outdoor hot tub, it is a great place for couples and family. Enjoy Italian cuisine and wine bars at its on-site La Terrazza restaurant.
mid-range ($$): Hotel Villa Marie This family-run hotel offers swimming pool with sun loungers and deckchairs, free parking nearby, and buffet style breakfast. You can go to Como by the bus nearby; and there is ferries for Como and Bellagio.
budget ($): Hotel La Perla This family-run hotel is surrounded by olive trees and has an outdoor pool. All roooms have air conditioning, private balcony, and a flat-screen satellite TV.
FIND BEST HOTELS IN TREMEZZINO
7. Lezzeno, authentic Italian town on eastern shore of Lake Como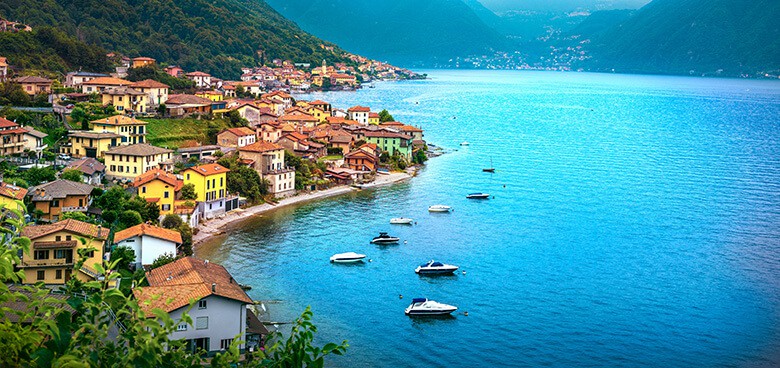 Sitting close to the center of Lake Como, just a couple of miles south of Bellagio, Lezzeno boasts some especially lovely views, particularly of nearby Isola Comacina. The area of Lezzeno is comprised of numerous little towns and villages, the most notable of which is its namesake, Lezzeno.
Still largely undiscovered by the tourist crowds, Lezzeno offers a quieter alternative to the better-known resort towns. If you want to stay somewhere with a more authentically local atmosphere, then this is a fantastic choice.
There are lots of charming local bars and cafes for you to relax in and mingle with the locals. Meanwhile, Lezzeno's family-run restaurants serve up excellent regional cuisine with a home cooked warmth.
Like most Italian towns, there are a fair few pretty churches to explore and admire. A walk through the woods will also take you to various old ruins and even more churches and monasteries. The quiet hillside church, Baroque Santuario di Lezzeno, is one of the must see churches.
Lezzeno is not the best-connected town in the region, lacking a proper ferry terminal. Bus routes do connect it to the neighboring towns though, so you could hop over to Bellagio and take a ferry from there.
Alternatively, you could hire a boat yourself, which would give you even more freedom to explore the lake and its mysteries. There is a boat trip to see the Sassi Grosgalli which is an fascinating cliffs with steep rock walls. The famous natural cave, Grotta dei Bulberi nearby is also worth a visit!
Accommodation in the area is decently affordable. There is a good range to pick from, whether you prefer cozy bed and breakfasts or bright and airy hotels. There are fewer big resort-style hotels here than in the bigger tourist towns, but you still have a few higher-end options to choose from if luxury is what you are after.
Stay In Lezzeno If You want to experience an authentically Italian town, free from droves of tourists; You are looking for a quieter location for a laid back break; A busy sightseeing trip is not what you are after
Best places to stay in Lake Como in Lezzeno:
mid-range ($$): Filario Hotel & Residences Located in Lezzeno, this 4-star has an infinity pool with Lake Como views and luxuriously furnished rooms and apartments. There are also a private car parking, and direct access to private beach, and a watertaxi service.
budget ($): Hotel Villa Aurora This hotel has a lake-view villa, private car parking, free private beach with sun loungers and umbrellas. you can enjoy the the view of Comacina Island, fresh-fish and Italian cuisine at its on-site restaurant.
FIND BEST HOTELS IN LEZZENO
8. Bellano, where to stay in Lake Como for hiking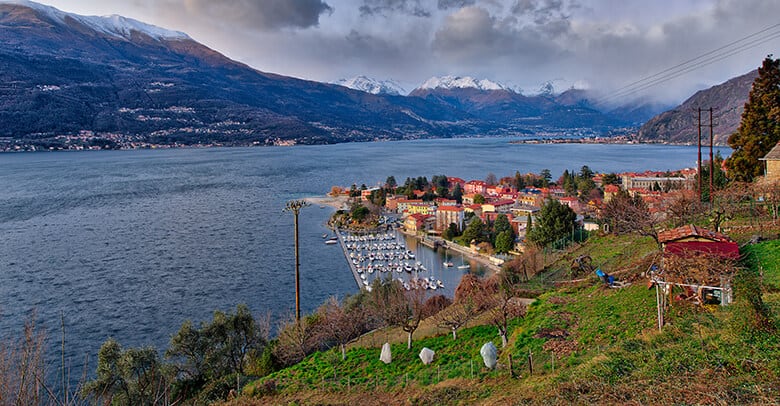 Located just few kilometers from Varenna toward Colico, Bellano is a charming little town, nestled along the eastern shore of Lake Como. Far from your typical tourist resort town, Bellano has a much more chilled, local vibe.
With relatively few big attractions and a little out of the way of the larger cities and towns, Bellano is much more authentic, with fewer of the gimmicky tourist traps of more popular locations.
Instead, you just have little restaurants overlooking the lake from their vantage point in the hills. Lively bars where locals go to relax in the evenings provide the perfect spot for visitors to wind down too.
The town does, of course, host its fair share of pretty churches, the best of which is, in my opinion, the Santuario Madonna delle Lacrime. The simple yet grand white façade belies the intricate frescoes and relics that lie within.
With fewer tourists passing through, the town is quiet for most of the year, except for August, when the annual Opera Festival takes place. The festival involves numerous open-air, lakeside concerts as part of a competition, drawing contestants from all over to vie for prestigious scholarships.
There are lots of historic villages to explore nearby. If you don't have a car, you can take the bus or head out on a hike. Bellano is particularly popular with hikers for the great hiking trails through the surrounding hills.
The whole area boasts incredible landscapes. In fact, the town itself is built over and around the Orrido di Bellano ravine. The gorge runs through the center of Bellano, with a viewing bridge winding across and offering a bird's eye view of the river and dramatic waterfalls.
Stay In Bellano If You want a quiet, relaxing break; You enjoy hiking and getting out into nature
Best places to stay in Bellano:
Villa Marina – Como lake Located in Bellano, this b&b has a private beach area, lake-view terraces, and an on-site car parking. There are plenty of activities nearby such as snorkelling, cycling and canoeing.
Hotel Meridiana Located between the villages of Varenna and Dervio, this mall family-run hotel has a lake-view terrace, a wine cellar, free wifi, and free parking. Each guest rooms has a flat-screen TV, tea/coffee maker, and private bathroom.
FIND BEST HOTELS IN BELLANA
9. Nesso, paradise for those seeking quiet and peaceful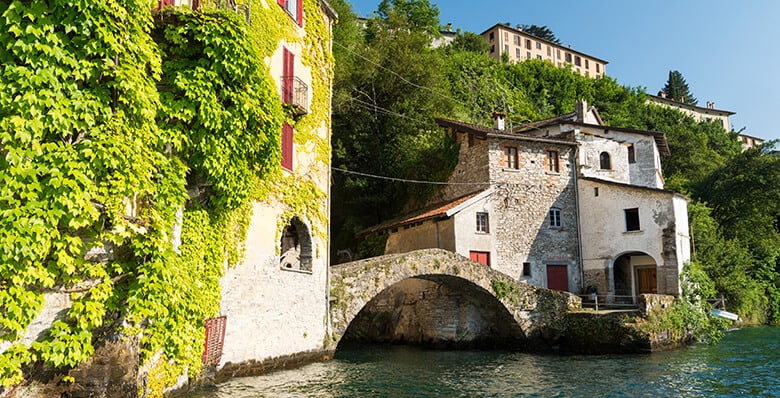 Nesso is a cute little town a few miles south of Lezzeno. Small enough to stay off the radar of most tourists, Nesso is quiet and peaceful, so is perfect for a relaxing break away from any hustle and bustle.
Tucked into the foot of a forested mountain and right up against the edge of the lake, Nesso is as picturesque as you could ask for. The idyllic setting exudes a distinct sense of peace and calm that is unique to the town and especially perfect for romantic getaways.
Nesso maintains its historic atmosphere particularly well. Walking through its charming old town feels like stepping back in time. You will be surrounded by cosy cafes and small restaurants, all housed within pastel-coloured houses along with cobblestone-paved alleys
One of the most historic buildings in Nesso is the Archpriestal Church of Saints Peter and Paul. While the current façade was constructed in the 17th century, the church itself dates back to the 11th century. Various frescoes and murals decorate the interior, added at various points through the centuries.
Similarly to Bellano, Nesso is bisected by a gorge cutting through the southern end of the town. The Orrido di Nesso includes a stunning arrangement of waterfalls. A pretty stone bridge crosses the gorge, providing an excellent vantage point of the river and falls as they feed into Lake Como.
If you want to relax and sunbathing on the beach, head to the nearby Lido di Faggeto – MiamiLaryo. You can enjoy a drink and admire breathtaking views of the lake.
Being that Nesso is quite underappreciated by the general tourist population, there are relatively few big hotels here. However, there is a great selection of charming bed and breakfasts and guesthouses throughout the town.
Stay In Nesso If you want a really quiet town where few tourists go; you want to stay in a picturesque town with a strong historic vibe; you want an idyllic town to base your romantic break;
Best places to stay in Lake Como in Nesso:
budget ($): Balcone dei Limoni Located in Nesso, a short drive from Bellagio and cosmo, this self-catering accommodation offers with free wifi, free bikes, free on-site private car parking. Each apartment has a sofa, a TV, and a well-equipped kitchen.
budget ($): Casa Vacanza Castagna Located in Nesso's historical centre, this holiday home has a private beach area, free bikes. Accommodation come with a flat-screen TV and a kitchenette, as well as private bathroom.
FIND BEST HOTELS IN NESSO
10. Cernobbio, close to Como but quieter, beautiful villas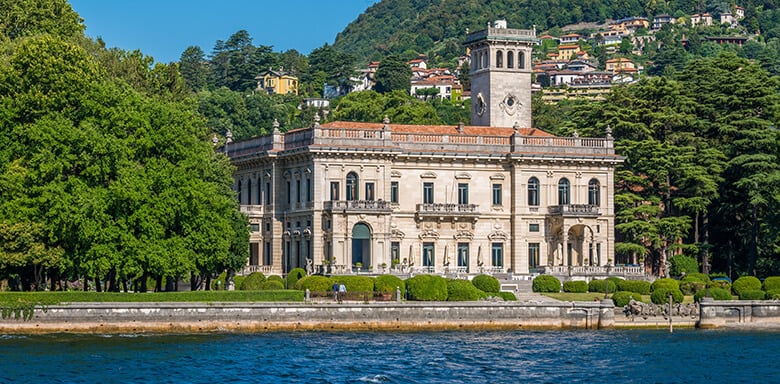 Just 10 minutes by car from big city Como, Cernobbio is a great alternative for anyone who wants easy access to the larger city but would prefer to stay somewhere slightly quieter. Nestled at the base of Monte Bisbino, Cernobbio is a large town west of Lake Como.
It's not just Como you can visit from here. Cernobbio is well connected to other locations via bus and ferry routes, so you can travel all around the lake with ease.
Cernobbio is home to quite a few beautiful villas, many of which have distinguished histories. Villa d'Este, for example, is an exclusive hotel, which has hosted notable people from politicians to movie stars.
Villa Erba is a bit more casual but no less refined. The lakeside villa sits at the center of a manicured park with lovely views across the water. The building itself currently functions as a convention and exhibition center, hosting frequent events and installations.
Just across the road from Villa Erba is Villa Bernasconi. The villa itself is a refreshing break from the norm, with its fanciful art nouveau style. An art museum that displays unique installations, Villa Bernasconi also hosts frequent live music. It is definitely worth checking what events will be taking place here during your stay.
If live performances are what you are looking for, head on down to Riva di Cernobbio. The lovely lakeside promenade hosts frequent live music and events right by the water. It's surrounded by charming cafes and restaurants with views over the lake, so it's worth coming here even when there are no concerts scheduled.
If you want to relax on the beach, head to the Lido di Cernobbio, where you can find Italian foods and drinks at its restaurnt, bars, wifi and gazebos.
Cernobbio is another popular destination for hikers. The town marks the start of the Via dei Monti Lariani hiking route. Part of the Grand Italian Trail, this is one of the most popular routes in the area. There are tons of other hiking trails leading out of the town and into the mountains, so you will have plenty of options.
Stay In Cernobbio If you love appreciating the architecture and design of Italian villas; you love live music, especially open-air performances; you enjoy hiking through the mountain trails;
Best places to stay in Cernobbio:
mid-range ($$): Hotel Asnigo Located in Cernobbio, this 4-star hotel is only a 15-minute drive by car from Como. Guest can enjoy meal at the Terrace Restaurant with a view on the romantic promontory of Cernobbio. There is swimming pool, buffet breakfast, and private car parking.
mid-range ($$): Hotel Centrale This 4-star hotel is located in the centre of Cernobbio. the rooms are soundproofed, and come with an LCD TV, minibar and safe. It is also close to Villa Erba International Congress Centre, the main motorways and the Como San Giovanni and Como Lago Railway Stations.
FIND BEST HOTELS IN CERNOBBIO
11. Cadenabbia, popular spa town on the west shore of Lake Como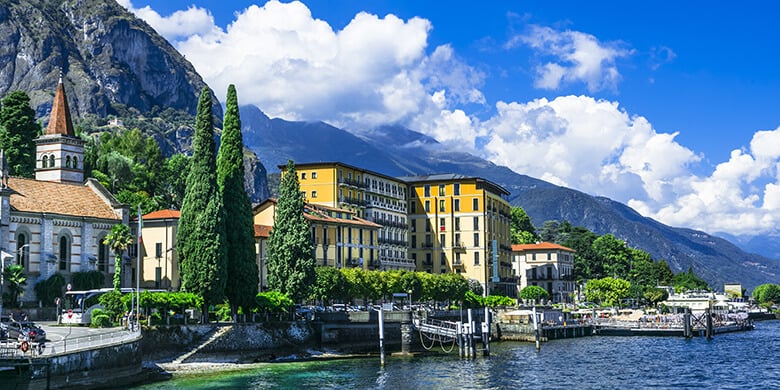 Immediately north of Tremezzo, Cadenabbia is a popular spa town along the west shore of Lake Como. If you need somewhere to relax, unwind, and release some of the stress and tension that builds up in your everyday life, head to Cadenabbia for some rest and rejuvenation.
Cadenabbia is especially lush, with the whole town swathed in trees. This is particularly convenient in the summer, when they provide shade and a reprieve from the heat of the sun when you are wandering the winding streets. For all that it is beautiful, Cadenabbia is a particularly small town with fairly few amenities outside of the hotels and resorts.
Conveniently, Tremezzo is just a short walk along the waterfront. If the few bars and restaurants in Cadenabbia aren't enough, just take a wander over to the larger town to have a bit more of a selection.
The beautiful and expansive botanical gardens of Villa Carlotta are just to the south, between Cadenabbia and Tremezzo. With over five hundred species of exotic plants to admire, along with an art gallery filled with exquisite sculptures, it is certainly worth taking an afternoon to explore the villa.
There are, of course, also some pretty churches around the town. If you feel like a short hike one day, head up through the woods to Cappella Alpini. The adorable little chapel may not have the stature or grandiosity of a proper Italian church, but it is super sweet and the view from up on the hill is worth the trek on its own.
Stay In Cadenabbia If You want a small, laid back town where you can just relax; Having the convenience of a larger town within walking distance is ideal;
Best places to stay in Lake Como in Cadenabbia:
budget ($): Alberghetto della Marianna This 3-star hotel is located in Griante Cadenabbia. it has a restaurant, bar, garden, and a free car parking! Enjoy air-conditioned rooms with a desk, a kettle, a safety deposit box, a flat-screen TV, a terrace and a private bathroom.
budget ($): Hotel Riviera Located close to the ferry and bus stops, this lake-side hotel dates back to the late 19th century. Enjoy beautiful views of Lake Como and Bellagio from its terrace. There is buffet breakfast with Italian coffee and pastries.
FIND BEST HOTELS IN CADENABBIA
12. Moltrasio, small quiet lakeside village with local vibe on western shore
Locate on the western shore of Lake Como, just a mile to the north of Cernobbio, Moltrasio is an elegant town with an air of exclusivity. It is a luxury location that has played host to the various famous faces who flock here to take advantage of the thinner crowds and stunning scenery.
If you stay here, you can enjoy splendid views over the lake, from the comfort of one of the chic bars or fancy restaurants.
Similar to nearby Cernobbio, Moltrasio is the stepping-off point for some excellent hiking trails. The hills surrounding the town are full of natural beauties like waterfalls and viewpoints that make the trails worth following, even for less avid hikers.
Just a couple of miles away from bustling Como, Moltrasio is perfect if you want to be able to head into the busier city for shopping, sightseeing, or nightlife, and then retreat back to a smaller, quieter town.
In the waterfront area, you will find harbour, Piazza San Roco, Cafe Bellini, and hotels. If you follow the via Fratelli Recchi ancient street from here, you will go up hill to the main part of Moltrasio and the church of San Martino. Along the way, you will find interesting old houses, and a waterfall called Cascata del Torrent Pizzallo.
Moltrasio has a wide range of accommodations options. One of the perks of being less overcrowded with tourists, the average bed and breakfast or small hotel here tends to be much more reasonably priced.
Stay In Moltrasio If You want to stay in a quieter town, away from crowds of tourists but still offer easy access to the other towns.
Best places to stay in Moltrasio:
mid-range ($$): Grand Hotel Imperiale Resort & SPA This 4-star hotel is located in Moltrasio, 55km from the Fiera di Milano Exhibition Centre. It has a outdoor pool in summer, free wifi, car parking, and on-site restaurant and a wellness centre. The lassic Italian cuisine can be serve at its lakeside restaurant. There is a public lido and beach area in front of the hotel.
budget ($): Hotel Posta Located in the quiet village of Moltrasi, this 3-star hotel is also close the dock for boat trips around the lake. Guest can try Mediterranean cuisine and wine at its lakeside restaurant.
FIND BEST HOTELS IN MOLTRASIO
13. Malgrate, small quiet town in south east of the lake, facing Lecco
Located in front of Lecco, Malgrate is a enchanting town at south-eastern part of Lake Como. With verdant mountains to the west and the vibrant city of Lecco just across the Adda River to the east, Malgrate offers the perfect balance between city convenience and scenic adventure.
Hotels in Malgrate are about on par with Lecco in terms of price, so don't pick Malgrate if you are just looking for a budget alternative to the larger city. It is, however, quite a bit quieter.
If you want to be able to enjoy all the lively entertainment of the city whilst being able to retreat to a calmer neighborhood when you are done, Malgrate is perfect. You can also easily nip in and out of Lecco to take advantage of its museums' sights and nightlife.
Malgrate and Lecco are connected by several bridges. One of them, the lovely Azzone Visconti bridge, dates back to the 14th-century. The pretty arches of the medieval bridge are one of the defining images of the area, so make sure you cross it at least once.
Surrounded by mountains, Malgrate is a pretty popular destination for hikers and outdoor adventurers. There are tons of walking routes leading out of the town, either into the hills or along the shoreline. Many of the trails are worth the effort just to appreciate the beautiful surroundings and wonderful mountaintop views. However, there are also some interesting sights to keep an eye out for.
Some of the routes are lined with intricately carved sculptures, like the Sentiero Spirito Del Bosco. Along this route, you will come across several wood figures representing local spirits and mythical beings. Alternatively, head down one of the valleys to the west of Malgrate and you will come across the Abbazia di San Pietro al Monte.
You can stroll along the waterfront promenade where you can find sculptures, artwork,and enjoy views across the water to Lecco. There is a local beach, a good range of cafes and bars on the waterfront, as well as colourful houses in the town centre.
The historic abbey is one of the most interesting historical structures in the area, so it is definitely worth heading out to explore. Only about a mile outside of town, it is perfect for less experienced hikers too.
Stay In Malgrate If you want easy access to both the conveniences of a city and the open air of the mountains; you want a quiet town within walking distance of a bustling, vibrant city; you plan to spend much of your trip exploring the hiking trails in the mountains around Lake Como;
Best places to stay in Malgrate:
mid-range($): Hotel Griso Collection This 4-star hotel is located only 15-minute walk from Lecco city centre. There is a lounge bar, a rooftop sun terrace with hot tub and free car parking. Enjoy traditional Italian cuisine at its romantic restaurant, Panorama Griso.
budget ($): Casa Sull'Albero This modern guest house is located in Malgrate, within a short drive by car from Golf Club Lecco and the nearest ski area. It has soundproofed rooms and suites with private bathroom includes free toiletries and a hairdryer. You can relax at its spa, sauna and Turkish bath.
FIND BEST HOTELS IN MALGRATE
14. Colico, popular place for hiking and kitesurfing
Colico is a large town right at the northern tip of Lake Como. Located at the base of the tallest mountain in the region, Monte Legnone, it is focal Alpine pass to Switzerland and Austria and a popular destination for hikers, who head up to take in the incredible views from the peak.
The town itself has plenty to keep you entertained if you don't feel like heading out into the wilderness though. There is a wide enough selection of cafés and restaurants to keep everyone happy, and plenty of bars to enjoy some evening fun.
Forte Montecchio Nord, an old military base from the first world war, has been converted into an open-air museum. Conveniently, it is right next to the ruins of an old medieval fort, so you can make a day of exploring historic military strongholds.
There are a few other museums scattered around the town for you to browse. There's also the lovely Abbazia Cluniacense di Santa Maria di Piona, a 12th-century cloistered monastery, sitting at the tip of a little peninsula to the west of Colico.
The unique geography of the area creates particularly strong winds across this part of Lake Como. As such, it has become a popular destination for various water sports, particularly sailing and windsurfing.
Windsurfers flock to Colico to take advantage of the favorable conditions. If you are an avid windsurfer, you will have a blast here. There are also several windsurfing schools located along the waterfront, for those who want to give it a try for the first time.
Less of a common tourist hotspot, the rates for accommodation are pretty reasonable around here. You will have a good selection to choose from, without having to stretch your budget too hard.
Stay In Colico If you want to climb the tallest mountain around Lake Como; you enjoy kitesurfing or would be interested in giving it a go; you have an interest in military history.
Best places to stay in Lake Como in Colico:
Hotel Risi This 3-star hotel is located on the northern shore of Lake Como, within walking distance to Colico center, bus and train station. You can enjoy lunch and dinner, classic Italian cuisine, and continental breakfast.
Rainbow Holiday Apartments Lake Como this hotel has a seasonal outdoor pool, free private car parking onsite, a spa centre with hot tub and sauna. It's 75km from Orio Al Serio International Airport.
FIND BEST HOTELS IN COLICO
15. Argegno, authentic local small town, less touristy
Located proximity to Como and Tremezzina, Argegno is still a quiet, small local village with Italian life. With fewer frequent travelers to cater to, the town has retained its authentic atmosphere. If you are looking for somewhere to experience real, everyday life in this region, you can't beat Argegno.
The charming historic atmosphere and winding cobbled streets lend Argegno a delightfully romantic flair. If you are planning a romantic break around Lake Como, the narrow lanes and quaint marinas of Argegno make the perfect backdrop.
At the north end of Argegno is a cable car up to the hilltop village of Pigna. Aside from offering particularly spectacular views across Lake Como, Pigna is a popular hiking town. The village provides easy access into the hills above Argegno and the various trails that lead through them.
It is not just hikers who enjoy the landscape around Argegno either. It is also pretty popular with cyclists, due to access to the D'Intelvi Valley. Intelvi Valley is home to some of the best loved mountain biking trails around the lake. There are routes for all levels, so it's a great opportunity to hire a bike and take it for a spin through the hills.
There are some lovely places to stay in Argegno and most are reasonably priced too. Rather than big hotels, you can pick from a selection of cosy guesthouses, bed and breakfasts, chic villas and apartments, and lakeside boutique hotels.
Stay In Argegno If you want to stay in an authentically local small town; you are planning a romantic break; you enjoy spending time in the great outdoors, hiking or biking;
Best places to stay in Argegno:
Villa Belvedere Como Lake Relais This 3-star hotel is an ideal place for couples and families. It has a traditional restaurant with terrace, and free private parking. You can enjoy the meal on the lake-view veranda in summer. Hotel has family rooms and private beach area.
Locanda Sant' Anna This historic inn is in the Valle D'Intelvi, near Argegno. It is 15km from Como city centre and Villa Erba in Cernobbio. The hotel has free private car parking and italian and buffet breakfast.
FIND BEST HOTELS IN ARGEGNO
16. Gravedona – Domaso, laid back town north-western Lake Como
Located close to the northern end of Lake Como, Gravedona, or Gravedona ed Uniti, is also set at the foot of the Liro Valley in front of the Piona peninsular and Mount Legnone in the eastern shore. Domaso is the neighboring town of Gravedona. The twin lakeside towns have evolved from traditional fishing villages into the laid-back, vibrant towns of today.
Fairly removed from most of the popular tourist resorts, Gravedona and Domaso typically skip under the radar of most people visiting Lake Como. That works in the favor of anyone looking to enjoy a quiet vacation, away from crowds and noisy tourists.
Gravedona and Domaso are two towns that have retained their identities as typical residential towns. They are packed with cozy bars, coffee shops, and family restaurants, all catered towards the locals. If you particularly want to be surrounded by the authentic atmosphere and buzz of daily life in Lake Como, Gravedona or Domaso would be fantastic options.
For all that the towns don't draw in too many tourists, there are still some interesting sights to see here. The 12th century Church of Santa Maria del Tiglio is one of the most important Romanesque buildings in the area. The grand church houses numerous relics, along with beautiful frescoes that are well worth popping in to admire.
You can take a stroll along its traffic free lakeside promenade and admire ancient Abbey of Piona and the Monte Legnone on the opposite bank. In the old town center, you can find a number of historical attractions such as Piazza Prà Castello, Alessandro Volta's house, Palazzo Gallio which is the ancient castle.
There are popular water activites such as windsurfing, surfing, snowboarding and paragliding. You can also take a day trip by boat to other town such as Colico, Como, Varenna, Lugano, Menaggio.
There is a good range of accommodation options available here, although not as cheap as you may have expected for being relatively far from the more popular tourist destination. The area is decidedly mid-range, so not great for tighter budgets, but there are plenty of options otherwise.
Stay In Gravedona and Domaso If you want a quiet, laid back town, away from your fellow tourists; you want to be immersed in the authentic atmosphere of everyday Italy;
Best places to stay in lake Como in Gravedona:
budget ($): Hotel Regina Located close to the ancient village of Gravedona ed Uniti, this family-run hotel on the shore of Lake Como has a sun terrace and sunbathe on its private beach area. You can rent a bike to explore the neighborhoods. There is outdoor activities such as windsurfing and fishing offline with fee.
budget ($): Tullio Hotel Located in Gravedona ed Uniti, 40 minute drive by car from Como town and Swiss border, this 3-star hotel offers a swimming pool with hydromassage, free car parking and private access to the beach. There is soundproofed room, continental breakfast buffet, wellness centre with a sauna, Turkish bath and hot tub. Gravedona Sailing Centre and the public tennis court are nearby.
FIND BEST HOTELS IN GRAVEDONA
Getting around Lake Como with / without a car
Lake Como is just 50km from Milan, you can taking a taxi or hiring a car with a private driver, or taking a train from Milan Centrale Station. If you stop at Varenna-Esino station, you can easily catch ferries to nearby villages. You can walk down step from train station to the ferries, and grab a taxi.
On the western lake, there is a bus system operating. You wil have C30, connects Como with Bellagio via Nesso; and C10 line that connects Como with Colico, pass Tremezzina and Menaggio.
One of the best way to explore Lake Como is from the water by ferries. There are three type: slow boat (battello), fast-service by hydrofoil (aliscafo); and car ferry (traghetto) service in the central lake area.
Where to stay in Lake Como without a car?
Without a car, it's best to stay in Varenna because it is a good location with a train station direct from Milan. There is also regular ferry services that take you to Bellagio, Menaggio and Cadenabbia within only fifteen minutes.
Is it better to stay in Como or Varenna?
If you want lots of nightlife with many bars, restaurants, stay in Como town. It is also a nice old city with Roman walls. If you want nice little town with good train and ferry connection, stay in Varenna.
Between the beautiful mountains and the vast expanse of water, Lake Como is a haven for adventurous types as much as those looking for a relaxing beach break. Whatever your preference, the plethora of options available to you are sure to offer some idyllic locations. There are endless choices for places to stay around this beautiful corner of Northern Italy.
If you are interested in where to stay in Lake Como, you can also check other cities in Italy:
With most of the towns connected to one another by ferry or bus, you don't need to stress too much if you have a few towns you just can't quite decide between. More important is finding the perfect hotel, guesthouse, or apartment to stay in. thankfully, I have plenty of recommendations for that too.
Now that you know all about the sixteen best areas to stay in Lake Como, I am sure you must have come across a couple of areas you think would be perfect for your trip. Whatever kind of vacation you are planning, the varied towns and villages in the area have something to suit everyone.