The best areas to stay in Sorrento for first-timers are the neighborhoods around Piazza Tasso, Corso Italia, Leonelli's Beach, Correale Museum, Sant Agnello, Piano Di Sorrento, and Priora. The center of Sorrento is the most convenient location where you can find the city main square, Piazza Tasso, and the city main thoroughfare, Corso Italia. In this blog, I will help you to decide where to stay in Sorrento for tourist, for family, couples, honeymoon, without a car, hotels with a sea view, and best things to do in each area.
Located on the Sorrentine Peninsula, on the southwestern part of Italy, Sorrento is one of the most popular destinations in southern Italy. It is also a great base to explore the Amalfi Coast, Capri island, Naples, the ancient city of Pompeii, and Herculaneum. With historical sites, beautiful beaches, and breathtaking views of the Bay Of Naples and Mount Vesuvius, Sorrento is a city that truly has something for everyone.
Piazza Tasso is the best area to stay in Sorrento for tourist, especially for first-timers, because it is the most convenient location and it has a widest range of accommodation options for all budget travelers. if you stay here, you will be located in the middle of action, within walking distance to many tourist attractions such as Leonelli's Beach, as well as restaurants, cafes, bars, and shops.
Piazza Tasso is also the best place to stay in Sorrento without a car due to its prime location, with plenty of attractions nearby that can be explore on foot. With the main train station nearby, you can easily take Circumvesuviana line to visit famous Napoli, Pompeii, and Herculaneum.
Priora is the most affordable so is ideal for those on a budget, and It also offers some of the most stunning views anywhere in the area. Meanwhile, Corso Italia is filled with bars, clubs, and restaurants to suit all tastes, so is the perfect choice for those who prioritize nightlife.
Sant Agnello and Piano Di Sorrento are both located between Sorrento and Naples. With fabulous transport links, they are ideal for those looking to explore the entire Amalfi Coast, and each offers its own unique charm. Sant Agnello is the best area to stay if you're looking for where to Stay in Sorrento with a view.
To book hotel, I recommend spending at least five days in Sorrento to explore the city. 5 days if enough to see famous attractions, enjoy the beaches, taste local food and wine, as well as get the sense of the local culture and history. You can even take a day trip to Amalfi Coast, Pompeii and Capri.
Where to Stay in Sorrento: 7 Best Areas to Stay in Sorrento, Italy
1. Piazza Tasso, where to stay in Sorrento for first time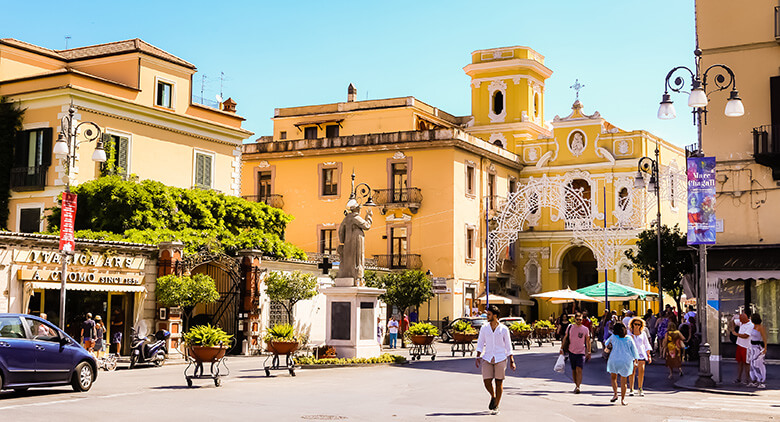 Piazza Tasso is the central part of Sorrento. When traveling to Sorrento, where to stay to take in the city's rich history will inevitably lead you here, to the city's Historical Center. With so much to see and do in the immediate area and well-connected public transportation, Piazza Tasso is perfect for first-time visitors.
A beautiful square in the central part of town, Piazza Tasso is named after the Renaissance poet, Torquato Tasso, born in Sorrento. It's home to many of the most historic buildings and statues in Sorrento.
Among the most prominent are the fourteenth-century Palazzo Correale, the stunning Baroque Church Del Carmine, filled with beautiful artwork, and the S. Antonio Abbate statue which is Sorrento's patron saint.
Numerous cafes, bars, and restaurants are located on the square, most with outdoor seating sections. These allow you to sit back in the sun, sip traditional Italian beverages like wine or coffee, gelato, and take in the stunning views before you.
In the surrounding streets, locations like the Cattedrale Dei Santi Filippo E Giacomo and its triple tiered bell tower, the Basilica Pontifica Di Sant'Antonio, and the Basilica Di Sant'Antonio provide historic attractions to keep you entertained for hours.
If you head to the waterfront, you can find Sorrento's main harbor, the Marina Grande, Marina Piccola, Villa Comunale Park, and the Church and Cloister of San Francesco.
The Villa Comunale Park sits on a clifftop that offers sweeping views of the entire Bay of Naples and Mount Vesuvius.
From the park, if you use the public elevator, you can reach the Marina Piccola di Sorrento, where you can catch ferries to Capri and Naples. This small marina has plenty of Sorrento Beach Clubs which are wooden decking areas with sun-loungers, parasols, restaurants, and snack bars.
If you want to sample some of the best seafood restaurants in the city, head to a former fisherman's wharf, Marina Grande di Sorrento. It's also where you can find the seventeenth-century Chiesa di Sant'Anna, whose feast is celebrated on 26th July.
This part of the town is just as popular with shopaholics as it is history buffs. With everything from designer brands to small local products, there is doubtful to be anything you can't find here during your stay in Sorrento.
Take the opportunity to stroll up and down the maze of narrow streets, shopping till you drop, before popping into one of the many establishments for refreshments.
Be sure to head to Sorrento's main shopping street, Via San Cesareo, a busy pedestrianized commercial hub. it is filled with boutique shops, traditional cafes and eateries, and stunning buildings boasting historic architecture.
Located adjacent to Via Fuorimura, just behind Piazza Tasso, Vallone dei Mulini, also known as the Valley of Mills was originated about 35,000 years ago. In this natural beauty, lies a group of ruins of mills that were abandoned in the 1940s.
You can even take that one step further, as some of the most luxurious hotels in Sorrento are found here, allowing you to spend every second of your trip in style.
While this part of the town certainly has plenty to offer in its own right, it is also incredibly popular due to the train station located here. One of the busiest train stations in Sorrento, it provides quick access to other nearby cities like Napoli, Pompeii, and Herculaneum by the Circumvesuviana train.
Why not expand your trip and get some close-up experiences of other famous Italian sites and locations, such as Mount Vesuvius?
Even if you don't want to explore other cities, is located near a major train station allows you to get in and out of the city easily if you are traveling by train, as well as get around during your visit if you travel without a car and you are relying on public transportation.
Stay In Piazza Tasso If you want to explore the sites and attractions of Piazza Tasso square; you are interested in the history of Sorrento and the surrounding areas; you want to stay in the central part of town; you are looking for the best place to stay in Sorrento Italy near the main train station; you travel without a car;
Best places to stay in Piazza Tasso:
luxury ($$$): Grand Hotel La Favorita This 5 star hotel is located in real heart of Sorrento and 2 minutes walk from the beach. It has a sun terrace and heated outdoor pool, and an onsite  à la carte restaurant specialises in Mediterranean dishes. Couples, honeymooners, and families will want this five-star experience.
mid-range ($$): Hotel Continental Located just 50 m from Sorrento's seafront, this 4-star hotel offers an outdoor pool and an onsite Restaurant La Terrazza. The train station and the city main square is just 10 minutes walking away.
budget ($): Hotel Mignon Meublè This 3-star hotel is set near Sorrento's Cathedral and the ancient walls, within easy walking distance from Cattedrale SS. Filippo e Giacomo, Sedile Dominova, Il Vallone dei Mulini, Piazza Sant'Antonino, and Viale degli Aranci
>> MORE HOTEL DEALS IN PIAZZA TASSO <<
If you are already settled with your accommodation, I recommend reading this blog on the 19 best things to do in Sorrento to know more famous attractions in Sorrento to see.
2. Corso Italia, where to stay in Sorrento for nightlife
Corso Italia is the main thoroughfare that runs right through the center of Sorrento, connecting both the new and old parts of the town, from Piazza Angelina Lauro to the hospital.
If when planning your trip to Sorrento where to stay for nightlife comes up, most people will tell you this is the best neighborhood.
This busy shopping street is home to the town's most fashionable stores and boutiques. Part of the road was recently pedestrianized which makes it a great place for shoppers.
You can find local goods here at a cheaper price compared with other streets such as leather belts, olive oil, souvenirs, inlaid wood products, and lemon products like candy, soap, limoncello.
Restaurants, bars, and clubs line the streets, the vast majority of which stay open all night, or at least until the early hours. This makes it the perfect option for people who like to party around the clock, as the entertainment will keep going as long as they do.
Featuring a selection of both modern and traditional options, you can mix up your nights and try something different each time you venture out. With over 100 venues, from cocktail bars to dance clubs, and even swanky restaurants, you will truly be spoilt for choice.
Even if you end up somewhere you don't like, there will always be another option right next door, waiting to give you a night to remember. A large portion of the most popular bars in Corso Italia is located immediately to the south of Piazza Tasso. This provides the option to enjoy wild nights to the backdrop of some of Sorrento's most historic and iconic locations.
There are also plenty of options for when you want a more sophisticated night out as well. High-end establishments give you a reason to get dressed up in your best outfit and have a glamourous night out. While the prices may rise in these establishments, receiving the red-carpet treatment might take the edge off of the price tag a bit.
Accommodation in the area is similarly diverse, with everything from stylish hotels to private rentals and Airbnb's. This guarantees you will be able to find somewhere close to the action to stay, no matter what your budget or taste may be.
While most of the daytime activities in Corso Italia revolve around traveling to the surrounding areas to spend time at the beach or looking over historic attractions, there is also a fabulous local market held once a week.
This is great for those who want to get a taste of the authentic Sorrentine way of life, as well as some of their fabulous produce and cuisine.
Stay In Corso Italia If Nightlife is a priority during your stay in Sorrento, you want a great range of hotels, bars, restaurants, and clubs to choose from, you want both wild and glamourous nights out, you want to be located near the centre of town, you want to explore the local market.
Best places to stay in Sorrento in Corso Italia:
luxury ($$$): Grand Hotel Royal This 5-star hotel is a member of the Historic Hotels of Italy. It offers an outdoor pool and panoramic views of the Gulf of Naples and Vesuvius. You can enjoy free access to the beach, free use of parasols, sunbeds, and beach towels in the high season. It features rooms classically decorated with Sorrentine wooden furniture, free WiFi, a marble bathroom, and a balcony. It is also home to the wellness centre, La Villetta.
mid-range ($$): Sea Room Sorrento This guest house has a terrace, a shared lounge, and rooms with a flat-screen TV, an electric kettle, and a private bathroom. Couples particularly like the location.
budget ($$): Hotel Mignon Meublè This hotel has a delicious continental breakfast, a cozy sitting room, and spacious guest rooms with simply furnished, a spacious closet, a bureau, a private bathroom with bath and shower.
>> CHECK BEST HOTEL DEALS IN CORSO ITALIA <<
3. Leonelli's Beach, where to stay in Sorrento for families
Leonelli's Beach is the main beach area near Piazza Tasso. Set on the Bay Of Naples, Leonelli's Beach is a small, clean stretch of sand, that has some of the cleanest water in the area. Protected by a sand bar, its calm waters are ideal for families with small children or those who are weaker swimmers.
In the surrounding area, numerous shops and restaurants provide all manner of food, drink, and wares, ensuring you are fully catered to throughout your days at the beach.
Around the restaurants, you will also find numerous bars and clubs just a short walk apart, many of which stay open late into the night. This has helped Leonelli's Beach become one of the most popular and vibrant nightlife areas in all of Sorrento.
Accommodation options are similarly abundant around the beach, with luxury resorts and some of the best boutique hotels in Sorrento scattered throughout the area. This ensures you can enjoy a relaxing stay in Sorrento for the entirety of your vacation.
Leonelli's Beach also has the bonus of being in a convenient area, right next to Porto Di Sorrento. A beautiful harbor, you can sit and enjoy a drink while watching the boats bob up and down or take a day trip on a ferry across the bay to Marina Grande.
Located on the famous island of Capri, Marina Grande, along with Marina Piccola on the other side of the island, make up the heart of its tourist area. You can read my blog about the best things to do and the best areas to stay in Capri in this guide where to Stay in Capri.
A luxury resort since the time of the Roman Empire, Capri is a fabulous destination for those who truly want to treat themselves. Small crowds and a who's who of famous guests make this a getaway for those seeking some rest and relaxation, where they may just spot a celebrity or two.
Stay In Leonelli's Beach If you want to stay at a beach area near central Sorrento, you are interested in day trips to Marina Grande, you want a great choice of shopping and dining options, you aren't worried about money, you are traveling with small children or weaker swimmers.
Best places to stay in Sorrento in Leonelli's Beach:
luxury ($$$): Grand Hotel La Favorita This is a five star hotel which is located 1km from Sorrento Harbour where guests can catch ferries to the island of Capri. Positano is a 30-minute drive by car. You can relax at the rooftop terrace with a swimming pool and Bellavista Cocktail Bar.
mid-range ($$): Imperial Hotel Tramontano This is hotel is home to à la carte restaurant serves traditional, Neapolitan cuisine. There is private parking if you travel with a car. It has great location and facilities for couples.
budget ($$): Marina Piccola 73 This seafront accommodation is located in the Sorrento Harbour, 4 minutes walk from the beach. you can also use private car parking for free. Beautiful place for couple and family.
>> CHECK BEST HOTEL DEALS IN SORRENTO <<
4. Correale Museum, best place in to stay in Sorrento for local vibe
The Correale Museum (Correale di Terranova Museum) is owned and operated by surviving members of the Correale family to this day. The museum primarily displays collections by Neapolitan painters from the 17th and 18th centuries, with some even stretching into the 19th-century. Beyond the paintings, you will also find ceramics, crystals, glassware, furniture, watches, and jeweled cases.
There is even a small collection of archaeological exhibits from the region, as well as a selection of books by Torquato Tasso. These exhibits are spread out over 3 floors and 24 halls, providing hours of beautiful offerings for you to discover.
The area surrounding the Correale Museum is significantly quieter than Piazza Tasso, despite being just a short distance away. Here you will find more of a local, village feel, with much fewer tourists and stunning views out over the Bay Of Naples.
This provides the perfect opportunity to get a glimpse into the true Sorrentine way of life. Local shops and restaurants allow you to indulge in the area's cuisine and purchase wares and souvenirs that are authentic to the region.
You also have the Stadio Italia football stadium close by as well. Home to two local football teams, Eccellenza Campania and FC Sant Angello, it is a great place to catch a game during your stay and help support grassroots Italian sport.
Around the stadium, you will also find one of the best selections of hotels in Sorrento. Four- and five-star hotel options are surrounded by a few resorts, boutique hotels, and private apartments. This makes it one of the best neighborhoods to stay in Sorrento for anyone looking to combine quality and convenience.
Stay In Correale Museum If you want a choice of the best boutique hotels in Sorrento, you want to explore the Correale Museum, you want a quiet location, just a short walk from central Sorrento, you want to enjoy stunning views of the Bay Of Naples, you want a more local, authentic experience.
Best places to stay in Correale Museum:
>> CHECK BEST HOTEL DEALS IN CORREALE MUSEUM <<
5. Sant Agnello, where to Stay in Sorrento with a view
Sant Agnello is a small town located immediately to the east of Sorrento. Nestled in the rugged cliffs across the bay from Naples, Sant Agnello is a much quieter destination, that offers an all-around more traditional, and authentic experience.
At the heart of the town is the Piazza Sant Agnello, a beautiful square surrounded by bars, cafes, and restaurants. Serving local, Mediterranean, and European cuisine and drinks, these establishments allow you to unwind and take in the spirit and beauty of your surroundings.
Elsewhere throughout the town, narrow streets contain all manner of hotels and shops, ensuring everyone is catered to and will be able to find something to suit their taste and budget.
On the outskirts of Sant Agnello, beautiful olive groves add to the authentic feel of the town. Why not take a stroll among the trees or sample some fresh products made from the local olives?
Perhaps the most famous attraction in Sant Agnello is the Chiesa Di San Francesco Dei Frati Cappuccini. A stunning church and monastery, its historic architecture and stunning views of the Amalfi Coast bay make it a truly breathtaking place to visit.
Beneath it you also have steps leading down the cliffs to a secluded beach at their base.
This makes Sant Agnello the best neighborhood to stay in Sorrento (or the surrounding area) for anyone wanting to spend lazy days lying on the sand, topping up their tan, and playing in the water, without being surrounded by crowds of tourists the whole time.
With great public transport links and a location between Naples, Pompeii, and Sorrento, you have easy access to all three locations. This makes it an ideal choice if you plan to visit more than one destination during your stay.
While traditional vibes are undoubtedly the selling point of Sant Agnello, Corso Italia does run through part of the town. That means there are some choices for nightlife during your stay if you choose to go and seek them out.
Stay In Sant Agnello If you're looking for where to Stay in Sorrento with a view; you want to explore a number of the cities along the Amalfi Coast, you want a more traditional, authentic experience, you want a hotel with a view, you like quiet beaches.
Best places to stay in Sorrento in Sant Agnello:
>> BEST HOTEL DEALS IN SANT AGNELLO <<
Read also about Italy travel: 8 Best Towns to Stay in Cinque Terre; 14 Best Areas to Stay in Naples; Where to Stay in Amalfi Coast
6. Piano Di Sorrento, a residential area in Sorrento
Our penultimate destination of Piano Di Sorrento lies to the east of Sant Agnello. Much more of a residential town than a tourist destination, Piano Do Sorrento is traditionally a fishing village. It is a location best suited to those seeking a relaxing break, away from the usual tourist hustle and bustle.
It is also a particularly good choice for families traveling with children, as not only is it calm and quiet, but everything is situated close together as well. Its best-known feature is a beautiful marina, the Marina Di Cassano, where fishing boats and private vessels sail in and out throughout the day.
With a fabulous collection of bars, restaurants, and hotels along the bay, you can relax with a drink or meal and watch the boats bob up and down in the water. Alternatively, you could even hire out one of these boats or book yourself on a tour to explore the Bay Of Naples.
A wonderful selection of shops sells everything from food and souvenirs to toys and clothes, ensuring everything you need is available. On the weekends it also hosts famous markets, known for their high-quality handicrafts and silk garments.
In terms of attractions, Piano Di Sorrento features a couple of the most important locations in the region. The Basilica Of Saint Michele Arcangelo boasts stunning architecture and is decorated throughout by paintings from the 15th and 16th centuries.
Then there is also the Vila Fondi, an important national monument boasting a historic building and a museum containing Roman artefacts. Surrounding the Vila is a beautiful park, with wide-open green spaces, Mediterranean plant life, and absolutely breathtaking views.
Those who enjoy outdoor activities may also enjoy the small park near the marina or a trip to one of the agriturismos in the area. An agriturismo is a local style of farm, featuring animals, hiking trails, and even cultural opportunities, such as cooking lessons in the local style.
Much like Sant Agnello, it also features a great location and wonderful public transport links. This makes it another great choice for anyone planning to explore the Amalfi Coast region in its entirety, as opposed to just visiting Sorrento.
Stay In Piano Di Sorrento If you want to stay in a hotel near a marina; you want to explore the other towns and cities on the Amalfi Coast; you want a quieter, more local experience; you are traveling as a family or with small children; you want to take a boat ride or enjoy a drink while watching them, you are a fan of seafood.
Best places to stay in Piano Di Sorrento:
Villa Iolanda this guest house is in great location close to Meta Lido Beach, Marina di Alimuri Beach and Li Galli Island. The hotel has a garden , free WiFi, free private car parking for those who drive a car. You can also hire a car at the guest house.
L'Angolo di Campagna Located 1.5 km from Lo Scaricatore Beach, this property offers garden views, free WiFi and free private car parking.
>> CHECK BEST HOTEL DEALS IN PIANO DE SORRENTO <<
7. Priora, where to stay in Sorrento on budget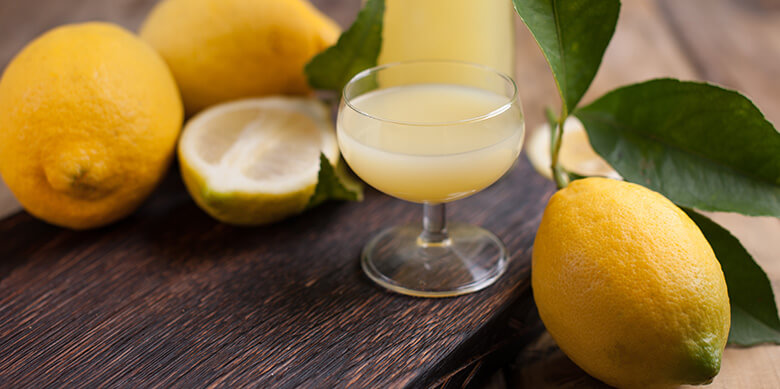 Our final destination of Priora lies to the southeast of Sorrento. It is a primarily residential town, located roughly a 20-minute walk from Sorrento, in the hills inland. The primary reason that most people will choose to stay in Priora is that it is affordable for those on a budget.
Due to being located away from the main tourist hubs and not containing many attractions of its own, hotel prices are significantly lower. You can find a cheap hotel or Airbnb here to suit almost any budget, making it a destination available to all.
This value then continues on everything like food, drink and essential products as well, as they are aimed more for the local population, so don't feature the price hikes common in more heavily tourist areas. Just because it is cheap doesn't mean Priora isn't without its own charms though.
The bars and restaurants are all filled with locals and serve local dishes, allowing you to get a truly authentic experience of the area. Local fishermen supply the restaurants daily, giving you the opportunity to sample some of the freshest seafood you will ever come across.
Fewer cars and pollution also allow you to take in some of the natural smells. With groves of olives and lemons, Sorrento is famous for surrounding the village, the smell of fruit is always in the air. Be sure to try its limoncello, the famous lemon liqueur.
Its position in the hills also allows Priora to provide some of the region's most stunning views. From Sorrento and the Bay Of Naples to mountain paths with vistas of the isle of Capri, something new and breathtaking is always just around the corner.
The one attraction it does have is a stunning Roman Catholic cathedral at the bottom of the hill. This is a perfect opportunity to take a walk and enjoy some history along with the scenery.
Stay In Priora If you are looking for where to stay in Sorrento on a budget with a cheap hotel, you love stunning views, you like quiet, authentic, residential areas, you want to visit the cathedral.
Best places to stay in Sorrento in Priora:
Romantic Relais Sorrento This Bed and breakfast is a popular B&B in Sorrento for couples. it provides accommodation with a patio or a balcony, free WiFi and flat-screen TV, as well as a restaurant and a bar. It also offers a continental or buffet breakfast.
Villa De Angelis This B&B is surrounded by the green Campania countryside. It has a big garden with olive and fruit trees where you can find a playground and sun loungers. You can rent cars and bikes to explore the area.
>> CHECK BEST HOTEL DEALS IN SORRENTO <<
See more:
Check out my virtual tour about the best places to stay in Sorrento in this video:
Sorrento is one of the best towns to stay in Amalfi Coast. It's better to stay in Sorrento if you are looking for a bit cheaper accommodation and restaurant. There are a wide range of accommodation options from luxury cliffside resorts, to budget-friendly hostels, airbnb, B&Bs, apartments, and villas.
Sorrento is general a safe city with very low violent crimes. But as a popular tourist destination, scams and pickpocketing are common so keep your valuables secure on the bus or in crowded tourist spots.
Overall, Piazza Tasso is the best area to stay in Sorrento for first-timer because it has a super central location and it has a wide range of accommodation options. If you book a hotel here, you will be located within walking distance to the tourist attractions, as well as many shopping, dining, and nightlife venues.
Once you choose the neighborhood to stay in, you need to start looking at the best hotels in Sorrento, and decide how many day should you stay in Sorrento, so you can get things booked. Well, if this is your first visit, I recommend to spend at least 5 days in Sorrento to explore the city, which allow you get the feel of local culture, and maybe take a day trip to Amalfi Coast!