Where to stay in Naples for first-time tourists? It's a question that many people ask themselves when they are planning their trip. Lucky for you, I have compiled a list of the best areas to stay in Naples for you to choose. By the end of this article, you will feel more familiar with the best places for family, one night, two nights, and the best hotels in the Historic Centre.
Originally settled in the 1st millennium B.C by the Greeks, Naples is one of the oldest continually inhabited locations in the world. As you might expect from such a destination, this is a city where history and culture are at the forefront, no matter which way you turn.
See Also about Italy: Where to Stay in Bari, Italy
Before we begin with the detail of where to stay in Napoli, in order to make things as easy as you can for yourself, make sure you know exactly what sort of location you are looking for and what non-negotiable requirements you are working on with.
For example, anyone who is traveling with kids would be wise to take a closer look at San Fernandino and Colli Aminei, for their wide-open spaces and relaxed atmosphere.
Conversely, if you are looking for a more up-market, exclusive destination, then places like Chiaia or Vomero might be better suited.
Perhaps the city is more of a side attraction in the grand scheme of your vacation? While it may seem implausible to some, the great selection of beaches on offer in Bacoli or the chance to explore Mount Vesuvius from San Giorgio a Cremano will be massive selling points in their own right.
You may even just be looking for a place to stay and experience the city for a night on a layover, in which case being situated right by the airport in San Carlo All' Arena would be ideal.
Safety isn't a major issue in Naples, if you are concerned about where to stay in Naples safely, I would recommend staying in the Chiaia district. As an affluent, upper-class neighborhood, it is one of the safest areas to stay in Naples, Italy. You can then choose to spend your trip exploring the sights it has to offer or traveling to the historic center, which isn't located too far away, during the day, when people traditionally feel safer.
Whatever it is you are looking for, ensuring you know it ahead of time will make coming to your final decision substantially quicker and easier.
>> FIND BEST HOTELS IN NAPLES <<
📌14 Best Areas To Stay In Naples
So, now you know exactly what to look out for, let's get stuck in and hopefully discover the perfect location for your very own trip to this historic destination.
Map of the best places to stay in Naples:
To see more detail of where to stay in Naples map, go to google map;
1.Historical Center, where to stay in Naples for first time tourists
There is only one place to start when it comes to Naples, which is Naples Old Town or Centro Storico, the historic center of the city, which was constructed 3000 years ago. The old town is a UNESCO World Heritage Site since 1995.
This is the part of the city that draws the majority of the tourists in, as it is known for providing many of the most legendary attractions Naples has to offer.
Churches, historical monuments, squares, shrines, and mansions, all dating back to the Roman era, fill ancient, winding roads, beneath which mazes of underground passages provide even more incredible things to see.
Start from Piazza del Plebiscito, a grand square which was built 19th century as a tribute to the French Emperor Napoleon. Nearby, you will find the huge domed church San Francesco di Paola, the 17th-century Royal Palace, the imposing medieval castle Castel Nuovo.
Among the most prominent attractions are the Basilica Di Santa Chiara, a recreation of the original 14th-century cloistered church that was destroyed during the 2nd world war, and the Capella Sanservo, a beautiful chapel, filled with sculptures and works of art.
Perhaps its most impressive attraction is the Naples Cathedral (Duomo di San Gennaro), a stunning, 13th-century piece of architecture. It is filled with glorious works of art and mosaics, as well as the Royal Chapel Of The Treasure Of San Gennaro and its beautiful altars.
The cathedral is also known for the "Miracle Of The Blood" phenomenon, in which a vial of blood belonging to Saint Januarius is said to re-liquefy at 3 occasions each year.
The Baroque church, Gesù Nuovo, and the Gothic churches, San Lorenzo Maggiore and San Domenico Maggiore, and are worth a visit.
Piazza Dante is a beautiful square, with the statue of the Italian poet Dante Alighieri in the center of the square. Nearby, you can visit Via Port'Alba, a small alley full of small bars and restaurants, and quaint bookstores.
Next, you can visit another lovely square Piazza Vincenzo Bellini with the ruins of ancient walls from the Greek colony in the middle of the square.
Be sure to visit the National Archaeological Museum (Museo Archeologico Nazionale di Napoli), where display a collection of artifacts from Pompeii, and all over the world.
Outside of the historic attractions, the area of Naples is also filled with bars, restaurants, shops, and live music venues. This gives you the opportunity to mix up your visit and combine both the modern and historic cultures of the city into every single day of your stay.
For a shopping experience, you can visit the famous street Via San Gregorio Armeno with countless artisan shops, and the beautiful shopping arcade Galleria Umberto I. Spaccanapoli and Via Tribunali is the most traditional neighborhood in the city of Naples.
One of the most important cultural events in Napoli, Maggio dei Monumenti or May of the Monuments takes place annually in the historical center of Naples.
If you're looking for where to stay in Naples, Italy for one night, I would recommend staying in Centro Storico. It offers easy access to the airport and tourists attractions with its well-connected public transport and close to train station.
Stay in Centro Storico if you prioritize seeing the city's most historic sights, you are visiting to see the Miracle Of The Blood, you enjoy quality bars and restaurants, you don't want to hire a car, you are looking for where to stay in Naples, Italy for one night.
Where to Stay in Centro Storico:
🔍FIND BEST HOTELS IN CENTRO STORICO
Check out my virtual tour of the best places to stay in Naples in this video:
Read more:
2. San Ferdinando/Piazza del Plebiscito, in the heart of the historic center
Our next destination of San Ferdinando with Piazza del Plebiscito lies on the borders of both the Chiaia and Quartieri Spagnoli districts. While the number of attractions in the area is slightly lower than some other options, they certainly make up for it in the grandeur of what they do have.
Home to the Royal Palace, the San Carlo Opera House, the Church Of San Fernandino, which gave the region its name, as well as the Piazza del Plebiscito, the most celebrated square in Naples, and its stunning monuments, it is an area that was once the premier destination for aristocracy in the area.
Here you will find the Salerno Palace, the Royal Palace, the Basilica of San Francisco de Paula, and the Palace of the Prefecture Piazza del Plebiscito. You can book a tour taking in all these fine places but if you make the Piazza your base, you can walk to each yourself.
Many of the cultural events that take place in Naples take place here. It is a lively piazza, day, and night, so there is never a time when you will be bored.
You even have the Galleria Umberto I, a stunning, late 19th-century building, which is home to a wide variety of shops and cafes. This makes it ideal for anyone wanting to combine a little Italian history with shopping for some of the stylish fashion items the country is known for in modern times.
It is also a great choice for people visiting with small children as well. The larger, more open spaces, as well as its vicinity to the inner city, will help you limit the time spent travelling and make it less of an issue when they do decide to go a little wild and act like kids.
Stay in San Ferdinando/ Piazza del Plebiscito if you are travelling with children, you are interested in shopping, you want to witness some of the most important sites in Naples more recent history, you want to be near to the city centre but not stuck in it.
🔍FIND BEST HOTELS IN NAPLES
3. Quartieri Spagnoli, where to stay in Naples on budget
The Quartieri Spagnoli, or Spanish Quarter as it translates to, is located to the south-west of the Centro Storico, near the Port Of Napoli. Founded in the 16th-century to house Spanish garrisons and stop revolts from the Neapolitan people, their language is stronger here than anywhere in the world.
The main draw in the Quartieri Spagnoli area is the incredible collection of churches, with more than 16 historic offerings dotted around, for enthusiasts and tourists alike to explore and marvel in the beauty of.
Visit the church of Santa Maria della Mercede in Montecalvario on Largo Montecalvario. it was built in 1560 in honor of Saint Francesco. The Church of Sant'Anna di Palazzo in Vico Rosario is also worth a visit.
You will also find one of the most incredible buildings in all of the city here, as this is the location of the medieval Castel Nuovo. Featuring 5 individual towers, visitors will be in awe at its glory, both inside and out, before climbing to its top to take in some stunning views of the city.
Then, when you think you have seen everything there is on offer, a whole new world will open up underneath the city. Geothermal tunnels and catacombs are just waiting to be explored, which will give you an entirely new perspective on the city and its history.
You can also try local food at the open-air market Pignasecca market on Via Toledo in the Montecalvario area; wandering around narrow streets and admire the series of murals and street art. Check out the Pedamentina with 400 steps to reach Vomero hill and enjoy its breathtaking views.
Other attractions are the National Archaeologic Museum, Napoli Underground, the Fountain of Neptune, San Carlo Theatre, the Chiesa di Santa Maria Francesca, Palazzo Zevallos Stigliano, Elena Aldobrandini Textile and Fashion Museum.
While attractions are always important when selecting a destination, there are other things on people's checklist that Quartieri Spagnoli location is ideal for as well, such as cost and location.
The Spanish Quarter is relatively modest in price and located adjacent to the very heart of the historic center of the city. This makes it a perfect choice for anyone who wants to explore the historic side of Naples but needs to do so on a budget.
It is also worth noting that the area is known for its incredible restaurants, meaning this is a perfect spot to experience the local cuisine of the city, even for those who can't afford to splash out on a high-end restaurant.
Stay in Quartieri Spagnoli if you're looking for where to stay in Naples for two nights. you are a big fan of churches, you are working on a budget, you want to be near the center of the city, you want to sample the cuisine of the city;
Where to stay in Quartieri Spagnoli:
🔍FIND BEST HOTELS IN QUARTERI SPAGNOL
4. Chiaia, a cool place to stay in Naples for luxury
We move now to the district immediately south of the Spanish Quarter, Chiaia. One of the most affluent districts in the city, this is a great spot for those looking to enjoy a slightly more upmarket visit to Naples.
Despite being slightly further away from the historic centre of the city, Chiaia still has plenty of its own attractions to offer. More than a dozen historic churches are scattered around, surrounding a number of more featured locations.
The Fontana del Sebeto, a monumental fountain; The Palazzo Ravaschieri di Satriano, a monumental palace, and the Villa Pignatelli, a 19th museum, are all located within the district, while the Castel dell' Ovo, a 12th-century castle and the oldest fortifications in the city, lies on a small island in the bay.
Possibly the most famous attraction in the area though is the Villa Comunale. Created in the late 18th century as a royal garden, it was opened to the public after the unification of Italy in 1869, becoming the city's largest park in the process, a distinction which it still holds to this day.
Featuring beautiful, lush green gardens, scenic coastal roads, and stunning fountains, you can easily get lost in your surroundings for an afternoon or more. It is even home to the Aquarium of Naples-Anton Dohrn Aquarium, a renowned scientific institution established a year after the park was opened to the public.
You also can check attractions nearby like the Lungomare Caracciolo, the Palazzo Delle Arti Napoli, or the Royal Palace of Naples.
When you combine all of that with a district full of exclusive shops, bars and restaurants, you get a location that is perfect for a cultured trip away, allowing you to sample a range of the finer things on offer in the city.
Stay in Chiaia if you are looking for the safest area to stay in Naples Italy for a more upmarket location, you want high-end shops, bars, and restaurants, you enjoy aquariums, you want to stroll through the city's largest park.
Where to stay in Chiaia:
🔍FIND BEST HOTELS IN CHIAIA
5. Vomero, where to stay in Naples for nightlife
Located to the west of Quartieri Spagnoli and north of Chiaia, Vomero is located on a hilltop and is best known for its medieval fortress, Castel Sant'Elmo. With its high-up location, it provides some of the most stunning views in the city, including vistas of the city, the bay, Mount Vesuvius, and the Tyrrhenian Sea.
This already makes it a beautiful and cultured location, which is only furthered by other surrounding attractions, such as a number of churches, monuments, and museums. However, despite all of that, it isn't necessarily culture and beauty that will draw people to this region.
The most important square, Piazza Vanvitelli is the intersection of Via Bernini and Via Scarlatti. You can shop and eat street food around this square. Check out Piazza Fuga is an important spot for the connection with the funicular, also for typical Neapolitan cuisine!
San Martino is the highest point of the neighborhood with its Certosa and the Museum of San Martino, and the viewpoint Belvedere San Martino.
That's because Vomero has developed a reputation for its thriving nightlife scene. With a range of bars and restaurants, this is a district that has something to offer each and every night of the week. Via Aniello Falcone street is known for its nightlife.
It is however worth noting that anyone coming here for the nightlife needs to be ready to pay for it, as it is one of the most expensive neighborhoods in the city. This also makes it a perfect destination for anyone looking for a more exclusive vacation.
Stay in Vomero if you are looking for the best neighborhood to stay in Naples Italy for nightlife, You aren't too worried about price, You want to witness stunning views.
Where to stay in Vomero:
🔍FIND BEST HOTELS IN VOMERO
6. Posillipo, where to stay in Naples for a family with young childens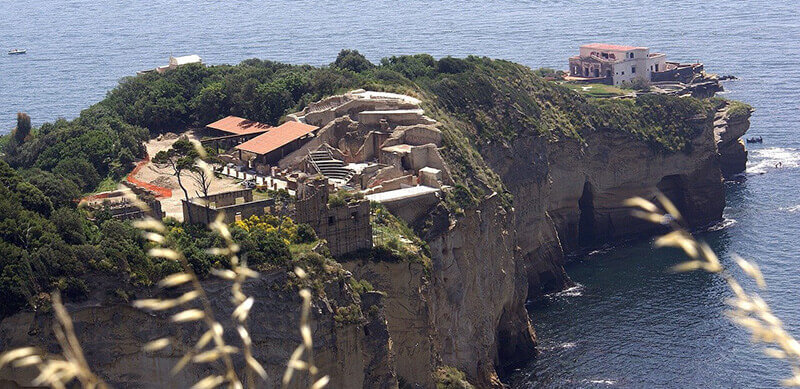 Posillipo is located to the south-east of the historic centre, on the northern coast of the Gulf Of Naples. A largely residential area, removed from the built-up confines of the city centre, this is a destination perfect for those looking to explore some of the history of the area and witness some stunning coastal views, without worrying about mobs of tourists at every turn.
The biggest draw to the area is the Pausilypon Archaeological Park, which is known locally as one of the most beautiful places in the city.
Among its most prominent features are the Imperial Villa, a 1st-century B.C structure, featuring a 2000 seat theatre; and the Tunnel Of Sejanus, a 770-metre long path through the cave of Sejanus, which joins the Imperial Villa to the other ruins in the area.
Beyond those, the site also contains the ruins of the House Of The Spirits, the School Of Virgil, a Roman Aqueduct, as well as other villas, baths and monuments.
While the area has been left largely untouched around the ruins, a few more modern attractions are present, including the Villa Rosebery, the residence of Italian presidents during their stays in Naples, and the Mausoleo Schilizzi, a mausoleum dedicated to those who gave their life for their country.
Combine all of this and you've got the recipe for a magical stay in a beautiful, historical part of the city, that you can enjoy at a slightly slower pace than elsewhere.
Stay in Posillipo If you want to sightsee without all the crowds, you prefer a more residential, less developed location, you are particularly interested in Roman ruins, you love stunning coastal views.
Where to Stay in Posillipo:
🔍FIND BEST HOTELS IN POSILLIPO
7. Port of Naples, home of Castel Nuovo
Naples is one of the busiest ports in the Mediterranean. Not surprisingly, amid this commercial activity, the district is hectic. Trade as well as tourism ensure there are plenty of bars and restaurants within the district. The city centre is not far away and there is a good choice of accommodation if you want to make the port area your base.
Castel Nuovo is the main landmark in the area. This medieval castle is open to the public. It was built in 1279 and subsequently rebuilt two centuries later. If you are a keen photographer, you will get plenty of opportunities to use your camera here and along the shores.
There are nice beaches nearby and if you want a day trip out to sea, this district is a good base for your holiday.
Stay in the Port of Naples if You want to be close to the beach and sea, You enjoy the bustle of a port area, Local amenities are available.
Where to stay around Port of Naples:
🔍FIND BEST HOTELS IN PORT OF NAPLES
8. Stazione Centrale, where to stay in Naples near Train Station
Naples' main train station is a popular area with the station itself worth seeing. An obvious place to make a base for any holiday is a transport hub. That applies here and the neighbourhood is hectic.
50 million passengers a year use the station and Piazza Garibaldi is never quiet. You will find plenty to see and do. Boutiques, restaurants, and entertainment venues fill the district.
The best accommodation for someone new to Naples is right on the Piazza itself. There are plenty of places to choose from and they include B&Bs and apartments as well as a few hotels. If you are on a budget, Stazione Centrale may just be the place for you.
Stay in Stazione Centrale if You are looking for where to stay in Naples near Train Station want to be close to a transport hub, A noisy environment is no problem to you, You are happy with the choices of accommodation.
Where to Stay around Central Station:
🔍FIND BEST HOTELS IN NAPLES CENTRAL STATION
9. Colli Aminei, where to stay in Naples near the airport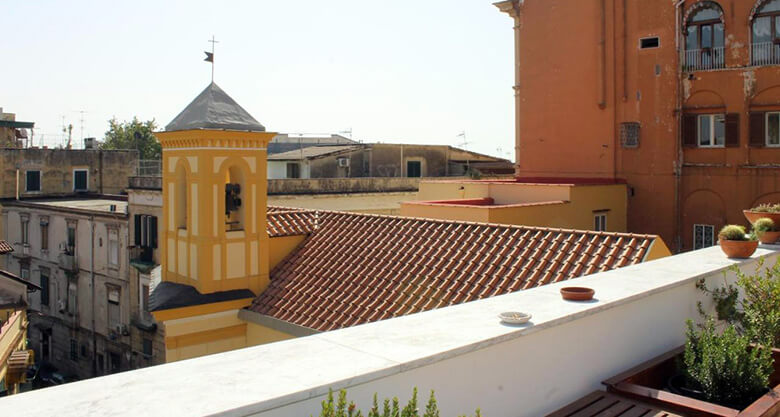 We move now to a more northernly part of the city in Colli Aminei. With a name that roughly translates to "pleasant hills", this is a destination designed for those who would prefer to stay in a slightly less built-up location.
An ideal choice for those who enjoy nature and the great outdoors, this area of Naples has historically been known for its vineyards and mines. While the latter are either no longer in operation or dramatically scaled back, both represent unique opportunities for tourists to take tours, learn about the history of the region and, in the case of the vineyards, sample some legendary Italian wine.
It is also an area known for its woods and number of parks, of which it has the most of any district in Naples. The Parco Del Poggio is the crown jewel of the collection, containing a pergola path, a botanical garden that features a range of exotic plants, and paths that contain stunning views of both the city and Mount Vesuvius.
Perhaps the star attraction of the park though, is an artificial lake, surrounded by arena style seating, with stage at its centre, where concerts and other performances are held during the summer.
Other smaller parks, palaces, museums, nature trails and even an ice-skating rink are found around the district, making it an area that will keep you on the move for the duration of your stay.
Beyond what it offers itself, it is also perfectly situated, being less than 15-minutes' drive from both the historic centre and the airport. This gives you plenty of choices, without the need to ever worry about wasting your time travelling around.
Stay in Colli Aminei if you enjoy parks and natural locations, you want to be near to the airport, you are a fan of Italian wine, you are travelling as a family or with small children.
Best places to stay near Colli Aminei:
🔍FIND BEST HOTELS IN COLLI AMINEI
10. Bacoli, a village located on the Phlegrean peninsula
The region of Bacoli is located on the coast, along the western outskirts of the city. Like most of the city, there's plenty of historical attractions to be found here. The remains of the Roman city of Baiae, the first Greek settlement in Italy, Cumae, as well as a tomb and cistern are located in the area.
The main draw to this area, however, is one that you may not necessarily associate with Naples, which is the huge collection of beaches that are found here.
If you were to look up the most popular and desirable beaches in and around Naples, you'd find roughly 75% of them were located in this region. Lido Enea, Lido Virgilio, Spiaggia Libera, Spiaggia Di Miseno and Spiaggetta Verde are all located in close proximity to one another.
This features a great mix of tourist focused beaches, stacked with bars, restaurants, and rental and activity companies, to give you every opportunity to have some fun filled days in the sand and surf.
Then there is also the quieter, more isolated beaches in the group, perfect for those who want to relax and bask in the glorious sunshine.
Whether you want to spend all of your time at one type of beach or mix up days across the two, this is the ideal place to come in Naples for an avid beach lover. While not the first destination you might pick for a beach holiday, its location just a short drive from such a hub of history and culture allows it to provide a diverse vacation opportunity that may be difficult to find elsewhere.
Stay in Bacoli if Great beaches are your priority, You are planning to rent a car, You want a little history on a beach vacation.
Best Places to stay in Naples in Bacoli:
🔍FIND BEST HOTELS IN BACOLI
11. San Carlo all'Arena, the regional capital of Campania
San Carlo all' Arena is a destination that is popular among people visiting the city for a short stay, particularly those on a layover. Located less than 10 minutes from the airport, it offers a perfect opportunity for people to get a small taste of what the city has to offer, potentially for those who've not yet committed to a full vacation here.
The main attractions in the area include the Church Of San Carlo all' Arena, a 17th-century Baroque style church, which the district takes its name from; the Botanical Garden Of Naples, a 15-hectare research facility, which is home to a 17th-century castle, a 5,000-metre greenhouse, and around 10,000 species of plants; and the Bourbon Hospice For The Poor, a former residence for the poor and sick, which is now used for conferences, concerts and exhibitions.
On the outskirts of the district, you also have the Palace Of Capodimonte, a former hunting lodge, constructed in the 18th century, which now houses the national gallery.
Add in the fact that the district is located just 15-minutes from the historic centre and is full of pleasant, suburban style bars and restaurants, it makes for an ideal first taste of Naples for anyone willing to give it a try or wanting to stay near the airport.
Stay in San Carlo all'Arena if you want to stay near the airport, you are on a layover, you want to stay in a more residential neighborhood.
Best places to stay in San Carlo all'Arena:
🔍FIND BEST HOTELS IN SAN CARLO ALL'ARENA
12. San Giorgio a Cremano, a residential town in Naples
For our final destination, I'm going to throw a bit of a curveball, as we go to the far east of the city, to San Giorgio a Cremano. The reason I say this is a curveball is, despite being able to be in the city centre in just over 20 minutes, this isn't a destination where the city is the selling point.
Instead, this is a destination that will have you in the foothills of the legendary Mount Vesuvius. For anyone who's primary goal on the trip is exploring the mountain and its history, this is the perfect spot, located half-way between it and the airport.
Filled with 18th and 19th century Vesuvian Villas, this area has been added to the UNESCO World Biosphere list and makes a perfect choice to keep you in the spirit of things for your entire trip.
That said, if you do decide you want to enjoy some attractions not related to the mountain for a while, the area also has a beautiful, traditional feel and an artistic complex (recognized in the previously mentioned Biosphere List), known as the Golden Mile, to help make your vacation even more fulfilling.
Stay in San Giorgio a Cremano if your primary goal is to explore Mount Vesuvius and its history, you want a location with a more traditional vibe.
Best Places to Stay in San Giorgio a Cremano:
🔍FIND BEST HOTELS IN SAN GIORGIO A CREMANO
13. Fuorigrotta , good area for soccer lovers
If you love soccer, this is the area for you. The city's team, S S C Napoli, has its stadium in Fuorigrotta and on match days, this neighborhood is even busier than normal. The transport links to other parts of the city are excellent so if you want a busy base, you will lack for nothing.
Fuorigrotta is an important commercial district yet there is plenty of greenery to enjoy while you walk around, and it is easy to drop into one of the district's cafes and small shops. It makes a good base for couples and families who will find good value in its accommodation.
Terme Roane is an interesting archaeological site in Fuorigrotta while Grotta del Cane, the Cave of Dogs, is another place worth a visit.
Stay in Fuorigrotta if You do not mind busy districts, Soccer is a passion of yours, You are in Naples on a family holiday.
Best places to stay near Fuorigrotta:
🔍FIND BEST HOTELS IN FUORIGROTTA
14. Lungomare Caracciolo, nice location for romantic trips
This is the promenade of Naples where you can enjoy its music, street vendors, and lovely restaurants. It is known as the most romantic setting in Naples, and it is common to see couples in love walking along or enjoying a meal.
At sunset, you will have a scene that will have you reaching for your camera. Mount Vesuvius and Castel dell'Ovo on the peninsula are both in view. The metro station ensures that if you decide to stay in this district, you will still have ease of access to other parts of Naples and beyond.
There is a good choice of accommodation in Lungomare Caracciolo with many places catering for the couples that the promenade attracts.
Stay in Lungomare Caracciolo if You are on your honeymoon or a romantic holiday, A coastal setting is important to you, Dinner with a view appeals to you.
Best places to stay in Lungomare Caracciolo:
🔍FIND BEST HOTELS IN LUNGOMARE CARACCIOLO
See More:
Naples is a fantastic city, just bursting with incredible history, culture and architecture. While there are certainly a handful of districts that will be preferred by most, there is so much to offer city wide that there really isn't a bad place to go, it all just depends on what you are looking for.
Hopefully, this article will have helped you decide on that perfect location to match your own needs, so all that's left is for you to start getting things booked, so you can experience it all for yourself.