The best areas to stay in Florence, Italy for both first time and returning tourists are the neighborhoods around centro storico and Duomo. But there are also many others areas to book hotels such as Santa Croce, San Lorenzo, Santa Maria Novella, Ponte Vecco, and Florence Hills. In this blog, I will help you to decide where to stay in Florence without a car, with a car, and the safest neighborhoods for families, couples, nightlife.
Florence is the capital city of the Tuscany region, central Italy. It is famous for its Renaissance art and architecture. It is also a great base to do a day trip to Siena, Lucca, Pisa by bus, and an arranged tour of the Tuscan countryside.
Florence is generally a safe city for tourists with low crime rate but as any famous destination, you should be aware of pickpocketing, purse snatching in crowed places, and keep extra an eye on the areas around train stations at night.
The areas around Duomo and Piazza della Signoria is the best place to stay in Florence for first time tourists. It is the Renaissance heart of Florence where you can find some of the best hotels of the city and the top tourist attractions.
Florence is very compact place, full of open plazas and pedestrianized streets, so you really shouldn't need to rely on public transport at all, although there is a good and very economical bus service serving the city. It's entirely possible to stay in any one of about ten central parts of town and still be within 10 or 15 minutes' walk of the most spectacular central parts of town like the Ponte Vecchio and the Uffizi.
11 Best Areas to Stay in Florence, Italy for Tourists
1. Duomo – City Center, where to stay in Florence first time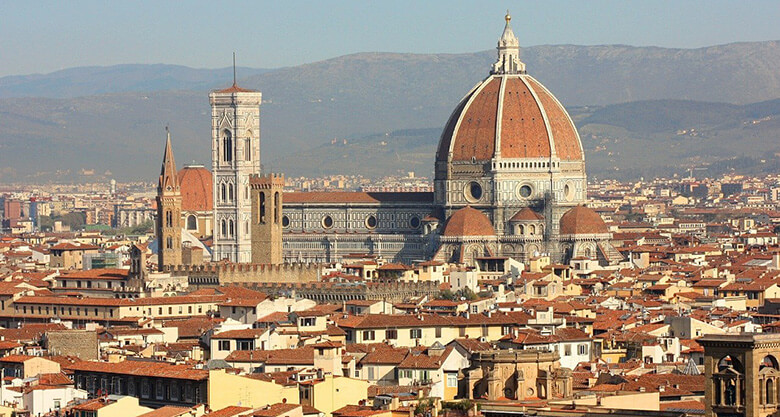 Duomo and Piazza della Signoria is the heart of Florence city center. If this is your first time in Florence or if you want to be conveniently close to all of the cities' landmarks and significant places of interest, you should plan to stay in the Florence historic center, UNESCO World Heritage Site.
The Duomo area is within easy walking distance from famous attractions such as Ponte Vecchio, Palazzo Vecchio, Piazza della Signoria, and the Uffizi Gallery.
There is so much to explore in Florence's historical center it's difficult to know where to start, but the most striking landmark is the spectacular Ponte Vecchio bridge. This ancient structure spans the river Arno, is covered with buildings, and was the only old Florentine bridge to survive world war II.
Close to this landmark is the beautiful Uffizi Gallery, one of the world's finest museums of art. This glorious old structure houses treasures of the renaissance. Including works by artists such as Botticelli and Titian. But that's just the start because the historic center of Florence is packed with museums and galleries, all with easy walking distance of each other.
You can see spectacular Renaissance sculptures in the National Museum of Bargello. Then there is the Museum of The History of Science, the Museum of Anthropology, and the Museum Opera del Duomo, or cathedral museum, that contains works by Michelangelo amongst its treasures.
There are a wealth of historic buildings to explore in the historic center too. The Duomo de Firenze (also known as the Cathedral of Santa Maria del Fiore) is the city's spectacular cathedral situated in a beautiful central plaza.
The Dome itself stands out and offers great views over Florence. Wander the neighborhood piazzas and just enjoy the vibrancy that Duomo exudes. Around the Piazza del Duomo, you will find iconic landmarks like the Battistero di San Giovanni and Giotto's bell tower (Giotto's Campanile).
Duomo is generally busy with tourists joining the local inhabitants day after day. There are charming cafes, boutique shops, bars, restaurants, and clubs meaning that even when the sightseeing stops at night, Duomo is still a hive of activity.
Even though Piazza della Signoria is extremely attractive to tourists, it retains the character it has had for centuries. The cobbled streets if lined with stylish cafes and luxury brand boutiques. The Palazzo Vecchio is another ancient structure full of ornate architecture and artistic treasures.
Piazza della Repubblica was formerly the very center of the city's economic and cultural life. That dates back to the Middle Ages but some of its beautiful buildings were destroyed in the 18th Century. The plan was to open up the area but the result you see today is that only a small part of the original piazza remains.
As you might imagine, this central part of Florence has the best accommodation choice, since it is the most popular area for travelers to stay. It can be crowded with tourists and noisy, so to avoid it you can book hotel with noise-proof glass windows and air-conditioning rooms.
There are hundreds and hundreds of hotels, guest houses, and apartment rentals in the historic center, so you are sure to find something that suits you. The majority of places to stay in the historic center come in at a very affordable mid-range price. But if budget is no option, there are some spectacular five-star hotels in beautiful old buildings that offer some of the best views in the city.
Stay in Duomo if you're couples, families, solo travelers, first-time tourists who want to stay in Florence city center; you want great shopping and nightlife; you are traveling without a car;
Best places to stay in Piazza della Signoria and Duomo:
luxury: Rocco Forte Hotel Savoy This 5 star hotel is located in the heart of Florence. It has all air-conditioned, the rooms and suites with many rooms have views of the square, of Brunelleschi's dome, or of Giotto's Bell Tower. You can enjoy Tuscan specialities on Irene bistro.
mid-range: Hotel Spadai This four star hotel is housed in a historic building next to the Palazzo Medici Riccardi. All guest rooms has soundproofing, a smart TV, private bathroom with free toiletries and a hairdryer. There is a daily American buffet breakfast.
budget: Palazzo dei Conti Residenza d'Epoca This budget friendly guest house in the heart of Florece. It has all facilities you need for your stay in the city.
🔍FIND BEST HOTELS IN DUOMO
See more: Where to Stay in Cinque Terre
2. Santa Maria Novella, where to stay in Florence for families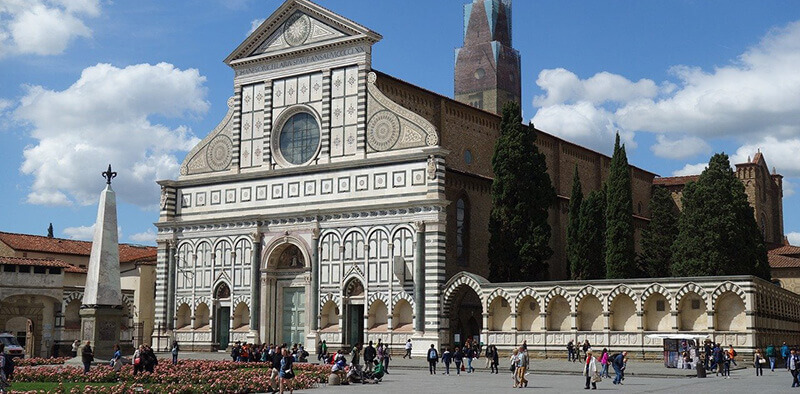 Santa Maria Novella is a district of Florence over on the west side of the historic center and on the north side of the Arno river. It is home to Florence's main train station, well-connected with other parts of the city, you can easily make a day trips to Tuscany. This is a great area to stay if you are traveling with families.
The area surrounding the station is a bit down-at-heel and not a very attractive place to stay. But this is a large area, and as you head south from the station, the area around the Piazza de Santa Maria Novella is very appealing indeed. This part of town also enjoys a long stretch of riverfront.
Further to the west, you will find the Parco delle Cascine, the largest park in Florence with playgrounds for families and kids to relax. In summer you can also use the Le Pavoniere swimming pool.
The central and southern parts of Santa Maria Novella are excellent for exclusive shopping, dining, and drinking. In particular, you will find some excellent restaurants and bars on the riverfront.
One point to note about dining in Florence is that most cafes and restaurants offer very affordable food to take away and charge more for the same dishes if you sit at a table. This means, of course, that if you are a budget traveler, eating to go is a great way to save money. Having said that sitting at a table in a beautiful part of town and watching the world go by is something you should try at least a couple of times while you're here.
Santa Maria Novella is immediate to the west of the historic center, and so it's straightforward to get to all of the major sights of the city. One of the local highlights of the area is the beautiful Basilica di Santa Maria Novella Church, an ancient church housing some beautiful Renaissance decor and art.
Other attractions are the Santa Maria Novella Pharmacy, the Chiesa di Ognissanti, and the Museo Novecento.
Santa Maria Novella has an abundance of hotels, apartments, and places to stay. There's something for all budgets, and you will find by and large that the closer you stay to the station, the more economical the accommodation is. As you head to the South and towards the river Arno, there are some very appealing beautiful boutiques and higher-end hotels. T
Stay in Santa Maria Novella if you are traveling with family; you're looking for designer shops; you want to stay near the train station; you want a good choice of accommodation for all budgets, you're looking for excellent restaurants, you want to stay close to the historic center of Florence.
Best places to stay in Santa Maria Novella:
🔍FIND BEST HOTELS IN SANATA MARIA NOVELLA
3. San Lorenzo and San Marco, where to stay in Florence on budget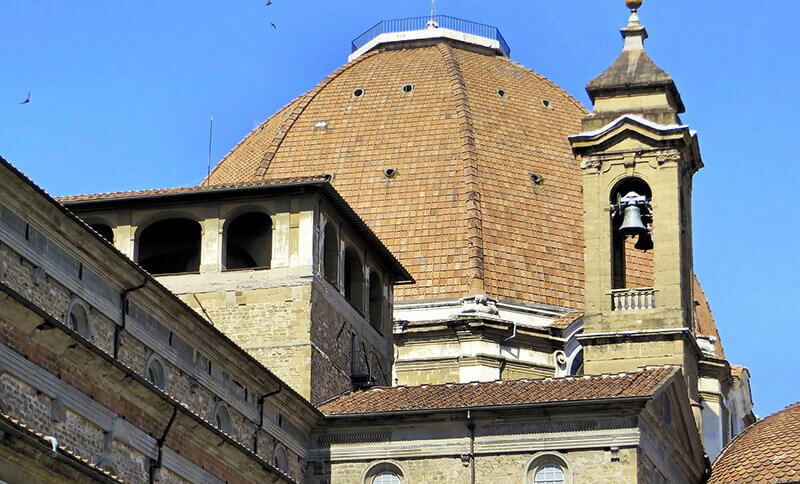 The beautiful districts of San Lorenzo and San Marco are located immediately to the north of Florence's historical center and the east of the train station. Once upon a time, these areas were quite downmarket, but in common with most European cities, they have been revitalized and gentrified as people move back into the city.
All of the glorious sights of the historic center are just half a kilometer away to the south of this area, so it's super convenient. Still, since it's just a little out of the center, you can find some excellent budget accommodation; if you're a backpacker or independent traveler, this is an ideal place to find hostels. Of course, there are good mid-range and high-end accommodation options here too.
Since Florence is so packed with historical treasures, almost every area has something great to see. In this area, you will find the beautiful Basilica de San Lorenzo, which is a church dating back to the 1400s; Medici chapels, which is the grand burial place of the Medici;
Next door is the Sagristia Vecchia, a domed Renaissance church. These structures are in the beautiful Piazza di San Lorenzo, which also contains the Biblioteca Medicia Laurenziana, which is a grand library that was designed by Michelangelo.
San Lorenzo is also a great spot for foodies where you find Florence's favorite food market, Mercato Centrale with many local eateries and vintage boutiques.
In San Marco to the east, you'll find the National Archaeological Museum and the Piazza Della Santissima Annunciata. The Giardina Dell Gherardesca and the neighboring Giardino di Palazzo Caponnii are two lovely landscaped parks over on the Eastern side of the suburb.
Other points of interests area the Museo di San Marco, the Museo degli Innocenti, and the Accademia Gallery which is famous for its David's statue by the great Renaissance artist, Michelangelo.
Stay here if you are traveling on the budget, you want to stay central, but not right in the center, you want to be close to the central rail station Firenze Santa Maria Novella.
Best places to stay in San Lorenzo and San Marco:
🔍FIND BEST HOTELS IN SAN LORENZO
4. Santa Croce, best area to stay in Florence for nightlife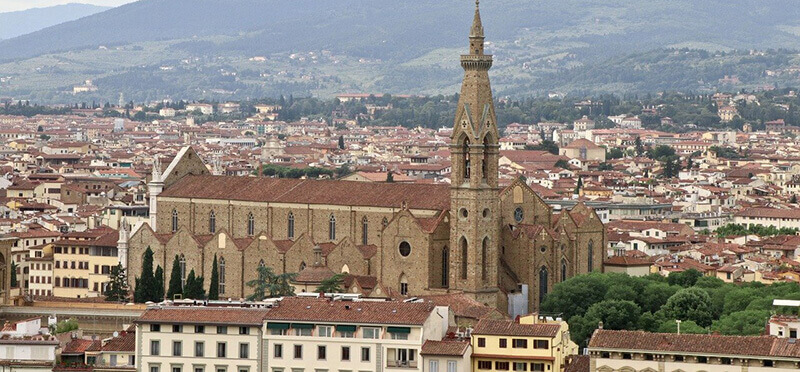 Santa Croce is the area immediately surrounding the Piazza of the Basilica of Santa Croce. This striking building houses the graves of Renaissance greats like Michelangelo, Rossini, and Galileo. This area is so close to the center of Florence that many people classify it as a part of the historic center, even though it is beside the Arno River to the east.
Santa Croce houses the Biblioteca Nazionale Centrale di Firenze, which is Italy's largest public library. This neighborhood also boasts several authentic Tuscan shops, flea markets and easily reach the Sant'Ambrogio market nearby.
You will find the streets packed with great little restaurants and bars, cafes that attracts many young people gather for a drink and live music. If you want to enjoy the same dining and nightlife like the locals, this is the perfect place to stay. Here you can soak up the atmosphere of this fascinating city without being surrounded by other tourists.
Stay in Santa Croce if you want excellent local style dining and nightlife; you want great shopping and dining, you want an affordable central location,
Best places to stay in Santa Croce:
🔍FIND BEST HOTELS IN SANTA CROCE
5. San Frediano and Santo Spirito, lots of restaurants and bars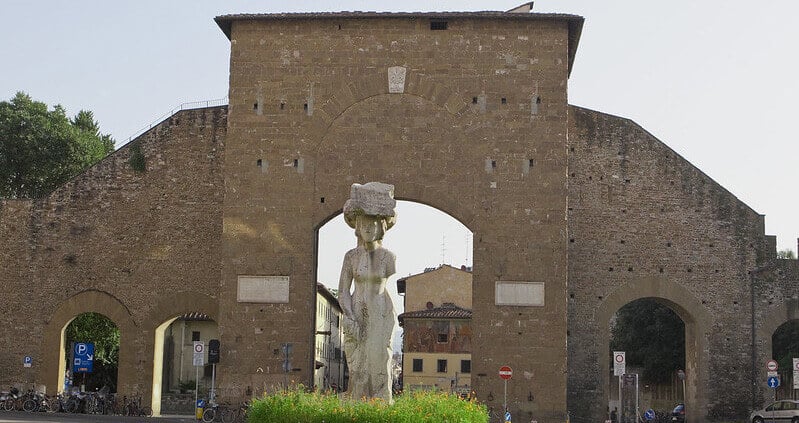 Located the south side of the Arno River, Santo Spirito & San Frediano are the quiet neighborhoods of Oltrarno district. There are two main squares in the areas, Piazza Santo Spirito and Piazza del Carmine has many cool bars and excellent restaurants. Piazza Santo Spirito was designed by the Brunelleschi.
There are plenty of things to see on the historic center's south side, including the Church of Santo Spirito and the spectacular Palazzo Pitti. This vast old palace joins up with the Uffizi Gallery on the North shore via a walkway across the Ponte Vecchio bridge.
The palace contains several museums, including the Old Royal Apartments, a Costume Museum, a display of ornate carriages, and a modern art gallery. Next door is the beautifully landscaped Boboli Gardens, an oasis of green in the center of ancient Florence that offers spectacular views of the city.
These urban neighborhoods are packed with really cool boutique shops, restaurants, osterie, cafe, bar. There is a high concentration of nightlife venues bars, bistros, cafes around Piazza Santo Spirito and Borgo San Frediano.
This part of town is the artistic center of the city, and there are lots of cool little craft shops selling all kinds of exciting stuff. San Frediano and Santo Spirito provides many bed and breakfasts, apartments for rent, small boutique hotels options.
Best places to stay in San Frediano and Santo Spirito:
🔍FIND BEST HOTELS IN SANTO SPIRITO
6. San Niccolò and Piazzale Michelangelo, great for nature and city views
Piazzale Michelangelo is an area of Florence that lies to the south of the river Arno and just to the Palazzo Pitti's east. the neighboring District of San Niccolò spreads out to the east and south up into leafy hillside with sweeping views of the historic center of Florence.
These areas have a wonderful spread-out and open feel, and they're a nice place to stay if you want to get out of the hustle and bustle of the most central parts of town yet still be conveniently placed for all the sights.
These areas are full of pretty little parks like Giardino delle Rose, Terzo Giardino, Giardino Bardini; and this open environment should appeal to families since they offer safe places for the kids to play.
The Piazzale Michelangelo it's one of the highlights of this part of the city. It's a large open Piazza up on a hillside that you can climb up to from the river using the stairs of the Rampe di San Niccolo. It's well worth the walk because the square offers one of the best views across the city.
Where these two areas meet the Arno River, you'll find all kinds of excellent places to dine, drink, and shop. The riverside is a thriving and cool little area full of trattorias and art studios, and it's an excellent place for a night out.
San Niccolò provides a range of accommodation for all budgets, with many apartments that have terraces overlooking the Arno.
Stay in San Niccolò & Piazzale Michelangelo if you want some of the cities best views; you want a central location with an out-of-town feel, you are looking for the best area to stay in Florence with family, you want to be close to a thriving Riverside area, you want lots of parks and green spaces.
Best places to stay in San Niccolò & Piazzale Michelangelo:
🔍FIND BEST HOTELS IN PIAZZALE MICHELANGELO
7. Sant'Ambrogio, budget-friendly area, good food and restaurants
Sant'Ambrogio is an area of Eastern Florence surrounding (and named after) the Church of St Ambrose – a Roman Catholic church.This part of the city is home to the University of Florence. Because of this, it's an excellent place for budget travelers to head. There are lots of bargain places to eat and drink, and the huge Santa Regio Market sells all kinds of fresh produce, so you can save even more money by staying in a self-catering apartment.
Sant'Ambrogio also has a great nightlife with many hip bars and clubs, especially around the Mercato di Sant'Ambrogio in Piazza dei Ciompi. You can also find Tempio Maggiore of Florence which is the oldest Jewish Synagogue in the city.
While it might seem like this suburb is on the outskirts of Florence, you need to remember that Florence is a very compact and pedestrian-friendly city. All of the delights of the historic center are only a ten or fifteen-minute walk to the west.
Stay in Sant'Ambrogio if you're traveling on the budget; you are foodie; you want to be a little way out from the center
Best places to stay in Sant'Ambrogio:
🔍FIND BEST HOTELS IN FLORENCE
8. Florence Hills, where to stay in Florence with a car
If you really aren't a city person, and you're only happy when surrounded by the countryside, then you can still enjoy Florence on day trips from outside the city.
Florence sits in a basin surrounded by a number of hills, including the Fiesole, Bellosguardo, Porta Romana, and Settignano, which feature fabulous countryside and some beautiful little towns and villages.
Here you can surround yourself with fields of olives and grapes and sample spectacular local wines and produce in homely village restaurants. You will find spacious hotels and delightful guest houses as you explore this region.
Staying out in the Florence Hills is an excellent idea if you are traveling by car. Florence Hills is the best area where to stay in Florence with a car. There is much pleasure to be had from cruising through the twisting roads that snake around the hills, stopping off at points of interest, and taking in some of the spectacular views of Florence and the surrounding countryside.
Stay in Florence Hills if you travel with a car; you like to explore off-the-beaten-path destinations; you want to enjoy Florence from a distance, you want to stay in some spectacular countryside;
Best places to stay near Florence Hills:
🔍FIND BEST HOTELS IN FLORENCE
9. Boboli and San Miniato al Monte, upscale residential neighborhoods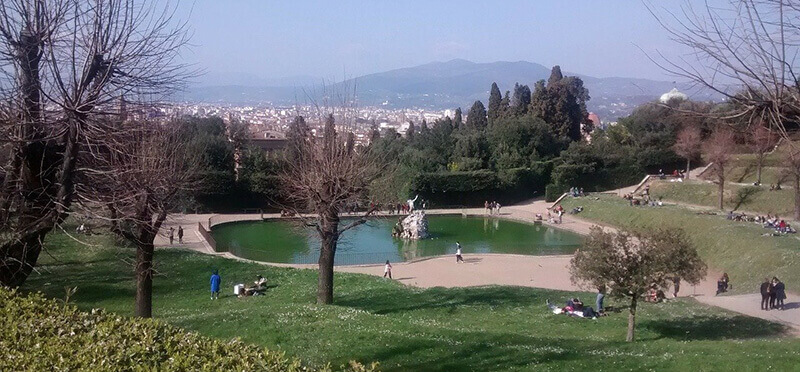 These two neighborhoods of Florence are on the south side of the Arno River but are effectively part of the historic center.
They are predominantly wealthy residential neighborhoods that immediately surround the spectacular Palazzo Pitti and the Giardano Boboli. As I mentioned earlier, the Palazzo Pitti is a must-visit with its collection of fascinating museums.
Since this area is so central, it's a great place to stay if you want to explore Florence on foot. These areas aren't the best choice for budget travelers, but if you can afford it, they're a great place to stay.
Stay in Boboli & San Miniato al Monte if you want to be in a central and upmarket, you want great high-end hotels with spectacular reviews, you can afford the best, you want to be close to lots of museums.
Best places to stay near Boboli and San Miniato al Monte:
🔍FIND BEST HOTELS IN FLORENCE
10. Santissima Annunziata, peaceful area for families
Santissima Annunziata is the part of Florence that spreads out to the northeast of the historic center. There is plenty of historical interest in this part of town, including the Galleria dell Accademia which houses what is probably the world's most famous sculpture, Michelangelo's David.
The center of this area is a lovely old plaza packed with spectacularly ornate Renaissance buildings. Despite being an easy walk from the historical center of Florence, this area retains a remarkably relaxed and peaceful vibe.
For this reason, it's an excellent place to stay if you're looking fot the best neighborhood in Florence Italy with family or if you want a place that's a little more chilled-out than some of the other central parts of town.
There's a good range of accommodation at all budgets here, and some excellent restaurants too.
Stay in Santissima Annunziata if you want a peaceful area suitable for families, you want a central location with a relaxed atmosphere, you are traveling with your family, you want to see Michelangelo's David.
Best Places to Stay in Santissima Annunziata:
🔍FIND BEST HOTELS IN SANTISSIMA ANNUNZIATA
11. Novoli, in northwestern Florence
It was only as Florence expanded in the 19th Century that Novoli became part of the city. It remains suburban in contrast to the hectic life that Florence in general offers. You will still find some historic landmarks, notably two churches. Donato in Polverosa and Santa Maria a Novoli both date back to the Renaissance.
Villa San Donato is now largely in ruins, but this palace is still worth a visit. It had many functions throughout its history but today, it is a private museum with 14 rooms.
There is limited accommodation in Novoli, but you should be able to find a B&B or room to let if you do your research.
Stay in Novoli if you are looking for a sedate pace of life, simple accommodation is perfectly acceptable, and you do not like a city center base.
Best places to stay near Novoli:
🔍FIND BEST HOTELS IN NOVOLI
Read more: Frequently Asked Questions about Best Places to Stay in Florence
Check out my virtual tour of the best places to stay in Florence in this video:
See more:
Florence has a small airport, you can have a flight to bigger cities like Bologna and Rome, then book the high-speed trains to Florence's Santa Maria Novella station. This is a birthplace of the Renaissance, where you can find the work of famous artists like Machiavelli, Lorenzo Medici, Dante, Michelangelo, Donatello, Galileo, da Vinci, Botticelli, and Raphael.
So, there you have it, that's all you need to know about Florence. I'm guessing that now you've read this, you're getting excited about planning your trip. So go ahead, you should know where to stay and best areas to stay in Florence, get your hotel booked and have a wonderful stay in this internationally renowned marvel of a city.