The best areas to stay in Tuscany for first-timer tourists are the neighborhoods of Florence, Siena, Lucca, Pisa, San Gimignano, Volterra, Val D'Orcia, and the Chianti winery areas. These towns and cities are the most beautiful places to stay Tuscany and offers a wide variety of tourist attractions and amenities.
In this blog post, I will help you to decide where to stay in Tuscany without a car, for tourist, family, couples, and best things to do in each town.
Florence and Pisa are some of the best places to stay in Tuscany for first-timers because it has central location and it has wide range of tourist amenities. Whilst most of Tuscany's towns boast stunning historic sites, Florence and Pisa are home to some of the most famous attractions and landmarks in the world.
Florence, Pisa, Lucca, Arezzo, Siena are the best area to stay in Tuscany without a car because they are the big town in Tuscany with well connected public transportation. Florence is a major center for trains and buses across Tuscany, you can easily take day trips to many towns. You can book hotels near the railway station and bus stop.
Tuscany as a hole is known for being a very hilly region. Many of the local towns are located in the hills, which can make them difficult to navigate for anyone with mobility issues. Pisa and the nearby town of Lucca are much flatter, making them great options for anyone who wants to avoid having to climb too many steep slopes.
If a beach vacation is what you are after, then the seaside town of Viareggio is the perfect place to go. Known as the 'Pearl of the Tyrrhenian Sea,' it boasts 10km of beaches. Lucca and Pisa are both just a few miles away for when you want to pop into a city for some sightseeing.
🎬To get an overall idea of where to stay in Tuscany, check out this short video:
Where to stay in Tuscany: Best Areas & Towns
1. Florence, where to stay in Tuscany for first time
The capital city of the Tuscany region, Florence is one of the most popular places for tourists, especially for first-timer. Having been developing for over 3000 years, this is a fantastic place to stay to experience the echoes of all the ages the region has seen. Florence is the best town in Tuscany for many Renaissance arts, historical, and cultural attractions.
As the only true city in the region, Florence boasts the liveliest nightlife in Tuscany. You will find plenty of bars, pubs, and clubs to keep you entertained well into the night.
Florence is also super well connected to Italy's rail system. Routes lead from Florence to most areas of the country, so it's perfect if you are traveling around Italy or want to explore outside the city without a car. With its airport, bus, train system, you can easly take a day trip to Tuscan towns, Rome, Venice and Milan.
Speaking of cars, driving into the city center isn't ideal, or easy. There's very limited car parking and many areas are only accessible by the local residents. If you are visiting here in a car, be prepared to leave it in the suburbs and use public transport to explore the city center.
Considered the cradle of the Renaissance, Florence is absolutely full of incredible historic sites. The historical center has even been designated as a UNESCO World Heritage Site, one of many in Tuscany.
Florence's historical center is small, car-free area, and very walkable. The main train station called Santa Maria Novella is within walking distance to the famous landmarks such as the Duomo, Palazzo Vecchio, the Uffizi and Ponte Vecchio.
The most recognizable building in Florence is the Cathedral of Santa Maria del Fiore, also known as Duomo. It looms over the surrounding neighborhood with its huge red brick Brunelleschi Dome and soaring Giotto's Bell Tower.
The lantern atop the magnificent dome of the cathedral is the highest point in Florence. Visitors can climb the 463 steps up to it for the reward of stunning panoramic views across the city. However, as one of the most visited places in the world, you will likely have to queue a while for the privilege.
Florence Cathedral is surrounded by various other attractions. The Baptistery of St John sits immediately to the west, a stunning accent to the larger cathedral. The Museo Dell'opera Del Duomo is just across the street to the east of the cathedral. It houses numerous works by renowned Renaissance artists such as Michelangelo and Donatello.
Just a few minutes' walks from Florence Cathedral is the Galleria dell'Accademia. Home to such world-famous masterworks as Michelangelo's David, this is an absolute must-visit for any lover of renaissance art. Many of the works here were once part of the Medici family's own collection.
The Uffizi Gallery overlooks the Arno River. The grand building houses the world's largest collection of renaissance art, including a substantial number of Botticelli's masterpieces, like the famous 'The Birth Of Venus.' It's not just renaissance works though; the art here dates back as far as ancient Greece.
To appreciate the works of another of Florence's famous artists, head to the Da Vinci Museum. Here you will find some of Da Vinci's sketches as well as various inventions designed by the famous artist cum scientist. For more of Italy's scientific legacy try the Museo Galileo.
Truly, you could spend weeks exploring all the stunning buildings, museums, palaces, and cathedrals scattered throughout Florence. Around every corner, there seems to be another piazza, on every street another palazzo. This is the best place in Tuscany for longer vacations; you'll never get bored.
Once you get tired of all the sightseeing, you might want to take a break to sample some of the exquisite regional delicacies. There are countless fabulous restaurants, bars, and cafes throughout the city to try.
Or see what you can find at Mercato Centrale. The popular food market is housed within a 17th-century building. The various stalls sell all kinds of fare from street food, snacks, and baked goods to local produce, regional delicacies, wines, and cheeses that make delicious souvenirs.
Alternatively, head to Ponte Vecchio if you are more interested in shopping for keepsakes than lunch. The lovely medieval stone bridge spans the Arno River and is lined with vendors and small shops. It's the perfect place to pick up small souvenirs and trinkets.
I recommend to book hotel in the historical center, because it is the heart of the city with the highest concentration of hotels, shopping, nightlife, and dining. You can book hotel near the train station that provide easy access to other Tuscan towns and citys such as Siena, Lucca, and Pisa by SITA bus and train.
Stay In Florence If you're travel without a car; This is your first time visiting Tuscany; You will be traveling around Tuscany, Italy by train; You want lively nightlife;
Best places to stay in Florence:
Luxury ($$$): NH Collection Firenze Porta Rossa Located in the heart of Florence, in a pedestrian area, this 5-star hotel has 12th-century Monalda Tower. It's within walking distance to Ponte Vecchio, Florence Cathedral, Uffizi. The 12th-century Monalda Tower is also part of the hotel. The hotel offers modern rooms, private car parking, family rooms, free wifi, and buffet breakfast.
Mid-range ($$): Hotel Spadai This 4-star hotel is housed in a historic building next to the Palazzo Medici Riccardi. it is within easy walk from Santa Maria del Fiore Cathedral, Basilica of San Lorenzo, and Piazza della Signoria square. Guest rooms have s soundproofing, a TV, minibar, as wel as private bathroom.
Budget ($): Hotel Davanzati Located in Uffizi district, this 3-star hotel is a short stroll from Strozzi Palace, Cathedral of Santa Maria del Fiore, Piazza del Duomo di Firenze. It has an on-site private car parking, 24-hour front desk, and a safety deposit box in each guest room.
FIND BEST HOTELS IN FLORENCE
2. Siena, where to stay in Tuscany without a car
Siena along with Florence and Pisa is the best area to stay in Tuscany without a car. Siena is easily reachable by car, rail, or bus from the main cities of Tuscany. The historic center is fairly compact and it is comfortable to walk around all the major sights, most of which are contained within the central, walled area.
Stretched across a Tuscan hill in central Tuscany, Siena is a beautiful medieval town, 50 km south of Florence. The winding cobblestone streets, ancient buildings, and central piazza lend the town a particularly romantic atmosphere. Siena's historical center is impressive enough to have been granted UNESCO World Heritage status.
If you come to Siena by train, you can catch a bus or taxi from Siena's station to the city centre. If you travel with a car, it's best to park your car at city's outskirts of the city and walk to the centre. No cars are permitted to drive within the city walls that mark the town center. This just amplifies the historic character of Siena, offering plenty of space for relaxed strolls and romantic walks amongst the medieval houses.
Despite all this, the crowds of tourists that flock to Siena each year can detract from the quaintness of the town. If you really want to experience the inherent charm of the historic city, consider visiting outside of the peak season.
At the heart of Siena is the Piazza del Campo (Il Campo) The stunning central piazza is paved with vibrant red brick and considered to be one of the greatest medieval squares in Europe. The design of the square itself is worth noting, and one of several reasons it is one of Siena's top attractions.
The paving is arranged into nine sections to represent the members of the ancient Council of Nine who once ruled the city. They are also designed to look like the folds of the Virgin Mary's cloak, a nod to her status as the patron saint of Siena.
In addition to its various shops, stalls, bars, and cafes, the square is also overlooked by several impressive buildings. The grand, 13th-century town hall, or Pubblico Palace (Palazzo Pubblico), is the most notable. The Torre Del Mangia tower was added to the town hall in the 14th-century. At 87 meters high, visitors can climb the stairs to the top of the bell tower for incredible panoramic views of Siena.
Il Campo also hosts one of the most loved, traditional events in Italy, Palio. The biannual horse race is held twice each summer in July and August. Riders representing the seventeen city wards race around the piazza to honor Madonna of Provenzano.
Since the ride is bareback, jockeys often fall from their horses during the three laps around the square that constitute the race. However, the rules allow riderless horses to win, so even riders who fall can be victorious.
Like so many towns in Tuscany, Siena has plenty to offer for art connoisseurs. The Duomo di Siena, aside from being a magnificent work of art in its own right, houses works by Michelangelo, Donatello, and Berini. Neaby, you can visit the Museo Civico to enjoy mostly secular art and frescoes dating back to the 1300s.
Siena boasts various local delicacies such as pici, a variety of pasta that resembles particularly thick and doughy spaghetti, and ricciarelli, a soft marzipan biscuit. Being in the Chianti region, you will also have plenty of exceptional local wine varieties to pair with whatever dishes you try.
If this is your first visit Siena, I suggest to book hotel around the central square of Siena, Piazza del Campo. It has a highest concentration of hotels, cafes, restaurants, gelato shops, and souvenir shops.
Stay In Siena if You want to stay in a stunning, historic town; Attending the Palio di Siena horse race is on your bucket list; You don't mind leaving your car outside of the city centre.
Best places to stay in Siena:
Luxury ($$$): Grand Hotel Continental Siena – Starhotels Collezione This 5-star hotel is set in the historical centre of Siena, a short walk from Piazza Campo square and Siena Cathedral. Enjoy food and drinks at its on-site Sapordivino restaurant and Lounge Bar by Sapordivino.
Mid-range ($$): Il Battistero Siena Residenza d'Epoca This B&B is located in the heart of Siena, in Siena's Piazza San Giovanni, in font of the Battistero di San Giovanni. It is close to Piazza del Campo and Siena Train Station. Guest rooms have the views of Siena Cathedral.
Budget ($): Albergo Chiusarelli This 3-star hotel is located near Siena Bus Station. Guest rooms have NeoClassical style, air conditioning, a satellite TV, and a private bathroom. You can book the room that have the views of football stadium's park.
FIND BEST HOTELS IN SIENA
3. Chianti, where to stay in Tuscany for wine and vineyard
Home to the hugely popular chianti variety of wine, the Chianti region is one that anyone visiting Italy will be aware of. As you would expect, there are Winery and vineyard tours aplenty here.
Stretching between Florence and Siena, it is also a good base for exploring both cities. However, there are plenty of smaller, rural towns and medieval villages to discover if you would rather have a quieter vacation away from crowds of tourists.
From Florence and Siena, you can reach Chianti's main villages by bus from but the best way get to know the region is travelling by car. You can enjoy the charming Chiantigiana with many wineries and wonderful photographs.
Chianti is home to Barone Ricasoli, the largest vineyard in the region and the oldest in Italy. In fact, the vineyard is one of the four oldest businesses in the world. Apart from the wine, take a walk around the adjacent castle and gardens.
If, however, wine is what you are here for, then the town of Radda should be your next stop. The certified home of Chianti Classico wine, there's no better place to sample the iconic variety. The annual Radda nel Bicchiere wine festival is the perfect opportunity to try wines from the various local vineyards.
Castellina in Chianti is a small town with a lot of history to explore. Another charming mediaeval town, there are various old palazzos and churches to admire. Castellina is also the location of some interesting archaeological sites.
For example, the Tumulo di Montecalvario, located in the north end of the town, is believed to be an Etruscan tomb. Meanwhile, the Etruscan Necropolis of Poggino rests just over a mile south of the town. The Archaeological Museum of the Chianti area offers a measured look at the discoveries in the region.
Montefioralle is a small village believed to be the birthplace of Amerigo Vespucci, the navigator and merchant after whom America is named. The tiny hamlet is located less than half a kilometre west of the town of Greve.
Greve is particularly known for its beautiful town square, hosting a Saturday farmers' market and an easter Monday antique market. The higher points of the town look out over the various wineries that pepper the surrounding landscape.
Within the town there are several small museums to occupy you. The Museo del Vino is, as it sounds, a celebration of wine and its production. You can view instruments that have been used to make wine throughout the ages, or simply buy a bottle or two from the shop. Meanwhile, the Museo d'Arte Sacra exhibits works by local artists in the ex-convent of San Francesco.
San Casciano is a little different from the other historical renaissance towns in the area. The town was rebuilt following its almost complete destruction during World War II. As such, there are rather fewer old buildings remaining, which just makes the ones that are here even more special.
A bit off the beaten track, San Casciano is much more laid back and local, so far less touristy. If you want to stay somewhere where you can experience a more authentic, everyday Italian way of life, this is a great opportunity.
Stay In Chianti Area If you want a relaxed, rural base from which to easily explore both Florence and Siena; you really want to indulge in the world-class wines of Tuscany; you want to admire the more understated relics of Italy's history.
Best places to stay in Chianti:
luxury ($$$): COMO Castello Del Nero This 5 star hotel is set in the Chianti wine area, between Florence and Siena. There are two restaurant in this hotel including La Torre Restaurant, a Michelin-starred restaurant and La Taverna Restaurant. It offers amazing views of the Tuscan countryside, with vineyards and olive groves.
mid-range($): Terre di Baccio This B&B is located on a hill in the Chianti area. The hotel has Tuscan atmostphere with antique Tuscan features and Guatemalan furnishings. Rooms and apartments come with a TV, an electric kettle, and a private bathroom.
budget($): Hotel Palazzo Squarcialupi This 15th-century building in Castellina in Chianti has outdoor swimming pool, a private car parking, and a spa. The bus to Siena stops nearby and 6km from Castellina Scalo train station.
FIND BEST HOTELS IN SAN CHIANTI AREA
4. Val d'Orcia, beautiful valley in the heart of Tuscany
Located to the south of Siena, Val d'Orcia is home to various small towns and villages such as Pienza, Montepulciano and Montalcino that scattered amongst the swathes of farmland, vineyards, cypress and olive groves. This Tuscany countryside is famous for its incredible rolling hills that you might see in photos.
The Val d'Orcia is a stunning example of what you can expect from the Siena province. Val d'Orcia is such a lovely part of the region that the area as a whole has been designated as a UNESCO world heritage site.
The area is incredibly scenic, full of historic sites and rural villages. Stretching from the base of the hills south of Siena to the foothills of the Monte Amiata, there is tons of space to explore. With its picturesque landscape, charming cypress lined lanes, Val d'Orcia is Instagram hotspot in Tuscan.
Like much of Tuscany, the area is heavily involved in wine production. There are so many vineyards and wineries in Val d'Orcia that the route that takes you through many of the most prominent towns is known as the Wine Road.
Many of the towns in Val d'Orcia are known for their own local varieties of wine. Montepulciano, for example, produces the Nobile di Montepulciano wine. The best place to sample this particular variety is at the Contucci Winery, with its history dating back over a thousand years.
Resting in the Siena hilltops, this charming medieval town has plenty more to offer than just wine. From the grand Montepulciano Cathedral to the 14th-century town hall, Palazzo Comunale, there are loads of historic buildings for you to discover as you explore the ancient, narrow streets.
If nothing else, the views from here are phenomenal. Being so high, you can gaze out over the miles and miles of surrounding valleys and farms that stretch towards the horizon.
Stay South Of Val d'Orcia If you want to explore a more rural area of Italy; you want to sample the best of Tuscan wine and cuisine; you are plotting a road trip and want to spend some time outside of the various cities.
Best places to stay in Val d'Orcia:
luxury ($$$): Il Miraggio in Val d'Orcia Relais & Spa This 5-star hotel has a on-site restaurant, outdoor swimming pool, and a garden. There are car hire and bike hire service at hotel.
mid-range ($$): Relais Osteria Dell'Orcia This 4-star hotel is set in the UNESCO-protected Val d'Orcia Nature Reserve, along the historic Via Francigena road. This family-run hotel has a traditional Tuscan style, with views of Pienza and Bagno Vignoni. Enjoy Tuscan cuisine, Brunello and Nobile di Montepulciano wines at its on-site restaurant.
budget ($): Hotel Palazzuolo Located in San Quirico d'Orcia, 24 km from Montepulciano, this hotel offers rooms with balcony and Val d'Orcia views. It's 6km from the village of Bagno Vignoni and its thermal springs.
FIND BEST HOTELS IN MONTEPULCIANO
5. Pienza, ideal Renaissance town in the beautiful valley, Val d'Orcia
Located in the beautiful valley called Val d'Orcia of central Tuscany, Pienza is also known as ideal city of the Renaissance. It is the home town of famous Enea Silvio Piccolomini (Pope Pius II). Here will find Renaissance architecture building such as Piazza Centrale, Pienza Cathedral, the Papal Residence, and the Municipal palazzo.
Pienza is better known for its cheese than for its wine. Boasting the best pecorino cheese in Tuscany, you'd be mad not to try it from the source. It hold the annual pecorino cheese festival each September. Don't miss the cheese rolling competition, wherein contestants attempt to roll wheels of pecorino cheese as close as possible to a central goalpost.
If you're not a fan of dairy, you can take in the historic sights instead. Whilst your friends are consuming their bodyweights in sheep's cheese, you can explore the 15th-century Cathedral of Santa Maria Assunta, the Piccolomini Palace, and gardens, or the Diocesan museum within the Borgia Palace.
Just outside the town is the 7th-century Pieve di Corsignano church with its 12th-century facades. Whilst the church may seem unassuming, it was the site of baptism for two popes, so it has some understated historical significance.
Rather than being famous for its produce, Bagno Vignoni is a popular tourist spot due to its natural hot springs. It's a tiny, remote town that is perfect for a relaxing break for a day or two.
The star attraction is the Antiche Terme Romane Libere thermal swimming hole. The pale blue waters and trickling waterfalls create an exceptionally soothing natural atmosphere.
Montalcino is known for its distinctive Brunello di Montalcino wine variety. Other than its wine, the Fortress of Montalcino is the top attraction in this lovely little town. There are also various historic churches and palazzos to explore in-between visits to the various wineries and tavernas.
There is, unfortunately, no train station, which makes it tricky if you aren't traveling by car. The resulting lack of tourists however makes it a particularly charming stop for road trips.
Best places to stay in Pienza:
mid-range ($$): Hotel Corsignano This family-run hotel is located in Pienza. It has the views of Orcia Valley, a terrace with hot tub, and free parking. You can enjoy local cuisine and international food at its a Tuscan restaurant.
Budget ($): Il Giglio B&B Thi bed & breakfast is set a Renaissance building in Pienza historic centre. It's 20km from Train Station is Chiusi – Chianciano Terme. You can choose Tuscan room that has the views of Palazzo Piccolomini and Piazza Pio II square. You can relax at its spa with a sauna, hot tub and steam bath.
6. San Gimignano, beautiful medieval hilltop town, with majestic towers
Located halfway between Florence and Sien, San Gimignano is a medieval walled hilltop town that known for its striking skyline of soaring medieval towers that loom over the surrounding buildings. The town is easy to reach by train and bus and is famous for its Vernaccia di San Gimignano white wine.
Of the 72 medieval towers that once stood here as a symbol of the town's wealth and might only fourteen still remain. That's more than enough to create an impressive first impression, though it does leave you wondering how majestic it must have looked at its peak.
All the towers are impressive, but some are more revered than others. Torre Grossa is the tallest of all the towers, standing at 54m tall. Torre Gross is also the town hall and houses a museum of renaissance artworks at its base.
Meanwhile, the Torri Gemelle, also known as the 'twin towers' was built by the most powerful family in the city, the Salvuccis. They stand at the opposite side of the Piazza del Duomo from the Town Hall. The towers are significant enough that the town was designated as a UNESCO World Heritage Site back in 1990. However, they are far from all there is to appreciate in San Gimignano.
Numerous historic relics have survived the ages, such as the 13th cistern that Piazza della Cisterna is named for. Don't forget to make a wish by tossing in a coin. The Palazzo Razzi with its magnificent two-light mullioned windows and Casa Salvestrini are two building near the well.
In addition to the mighty towers, most of the old city wall also still remains, as do several of its gates. The Arco deo Becci for one is still a busy thoroughfare.
The Rocca of Montestaffoli is somewhat less well preserved, now laying in ruin. However, the remains of the medieval fortress are now used as a pretty urban park. Perched right at the top of the hill, on the western side of town, this is a stunning place to sit and watch the sunset over the valley.
San Gimignano stretches out well beyond those old city walls, with more historic sites found throughout the town and surrounding area. Beautiful medieval arched fountains, the fonti medievali, can be found in the woods just east of town.
Unlike many towns in the region, which focus of varieties of red wine, San Gimignano is famous for its Vernaccia di San Gimignano white wine. Pair it with traditional Tuscan cuisine served at the various excellent restaurants within the town.
Stay In San Gimignano If You want to witness the striking towered skyline for yourself ; You want to be completely surrounded by incredibly preserved historic buildings; You are tired of all the red wine in the area and want to mix it up with some white instead.
Best places to stay in San Gimignano:
Mid-range ($$): Relais Cappuccina This 4-star hotel is located among rolling hills, with the views of the medieval city of San Gimignano. It has a free private car parking, outdoor pool, a wellness centre, an indoor pool with hydromassage.
Budget ($): Hotel La Cisterna This 3-star hotel is located in the heart of San Gimignano. You can choose to stay in the room with views of the square or of the beautiful Tuscan countryside. Each is furnished in a Florentine style. Enjoy Tuscan cuisine at its on-site Le Terrazze restaurant.
FIND BEST HOTELS IN SAN GIMIGNANO
7. Lucca, the city of a hundred churches
Located in the heart of northern Tuscany, at the foot of the Apuan Alps, Lucca is easy to reach by train or car from Pisa and Florence. From its exquisitely preserved renaissance-era city walls, designed by Leonardo Da Vinci himself, to the quaint cobblestone lanes, a walk through Lucca is like taking a step back in time.
Lucca has earned itself the moniker 'City of One Hundred Churches' and indeed the town is littered with them. Down seemingly every street you will stumble across yet another pretty, historic church dating back however many hundreds of years.
San Michel in Foro is a fine example of the kind of lovely structures to be appreciated in Lucca. Dating back to the 12th century, the church houses numerous statues, artifacts, and artworks within. Set within its own piazza, San Michel is surrounded by gelato shops, cafes, and restaurants from which to appreciate the view of the church.
If you want something even grander, head to Cattedrale di San Martino. The mighty cathedral was constructed in the 11th century and, with its high bell tower and sweeping dome, is as impressive as you expect of a Tuscan cathedral.
The cathedral is surrounded by gardens and fountains. Meanwhile, the inside is decked out with various frescoes and sculptures. The Museo della Cattedrale, right next door, houses even more relics and religious pieces for you to admire.
That's just the tip of the iceberg as far as all the palazzos and basilicas of Lucca are concerned. If you want to really appreciate how many historic buildings are packed into the city, you should climb the 230 steps of Guinigi Tower to appreciate the panoramic views from the top.
For such a small town, there are plenty of museums to explore. The Museo Villa Puccini is dedicated to the famous local composer Giacomo Puccini, within whose old home the museum is housed.
Alternatively, take a more macabre turn around the Museum of Torture. The medieval period is notorious for the many horrific methods and devices for dealing pain that were implemented. The museum showcases various old instruments and inventions.
In addition to the heavy renaissance influence throughout the town, Lucca is also known for its various archaeological sites. The remains of an ancient roman amphitheater now form the basis for the Piazza dell'Anfiteatro.
The Roman amphitheater dates back to the first century A.D, when it hosted gladiator fights and shows. The modern plaza is a little less intense, hosting cafes, restaurants, gelato shops, and a lively market.
For all that there is so much to see and do in Lucca, and such a particularly well-preserved historic atmosphere, the city remains largely undiscovered and underappreciated by the larger tourist crowds. As such, it's much quieter than other, similar cities like Siena.
In many ways it's that lack of crowding which helps to maintain the rich, ancient feel, along with the heavy restriction on cars entering the walled city centre. It also lends a particularly intimate feel that makes Lucca perfect for romantic breaks and honeymoons.
Lucca is also much flatter than many of the hilltop towns throughout Tuscany. As such, it is easier for people with mobility issues to get around without having to worry about steep slopes.
This Lucca family-friendly part of the Tuscan region is also a great place for those traveling with children. The flat ground makes it easier to manoeuvre prams, whilst little legs won't have to struggle climbing hills.
Lucca is also just a few miles from the beaches of Viareggio and Forte dei Marmi, so you can easily pop out for a beach day and relax whilst the kids play in the sand and sea.
If this is your first visit, I recommend choosing to stay in the Historial Center because it has prime location, close to tourist attraction like the Lucca Cathedral, Guinigi Tower and Piazza dell'Anfiteatro. There is a train station which is a short walk from Old Town. If you travel with a car, you should park the car outside the walls because it's pedetrian-friendly area.
Stay In Lucca If You want to stay in a beautiful, historic town, whose atmosphere is not diminished by droves of tourists; You would find it easier to get around a flatter town, without the hills and slopes of most Tuscan towns; You are traveling with children;
Best places to stay in Lucca:
Luxury ($$$): Best Western Grand Hotel Guinigi This 5-star hotel is located outside the ancient city walls, 2km from Luca center. Enjoy local wines, Tuscan and Italian cuisine at its onsite restaurant. There is wellness centre for relaxation and a car parking if you come with a car.
Mid-range ($$): La Gemma Di Elena This Tuscan-style lodge is set in historical centre of Lucca, within a short walk from Piazza Anfiteatro square, San Martino Cathedral, Guinigi Towel, and Basilica of San Frediano. You can reach Lucca Train Station by bus.
Budget ($): Albergo Moderno Located within a short stroll from Lucca Train Station, the city walls, city's cathedral and the historic centre. This Art Nouveau building offers rooms with parquet floors and a private bathroom.
FIND BEST HOTELS IN SAN LUCCA
8. Pisa is where you find the famous Leaning Tower
Home to one of the most famous landmarks in all of Italy, the Leaning Tower of Pisa, Pisa is another top destination for tourists visiting Tuscany. For all that it is home to one of the most famous attractions in the world, Pisa is actually one of the more affordable locations on this list.
The nearby Pisa Airport is serviced by numerous budget airlines, so you won't have to break the bank getting here. Likewise, there is plenty of low-cost accommodation to choose from too.
Since Tuscany is a particularly hilly region, Pisa's relative flatness is another mark in its favour. Those with mobility issues or who would have trouble climbing the steep slopes found throughout Tuscany would benefit from staying here.
Being one of the larger cities in this guide, Pisa is one of the better options if you are looking for somewhere with a vibrant nightlife. As a bustling university town, there are tons of bars and nightclubs catering to both the student population and tourists.
Of course, most who visit Pisa do so to see the iconic Leaning Tower of Pisa. The tower has had its famous tilt since its erection in the twelfth century. Despite its wonky foundations, tourists are able to safely climb to the top of the tower should they wish.
Whilst the Leaning Tower is technically the bell tower of the adjacent Pisa Cathedral, don't wait around to hear the bell ring. The bell is kept immobile and silent for fear that the vibrations of its tolling could pair poorly with the tower's already precarious situation.
Whilst the Leaning Tower is unequivocally the main attraction, that doesn't mean you should overlook Pisa Cathedral itself. The majestic Cathedral of Santa Maria Assunta, with its dome, columns, and towering marble walls, is as grand as any to be found in Italy. Housed within are numerous gorgeous frescoes, paintings, sculptures and relics, all accented by the marvellous vaulted ceilings and sweeping archways.
The Cathedral and the Tower are located within Piazza del Duomo, often also referred to as 'Miracle Square.' The Pisa Baptistery and the cloistered Camposanto cemetery are also both within the plaza, along with various fountains, sculptures, and even souvenir shops. It's the best place to come if you are visiting Pisa on a day trip.
If you have more time in the city then there are plenty of excellent museums to visit, particularly for lovers of art. Tuscany is known for being a trove of Renaissance art and history and Pisa is no different.
The Museo dell'Opera del Duomo and the Sinopie Museum are both beautiful collections of ancient art, located around the Piazza del Duomo. If you want to see more of the city. The Palazzo Blu, the National Museum of the Royal Palace, and Museo della Grafica Palazzo Lanfranchi make a pleasant route along the Arno River.
With so much to see and do, and so many facilities catering to tourists, Pisa is a great option for anyone travelling with children. There is plenty to keep them occupied as well as a wide range of dining options and international cuisines available to please even fussy eaters.
Just a couple of miles from the sea, Pisa is a great option for anyone who wants to combine sightseeing in the city with a relaxing beach vacation. The small resort town of Marina di Pisa ensures you will have all the comforts whilst you lay back in the sun, sand, and sea.
Stay In Pisa If you travel without a car; You want to combine the conveniences and sightseeing of a city break with the comforts of a beach vacation; You are working with a tight budget for both travel and accommodation; You are travelling with children.
Best places to stay in Pisa:
luxury ($$$): Bagni Di Pisa Palace & Thermal Spa This 5-star hotel is located in in San Giuliano Terme, 6 km from Pisa, near Apuan Alps and San Rossore Park. It has a large spa with natural hot springs, free car parking, massages, beauty treatments. Enjoy Tucan meal at Dei Lorena Restaurant and admire views of the Leaning Tower.
Mid-range ($$): Hotel Bologna This 4-star hotel is set in the historic centre of Pisa, a short walk from the train station, Campo dei Miracoli and the famous Leaning Tower. There is a private car parking, and shuttle service to the airport.
Budget ($): Hotel Pisa Tower This 3-star hotel is located very close to Pisa's Piazza dei Miracoli, the Leaning Tower. The bus stop nearby will take you to Pisa Centrale Train Station and Galilei Airport. Relax in its garden with with tables, chairs and gazebo.
FIND BEST HOTELS IN PISA
9. Arezzo, small gem of Tuscany, for a local experience
Located east of Siena, Arezzo was once one of the most important cities of the Etruscan civilization. With the city dating back to before the Romans, at least as far back as the 4th-century bc, there are tons of historical relics and features to discover.
With all its history and rural charm, Arezzo is a particularly beautiful town. So much so that you may recognize some of its streets and squares from movies. Particularly notably, the Oscar-winning film Life Is Beautiful was filmed here.
An up-and-comer that is growing in popularity, Arezzo is still far less touristy than many Tuscan towns. Arezzo is well out of the way of most of the more famous towns, so you won't have to fight crowds for good photo opportunities.
To get to Arezzo, you take a train from well known cities such as Florence, Pisa and Perugia to Arezzo Terminal station. If you walk up the hill from the train station, you will reach t the top of the city with many attractions.
The Piazza Grande is the center of culture in Arezzo. The plaza has been around for centuries as buildings from various architectural periods have sprung up around it. It's a great place to observe the various stylistic eras the city has gone through.
The Piazza Grande also hosts frequent markets, including an antique fair on the first weekend of each month. Prior to their growing tourism trade, agriculture was Arezzo's principal economic source. Make sure you look out for stores and vendors selling local produce and handicrafts, gold and silver jewellery, to take home with you.
Arezzo's best event is also hosted in the Piazza Grande. The Jousting festival is held twice a year, on the 3rd Saturday of June and the 1st Sunday in September. Traditionally, everyone attends in medieval dress to watch eight knights compete for a golden lance and the honor of their quarter of the city.
One of the principal attractions of Arezzo is the Church of San Francesco, or rather the artwork within. The Basilica houses the famous 'Legends of the True Cross' fresco. It is the largest of Piero della Francesca's works and is considered one of the primary masterpieces of the early renaissance period. Arezzo Cathedral houses another significant work by Piero, the fresco of Mary Magdalene.
In addition to various other historic churches, palazzos, and piazzas, Arezzo also has quite a few interesting little museums. MUMEC, a museum dedicated to Technology and communications advances, offers a look at more recent history. Meanwhile, the National Archaeological Museum of Gaio Cilnio Mecenato goes even further back into history than the ancient buildings of Arezzo.
Whilst Arezzo is charming, it is small and offers only a handful of attractions. You can comfortably visit all of the top sights in a day or two. As such, Arezzo is better suited to shorter stays and road trips rather than longer vacations.
Stay In Arezzo If you want to stay in an up and coming town that has still not been discovered by most tourists yet; you would rather avoid the crowds associated with the larger tourist towns; you want to attend the Arezzo jousting festival; you are planning a weekend break or plotting short stops on a road trip.
Best places to stay in Arezzo:
luxury ($$$): Badia di Pomaio This hotel is located in a hillside location, 5 km from Arezzo. There is an infinity pool, a wine cellar in a natural cave, free private parking, and free wifi. Enjoy traditional Tuscan cuisine in the Campo Badia restaurant.
mid-range ($$): Hotel Minerva this 4-star hotel is set next to Arezzo – Casello 1 Train Station and 10 minute drive by car to A1 motorway. There is a fitness centre with a Turkish bath, and Minerva restaurant serves Tuscan food.
budget ($): Casa Mirko This B&B is located in Arezzo. it features a garden, a terrace, free private parking, and a daily Italian breakfast. It's 1km from Piazza Grande, and 85km from Perugia San Francesco d'Assisi Airport.
FIND BEST HOTELS IN AREZZO
10. Pistoia, lesser-known and underrated city northern Tuscany
Located at the base of the Apennine mountains, Pistoia is a lesser-known city and wildly underrated. It combines all the modern conveniences and historic attractions that you would expect from a Tuscan town with stunning natural landscapes and resources.
Pistoia is located along the main road between the cities of Lucca and Florence, making it a convenient stopping off point on a road trip from one to the other. Alternatively, it makes a quaint and quieter base from which to explore them both.
Train lines connect Pistoia to both Lucca and Florence, as well as other destinations. This is the perfect place to stay if you want to travel around Tuscany a bit, but won't be bringing or hiring a car.
Designated the Italian City of Culture in 2017, there is plenty to see and do in Pistoia. The Cathedral of San Zeno has parts that date back to the 10th century. The Palazzo dei Vescovi sits just across the Piazza del Duomo and houses several interesting museums within.
There are various other notable churches throughout Pistoia, such as the Ex Chiesa del Tau. Whilst this 14th-century church may appear unassuming from the exterior, it houses some delightful ancient artifacts and frescoes.
One of the lesser-known attractions of Pistoia are the thermal baths. The smaller neighboring town of Montecatini Terme is home to numerous public bathhouses. The water from the natural hot springs supposedly has healing attributes.
Whilst most Tuscan towns are known for their wines or cheeses, Pistoia is better known for its high-quality chocolate. The region in which it is located is known as the 'Tuscan Chocolate Valley.' Make sure to track down some of the world-renowned chocolate before you leave.
For all its art, culture, and connections, Pistoia remains largely undiscovered by the general throngs of tourists. As such, it is a wonderful place to stay if you want to enjoy experiencing life in an authentically local Italian town, whilst also having plenty to see and do.
Other attractions are the Zoo of Pistoia, Pinocchio Park in Collodi, Garzoni Garden, and the Fattoria di Celle. If you visit Pistoia in July, you will take part in the Pistoia Blues Festival and the Joust of the Bear (Giostra dell'Orso).
Stay In Pistoia If you want a quieter city from which to easily explore the busier towns; you are looking for a stopping off point between Florence and Lucca; you want to experience everyday life in an Italian city, undisturbed by crowds of tourists; you won't have a car for your trip.
Best places to stay in Pistoia:
B&B Pistonia Inn Located in Pistoia, 44 km from Lucca, 37 km from Florence, 17km from Montecatini Terme, this B&B offers rooms with a flat-screen TV , a private bathroom with bathrobes, bidet and shower.
Dimora Storica Palazzo Puccini The bed and breakfast offers free bikes, free wifi, buffet breakfast, and private parking. The hotel offers a paid airport shuttle service to Florence airport.
FIND BEST HOTELS IN PISTOIA
11. Pitigliano, Little Jerusalem, stunning medieval town
Settled on, and carved into, cliffs towering over lush Greenland, Pitigliano offers a striking first impression as you approach. It's seating on a huge tufa rock surface. If you are traveling around the area, you should definitely swing by to at least witness the stunning town from the outside.
Nicknamed Little Jerusalem, Pitigliano offered a safe haven for Jewish people fleeing persecution in various surrounding Italian towns. That heritage can still be seen in Pitigliano's Jewish Quarter. Although the Jewish population dissipated during World War Two, there are still kosher bakeries, delis, and little shops surrounding the synagogue.
With a history dating back to the bronze age, Pitigliano is bafflingly overlooked by most tourists. The Etruscan civilization was prominent here and many marks of their society remain.
Etruscan tombs can be found all around the area, carved into the rock. The nearby town of Sovana is also home to an Etruscan Necropolis and the most significant Etruscan tomb of all, the Tomb of Hildebrand.
Many of the Etruscan tombs and sites in the area are linked by the Vie Cave, a network of subterranean tunnels and caves below the city. The narrow gullies and tunnels provide a thrilling labyrinth to trek through when you want a little adventure.
There are plenty of comparatively modern sights, if you prefer to stick to the renaissance influence that Tuscany is known for. The Cathedral of Saints Peter and Paul is lovely, built of a warm, golden tan stone.
Or perhaps you prefer browsing museums. You could visit the Palazzo Ortini, a museum housed within a 14th-century fortress. Or visit the Little Jerusalem Museum to learn more about the history of the once-thriving Jewish ghetto.
Another smaller town with fewer sights to see, Pitigliano is better suited to being a stop on a road trip or shorter break, rather than a longer vacation. There is also no train station nearby, so it would be difficult to get to or around without a car.
Stay In Pitigliano If You want a quiet town, out of the way and unbothered by crowds of tourists; You are fascinated by Etruscan history; Exploring the winding tunnels and gullies carved into the rock around the city sounds exhilarating;
Best places to stay in Pitigliano:
Le Camere Del Ceccottino Located in the medieval centre of Pitigliano, this 17th- century Ceccottino has an on-site a Tuscan restaurant, and top-floor terrace with views of the town's clock tower. Guest room is soundproofed and comes with a private bathroom, a safe, and desk.
Casa Messi Set in the historic centre of Pitigliano, this hotel offers views the Tuscan hills. It is a short drive by car from the Terme di Saturnia hot springs and Lake Bolsena.
FIND BEST HOTELS IN PITIGLIANO
12. Certaldo, 2-storey town west of the Chianti hills
High in the hills between Florence and Siena, Certaldo is a lovely village, largely unblemished by tourists. The town's origins date back at least a thousand years, so there's plenty of history for you to explore here. The town has two parts: the medieval part called Certaldo Alto and the lower part.
The oldest part of the town is the walled Rio Castell section to the east. Here you will find the old main road, Via Boccaccio, which serves in place of a piazza for hosting public events. Like most Tuscan towns, there are tons of little, ancient churches for you to discover dotted around the town.
Palazzo Pretorio stands at the east end of Via Boccaccio and dates back to the 12th century. Previously housing the local governance, as well as being the town prison at one point, the Palazzo Pretorio is now an art museum displaying works by local artists. You will be able to spot the Palazzo easily by the numerous coats of arms that decorate the outer walls.
Another good spot to observe the works of local artists is the Museum of Holy Art. Rather than current artists, this museum houses works collected from local artists throughout the centuries.
Unlike several of the smaller hilltop towns on this list, Certaldo is connected to the national railway system, making it a viable stop for those traveling around Tuscany by train. The positioning between Florence and Siena makes it a sweet overnight stop for road trippers too.
Stay In Certaldo If you are planning a road trip around Tuscany, either by car or by train; you want to stay in a typical, rural town; you want to visit somewhere that most tourists don't know about.
Best places to stay in Certaldo:
mid-range ($$): Hotel Certaldo This 4-star hotel is in a 16th-century flour mill in the charming medieval town of Certaldo. It is within a short drive by car from San Gimignano, Siena and Volterra, and Chianti region. Easy travel to Florence and Siena with Certaldo Train Station nearby. Enjoy hot air ballooning, horse riding, goft at Golf Club Castelfalfi, and Terme della via Francigena Thermal Baths.
budget ($): Podere Benintendi This Benintendi farmhouse is just a 25-minute drive from medieval San Gimignano. Relax in its outdoor pool and enjoy views of the Tuscan countryside. There is a terrace and barbecue facilities.
FIND BEST HOTELS IN CERTALDO
13. Barga, small hilltown, north of Lucca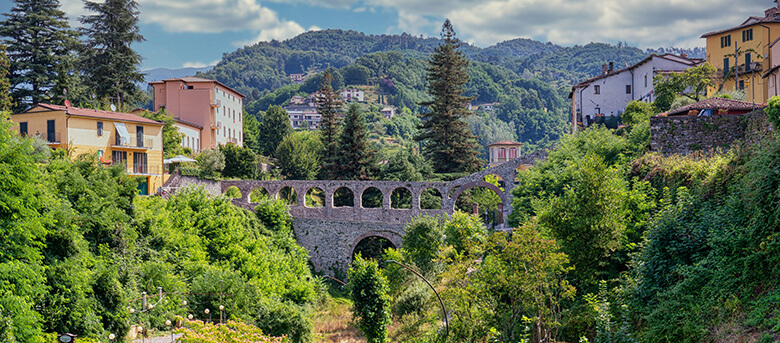 Located north of Lucca, in the heart of the Serchio Valley, Barga is well out of the way of most tourist routes. Only the most wandering of road trippers wind up here. With far fewer tourists than many other towns in the Tuscan region, this is a great place to go if you just want to escape into the peace and quiet.
Barga is a natural beauty, surrounded by a stunning landscape of luscious valleys. The town has a local charm, with none of the contrived trappings of bustling tourist hotspots. If you want to experience everyday life in an Italian town, Barga is a great option to consider.
The town itself was mostly built during the renaissance period. As such, there are numerous period features for you to enjoy. The 15th-century aqueduct is particularly notable. The sweeping arches of the waterway cut through the forest and across the valleys with grand aplomb.
The Romanesque Cathedral of San Cristoforo is another key part of Barga's history you should pay a visit to. Whilst the castle-like structure itself was constructed sometime before the 11th-century, many decorative additions have been made to the façade over the centuries, making it a curious blend of historic styles.
Some of the beautiful churches to visit are Chiesa della Santissima Annunziata and Chiesa del Santissimo Crocifisso; historical palaces are Palazzo Podestà, Palazzo Angeli Palazzo Pancrazi, and Palazzo Balduini.
There's a fish and chip festival held here every year because many people live here are fromScotland at the 20th century.
Stay In Barga If You want to stay surrounded by nature; You are looking for a quiet town, well out of the way of most tourists; Sightseeing is not a priority.
Best places to stay in Barga:
Renaissance Tuscany Il Ciocco Resort & Spa Located on the hill, 10 minutes' drive by car from the center of medieval town of Barga. It has an outdoor pool and modern spa with a hot tub, sauna, and steam bath.
Villa Moorings Located within a short walk from Barga Cathedral, outside Barga's medieval centre, this family run boutique hotel has a swimming pool, sun terrace and gazebos. There is free private car parking and a garage for motorcycles.
FIND BEST HOTELS IN BARGA
14. Pietrasanta, Little Athens of Italy
Located near Lucca, Pietrasanta is a small medieval town, known as Little Athens of Italy. Pietrasanta is located between the sea and the Apuan Alps close to Versilia beaches, Forte dei Marmi, and Pisa. Pietrasanta boasts a number of conveniences.
If you want to attend the Viareggio Carnival, but want to be able to escape the crushing crowds and extortionate hotel rates, Pietrasanta offers a neat alternative. It's just removed enough to be quieter, even in carnival season, without being a pain to travel back and forth.
Pietrasanta itself is known as a haven of the arts. You will find lots of galleries and workshops belonging to local artists. Having been an international hub for artists for years, you can also find statues and Bronze sculptures scattered throughout the streets.
The Piazza Duomo public square frequently hosts temporary installations of impressive sculptures and artworks. The piazza is surrounded by restaurants and cafes, so you can sit at one of the street-side tables and enjoy the artwork with your meal.
Expect to find some more unusual pieces in Pietrasanta, rather than just the Renaissance-style works you will find throughout Tuscany. 'Big Bench' is a good example. The oversized, green bench sits on the hills above Pietrasanta, offering a quirky photo opportunity, and excellent views, for anyone who climbs the steps to sit on it.
Stay In Pietrasanta If A convenient location, close to both the sea and the popular sightseeing town of Lucca is ideal; You want to attend Viareggio Carnival but don't want to be stuck amongst the crowds or fleeced for carnival season; hotel rates;
Best places to stay in Pietrasanta:
Hotel Palazzo Guiscardo This 4-star hotel is in Pietrasanta, 5 km from Forte dei Marmi beach. There is Italian buffet breakfast with homemade pastries, croissants, fresh fruit and yogurt. You can use airport shuttle service to Pisa Galileo Galilei Airport.
Hotel Palagi Located in Pietrasanta, this hotel has an on-site a bar, shared lounge, 24-hour front desk, and free private parking. It is a short drive by car from Forte dei Marmi, Viareggio, and Pisa International Airport.
FIND BEST HOTELS IN PIETRASANTA
15. Collodi, rural town easy access to Luccas
Collodi is a tiny village just a few miles east of Lucca. If you are looking for a quieter town, with a village-like atmosphere, and plenty to do for kids, Collodi is well worth considering. The town is linked to the name of Carlo Collodi, the author of the Pinocchio fairy-tale, and has really run with the connection.
Pinocchio Park is the best example, an entire theme park styled around the iconic tale. There are endless whimsical art installations to discover, themed rides, and numerous little attractions and entertainments.
If you are shorter on time, you could just visit the Pinocchio statue instead. Just across the road from the park, the giant statue is impossible to miss, looming over the surrounding area.
Alternatively, you can spend the day at Garzoni Historical Gardens and Butterfly House. The botanical gardens are a wonder to explore, with various levels of beautiful plants and gardens decorated with sculptures. Meanwhile, anyone who isn't scared of insects will love getting up close to the exotic species within the butterfly house.
Being so close to Lucca, Collodi is a great place to consider if you want to explore the city but don't want to stay amongst the crowds of tourists.
Stay In Collodi If you are looking for a quiet town with plenty of attractions for children; you have a particular love for 'The Adventures of Pinocchio'; you want to stay in a more rural town, with easy access to Lucca.
Best places to stay in Collodi:
San Gennaro Castello Located in the historic centre of San Gennaro, the Tuscan countryside, this hotel has a bus link to Lucca, Pescia and Collodi. There is continental breakfast and typical Tuscan dishes. Enjoy of activities in the surrouding such as hiking, wine tasting or cooking classes.
A Collodi Io & Mamma This bed and breakfast has a flat-screen TV, a private bathroom with a hairdryer, free toiletries and bidet, aminibar and kettle. It has a buffet or à la carte breakfast.
FIND BEST HOTELS IN COLLODI
16. Cortona, quaint Italian village south of Arezzo
Located in eastern Tuscany, in the Valdichiana, or Chiana Valley, Cortona is a small but historic town south of Arezzo. Settled in the hilltops, Cortona offers a quaint Italian village feel. If you are looking for a relaxed town, away from the hustle and bustle of tourist cities, where you can experience everyday Italian life, Cortona is for you.
Whilst it may be little, there is plenty to keep you occupied here. Museums, fortresses, and archaeological sites are scattered all around the town.
The area is particularly rich in Etruscan history, with hundreds of Etruscan tombs discovered in the surrounding region and within the town itself. Meloni and Tanella are two burial sites currently being excavated. Who knows what artifacts and Etruscan secrets will be uncovered?
The town is focused around its two public squares, Piazza della Repubblica and Piazza Signorelli. Piazza della Repubblica dates back to Roman times. It is overlooked by the town hall, with its grand clock tower and stone staircase. The piazza is ringed with cafes and restaurants, making it a lovely place to stop for a meal and take in the historic atmosphere.
Piazza Signorelli is right next to Piazza della Rupubblica. On the 4th-Sunday of each month, the piazza hosts an antique market. It's a great opportunity to hunt for some unique souvenirs, and also to mingle with the locals.
There are various historic relics to discover throughout Cortona, from centuries old palazzos to even more ancient gates and cobbled streets. If you prefer looking at history in a more controlled environment, there are plenty of museums to keep you busy.
The Etruscan Academy Museum is on Piazza Signorelli and houses various Etruscan artifacts, as well as more recent Tuscan relics. Alternatively, the Diocesan Museum houses delightful works of renaissance art.
Stay In Cortona If You want to stay in a smaller town with a local atmosphere; You want to stay in a super rural town, well away from the cities and their crowds of tourists; This is not your first time visiting Tuscany.
Best places to stay in Cortona:
luxury ($$$): Relais & Châteaux Il Falconiere This 5-star hotel is located in the 17th century manor, 2.5 km from Cortona's historic centre. Enjoy a traditional Tuscan dishes at a Michelin-starred restaurant.
mid-range ($$): Hotel San Michele Located in the ancient Baldelli Palace, in the heart of Cortona, this hotel has 40 roomswith modern services. There is buffet breakfast, on-site bar, and private car parking!
mid-range ($$): Hotel San Luca Located in Cortona historic centre, a short drive by car from Lake Trasimeno, this hotel has a terrace with views of countryside. It is close to Camucia di Cortona Station and A1 motorway.
FIND BEST HOTELS IN CORTONA
17. Fosdinovo, ancient village in northern Tuscany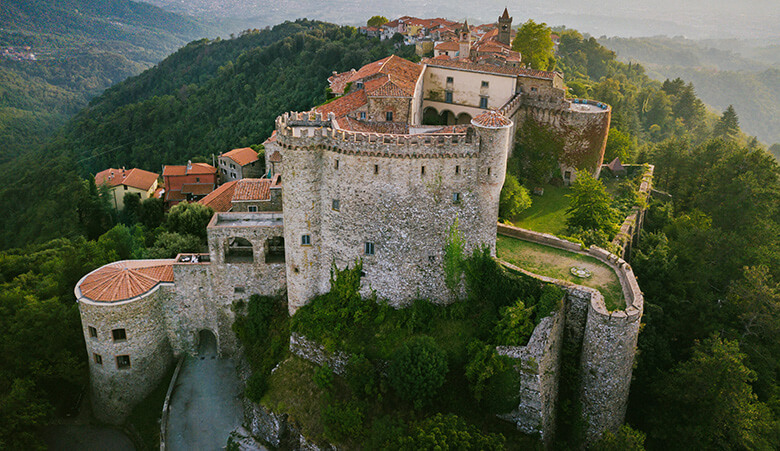 Dominating the Val di Magra and Luni plains, Fosdinovo is the perfect place to stay if you are looking for a quiet retreat. Rather than droves of tourists, you will be able to mingle with the locals in the cozy tavernas and family-run restaurants.
The main star of Fosdinovo is the 12th-century Castello Malaspina. The mighty fortress still towers over the surrounding valleys. Rather than serving as a defensive structure, the castle now acts as a unique B&B, as well as a gallery for the artists in residence.
Whilst the town of Fosdinovo itself is small, the surrounding hills are full of small settlements boasting plenty more bars, restaurants, and historic sites to discover. Whether by car or by foot, the winding roads make a lovely scenic route through the trees and farmland.
Although it's an inland town, Fosdinovo is only a few miles from the sea. You will be just a short journey from the comfortable beach town of Lerici. Lerici has its own castles and relics to explore, so it's worth making the trip down even if you don't want to laze on the beach all day.
Stay In Fosdinovo if You want a quiet, rural town; Mingling with locals in cozy tavernas is your goal; Being reasonably close to comfortable beaches would be ideal;
Best places to stay in Fosdinovo:
Castello di Fosdinovo this guest house is set in a real mediaeval castle. It has views of the Apuan Alps and the Ligurian Sea. Some lodge has Carrara-marble bathroom.
Casa Virgilio Located in Fosdinovo, this bed and breakfast has an on-site resturant, buffet or Italian breakfast. Rooms come with a flat-screen TV and a private bathroom.
FIND BEST HOTELS IN FOSDINOVO
18. Volterra, good stop on road trip between Pisa and Siena
Midway between Pisa and Siena, on a hill between the Era and Cecina valleys, Volterra makes a good stopping-off point to plot into your road trip route. Although small, the charming town has enough historic sites and attractions to make it well worth spending a day or two here.
The town's medieval history is apparent throughout. From the mighty Medici Fortress to the ancient cathedrals and churches with their gilded halls, there is plenty to see within the old city walls. The remains of an ancient Roman amphitheater and bathhouse are preserved close to the town center.
Volterra is another town steeped in Etruscan history. The ruins of an Etruscan Acropolis lay just outside the town, along with some old burial grounds. The Mario Guarnacci Etruscan Museum has been celebrating the area's heritage since the 1700s, displaying various relics from the ancient civilization.
With so many historic periods and civilizations represented within the town, Volterra is ideal for anyone who enjoys getting hands-on with history. The town allows you to get up close with the physical remnants of so many old, lost cultures.
Stay In Volterra If you are plotting a road trip between Pisa and Siena; you are fascinated by Etruscan history; you enjoy exploring old ruins;
Best places to stay in Volterra:
Hotel La Locanda This 4-star hotel is set in th he historic centre of Volterra, short stroll from the Roman Theatre and Porta Fiorentina Gate. The hotel has breakfast with cold meats, cheeses and cakes. It is 2km from Volterra Train Station.
Hotel San Lino Located within the medieval walls of Volterra, a short walk from Roman Amphitheatre and Piazza dei Priori. There is a garden, outdoor swimming pool and sun terrace.
FIND BEST HOTELS IN VOLTERRA
19. Monteriggioni, medieval walled village 20 km from Siena
Monteriggioni is a particularly tiny village, just north of Siena. The main attraction of Monteriggioni is the impeccably preserved medieval walls that surround the town, defending the small handful of buildings within. Two historic gates, Porta Franca and Porta San Giovanni allow visitors to pass through the looming walls.
The walls of Monteriggioni are best appreciated as you approach them. The mighty stone walls are interspersed with defensive towers jutting into the sky, creating an impressive skyline.
Less of a residential town and more a quirky shopping and dining destination, Monteriggioni contains a small history museum, along with a few restaurants, small hotels, and craft shops. If you visit in July, you can take part in the Medieval Festival of Monteriggioni.
Aside from taking in the historic atmosphere and enjoying the local cuisine, there is very little to do in Monteriggioni. It serves well as a brief stopping point on a long road trip or journey, but I wouldn't recommend you spend a longer vacation here.
Stay In Monteriggioni If you are looking for places to explore surrounding Siena; you are looking for a quirky place to stop and shop before heading into the city; you are planning a road trip around Tuscany and are looking for a unique location to spend a single night.
Best places to stay in Monteriggioni:
Romantik Hotel Monteriggioni This 4-star hotel is set in in the walled medieval town of Monteriggioni, in the heart of Chianti. It has a swimming pool, a free private car parking, a large lounge and a bar.
Rooms and Wine al Castello Located in Monteriggioni this guest house has free car private parking and bike hire. Rooms are come with basic amenities.
FIND BEST HOTELS IN MONTERIGGONI
20. Forte dei Marmi, coastal town on the Mediterranean Sea
Just north of Pietrasanta, Forte dei Marmi is a lovely little seaside town on Tuscany's west coast. Just along the beach from lively Viareggio, and a little more removed from the city of Lucca, Forte del Marmi offers a more laid-back beach vacation, away from the worst of the tourist crowds.
Whilst it's less crowded than Viareggio, don't expect this to be some sleepy rural town. The beaches are still full of sun loungers for the many people who come to relax on the sand.
The various beaches of Forte dei Marmi back onto a road lined with numerous restaurants. You won't need to worry about packing a picnic for your beach day when you can get a delicious, cooked meal within a few minutes' walk of your beach lounger.
If you find yourself getting bored of lazing on the beach, you can always take a hike into the hills overlooking Forte dei Marmi. Aside from the beautiful, verdant landscape, there are castles and local historic sites to be discovered within the valleys.
If you are hoping to attend the Viareggio Carnival but don't want to pay out the nose for accommodation, Forte dei Marmi is a great alternative. It's just a comfortable walk along the beach to Viareggio.
Stay In Forte Dei Marmi If You are looking for a less crowded beach resort town; Relaxing on the beach is your main goal ; You are planning to attend Viareggio Carnival but are looking for cheaper accommodations for your stay.
Best places to stay in Forte Dei Marmi:
Grand Hotel Imperiale This 5-star luxury hotel is located only 300 m from the sea. It has a beautiful private beach. All rooms and suites have marble bathrooms, private balconies, LCD TV, fax, a telephone and free wifi.
Hotel Franceschi Located in in Forte dei Marmi 100m from the beach. The rooms are comfortable, quiet and bright. You can relax at its garden and a lounge.
FIND BEST HOTELS IN FORTE DEI MARMI
21. Viareggio, where to stay in Tuscany for beach holiday
Known as the "Pearl of the Tyrrhenian Sea," Viareggio is a gorgeous seaside resort town. If you are looking for a quiet, seaside location, this is not it. Viareggio is very popular with tourists, and it's easy to see why.
Boasting 10km of beaches, Viareggio is a paradise for anyone who wants to spend their vacation relaxing on the sand. Backed by the La Passeggiata boardwalk, you are never far from whatever comforts you need to make your time here idyllic.
La Passeggiata runs for 3km along the main stretch of Viareggio's beaches. The boardwalk is lined with cafes, ice-cream shops, restaurants, and gelato shops. Aside from being super convenient for grabbing snacks to take to the beach, this is also a wonderful place to come for dinner right by the sea.
Being on the west coast of Italy, Viareggio experiences some truly stunning sunsets. If you are looking for a romantic date night idea, simply pick a restaurant with sea views and be there when the sun goes down.
Aside from its incredible beaches, the main attraction here is the Carnival of Viareggio. One of the most popular carnivals in Europe, swathes of tourists flock here every year to party. Keep that in mind if you don't like crowds. With all the demand for accommodation around carnival season, hotel prices in the area soar. They also book up fast. Keep that in mind if you plan to visit in the month leading up to lent.
If you are interested in the inner workings of the carnival, head to Viareggio Carnival Citadel. The citadel is an oval of sixteen warehouses where you can watch the parade floats being built. There's also a museum and multimedia theatre to offer visitors more information about the festival.
In keeping with that vibrant, party legacy, Viareggio is a great place to go for exciting nightlife, despite being a smaller town. There are also a couple of cities pretty nearby if you find the evening entertainment of Viareggio isn't to your liking.
Viareggio is just a few miles away from both Pisa and Lucca. If you find yourself growing bored of spending your days lazing on the soft sand, it's no trouble to just pop over to either city for a day of sightseeing. You can be back at a beachfront restaurant in time for dinner.
Stay In Viareggio If You are planning a relaxing beach vacation; You want to stay by the sea but within easy reach of sightseeing cities like Pisa and Lucca; A vibrant nightlife is important to you; You plan to attend Viareggio Carnival.
Best places to stay in Viareggio:
luxury ($$$): Grand Hotel Principe Di Piemonte Located in front of the sea on Viareggio's promenade, this 5-star hotel has 2 star Michelin restaurant. Enjoy the local specialties, seafood, and pizza at Maitò Viareggio restaurant on the rooftop terrace, as well as admire the views of Versilia coast and the Apuan Alps.
mid-range ($$): Palace Hotel This 4-star hotel is located on Viareggio's seafront, within a short stroll from Viareggio Train Station. Enjoy regional Tuscan and Mediterranean specialities at Decò restaurant.
budget ($): Hotel London Located in the seaside resort of Viareggio, this family-run hotel is also close to the railway and bus stations, and the harbour. Rooms come with free wifii, a TV and air conditioning.
FIND BEST HOTELS IN VIAREGGIO
Getting Around Tuscany without a car
You can easily explore the big city such as Pisa, Siena, Florence, without a car using the trains and buses. But It's best to rent a car to see the countryside, the small towns, and wineries such as the Chianti area and the Val d'Orcia.
If you don't plan to hire a car and depending on public transportation, you should stay in Florence. This headquarters of Tuscany has an airport and bus or train links to all of the other popular Tuscan towns.
Taking the train is the easiest way to travel between big cities, and catch the busess to see smaller villages. Tuscany has some main rail: Milan-Florence-Arezzo-Orvieto-Rome; and Genoa-Pisa-Livorno and Rome.
Bus is suggested to use to reach towns and areas that are inaccessible by train. The bus terminal is ext the train station so it's convenient; most buses stop at the main square in smaller villages. SITA buses are a good to travel to villages of Chianti.
See more:
Overall, Florence is the best area to stay in Tuscany for first-timers because it is the most covenient location and it has widest range of accommodation options. If you stay here, you will be in the middle of action, within easy walking distance to many tourist amenities. With its well-connected train and bus, you can easily take a day trip to other Tuscan towns and countryside.
Whether you are looking for various locations to plot out a road trip adventure around Tuscany or just the one area to settle down for a relaxing break, you will find where to stay in Tuscany. All that's left is to find and book your ideal hotel, or hotels.