Where you stay in Innsbruck? for skiing, budget, winter, and summer? In this blog, I will help you to find the best areas to stay in Innsbruck (include map and video) and the best hotes in Innsbruck for all budget travelers.
Located on the River Inn, surrounded by the Austrian Alps, Innsbruck is the capital of Bundesland (federal state) Tirol, sandwiched between Germany and Italy. Surrounded by 13 different ski areas, Innsbruck is Austria's leading ski destination that hosted two Winter Olympic Games in 1964 and 1976.
The Capital of the Alps is a great all year round destination, not only a winter wonderland with world-class ski resorts, Christmas markets and the famous Swarovski Christmas Tree, but also an amazing summer destination with outdoor activities such as mountain biking and hiking.
Where to stay in Innsbruck first time?
Tthe best areas to stay in Innsbruck are Old Town, Hotting, Pradl, Axams, Patsch, Zillertal Valley, Lans, and Seefeld. These neighborhoods are the city's most popular places for tourist that offers a wide variety of tourist attractions and amenites.
Old Town Innsbruck is the overall best area for first-time visitors because it's the heart of the city with many historical sites and ancient architecture. Staying here provides easy access to some of the city's best hotels, shopping, dining, and nightlife venues.
If you are looking for where to stay in Innsbruck for skiing, I would suggest staying in Seefeld, a small, beautiful ski area located just 30 minutes from Innsbruck. But if you want to stay in Innsbruck city center, Olympia SkiWorld Innsbruck is one of the best places to stay in Innsbruck for skiing.
If this is your first visit, I recommend to stay at least three days in Innsbruck to explore the city. Three days is enough to see some of the most famous tourist attractions, and get the sense of the local culture and history. To make the most of your trip, I suggest to book a hotel in the Old Town.
Map of areas and neighborhoods in Innbruck: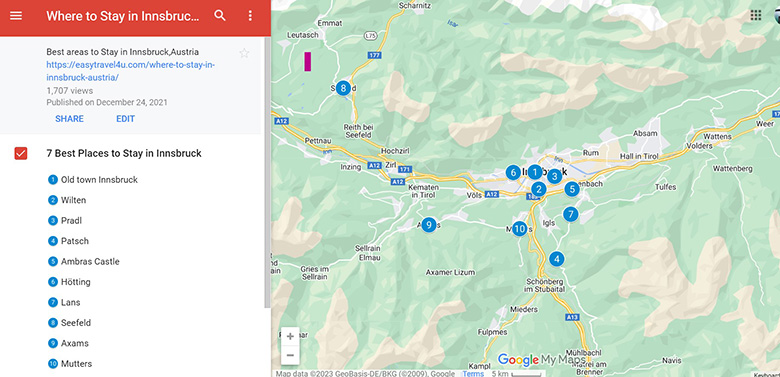 The Best Areas to stay in Innsbruck for tourists are:
1. Old Town-Aldstadt
Old Town is the best overall area to stay in Innbruck for first-time visitors due to its proximity to popular tourist attractions and its wide range of accommodations, shopping, dining, and nightlife options.
Old Town is very well-connected to public transportation, making it an ideal base to access snow slopes and a nearby glacier from Old Town without a car.
Located on the bank of the river Inn, Old Town, known as Aldstadt, is an 800 year old town in central of Innsbruck. The area is characterized by the historical medieval architecture found amongst modernly designed retail buildings.
Old Town is home to the most famous attractions in the city such as Golden Roof, the City Tower, and the Imperial Palace. You can easily explore on foot, attractions are within walking distance to each other. It's also very close to the main train station.
The famous Little Golden Roof, is the symbol of Innsbruck. it was designed during the 1400s and 1500s by Emperor Maximillian. The roof faces a square graced by visitors from around the world.
Just a stone's throw from the Golden Roof is the Innsbruck City Tower (Stadtturm), a 14th-century watchtower. Climb to the top of the tower and enjoy breathing taking views of the city, Nordkette mountains, Patscherkofel, and the Bergisel ski jump. It has a great view of the Christmas market and Christmas tree from mid-November to December.
Another important landmark in the Old Town is the Innsbruck Imperial Palace (the Hofburg). Here you can enjoy sightseeing the lavish interior, Giant's Hall, the Hofburg Chapel, and the Guard Room.
Right in front of the Imperial Palace is a Gothic church of the Black Men, Hofkirche, also known as the Innsbruck Court Church, as well as the nearby Museum of Tyrolean Folk Art.
Other place of interest in the Old Town are Tyrolean State Theatre, the Leopoldsbrunnen which is one of the widest fountains in Europe, the City Museum, the Cathedral of St. James, and the Maria Theresa Street with many historical buildings.
If you are visiting Innsbruck with kids, be sure to check out the Audioversum which is opposite the Landhausplatz near the Triumphal Arch. Kids will love this interactive science center and enjoy playing fun games.
If you want the best photographs, head to the Marktplatz (Market Square) and Innbrücke (Inn Bridge) for the best shot of charming colorful houses on the banks of the river Inn with snow-capped mountains in the background.
You should stroll along the river, especially in winter, when the snow-capped Alps in the backdrop and Christmas Markets open in December, with a huge Swarovski Christmas Tree in the centre. Many students flock to this neighborhood to learn the history and enjoy a lively Innsbruck nightlife with many pubs and clubs.
This neighborhood has a wide range of accommodation options for all budget from backpacker hostels to 5 star luxury hotels. If you only transit in Innsbruck before heading to ski resorts in the Austrian Tyrol, Salzburg, Italian South Tyrol, you can book hotel near the central train, bus and tram station.
Stay in Old Town if you're first time visiting Innsbruck and want to be in a central location, you love historical sites, you want to enjoy Innsbruck nightlife, you are on a budget.
Best places to stay in Innsbruck in Old Town for first-timers:
luxury: Hotel Maximilian – Stadthaus Penz This 4-star family-run hotel is set in the heart of the old town, close to main sights such as The Golden Roof, the Imperial Palace, the Cathedral of St. James, abd the University. There are many stops neaby, providing easy access to the train station, the airport, and the hop-on-hop-off sightseeing bus.
mid-range: STAGE 12 Hotel by Penz This 4-star hotel is located in Aldstadt, 4km from Innsbruck Airport, and 1km from Innsbruck main train station. Boasting a bar, spa, fitness center and a terrace with stunning views of the mountain.
budget : Nala Individuellhotel this boutique hotel is located just within walking distance from the Golden Roof. It has a fabulous Italian restaurant and a terrace overlooking the mountain, ideal to help you relax. This hotel is also close to the city's main shopping street – Maria-Theresien-Straße and Innsbruck Main Train Station.
🔍FIND MORE HOTELS IN OLD TOWN
2. Wilten
Wilten is located immediately south of the city center and is a destination popular for the access it gives you to other areas, as opposed to the attractions it has of its own.
For starters, being located so close to the heart of the city, you will be within close proximity to many of Innsbruck's more popular attractions and amenities. While not a cheap area, it is certainly more affordable than the very city center itself, so still provides a great deal of value.
It is also the location of the city's central train station, Innsbruck Hauptbahnhof (Hbf). Hauptbahnhof station is the major hub for western and central Austria. It has trains to Budapest, Vienna, Salzburg, Munich, Verona, Milan, Venice, and Rome, as well as many other popular travel destinations.
With links to all of the major ski resorts in the surrounding area, it is ideal for anyone hoping to split their vacation equally between the city and the slopes. Not only that, but it is also incredibly convenient for anyone traveling to or from the city by train in the first place.
Other places of interest in Wilten neighborhood are:
the Grassmayr Glockenmuseum,
Crazy Bikez,
Tiroler MuseumsBahnen,
Basilica Wilten,
Stadtgasthaus Haymon,
Wilten Parish Church and Basilica.
Stay in Wilten if you are traveling by train, you want to split your vacation between the city and the ski slopes, you want to be near the city center.
Best places to stay in Innsbruck near Wilten:
🔍FIND MORE HOTELS IN OLD TOWN
3. Pradl
Pradl is a largely residential neighborhood, located in the east of Innsbruck Old town. Once a part of the city that had been left behind, it has undergone a dramatic transformation in recent years, with renovations and updates making it one of the most vibrant districts in the city.
This gives you a great opportunity to enjoy the space and quiet that comes with not being in the city center, while reaping all the benefits of its modern upgrades. As a quite upmarket neighborhood, with many green areas, beautiful houses, and churches. The prices aren't cheap, but you will get to enjoy attractions common in this sort of areas, such as theatres and stylish pubs and restaurants.
It also boasts one of the most popular attractions in the city, Innsbruck Cathedral. An 18th-century Baroque Cathedral, its beautiful façade is one of the city's most iconic sights, and a must-see for anyone visiting the city who cares about history, culture, or architecture.
You can also check out Innsbruck Archaeological Museum, Radiomuseum Innsbruck, Parque Rapoldi, Olympiaworld, and Cafe Martin, and the Tivoli area which is home to some of the Olympic attractions in the city.
Stay in Pradl if you want to stay in a more upmarket, residential neighborhood, you want to visit Innsbruck Cathedral;
Best places to stay in Innsbruck in Pradl:
🔍FIND MORE HOTELS IN PRADL
4. Amras
Located 3 kilometers from the heart of Innsbruck, Amras is a largely residential area, you will be surrounded by shops, restaurants, and amenities aimed at the local residents.
This brings with it the benefit of offering much better value than the more popular tourist hotspots. While its distance doesn't make it ideal for visiting the center of town, its transport links make it easy to do so if you choose.
Amras even has one of the more popular attractions in the city in its own right, that being Ambras Castle. Built in the 16th-century, its stunning Renaissance architecture is quite a sight to behold, as are the views available from it.
Stay in Amras if you want to stay in a cheaper, more residential area, you want to visit Ambras Castle.
Best places to stay in Innsbruck in Amras:
🔍FIND MORE HOTELS IN AMRAS
5. Lans
Located at the foot of Patscherkofel moutain, Lans is a lakeside community, 8km from Innsbruck Old Town. Lans is a popular destination for family when visiting Innsbruck. It is was a stopping point of the salt trading road between Hall in Tirol and Matrei am Brenner. It now a hiking area in summer and skiing area in winter.
The most famous attraction in this Lans is Lake Lans, also known as Lansser See, is perfect for swimming during summer, and in winter freezes to form an ice skating ground. You can have lots of fun in this neighborhood at any time of the year. There is a 9-hole golf Sperberegg course for golf lovers to explore.
Lans is the best area to disconnect from the world, recharge, and revitalize your mind. You can enjoy a lot of natural healing at the holistic living center in the medical center Lanserhof. Religious pilgrims also enjoy this area.
This neighborhood offers suitable campsites and hotels as accommodations for visitors, depending on your budget.
Stay in Lans if you travel as a family; you love areas with lots of nature, you wish to revitalize your mind and heal, you have a budget to visit.
Best places to stay in Innsbruck in Lans:
6. Mutters/Igls
Mutters and Igls are two villages actually located outside of Innsbruck, around 8 km south of the city centre. While this makes it less than ideal for those planning to travel around the city on a daily basis, it is perfect for anyone who wants to see a few of the sights while on a skiing trip.
Set up in the hills between Wipptal Valley and Stubaital Valley, ski slopes and mountain hiking trails are just a short walk away, giving you the perfect opportunity to enjoy the great outdoors and the iconic Austrian landscape.
There is a free ski bus will take you to the Axamer Lizum, Nordpark, Patscherkofel, and Stubai Glacier. Lots of winter sports, ice skating and winter hiking, ice hockey rink and horse sleigh rides.
Both villages provide a combination of traditional style and modern tourist amenities, meaning you can enjoy an authentic experience, without sacrificing your luxuries. This makes them ideal for a trip split between city, village, ski resorts and nature.
Stay in Mutter/Igls if you want to spend a lot of time skiing or hiking in the mountains, you want to stay in a village, as opposed to the city, you don't mind being quite away from the heart of Innsbruck.
Best places to stay in Innsbruck in Mutter/Igls:
🔍FIND MORE HOTELS IN MUTTER
7. Hotting
Hotting is a residential suburban neighborhood located just across the river from Innsbruck Old Town. It is where you find the 1911 Alte Pfarrkirche (Old Parish Church) and Höttinger Höhenstrasse (Hotting Ridgeway) with it charming views of the city and mountains.
Popular point of interest in this area are the Innsbruck University, Botanical Garden, Selles Wohnzimmer, Mountain Soaring, Cafe Namsa, Buren Wirt, and Up Stream Surfing.
Hotting is close to Innsbruck's heart, and a flexible transportation system will allow you to travel quickly from Innsbruck to Hotting and vice versa. It has the Hottinger church famous amongst Christian pilgrims.
This neighborhood also allows you to experience some Innsbruck nightlife through pubs and restaurants around its several hotels. However, this area is more suitable for quiet living, with walks in its beautiful parks.
Accommodations in the Hotting area are reasonably cheap since it is a predominantly residential neighborhood. You can also find mid-range hotels if you have more money to spare.
Stay in Hotting if you are on a budget; you want to stay close to Innsbruck airport; you want a quiet neighborhood, you want a place close to the heart of Innsbruck.
Best places to stay in Innsbruck in Hotting:
8. Patsch
Patsch is an ancient village about six kilometers from the Innsbruck city center, Southside of the city. This neighborhood is breathtakingly beautiful, and it is close to Patscherkofel foothills. Austria hosted the Winter Olympics 1964 and 1976 at the Patscherkofel Mountain.
This village lies next to a Rosengarten Nature Reserve with many hidden spots and secret valleys you can explore. The natural resource extends up to the famous Stubai Glacier.
You can explore the Europabrucke Bridge, snow slopes, Alpine Garden, and much more fantastic scenery. Patsch is also great for exploring Innsbruck nightlife as it has many pubs and restaurants. Other attractions are Pfarrkirche Igls church, Goldbichl in Igls, Das Hausberg, Patscherkofelbahnen, and Barenwirth.
Naturschutzgebiet Rosengarten is a large nature reserve popular, offering sweeping views of the Wipptal Valley and Stubai Glacier. Locals and visitors frequently tour Patsch; It also offers suitable campsites and rooms for visitors that want to shop around.
Stay in Patsch if you love beautiful sceneries, you want to explore Innsbruck nightlife, you want to shop around.
Best places to stay in Innsbruck in Patsch:
9. Seefeld
Located in the heart of the Alps, Seefeld is a popular vacation destination in summer and winter. It hosted the Olympic Winter Games twice 1964 and 1976, and the World Cross-Country Skiing Championships in 1985. The Olympiaregion Seefeld has been popular with cross-country skiing enthusiasts for decades.
Seefeld is a gorgeous neighborhood, which looks like a "small paradise" about a twenty-minute drive from Innsbruck. Trains, buses, and taxes also transport people in and out of this area.
Seefeld is characterized by wooden cabins, snowy capped mountains, and crystal clear lakes. It is suitable for great company, chilling during winter with warm fires and many foods and drinks.
This area is family-oriented with activities like skiing, hiking, and other outdoor sports families can enjoy together. There are also casinos, boutiques, shops, and global restaurants; visitors can explore.
Golf enthusiasts will love the 18-hole Seefeld-Wildmoos Golf course and the 9-hole Seefeld-Reith Golf course right next to the pedestrian zone in Seefeld with a breathtaking view of the mountain.
Seefeld offers cheap and mid-range accommodations for families with a budget. If you wish to splurge to enjoy more of what this neighborhood offers, there are suitable accommodations for you.
Stay in Seefeld if you love picture-perfect neighborhoods, you want a family-oriented area, you are on a budget.
Best places to stay near Innsbruck in Seefeld:
10. Axams
Axams is a small village with five thousand plus residents, located about ten kilometers from Innsbruck. Its name symbolizes an "elevated village" as it oversees mountain peaks and valleys nearby. You can enjoy the incredible scenery the elevation has to offer.
This neighborhood is famous for a beautiful summertime involving lots of summer activities, including swimming, horse-riding, etc. You can also enjoy skiing at nearby ski slopes and other wintertime activities during winter.
Nearby, you will find the Axamer Lizum ski resort (also known as the White Roof of Innsbruck by locals) is the largest of the ski areas around Innsbruck. In summer, Axamer Lizum is a popular hiking spot.
Families and children will love to visit the local leisure center "Freizeitzentrum Axams" with an indoor pool, heated outdoor pool, and sauna and wellness facilities.
This neighborhood is suitable for families, athletes, and those who love the outdoors. You have to visit Innsbruck city if you want parties or clubbing. Accommodations in Axams are reasonable and affordable, especially for families and those on a budget. You can also find luxurious hotels if you wish to spend more.
Stay in Axams if you want to experience a fun-filled summer, you are on a budget.
Best places to stay in Axams:
11. Zillertal Valley
The widest side valley of the Inn, Zillertal valley is a beautiful valley resting between lofty peaks, 40 km east of Innsbruck, about a 45 minutes drive from Innsbruck city. It's famous for its green meadows, warmth, fragrant environment, clean air, and bright outdoors. This makes it suitable for outdoor activities, like skiing in winter, hiking in summer.
Zillertal neighborhood has many casual dining areas allowing you to experience varieties of meals from snacks to local cuisines. It also has a few pubs, signifying that the valley is more of a place for outdoors and not clubbing.
The Ziller Valley is flanked by the Tux Alps to the west and the Kitzbühel Alps to the east. It stretches from Strass in Zillertal to Mayrhofen, where it then divides into four smaller valleys; the Zillergrund, Zemmgrund, Stillup Valley, and the Tuxer Valley. Mayrhofen and the Hintertux are probably the most popular ski resorts in the valley.
This area offers Innsbruck accommodations ranging from cheap guesthouses to luxurious hotels. This means that anyone can find their specs and enjoy a Zillertal vacation.
Stay in Zillertal Valley if you love the bright outdoors, you want a variety of dining experiences.
Best places to stay in Innsbruck in Zillertal Valley:
Check out the virtual tour of the best places to stay in Innsbruck in this video:
Where should I Stay in Innsbruck for the first time?
Old Town-Aldstadt is the best area to stay in Innsbruck for first-timers due to its super central location. If you stay here, you will be located in the middle of the action.
What are the best areas to stay in Innsbruck?
Old Town, Hotting, Pradl, Axams, Patsch, Zillertal Valley, Lans, and Seefeld are some of the best areas to stay in Innsbruck because the are the most popular locations that offer a wide variety of attractions and amenities.
How many days in Innsbruck is enough?
If you're planning a trip to Innsbruck, I'd say that 2-3 days is a good amount of time to explore the city and its surroundings. However, if you want to do some more in-depth activities, you might want to stay a bit longer.
Read Also:
Summary – Where to stay in Innsbruck?
In conclusion, Old Town, Hotting, Pradl, Axams, Patsch, Zillertal Valley, Lans, and Seefeld are some of the best places to stay in Innsbruck for tourists and first-timers. No matter where you stay, you're sure to enjoy the beauty and charm of Innsbruck and the surrounding Alps.
Overall, Old Town is the best area to stay in Innsbruck for first-timers because it has a central location and wide range of accommodations. Booking a hotel here, you will be located within easy walking distance to many restaurants, bars, and shops.
Innsbruck offers access some of Europe's best ski resorts, close to Munich, Vienna, and Zurich. It easily reachable by Innsbruck airport and Munich airport .After checking out many areas in Innsbruck, the above neighborhoods are the best to enjoy a great vacation. These places are reasonably affordable and have many tourist attractions suitable for a beautiful holiday in Innsbruck, Austria.