Where To Stay In Salzburg: Best Areas & Hotels Travel Guide
If you're wondering where to stay in Salzburg, or where is the best area to stay in Salzburg, you're in the right place. In this article, I will give an insight into the best places to stay in Salzburg for first time visitors, couples, families, backpackers, all budget travelers; read on as I show you the best of Salzburg.
Founded in the 7th century, Salzburg has a rich history, which has resulted in the Old Town section of Altstadt being awarded the status of UNESCO World Heritage Site. The hometown of Mozart and home to recognizable filming locations for iconic films such as 'The Sound of Music', as well as boasting numerous galleries, theatres, and museums, Salzburg is a centre of Austrian art and culture.
Aside from its historical appeal, the city has grown into a vast modern city. With contemporary shopping districts, plentiful hospitality and nightlife, and a range of entertainment, from museums to live music venues, Salzburg is a city with something for everyone.
Where to Stay in Salzburg: Tips & Info
With its long history, artistic legacy and modern expansion, Salzburg is a city of many distinct appeals and districts. Choosing which district is best suited for your needs and preferences can seem like a dauting task. However, I have a few tips to help you decide which neighbourhood best fits your perfect vacation.
If you want to really experience the historical atmosphere of Salzburg, head to Altstadt, the Old Town, where the city was founded over a thousand years ago.
If you're travelling with children, the convenient location of Nonntal, immediately outside the city centre, with plenty of parks and playgrounds for kids to run around and wear off some energy, is ideal. You can be at the major attractions in minutes, without having to constantly navigate your kids through crowds the whole way home.
If you are looking to explore a more contemporary side of Salzburg, particularly the nightlife the city has to offer, Neustadt may be the perfect place for you. The region has a good mix of history and culture, along with a wide range of dining and entertainment options.
If you are traveling in or out of the city by train and want to stay near the station, Elisabeth Vorstadt is the best place for you to consider. Helpfully, this also has the benefit of being one of the more affordable districts of Salzburg, so it's both convenient and budget friendly.
Where to Stay in Salzburg – 6 Best Areas to Stay in Salzburg
If you are still at a loss as to where you should consider staying, I have narrowed down the many neighbourhoods of Salzburg to just six of the best areas for visitors. By providing a summary of what each area has to offer, I hope to make you feel more familiar with the city and better appreciate where you would most enjoy staying.
Where to Stay in Salzburg Map
To see more detail of where to stay in Salzburg map, go to google map;
1. Altstadt, Where to Stay in Salzburg for First Time Tourists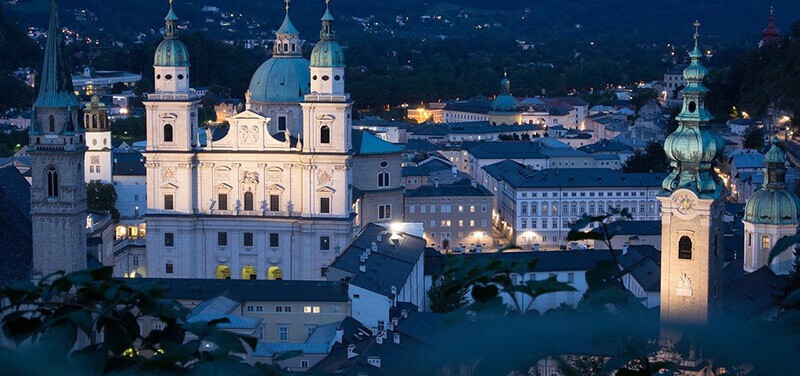 Altstadt is the historical heart of Salzburg. It is where the city first started out back in the 7th century and many of the buildings constructed over the centuries still stand today. In fact, so much of the city's historical architecture has been preserved that in the 1990's UNESCO awarded the neighbourhood the status of World Heritage Site.
As the hometown of legendry composer Mozart, the city has a number of monuments and museums dedicated to his legacy. In Altstadt you can visit Mozartplatz, a public square, overlooked by the Salzburg Museum, that hosts a statue of Mozart as its centrepiece. A few roads away, the house where Mozart was born has been converted into a museum dedicated to his youth and upbringing.
Just a few metres from Mozartplatz is Residenzplatz, a larger 16th century plaza around an intricate baroque fountain. This plaza is where the famous Salzburg Christmas market is held each winter. Several museums and galleries surround the plaza, but the grandest structure is the towering Salzburg Cathedral to the south.
There are so many museums, landmarks, and historic buildings in Altstadt that it would take a dedicated article just to touch on the most interesting of them. Even if you stay in Altstadt for your entire trip, you will struggle to run out of things to see and do.
In the northern part of Altstadt, near the Staatsbrücke bridge, you can find some more modern amenities. Well-known brands line the shopping streets, interspersed with chain coffee-shops and restaurants. Whilst this section of Salzburg is old, it's still the centre of a modern city, with all the conveniences that brings.
As arguably the most popular area in the city with tourists, accommodation can get quite pricey. Whilst you can definitely find options to suit smaller budgets, you will need to accept that "budget" will mean "basic". If you are willing to pay the higher rates, you can stay in some truly beautiful, historic buildings, with views over both the river and the historic architecture.
YOU SHOULD STAY IN ALTSTADT IF:
It is your first-time visiting Salzburg, and you love history and historical architecture
You want somewhere that is very central with plenty to see and do
You are visiting in winter for the Christmas market
You have a more generous budget for accommodation
Best Hotels in Altstadt
2. Nonntal, Where to Stay in Salzburg for Family with Young Children
Immediately south of Altstadt is the leafier suburb of Nonntal. Nonntal is ideal for anyone wanting to stay close to the historic Old Town, whilst avoiding the crowds and higher prices for accommodation.
More than just a convenient access point to the attractions of Altstadt, there are fascinating sights to see in Nonntal too. The area gets its name from the 11th century Stift Nonnberg monastery. At the north of the district, on the border with Altstadt, the imposing Salzburger Burgen & Schlösser Betriebsführung castle overlooks the surrounding neighbourhood from atop its hill.
The neighbourhood is home to several sprawling parks, offering lots of open space for children to run off some of their energy. In the west is the tree-filled Hans Donnenberg Park, which contains decorative ponds and several play areas amongst its many lawns.
In the east, the Naturdenkmal nature reserve provides even more green space and is also home to several historically significant buildings and the Salzburg University Botanical Gardens.
YOU SHOULD STAY IN NONNTAL IF:
You want somewhere conveniently close to the old town but without the high price tag
You are staying with family and young children
You enjoy spending time in urban parks and green spaces
Best Hotels in Nonntal
Hotel Via Roma is a 4 star hotel, set under the shade of the Hohensalzburg Castle, and offers free private parking, a restaurant and a garden terrace. It  is located just a 15-minute walk from Salzburg's historical centre and the Nonnberg Abbey
3. Neustadt, Where to Stay in Salzburg for Nightlife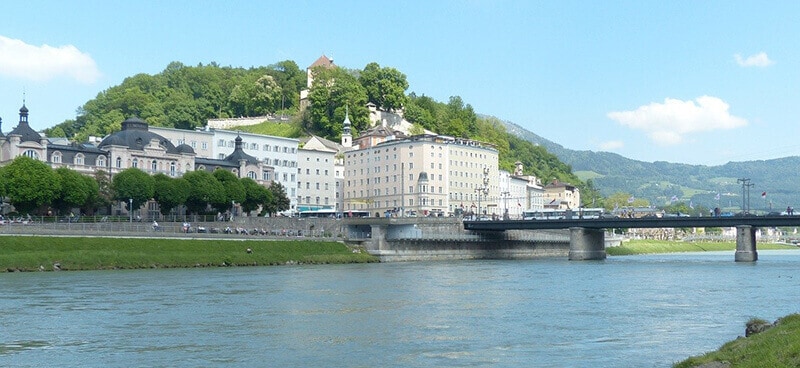 Neustadt, or 'New Town' is the neighbourhood directly across the river from Altstadt. The other half of the city centre, Neustadt offers a contemporary alternative to its historical neighbour. If you want to stay at the heart of the city, close to the major attractions, but the vintage atmosphere of the Old Town doesn't appeal to you, then this is a good neighbourhood to consider.
The streets here are lined with contemporary shops and cafes. There's also a huge range of bars and restaurants that have earnt the district a reputation as the top neighbourhood for nightlife in the city. There are several concert halls and theatres too, if live art is something that appeals to you.
There are a number of interesting sights to visit in the area. Most notable is the 17th century Mirabell Palace, with its vast decorative gardens. Just south of the palace grounds, a house once occupied by Mozart has been converted into a museum dedicated to the composer.
Further south along the river, the grand Kapuzinerkloster monastery and Paschinger Castle sit either side of the path leading up into the forested hill that dominates the east side of Neustadt. Viewing platforms along the route offer views across Salzburg that are well worth the trek.
Being in the city centre, surrounded by prominent tourist attractions, there is plenty of accommodation on offer. Whilst much of it is priced at a premium, due to the privilege of the convenient location, there is also a wider variety of budget friendly options than in the Old Town.
YOU SHOULD STAY IN NEUSTADT IF:
It is your first-time visiting Salzburg
Staying somewhere central is a priority
You would like to experience Salzburg's nightlife
Best Hotels in Neustadt
IMLAUER HOTEL PITTER Salzburg First opened in 1864, the family run, 4 star superior hotel IMLAUER HOTEL PITTER enjoys a central location in close proximity to many of the famous landmarks and sights of Salzburg. Recently renovated, the hotel offers a panoramic view over the city and its surrounding from the IMLAUER Sky – Bar & Restaurant.
Gästehaus im Priesterseminar Salzburg This guesthouse in the centre of Salzburg is set in a Baroque building next to the historic Trinity Church, a 5-minute walk from Mirabell Palace and Gardens. The simply furnished rooms all have an en-suite bathroom, and free WiFi is available in the entire building.
Hotel am Mirabellplatz  is directly opposite the Mirabell Palace and the Salzburg Congress Centre, and only a short walk from the Old Town. Free WiFi is available.
Sheraton Grand Salzburg is a 5-star hotel in the centre of Salzburg, facing Mirabell Palace and the Mirabell Gardens. Mozarts Birthplace, the Festspielhaus and the Salzburg Cathedral can all be reached by foot within 15 minutes.
4. Elisabeth Vorstadt, Where to Stay in Salzburg on Budget
At the north of Salzburg, centred around Salzburg Train Station, is the district of Elisabeth Vorstadt. A relatively new and still developing district, Elisabeth Vorstadt is known for being one of the cheaper areas to stay in Salzburg. This is compounded by the fact that it's a little further from the attractions of the city centre than other neighbourhoods.
As a primarily working-class and immigrant community, the area is one of the more diverse neighbourhoods in Salzburg. As a result, you can find a particularly interesting variety of shops and restaurants in the area, catering to the local population.
Despite being comparatively unpopular with many tourists, the proximity of the city's primary train terminal means there is plenty of accommodation available to cater to rail travellers. There are some really interesting, and well located, options available in the area and much more reasonable rates than the more tourist centric hubs.
YOU SHOULD STAY IN ELISABETH VORSTADT IF:
You are travelling to or from Salzburg by train
You are working on a budget
You don't mind being a little farther out from the city centre
Best Hotels in Elisabeth Vorstadt
5. Maxglan, Where to Stay in Salzburg Close to Airport
Maxglan is the region directly between Altstadt and the airport. Primarily a residential area catering to locals rather than tourists, the shops and hospitality are less fashionable than in the city centre. However, being just a short journey from the bustling Old Town, this isn't something you will need to worry about.
Being a little removed from the main town means that more reasonable prices of accommodation make up for mildly less convenient location. You can stay in some lovely, charming locations, for much more affordable rates than similar options in the city centre.
Whilst in the area, you should stop by the Stiegl-Brauwelt beer museum. With exhibits on the history and development of brewing practices, as well as tasting sessions and an onsite bar and restaurant, it is a pleasant way to spend an afternoon, learning about a significant aspect of Austrian culture.
One of the largest perks of staying Maxglan is being so close to the airport. If you are just staying in the city for a single night and don't want to waste too much time getting to and from your hotel, this neighbourhood is perfect. If you have an early flight, you won't need to worry about dealing with public transport or taxis first thing in the morning, as most hotels in the area either offer airport shuttles or a service for arranging transport for you.
YOU SHOULD STAY IN MAXGLAN IF:
You want to stay close to the airport
You don't mind staying a little further out from the city centre
You are on a budget
Best Hotels in Maxglan
6. Morzg, Best Area to Stay in Salzburg for Family
Morzg is much further from the city centre than the other areas on this list. Located at the southern-most tip of Salzburg, it is connected to the main town via the direct Morzge Straße. Whilst it is quite a way from the central districts, this road makes it easy to get in and out of the city if you want to.
Morzg provides a more relaxed environment, away from the hustle and bustle. The vast fields that surround the area make it particularly convenient for families to spend time outside, whilst children can run around and play.
There are several historic castles nearby that are worth a visit, but the most prominent attraction of the area is the Schlosspark von Hellbrunn estate. The wooded grounds of this renaissance mansion are home to various gardens and walking routes, a small folklore museum, and Salzburg Zoo.
The area may also have a unique appeal for fans of 'The Sound Of Music'. Filming for the iconic movie took place here and there are several recognisable locations you can visit. The Sound of Music Pavilion in the gardens of Hellbrunn Castle is particularly worth visiting.
YOU SHOULD STAY IN MORZG IF:
You love 'The Sound of Music'
Being close to the city centre is not a priority
You are travelling with family or young children
Where To Stay In Salzburg For Christmas Markets?
Come Christmastime, Christmas markets start popping up all over Salzburg and the surrounding area. Whilst you should definitely visit several of them if you have the time, the biggest and most iconic of Salzburg's Christmas markets is held in the Residenzplatz square in Altstadt.
Whilst you're there, don't forget to stop in the Weihnachtsmuseum, to view its impressive collection of Christmas figurines. It's located on the north-eastern corner of the Residenzplatz, so you can stop by on your way to the market.
There are plenty of hotels near the square, although the popular, central location, means they can charge higher rates for the privilege of their convenience. The Altstadthotel Weisse Taube is a 'very good' option in a historic building, just a road away from where the market is held.
Where To Stay In Salzburg In December?
December in Salzburg is hugely centred around the city's Christmas celebrations. Tourists travel from all over the world to visit the numerous Christmas markets that take place across the town. Altstadt is the centre point for the celebrations, with the most iconic Christmas market being held in the plaza next to the grand Salzburg Cathedral.
However, markets aren't the only reason Altstadt should be your first choice for a December visit. Full of historic churches down every winding street, the whole area is transformed into a picturesque scene that wouldn't be out of place on a Christmas card.
Of course, being as popular as it is, hotels fill up fast around this time. Make sure you get your room booked early to make sure your top choice is available.
Where To Stay In Salzburg Old Town?
Salzburg Old Town, or Altstadt as it is locally known, is one of the most popular areas for visitors to stay during their trip to Salzburg. It's not hard to see why, with so much to see and do in the area, and some beautiful, historical architecture making it an aesthetic delight to wander around.
There are plenty of options for accommodation, although most cater to higher budgets. Some more affordable options are available, but they tend to be more basic. The Boutiquehotel am Dom is a 'superb' option, offering stylish rooms at the heart of the Old Town, right behind Residenzplatz.
Where To Stay In Salzburg First Time?
If it is your first time staying in Salzburg, you should definitely consider staying in either of the central districts of Altstadt or Neustadt.
Altstadt is the 'Old Town', the historic heart of the city, full of fascinating sights and attractions. The winding streets are lined with traditional architecture that create a fairy-tale, alpine aesthetic.
Neustadt, or 'New Town', is directly across the river and offers a somewhat more contemporary experience. There is still plenty to see and do, and you would be just a short journey across to the attractions of Altstadt, but it has a distinctly more modern vibe.
Where To Stay In Salzburg On A Budget?
Elisabeth Vorstadt is particularly well known for being one of the more budget friendly districts of Salzburg. One of the new areas of the city, the neighbourhood is still undergoing rejuvenations, with most of the activity around the main Salzburg train station.
The Keep Eco Residence is a unique hostel, with stylish rooms decorated around the theme of driftwood. It's a 'very good' option, located just across the tracks from Neustadt and subsequently, just a short journey from the major attractions.
Where To Stay In Salzburg Near Train Station?
The main Salzburg Train Station is located in the north of the city in the district of Elisabeth Vorstadt. Whilst the district is known for being cheaper and less developed than other areas of Salzburg, the area around the station has undergone rejuvenation projects and boast a number of modern hotels.
The H+ Hotel Salzburg is a 'very good' hotel, just outside of the station's main entrance. Offering modern rooms and a buffet breakfast with a wide serving window, you are sure to have a comfortable stay at the H+.
Where To Stay In Salzburg With Family?
If you are visiting Salzburg with family, particularly with children, the neighbourhood of Nonntal, immediately south of Altstadt, should be a consideration. Just a short distance from the major attractions, with the benefits of fewer crowds and lower prices for accommodation, you won't need to worry about shepherding your children all over the city.
The area is also full of parks and playgrounds, ideal for kids to work off some energy.
How Many Days To Stay In Salzburg?
If you plan a well-structured itinerary, that includes only the things you most want to see in Salzburg, and stick to it, you could certainly enjoy a long weekend getting an introduction to the city.
However, with so much to see and do in Altstadt alone, if you have the time to spare for a longer vacation, you could definitely fill a week without running out of attractions to keep you entertained.
This is particularly true if you are visiting in December, when numerous Christmas markets and events pop up across the city. You should definitely plan ahead to make sure you can fit everything in though, however long you can stay.
Is It Better To Stay In Salzburg Or Hallstatt?
If you are interested in experiencing the history and traditional culture of Austria, Salzburg and Hallstatt offer two rather different perspectives and appeals.
The little village of Hallstatt provides the sort of idyllic, picturesque Alpine aesthetic that lives in the heart and imaginations of anyone with a love for fairytales. The winding alleys between historic houses, set against the backdrop of towering mountains and beautiful lakes, are definitely stunning.
Remote small towns do have a much narrower appeal than the broad array of attractions available in bustling cities though. Salzburg has the history and architecture, but also modern conveniences, hospitality and entertainment venues to make it a more holistic representation of Austria, today.
For your first time in Austria, try Salzburg. If you are familiar with modern Austria, or happen to be travelling around various parts of the country, Hallstatt is definitely worth a visit.
Conclusion
Salzburg is, primarily, ideal for those looking to take in the history and culture of Austria, in one of its ancient cities. From its museums to its historic structures and winding streets, lined with traditional buildings, Salzburg has the iconic alpine aesthetic that Austria is known for.
However, even if you don't care about the city's historic legacy, the vibrant hospitality and modern shopping districts mean there is something to keep everyone happy during a visit to Salzburg.
---
---