The best areas to stay in Budapest for first-timers are District V Belváros, District I Buda Castle, Terézváros, Erzsébetváros, Óbuda, Palace district, Ferencváros, and Kelenfold. These are popular and safe neighborhoods for tourists that offer a wide variety of attractions and amenities.
In this guide, I will help you decide where to stay in Budapest for the first-time tourist, for nightlife, family, and Christmas.
Budapest is the capital and largest city in Hungary, as well as the 9th largest city in the European Union. With a rich history and diverse culture, Budapest is definitly well worth a visit. Budapest is a very walkable city, you can easily explore on foot, there is also metro, the trams, funicular to help you travel around.
Budapest is a very safe city for visitors but like all big tourist destinations, you should take some precautions about taxi scams and pickpockets in public transport, crowded shops, and in touristy places. You should also avoid walking in poorly lit streets at night. Any of the tourist districts are safe because it is always populated by tourists.
Budapest is divided into 2 areas by the Danube River, Buda and Pest. They are both popular place to stay in Budapest. It's better to stay in Buda if you want to explore the most historic part of the city, you want a quieter, more laidback and romantic area. It's better to stay in Pest if you prefer a more modern, vibrant city with better nightlife and more touristy.
District V, also known as Belváros – Lipótváros, is the best area to stay in Budapest for first-timer due to its prime location and wide range of accommodations for all budget travelers. If you book a hotel here, you will be located in the downtown area, within walking distance to the most famous attractions with plenty of hotels, restaurants, bars, and shops.
Accommodations in District V are cheaper than in the District I Buda Castle, you can easily travel to Buda Castle by public transport.
If this is your first visit, I recommend spending at least three days in Budapest to explore the city. Three days is enough to visit the most famous tourist attractions, enjoy the local food, thermal baths, and ruin bars. If you have more days, you can see the city in a relaxing pace, get to know more about local culture and history.
Best areas to stay in Budapest for tourist
1. Lipótváros – Belváros (District V), where to stay in Budapest for first time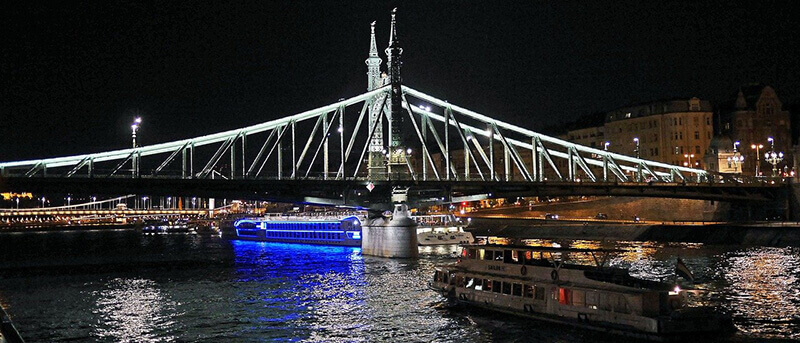 The 5th district along with the 1st district is the best area to stay in Budapest for first-timers due to its prime location. This is a downtown area, also known as Belváros – Lipótváros, the political, commercial, financial, and tourist hub of Budapest, and all of Hungary.
The Belváros (Pest) side is the best place to stay for those looking for a more lively nightlife, better restaurants, and cafes. It has wider range of accommodation and dining options than in Buda. Meanwhile, if you want quieter, more romatic residential neighborhood, I recommend to stay in Buda, the Castle District. Buda is more hilly and expensive than in Pest.
Whether you choose to stay, Buda or Pest, they are very well connected by public transportation and by a several walkable bridges including the Chain Bridge, Liberty Bridge, and Elizabeth Bridge.
Pest is home to Keleti Station, Nyugati Station, and Déli Station which are the three main railway stations in Budapest. They all meet at Deák Ferenc Square, the largest public transport hub of the city.
Apart from many options of shopping, dining, and nightlife, Belváros – Lipótváros is also within walking distance to major attractions such as the Hungarian Parliament, St. Stephen's Basilica, Szechenyi Baths, and Great Market Hall.
The most prominent landmark in Lipotvaros side of the city is the Hungarian Parliament Building. This is a place filled with slightly older, less flashy buildings, which will appeal to a more niche audience than the Belvaros side.
There are also important buildings, such as the Hungarian Academy Of Sciences, the Supreme Court, the Ministry Of Youth, and the Ministry Of Education can all be found here, making it a perfect choice for those who like their trips to be learning experiences.
District V is also home to famous St Stephens Basilica, which is one of the two tallest building in Budapest, as well as the Shoes on the Danube memorial to the Hungarian Jews who were shot by the Arrow Cross Party in the Second World War.
You will find numerous of square in the 5th district including Liberty Square, Elizabeth Square, Heroes Square, and Vorosmarty Square. Liberty Square oftern host events and market, and home to some interesting monuments and buildings including Memorial to Fallen Soviet Soldiers, German Occupation monument, statue of Ronald Reagan, and American Embassy.
Other places of interest are the Endre Ady Memorial Museum, the 18th-century Orthodox Cathedral of Our Lady, the Lion Fountain, and the Petofi Museum of Literature, Gresham Palace, and Vigado Concert Hall.
If you love shopping, you must check the Váci Street and Deák Ferenc Fashion Street, perhaps the most famous shopping street in all of Hungary. It is a pedestrian area filled with high-end establishments.
On top of all of this, the area also features a wide range of bars, cafes, and restaurants, with notedly lower prices than in the other half of the district, giving you the option to enjoy both days and nights out, without having to constantly worry about how much you're spending.
Budapest is one of the many northern European cities that are known to put on quite a display throughout when Christmas comes around. While markets, trees, displays, and decorations will be present throughout the city, what's on offer at St Stephen's Basilica, goes above and beyond everything else.
District V offers a wide range of accommodations, mostly luxury hotels, and also well-priced apartments, bed and breakfast, and budget hotels. Many 5-star hotels offer spacious rooms with Danube river views, superb service, and rooftop terraces.
Stay in the Pest side and Fifth District quarter if you're couples, families who are the first time visiting Budapest; you enjoy shopping in high-end stores, you like fine dining, you like a diverse range of sights and activities, you want a learning experience.
Best places to stay in Belváros-Lipótváros:
🔍MORE HOTEL DEALS IN BELVAROS-LIPOTVAROS
If you are still wondering how long should you stay in Budapest, check out my post on How Many Days in Budapest is Enough?– 3 Days in Budapest Itinerary to know more how long is enough and more best things to do in this Hungarian capital city.
2. Castle District (District I), where to stay in Budapest for sightseeing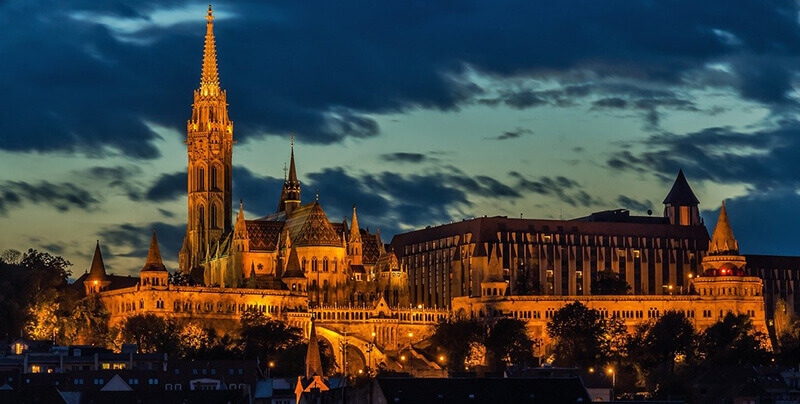 District 1, also known as Castle district, is located on the West bank of the Danube River. District 1, Buda along with district 5, Pest is the best area to stay in Budapest. It's better to stay in Buda if you want to stay in a quiet residental neighborhood with romantic feel and lots of historical attractions.
District 1 is home to the most popular tourist attractions like the Matthias Church, Royal Palace, and Central Market. It's also in close proximity to Budapest's thermal baths such as the Rudas Baths and historical Gellért Thermal Bath.
Castle District is located in a hilly area that offers stunning views of Pest and the Hungarian Parliament Building across the river. It also offers many photo opportunities with cobbled streets, beautiful monuments, and ancient houses.
Its central attraction is the stunning Buda Castle, the home of countless Hungarian kings throughout the ages. While construction on the original building was completed in 1265, much of what you see today was added much later, in the mid-18th-century. Sitting atop Castle Hill and dominating the city's skyline, it is surrounded by buildings featuring Baroque, Neoclassical, and even Medieval architecture. The Castle Hill Funicular offers a quick trip to the summit.
Within the complex are some of the most iconic attractions in all of the city, including the gothic, 14th-century-Matthias Church, the Fisherman's Bastion, built to symbolize the chieftains who founded Hungary in 895, and the Sandor Palace, the official home of Hungary's Prime Ministers and Presidents throughout the years.
The Hospital in the Rock Museum is a labyrinth of interconnected caves beneath Buda Castle that used to house a hospital and a nuclear bunker during WW II. The castle also houses the Budapest History Museum, National Széchenyi Library, and Hungarian National Gallery makes it an absolute must-see attraction.
The Rudas Bath is one of the oldest thermal baths in Budapest, a good place for medication and relaxation purposes. This historic spa was built in the 16th century, during the time of the Turkish occupation, a true Ottoman bath, with six therapeutic pools and one swimming pool.
If you like hiking and enjoying the wonderful scenery, check out Gellért Hill. Gellért Hill is at its most beautiful in the afternoon when the sun is coming down. On the hill, you have panoramic city views, 19th-century Citadel, historic monuments like the Statue of Liberty, Liberty Monument, Cave Church, and Gellért Bath, the most famous Art Nouveau thermal baths in Budapest
On the northern slope of Gellert Hill, you will find Tabán. Tabán is a big green area on the banks of the Danube, an ideal place for relaxing with its many bars and cafés. Deer House and Aranyszarvas Restaurant are worth checking out!
Other landmarks in Buda district to mention are the Vienna Gate, Castle Garden Bazaar, Statue of Independence, Military History Museum, Church of Saint Mary Magdalene, Garden of Philosophers, and Fairy Tale Museum.
Castle District is an upscale area, it can be busy during the day and quiet at night. It's most suited for families with children, couples, and luxury travelers who after a peaceful and quiet night's sleep; if you want more nightlife, head to Pest.
District 1 is easy to reach by foot and public transportation. The pedestrian Széchenyi Bridge and the Elisabeth Bridge connect to to the downtown area. It is also home to Batthyany Ter and Budapest-Deli Railway Station, as well as many tram and bus stations.
Stay in Buda if you want a lot of sightseeing; you are first-time travelers; you are interested in the rich history of the city, and historical architecture; you want a romantic location for couples with quiet nights; you are couple looking for romatic location.
Best places to stay in Buda:
🔍MORE HOTEL DEALS IN DISTRICT I
See More:
3. Erzsébetváros (District VII), best area to stay in budapest for nightlife
If you come to Budapest for nightlife, you can consider to stay in the 7th district. Located in the Pest region of the city, Erzsébetváros, or Budapest's District VII, is home to the Jewish community of Budapest and the many legendary ruin bars.
Erzsébetváros has historically been known as Budapest's Jewish Quarter. It's home to the most famous synagogues such as e Rumbach Street Synagogue, the Kacinczy Street Synagogue, and Dohany Street Synagogue.
The crown attraction of the area is the Dohany Street Synagogue. Built in the mid-1800s, featuring a Moorish Revival style architecture, it is the largest functioning synagogue in all of Europe.
Housed within the complex, you will find the Great Synagogue itself, along with the Hero's Temple, a graveyard, a memorial, and the Jewish Museum. For anyone interested in Jewish history in culture, both here and around the world, this is an absolutely can't miss attraction.
Other landmarks in district 7 are Gozsdu Weekend Market, Madách Theater, Karavaan street food, and New York Palace.
Despite its main attraction being something so cultured and historic, the other major draw of the area is vastly different, as the 7th district is the district to stay in for those looking to enjoy the best nightlife on offer in Budapest. The bar area is centered around Elizabeth Boulevard (Erzsebet krt) and Charles Boulevard (Karoly krt).
The VII district is home to many good ruin bars and pubs. Szimpla Kert is popular, along with Warm Up Bar, and Blue Bird Karaoke Bar. This is a place that has a huge range of choices when it comes to your evening entertainment, allowing you to eat, drink and dance the night away in a different place every time.
The 7th district borders with the sections of the 5th and 6th districts that are the runners up in the nightlife department, meaning you can easily stroll between the three, to ensure you find something that takes your fancy on any given night.
This hip and popular area have plenty of accommodations for budget travelers and there are some upscale options for luxury travelers. Many accommodations provide a royal spa, on-site restaurants, cafes, and spacious guest rooms.
Stay in District VII: Erzsébetváros if you are budget travelers looking for a vibrant nightlife; you are interested in Jewish history and culture; you are visiting Budapest for the first time;
Best Places to Stay in District VII: Erzsébetváros:
🔍MORE HOTEL DEALS IN ERZSEBETVAROS
4. Józsefváros (District VIII), where to stay in Budapest on a budget
The District VIII, or Józsefváros, is also known as the grand Palace District because it's home to many palaces such as Degenfeld-Schonburg Palace, Gráf Károlyi Alajos Palace, Almássy Palace, and Gráf Festetics Palace.
There are also plenty of cultural and historical attractions including the National Museum, the Metropolitan Ervin Szabo Library, and the Academy Of Drama And Film are surrounded by a wonderful collection of bars, restaurants, and hotels, to keep you entertained day and night.
The Erkel Theatre which is Hungarian State Opera House, Orczy-Kert which is one of Budapest's biggest gardens, The Centre For Foreign Languages, as well as the Hungarian Natural History Museum and Corvin Budapest Film Palace are all located here.
You also have the Dandár Gyógyfürdő Spa, the Martsa Műterem és Művészkert, the Holocaust Memorial Centre, Wenckheim Palace, the Flag Museum, and the József Attila Memorial.
On top of all of that, this district is also home to a large collection of universities. Not only are many of these stunning buildings to view in themselves but they also bring with them a distinctively student culture and environment. This is perfect for those looking for a livelier environment that's attainable on a budget.
As a final parting gift, it is also the location of Budapest's main train station, Budapest Keleti train station, making it the perfect place to stay for anyone traveling by train. You can use the red M2 line, blue M3 line, green M4 line both have stops in this area.
Stay in District VIII: Józsefváros if you want to be near the airport or train station; you're looking for a more budget-friendly area; this is your first-time visiting Budapest;
Best places to stay in District VIII: Józsefváros:
🔍MORE HOTEL DEALS IN JOZSEFVAROS
5. Terézváros (District VI), where to stay in Budapest for culture vulture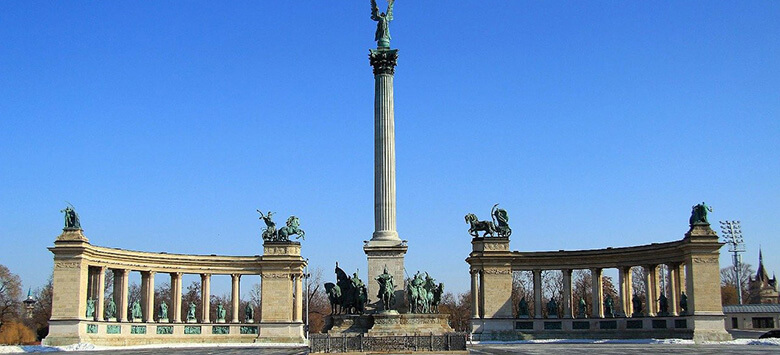 This is a trendy neighborhood in Budapest and nowhere demonstrates that more than iconic Andrassy Avenue, the Champs-Élysées of Budapest, UNESCO World Heritage Site. Andrassy Avenue connects Elizabeth Square with Heroes' Square, finish at the City Park. It's an important cultural hub with plenty of museums, exhibition halls, and stunning architecture.
The high-end fashion shops are renowned while the Neo-Renaissance palaces ooze real style. This is an avenue that those on a budget can visit, just window shopping and not look for accommodation.
Terézváros is also home to the Hungarian State Opera House, the Operetta Theatre, The House of Terror, the Liszt Ferenc Music Academy, and many other museums such as the Postal Museum, the Hungarian Electrotechnical Museum, and the Zoltán Kodály Memorial Museum.
Other places of interest in the neighborhood are the most famous thermal baths, Szechenyi Baths, Vajdahunyad Castle, and Millennium Monument.
The district does have little for the budget traveler but in general, it is a place where the rich can rent large apartments and enjoy the activities in the immediate vicinity. That includes some bars that open in the afternoon and serve until very late.
Terézváros is served by Budapest Nyugati train station. To get around, use the Yellow M1 line stops in many places along Andrássy Avenue, and the Blue M3 line goes through to this area too. The underground line to Vörösmarty square and to City Park that stops at the City Zoo and Széchenyi Spa.
Stay in District VI: Terézváros if you're interested in historic and cultural attractions; you want to stay in a convenient area close to Downtown Budapest; you want plenty of activities and attractions nearby; you are first-timers;
Best Places to Stay in Terézváros:
🔍MORE HOTEL DEALS IN DISTRICT VI
6. Ferencváros (District IX), budget-friendly area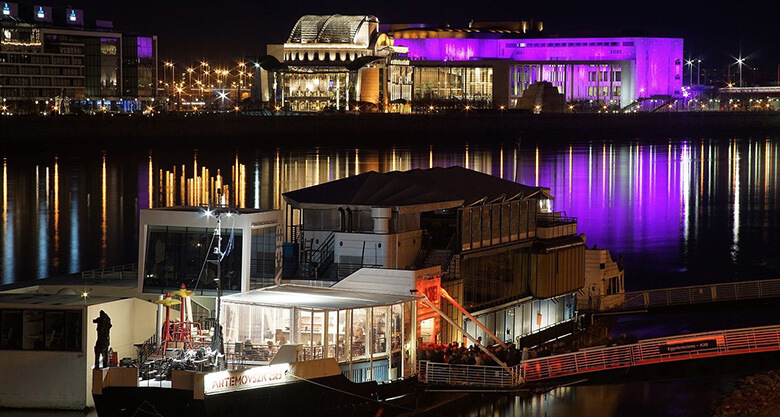 District IX. is known by many as Ferencváros. Ferencvaros is home to Central Market Hall and Corvinus University of Budapest, as well as within a short distance to the Liberty Bridge and Gellért Thermal Bath.
Ferencvaros is one of Hungary's most famous football teams. It is also an ever-growing area in Budapest and a very diverse one. It runs next to the Danube and the Expo '96 site is here. A good deal of renovation has been needed to address local problems and that is ongoing work.
This up-and-coming neighborhood is less touristy, more residential with locals and ex-pats. If you're looking for cheaper accommodations with a local vibe, you can consider staying at district 9.
Budget travelers are certain to find something that they like here while the added appeal is the cultural experiences on offer. They include museums, theatres, and other concert venues. The National Theatre is on the Danube on the Pest side, close to the Rákóczi Bridge.
The Palace of Arts was added in 2005 with the Ludwig Contemporary Arts Museum and the National Concert Hall on its grounds. The Danube River Promenade, Müpa Budapest, Dandár Thermal Bath are other attractions to enjoy.
Accommodations in Ferencvaros are relatively cheap, you'll find many budget accommodations between the inner city and the first ring road.
Stay in District IX: Ferencváros if you want a budget-friendly area with a good local vibe; You want to be close to the Danube; The arts are of interest to you; Budget accommodation is your idea; you are returning tourist;
Best places to stay in Ferencváros:
🔍MORE HOTEL DEALS IN DISTRICT IX
7. Kelenfold, where to stay in Budapest for local vibe
Kelenfold is on the Buda side of the city and its appeal includes lovely views of the Danube. It developed as a residential area in the 1970s in a place that lacked the rich history of other parts of Hungary's capital. Its design perhaps lacks style and imagination but forget that for a while.
Despite being residential, it has a vibrant nightlife and in the weeks of summer, there is outdoor music for both locals and visitors to enjoy. The Botanic Garden Buda is a restful place with clean air and plenty of attractive fauna.
Other place of interest are Barba Negra Music Club, Szent Gellert Church, the Savoya Park Shopping Mall, and the Kopaszi gát Park. You will find good budget accommodation here and surprisingly good cuisine as well.
Stay in Kelenfold if You are looking for budget accommodation; Relaxing in green spaces interests you; You want to experiece local vibe; this is not your first time visiting Budapest;
Best places to stay near Kelenfold station:
🔍MORE HOTEL DEALS IN KELENFOLD
8. Óbuda-Békásmegyer (District III), home to Sziget Festival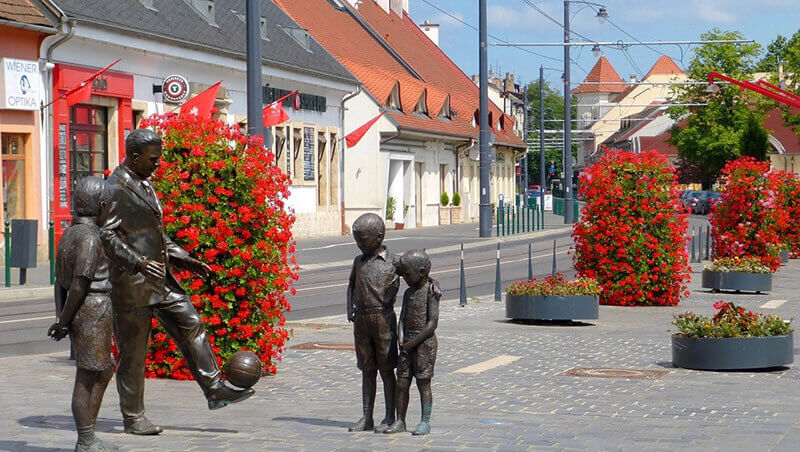 Obuda is the home of the Sziget Festival each year, one of the largest music and cultural festivals in Europe. If you're attending this Sziget Festival festival, the Obuda neighborhood is a good base. While many people are aware of Budapest being formed by the joining of the cities of Buda and Pest, the third city involved in the merger, Obuda, is often overlooked.
As you may have gathered from its name, the modern-day District III now encompasses the old city of Óbuda and offers history and culture that differs from the rest of Budapest.
Having been settled as early as the stone age, the region even served as the capital of the Roman province of Pannonia. While many of the actual remains of the city are now, unfortunately, obscured, there are still plenty of places to find out about the history of Obuda.
The Aquincum Museum contains displays demonstrating the lives of the Roman people that once lived here, surrounded by ruins of the towns they inhabited, complete with shrines, sculptures, columns, buildings, and even a sarcophagus.
The Kassak Museum displays exhibits relating to the Hungarian writer Lajos Kassak. The Óbuda Museum is dedicated to the local history of the area, complete with Hungary's only Toy Museum and one dedicated to folk furniture. There's even the Museum of Hungarian Trade And Tourism, as well as the Vasarely art museum, dedicated to his works, as well as those of a few other local artists.
Don't fret if museums aren't your thing though, as while I said many of the area's ruins are obscured, there are still a number of Roman amphitheaters, baths, and even a villa scattered around.
On top of all of this history, we still have the main attraction to get to, as the stunning Hajogyari Island, also known as Obuda Island, is located here, in the middle of the Danube River.
Connected to the mainland by multiple bridges, the island features farms, parks and even a yacht yard, making it one of the most popular attractions in the city for those looking to get away from the concrete jungle for a while.
Stay in District III: Óbuda-Békásmegyer if you're attending Sziget Festival; you are interested in Roman ruins and history, you enjoy getting back to nature, you like festivals, experience more unique culture.
Best places to stay in District III: Óbuda-Békásmegyer:
mid-range ($$): Aquamarina Hotel Set on the bank of Danube River, there the boast from hotel to city center, and Parliament Stations. The main tourist attractions like Acquincum ruins, Szentendre, or the Danube Bend with the cities Visegrád and Esztergom are easily reachable.
budget ($): Alfréd Panzió Good location hotel can reach the city center easily by public transport, and within a short stroll from Danube banks.
🔍MORE HOTEL DEALS IN OBUDA
10. Angyalföld (District XIII), very close to Margaret Island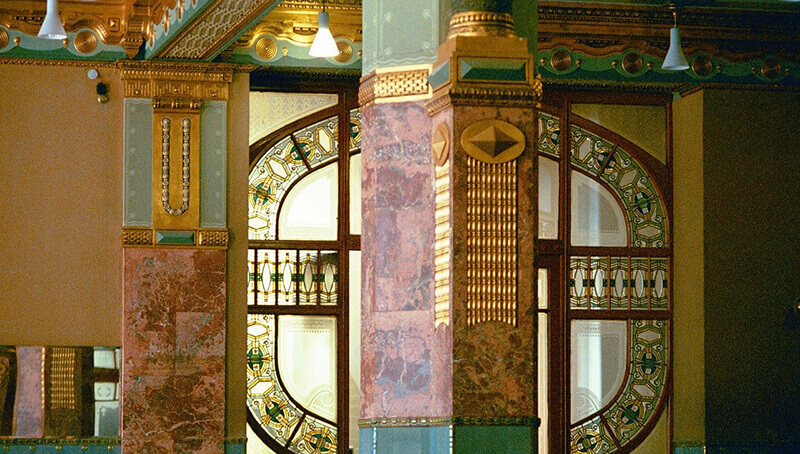 The penultimate option on our list is located in the District XIII of Angyalföld. While much of the district is a working-class area, this allows it to offer incredible value when it comes to both accommodations, as well as the prices in the surrounding shops.
However, the price isn't the reason for this location making the list. Instead, it is an attraction somewhat similar in nature to our previous two entries.
Completing the set of three Danube islands located within Budapest, Angyalföld is the location of Margaret Island (Margit Sziget in Hungarian), one of the most popular recreational destinations in the city.
Covered largely by beautiful landscape parks and Roman ruins, the island is ideal for those who like outdoor locations. However, it also features a number of shops and restaurants, allowing you to enjoy the rural charms, while still being just seconds away from civilization when you want it.
Among its attractions are a Centennial memorial celebrating the unification of the city, a Japanese garden and fish pond, a zoo featuring exotic waterfowl and other animals, a pavilion designed for open-air concerts, a fountain with music and light displays, and an Art Nouveau water tower, the last two of which are both protected UNESCO World Heritage sites.
There are even two hotels located on the island itself and, with no private traffic allowed, this gives you the opportunity to completely immerse yourself in the environment. Angyalföld is most suited with young families, couples, and mature travelers.
Stay in District XIII: Angyalföld if you prefer a less built-up location, you enjoy walking in parks, you like zoos, you want to take in some beautiful river views, you are interested in roman ruins.
Best places to stay in District XIII: Angyalföld:
🔍MORE HOTEL DEALS IN ANGYAFOLD
10. kerület-Csepel (District XXI), laid-back area
From one island to another, we move to the 21st district of Csepel, which is located on the northern end of Csepel Island, the largest island in the Danube. It also holds the distinction of being the only entire district that is at no point located in either of the historical areas covered by Buda or Pest.
Perhaps not as abundant with attractions as some of the other locations on this list, it does provide a history and experience that differs from the rest of the city, while offering visitors the chance to enjoy their stay in a slightly more relaxed, less built-up environment.
Largely featuring a more middle class, suburban environment, sights such as a number of gardens, an 18th century Baroque parish church, the Csepel Gallery And Museum Of Local History, the Csepel Collection Of Factory History, and even the home stadium of Csepel FC, the Beke Teri Stadion, are among the more popular attractions in the district.
Connected to the mainland by a number of bike tracks, bridges, and railway lines, this makes it the perfect spot to enjoy the quiet life, while being able to quickly jump back into the hustle and bustle of the heart of the city whenever you choose.
Stay in XXI. kerület if you want a more laid-back location, you want a unique experience, you like river views, you want quiet accommodation that has easy access back into the city; this is not your first time;
Best places to stay in XXI. kerület:
🔍MORE HOTEL DEALS IN CSEPEL
11. Budapest Airport, where to stay in Budapest to catch flights
Budapest Airport, also known as Ferenc Liszt International Airport, is the main international airport in Budapest and the largest airport in Hungary. The airport has a variety of services and amenities such as travel agencies, tourist information, as well as a currency exchange office and a post office.
It is located 20km from the city center, and will take 40 minutes drive by car. There are several ways to get to Budapest city center but the best way is through the 100E bus. Bus 100E depart from terminal 2 and stop at Kalvin Square, Astoria, and Deak Ferenc Square in the city center.
There is also 200E bus that take you to Kobanya-Kispest Metro Station, from here M3 Metro will take you to the city centre. This is the cheapest way to get to downtown Budapest.
Apart from public transport, you can use MiniBUD shared airport shuttle bus, airport taxi, or Bolt which is a Uber version of Hungary.
If you have a late arrival or early departure, staying near the airport is a good choice. This is some of the best places to stay near Budapest Airport:
Where should I stay in Budapest for the first time?
District V is one of the best places to stay in Budapest for first-timers due to its super central location. If you book a hotel here, you will be located in the middle of the action.
What are the best areas to stay in Budapest?
District V Belváros, District I Buda Castle, Terézváros, Erzsébetváros, Óbuda, Palace district, Ferencváros, and Kelenfold are some of the best areas to stay in Budapest because they are the most convenient locations for tourists.
Is it better to stay in Buda or Pest in Budapest?
It ultimately depends on personal preferences and the purpose of the trip. Buda offers a more peaceful atmosphere with historical landmarks, while Pest is more lively with shopping and dining options.
How many days in Budapest is enough?
Based on your travel preferences, 3-5 days is generally enough to explore Budapest's major sights, soak up its culture, and indulge in its cuisine. However, longer stays allow for deeper exploration and relaxation.
Read more:
Overall, District V on Pet side, is the best area to stay in Budapest for first-timer because it has the widest range of accommodation, restaurants, bars and shops. Booking hotel in this area, you will be located in the heart of action, within easy walk to some of the best nightlife, dining, and shopping of the city.
You can also consider to stay in district in on Buda area if you are looking for quiet holiday in an upmarket neighborhood or yout travel as a couple looking for a romantic getaway. Now as you know where to stay in Budapest, all that's left to do is go and start getting everything booked, so you can experience all the wonders I have mentioned for yourself.