Where to stay in Vienna first time? family, on budget, for Christmas markets? In this blog, I will help you to find the best areas to stay in Vienna for first-time visitors (include video and map) and the safest places to stay in Vienna.
Located on the Danube River in the eastern area of Austria, Vienna has a rich history that developed from Celtic and Roman village into a medieval and Baroque city, and then capital of the Austro-Hungarian Empire.
The city also has a vibrant culture with charming palaces, world-renowned museums, the U-Bahn. It's considered the birthplace of classical music.
Vienna has 23 districts that all spiral out from the city center:
Districts 2-9 is the main district of Vienna that wrap around the 1st district.
Districts 10-23 are mostly residential and outside of city center.
The lower numbered districts are the better places for the first time because it is located close to major attractions.
Where to stay in Vienna for the first time?
The best areas to stay in Vienna for first-timers are Innere Stadt, Leopoldstadt, Landstrasse, Wieden, Margareten, Mariahilf, Neubau, and Josefstadt. These are the city's popular areas for tourists that offer a wide variety of experiences and amenities.
Innere Stadt is the best overall area for first-time visitors due to its proximity popular attractions such as St. Stephan Cathedral, State Operate, The Hofburg, and Mozartdenkmal. Staying here allows you to be located in the heart of city and is surrounded by many restaurants, bars, and shops.
Vienna is a very safe city for tourist, and there are no no-go areas. But as in any big city, you should be aware of surrounding and pickpocketing in a crowded area. Innere Stadt and Leopoldstadt are some of the safest areas in Vienna for tourists because they are always populated by tourists.
If this is your first time, I recommend to stay at least three days in Vienna, which is enough to see the famous tourist attractions and get to know a bit about local history and culture. To make the best of you three days, I suggest to book hotel in Vienna Innere Stadt.
🎬 check out this video for an overall idea of Vienna, or continue reading:
Map of areas in Vienna:
The Best areas to stay in Vienna for first-time tourists are:
1. Innere Stadt (district 1)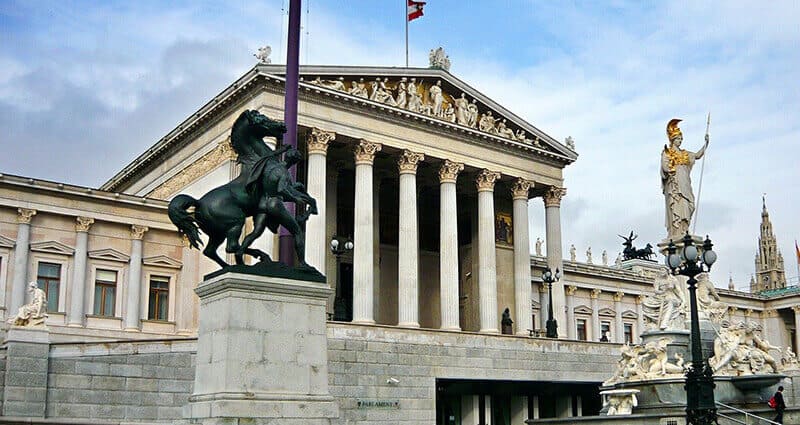 Innere Stadt is the best overall place to stay in Vienna for first-time travelers due to its prime location. Covering just over 1 square mile and bursting with tourist attractions of historical and architectural importance, visitors travel the world over to come and see the sights.
Innere Stadt is packed with cobblestone streets, historic buildings, palaces, museums, art galleries, Gothic churches, government buildings. Then, on top of that, it has perhaps the greatest selection of hotels, restaurants, bars, cafes, and shops in the city as well.
Innere Stadt is the historic old town of Vienna that dating dates to Roman periods. It is surrounded by the famous Ringstrasse, or Vienna Ring Road.
The Ringstrasse (Lord Of The Ring Roads) is a grand boulevard that circles the district, following the lines of the medieval walls of the original city. Surrounded by stunning buildings and is included as part of Vienna's UNESCO World Heritage Site.
The massive gothic St Stephen's Cathedral is the most prominent building and one of the tallest churches in the world. It's the mother church of the Roman Catholic Archdiocese of Vienna and the symbol of Vienna.
St Stephen's square, Stephansplatz, is the kilometer zero of the Austrian Capital, a central stopping spot on the U-Bahn for changing lines and accessing the city center within walking distance.
From St Stephen's square, if you head to the pedestrian streets of Kärntner Straße and Graben, you will see plenty of places to eat and shop. Make sure to stop by the Sacher Hotel and Café, to try its famous chocolate cake, Sacher-Torte, and Vienna's famous café.
The Hofburg Palace is the most historically important of Vienna's Imperial palaces. It was the seat of the Habsburgs until the end of WWI. Nowadays, it is used as the seat of the Austrian Head of State, the Federal President. It is one of the biggest palace complexes in the world with the oldest parts dating back to the 13th century.
In the Hofburg Palace, you will find the Spanish Riding School, the Sisi Museum, the Austrian National Library, the Albertina museum, the Imperial Apartments, the Silver Collection, the Hofburg Treasury, the Imperial Chapel.
Located next to the Hofburg is the beautiful Volksgarten Park which is famous for its rose garden, and home to the Theseus Temple, Sisi memorial, Grillparzer memorial. The park is surrounded by monumental buildings like the University of Vienna, Parliament, Rathaus (City Hall).
In front of the City Hall lies the Rathausplatz square. It is used all year round for various events, such as the traditional Christmas market in December, winter skating, and summer outdoor cinema.
Vienna's first district is also home to numerous museums. History buffs will love to visit:
the Natural History Museum (Naturhistorisches Museum Wien).
the Vienna's Historical Museum (Kunsthistorisches Museum Wien).
the Museum of Art History
If you like watching a opera and ballet performance, you can take a look at the Vienna State Opera, and Burgtheater, which is the biggest theatre in the German-speaking world.
If you like shopping, you must visit the high-end shopping streets of Graben, Kohlmarkt, and Kärntner Straße. This pedestrianized Golden U shopping area is the busiest part of the city with major brands both international and local.
Vienna's historic center is walkable, so you can easily explore on foot, on a horse-drawn carriage, or use the hop-on-hop-off bus to see the tourist attractions.
If you're planning to see the most attractions of Vienna, you can save some money by using Viena City Card which allows you to use the city metro/U-Bahn free, and some discount to many attractions; or Vienna City Pass which allow you to use the hop on hop off buses.
Innere Stadt is a busy tourist zone with plenty of accommodation options ranging from luxury hotels to budget backpacker hostels. Look for accommodation away from St Stephen's Cathedral for a quieter atmosphere.
Stay in Innere Stadt (1st district) if this is your first visit; you want to be located in the center of the city, you are interested in the history of the city, you want to visit some of Vienna's most iconic locations, you don't plan to rent a car.
Best Places to Stay in Vienna Innere Stadt for first-timers:
🔍MORE HOTEL DEALS IN INNERE STADT
See More: Where to Stay in Vienna for Christmas Markets
2. Leopoldstadt (district 2)
Located to the east of Innere Stadt, Leopoldstadt is also set between the Danube Canal and the Donaukanal. It is Vienna's second district and Vienna's former Jewish district. Leopoldstadt is one of the best areas to stay in Vienna for families because it has plenty of open green space and good playgrounds for kids to enjoy.
The district features many tourist attractions that are common throughout the rest of the city. However, there are two specific destinations that make this a popular location to visit.
First, there is the Praterstern, one of the city's most famous squares and its busiest traffic location. Featuring beautiful stylings and the Admiral Wilhelm Von Tegetthoff Column, it is a hotspot for tourists looking to see the city's most iconic locations.
Then there's the fact this is the location of both the Wien Praterstern Railway Station and Praterstern U-Bahn Station. These are two of the biggest and busiest stations in the city, making it ideal for those who are arriving by train or anyone wanting to travel around without a car while they're in town.
The other main attraction is the Wiener Prater, a 1,500 acres beautiful public park that was once imperial hunting grounds. The park's tourist attractions include:
the Scweizehaus beer garden, which serves local beers and claims to be the origin of potato crisps.
the Republic Of Kugelmugel micronation and the Liliputbahn miniature steam railway for visitors to explore and enjoy.
Perhaps its most famous attraction though is Prater amusement park, located on the edge of the city center. Known as the Volksprater or Peoples Prater, it symbolizes the opening of the park to the public, who had been banned until the late 18th-century.
There are the iconic Wiener Riesenrad Ferris wheel, the Giant Ferris Wheel that dates back from 1897, as well as Vienna Zeiss Planetarium, and Madame Tussaud's. This area has great restaurants and spreads of a sand beach through the Danube Canal.
Another big public park is Vienna's oldest baroque garden, Augarten, which is home to a French Baroque style with flower gardens and some cafés and restaurants inside.
To experience daily Vienna life, visit the local Karmeliter Market. It's a farmers' market on Friday and Saturday, selling fresh vegetables and slow food. Meanwhile, the small island nearby, Donauinsel is a popular place to hike, jog, cycle and skate, boat, beach volleyball, and sunbathe. It's easy to reach Danube Island from the city center via the subway lines U1 and U6.
The 2nd District offers good public transport and more affordable accommodation, you can easily find tourist areas around Taborstrasse, Nestroyplatz, Schwedenplatz U-Bahn stations. You can find accommodation close to these stations and close to the 1st disitrict.
Stay in Leopoldstadt (2nd district) if you are traveling with families; you are a first-timer; you want excellent public transportation near two major train stations and cheaper accommodation; you want to stay in a hip, urban vibe, residential neighborhood;
Best places to stay in Leopoldstadt for first-time visitors:
🔍MORE HOTEL DEALS IN LEOPOLDSTADT
3. Landstraße (district 3)
Landstraße is the best area for first-timers who traveler on a budget because this Vienna's 3rd district offers affordable accommodation close to the center, both Innere Stadt, and Leopoldstadt. Landstraße is home to Wien Mitte train station, and the direct express train from Vienna International Airport stops at Landstrasse station.
Vienna's 3rd district is home to The Belvedere Palace and Botanical Gardens, one of the most famous and iconic locations in not just Vienna but perhaps all of Austria. Belvedere Palace was a summer palace of Prince Eugene of Savoy, but now it's an art museum.
The complex centers around two 18th century Baroque palaces, which now house the Belvedere Museum. With its stunning history and architecture, photographers and art enthusiasts travel the world over to marvel at its beauty.
Surrounding the palaces are lush gardens on a gentle gradient, filled with a vibrant range of plants and flowers. Also decorated in the Baroque style, the gardens feature cascades, fountains, sculptures, wrought iron gates, and even an orangery.
When you combine everything the complex has to offer, it makes a dream choice for anyone who prioritizes walking around picturesque locations. The Belvedere isn't the only thing great about staying in this part of the city though.
There are the dreamlike stylings of renowned architect and painter Friedensreich Hundertwasser on display in the Hundertwasserhaus apartment building. This is a great stop for anyone looking to see some more modern and unique architecture.
Kunst Haus Wien, a museum and exhibition venue, within 5 minutes walking from Hundertwasserhaus. There are several museums as well, including the Museum Of Art Fakes and the KunstHausWien. The latter of these was also designed by Hundertwasser.
You even have the St. Marx Cemetery, where you'll find famous graves, including that of legendary composer Wolfgang Amadeus Mozart. In addition, the Radetzkyplatz has various trendy cafés and restaurants, shops in its surrounding.
If you want shopping, check out the Wien Mitte The Mall, the most modern shopping center in the heart of Vienna. For convenience food, quick lunch, and some culinary souvenirs, head to the famous shopping street, Rochus Market/Rochusmarkt at Rochusgasse subway station (line U3).
Lies one the border with District 1 is the largest park in the city center, Stadt Park. It is a green oasis in Vienna's center, where you find statues of famous composers Schubert and Strauss.
Landstraße has a high concentration of the budget-friendly hotels in Vienna, you can choose to stay close to a metro station, such as Hainburger Straße and Wien Mitte, which offer easy access to major tourist attractions.
Stay in Landstraße (3rd district) if you are first-time travelers; you want to be close to the city's busiest area, central location with better price; you want to witness some unique architecture.
Best Places to stay in Vienna in 3rd district for first-timers:
🔍MORE HOTEL DEALS IN LANDSTRAßE
4. Wieden (district 4)
Wieden is located a short way south of Vienna's Innere Stadt and is a vibrant area, filled with attractions ideal for first-timers, younger travelers or those seeking a hip environment. It is located close to some attractions such as Naschmarkt, Kunsthistorisches Museum Wien, Karlskirche, and Belvedere Palace.
Antique stores and vegan markets begin to become even more prominent as you move ever so slightly further from the city center. What really separates the two areas though is the abundance of fabulous architecture in Wieden. Its most prominent building is the famous Karlskirche.
Built in the 18th century in the Baroque Charles Church, Karlskirche is a beautiful church dedicated to Saint Charles Borromeo. Its iconic towers, dome, architecture, and artwork make it a sight to behold and a great place to visit to learn more about the religious history of the city.
During December, it hosts a Christmas market on its front plaza, letting you get into the spirit and sample some traditional Austrian festive foods and customs while enjoying its beauty as a backdrop.
Located next to the Karlskirche is the busy area of Karlsplatz. It's the biggest transport hub in the city, home to the Karlsplatz metro station.
Wieden is home to some gems like the Naschmarkt, Chinatown, University of Vienna campus, Chimney Sweep Museum, Gardekirche, Margaretenstraße.
There is also Schleifmuhlgasse street, home to hip shops, trendy restaurants and bars, and galleries, giving you plenty to do, night or day. During the warmer months, art displays are held in the streets, bringing a real sense of community to life.
If you visit the 4th district, you cannot miss the Naschmarkt, Vienna's famous market has more than 100 market stands and restaurants, a great place to eat and shop.
Wieden offers cheaper hotel options compared with inner city neighborhoods like Innere Stadt and Josefstadt. There are also plenty of tourist amenities such as restaurants, bars, and shops.
Stay in Wieden 4th District if you want to stay in a hip urban area, with plenty of art, antique and vegan stores, you are a fan of beautiful architecture; you are coming for the Christmas markets; this is your first visit;
Best places to stay in Vienna's 4th district Wieden for first-time visitors:
🔍MORE HOTEL DEALS IN WIEDEN
5. Neubau & Museum District
Neubau is the best area for first-timers who want a both sightseeing and vibrant nightlife. Vienna's 7th district, Neubau is a hip neighborhood with a lot of nightclubs and bars, cafes, multicultural restaurants, local designer shops. It is bordered to the west by Ottakring and to the east by Innere Stadt.
Neubau is located right next to the Museum Quarter (MuseumsQuartier), where tourists can see amazing museums and art galleries. You will find the MUMOK Museum of Modern Art, Tanzquartier, MQ Point, Leopold Museum, and Zoom Children's Museum. Museum Quarter also holds Wiener Festwochen, the popular summertime Vienna Festival.
The Museum Quarter itself has a fairly vibrant nightlife with a lively array of restaurants, cafés, and bars. It has many outdoor places to eat and drink when the weather is good.
There is also St Ulrich Church, a stunning Roman Catholic church, featuring Baroque architecture, built in the early 18th century. With beautiful towers and halls, it is a fabulous representation of the religious history of the area.
Neubau is known as a densely populated area, filled with shops and cafes. The pedestrianized street Mariahilfestraße offers a high-end shopping experience. This is an area that is truly a shopaholic's dream destination.
When you combine that with the history and culture of Innere Stadt and the bars of Ottakring, which are both located close by, it also gives you plenty of options for the evenings and the days when you are all shopped out.
The hostels and cheapest hotels are around the Westbahnhof train station, which also offers easy access to the train network.
Stay in Neubau( 7th district) if you want nightlife and culture, the community vibe, and a hip neighborhood; your priority is shopping; you are first-time tourists;
Best places to stay in Vienna's district 7 for first-timers:
🔍MORE HOTEL DEALS IN NEUBAU
6. Mariahilf (district 6)
Mariahilf is an incredibly densely populated area, located near the heart of the city, between Neubau and Wieden. Mariahilf is one of the best places to stay in in Vienna for first-timers because it is located within walking distance to the attractions of Museum Quarter, Vienna's Old Town, House of the Sea aquarium, and Naschmarkt.
Surrounded by many of the most popular parts of the city, it gives you the chance to stay in some of the finest hotels Vienna has to offer, for slightly less than it would cost you in Innere Stadt.
It is primarily known for its shopping opportunities and the famous Mariahilferstrasse, one of the most popular shopping streets in the entire city. Filled with countless major brands and boutique stores, you can spend days shopping till you drop, no matter what you're looking for.
Between Mariahilfer Straße and Naschmarkt, you will find Gumpendorfstrasse, which is filled with galleries, shops, cool bars, and trendy restaurants. Then, when you're done shopping, you'll find an incredible selection of bars, restaurants, thrift stores, and cafés, perfect for helping you to kick back and relax of an evening.
Stay in Mariahilf if you want to do a lot of shopping during your stay, you want to be near the city center; you are visiting Vienna for the first time;
Best places to stay in Vienna's 6th district for first-time visitors:
🔍MORE HOTEL DEALS IN MARIAHILF
7. Josefstadt (district 8)
Located immediately to the south of Neubau, Josefstadt is the 8th district and is the smallest district of all 23 districts. A largely middle-class, residential district, this is a location that is considered one of the safer destinations in the city. That said, the city, in general, isn't one that has much of an issue with crime.
It is also an area that thrives on its location, as opposed to what it can offer itself. Yet, at the same time, it is far enough away to make accommodation a little more affordable.
It is located near enough to the main attractions of Innere Stadt to make them easily accessible. Vienna Rathaus-City Hall, Volksgarten, Hofburg, and MuseumsQuartiers are within a short distance.
It is also located close to the University Of Vienna. This, combined with its pricing, has made it a popular location with students. As often happens in student-dominated areas, that also means there are a number of hip bars and cafes to be found, often featuring more affordable prices.
If you really make the most of its central location, it's a destination that still has plenty to offer for the first-time travelers. There are top landmarks nearby and a good access to the public transportation if you stay in Josefstadt;
Stay in Josefstadt (8th district) if you want a central location and close to attractions; you are looking for good value accommodation; you are visiting Vienna for the first time; you want to stay in a safe area;
Best places to stay in Vienna's district 8 for firts-timers:
🔍MORE HOTEL DEALS IN JOSEFSTADT
8. Margareten (district 5)
Located to the southwest of the city center, Margareten is a primarily residential neighborhood that can make for a slightly more relaxed and affordable place to stay, while still being close to the attractions.
You'll often hear it referred to as being "BoBo", which is a local slang term meaning "bohemian bourgeois". This is due to a combination of the upper-class atmosphere and the stunning Art Nouveau architecture that is abundant throughout the district.
Markets, cafes, restaurants, and boutique stores are commonplace throughout the neighborhood. While not the most exciting destination in its own right, Margareten offers a relaxing alternative for you to enjoy the city's charms and the rest of its attractions.
Top attractions are Margaretenstrasse – good for fashion off the beaten path, Schlossquadrat, Siebenbrunnenplatz, the indie cinema Filmcasino, and Margareten hof buidling.
Stay in Margareten if you want affordable accommodation, close to the city center, you prefer a more residential area, a bohemian bourgeois atmosphere sounds perfect to you.
Best places to stay in Vienna 5th district Margareten:
🔍MORE HOTEL DEALS IN MARGARETEN
9. Ottakring
If you are young travelers who look for a budget-friendly area with great nightlife, Vienna's 16th municipal district, Ottakring is best for you. While a little detached from the center of the city, this is a great spot for those looking to enjoy a few drinks while in the city.
Firstly, it is the home of the Ottakringer Brauerei, the largest brewery in the city. Opened in the early 1800s, this is a great place for beer fans to visit. It gives you the opportunity to see how the local beers are traditionally brewed and sample them from the source. It also has rooms that are hired out, making it ideal for events like birthday parties and stag dos.
Then, there is the area known as the "Balkan Mile". This is the stretch largely dominated by Yugoslavian bars, cafes, nightclubs, and restaurants. Predominantly a Serbian-speaking area, the upbeat vibe, and late-night entertainment are sure to thrill those looking for a wilder trip.
Don't think there isn't still plenty of cultures to take in here though:
The Palais Kuffner and Kuffner Observatory are stunning buildings, named after the famed Kuffner brewing family from the area.
The Wilhelminenberg Castle is an early 20th-century castle that has been converted into a hotel and restaurant you can stay and dine in.
Brunnenmarkt is the largest food market in Vienna, even bigger than the famous Naschmarkt. There's even a natural side to the area worth exploring, with the Gallitzinberg offering visitors the chance to get out and explore the area's wilds during the daytime.
While it won't be everybody's cup of tea, anyone looking for an active stay in Vienna should consider staying in Ottakring, especially young travels on a budget.
Ottakring is a great location to stay if you are looking for great nightlife; you speak Serbian, you want to stay in a castle, you are interested in visiting a local brewery;
Best places to stay in Ottakring for first-time visitors:
🔍MORE HOTEL DEALS IN OTTAKRING
10. Rudolfsheim-Funfhaus (district 15)
Rudolfsheim-Funfhaus are a pair of districts, located roughly 2 kilometers west of Margareten. It is an area that is currently undergoing a substantial renovation, with its landscape changing almost daily. This up-and-coming district has a multicultural and young vibe.
This means it boasts some of the most affordable prices on accommodation in the city, making it ideal for anyone on a budget. A great selection of cafes, shops, restaurants serving Turkish and Balkan cuisine, and markets gives you plenty of ways to delve into the local way of life, again without breaking the bank.
Its distance from the city center may be off-putting for some, as it is quite a way from the most popular attractions. However, with plenty of great public transport connections, it is still a more than viable option for those looking to do their trip on the cheap.
Stay in Rudolfsheim-Fünfh if you are traveling on a budget and convenient location to Westbahnhof station; you don't mind being detached from the city center in a multicultural and young area.
Best places to stay in Rudolfsheim-Funfhaus:
🔍MORE HOTEL DEALS IN RUDOLFSHEIM
11. Alsergrund (district 9)
Alsergrund is located to the north of the city centre and is a place known for arts and education. Home to the 650+ year old University Of Vienna, students studying all manner of subjects congregate here, creating a real bohemian feel.
Like many student-dominated areas, bars, restaurants, and shops are abundant in the district, many of which offer much better value than elsewhere in the city.
Attractions such as the Sigmund Freud Museum and the Lichtenstein Garden Palace give you plenty of options to keep you entertained during your stay, whether you want to learn or enjoy the areas beauty, both natural and man-made.
There's even a fabulous market held each Saturday, where you can really get the chance to immerse yourself in the culture of the city.
Stay in Alsergrund if you are, or are visiting, a student at the University Of Vienna, you want to visit educational attractions, you want a great choice of bars, shops and restaurants with a student vibe and price.
🔍MORE HOTEL DEALS IN ALSERGRUND
12. Favoriten (district 10)
Vienna's 10th district, Favoriten, located on the southern border of Landstrasse. This district stretches from the outskirts of the city center to the southern edge of the city.
Much of the district is covered by large parks and outdoor recreational areas. This makes it ideal for anyone who enjoys a slightly more relaxed and natural experience on their vacation. Combine this with its proximity to the city center and it makes it an incredibly versatile and well-rounded location.
Perhaps its most famous attraction is the Generali Arena stadium. This is home to one of Austria's most successful football teams, FK Austria Wien, as well as the smaller Favoritner AC. In addition to football, it is also a location where some of the biggest events, such as concerts, are held in the city.
As you may expect from a location with a busy sporting venue, this has also led to transportation in the area being dramatically improved. As of 2016, the newly constructed Wien Hauptbahnhof has become the main metro station in the city. This means the district is perfect for anyone traveling to or from the city by train.
Favoriten is Vienna's most multicultural district with Czech people, Turkish or Serbo-Croatian. You can find affordable accommodations here.
Stay in Favoriten (10th district) if you prefer more relaxed environments with lots of parks and outdoor, natural locations; you are traveling in or out of the city by train, you are visiting to attend a football match or other event at the Generali Arena;
Best places to stay in Vienna's 10th district for first-time tourists:
🔍MORE HOTEL DEALS IN FAVORITEN
13. Meidling (district 12)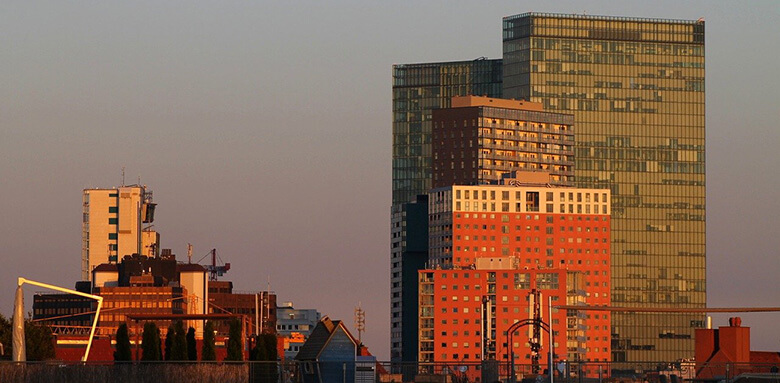 Meidling is located in southwest Vienna, towards the outskirts of the city. As a primarily residential neighborhood, it has truly little to offer in the way of attractions.
However, what it provides is a quiet, relaxing environment, ideal for those travelling with children, or who want to avoid the hustle and bustle of the city centre. This detachment also brings with it lower prices on everything from accommodation to amenities, so is ideal for anyone on a budget.
As it isn't a tourist hotspot, most of the bars, shops and restaurants are also geared more towards the locals. This means you will get a much more authentic experience than you are likely to get elsewhere in the city.
Stay in Meidling if you are traveling on a budget, you prefer a more residential location and don't need to be near the city center.
Best places to stay in Vienna in Meidling:
🔍MORE HOTEL DEALS IN MEIDLING
14. Vienna Airport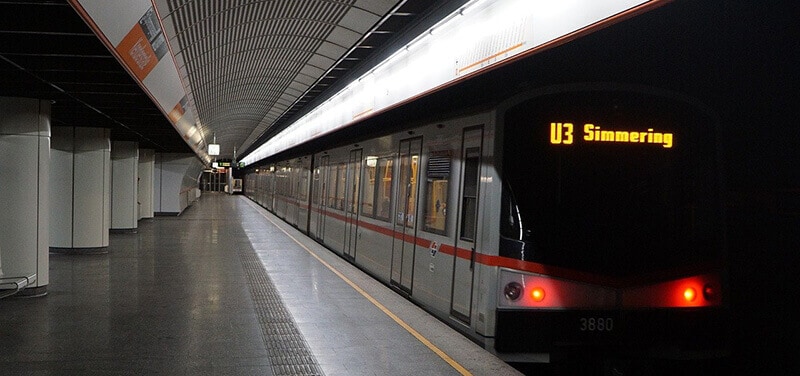 Located in the town of Schwechat, Vienna International Airport, or Flughafen Wien-Schwechat in German, is the main and largest international airport in Austria. Austria's capital center is only 20 minute drive by car away from the airport. You can easily travel from Vienna airport to the city center by car, bus, and train.
There are also bus lines to Bratislava, Kosice, Budapest, Györ, Prague, Brünn. There are bus stop at airport terminals with 3 different routes including:
Wien Morzinplatz/Schwedenplatz.
Wien Donauzentrum.
Wien Westbahnhof.
You can also take a train which is the fastest way to go to city center. City Airport Train (CAT) will take you to Wien Mitte railway station, right next to St. Stephen's Cathedral.
The airport has restaurants and cafés, police Station, pharmacy, ATMs, information points. Stay in airport if you're worried about missing their flight, or anyone simply wanting to avoid dragging their luggage all over the city.
Best places to stay in Vienna airport for first-timers:
Where should I stay in Vienna for the first time?
Innere Stadt is the best place to stay in Vienna for first-time travelers due to its prime location. If you stay here, you will be located in the heart of the city, within walking distance to the top sights such as St. Stephan Cathedral, Vienna's State Operate, The Hofburg, and Mozart's monument, as well as many restaurants, bars, and shops.
What are the best areas to stay in Vienna?
Innere Stadt, Leopoldstadt, Landstrasse, Wieden, Margareten, Mariahilf, Neubau, and Josefstadt are the best areas to stay in Vienna for the first-time tourists because they are the most popular and safe neighborhoods that offer a wide range of attractions and amenities.
See more: Frequently Asked Questions about Best Places to Stay in Vienna
See more:
Overall, Innere Stadt is the best area to stay in Vienna for the first time due tot its central location, it's also the all-year round destination. This mean whether you are visiting the Austria captial in Januay, February, March, May, or November, summer or winter, Vienna's Old Town is best place to stay during your visit. Alway full of things to do and see at any time.