The best areas to stay in Munich for first-timers are Altstadt, Maxvorstadt, Ludwigsvorstadt, Isarvorstadt, Haidhausen, Schwabing, Nymphenburg, Sendling, and Bogenhausen. These are popular and safe neighborhoods for tourists that offer a wide range of attractions and amenities.
In this post, I will be helping you to narrow down where to stay in Munich for the first time tourists, for family, Oktoberfest, nightlife, on budget, and Christmas markets.
Munich (München in German) is the capital city of the Bavaria region in Germany. With its incredible history and culture, Munich is definitely well worth a visit. Best known for its world-famous Oktoberfest celebrations, there is plenty to see and do in Munich year-round.
Munich is a tourist-friendly city, it is one of the safest cities in of whole Germany. All of Munich neighborhood are safe including the train station area. But as you travel to any big city, you should be aware of surrounding, and take some basic precaution about pickpockets. You should also avoid poorly lit areas, Neuperlach, and Hasenbergl at night.
The best place for first-timers is the historic heart of the city, Altstadt Lehen. Booking hotels in this area, you will be within easy walking distance to popular sights and attractions including the central square of the city, Marienplatz. There are also plenty of restaurants, shops, cafes, bars, and clubs to enjoy.
The main Oktoberfest festivities are held in Ludwigsvorstadt. If you want to stay right at the heart of the party, this is the best place for Oktoberfest. Alternatively, if you are not a fan of crowds, definitely avoid this area around the end of September to early October.
If you are working with a smaller budget, you are going to have to be particularly careful in Munich. Known to be the most expensive city in Germany, you will have to be smart to make the most of your money here. If you travel to Munich in the peak season in summer and Oktoberfest, be sure to book accommodations in advance!
It is worth noting that Munich has an excellent public transport system. The underground train network, known as the U Bahn, in particular, is extensive. No matter where you wind up staying in Munich, the public transport system will allow you to explore the rest of the city with ease.
When it comes to exploring Munich, it's recommended to stay for at least 3 to 4 days to experience the city's rich history, culture, and beautiful attractions. This will allow you to visit popular landmarks, as well as enjoying the local cuisine and nightlife.
However, if you have more time, you can also explore the surrounding regions such as the Bavarian Alps, charming Bavarian towns, Neuschwanstein Castle, and Linderhof Palace.
🎬 To get an overall idea of where to stay in Munich, check out this short video:
Where to Stay in Munich: 9 Best Areas to Stay in Munich
1. Altstadt, where to stay in Munich for first time tourists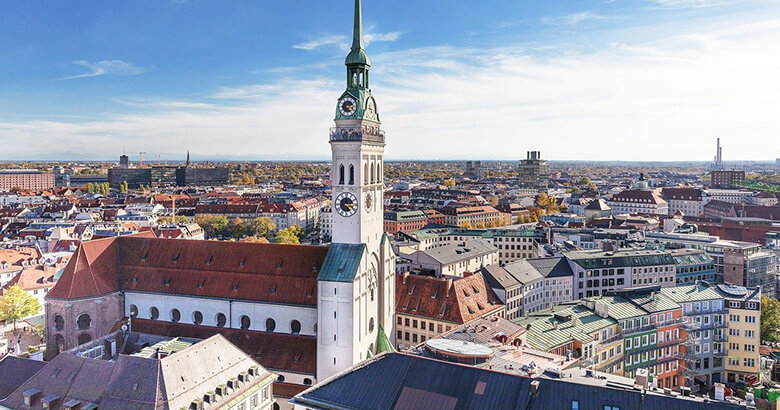 Literally meaning 'Old City', Altstadt Lehel is Munich's historic city center. Right in the heart of the city, Altstadt is full of popular tourist attractions. If sightseeing is your top priority, you will have plenty to keep you busy if you choose to stay in Altstadt Lehel.
Being so central, full of attractions, restaurants, shops, cafes, bars, and clubs makes this one of the best areas to stay for first-time tourists to Munich. You will be within walking distance of numerous historic sights and will also be perfectly placed to explore the rest of the city.
Likewise, if you are only visiting Munich for a short break, Altstadt Lehel is perfect for maximizing your time in the city. With so many sights and attractions within easy walking distance of your hotel, you will not have to waste so much time traveling to and from everything you want to see.
As the oldest sector of the city, Altstadt Lehel is home to the most historic buildings in Munich. If you really want to soak in the traditional Bavarian atmosphere of the city, with all of its history and culture, Altstadt is one of the best neighborhoods to consider.
Some of the must-sees in the Old town are the city's main square Marienplatz, the sprawling open-air food market of Viktualienmarkt, Hofgarten, and the world's most famous tavern Hofbräuhaus, dating back to the 16th century.
At the heart of Altstadt Lehel borough, you will find Marienplatz. Marienplatz is a popular meeting place for both locals and tourists. Surrounded by shops and cafes, the plaza is a great spot to relax and take in the historic atmosphere. It's the best area to stay in Munich for Christmas markets in December.
The square is overlooked by several impressive buildings. The neo-Gothic style, 19th-century New Town Hall (Neues Rathaus) is particularly majestic, with its wonderful Glockenspiel clock, stone balconies, and soaring spires. At the top of the tower is an observation deck, giving an extensive view of the city.
The 14th-century Old Town Hall (Altes Rathaus) stands on the eastern side of Marienplatz and is home to the Toy Museum (Spielzeugmuseum) which is a great place for kids.
On the other side of the square stands St. Peter's Church. As the oldest church in Munich, this is a must-visit for anyone who loves historic or gothic architecture. Aside from its opulent façade and interior décor, St. Peter's Church also houses some interesting relics.
The almost two-thousand-year-old skeleton of Saint Munditia is on display in a glass coffin. Draped in jewels, she makes a unique, if somewhat macabre, attraction in an already historically compelling church.
From Marienplatz, you can also see the domed towers of Frauenkirche. Originally built in the 15th century, much of the church has been reconstructed following the destruction of the two world wars. However, the infamous Devil's Footprint stamped into one of the floor tiles still remains.
If you want a break from all the towering stone buildings, head north to the Munich Residenz. Once home to German royalty, the stunning palace is now open to visitors, including its lovely, manicured gardens.
Alternatively, right behind the Munich Residenz is the expansive Englischer Garten. The huge public park offers miles of leafy trails, open fields, and winding rivers to explore. There is even a 19th-century Greek temple atop one of the hills for you to find.
Nearby the Munich Residenz stands the Odeonsplatz, the starting point of the famous boulevard Ludwigstraße, and is surrounded by Munich's top sights. You will find the Feldherrnhalle, Hall of the Bavarian Generals, a monumental loggia that was built from 1841 to 1844 under King Ludwig I in honor of the Bavarian Army.
The Old City is surrounded by three city gates, initially part of the city defense system including Sendling Gate in the south; Karl's Gate which leads to the lively pedestrian shopping street of Neuhauser strasse and Karlsplatz square; and Izar Gate which named after the Isar river.
Being both the most central part of the city and full of historic attractions, Altstadt Lehel is easily one of the most popular districts in the city for tourists to stay in. This of course means that hotels can demand premium rates for accommodation, so staying here will not come cheap.
Bearing in mind that Munich is known to be the most expensive city in Germany, you will struggle to find many budget hotels in this particular district. However, if you have a bit more money to spend, you can find some beautiful options here. The historic location makes for some stunning views.
Stay In Altstadt If you're a first-time visiting Munich; you want to stay right at the center of the city; you are visiting for Oktoberfest and want to stay in the middle of the action; you have a generous budget for accommodation.
Best places to stay in Munich in Altstadt-Lehel:
🔍FIND MORE HOTELS IN ALTSTADT-LEHEL
See more: 28 Best things to do in Munich, Germany
2. Maxvorstadt, where to stay in Munich in university and arts district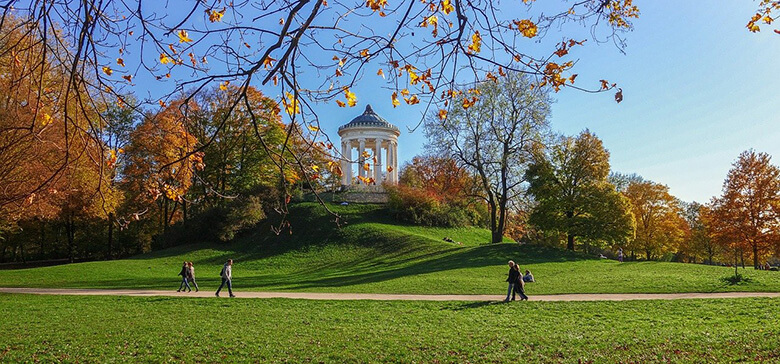 Just outside of Altstadt is the more laid-back neighborhood of Maxvorstadt. As Munich's university district, Maxvorstadt offers everything you might expect from an area with a high student population.
Numerous trendy coffee shops and vintage stores line the streets. If you enjoy browsing vintage bookstores and indie boutiques, you will have plenty to keep you happy in Maxvorstadt.
The high population of young people in the area also allows for a healthy supply of pubs and bars to head to in the evening. If you are after an area with a bustling nightlife scene, you have plenty to choose from in Maxvorstadt.
What's more, you will be staying within easy walking distance of the major attractions of the city center. If you want to stay close to the Old Town without having to put up with the constant crowds of tourists, Maxvorstadt offers a great alternative.
Being very student-centered with two big universities in Europe, Ludwig Maximilian University and Technische Universität München, you will find the prices for everything from restaurants to accommodation are more reasonable than in Altstadt.
If you are keeping to a more conservative budget, Maxvorstadt offers decent affordability without compromising on convenience or quality.
In keeping with the academic theme of the university district, there are tons of museums and art galleries in Maxvorstadt. From the history of Munich and Ancient Egyptian relics to fascinating geology and crystals, there is a museum in Maxvorstadt to pique everyone's curiosity.
Amongst museums, Haus Der Kunst is one of the most prominent contemporary art museums in Munich, opened in 1937 which exhibits temporary shows.
It is not just students who make Maxvorstadt their home though, as a thriving community of artists has set up in this corner of Munich. In amongst the hip cafes and boutiques, you will find many small galleries and studios.
There are also a number of larger art galleries in the area. Clustered around Karolinenplatz is a particularly convenient group of art museums right next to one another. Perfect if you don't have time to waste traveling between locations.
The three Pinakothek art museums including The Neue Pinakothek, The Alte Pinakothek, and The Pinakothek der Moderne are the main stars of the area.
With each museum housing works ranging from classic paintings to modern sculptural installations, there is sure to be something to appeal to everyone's tastes.
Other places worth visiting include the Bavarian State Library which is one of the most important libraries in Europe; the St. Ludwig's Church, and the Alter Botanischer Garten.
Like Altstadt, Maxvorstadt borders the Englischer Garten. If you feel the need to escape to nature for a breath of fresh air, the Englischer Garten offers tons of space to stretch your legs. Reaching all the way from the Old Town to the very edge of Munich City, it is the perfect reprieve from the urban jungle.
To sample traditional Bavarian dishes and freshly tapped beer, you can check out the Löwenbräukeller beer garden in the western part of Maxvorstadt, and the famous Augustiner beer garden which has over 5,000 seats and is set hidden among some 100 chestnut trees.
Between the reasonable prices, close proximity to the city center, and easy access to open space, Maxvorstadt is an excellent location to consider if you are planning to travel with your family. There is plenty to keep everyone entertained and kids will have plenty of space to work off their energy.
Stay In Maxvorstadt If you are looking for a budget-friendly area that is still close to central Munich; you want to stay close to the main attractions whilst avoiding the worst of the tourist crowds; you love browsing museums and art galleries; you are looking for the best place to stay in Munich for families;
Best places to stay in Munich in Maxvorstadt:
🔍FIND MORE HOTELS IN MAXVORSTADT
3. Ludwigsvorstadt, where to stay in Munich for Oktoberfest and budget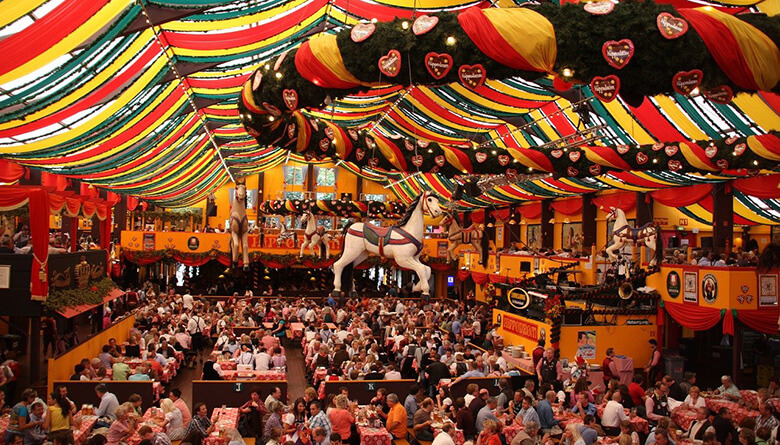 Ludwigsvorstadt is the district immediately to the east of Altstadt. Close to the attractions of the city centre, as well as the museums of Maxvorstadt, Ludwigsvorstadt offers a convenient central location without the higher prices and bustling crowds of the touristy Old Town.
Ludwigsvorstadt is best known for being the center of the world-famous Oktoberfest celebrations. Despite the name, Oktoberfest takes place primarily at the end of September. For around sixteen days, the area is transformed into a heaving party, which crams more than six million people into Munich every year.
The majority of the celebrations are centered around the Theresienwiese fairgrounds, so this is where the thickest crowds will congregate. The festivities are kicked off by a parade of the bars and restaurants that will be hosting stalls in the main fair.
Whilst it is true that the area gets incredibly busy during the height of the festival, do not worry too much if you hate being in a big crowd. Munich is full of pubs and bars and Ludwigsvorstadt is no exception. During Oktoberfest, most of the bars and restaurants in the city will be hosting their own celebrations.
I do recommend popping into the main party area for the experience, but the high energy isn't for everyone. You will have plenty of beer gardens throughout Ludwigsvorstadt to retreat to, to continue your more laid-back celebrations.
St Paul's is a church close by to Theresienwieste with a viewing platform at the top of its tall spires. During Oktoberfest, the viewing platform is the perfect opportunity to get a fantastic view of the bustling festival, without having to be down in the crush yourself.
Regardless of whether you choose to stick to the main party or head to one of the local pubs, Oktoberfest is the perfect time to sample some excellent craft beer. Don some traditional Bavarian lederhosen to really get into the festive spirit.
Outside of Oktoberfest season, Ludwigsvorstadt is known for being one of the more affordable places to stay in Munich. It may seem surprising, considering the central location, but this is the best place to start looking for budget hotels.
The low cost of accommodation here is likely to do with the fact that there are not a lot of tourist attractions in the area itself. Outside of Oktoberfest, the Bavaria Statue is the top attraction in Ludwigsvorstadt.
Just south of the main railway station lies the area called Little Istanbul. It is a place to immerse yourself in Anatolian culture with the mixed of German and Turkish cultures.
The Bavaria Statue is located to the west side of Theresienwieste. Installed in the 19th century, the statue is a large bronze casting of a woman representing the spirit of Bavaria. Behind her stands a grand columned building housing busts of notable Bavarians from throughout history.
Just across Bavariapark from the Bavaria Statue is the Deutsches Museum Verkehrszentrum. Dedicated to transportation, the Verkehrszentrum is quite niche, but it is worth a visit if you are already in the area visiting the statue and Hall of Fame.
Of course, during the time of the festival this area transforms into one of the most desirable districts in the city and hotel prices shoot up. If you are visiting during Oktoberfest and want to keep costs down, you are going to want to look elsewhere.
Another benefit to staying in Ludwigsvorstadt is the proximity to Munich Central Station. The train station is located at the northern end of Ludwigsvorstadt. If you are traveling to Munich by train, Ludwigsvorstadt is a super convenient place to stay.
With plenty of budget hotels close to the train station, you will have both convenience and affordability. Also, less time wasted getting your luggage to and from your hotel. Win-win!
Stay In Ludwigsvorstadt If you are visiting Munich for Oktoberfest and want to stay right at the heart of the party; you want to stay close to the city center without paying the higher prices of Altstadt; you want to stay close to Munich Central Train Station.
Best places to stay in Ludwigsvorstadt:
🔍FIND MORE HOTELS IN CENTRAL STATION
4. Isarvorstadt, LGBT-friendly nightlife neighborhood in Munich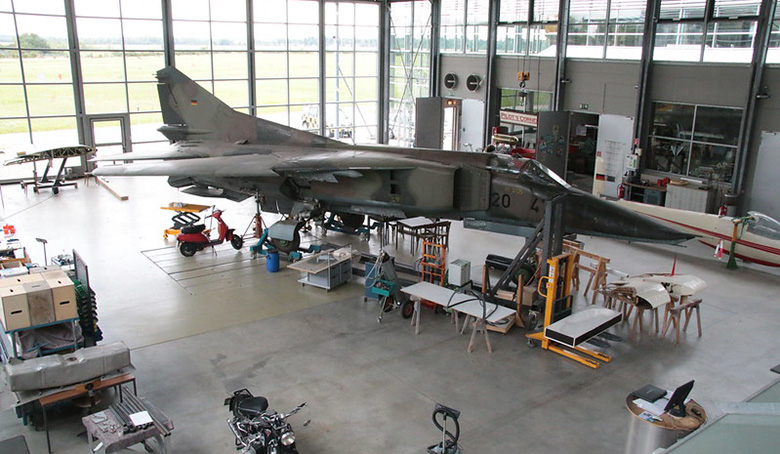 Isarvorstadt is the area immediately south of Ludwigsvorstadt. Technically they are two halves of one large district, but they each have their own distinct atmosphere and draw. Isarvorstadt is so named for being the end of the district closest to the Isar River.
Isarvorstadt encompasess the Museumsinsel, Isar bridges, Gärtnerplatzviertel, Glockenbachviertel, and Schlachthofviertel districts.
Isarvorstadt is best known for its vibrant nightlife scene. This is where you will find some of the best bars and clubs in the city. If you are looking for nightclubs, the area around Sonnenstraße is your best bet.
It is also the home of Munich's LGBT community. Gärtnerplatzviertel and Glockenbachviertel districts are party areas for gays and lesbians, particularly clustered around Müllerstraße.
If an LGBT-friendly nightlife scene is important to you, then this is definitely a good neighbourhood to consider.
If you happen to be in the area, there is a cute little nod to Isarvorstadt's LGBT community to look out for. The pedestrian crossing at the junction between Pestalozzistraße and Mullerstraße features two same sex couples in place of the green and red stickmen on the traffic lights.
The 200m long Hans-Sachs-Strasse is also worth take a stroll. It is lined with trendy boutiques, a theatre, and a cinema, the Neues Arena.
Foodies will love the variety of cuisines on offer in Isarvorstadt. The streets are lined with wonderful restaurants serving up everything from South African to Vietnamese or Greek. Whatever you have a craving for, you are sure to find somewhere to sate it in Isarvorstadt.
Aside from bars and restaurants, there are also a few cultural attractions to be enjoyed in Isarvorstadt. Stretching along the Isar River, this is one of the closest neighborhoods to Museum Island.
Museum Island is where you will find the Deutsches Museum. Focusing on space and technology, it offers a popular alternative to the arts and history favored by most of Munich's other museums.
Like Ludwigsvorstadt, Isarvorstadt is great for budget travelers. Just outside of Munich city centre, it is an excellent option for those who want to stay close to the main attractions whilst also keeping costs down.
Between the party atmosphere, affordable accommodation, and central location, Isarvorstadt is particularly popular with backpackers. You will be within walking distance of the main attractions and have plenty of bars and clubs to keep you entertained after dark.
Stay In Isarvorstadt If you are looking for the best place to stay in Munich for nightlife; you are looking for affordable accommodation close to the city centre; you are backpacking around Europe and want the opportunity to mingle with fellow nomads; LGBT friendly nightlife is important to you.
Best places to stay in Munich in Isarvorstadt:
🔍FIND MORE HOTELS IN ISARVORSTADT
5. Haidhausen, one of the best areas in Munich for nightlife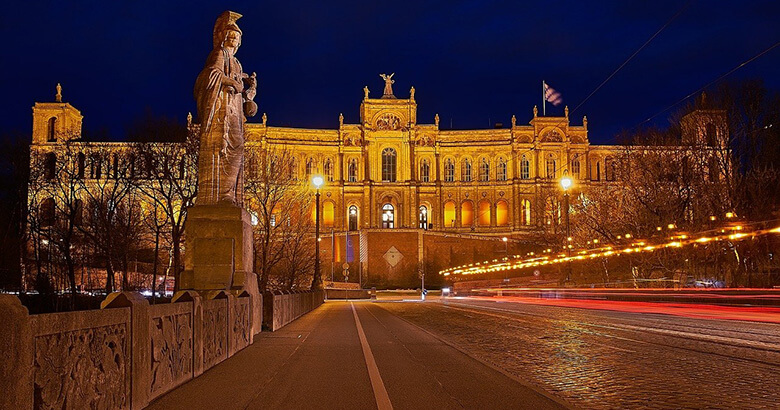 Located east of the Isar River, Haidhausen is also known as French Quarter, as many of the roads are named after French cities. it is of the Munich's prettiest districts. If you are looking for a laid-back neighborhood with a local Müncheners vibe, this is one of the best neighbourhoods to consider.
Dating back close to the founding of Munich, this is another wonderfully historic area to explore. More residential than the similarly old Altstadt, the history peeks through in the charming streets rather than grand structures.
Haidhausen is the closest neighborhood to Museum Island and the Deutsches Museum. The Deutsches Museum is one of the most popular museums in Munich. Focusing on technology and space, it offers a refreshing alternative to all of the arts and history found at Munich's other museums.
You can also find the Bavarian State Parliament, also known as Bayerischer Landtag. it is located in Maximilianeum at the end of Maximilianstrass. It is a six-storey office building designed by Berlin architects Leon Wohlhage Wernik.
Wiener Platz is the heart of Haidhausen. You can sits at one of its cafes or near the Fischerbuberl fountain, people-watching, enjoy the sun and the views of red-brown church of St. John Baptist nearby!
There are numerous of markets on the square including the daily food market of Wiener Markt, the Viktualienmarkt, the Elisabethmarkt, and the Pasinger Viktualienmarkt. You can buy fruits, vegs, fish, wine, chocolate, and flowers. You should try Weisswürste, Stockwürste, and meatballs.
To the west of the square, you can find the traditional restaurant of Hofbräukeller with a large beer garden and beach bar.
If you are looking for nightlife, head to Kultfabrik, one of the largest party zones in Europe. You can find more than 30-40 clubs, bars, Irish pubs, discos.
Kultfabrik, along with the nightlife zone of Optimolwerke are conviently located right next door to Ostbahnhof Station with S-Bahn and U-Bahn.
When you think of things you associate with Munich, beaches probably are not one of the first ideas that spring to mind. However, there is a small beach of soft white sand in Haidhausen, Isarstrand.
Isarstrand is located towards the north of the district, on the banks of the Isar. Sheltered by the end of Museum Island, in summer this is a popular spot for locals to go swimming in the river. If you visit in the winter and still want a swim, a lovely indoor swimming pool is right next to the beach.
Another place for swimming is Müller'sche Volksbad. This popular place for Münchners has sauna facilities and the Roman steam bath.
Quiet, relatively central, and home to several public parks, Haidhausen is one of the most family-friendly neighborhoods in Munich. You will be staying within comfortable walking distance of the city center attractions whilst still having plenty of space for your kids to let off some steam.
There is also a fantastic range of cuisines available to try in the area. Whether you want to sample traditional Bavarian cuisine at one of the local restaurants, or just skip the drama and feed the family familiar pizza, even the fussiest of eaters will have something to satisfy them.
A little further removed from the city center than some of the other districts on this list, prices for accommodation are typically much more reasonable. You will definitely be able to get more for your money than you would in Altstadt.
Likewise, being across the river from the main districts makes this one of the quieter places to stay during Oktoberfest. If you know you will be visiting around late September and do not want to get stuck in crowds of tourists, Haidhausen is a great neighborhood to consider.
If you are concerned that getting to the main attractions in the city center will be difficult, don't worry. Altstadt is within reasonable walking distance, just over any of the picturesque stone bridges spanning the Isar. Even if you can't or don't want to walk the distance, getting around Munich is still no problem.
Remember, Munich has an excellent public transport network. Between the buses, trams, and the U Bahn, you will be able to explore the rest of Munich with ease.
Stay In Haidhausen If you want great nightlife; you are looking for a family-friendly neighborhood; you are visiting during Oktoberfest and do not want to be surrounded by crowds of tourists;
Best places to stay in Munich in Haidhausen:
🔍FIND MORE HOTELS IN AU-HAIDHAUSEN
6. Schwabing, cool neighborhood to stay in Munich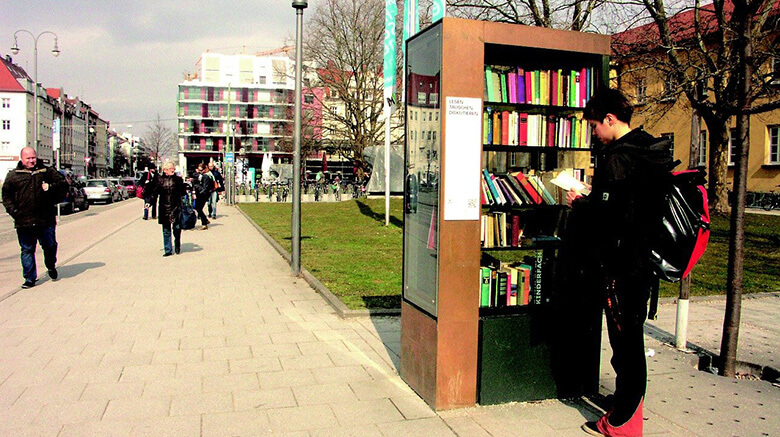 The cool and trendy neighborhood of Schwabing is a large suburb immediately north of Altstadt. It's divided into two neighborhoods, Schwabing-Freimann and Schwabing-West.
As one of the most affluent neighborhoods in Munich, this is a hub of chic cafes, stylish boutiques, and excellent restaurants. There is a good shopping opputinities at Leopoldstrasse, Hohenzollernstrasse, and Karstadt which is the classic German department store.
Schwabing has fine dining scene, you can try local Bavarian cuisine to international food such as Afghani delights and Italian pizza. There is the Michelin-starred restaurant Tantris, is perfect place to grab a cocktail and modern European cuisine.
The long boulevard of Leopoldstrasse is packed with with shops , restaurants and bars. It is also home to the triple-arched Siegestor, or Victory Gate, Münchner Freiheit square, and Odeonsplat.
Munich's Siegestor is a three-arched triumphal arch, erected in the 1800s. Atop the arch stands a bronze sculpture of the spirit of Bavaria, flanked by four lions.
Close to the university and arts district of Maxvorstadt, the creative culture extends into fashionable Schwabing. Being a little more removed from the hustle and bustle of the city, you can enjoy the vibrant atmosphere with fewer rowdy tourists.
One of the most prominent features of Schwabing is the sprawling Englischer Garten. Spanning over nine-hundred acres and with seventy-eight kilometres of trails, you can spend days exploring the park. There are tons of interesting structures to discover and plenty of facilities to ensure a fun day out for the whole family.
The park has an interesting number of world cultures represented in its attractions. On an island behind the Haus der Kunst museum, you will find a Japanese teashop and garden. Perfect for a slice of zen, away from the hustle and bustle of the nearby city centre.
On a hill in the south end of the park sits a replica neo-classical Greek Temple, Monopteros. Relax in the shade of the grand columns and enjoy lovely views across the gardens.
A little further north, set in its own plaza, is the 25m high Chinese Tower pagoda. A beer garden and café are nestled amongst the surrounding trees, from which you can enjoy views of the pagoda. In the evening, the Pagoda's lights cast a warm glow over the beer garden, creating a cosy atmosphere.
There are various other cafes, restaurants, and Aumeister beer garden throughout the park. No matter how far in you explore, you will never be far from somewhere to rest and enjoy a local beer or delicacy.
There are even some art galleries and shops within the park, alongside the various monuments you will encounter along the trails. Walking Man is one of the most famous sculptures in English Gardens.
Well to the north of the Englischer Garten there is an open-air amphitheatre. During summer, various performances are hosted in this unique venue.
If you are looking for something a bit more adventurous, the park has you covered there too. You probably wouldn't think of Munich as the place to learn to surf. However, a constant wave at the end of one of the rivers, on Eisbach is a popular spot for local surfers to practice their skills, no matter the season.
You can also find Nordfriedhof, one of the historical sites dedicated to WWII. You can visit it for free and learn more about the Germany's WWII history.
The Elisabethmarkt is also one the top attractions in Munich. Founded in 1800s, this market today has great variety of stalls with fruits, cheeses, meats and home-made beers.
To the west of Schwabing, you will find the Olympic Park, also known as The Olympiapark. It is home to the Olympic Stadium, the Olympic Hall and the Olympic Tower.
The adjacent BMW Museum, is also worth a visit. It's the perfect place for car lovers, along with the BMW Welt nearby.
Schwabing also hosts the Schwabing Christmas Fair, it is not to missed event if you are visiting the area around November and christmas time.
Being such an affluent, fashionable neighborhood, accommodation here isn't particularly cheap, despite being further from the city centre. Although there are a few more affordable options, there are also a lot of more luxury hotels and stylish boutique guesthouses.
Schwabing is not ideal for those working with a tight budget. However, if you do have a more generous allowance for accommodation, there are some lovely options here. You may even be able to find a room with views over the Englischer Garten.
Stay In Schwabing If you want to stay in one of the most fashionable areas of Munich; you want to stay reasonably close to the city centre but without the crowds and tourist traps; you enjoy spending time outdoors; you are visiting Munich with children; you are not bound by a tight budget.
Best places to stay in Schwabing:
🔍FIND MORE HOTELS IN SCHWABING
7. Nymphenburg, where to stay in Munich with family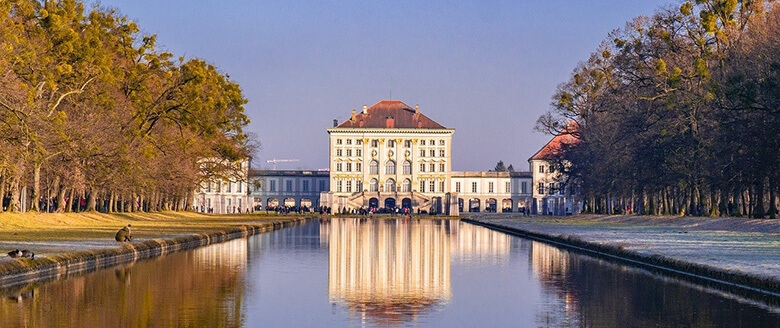 Leafy Nymphenburg is a wealthy residential suburb in the west of Munich city. A little removed from the main city centre, Nymphenburg is one of the best places to stay if you want a quieter area, away from the bustling crowds of tourists.
Catering to the local residents, you will find plenty of laid-back, cozy cafes and restaurants throughout the area. There is an interesting mix of architectural styles to the houses in Nymphenburg, making just walking around the streets an adventure in itself.
The district is centered around the vast estate of Nymphenburg Palace, also known as Schloss Nymphenburg, one of Munich's top attractions. The palace was built as a summer residence for the Wittelsbach, the Bavarian Kings in 1664.
Within the palace, some of the highlight are the Stone Hall (Steinerner Saal), the Beauty Gallery of King Ludwig I, Queen Caroline's bedroom or the Birth Room of King Ludwig II.
You can explore various museums in the surrounding buildings. There are Museum Mensch und Natur (Museum of Man and Nature) in the north win, the Marstallmuseum (Carriage Museum), the Porcelain Museum with more than 1000 exhibits, and the Erwin von Kreibig Museum that display artworks.
The sprawling grounds are home to Greek temples, smaller castles, fountains, and lakes. Some highlight are the Badenburg on the Great Lake, the Pagodenburg, Amalienburg, the Jagdschlösschen (Hunting Castle), the Magdalenenklause, and the Apollo Temple.
To the north of Nymphenburg Palace is a large Botanischer Garten (Munich Botanical Gardens). With various manicured gardens and themed greenhouses, there is plenty to discover along the winding trails.
In summer, you can take a gondolas ride on the Nymphenburg Canal, in winter, it becomes a nice spot for ice skating and ice hockey.
Nymphenburg is also known for Hirschgarten, Munich's largest beer garden. During Oktoberfest, this is a wonderful place to be if you want to take in the party atmosphere without venturing into the crush of the main fair.
The large deer park in which Hirschgarten is located is a lovely place for a walk, no matter what time of year you visit. There are snack bars and playgrounds dotted around the park, so it's a very family friendly place to spend a relaxing afternoon.
Schloss Nymphenburg is well-connected to major motorways and easy to access from Munich central by public transport or hop-on-hop-off Munich sightseeing bus tour.
Outside of the main tourist areas, there are fewer hotels to choose from in Nymphenburg. However, what is available is a good mix of affordable and mid-range accommodation. It's not the cheapest area, but if you have a moderate budget it should suit you fine.
Stay In Nymphenburg If you want family-friendly area; you want to relax in Munich's largest beer garden; you want to stay in a quieter, suburban neighbourhood; Being right in the center of the city is not a priority;
Best places to stay in Munich in Nymphenburg:
🔍FIND MORE HOTELS IN NYMPHENBURG
8. Sendling, relaxed, residential neighborhood in Munich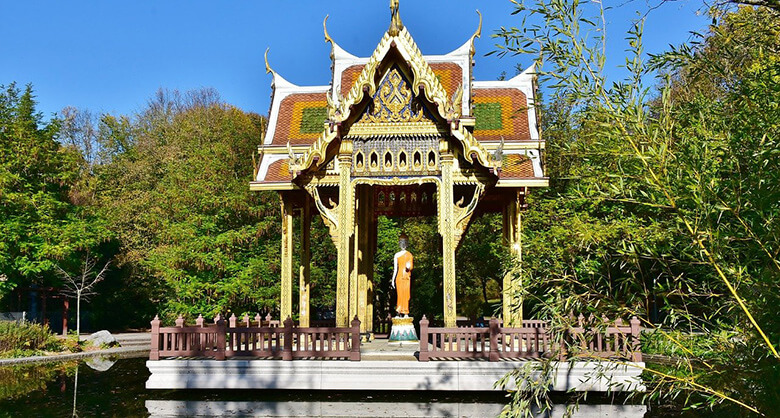 If you are looking for a laid-back neighborhood, with a local, residential vibe, then you can't beat Sendling. Located to the south of the city centre, Sendling is a charming suburb with lots of leafy greenspace and small pubs and cafes.
The district of Sendling encompasses the historic area of Untersendling, Mittersendling, and the industrial area of Obersendling. You will find the most beautiful spots around Westpark and Harras.
A little away from the hustle and bustle of the main city center and tourist attractions, Sendling is ideal for those who prioritize relaxing over sightseeing. Even so, Sendling isn't so terribly far out of the main town that you can't easily pop in to visit whatever attractions pique your interest.
Although quite an unassuming neighborhood, some records place Sendling as having been settled as far back as the 12th-century. As such, there are plenty of historic buildings to be spotted amongst the more modern houses.
Once one of the more industrial areas of Munich, the old factories and repurposed warehouses lend another layer to the varied architectural landscape of Sendling.
There are plenty of parks and open spaces throughout Sendling, including the lovely Flaucher park just across the Isar River. It was named after the Zum Flaucher restaurant which opened in 1870. The park boasts picnic and barbeque areas, as well as a leafy beer garden.
Another popular park in the neighborhood is the Westpark. It has ice skating in winter, and barbecue areas for summer. The park host the Kino, Mond und Sterne open-air cinema, Café Gans am Wasser, the Asian gardens, and Mollsee lake.
Just south of Flaucher park is where you will find the top attraction of Sendling, Munich Zoo Hellabrunn.
Hellabrunn Zoo is large enough that it has space for the animals to have enclosures designed to imitate their natural environments. There are tons of animals to observe here, with species from across the world.
Sendling district is also home to Grossmarkt wholesale market, the third-largest food trading centre in Europe. You can grab a meal at the Frischeparadies fine foods emporium in Schlachthofviertel nearby and the Gaststätte Großmarkthalle traditional pub.
You can also find the historic Stemmerhof farmhouse, Munich's last working farm until the early nineties. Today, it is housed many business. The adjacent Stemmerwiese meadow is a perfect spot to relax and picnic.
There is also an up-and-coming area called Harras. Sendling's most important transport hub is the intersection of bus, U-Bahn underground rail, S-Bahn trains. You can wander along Aberlestrasse or Valleystrasse, admire the beautiful old buildings or grab a meal at one of its restaurants.
Being outside of the main city center districts, Sendling borough is one of the more affordable places to stay in Munich. If you are on a budget and don't mind not being right on top of the main attractions, this is a fantastic neighborhood to consider.
Stay In Sendling If You want to stay in a more relaxed, residential neighborhood; You have a smaller budget for accommodation; You don't mind staying a little outside of the main city center; Sightseeing is not your top priority; It is not your first time visiting Munich;
Best places to stay in Munich in Sendling:
🔍FIND MORE HOTELS IN SENDLING
9. Bogenhausen, quiet area with local vibe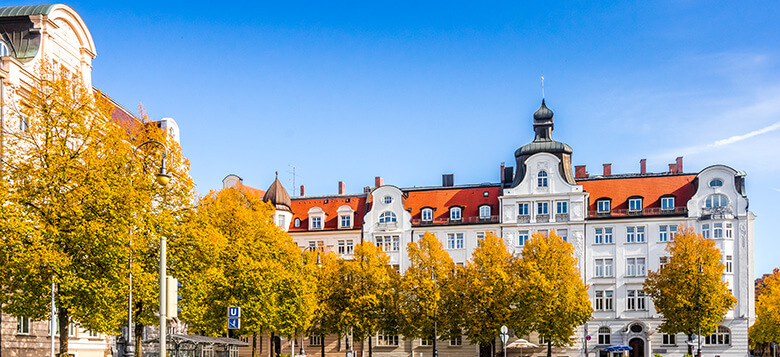 Located on the east side of the Isar River, close to Trudering-Riem, Bogenhausen is a bit off the beaten path area in Munich. it is a residential district that is ideal for those looking for a quiet area with a local life atmosphere.
Prinzregentenstrasse is one of the most beautiful streets in the neighborhood that is lined with villas. Meanwhilem the Mauerkircher Strasse is packed with mansions.
You can find many 19th century stuccoed townhouses in the neighborhood. Many wealthy people have lived in Bogenhausen like Boris Becker. Bogenhausen offers easy access to the tranquil banks of the river Isar and the Englischer Garten.
In addition to restaurants, cafes, shops, and boutiques, this quarter is also home to some of Munich's most beautiful landmarks such as Villa Stuck, the Angel of Peace monument (Friedensengel), Prinzregententheater, and Herzogpark.
For shopping, head to famous Maximilianstreet with high-end shops. There is also the office building of HypoVereinsbank tower at Mittlerer Ring B2R, the Arabella Park.
Bogenhausen is well-connected with the city center by metros with the final stop of U-Bahn line U4 – Arabellapark. There are plenty of restaurants and cafes in the central parts of the district.
Best places to stay in Bogenhausen:
Where should I stay in Munich for the first time?
Altstadt Lehen is the best area to stay in Munich for first-timers due to its super central location. If you stay here, you will be located in the middle of everything, within walking distance to major sights, as well as many restaurants, bars, and shops.
What are the best areas to stay in Munich?
Altstadt, Maxvorstadt, Ludwigsvorstadt, Isarvorstadt, Haidhausen, Schwabing, and Nymphenburg, are the best areas to stay in Munich for tourists because they are the most popular and safe neighborhoods that offer a wide variety of attractions and amenities.
What are the safest places to stay in Munich?
Most Munich's neighborhoods are safe, but like any major European city, you should be aware of pickpockets. Some of the safest places are Altstadt, Maxvorstadt, Ludwigsvorstadt, Isarvorstadt, and Haidhausen.
Where not to stay in Munich?
You should avoid Neuperlach, and Hasenbergl because they have higher crime rates compared to other neighborhoods. You should also avoid walking alone in poorly lit areas at night.
What area to stay in Munich for Oktoberfest?
Ludwigsvorstadt is the best area to stay in Munich for Oktoberfest because the majority of the Oktoberfest celebrations are centered around Theresienwiese in Ludwigsvorstadt.
What is the best place to stay in Munich for Christmas markets?
Altstadt is the best area for Christmas markets because Christkindlmarkt, one of Munich's most popular Christmas markets, is held in the city's main square Marienplatz.
What is the best area to stay in Munich for families?
With numerous parks and kid-friendly activities, Munich is a popular family-friendly destination. Altstadt and Nymphenburg are some of the best areas for families and children.
Read more:
You can easily get to Munich by air, train. Munich is home to the second busiest airports in Germany, Munich International Airport, with many domestic and international flights. There is also direct trains to European countries like Switzerland, Hungary, Austria, and Czech Republic.
So, I am sure you find the best areas to stay in Munich. The next step of planning your perfect city break is decide How long should you stay in Munich. If this is your first visit, I recommend spend 3 days in Munich and book a hotel in the Altstadt neighborhood to make the best of your holiday.