The best areas to stay in Venice for first-timers are the neighborhoods of San Marco, San Polo, Dorsoduro, Santa Croce, Cannaregio, and Castello. These neighborhoods are very popular with tourist, and it offers a wide variety of tourist attractions and amenities. You can also consider to book cheaper hotel outside Venice in Mestre, Lido, San Donà di Piave, and Noale. This blog will help you to decide where to stay in Venice for family, couples, budget, nightlife, and beaches. 
Venice, the City of Canals, has long been considered one of the most romantic destinations in the world. Venice has 118 islands, 177 canals, over 400 bridges, and around 400 gondolas. There are tons to see and do in this UNESCO World Heritage Site, from historical landmarks to contemporary tourist attractions.
Venice is a very safe city both day and night with a very low rate of violent crime. There are no unsafe areas that you should avoid but you should be aware of pickpocketing especially in a crowded place during high season as you travel to any big city.
Wherever you choose to stay, Venice is a relatively small city and walkable. Even the outer districts aren't far enough from the major attractions to cause many issues. The six sestieri (main districts) of Venice all have their own characeteristics.
San Marco is the best area to stay in Venice for first time visitors due to its proximity to Venice's top tourist attractions such as St. Mark's Basilica, Doge's Palace, and Bridge of Sighs, as well as many choices in accommodations. If you book hotels in this center serenissima, you will be located in the heart of venice with many restarants, bars, shop right at your doorstep.
Santa Croce offers the best affordability in central Venice, with the caveat of being a bit removed from the main attractions. It's also the best connected to transport links, with the major bus, train, and ferry terminals all nearby, as are the only roads and car parks in the main Venetian islands.
For the best nightlife in Venice, you will want to head to the student district of Dorsoduro. This is where you will find most of the city's best bars. It is super close to the city center, so you will have plenty to do in the daytime too.
From Marco Polo International Airport and Treviso Airport, you can easily go to the city center by bus and boat. If you are visiting during the Venetian Carnival, be sure to book in advance! Let's look at the 6 best places to stay in Venice and surrounding areas.
Best areas to stay in Venice for tourist
1. San Marco, where to stay in Venice for first time visitor
San Marco is the most central of all the districts on the central Venetian islands. If you want to make sure you are staying within just a few minutes' walk of many of Venice's major attractions, the San Marco area is ideal.
With so much to see and do in the immediate area, San Marco is perfect for first-time visitors, shorter breaks, and weekend trips. You can maximize your time spent taking in the tourist attractions, with minimal time wasted traveling between them.
The caveat to being such a conveniently central location is that it is a very touristy sestiere, especially from March-October. If you are hoping for a quiet and peaceful area to stay in Venice, this is probably not the best place to consider.
As the oldest district in Venice, this is where you will find many of the city's most historic attractions. You will also find plenty of charming side streets to explore, each lined with historic buildings.
The 11th century, Saint Mark's Basilica is the jewel of San Marco. The opulent cathedral features towering domes and soaring steeples atop a grand, arched façade. The interior is possibly even more magnificent, decorated with beautiful, mosaiced walls and gilded accents.
Right next door is the stunning Doge's Palace (Palazzo Ducale). Overlooking the Grand Canal, Doge's Palace is worth visiting even just for its ornate exterior. However, if you have the time, then venture inside where you will find numerous exhibitions from the palace's past as both a royal residence and prison.
The famous Bridge of Sighs, designed by Italian architect Antonio Contino, connects Doge's Palace to the once prison on the other side of the Rio del Palazzo canal. To really appreciate the historic bridge, however, it is better viewed from the Ponte Della Paglia.
The Basilica and Doge's Palace are both located at the east end of Saint Mark's Square, known locally as Piazza San Marco. This 12th-century plaza is a popular meeting place for both tourists and locals but can get very busy. You can climb to the top of the imposing 99-meter-high tower in the center of St. Mark's square, Campanile di San Marco. From the top of this 12th-century tower, you can enjoy a stunning view of Venice.
San Marco Square is surrounded by shops, cafes, and several museums. Stop by 18th-century Caffé Florian which is one of Venice's most famous coffeehouses to grab a cup of coffee specialties.
With so many historic buildings and charming side streets, San Marco is one of the top options in the city for those wanting to capture the romantic atmosphere of Venice.
Being surrounded on three sides by the 3,800 meters long Canale Grande means you will have plenty of opportunities for intimate riverside walks too. be sure to take a ride on a gondola or a water taxi through the canals of Venice.
Being the most central neighborhood in Venice, and one of the most popular, prices for accommodation can get very steep here. If you are looking for luxury, you will have plenty of options to choose from in San Marco.
There are some more mid-range options to be found once you get a little further from the riverside. However, if you are hoping for a room with views of the iconic canals, you are definitely going to have to pay a premium for it if you have your heart set on staying in the San Marco neighborhood.
Stay In San Marco If It is your first time visiting Venice; You want to stay right at the heart of the Venetian atmosphere; You are visiting for a shorter break or weekend trip; Being within walking distance of all the major attractions is a priority;
Best places to stay in Venice in San Marco:
luxury ($$$): The Gritti Palace This 5-star hotel is located in the heart of Venice, in a former noble residence on Venice's Grand Canal, with stunning views of Santa Maria delle Salute Church. It offers luxurious rooms with free wifi, air conditioning, a satellite flat-screen TV, and private bathrooms with bathrobes and slippers.
mid-range ($$): Corte Di Gabriela This 4-star hotel is in the real heart of Venice, a short walk from the main tourist attractions in the city, and public transport like Campo Sant'Angelo waterbus stop on line 1, and Venezia-Santa Lucia Venice Train Station. It features guest rooms with parquet floors, air conditioning, LCD TV, a kettle, private bathrooms with bathrobes and slippers.
budget ($): Novecento Boutique Hotel This hotel offers elegant rooms with antique furnishings, marble floors, air conditioning, LCD satellite TV, and a minibar. Located within walking distance from Vaporetto water bus stops, St. Mark's Square, and the Baroque church of Santa Maria Zobenigo.
🔍FIND BEST HOTELS IN SAN MARCO
See more:
2. Dorsoduro, where to stay in Venice for nightlife
Vibrant Dorsoduro is just the other side of the Grand Canal from the central district of San Marco. It has a vibrant nightlife and some of the most famous art galleries in the city.
Super close to the city center, and all the major attractions within, Dorsoduro is ideal for those hoping to stay at the heart of Venice, but whilst avoiding the worst of the crowds.
With the attractions of San Marco to the east and San Polo to the north, you will be surrounded by plenty of things to see and do within easy walking distance of your hotel. Meanwhile, the transport hub of Santa Croce is also right next door, so getting to and from your bus, train, or car will be easy.
Of course, Dorsoduro has plenty of its own merits, and the benefits of staying here do not rely solely on the surrounding areas. Dorsoduro is home to some of Venice's principal arts institutions, including Venice's most famous art gallery, the Gallerie dell' Accademia.
The Gallerie dell' Accademia displays classical artworks from the 13th through 18th centuries. If you want to get a detailed look at how Venetian art and fashions have changed throughout the ages, this is the perfect opportunity.
Alternatively, if you prefer more contemporary and modern art, the Peggy Guggenheim Collection might be more to your tastes. In addition to appreciating masterpieces by renowned artists including Dali and Picasso, the surroundings are to be admired too.
The Peggy Guggenheim Collection is housed within an 18th-century palace, right on the banks of the Grand Canal. The ornate walls also contain a lovely sculpture garden to be explored when you are done with the paintings in the gallery.
Further along, at the far eastern end of Dorsoduro, you will find the magnificent Basilica di Santa Maria Della Salute. Dating back to the 17th century, the beautiful domed Basilica is one of the loveliest buildings in Venice. The interior is just as stunning and houses work by the renaissance painter, Titian.
Another impressive church in Dorsoduro is San Sebastiano which has the work of Paolo Veronese, as well as paintings by Tintoretto and Titian.
At the center of this sestiere stand the Campo Santa Margherita, a popular meeting place for Venetian people. it's also a great nightlife venue and is surrounded by 14th and 15th-century houses, market stalls, shops.
A stroll from the scenic promenade of Fondamenta Zattere to the boatyard of Squero di San Trovaso is very recommended, you can enjoy views of the Canal of Giudecca.
Aside from its artistic offerings, Dorsoduro is also Venice's University district. Much of the retail and hospitality in the area cater to the resident student population. As such, you will find plenty of trendy boutiques and hip cafes lining the streets.
Catering to the student budget means the restaurants and cafes in this part of town are generally more reasonably priced than the touristy center. The area also has a more authentic vibe, giving Dorsoduro a laid-back air not seen in the more contrived tourist traps in San Marco.
The influence of the young, student crowd carries into the evenings. Dorsoduro is home to the best selection of bars in the city. If you are looking for somewhere to keep entertained after dark, Dorsoduro is your best bet.
Despite being so close to the city center, the rates for accommodation in Dorsoduro are not as terribly high as you might expect. Whilst not the cheapest area in Venice, there are plenty of mid-range hotels to consider, along with a few more affordable options.
If you are looking to stay super close to the city center without completely breaking the bank, Dorsoduro is a great neighborhood to consider. If you try to stay close to the Ponte dell' Accademia, then you won't even have to worry about waterbus fares.
Stay In Dorsoduro If You want plenty of options for bars and nightlife; You want to stay super close to the city center whilst avoiding the worst crowds of tourists; You are keeping to a budget but still want to stay close to the major attractions.
Best places to stay in Venice in Dorsoduro:
Luxury ($$$): Sina Centurion Palace Located next to the Basilica of Chiesa of Santa Maria della Salute, this 5-star hotel is also close to Salute Vaporetto (water bus). It has the views of Grand Canal, private courtyard, and an on-site Antinoo's Restaurant.
Mid-range ($$): Pensione Accademia – Villa Maravege Located near the Accademia water-bus stop, this 17th-century villa has a private garden, free buffet breakfast, free wifi. You can choose to stay in a room that has air conditioning, a TV, minibar, as well as the view of Grand Canal or private gardens.
Budget ($): Hotel Pausania This charming three -star hotel is situated close to the church of San Sebastiano and to the Maritime Statio. The Ca'Rezzonico stop nearby for those arrive by Vaporetto (water bus). Booking this hotel, you will have free entrance to the Venice Casino and a free tour of a glass factory in Murano.
🔍FIND BEST HOTELS IN DORSODURO
3. San Polo, where to stay in Venice for families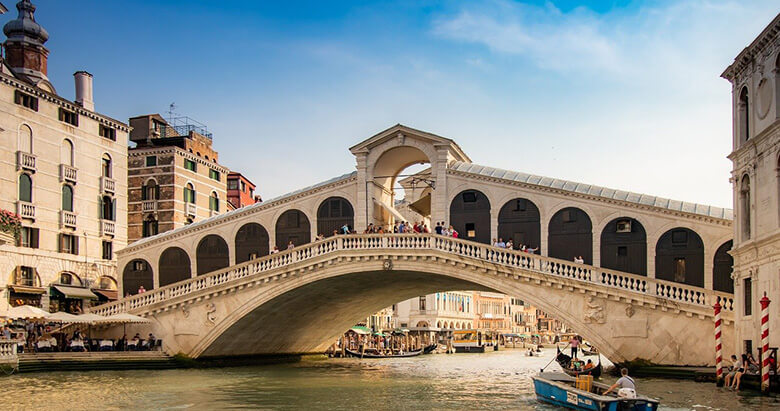 One of the oldest neighborhoods in Venice, Sestiere San Polo is another fantastic place to stay for those who want to see as many of the major attractions as possible. Directly across the Grand Canal from San Marco, the smallest sestiere of Venice is super central, with easy access to the Vaporetto, Venetian public waterbus, so you will be perfectly located to explore the whole city.
Being close to so many popular attractions whilst not quite as crowded as the central San Marco region makes San Polo very popular with families. With less hustle and bustle and short distances between sights, it's easier to safely shuttle kids around this area.
San Polo is particularly well known for its historic streets and structures. Many of Venice's most iconic attractions can be found here. Most notably, San Polo is where you will find the famous Rialto Bridge. The Rialto Bridge is one of the most well-known landmarks in Venice. Constructed in the 16th-century, it is the oldest of the bridges that cross the Grand Canal, connecting San Polo to San Marco.
More than just a footbridge, the Rialto Bridge offers a unique shopping experience. Arcades of shops and stalls run along the length of the Rialto Bridge, selling a plethora of products from jewelry to souvenirs. Being a bridge, it gets pretty packed, so is not too ideal if you don't enjoy crowds.
The shops on the Rialto Bridge are not to be confused with those of the Rialto Market. Dating back as far as the 11th-century, the Rialto Market well predates the bridge and is one of the oldest institutions in the city.
Rather than souvenirs and trinkets, the Rialto Market specializes in fresh produce. Depending on when you go, you may have to contend with the smells and aromas of the meat and fish stalls. If you can get past the strong odor, you can pick up some of the most sublime local ingredients to try.
The Market is held close to the church of San Giacomo di Rialto. Believed to have been built in the year 1071, the market and the church have been operating here for almost a thousand years. It's an incredible slice of history to partake in when you visit.
San Polo is also home to some of the oldest churches and cathedrals in Venice. The Basilica Dei Frari is located at the opposite end of the district to the Rialto Bridge and was constructed in the early 1300s. It's next door to the Church of Saint Roch which was built less than two hundred years later.
At the heart of the district is the Campo San Polo public square. Aside from being a convenient meeting place, the square is often used as an events venue. Dating back to the 1400s, it now hosts concerts and seasonal attractions in a stunning historical setting.
Being so central and popular with tourists, San Polo can get pretty pricey when it comes to accommodation. Whilst it is generally not quite as expensive as San Marco, it is still one of the more expensive areas of Venice to stay in. There are some stunning hotels here. Many have rooms with views over the Grand Canal or the local historic attractions, although you will likely have to pay a premium for such a privilege.
There are a few more affordable options further away from the canal. However, in general, this is not the best area to stay in if you are trying to keep your costs down.
Stay In San Polo If You want to stay somewhere super central; It is your first time staying in Venice; Staying in one of Venice's oldest neighborhoods, surrounded by historic sites is ideal; You travel with family with children;
Best places to stay in Venice in San Polo:
Luxury ($$$): Hotel L'Orologio Central location located next to the Grand Canal in Venice, within easy walk from Rialto Bridge, Campo San Polo Square, and Santa Maria Formosa Square. There are plenty of restaurants, cafes, and shops right at your doorsteps. Venezia Santa Lucia train station is in a short stroll away.
Mid-range ($$): H10 Palazzo Canova This 4-star hotel has a terrace, an on-site bar, free wifi, and 24-hour front desk. Very convenient to the popular attractions such as Ca' d'Oro, Rialto Bridge, Basilica San Marco, and San Michele Cemetery.
Budget ($): Riva del Vin Boutique hotel Located in the San Polo district, this 3-star hotle has rooms with air conditioning, a desk, a flat-screen TV, and free WiFi. Central location, close to Rialto Bridge, St. Mark's Square and Basilica.
🔍FIND BEST HOTELS IN SAN POLO
4. Santa Croce, transportation hub of Venice
In stark contrast to the heavy tourist crowds of San Marco, Santa Croce is a much quieter and more residential sestiere. Located away from the main attractions of central Venice, Santa Croce offers a much more laid back, and affordable, option to consider.
Most of the attractions in Santa Croce are clustered in the east of the district. The west is largely transport terminals and infrastructure. Towards Villaggio Eden you will find several lovely museums.
The Mocenigo Palace-Museum houses displays of antique artworks and furniture in a lovely 17th-century Venetian palace. The Ca' Pesaro Gallery offers a more contemporary alternative, with numerous exhibits of modern artwork and sculptures.
The nearby Natural History Museum offers a break from all the art and culture. It is just a short walk along the banks of the Grand Canal.
You can also find attractions such as the Palazzo Mocenigo just behind San Stae, and the church San Giacomo dell'Orio that dates back to 9th century.
The shopping and hospitality of the area are generally much less high-end and pretentious than you often find in the very center of Venice. Instead, you can enjoy local, family-run restaurants and cafes. It is a wonderful place to take a more relaxed break and mingle with the locals.
Santa Croce is very well connected to transport systems. Both Venice's primary bus terminal and port are located here, right next to one another. If you are traveling into Venice by bus or boat, with Piazzale Roma bus station, staying in the Santa Croce sestieri will save you the time and effort of traveling to and from your hotel.
The train terminal of central Venice, Stazione di Venezia Santa Lucia, is also located just across the Grand Canal. Several bridges connect over from the train station to Santa Croce, so you will have just a short walk from the station to your hotel.
Additionally, if you are traveling into Venice by car, Santa Croce is located right at the end of the Ponte Della Liberte bridge. The Ponte Della Liberte is the train and traffic bridge that connects the Venetian islands to the mainland.
Santa Croce is the only place in the main Venetian islands where you will find roads and parking for cars. If you would rather avoid the hassle of hauling your luggage onto a ferry or water taxi, Santa Croce offers the easiest hotel commute. Of course, being that parking on the islands is so very limited, it may be beneficial to check ahead for prebooked parking. You don't want to get all the way there only to find you have nowhere to leave your car.
Being further out of the city center, and a bit further from the major attractions, rates for accommodation are typically much more affordable here. If you are working with a smaller budget but still want to stay on the islands, this is a great neighborhood to consider.
Stay In Santa Croce If you want to keep close to transport links such as bus and ferry terminals; you want a quieter, less touristy neighborhood; you are working with a smaller budget; you are traveling to Venice by car.
Best places to stay in Santa Croce:
luxury ($$$): Palazzo Venart Luxury Hotel This 5-star hotel is conveniently located in Santa Croce district, very close to San Stae water bus stop, Venice Santa Lucia Train Station, and St.Mark's Square. It offers rooms and suites in 16th-century building. Enjoy food at its on-site 2-Michelin- starred restaurant, the Glam, and the Executive Chef Donato Ascani.
mid-range ($$): Hotel Santa Chiara This 4-star hotel is set within easy walk from ferry terminal, airport coach stop in Piazzale Roma, Papadopoli Gardens, and Venezia Santa Lucia Train Station. This hotel has a private car park, free wifi, and family rooms.
budget ($): AC Hotel Venezia by Marriott Loated close to La Fenice Theatre, Ca' d'Oro, and Scuola Grande di San Rocco, this 3-star hotel has 24-hour front desk, family rooms, a bar and a garden. Unit are come with a flat-screen TV, a kettle, a bidet, a hairdryer and a wardrobe.
🔍FIND BEST HOTELS IN SANTA CROCE
5. Cannaregio, budget-friendly area with local vibe
Once a bustling industrial area, Cannaregio is now home to the largest residential population in Venice. It is a good place to stay in Venice with more local vibe than other sestieri in the city.
Rather than the tacky tourist traps of central Venice, the shops, restaurants, and cafes in Cannaregio feel much more laid back and authentic. In contrast to the pricier bistros of the inner districts, the venues here are much more casual, with a friendly, homely feel.
Historically, Cannaregio is known for boasting the world's first Jewish ghetto, the Campo di Ghetto Nuovo. Dating back to the early 16th-century, many historic structures can still be visited here, including some of the area's oldest synagogues and a museum dedicated to the Jewish history of this area of Venice.
In addition to the original, 16th-century buildings, there are also numerous kosher shops and delis to enjoy. If you happen to be in town around the Hanukkah celebrations in December, you should definitely consider visiting Cannaregio to experience the celebrations that take over the area.
Cannaregio is also a great place to visit if you enjoy shopping but prefer local stores and vintage boutiques over the big brand names of the city center. The Strada Nova shopping street is a particularly popular destination with both locals and visitors.
The main street is lined with a mix of chain stores, independent craft stores, and souvenir shops. The side streets leading away from Strada Nova are home to numerous small cafes and restaurants, where you can take a break after bargain hunting.
If you want to break from shopping and sightseeing, grab yourself a fritoìn, a classic Venetian street food, which is a paper cone filled with fried seafood and vegetables. Frito Inn, near to Ponte delle Guglie, is one of the vendors that you can buy it.
The Strada Nova passes close to the Galleria Giorgio Franchetti Alla Ca' d'Oro Palace. This beautiful 15th-century waterside palace is home to exhibitions of renaissance furnishings and artworks by renowned Venetian painters.
Visitors are free to wander the palace by themselves. Alternatively, take a guided tour and enjoy the opportunity to learn more about the history of the palace and the relics housed within.
Other notable sites in Cannaregio include the Santa Maria Dei Miracoli church. The lovely domed church features particularly ornate ceilings and interior stonework.
Meanwhile, the Church of Madonna dell'Orto dates back to the 16th-century. The grand, red brick church is the burial place of renowned painter Tintoretto. Many of his works are also on display within the church.
Cannaregio is home to Venice's narrowest street: Calle Varisco with only 53cm wide. Adjacent to it is the Fondamenta Ormesini, one of the best areas to enjoy nightlife in Venice.
If you are traveling to Venice by train, Cannaregio will be particularly convenient for you. The Santa Lucia Train Station is located in the west end of the district. Getting from the train station to your hotel will be much easier if you stay here rather than in one of the other districts.
Since the area is much less crowded with tourists, the going rates for accommodation are much more reasonable than in central Venice. Despite being pretty close to the major attractions, there is plenty of mid-range and affordable options to be found here.
Stay In Cannaregio If you are keeping to a tighter budget; you want a more relaxed, residential neighborhood with a local atmosphere;you are traveling into Venice by train; you want to visit the world's oldest Jewish ghetto.
Best places to stay in Cannaregio:
Luxury ($$$): Ca' Bonfadini Historic Experience This 5-star hotel is set in Cannaregio. It has air conditioned rooms with private bathroom that come with a hairdryer and toiletries. You can choose the room with canal views.
Mid-range ($$): Carnival Palace – Venice Collection Located in Venice's Jewish Ghetto area, this 4-star hotel offers soundproofed rooms with an air ventilation system, a TV, minibar and en suite bathroom. Convenient location to Tre Archi Vaporetto water bus stop and Venice Santa Lucia Train Station.
Budget ($): Alle Guglie Boutique Hotel This 3-star hotel is set next to Ponte Alle Guglie, close to the main arrival point of Venice, Piazzale Roma. comfortable and less touristy place to stay with good price.
🔍FIND BEST HOTELS IN CANNAREGIO
6. Castello, centrally located in Venice for authentic experience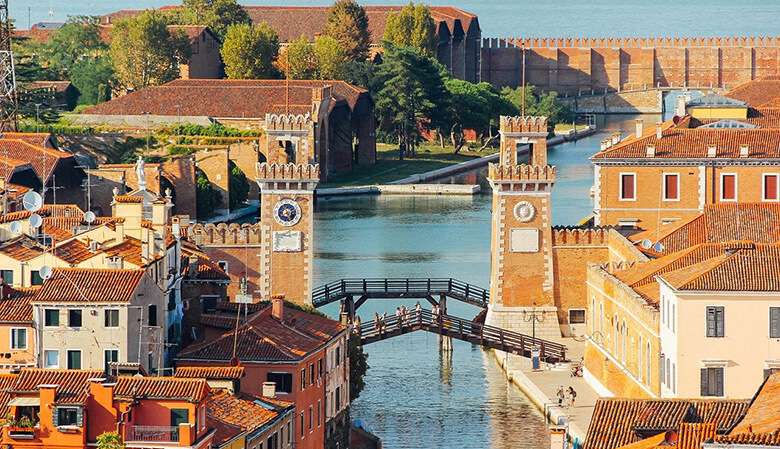 The vast district of Castello is one of the largest sestieri (districts) in Venice. Covering most of the city east of San Marco, Castello offers a location super close to the attractions of the city center without the crushing crowds of tourists.
Historically, Castello was Venice's maritime hub. Much of the old industrial and shipping infrastructures have been preserved and now serve as tourist attractions. The Naval History Museum, known as Museo Storico Navale in Italian, houses fascinating exhibitions on Castello's heritage as a base for the Venetian navy.
The Arsenale di Venezia is a shipyard that dates back to the byzantine period of the early 12th century. The collection of structures surrounding it are now used as venues for various events. The Arsenal is also the center point for the Venetian Biennale.
The Venice Biennale is an arts organization that arranges various festivals throughout the year, each focused on a different sector of the arts. The internationally renowned Venice Film Festival is one of the events the Venetian Biennale organizes.
Even when the Biennale isn't hosting any events or festivals, there are still plenty of shows to take in. The area boasts numerous theatres and opera houses, in addition to the typically Venetian collection of art galleries and museums.
In the east of the Castello district are the Venice Giardini, or Giardini della Biennale. With unobstructed views out over the Venice Lagoon and swathes of leafy trees, the Biennale Gardens are a lovely opportunity to escape from the press of the city.
You can enjoy some particularly lovely walks here, sandwiched between the lush trees and the open water. Within the park, there are various pagodas and pavilions to explore, each full of artworks from around the world.
In the heart of the Castello sestiere stand Via Garibaldi, the widest street in all of Venice, filled with shops, bars, cafes, and nightlife venues.
Being such a large district, there is a lot of variation in the sort of accommodation one can find here. Closer to the border with San Marco, you can find a lot of pricier, luxury hotels. This is especially true along the length of the waterfront.
Further inland and away from the main tourist center, however, there are a lot more mid-range options to choose from. You should note though that even once you get further from busy San Marco, there still isn't much super-budget accommodation here.
If you are looking for reasonably priced luxury, this is a great neighborhood. If you are keeping to a tighter budget, you would still be better off considering elsewhere.
Around the time of the Biennale's events, this area gets even busier, and accommodation can get even more pricey. It's definitely worth keeping that in mind when considering booking accommodations in Castello.
Stay In Castello If you want to stay within easy reach of the city center whilst avoiding the worst of the crowds; you love the arts; you are attending one of the festivals organized by the Venice Biennale;
Best places to stay in Castello:
Luxury ($$$): Hotel Danieli, a Luxury Collection Hotel, Venice This award-winning hotel is located in the heart of venice, 200m from St. Mark's Square. Enjoy spacious rooms with Italian-marble bathroom with bathrobe and slippers. You can grab a meal and drink at its onsite Terrazza Danieli, Bar Terrazza Danieli, or Bar Dandolo.
Mid-range ($$): Hotel Ai Reali – Small Luxury Hotels of the World This 4-star hotel has a central location. It has a wellness centre, a restaurant, a garden and a fitness centre. Enjoy Italian and international cuisine at its Alle Corone restaurant.
Budget ($): Hotel Commercio & Pellegrino This hotel has a privileged location, close to Palazzo Ducale, easy to reach from Tronchetto, Piazzale Roma, the main train station and Marco Polo airport. There is umbrellas for rainy days.
🔍FIND BEST HOTELS IN CASTELLO
7. Giudecca, stay in laid-back, quieter island
Giudecca is a large, long island, just south of the main city of Venice, in the Venetian lagoon. Giudecca is one of the smaller islands to stay in Venice, along with Murano island which is famous for the glass laboratories, Burano island with nice handmade lace works, and Torcello island which is home to the older Church of Venice.
The neighborhood has come a long way from its history as a prison island, then a military base. Now it exists as a leafy suburban retreat for the city's artistic community.
The Giudecca district is notable for its beauty. The island itself is home to numerous leafy parks and gardens. Meanwhile, the views from the shoreline are nothing short of stunning.
The parks and houses along the southern waterline boast an unobstructed view across the Venice Lagoon. Meanwhile, the northern side of the island looks straight across to Dorsoduro and the many historic buildings that line the waterfront.
Scattered amongst the houses of Giudecca you can find numerous studios and small galleries, belonging to the independent artists that call Giudecca home. If you want to see more of the current generation's artwork, rather than just classical masterpieces, this is a good place to explore.
The Santissimo Redentore Church is one of the highlight attractions on Giudecca. It was built in the 16th century by Palladio. It hosts the Redentore festival in July each year.
You can also find a few more interesting churches such as the Chiesa Della Zitelle, the Casa de Maria, and the Chiesa di Sant'Eufemia.
There are no bridges connecting Giudecca across to the main islands. If you stay here, you will be relying on the ferries whenever you want to get to or from the main part of the city.
That can make sightseeing feel like a bit of a chore, so it's not great if touring around all the major attractions is your priority. For that reason, I don't recommend Giudecca for anyone visiting Venice for the first time
The upside to being so separated from the main city is that it makes it a lot less touristy than the main islands of Venice. If you are looking for where to stay in Venice to avoid the crowds, Giudecca is a great option.
Being removed from the main city center, you can find some very reasonably priced accommodation in Giudecca. However, as the area grows more fashionable, more luxury hotels are creeping the prices up.
This is particularly true along the north shore. Along the waterline where hotels can offer unobstructed views across to the famous attractions of Dorsoduro, you will generally have to pay higher rates than elsewhere in Giudecca.
Stay In Giudecca If You are Looking for a quieter, more scenic neighborhood; Sightseeing is not your top priority; It is not your first time visiting Venice; You prefer browsing small art studios over classical art galleries.
Best places to stay in Venice in Giudecca:
Luxury ($$$): Cipriani, A Belmond Hotel, Venice This 5-star hotel is set on Giudecca Island, with charming views of Venice Lagoon and the Doge's Palace. There is American buffet breakfast, Italian lunch and dinner at it onsite restaurants Oro Restaurant, Cip's Club and Porticciolo Restaurant.
budget ($): Hotel Giudecca Venezia Located on the peaceful island of Giudecca, this 3-star hotel has a private dock for guests arriving by water taxi. There is Vaporetto lines 2, 41 and 42 stop nearby. Rooms are come with a TV and minibar, a private bathroom, and Palada Canal in some rooms.
🔍FIND BEST HOTELS IN GIUDECCA
8. Lido di Venezia (Lido), beautiful beach destination
If you are planning a beach vacation rather than a city break, Lido would be the top Venetian district for you. With the lovely Blue Moon beach stretching along the eastern shore of the island, Lido is perfect for a break spent relaxing on the sand.
There aren't a ton of sights to see in this part of Venice. However, there are plenty of chic waterfront cafes and cocktail bars to relax at, so you will still have plenty to keep you entertained throughout your trip.
Across the Venice Lagoon from the main islands, there are no bridges connecting across to the city center. If you want to do any sightseeing in the main town, you will need to rely on the ferry services. There are multiple routes going to various locations around Venice so it's not too much hassle.
This is where much of the Venice Film Festival is held. If you are visiting specifically for the festival, the Lido is where you will want to stay. On the other hand, if you aren't visiting for the festival, you may want to pick a different area or time to visit. It gets both crowded and more expensive.
If you love nature and biodiversity, you can rent bikes to visit the natural Oasis and dunes in Alberoni, Oasi WWF Dune degli Alberoni, a protected natural reserve on the south side of the island.
Lido is one of the few areas in Venice that accommodates cars. Aside from being generally more convenient, it also makes it more accessible for travelers with mobility issues, who struggle with the pedestrian lanes and ferries of the main islands.
Stay In Lido Di Venezia If You are planning a relaxing beach vacation rather than a sightseeing city break; You have mobility issues that make the car-free main islands difficult to get around; Sightseeing around Venice is not your priority; You are attending the Venice Film Festival.
Best places to stay in Lido Di Venezia:
luxury ($$$): Ausonia Hungaria Wellness & Lifestyle This 5-star hotel is located within easy reach from the beach, the Vaporetto water bus stop that depart to St. Mark's Square. There is free private car parking, wellness centre with sauna, Turkish bath.
mid-range ($$): New Reiter Hotel Located in Venice-Lido, easy reach St. Mark's Square in 10-minute boat ride. There is a children's playground, a private car parking, a restaurant, and a bar. It is also close to the place that hosts Venice Film Festival, Congress Center.
budget ($): Hotel Belvedere Located close to the lagoon of Lido Di Venezia, this 3-star hotel has free private parking, bike rental, free wifi. Enjoy seafood specialities in its on-site restaurant.
🔍FIND BEST HOTELS IN LIDO DE VENAZIA
9. Mestre, where to stay near Venice on a budget
If you have some reservations about staying in a city that is known to be sinking, but you have still got your heart set on visiting Venice, Mestre is the perfect location for you. Located on the Italian mainland, you can sleep on solid ground within just a short journey of the main Venice attractions.
Whilst most of the iconic Venetian attractions are on the famous islands, Mestre also has its share of things to see and do. Forte Marghera dates back to the 1800s and makes for a particularly unique art gallery and events space.
Alternatively, Museum M9 offers a unique look at how technology is affecting our personal and family lives. It also offers predictions into the impact technology will have on our future societies. It will be interesting to see how accurate those predictions prove to be.
Mestre is also home to the 13th -century Torre Civica di Mestre, the Church of San Lorenzo (Duomo di Mestre), Piazza Ferretto where you can do shopping, dining, and San Giuliano Park.
One thing to note about the Venetian islands is that the many canals make it impossible for cars to access the main city. As such, it can be difficult for those with mobility issues to get around, having to rely on wobbly ferries and narrow bridges.
Staying in Mestre negates that issue. Whilst you would obviously have to find a workaround for any sightseeing, you wouldn't have to struggle just to get your luggage to your hotel.
Traveling into Mestre, in general, is a simpler task than it is for many of the island districts.
Aside from being able to drive into Mestre, you can also take a train straight into Venezia Mestre train station, at the heart of the Mestre neighborhood. Meanwhile, trains only run as far into the islands as Santa Croce.
Being well outside of the main center of the city, prices for accommodation are super affordable in Mestre. Even after allowing for the additional cost of travel to and from any sights, you want to visit, staying in Mestre can save you a lot of cash.
Stay In Mestre if you are on a budget and don't mind the extra faff; You prefer to stay firmly on land, rather than surrounded by water; You have mobility issues that make the car-free streets of inner Venice a difficult place to stay; Sightseeing in the city center is not your priority; It is not your first time visiting Venice.
Best places to stay in Mestre:
mid-range ($$): Leonardo Royal Hotel Venice Mestre this 4-star hotel is set in the Stazione Mestre district of Mestre, 10km from Venice Marco Polo Airport. there is restaurant, a 24-hour front desk, and buffet breakfast.
mid-range ($$): Hilton Garden Inn Venice Mestre this 4-star hotel is located half way between Venice's historic centre and Marco Polo Airport. Enjoy food, drink, shopping at its Garden Grille & Bar Restaurant, the bar or in the Pavilion Pantry. San Giuliano Park nearby has views of Venice Lagoon. It also have free private parking and outdoor swimming pool.
budget ($): Campanile Venice Mestre this 3-star hotel has some nearby popular point of interest such as M9 Museum, Ferretto Square, Torre dell'Orologio, Galleria Matteotti, and IUSVE Mestre. It provides air-conditioned rooms with free wifi, 24-hour front desk.
🔍FIND BEST HOTELS IN MESTRE
Mestre is the best area to stay near Venice on budget, but you can also stay in Noale and San Donà di Piave which are both in short driving distance from Venice. if you want to save money on hotel room or travel with a car, you can consider to stay outside Venice city.
San Donà di Piave
San Donà di Piave is located along the river Piave, in the province of Venice, Veneto Region of northern Italy. The train from San Donà di Piave-Jesolo to Venice is around 40 minutes with 66 trains per day.
Here, you will find some religious attractions like the 20-century Cathedral which was built on the ruins of the church during the First World War; and the Parish Church of Chiesanuova.
Other historical attractions are the Museum of the reclamation of the marshland and the 18th-century Villa Ancillotto.
There are also several green spaces in the neighborhood including the Gardens of San Marco, Park Benjamin, Park Fellini, and the Agora Garden.
Best places to stay in San Donà di Piave:
mid-range ($$): Best Western Park Hotel Continental, this 4-star hotel is convniently located close to San Donà di Piave Bus Station, train station, the San Donà Noventa exit of the A4 motorway, and the shopping streets of San Donà di Piave. It has spacious rooms with free wifi, and free private car parking.
budget ($): Hotel Forte Del 48 this 3-star hotel is located in San Donà, 30-minute train ride from Venice and short drive by car from Adriatic coast. Enjoy Veneto region food and high-quality wines at its on-site retaurant.
Noale
Noale is a quiet small medieval walled town in Provincia di Venezia. The train from Noale-Scorze railway station to Venice is around 30 minutes, with 55 trains per day.
Here, you will find historical churches, buildings, piazzas, and festivals:
The ruins of 12th century Tempesta fortress, along the river Marzenego
The Torre dell'Orologio (Clock Tower), the ancient east entrance of the village
The Torre delle Campane (Bell Tower), west entrance of the village
Palazzo della Loggia, home to the municipal council, the Museo Civico, and Egisto Lancerotto.
The parish church of Saints Felix and Fortunatus
Palio di Noale: the festival where you can find the medieval market and parade with contrada that has a band and a flag-throwers group.
Residence Le Bugne Conveniently located in the centre of Noale, close to the train station that connect to Venice in 30 minute ride. There is free bike to use and well-equipped rooms. There are many nice restaurants nearby.
Al Bersagliere Nice hotel in Noale with free private parking, good price. It is within easy stroll from the train station where you can catch the train to Venice in 25 minute ride.
🎬 Check out my virtual tour about the best places to stay in Venice in this video:
Where should I stay in Venice for the first time?
San Marco is the best area to stay in Venice for tourists, especially first-timers. Booking hotel in this area, you will stay within walking distance to the most famous tourist attractions including Saint Mark's Square, and the Bridge of Sighs. There are also plenty of hotels, restaurants, and bars nearby.
Is it better to stay in Venice or outside?
If you want to truly experience Venice life from early morning to late night, it is best to stay inside Venice if possible. If you want to save some money on hotel room, or travel with a car, you can consider staying outside Venice in Mestre or Lido.
See more other cities in Italy:
Venice, Italy is an incredibly unique city. With so many historic landmarks and one-of-a-kind tourist attractions and activities, it is easy to see why it is a dream destination for so many travelers. By now you should know the best areas to stay in Venice. Finding the perfect location to call home for your vacation will make your visit even more magical.
With evidence suggesting that the floating city is sinking a little more every year, you will definitely want to get there whilst you still have the chance. Now you have a better idea of where to stay in Venice, it's time to get booking your dream vacation and head off on your once-in-a-lifetime trip.