Where to stay in Bangkok for shopping? In this post, I will help you to find the best areas and neighborhoods to stay in Bangkok for shopping and the best hotels in Bangkok for all budget travelers.
Bangkok is often considered a great destination for shopping. The city offers a wide range of shopping options, from bustling street markets to luxury malls.
Whether you're looking for clothing, accessories, electronics, antiques, handicrafts, or souvenirs, Bangkok has something for everyone.
Bangkok is famous for its vibrant street markets such as Chatuchak Weekend Market, which is one of the world's largest markets with thousands of stalls. Other popular markets include Asiatique the Riverfront, Rod Fai Market, and Pratunam Market.
The city is home to numerous upscale shopping malls like Siam Paragon, CentralWorld, MBK Center, and Terminal 21. These malls feature a mix of international and local brands, luxury boutiques, electronics stores, entertainment options, and a variety of dining choices.
Where to Stay in Bangkok for Shopping?
The best areas to stay in Bangkok for shopping are the Siam, Silom, Pratunam, and Chinatown. These neighborhoods offer a great number of shopping malls and markets to choose from.
In many of the markets, bargaining is a common practice. This can be an exciting way to interact with local vendors and potentially get better deals on your purchases.
Here is an overview of recommended areas in Bangkok for shopping:
| Best areas in Bangkok for shopping | Why should you stay in this area? |
| --- | --- |
| Siam | is a shopping haven with high-end malls and a variety of brands. It's a great place for fashion, luxury goods, electronics, and international brands. Shopping Centers: Siam Paragon, Siam Center, Siam Discovery, MBK Center. |
| Silom | is known for its financial district but also has shopping centers and markets. It's a good place for business attire, electronics, and gems/jewelry. Shopping areas: Silom Complex, Jewelry Trade Center, Patpong Night Market. |
| Pratunam | is a wholesale and retail district known for its affordable fashion, clothing, and accessories. It's popular among both locals and tourists. Shopping Areas: Pratunam Market, Platinum Fashion Mall. |
| Chinatown | offers a vibrant and bustling shopping experience, particularly for street food, traditional Chinese goods, gold shops, and unique trinkets. Shopping Areas: Yaowarat Road (main street), Sampeng Lane (wholesale market). |
Map of best areas to stay in Bangkok for shopping:
4 Best Areas to Stay in Bangkok for Shopping are:
1. Siam
Siam is well known as the heart of Bangkok's shopping district, it's well connected to reach other areas of the city by Sky train and Subway, fairly close in distance to the Chatuchak market. Most of the popular shopping centers are located in Siam Square.
You will never get bored staying in Siam as besides the best and biggest shopping centers, you will find many great restaurants, bars, cinemas close by.
From international upmarket brands to handicrafts, from indoor malls to open-air shopping boulevard and market stalls, you'll find it all in Siam. You can easily locate around with BTS and there is 3 Sky train station in the area Siam station, National Stadium, and Chitlom station.
Let's start with the shopping tour in Siam:
MBK
One of the popular shopping malls which is located just off Siam Square, the MBK attracts both tourists and residents to fulfill their shopping needs.
MBK is an absolute shopping paradise, offering a wide range of authentic and knock-offs items, available at wallet-friendly prices. There's a bit of everything here; from hold sales to jewelry, shoe stores, and accessories, etc. MBK is also connected to the Siam Discovery and Siam Paragon shopping mall.
Siam Discovery
Siam Discover is next to Siam Paragon, has air-conditioned walkway between Siam Center and MBK.
Siam Discovery is home to more than 5,000 international and local brands from every price range — whether you are looking for the latest cosmetics, trendy fashion items or the best in home decor, this mall has got it all.
Siam Center
Siam Center is one of the trendiest fashion malls, attracting many young shoppers. This is your place if you're looking for a young Thai fashion designer, it is trendy, artsy, colorful, and unique. It mixes fashionable Thai designers along with big-name world-renowned brands and lots of hi-tech to make sure you have a pleasant shopping experience.
See Also:
Siam Paragon
This swanky megamall in Bangkok is a must-visit for all shopaholics. From high street brands to the latest high-tech gadgets, from sports cars to the modern home decor. The mall houses some of the best international brands, the largest aquarium in Southeast Asia, and a wide selection of world cuisine.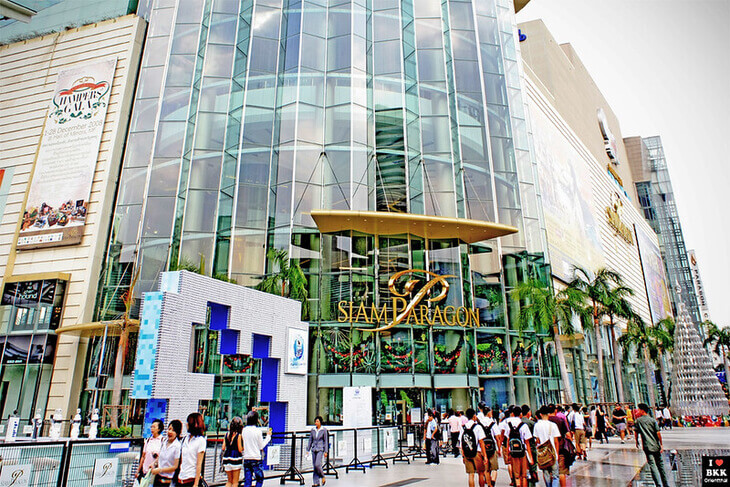 Terminal 21
When you visit Terminal 21, you'll feel like you're traveling all over the world from Paris to Istanbul and Tokyo to London. Leave your passport at home as you won't need it to travel the world here, bring your good pair of shoes, enjoy your leisurely walk in the air conditioning of Terminal 21.
It is perfectly located right on busy Sukhumvit Street, right in the heart of the city and you can easily access it from the Skytrain BTS.
Central World
Central World is one of the world's largest shopping mall, connect with Siam Paragon by Skywalk, should take 10 minutes walking, features all the best high street and international brands.
Imagine you spend all day walking and shopping. Apart from getting tired, you must carry large bags of clothes or any other items you bought. Would it be nice to stay in a hotel in Siam?
Best Place to Stay in Bangkok Siam for Shopping:
Luxury: Anantara Siam Bangkok Hotel is everything you'd expect from an upscale hotel in the prestigious Anantara group. Its superb location is just a minute from central Ratchadamri BTS station and only a few minutes' walk from the shopping malls of the Siam Square area.
Mid-Range: Sindhorn Midtown Hotel Bangkok is a mid-priced hotel that stands out for its superb rooftop infinity pool that looks out over the Bangkok cityscape. As you'd expect from such a central location, you can walk from the hotel to the Skytrain in just a couple of minutes.
Budget: Lazy Sunday Hostel is a great budget option for those who want to stay in the center of Bangkok. It is just a few hundred meters from Siam Square with its wealth of malls, shops, galleries, and activities.
2. Silom
Silom is the heart of Bangkok's financial district, Wall Street by day, party hotspot by night, one of the busiest districts in Bangkok. It is easily accessible via the MRT and the BTS Skytrain.
Silom Complex
Silom Complex is a 6th-floor modern shopping building, centrally located near BTS and MRT. You can find food on the basement floor, ground and second floor are for clothes and accessories, books store can be found on the third floor and the two last floor consists more restaurants, banks, spas…
Patpong Night Market
This is must-see night market in Bangkok open from 6 pm to 10 pm or midnight. You can find anything here souvenirs, jewelry, clothes, fake brand name copies… Whatever you buy, you must bargain! There are also many international fast food, several clubs and bars and plenty of food stalls offering very good food.
LaLai Sap Market
Lalai Sap is one of the famous markets in Bangkok, which is well known for local people. It sells a little bit of everything from clothes to food, cosmetics.
Silom Village
Silom Village is one of the oldest shopping arcades in Bangkok. The village combines several shops selling souvenirs, restaurants, and a small hotel. This place is worth seeing when visiting Bangkok.
Why not staying in Silom, enjoy your shopping and getting around easily with public transport? Check out the best hotels in Silom Bangkok based on your budget from Booking.com
Best Place to Stay in Bangkok Silom for Shopping:
Luxury: lebua at State Tower (The World's First Vertical Destination) You can't miss the spectacular State Tower, a tall skyscraper that is topped by the famous Sky Bar rooftop bar and restaurant. This exclusive place offers possibly Bangkok's best city view, and the rooms in lebua at State Tower hotel also overlook the city to stunning effect.
Mid-Range: Amara Bangkok Hotel is a smart, no-nonsense hotel in Silom that packs a punch in offering guests great facilities for an affordable price.
Budget: Urban Hostel Bangkok Guests rate the friendly and family-run Urban Hostel as fabulous. All rooms in the hostel come with a desk, so it's a great place to stay if you're a digital nomad or if you just have some stuff that needs to get done.
3. Pratunam
Whether you are looking for a night market or an indoor shopping mall to escape the heat, there is always something for anyone and everyone in Pratunam.
Everything is available at affordable prices and you're going to meet friendly vendors who enjoy bargaining with customers. Pratunam shopping is an incredible experience and one you must have during your holiday in Bangkok.
Pantip Plaza
Pantip Plaza is home to all the latest technology, gadgets shops in all of Thailand. Hundreds of small shops are devoted to the newest gadgets, computer hardware, software, DVDs, CDS, MP3, and accessories….
Pratunam Market
Pratunam Market is one of the most popular places to shop in Bangkok. Although this is not a luxury shopping centre, it's worth a visit if you're interested in fashion at a reasonable price.
Chatuchak Weekend Market
When it comes to must-visit places for visitors to shop, Chatuchak Weekend Market is a landmark. One of the largest markets in the world, the best place to buy Thai handicrafts, and a paradise for food lovers.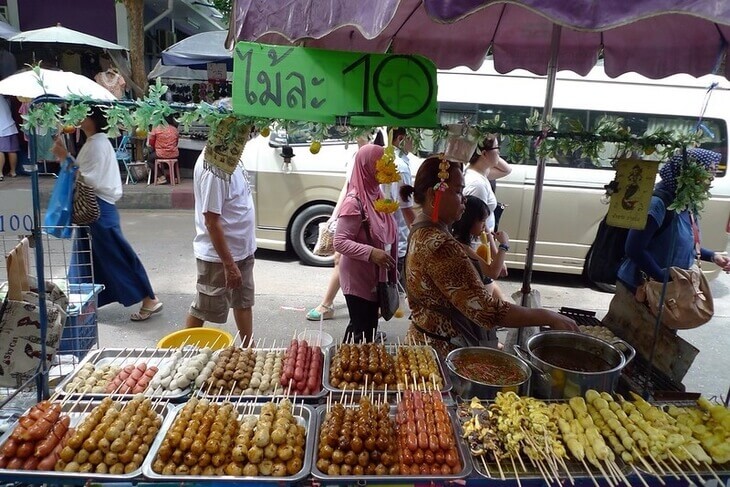 Platinum Shopping Mall
Platinum Shopping Mall is the indoor version of Pratunam Market and Chatuchak Market. Platinum is a wholesale shopping center, it meant you buy 3 items to get wholesale prices. Be sure to wear comfortable shoes, try to use your bargaining skills and, most of all, have a great time.
Pratunam is one of the best areas to stay in Bangkok for shopping, let's have a look at some hotels in this popular district and decide if you want to stay?
Best Place to Stay in Bangkok Pratunam Area for Shopping:
Luxury: VIE Hotel Bangkok, MGallery is the best upscale hotel in central Pratunam. It is situated in the MGallery fashion mall, so if you are a clothes shopper, this is a dream location. Transport is covered too since it is just 160 meters from the BTS network.
Mid-Range: The Quarter Bangkok Ratchathewi is at the budget end of mid-range, and it has some extremely comfortable aircon dorm rooms that are a popular choice for Thai travelers.
Budget: p18 Hotel is a central hotel just 10 minutes walk away from Siam Square and the center of Bangkok. Rooms come in the form of clean, simple, well-appointed double rooms.
4. Chinatown: the best place to stay in Bangkok for cheap shopping
Chinatown is not only the best place to stay in Bangkok for cheap shopping but also the best area to stay in Bangkok for sightseeing; prices may be the cheapest in this city, but bargaining is necessary.
It can definitely get hot, crowded, and hectic so bring yourselves comfortable shoes and drink a lot of water. It is ideal to pick a hotel with an infinity pool in Bangkok to cool yourself down under the heat of Bangkok.
Sampeng Market
Sampeng Market is the cheapest place for shopping in Bangkok for any kind of goods you want like handicrafts, home decor, silk sarongs, jewelry, shoes, cosmetics, dried food… Explore around the market, try some of the best authentic Thai street food and buy some gifts to bring home.
Pahurat (little India)
Little India is widely known for its wide range of fabrics, wool, silk, jewellery, arts and crafts, accessories along Pahurat Road, Chakraphet Road and Triphet Road.
Old Siam Plaza
The Old Siam Plaza is on the other side of Pahurat Little India, an old and outdated shopping centre with an old colonial design that contrasts sharply with traffic jams just across the street.
Talat Kao Market
Kao Market is an old market, which is located in the heart of Chinatown, offering fresh fruits and vegetables,exotic dried fruits, spices, fish, meat…
Where can be better than staying in Chinatown for true Thai experience, cheap shopping and plenty of photo opportunities.
Best Place to Stay in Bangkok Chinatown for Shopping:
Luxury: Park Hyatt Bangkok is a good higher-end hotel located on the outskirts of Chinatown. It is just 100 meters from the Central Embassy Mall, so it's the perfect location for shops and restaurants.
Mid-Range: Hotel Royal Bangkok@Chinatown is a good place to stay for couples, groups, and families since room types range from doubles that can easily accommodate an extra bed to large deluxe suites that sleep up to six guests.
Budget: Ama Hostel Bangkok is an adults-only hostel that really capitalizes on its Chinatown location. Ama is decorated with the authentic brightly colored tiles, red decor, and Chinese lighting and fixtures that give the Chinatown area its unique charm.
To sum up, the best area to stay in Bangkok for shopping is definitely Siam, you can also check out 3 popular districts: Pratunam, Chinatown and Silom for its convenience in shopping and public transport. Hope you enjoy your shopping in Bangkok.