How Many Days Should I Spend in Bangkok
So you're planning a trip to Thailand, and you need to answer the question, how many days in Bangkok? I'll give you some guidance so that you can decide how long you want to spend in this astonishing and captivating world city.
How Many Days in Bangkok is Enough?
The simple, but perhaps unhelpful, answer to how long should you spend in Bangkok is as long as you want. Bangkok is one of the truly great world cities, and you could spend a lifetime here and not see everything of interest.
Having said that, if you set your target on the main tourist attractions and destinations of the city, then you can see a great deal in two or three days.
It all depends on you though really, are you a city person? Bangkok is a busy, hectic, often gridlocked place, and it isn't for everybody. If you love its vibrancy and excitement, you will probably find yourself staying for as long as you can. But if you just want to see the main sights then two or three days it is.
Where to Stay in Bangkok for the First Time Visitors
If you're the first time travel to Bangkok, I suggest you to stay in central area like Sukhumvit, Siam, Silom, Pratunam, Riverside, Chinatown or Bangkok Old town.
Backpackers will find many hostels, especially in the Old City and the Pratunam areas; on the flipside, anyone who wants to live in luxury during their holiday should be heading to Riverside and Sukhumvit. These two places both offer five star hotels in Bangkok with all mod-cons, and Riverside is a great spot for families, as it's not too far into the nightlife side of the city, and offers a safe amount of middle ground.
Chinatown should be visited, even though there aren't quite as many hotels here as there are in some of the other main regions. This is one of the most iconic and bright areas in Bangkok, and a fantastic place for foodies to visit – if you want to try something new, and you're feeling a little brave, this is where those weird and wonderful street food combinations can be found, including various delicacies you might not find anywhere else!
Siam is certainly the spot for shoppers, in fact the air conditioned malls might feel like a spot of cool heaven after a long, hot day in the city!
For true bargains however, check out Pratunam, where there are many outlets to grab some bargains. Having said that, there are plentiful stalls and markets in all parts of the city, it's just a case of how much you want to spend, with Riverside probably having the most expensive retail therapy opportunities.
For authentic Thailand however, especially authentic Bangkok, it has to be Rattanakosin. The Old City has more sightseeing opportunities than anywhere else, and there are some of the most iconic buildings here compared to anywhere else.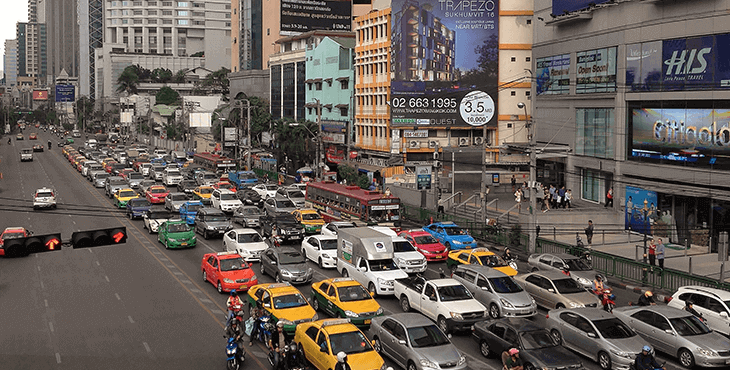 See More: Where to Stay in Bangkok: Best Area and Hotels Travel Guide
How to Get Around Bangkok
You can easily getting around Bangkok with modern public transport system: Sky train BTS, underground train MRT, Airport Rail Link, taxi, and tuk tuk. From Bangkok airport, you can take aiport train and BTS or MRT to the city easily depend on where the destination is.
Taxi is comfortable and inexpensive way to travel around Bangkok, but be aware of traffic jam in rush hour and choose the taxi with meter on it.
You can also travel around in Bangkok with boasts or ferries along Chao Phraya River. This will be great trip to see the city.
Best Things to Do and See in Bangkok
There are many activites and attractions you can do in Bangkok, here are some of them:
Visit Grand Palace, Emerald Buddha.
Take a boast along Chao Phraya River.
Take a trip to Chatuchak Weekend Market.
Shopping at Siam Square or Siam Paragon.
Visit Sukhumvit area
Exploring old city area of Rattanakhosin
climb inside the colossal elephant statues at Erewan
visit the small island of Ko Kret
One Day in Bangkok
The song tells us that with One night in Bangkok, and the world's your oyster. I'm not so sure though since one day gives you very little chance to see much of the city at all.
If you're flying out, you should probably stay close to the airport and travel into town by the excellent airport rail link.
Once in the city, if it's a weekend, you should head straight for Chatuchak Weekend Market, which is a fascinating and bewildering cornucopia of shops and stores selling everything under the sun, from local handicrafts to furniture to fashion to antiques to anything else you can think of. A pro tip is to get there early when it's cooler and less busy since it can get quite oppressive in the afternoon.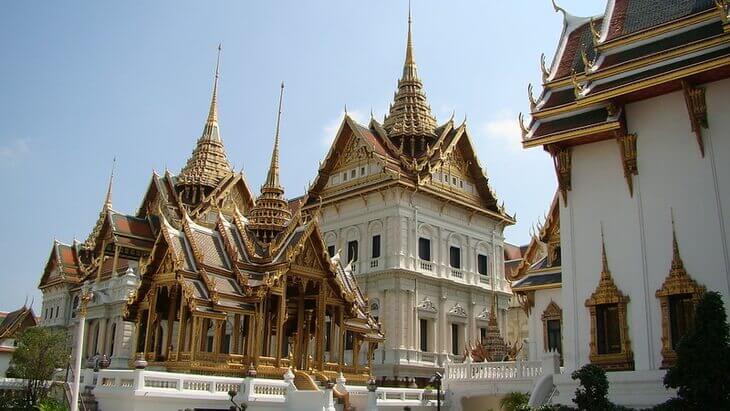 Then take a trip across town to The Grand Palace. This fantastic old palace and temple complex houses the revered Emerald Buddha and has some superb architecture and history to discover.

Have time to squeeze in an evening dinner cruise on the Chao Praya River that is the perfect finale to a busy but rewarding day.
Two Days in Bangkok
With two days in Bangkok, you should probably stay somewhere central and close to the city's main public transport networks; the BTS SkyTrain and the MRT Underground rail system. A relaxed stay in Bangkok is all about avoiding rush hour traffic.
If you stay in the Siam Square area, you will be surrounded by opulent and intriguing shopping malls, including the Siam Paragon with its excellent Seaworld aquarium.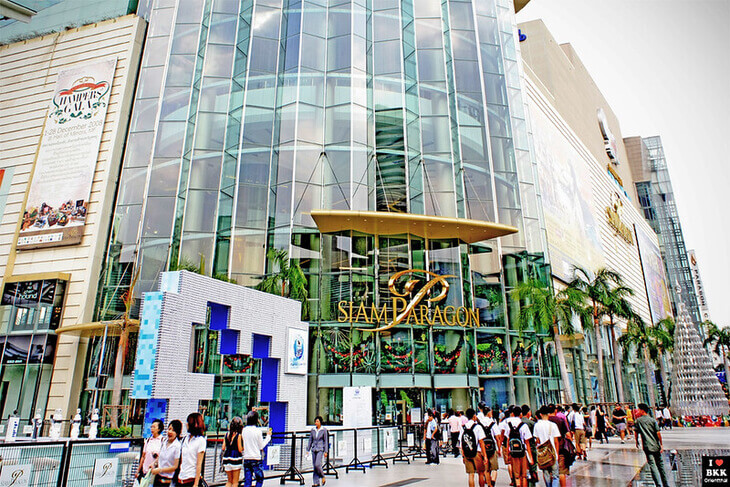 There are scores of restaurants, cinemas, and things to do in this central part of the city. The Jim Thompson House is a fabulously furnished and preserved old Thai mansion just a few minute's walk away. The Bangkok Art and Culture Center is a huge art gallery in the center of Siam Square that always has something interesting to see.
Three Days in Bangkok
if you have three days to spend in Bangkok, why not stay somewhere in the Sukhumvit road area of the city. Excellent and exclusive restaurants and bars surround the Thong Lor intersection of this main thoroughfare, and there are some luxury hotels here as well, so it's an excellent mid to upper-range choice.
Taking a sunset cruise on the Chao Phraya River is a must; this is perhaps the best way to see the city with its striking contrasts of modern skyscrapers and ancient temples. Just make sure you don't get one of the boats with karaoke on board; it rather spoils the atmosphere.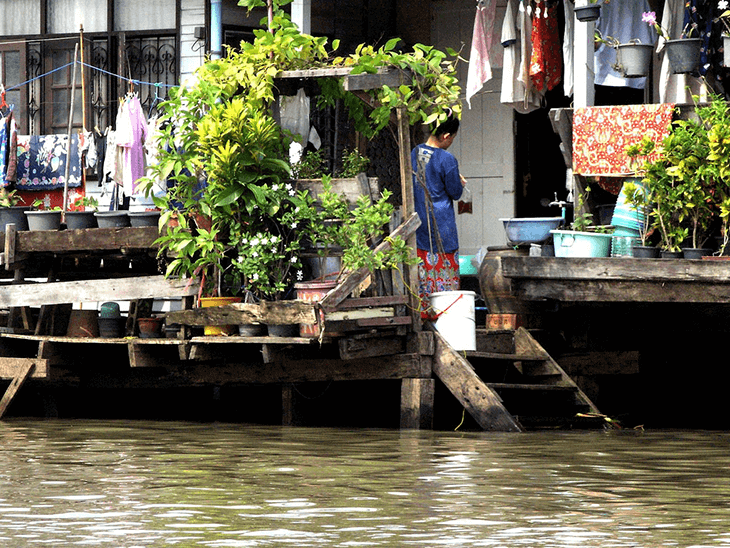 Use your extra time to spend a little more time exploring the old city area of Rattanakhosin that surrounds the grand palace. The famous Khao San Road backpacker area has fabulous value accommodation and everything a traveler could ever need in a location conveniently close to the river. There are excellent budget restaurants and lots of bars, clubs, and nightlife; the area is a sight in itself.
Four and More Days in Bangkok
If you spend four days or more in Bangkok, you can investigate some of the more out of the way and intriguing parts of the city. You can climb inside the colossal elephant statues at Erewan or ride a bicycle around the fabulous architecture of Ancient City.
You could visit the small island of Ko Kret in the middle of the Chao Praya River or eat, drink and shop to your heart's content at the railway market of Rot Fei.
The list of things to see and do is literally endless, so there's no question of you ever being bored in this metropolis.
With a little bit more time on your hands, you could stay in an area that's less central but still next to the ever convenient BTS. Why not try Sathorn at the Riverside, or head across the river and explore Thon Buri to the south?
How Many Days In Bangkok And Phuket?
You should probably put aside five or six days to see the major sites of Bangkok and Phuket. These two destinations actually make a great travel pairing since, after the bustle of urban Bangkok, Phuket's beautiful beaches come as a great relief.
You can, of course, spend more time and discover more, but two or three nights in Bangkok and then a short flight to Phuket and three or four nights there is a typical and nicely varied vacation.
How Many Days In Bangkok And Chiang Mai?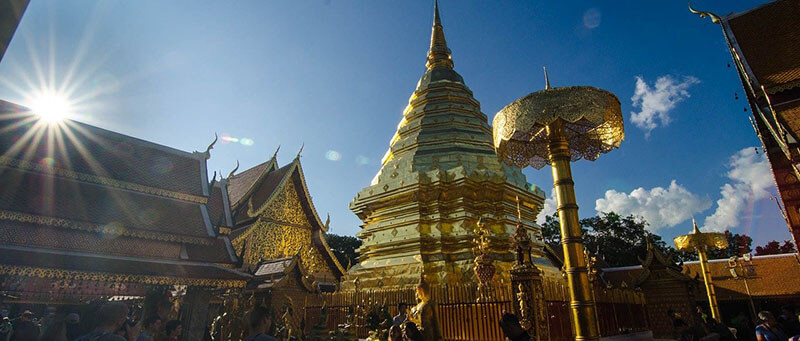 Plan for six days to spend between Bangkok and Chiang Mai if you travel by air and add a day for the road journey if not.
This amount of time will allow you to see Chiang Mai's Old City, sample the night bazaar, and visit the stunning Doi Suthep Temple.
In Bangkok, you will have time to see two or three of the most significant temples and museums, do some shopping, whether it be at Chinatown, Chatuchak, or in the malls of Siam Square, and take an evening cruise on the Chao Phraya River.
How Many Days In Bangkok And Pattaya?
Pattaya is just an hour and a half away from Bangkok by road, so it's a good choice of Beach Resort close to the city.
Despite its less than salubrious reputation, Pattaya has an abundance of things to do for all kinds of travelers. There are water parks for the kids, several beaches, offshore islands, many golf courses, and of course, the infamous bar scene. Pattaya is an excellent place to kick back after the sensory whirlwind that is Bangkok.
Perhaps plan to spend a minimum of six days between Bangkok And Pattaya, giving yourself plenty of time to explore the delights of both.
Conclusion
So now you have some great ideas on how you should approach your visit to Bangkok, depending on how long you have to spend there. Whatever it is that you like, Bangkok is sure to have something for you, so plan your trip now and get exploring!
---
---