If you are a sightseer and looking for the where to stay in Bangkok for sightseeing, this guide will definitely save you time searching! In this post, I will help you to find the best areas and neighborhoods to stay in Bangkok for sightseeing and the best hotels in Bangkok for all budgets.
Bangkok is becoming a popular tourist destination, for whatever purpose of your traveling, either for shopping, sightseeing, backpacking, there is always something for you.
Staying in the right neighborhood will cut down the time of traveling, save money, and have more time to enjoy the good stuff. Here is our top list of the best area to stay in Bangkok for sightseeing based on the location, the traffic, and our own experience.
Where to Stay in Bangkok for Sightseeing?
The best areas to stay in Bangkok for sightseeing are The Old City (Rattanakosin), Riverside, Chinatown, Siam, Silom, Sukhumvit, Pratunam. These neighborhoods offer plenty of things to do and see for all visitors.
7 Best areas to Stay in Bangkok for Sightseeing are:
1. The Old City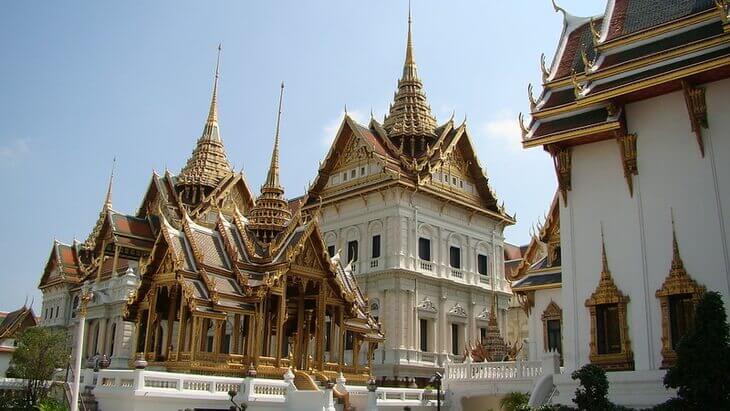 Rattanakosin or the Old City is the home to the most magnificent and historical attractions in Bangkok including the home of Siam King The Grand Palace, the Temple of the Emerald Buddha Wat Phra Kaew, the temple of Dawn Wat Arun, the Giant Reclining Buddha Wat Pho, and the central of backpacking Khao San road.
Sightseers will love this place as we rank it number 1 area in the list of the best area to stay in Bangkok for sightseeing.
There are many options that you travel to the Old City from a tuk-tuk, taxi, bus to ferry but I personally recommend you take a boat along the Chao Phraya river, it is a pleasant way to reach Bangkok's Old town for sightseeing.
Stay in The Old City will give you a great access to the area. There aren't as many accommodation choices as other Bangkok downtown Sukhumvit, Siam, Silom, Pratunam but it makes up by the quality of outstanding homestay and hotels.
Best Place to Stay in Bangkok Old City Area for Sightseeing:
Luxury: ARUN Riverside Bangkok is a truly five-star option in one of Bangkok's most stunning locations. The river view rooms look out across the Chao Phraya to the famous Bangkok Landmark wat Pho.
Mid-Range: The Orchid House 153 Is a lovely Boutique Hotel set in a pretty Old Colonial building down a small side street just a few minutes' walk from all the shopping, restaurants, bars, and activities of Khao San Road.
Budget: Rest Is More Hostel is a clean, smart, and bright hostel located right in the heart of the old city. Accommodation is in the form of dormitory rooms with between four and eight beds. These are either mixed or all female.
See Also:
2. Riverside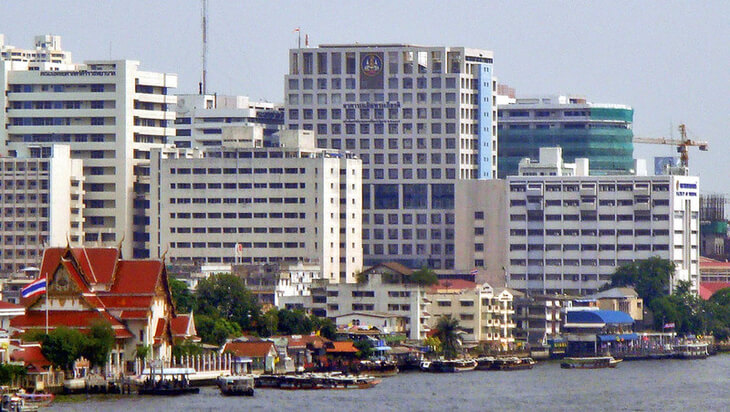 Riverside is the most scenic area in Bangkok, with spectacular views of the Chaophraya river, world-renowned accommodation, dining possibilities, and easy access to river transport to get you to Bangkok's Old City.
Many of the most popular tourist attractions are situated on the 12km banks of the breathtaking Chao Phraya river like; Grand Palace, Wat Pho, Wat Arun, Wat Pha Kaew.
From dawn till dusk, the riverside provides plentiful picture-perfect photos. Sitting on a boat and watching the scenery on both sides of the river is pleasant while taking a night tour is both romantic and comfortable.
Traveling by boat along the riverside is one of the most scenic and inexpensive ways to explore Bangkok, avoiding Bangkok's traffic and discovering the city by the water is definitely worth experiencing. There is a number of mid-range and luxury hotels in the area and you won't regret staying here as there is no better place to stay than in hotels next to the Chao Phraya River.
Best Place to Stay in Bangkok Riverside Area:
Best Luxury: Chatrium Hotel Riverside Bangkok is one of Bangkok's most luxurious places to stay and makes the most of its enviable riverside location. Rooms have full-wall windows to enable guests to make the very most of the superb views.
Best Mid-Range: Theatre Residence has a superb river frontage with a pool in a front terrace overlooking the Chao Phraya. It is on the South Bank of the river but crossing is straightforward on one of the ferries that run dawn to dusk. And as soon as you're across the river, you are right by the Grand Palace and other attractions.
Best Budget: Hostel Urby is a new riverside hostel where every room has a balcony that fronts the fascinating waterfront of the Chao Phraya River.
3. Chinatown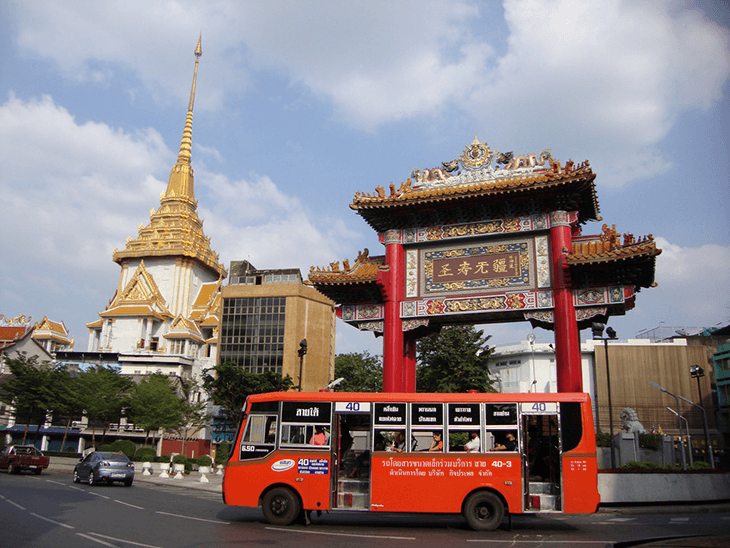 Bangkok's Chinatown, known locally as Yaowarat, is one of the most vibrant, authentic neighborhoods. It has fascinating temples and mesmerizing street life, galleries, bars, restaurants, and offers an incredible selection of street food after dark.
Don't forget to check out these most famous attractions in Chinatown Bangkok like; Temple of Golden Buddha Wat Traimit, Chinatown Gate, Sampang Lane, Dragon Lotus Temple Wat Mangkon, Hualamphong railway station, street art.
Exploring Chinatown by foot is the best way to see this fascinating and unique area, be sure to wear your comfort shoes, bring your camera and be prepared for the heat.
See more: Where to Stay in Bangkok on a Budget
Best Place to Stay in Bangkok Chinatown for Sightseeing:
Luxury: Park Hyatt Bangkok is a good higher-end hotel located on the outskirts of Chinatown. It is just 100 meters from the Central Embassy Mall, so it's the perfect location for shops and restaurants.
Mid-Range: Hotel Royal Bangkok@Chinatown is a good place to stay for couples, groups, and families since room types range from doubles that can easily accommodate an extra bed to large deluxe suites that sleep up to six guests.
Budget: Ama Hostel Bangkok is an adults-only hostel that really capitalizes on its Chinatown location. Ama is decorated with the authentic brightly colored tiles, red decor, and Chinese lighting and fixtures that give the Chinatown area its unique charm.
4. Siam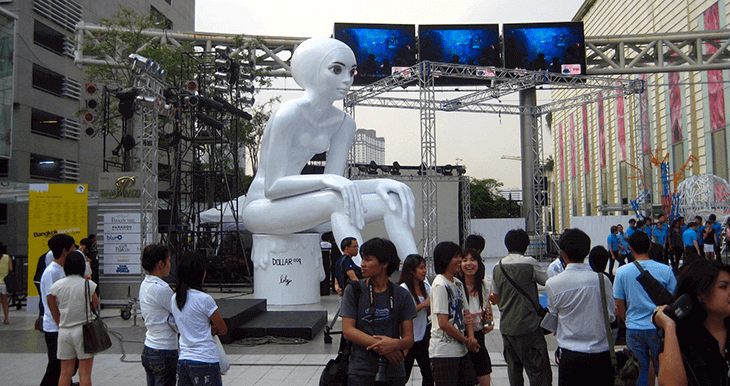 Shopping is probably the main reason to stay in Siam with big shopping centers Siam Paragon, Siam Center, Siam Square One, and Central World as well as convenient public transport will make it easier to travel to other areas in the city.
Check out one of the most famous attractions in Bangkok:
the art collection of American businessman and architect Jim Thompson at the Jim Thompson House;
Bangkok Art and Culture Centre;
the most popular Hindu shrine Erawan Shrine;
one of the largest aquariums in Southeast Asia SEA LIFE Bangkok Ocean World (Siam Paragon).
It is highly convenient for you to pick a hotel within a few walks to the Siam BTS station. As its location is right in the center of the capital, it is not hard to find a suitable hotel in this area as there is a wide range of accommodations to choose from.
Best Place to Stay in Bangkok Siam for Sightseeing:
Luxury: Anantara Siam Bangkok Hotel is everything you'd expect from an upscale hotel in the prestigious Anantara group. Its superb location is just a minute from central Ratchadamri BTS station and only a few minutes' walk from the shopping malls of the Siam Square area.
Mid-Range: Sindhorn Midtown Hotel Bangkok is a mid-priced hotel that stands out for its superb rooftop infinity pool that looks out over the Bangkok cityscape. As you'd expect from such a central location, you can walk from the hotel to the Skytrain in just a couple of minutes.
Budget: Lazy Sunday Hostel is a great budget option for those who want to stay in the center of Bangkok. It is just a few hundred meters from Siam Square with its wealth of malls, shops, galleries, and activities.
5. Silom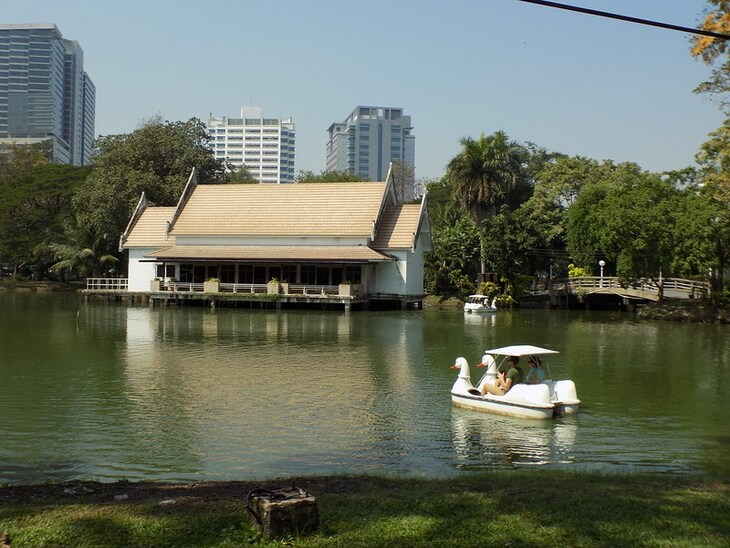 Silom is the central business district in Bangkok, busy with business during the day and turn to lively nightlife after 5pm. It is 2km to Chao Phraya river's eastern bank and easy to reach waterfront by BTS.
Silom is not just about shopping, there are plenty of sights to see from museums, galleries to huge green parks. Do not miss out Bangkokian Museum for a journey back in time, Kathmandu Photo Gallery for art lovers, Sri Maha Mariamman Temple Bangkok to have little taste of Indian architecture and Lumpini Park – a green oasis in the middle of Bangkok city.
Silom is in the central of the city, easy to get around with public transport and lots of accommodations to choose from. So why not base yourself in Silom? Have a look at the hotels in Booking.com and you will find one suits your taste!
Best Place to Stay in Bangkok Silom for Sightseeing:
Luxury: lebua at State Tower (The World's First Vertical Destination) You can't miss the spectacular State Tower, a tall skyscraper that is topped by the famous Sky Bar rooftop bar and restaurant. This exclusive place offers possibly Bangkok's best city view, and the rooms in lebua at State Tower hotel also overlook the city to stunning effect.
Mid-Range: Amara Bangkok Hotel is a smart, no-nonsense hotel in Silom that packs a punch in offering guests great facilities for an affordable price.
Budget: Urban Hostel Bangkok Guests rate the friendly and family-run Urban Hostel as fabulous. All rooms in the hostel come with a desk, so it's a great place to stay if you're a digital nomad or if you just have some stuff that needs to get done.
6. Sukhumvit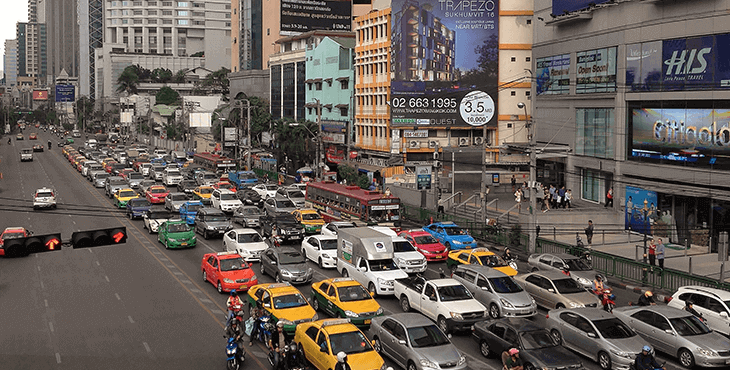 Sukhumvit may not be brimming with beautiful temples or palaces but it's still popular. With a vibrant night scene, westernized bars, restaurants, malls, and markets, you'll find plenty to enjoy in this exclusive part of Bangkok.
For a sightseer, if take a closer look, you will find a variety of attractions in this area including parks and museums. They are a great escape to spend some time away from the hustle and bustle of busy streets.
Museums are:
Kamthieng House Museum,
the National Science Center for Education,
the Thailand Creative and Design Center
the Museum of Thai Pharmacy.
Parks are Benchasiri Park and Benjakiti Park that provide a peaceful spot among the noise and the congested traffic. Sukhumvit may not be the very best area in Bangkok to stay for sightseeing but it is highly convenient to get around by BTS line and suits every type of visitor. So, why not book your hotel in Sukhumvit?
See more: Where to Stay in Sukhumvit
Best Place to Stay in Bangkok Sukhumvit for Sightseeing:
Luxury: Grande Centre Point Hotel Terminal21 has large rooms with great views over Bangkok. Their substantial family rooms with small kitchens are popular with family travelers. There are also other room options catering to groups of two or four people, so the hotel has something for most travelers.
Mid-Range: Kokotel Bangkok Sukhumvit 50 is a great mid-range hotel choice with facilities on offer that represent great value for money. It is a five-minute stroll from the BTS On Nut Skytrain station.
Budget: Analog Hostel is an excellent example of a modern and smart city hostel. This hostel is an adults-only accommodation, so clearly not a family choice.
7. Pratunam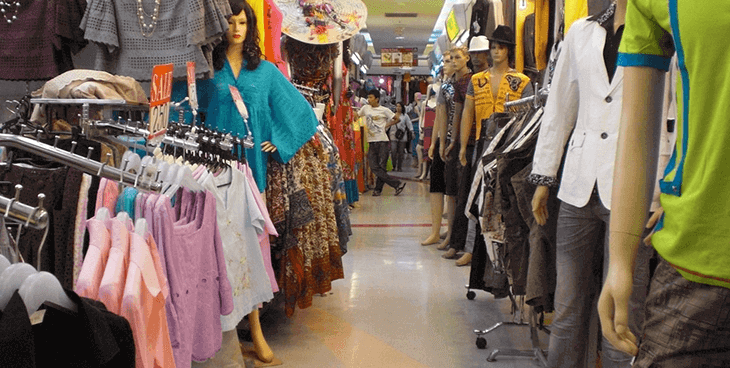 Pratunam is the last area in our list of the best area to stay in Bangkok for sightseeing. It is highlighted with budget shopping heaven in Bangkok central. You can also easily find loads of budget accommodation and it is close to Sukhumvit and Siam within walking distance.
In Pratunam, for many tourists, the top attractions are shopping opportunities but there are some attractions you don't want to miss out on while traveling to Bangkok. See Bangkok at its best on the 77th floor from the Baiyoke Tower Observation Deck and the 360-degree on the 84th floor Revolving View Point. Not far from Baiyoke Tower is the charming museum Suan Pakkad Palace which is a collection of 8 traditional Thai houses surrounded by beautiful gardens.
Don't forget to check Pratunam Market, Trimurti Shrine at Central World, and rooftop bar Red Sky at Central World.
Best Place to Stay in Bangkok Pratunam Area:
Luxury: VIE Hotel Bangkok, MGallery is the best upscale hotel in central Pratunam. It is situated in the MGallery fashion mall, so if you are a clothes shopper, this is a dream location. Transport is covered too since it is just 160 meters from the BTS network.
Mid-Range: The Quarter Bangkok Ratchathewi is at the budget end of mid-range, and it has some extremely comfortable aircon dorm rooms that are a popular choice for Thai travelers.
Budget: p18 Hotel is a central hotel just 10 minutes walk away from Siam Square and the center of Bangkok. Rooms come in the form of clean, simple, well-appointed double rooms.
Bangkok is a huge city, so it is important to base yourself in the right spot. Every district has it own best; If you looking for the best area to stay in Bangkok for sightseeing, keep The Old City and Riverside in your top list.
Chinatown is the best area to stay in Bangkok for backpackers and shopping. Silom is the best area to stay in Bangkok for backpackers. Siam is the best area to stay in Bangkok for shopping. Sukhumvit is the best area to stay in Bangkok for nightlife. The choice is yours!