In this guide, we will be looking at where to stay in Miami for first-time tourists, best areas to stay in Miami first time (with a map and video), best hotels in Miami for all budgets (including the hotel where I stayed) and the safest places to stay in Miami.
Miami is overall a safe city for tourists. But as in any tourist city, you should stick to popular tourist areas, practice common sense, lock car doors, avoid walking alone at night in the dark, especially in less crowded or poorly lit areas.
All the popular tourist areas are very safe. Miami Beach, downtown Miami, Coral Gables, Coconut Grove are the safest neighborhoods in Miami. You should avoid neighborhoods of Overtown and Liberty City.
Miami Beach is is separate from the city of Miami via a series of causeways. Miami Beach is divided into three areas including the party area of South Beach, the laid-back area of Mid-Beach, and the quiet suburb of North Beach.
The city of Miami is a fascinating urban area include Little Havana, Brickell, and Downtown Miami.
Where to stay in Miami first time?
The best areas to stay in Miami for first-time visitors are Miami Beach, South Beach, Downtown Miami, Bal Harbour, Key Biscayne, Little Havana, Brickell, Coconut Grove, and Coral Gables. These are popular neighborhoods, offering a wide range of tourist attractions and amenities.
South Beach is the best area for first-timers and travelers seeking for a stay right on the beach and lively nightlife with lots of bars, nightclubs, and restaurants. Downtown Miami is the best base for visitors seeking for a culture experience, as well as business travelers or a night stay before cruise.
If you can't make up your mind whether to stay in South Beach or Downtown Miami, then don't worry. All you need to do is stay a few nights in the South Beach and then move somewhere into the Downtown for the rest of your stay; then, you can enjoy the best of both worlds.
If you're a first-time visitor or you don't have your own car, then staying somewhere central with easy access to public transport makes sense. South Beach, Downtown Miami, Coconut Grove are the best areas to stay in Miami without a car.
Some of the best areas to stay in Miami for couples are South Beach, Miami Beach, Brickell, Coconut Grove, Bal Harbour, Coral Gables, Wynwood, and Key Biscayne. They offer a range of accommodations, from luxury beachfront resorts to boutique hotels for a romantic getaway.
Where did I stay in Miami?
When I first visited Miami, I stayed for 5 nights at the Viajero Miami. It was a great value for money 4-star hotel centrally located in South Beach, an easy walk from the beach, restaurants and bars of Ocean Drive. My room was comfortable and the pool was nice.
Below is the Map of best areas and neighborhoods to Stay in Miami. You can scroll down for an interactive map: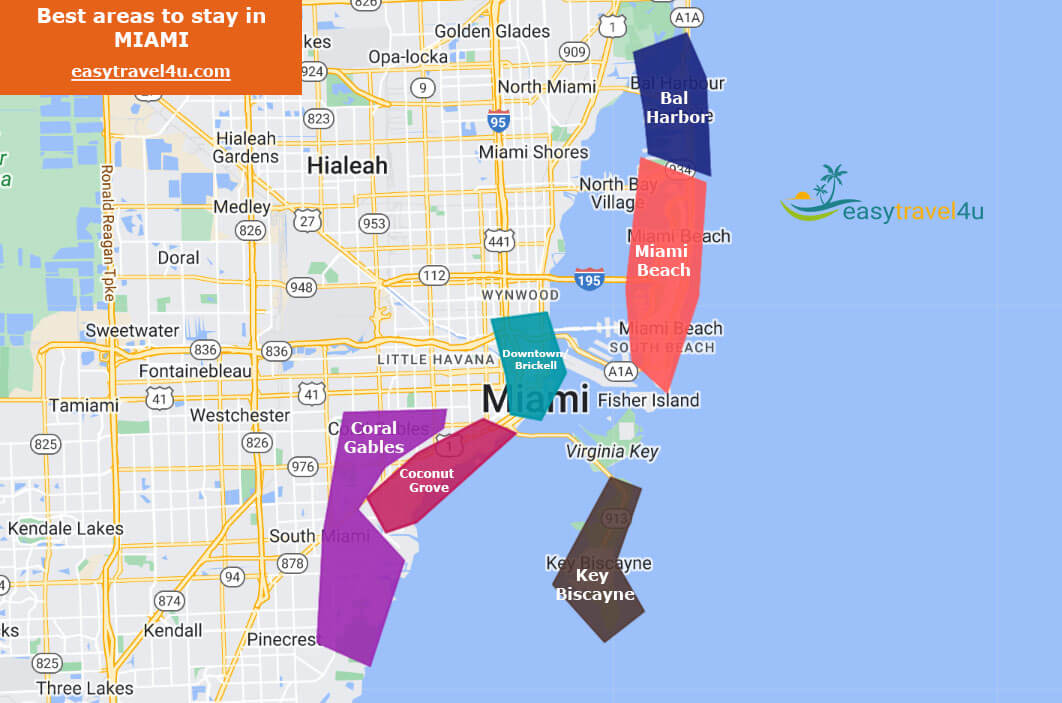 Best areas to stay in Miami for first-time tourists are:
1. South Beach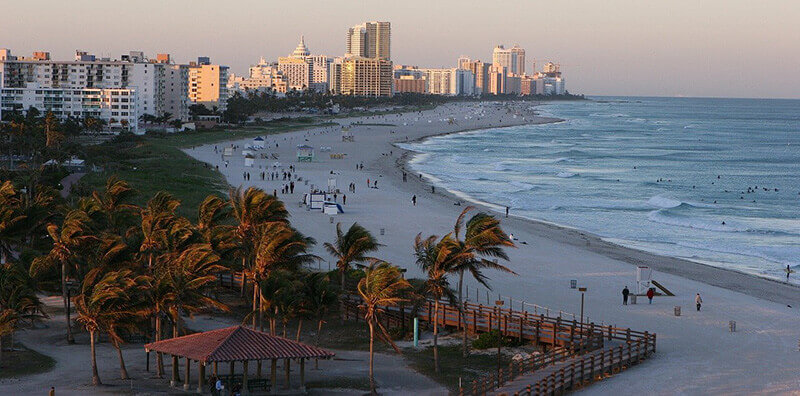 South Beach, aka SoBe, is probably America's most famous beach party town, making it the best area to stay in Miami for the beach and nightlife.
Especially during college holidays, when this part of Miami becomes packed to the brim with hedonistic youth looking for the biggest, baddest all-night party scene.
South Beach is the nine-mile-long thin barrier island, located at the southern part of Miami Beach. SoBe stretches from 23rd Street to the southern tip of Miami Beach at South Pointe Park. The area is connected with the downtown Miami via Venetian Causeway and MacArthur Causeway.
The nightlife scene of South Beach is great even outside of spring break, and there are some classy bars and nightclubs that are popular with wealthy locals. There are also some great restaurants, cocktail bars, and many beach cafes.
The beach is, of course, the biggest attraction in this area, it has pristine, white-sand, and turquoise waters. The beach is well organise with lifeguard, chairs and umbrella for rent.
You can relax at Nikki Beach and at some of its beachfront parks like Miami Beach Botanical Garden, Lummus Park, and South Pointe Park.
There's a lot more to see and do here than just going to the beach and then partying the nights away. South Beach has one of the world's best collections of modern architecture in art deco buildings. A whole district of several blocks of South Miami is full of gorgeous buildings designed in an art deco style.
There's even an Art Deco Welcome Center that has guided walking tours organized by the Miami Design Preservation League to introduce you to the best buildings in this Miami's Art Deco District.
Art Deco Welcome Center is located on Ocean Drive, which is an iconic waterside promenade next to Lummus Park. it's lined with pastel-hued Art Deco buildings and hotels, restaurants, and boutique beach shops.
You can also find numerous of cultural highlights and a good number of museums and galleries, including the Arts Center of South Florida, and the Bass Museum of Art, a large art gallery with a collection of over 3,000 works spanning styles from classical to modern.
Another interesting gallery is the Wolfsonian Florida International University Museum (Wolfsonian–FIU), with an extensive collection of art that focuses on works of the modernist era.
If you are interested in history, take a look at the Holocaust Memorial Miami Beach on the corner of Meridian Avenue and Dade Boulevard. It's memorial of of the six million Jews that to the victims of Nazi Germany.
South Beach also has lots of good shopping with several shopping malls full of classy designer stores. Lincoln Road Mall and Española Way offer a lot of shopping opportunities.
The pedestrian-friendly promenade of Lincoln Road Mall is a world-famous shopping street, lined with independent boutiques, restaurants, and hotels.
A few blocks to the south next to Washington Avenue, Española Way is another pedestrian-only thoroughfare with a quaint Spanish-inspired village designed in Mediterranean Revival style.
South Beach can easily explore on foot, but there are also public transportations such as metrobus, metrorail, and trolley routes. You can easily reach the Miami International Airport through the Airport Beach Express.
South Beach provides a vast range of accommodation options, from budget lodgings to exclusive resorts. It is home to some of the best hotel in the whole Miami. Due to its popularity, the hotels here are not cheap.
Stay in South Beach if this is your first time visiting Miami; you want vibrant nightlife; you are a party animal; you want to stay near the beach; you want a safe neighborhood; you're visiting Miami for a bachelorette or bachelor party.
Best places to stay in Miami in South Beach:
luxury ($$$): Kimpton Angler's Hotel South Beach, an IHG Hotel, great 5-star hotel, located in South Beach, ideal base in Miami for couples and families with children of all age. It has a rooftop pool with bar and lounge, eco-friendly amenities, 24h front desk, and a car parking.
mid-range ($$): Loews Miami Beach Hotel, 4-star beachfront resort has a full-service spa, and outdoor pool and hot tub. You can choose to stay at one of its city view or sea view rooms. This is a also a family-friendly hotel with a state-of-the-art Kids Club and Rec Room.
budget ($): Avalon Hotel, 3-star popular hotel, one of the best places to stay in Miami on a budget, located within walking distance from Miami Beach Convention Center, short drive by car from shops, restaurants, and galleries of Lincoln Road Mall.
MORE HOTELS IN SOUTH BEACH
If you are already settled with you accommodations in Miami, I suggest checking out my post 44 Best things to do in Miami, Florida to know more about the famous things to do and see in Miami.
2. Mid-Beach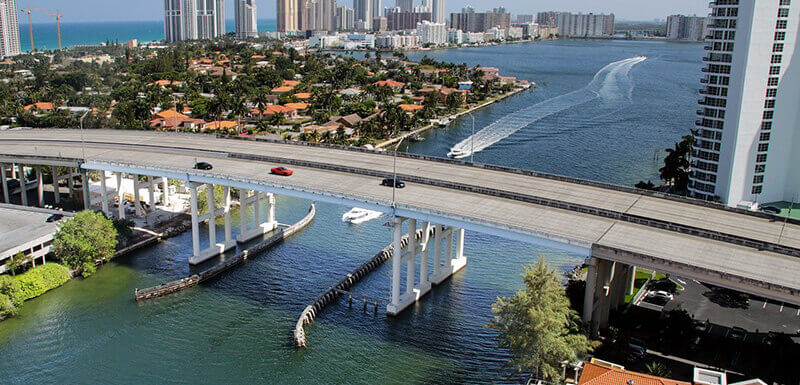 Mid-Beach is the middle section of Miami Beach, located between the vibrant South Beach and the laid-back North Beach. It is the area between 24th and 60th streets that contains Oceanfront, Bayshore, and Nautilus areas.
Mid Beach is best suited those who want quieter atmosphere while still having easy access to the vibrant South Beach. It is a lot calmer than South Beach, but also home to many trendy nightclubs, and fine dining restaurants.
One of the attraction in the neighborhood is the $1.2 billion Faena District on Collins Avenue from 32nd to 36th Streets is an interesting area to visit. It's sandwiched between the Atlantic Ocean and the Indian Creek.
Founded by Argentine hotelier Alan Faena, it contains the Faena Forum entertainment complex, Faena Hotel Miami Beach, Faena Bazaar, arts venues, and public sculptures. The Art Basel festival in december is great event in this area.
If you enjoy architeture, take stroll around the Collins Waterfront Architectural District where you can find e Mediterranean Revival, Modern and Art Deco styles buildings from the 1920s to 1960s.
Miami Beach itself is an attractive palm-fringed sandy strand, and it is quieter than its neighbor South Beach. Good place to relax under the sun lounger and people-watching.
If you take stroll along the Miami Beach Boardwalk to north you will lead to North Bay Road, also known as Millionaire's Row. Great for sunset time!
There are plenty of green places in the Mid-beach including Indian Beach Park, Allison Park, 36th Street Park, Pinetree Par, Brittany Bay Park, and Collins Park.
Miami Beach provides classy modern beachside resorts and hotels with famous hotels. Booking hotel here, you will be in a quiet area but still close to the party neighborhood of South Beach.
Stay in Miami Beach if you're couples, families who enjoy relaxed and quiet vibes; you're interested in architecture, history, design;
Best Places to Stay in Miami Beach's Mid-Beach:
MORE HOTELS IN MIAMI BEACH
3. Downtown Miami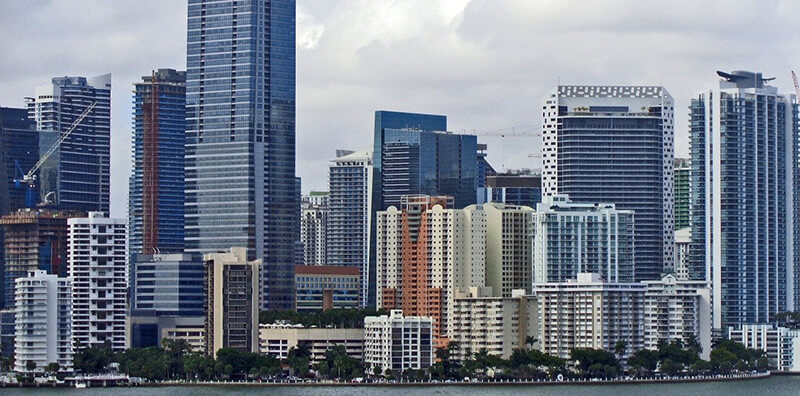 Downtown Miami, as the name suggests, is the most convenient and central part of the city in which to stay. Downtown Miami is one of the best places to stay in Miami for those who want experience cultural attractions and urban lifestyle.
Downtown Miami contains the high-rising skyscrapers, hotels, and expensive condos of the city's central business district. But there's so much more to see and do here, and downtown is packed with fascinating historical and cultural attractions, museums, galleries, and activities.
Brickell Avenue and Biscayne Boulevard are the two main thoroughfares in downtown, where you can find attractions and nightlife venues.
The Frost Museum of Science is a fascinating place to visit, as are the Miami Art Museum and the Miami science museum. The Perez Art Museum Miami is a fabulous art gallery with an extensive collection of South American art.
If you want to learn a little more about the place where you're staying, then take a visit to History Miami Museum, which is a museum that tracks the growth and development of the state of Miami from the times of native American arrival until the present.
Art lovers can also check what's on at the Adrienne Arsht Center for the Performing Arts, which has an ever-changing and varied itinerary of shows and plays. it is home to the Florida Grand Opera and Miami City Ballet.
Another great venue is the Guzman Center for The Performing Arts, with a theater that stages regular plays and operas.
The Freedom Tower is the most important historical buildings in Miami and an icon on the Downtown Miami skyline from 1925. From 1962 to 1974, it served as the Cuban Assistance Center to help Cuban refugees escape communism and political persecution.
The downtown hosts American Airlines Arena, a sports and entertainment multi-purpose venue in a vibrant waterfront. it is home to the NBA's Miami Heat.
If you want to shop, head to the Bayside Marketplace, a two-story open-air shopping center. Nearby, you can visit the 200-foot-high Skyviews Miami observation wheel with stunning views of Biscayne Bay.
Families with kids will want to spend a day out at Jungle Island and the Miami Children's Museum with pleny of family-friendly activities.
Despite being a built-up neighborhood, there are some excellent open spaces around downtown Miami. If you want a breath of fresh air, you should head down to Maurice A. Ferré Park and Bayfront Park on Biscayne Boulevard.
These green spaces seems always to have something going on at one of its arenas, and there's a playground for kids so it's a nice place for families to visit.
Another advantage of staying in downtown Miami is transport since you can travel around for free on the Metro Mover, a light rail system with three lines running throughout the downtown area.
And if the Metro Mover doesn't take you to where you want to go, check the Metro Rail, an urban train system that connects many areas throughout the city. There are also CitiBikes, scooters to get around Downtown Miami's compact core. Downtown is easy to navigate without a car.
Downtown has plenty of accommodations, many of the city's finest hotels can be found along Brickell Bay Drive. Luxury hotels facilities can contains a rooftop pool, a hot tub, and a fitness center.
Stay in Downtown Miami if you're visiting Miami for the first time.; you want lots of cultures and less beach.; you're using public transport with easy access to everything, you travel without a car; you're staying in Miami for 1 night; you're young adults; you're business travelers;
Best Places to Stay in Downtown Miami:
MORE HOTELS IN DOWNTOWN MIAMI
If you travel to Miami as a family, I suggest read this article: Best areas to stay in Miami with family
4. Brickell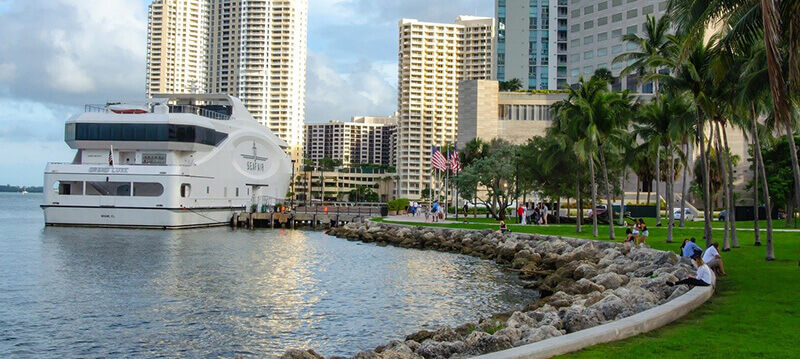 Brickell is an under-the-radar and intriguing place to stay in Miami. This central district is the financial heart of the city and lots of banks, and financial institutions have offices here.
While a financial center might not seem at first glance to be the most inviting of holiday destinations, bear with me because there is a lot going for this part of Miami.
Brickell is just south of downtown but still convenient for all the sights, and the beaches of Miami Beach and South Beach aren't far away to the east. So if you want to stay in a central location that's a little bit more relaxed than those places but still within easy reach, then Brickell is a great choice.
If you're traveling with family, then you will be interested to know that Brickell has a large number of apartment and home rentals. So if you want the freedom offered by self-catering, this could be an excellent base for your stay in Miami.
This doesn't mean to stay that the area doesn't have some top-class hotels. On the contrary, there are some very good hotels in the mid to upper price range that cater to business travelers in particular.
Also, if you love top-class dining and restaurants run by gourmet chefs, then you'll find plenty of those around Brickell. So if your idea of nightlife is more to do with a great meal and a classy bar, then with the wild parties you'll find elsewhere in Miami, Brickell is an excellent place to stay.
Stay in Brickell if you travel on a business; you want a wide choice of accommodation options; you want to stay central but a bit low-key; you want great apartment rentals.
Best Places to Stay in Miami in Brickell:
MORE HOTELS IN BRICKELL
5. Bal Harbour and North Beach
Bal Harbour is an enticing enclave and community at the north end of the Miami Beach. This is an exclusive upmarket community next to a delightful beach. If you want to stay in a quiet suburb of Miami, with just one shopping mall full of upscale designer stores and classy restaurants, then Bal Harbour is for you.
North Beach, also known as NoBe, is a popular area for families and couples. North Beach is well-connected with Fort Lauderdale and Downtown through the Golden Glades Interchange. There are also Metrobus and Miami Beach Trolleys for transportation options!
In North Beach you can shop at Bal Harbor Shops and Aventura Mall. There is the North Beach Bandshell, an open-air amphitheater in the heart of charming North Beach and North Beach Oceanside Park to relax!
There are buzzing local culinary scene around the historic Normandy Fountain. You can find Jewish delis, a variety of Latin American cuisines like Italian, Colombian, Peruvian, Argentinian, and Mexican.
Between North Beach and Bal Habour lies the upscale, residential beach community of Surfside. With its white, sandy beaches, Surfside is a favorite destination for families and those looking for a relaxing day in the sun.
The beach is the highlight of the area, and the long walkway that fronts the beach is perfect for a relaxing stroll, passing a few pretty resorts and some excellent restaurants.
If you are considering staying here, you should probably make sure that you have a hire car, since this is a little way out of the city and Bal Harbour isn't very well connected by the Miami public transport network.
Some of the attractions including Beach Path, and Art Museum Miami, Oleta River State Park – Florida's largest urban park, ideal for mountain bikers, paddlers, and swimmers; Enchanted Forest Park, Haulover Beach, and Slide Tower.
North Miami Beach and Bal Harbour boast all types of accommodation options, ranging from 2-star guest housed all the way to 5-star luxury. Lodging here is more afforable than South beach.
Stay in North Beach if you want an exclusive beach experience and luxury holiday; you have plenty of money to spend; you have your own; you're looking for a relaxing vacation.
Best Places to stay in Miami's North Beach:
MORE HOTELS IN BAL HARBOR
6. Key Biscayne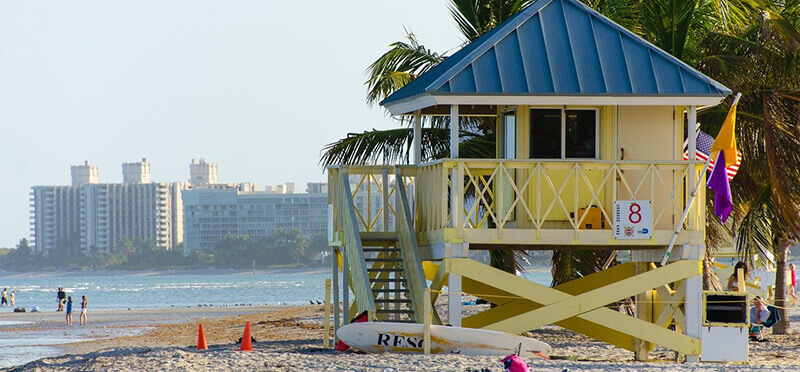 Key Biscayne is a small island of just 3.6 square kilometers to the south of the Miami metropolitan area and the barrier island of Miami Beach and South Beach.
Despite being an island, Key Biscayne is connected to the mainland by a spectacular Rickenbacker Causeway bridge across Biscayne Bay to the nearby Virginia Key and then to the city center.
Key Biscayne's population is only about 10,000, which on the scale of Miami is a hole is tiny. This means that if you want to stay somewhere within easy reach of all of the sights and attractions of Miami city center but has a totally different suburban feel, this is the place for you.

Key Biscayne is one of Miami's safest neighborhoods and it is a great place for families to stay since it's open and green, and there are great beaches. There are also things for kids to see and do here like the Miami Seaquarium, a fabulous sea life center with a wealth of fascinating aquatic life.
Key Biscayne also boasts two beautiful national parks. The family-friendly Crandon Park is a large open space on the North end of the island with a family amusement center with plenty for the kids to do and outdoor sports and activities for all. There's also a Nature Center where you can learn all about the local ecology.
Key Biscayne's other national park is Bill Baggs Cape Florida State Park, with some excellent Beach walks and the distinctive lighthouse. You can climb to the top of 19th-century Cape Florida Lighthouse, kayaking, kite-boarding, or paddleboarding.
Another point of interest is Historic Virginia Key Beach Park, a pefect location for those who enjoy swimming, relaxing in the sun.
At Key Biscayne, Miami's local authorities have made efforts to control the rampant development seen in other parts of Florida, and these have been quite successful. Consequently, there are just a few hotels and some good apartment rentals here that will suit most budgets.
Stay in Key Biscayne if you're traveling with family; you want a chilled and relaxed environment; you want beautiful tropical beaches; you want to stay in a safe area;
Best places to stay in Miami Key Biscayne:
MORE HOTELS IN KEY BISCAYNE
7. Little Havana
As you can probably guess from the name, Little Havana – is set in the west of downtown, is a Miami district that first developed as an enclave of Cuban exiles from the Cuban Revolution of 1959.
Over time this area has been populated by many other Latin American people. These arrivals have brought a rich and vibrant social atmosphere to Little Havana, and today it is one of Miami's go-to areas for top quality and culture.
It's a lively and exciting place to be, and the streets are filled with stalls selling great food, little markets, and fantastic live music venues. In fact, if you are fortunate enough to be in Miami in March, then you should definitely head to little Havana for the Calle Ocho Music Festival in Calle Ocho (Southwest Eighth Street) to celebrate Carnaval Miami.
If you're not in Miami then, all is not lost because on the last Friday of each month, little Havana hosts the Viernes Culturales (Cultural Fridays), an event that features open-air concerts, art displays, a food festival, and lots more to see and do.
One of the best ways to experience Cuban culture is to sample its food. You must visit one of the best Cuban restaurants at Versailles and El Rey De Las Fritas. You can sample authentic Cuban food, Cuban coffee, sugarcane guarapo, and Cuban sandwiches.
Don't miss out the Azucar Ice Cream Company for unique ice cream and sorbet with tropical flavors.
To learn more about the local art and culture, there are several interesting art galleries and museums such as Tower Theater, CubaOcho Museum & Performing Arts Center, Molina Fine Art Gallery, and Futurama 1637 Art Building.
Little Havana is also home to Máximo Gómez Park, known as Domino Park, where locals play a traditional game, dominoes.
If you stay in Little Havana, you should be aware that certain parts of the district can be a little bit dicey, especially late at night. You should keep your wits around you and keep to busy, well-lit areas.
Little Havana offers cheaper accommodations than in other parts of the city, mostly apartment rentals, and motels.
Stay in Little Havana if you love Latin American food; you want an exciting and lively neighborhood; you want Miami's best music scene; you're street smart in urban neighborhoods.
Best places to stay in Miami in Little Havana:
MORE HOTELS IN LITTLE HAVANA
8. Coconut Grove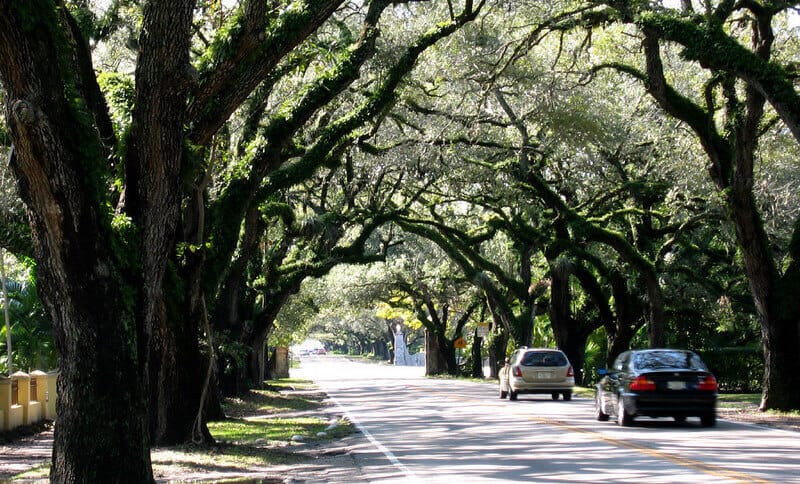 Coconut Grove, also known as The Grove by locals, is a district of Miami that lies to the southwest of downtown. It's a peaceful and laid-back waterfront location that borders the sparkling waters of Biscayne Bay.
Coconut Grove is one of the oldest neighborhoods in Miami with Bahamian roots dating back to the 1870s. It is one of Miami's safest places to live with a high presence of police and low crime rates.
Coconut grove is a low-rise, suburban neighborhood that is full of parks and green spaces. Among the largest of these parks is The Kampong, National Tropical Botanical Garden, a vast tropical garden; Vizcaya Museum and Gardens; and the Barnacle Historic State Park, containing the Ralph Middleton Monroe home. This historic building is the oldest house in the Miami area.
You can also find Peacock Park and Kennedy Park which offer plenty of family-friendly outdoor and indoor entertainment opportunities.
Coconut Grove is an excellent suburb to explore on foot. In particular, the waterfront and the large open-air shopping malls, filled with exciting shops, indie boutiques, restaurants, sidewalk cafes, and bars, are great places to spend time.
For a shopping experience, head to CocoWalk outdoor shopping mall, an international shopping, dining, and entertainment marketplace; and Mayfair in the Grove which has many shops, cafes, and fine dining.
Coconut Grove has a thriving community spirit and numerous events such as the weekly Saturday Farmer's Market and the annual Coconut Grove Art Festival.
The relaxed and pedestrian-friendly nature of Coconut Grove makes it a very inviting place to stay with family. There's lots of mid-range accommodation here too. Coconut grove is a good out-of-town location that still enjoys a convenient link to the city center via the Metrorail network.
Stay in Coconut Grove if you want a leafy waterfront suburb that's full of parks; you want great shops and restaurants in an attractive open-air setting; you're traveling with family; you want an out-of-town feel with useful links to the city center.
Best Places to Stay in Miami in Coconut Grove:
MORE HOTELS IN COCONUT GROVE
9. Coral Gables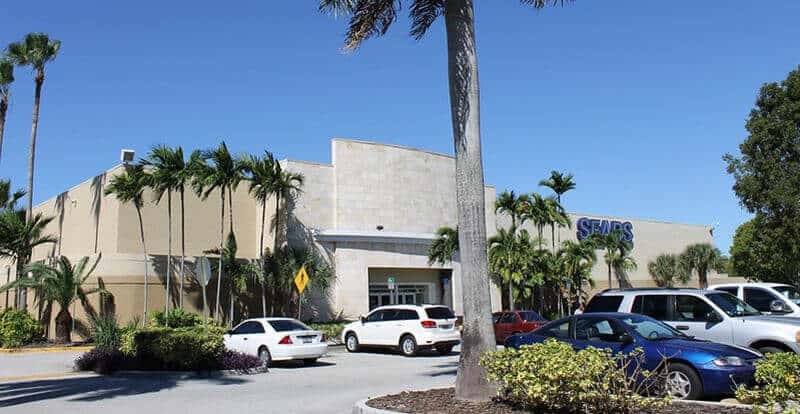 Coral Gables is a safe and pretty District located to the southwest of Downtown Miani, next to Coconut Grove. It's a great place to stay if you don't fancy the hectic central beaches or city center of Miami but want to stay in a place where there's a great deal to see and do on your doorstep.
Convenientl located close to PortMiami, Miami International Airport, and Miami Beach, Coral Gables is also known as The City Beautiful. It is filled with tree-lined boulevards, historical landmarks, and cultural attractions.
Highlights of the area include the Coral Gables Museum and the Fairchild Tropical Botanic Garden, an expansive Park filled with an enormous variety of tropical plants from all over the world. You also have The Miracle Theatre to check out.
The Venetian Pool is another highlight of Coral Gables. This is a huge open-air public swimming pool that dates back to 1924. It's a pretty place and well worth a visit, and of course a dip.
Coral Gables owes its attractive appearance to the fact that it was initially designed and developed as a Mediterranean-themed community back in the early 20th century.
The central part of coral gables is known as the Miracle Mile. It's only half a mile long but, whatever. This mini downtown area is where you'll find the best local restaurants, bars and nightlife.
Plenty is going on here, not least because Coral Gable is home to the University of Miami, and the large student population adds to the vibrancy of the nightlife here.
Coral Gables is on the western side of Miami and is located close to Miami International Airport. It's an excellent place to book a room if you want to stay close to the airport for the convenience of onward travel.
Most of the things to see and do in Coral Gables are located within a reasonably compact area, at least by American standards, so it's quite a pedestrian-friendly part of town. Therefore Coral Gables is an excellent place to stay if you don't have a rental car.
Stay in Coral Gables if You want an out of town setting, with lots to do; you want a peaceful neighborhood with a low-key but lively night scene; You are traveling with family;
Best Places to Stay in Coral Gables:
MORE HOTELS IN CORAL GABLES
10. Wynwood Art Ditrict
This Greater Miami neighborhood north of downtown is known for its art. There are galleries, private art collections, and murals here with the Wynwood Walls the main focal point. It was a planned exercise to change abandoned warehouses and random graffiti into works of art, using local talent.
Launched in 2009 by Tony Goldman, Wynwood Walls is a plaza, one big mural, and artists from other parts of the world have been involved as well. The Garden here has four murals and works are regularly rotated.
Once a month, the second Saturday, Wynwood is one big, tented party with plenty of vendors, music, and dance as well as entertainment for kids makes it a great day.
If you want to learn more about the graffiti movement, head to the Museum of Graffiti, Bakehouse Art Complex which is a former bakery, and the Margulies Collection at The Warehouse.
Amenities in Wynwood include boutiques, museums, shops, entertainment venues, and cafes. You will see craft breweries like Wynwood Brewing Company and Cerveceria La Tropical.
When it comes to accommodation, your choices are apartments and studios, hotels, and houses for rent. It is so different from other parts of Miami and will not cost a fortune to stay here either.
Best places to stay in Wynwood:
FIND BEST HOTELS IN WYNWOOD
11. Miami Design District
Located north of the artsy Wynwood and Midtown neighborhoods, Miami Design District is a mecca of art, design, dining, and shopping. You will find luxury fashion boutiques like Prada, Celine, and Balenciaga; art galleries; and trendy restaurants.
Art lovers will find numerous public arts scattered around the neighborhood including Sol LeWitt's sculpture garden, hanging chairs designer by Konstantin Grcic.
There are also art galleries like the Institute of Contemporary Art, Miami (ICA), De La Cruz Collection, David Castillo, and Locust Projects. If you want to learn more about Haitian culture and history, take some time to visit the Haitian Heritage Museum.
Miami Design District also offers a great dining scene with Michael's Genuine Food & Drink which is a James Beard Award-winning restaurant. You can also check out restaurants like Harry's Pizzeria, Cote Miami, and Swan & Bar Bevy.
There are limited accommodations in the Design District but you can choose to stay nearby in Midtown and the Wynwood like Hampton Inn and Suites and Hyde Suites Midtown.
Best places to stay in Miami Design District:
MORE HOTELS IN DESIGN DISTRICT
Check out my virtual tour about the best places to stay in Miami in this video:
What are the best areas to stay in Miami?
Miami Beach, South Beach, Downtown Miami, Bal Harbour, Key Biscayne, Little Havana, Brickell, Coconut Grove, and Coral Gables are the best areas to stay in Miami because they both offer a wide range of attractions and amenities for tourists.
Where should I stay in Miami for the first time?
South Beach, in my opinion, is the best place to stay in Miami for first-timers due to its close proximity to the beaches and nightlife. South Beach also offers a wide range of hotels, bars, shops, and restaurants for all budget travelers.
Where to stay in Miami without a car?
South Beach, Downtown Miami, and Coconut Grove are the best places to stay in Miami without a car because these neighborhoods offer easy access to restaurants, bars, and shops, as well as beaches both on foot and by public transportations.
Is it better to stay in South Beach or downtown Miami?
Both South Beach and Downtown Miami are ideal locations for first-timers but South Beach is a better option if you want to stay right on the beach and enjoy vibrant nightlife. Downtown is better if you want lots of cultural attractions and don't mind staying away from the beach.
Is Miami Beach or South Beach better?
South Beach, along with Mid-Beach and North Beach is a section of Miami Beach. South Beach is best for nightlife, Mid-Beach and North Beach has a quieter and more relaxed atmosphere.
What are the safest areas to stay in Miami?
Popular tourist areas such as Downtown Miami and South Beach are safe for tourists. Coral Gables, Coconut Grove, and Key Biscayne are some of the safest neighborhoods to stay in Miami because they have low crime rates.
See More
In conclusion, Miami Beach, South Beach, Downtown Miami, Bal Harbour, Key Biscayne, Little Havana, Brickell, Coconut Grove, and Coral Gables are the best places to stay in Miami for tourists. They are safe central locations with plenty of things to do and see for all travelers.
Overall, South Beach and Downtown Miami are the most popular options for first-timers. If you after the beaches, it is best to book a hotel in South Beach; If you prefer cultural attractions and urban setting, it is recommended to book a hotel in Downtown Miami.
So there's my detailed guide to the best areas to stay in Miami. It sounds like a pretty exciting place doesn't it? Now's your time to find out what part of Miami to stay in. Just pick the part of the city that suits you best, book a room, and off you go. Enjoy your trip!