Welcome to my detailed guide to to choose where to stay in Miami – best areas to stay in Miami. Read on and find out!
This rich and vibrant city on the southeast coast of Florida is one of the United States' most popular tourist destinations. It's a great place to enjoy some beach time, party, and explore the cultural delights of a modern and cosmopolitan city.
Tips for choosing the best areas to stay in Miami
You should take a few factors into account when deciding the best part of Miami for your stay.
If you have your own transport, then it is easier to stay in the outer suburbs of the city, in districts like Coral Gables or Coconut Grove, and still reach all of the sights of the city center with ease. These outlying suburbs are great too if you're traveling with the family since they are relaxed and less full-on than the city center.
But if you're a first-time visitor or you don't have your own transport, then staying somewhere central like Miami's downtown makes sense.
You should also decide whether the main priority of your visit to Miami is the beach or the city. Miami has some great beaches in Miami Beach, South Beach, and beautiful Key Biscayne. Then there are fascinating urban areas like Little Havana, Brickell, and Downtown Miami.
If you can't make up your mind between the two options, then don't worry. All you need to do is stay a few nights by the beach and then move somewhere into the city for the rest of your stay; then, you can enjoy the best of both worlds.
Where to Stay in Miami – 9 Best Areas to Stay in Miami
Here I've chosen nine areas of Miami that showcase all the very best aspects of the city. The best areas to stay in Miami are Miami Beach, South Beach, Miami Downtown, Bal Harbor, Key Biscayne, Little Havana, Brickell, Coconut Grove, Coral Gables.
There are exciting urban centers, beautiful scenic suburbs, lively beach resorts and chilled out islands. All that you need to do is to read through and choose the place or places that most appeals to you.
Best areas to Stay in Miami USA map
To see more detail of where to stay in USA map, go to google map;
1. South Beach, where to stay in Miami for nightlife, shopping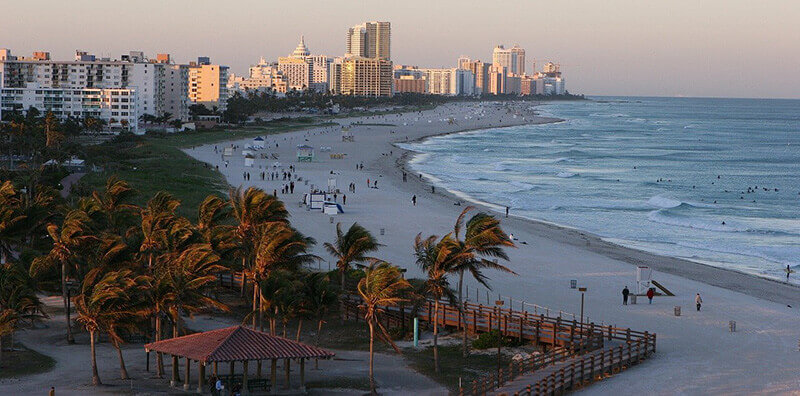 South Beach is the part of Miami Beach below 23rd street. It is probably America's most famous beach party destination. Especially during college holidays, when this part of Miami becomes packed to the brim with hedonistic youth looking for the biggest, baddest all-night party scene. If you have the stamina to join in, then you're in for the party of a lifetime.
The nightlife scene of South Beach is great even outside of spring break, and there are some classy bars and clubs that are popular with wealthy locals. There are also some great restaurants, cocktail bars, and many beach cafes.
South Beach occupies the southern section of the long thin barrier Island that runs just off the coast next to Miami downtown. And while much is made of this area's party scene, there's a lot more to see and do here than just going to the beach and then partying the nights away.
South Beach has one of the world's best collections of modern architecture in an art deco style. A whole district of several blocks of South Miami is full of gorgeous buildings designed in an art deco style. There's even an Art Deco Welcome Center that organizes walking tours to introduce you to the best buildings in the area.
South Beach has plenty of other cultural highlights and a good number of museums and galleries, including the Arts Center of South Florida, and the Bass Museum of Art, a large Art gallery with a collection of over 3,000 works spanning styles from classical to modern.
Miami Beach Botanical Garden is an attractive place that will be popular with any budding horticulturists. Another interesting gallery is the Wolfsonian Florida International University Museum, with an extensive collection of art that focuses on works of the modernist era.
Lummus Park is the most popular park in South Beach, located along Ocean Drive. This is good spot for relaxation, exercise, or even people watching.
South Beach also has lots of good shopping with several shopping malls full of classy designer stores.
You Should Stay Here If:
You are party animals.
You love art deco architecture.
You want some excellent art galleries and museums.
You want a lively Beach destination with a wealth of culture.
Best Places to Stay in South Beach
Loews Miami Beach Hotel This Miami Beach beachfront resort features a full-service spa and 6 restaurants and lounges. Guests can relax at the outdoor pool and hot tub or escape to the Art Deco District, just 5 minutes' walk away. Kayaks, parasails, boogie boards, and complimentary banana boat rides are available for guests' enjoyment. This family-friendly hotel has a state-of-the-art Kids Club and Rec Room featuring video and arcade games
The Redbury South Beach Located in the heart of South Beach, this hotel features a rooftop outdoor pool with a sun terrace.Free WiFi is available. Luxury shopping at Lincoln Road Mall is 10 minutes' walk away. Cleo Restaurant serves Mediterranean-inspired dishes on site at The Redbury South Beach.
Hotel Breakwater South Beach This Miami Beach boutique hotel is located in lively South Beach and offers a glass-enclosed pool and a restaurant with a full-service bar. The beach is just across Ocean Drive. Miami city centre and Bayfront Park are within 10 minutes' drive of the hotel. Lincoln Road Mall and New World Symphony are 17 minutes' walk away.
2. Miami Beach, where to stay in Miami on budget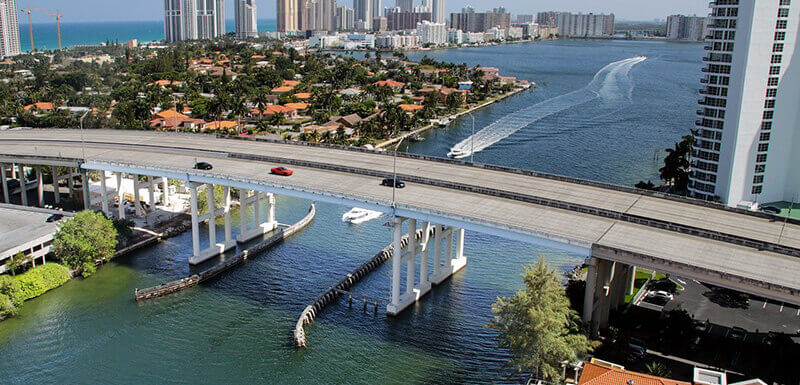 Miami Beach is the most central and the most famous Beach destination for visitors to the city. This beach occupies a barrier Island that lies just offshore from Miami proper, with a lagoon in between. Several bridges connect this island to the city.
The beaches of this barrier Island aren't technically part of Miami city, but they are very close by, and connections to the city center are straightforward. Miami Beach largely avoids the hedonistic party crowns that head to South Beach next door. What Miami Beach has to offer is a classy modern beachside resort with fabulous dining options and a sophisticated and artistic atmosphere.
One of the best things about Miami Beach is the great mixture of cultures. There is also something here for all budgets since it is perhaps the best place for budget travelers to stay in this relatively expensive city. Still, there are also some extremely swanky restaurants and clubs, and this is one of the places where wealthy locals choose to party.
Miami Beach has some top quality hotels, but if you are a budget traveler, then you will probably be more interested in one of the excellent hostels that you can find around here. These are also good places for solo travelers since they are safe and secure and allow you to meet other travelers.
Other good budget accommodation options in the Miami Beach area are bed and breakfasts and budget apartment rentals that allow you to cater for yourself, saving even more dollars.
Miami Beach itself is an attractive palm-fringed sandy strand, and if all you're planning to do is to chill out here catching the rays, then you will be well pleased. Miami Beach is a lot calmer than the internationally-famed party headquarters of South Beach, just next door. So if you're interested in dipping in and out of that hedonistic party scene without being stuck in the middle of it, then Miami Beach is an excellent place to stay so that you can party at your leisure.
Miami Beach is the best place to stay if:
If you want to be right next to the beach
You're traveling on the budget.
You want a hip and arty urban Beach setting.
You want a cultural melting pot with something for all budgets.
Best Places to Stay in Miami Beach
The Miami Beach EDITION is one of the best luxury hotels in Miami. This beachfront Miami Beach hotel features an on-site ice skating rink, 2 outdoor pools, free WiFi access, and a petite spa. A bowling alley, nightclub, and fitness centre are available for guests to enjoy on site at The EDITION. Bars and cabanas are offered poolside, and an outdoor movie theatre is also featured.
The Palms Hotel & Spa This oceanfront hotel on Miami Beach has an outdoor pool in a tropical garden setting. Views from the private rooms include the hotel gardens, the cityscape or the Atlantic Ocean beaches. Guests can enjoy casual al fresco dining on the restaurant terrace, at The Restaurant at The Palms, where fresh, sustainably-sourced ingredients are prepared to showcase seasonal favourites.
Fontainebleau Miami Beach Beachfront Fontainebleau Miami Beach is one of the best luxury hotels in Miami, features scenic Atlantic ocean views and 6 outdoor swimming pools surrounded by private cabanas. A nightclub, 9 restaurants, and a spa are located on site for comfort.
3. Downtown Miami, where to stay in Miami for first time visitors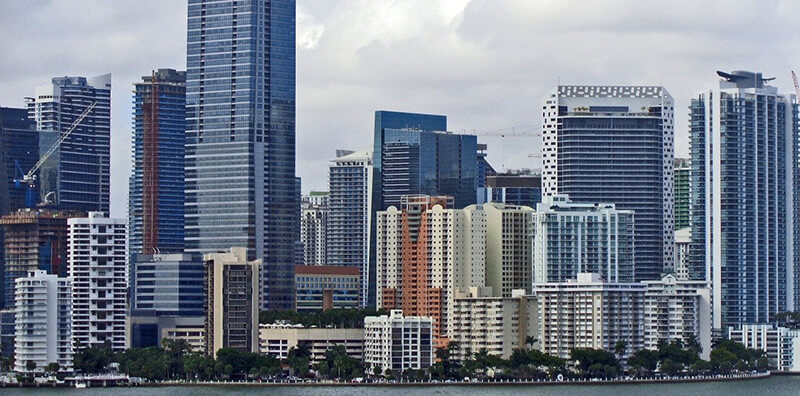 Downtown Miami, as the name suggests, is the most convenient and central part of the city in which to stay. This district is the best choice for first-time visitors, especially if the beach isn't the overriding attraction for your visit.
Downtown Miami contains the huge tower blocks of the city's central business district. But there's so much more to see and do here, and downtown is packed with fascinating museums, galleries and activities. The Frost Museum of Science is a fascinating place to visit, as are the Miami Art Museum and the Miami science museum. The Perez Art Museum Miami is a fabulous art gallery with an extensive collection of South American art.
While in downtown Miami, you should check what's on at the Adrienne Arsht Center for the Performing Arts, which has an ever-changing and varied itinerary of shows and plays. Another great venue is the Guzman Center for The Performing Arts, with a theater that stages regular plays and operas.
If you want to learn a little more about the place where you're staying, then take a visit to History Miami, which is a museum that tracks the growth and development of the state of Miami from the times of native American arrival until the present.
Despite being a built-up neighborhood, there are some excellent open spaces around downtown Miami. If you want a breath of fresh air, you should head down to Bayfront Park. This green space seems always to have something going on at one of its arenas, and there's a playground for kids so it's a nice place for families to visit.
Another advantage of staying in downtown Miami is transport since you can travel around for free on the Metro Mover, a light rail system with three lines running throughout the downtown area. And if the Metro Mover doesn't take you to where you want to go, check the Metro Rail, an urban train system that connects many areas throughout the city.
Downtown Miami is the best place to stay if:
You're visiting Miami for the first time.
You want lots of cultures and less beach.
You're using public transport with easy access to everything.
Best Places to Stay in Downtown Miami
EAST Miami With 4 pools, an on-site restaurant, and a 24-hour fitness center, there's something for everyone at EAST Miami. Located in Brickell City Centre, EAST Miami offers premium retail shops, a movie theatre, restaurants & bars, spas, and more.
Hampton Inn & Suites by Hilton Miami Downtown/Brickell Located in downtown Miami, this Hampton Inn is a 1 minute walk from the free Brickell Metromover Station. It features an outdoor pool and free WiFi. A daily hot breakfast is served every morning. A fitness center and business centre are available on site. Various activities and excursions can be arranged at the concierge/activity desk.
Hyatt Centric Brickell Miami features a restaurant, outdoor swimming pool, a fitness center and bar in Miami. Among the facilities at this property are a 24-hour front desk and room service, along with free WiFi throughout the property. Private parking is available on site. The hotel also provides a business centre and guests can check the newspapers at Hyatt Centric Brickell Miami.
4. Bal Harbor – North Miami Beach, a quiet upmarket area to stay in Miami
Bal Harbor is an enticing enclave and community at the north end of the barrier Island that houses Miami Beach and South beach. This Northern end of the island couldn't be more different though from the lively and sometimes congested excitement of those areas. This is an exclusive upmarket community next to a delightful beach.
The beach is the highlight of the area, and the long walkway that fronts the beach is perfect for the relaxing stroll, passing a few pretty resorts and some excellent restaurants. There aren't an enormous number of things to see and do here. Instead, Bal Harbor is perfectly suited to people who are looking for a sophisticated and serene Beach destination.
If you have money to spend, and you want to stay in a quiet suburb of Miami, with just one shopping mall full of upscale designer stores and classy restaurants, then this place is for you.
If you are considering staying here, you should probably make sure that you have a hire car, since this is a little way out of the city and Bal Harbor isn't very well connected by the Miami public transport network.
North Miami Beach is the best place to stay if:
You want an exclusive beach experience.
You have plenty of money to spend.
You have your own.
You're looking for a relaxing vacation.
Best Hotels in Miami Bal Harbor
Sea View Hotel is situated on a beautiful Atlantic Coast beach in Bal Harbour Village, experience contemporary luxury in an ideal setting for a soothing and memorable vacation. Sea View features a fitness center, beauty salon, and pool lounge chairs for a fee. A business centre with high-speed internet and photocopying facilities is available as well.
The St Regis Bal Harbour Resort offers a number of spa services, including 11 treatment rooms, an aromatic steam room and Finish saunas. The resort is located 3 minutes' walk from Bal Harbour Shops. The resort is 14 km drive from the sights of South Beach and 25 minutes' drive from Brickell, Miami's financial centre.
The Ritz-Carlton Bal Harbour, Miami The Ritz-Carlton's 10,000-square-foot spa features a sauna and steam room and offers hydrotherapy and meditative spaces. Additional facilities include an on-site fitness center as well as Core Fusion and yoga classes. The hotel features an outdoor, heated pool as well as direct beach access and a pool bar and grill.
5. Key Biscayne, one of the best areas to stay in Miami for family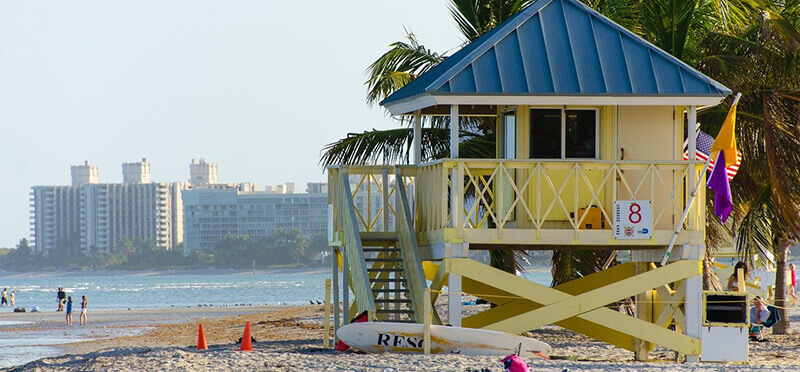 Key Biscayne is a small island of just 3.6 square kilometers to the south of the Miami metropolitan area and the barrier island of Miami Beach and South Beach. Despite being an island, Key Biscayne is connected to the mainland by a spectacular 10 km bridge across Biscayne Bay to the nearby Virginia Key and then to the city center.
Key Biscayne's population is only about 10,000, which on the scale of Miami is a hole is tiny. This means that if you want to stay somewhere within easy reach of all of the sights and attractions of Miami city center but has a totally different suburban feel, this is the place for you.

Key Biscayne is a great place for families to stay since it's open and green, and there are great beaches. There are also things for kids to see and do here like the Miami Seaquarium, a fabulous sea life center with a wealth of fascinating aquatic life.
Key Biscayne also boasts two beautiful national parks. Crandon Park is a large open space on the North end of the island with a family amusement center with plenty for the kids to do and outdoor sports and activities for all. There's also a nature center where you can learn all about the local ecology.
Key Biscayne's other national park is Bill Baggs Cape Florida State Park, with some excellent Beach walks and the distinctive lighthouse.
At Key Biscayne, Miami's local authorities have made efforts to control the rampant development seen in other parts of Florida, and these have been quite successful. Consequently, there are just a few hotels, but lots of good apartment rentals here that will suit most budgets.
Key Biscayne is the best place to stay if:
You want a chilled and relaxed environment.
You don't want to stay in the city.
You're traveling with family.
You want beautiful tropical beaches.
Best Hotels in Miami Key Biscayne
6. Little Havana, where to stay in Miami for Latin American food
As you can probably guess from the name, Little Havana – is set in the west of downtown, is a Miami district that first developed as an enclave of Cuban exiles from the Cuban Revolution of 1959. Over time this area has been populated by many other Latin American people. These arrivals have brought a rich and vibrant social atmosphere to Little Havana, and today it is one of Miami's go-to areas for top quality and culture.
It's a lively and exciting place to be, and the streets are filled with stalls selling great food, little markets, and fantastic live music venues. In fact, if you are fortunate enough to be in Miami in March, then you should definitely head to little Havana for the Calle Ocho Music Festival in Calle Ocho.
If you're not in Miami then, all is not lost because on the last Friday of each month, little Havana hosts the Viernes Culturales, an event that features open-air concerts, art displays, a food festival, and lots more to see and do.
If you stay in Little Havana, you should be aware that certain parts of the district can be a little bit dicey, especially late at night. You should keep your wits around you and keep to busy, well-lit areas. And don't forget to check out Azucar Ice Cream Company to try unique ice cream flavors.
Little Havana is a great area to stay if:
You want an exciting and lively neighborhood.
You love Latin American food.
You want Miami's best music scene.
You're street smart in urban neighborhoods.
7. Brickell, the coolest place to stay in Miami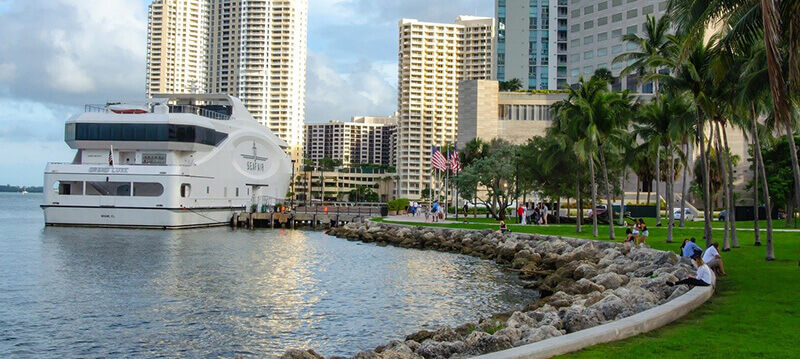 Brickell is an under-the-radar and intriguing place to stay in Miami. This central district is the financial heart of the city and lots of banks, and financial institutions have offices here. While I financial center might not seem at first glance to be the most inviting of holiday destinations, bear with me because there is a lot going for this part of Miami.
Brickell is just south of downtown but still convenient for all the sights, and the beaches of Miami Beach and South Beach aren't far away to the east. So if you want to stay in a central location that's a little bit more relaxed than those places but still within easy reach, then Brickell is a great choice.
If you're traveling with family, then you will be interested to know that Brickell has a large number of apartment and home rentals. So if you want the freedom offered by self-catering, this could be an excellent base for your stay in Miami. This doesn't mean to stay that the area doesn't have some top-class hotels. On the contrary, there are some very good hotels in the mid to upper price range that cater to business travelers in particular.
Also, if you love top-class dining and restaurants run by gourmet chefs, then you'll find plenty of those around Brickell. So if your idea of nightlife is more to do with a great meal and a classy bar, then with the wild parties you'll find elsewhere in Miami, Brickell is an excellent place to stay.
Brickell is a great area to stay if:
You want great restaurants.
You want to stay central but a bit low-key.
You want great apartment rentals.
Best Places to Stay in Brickell
8. Coconut Grove, one of the best safest neighborhoods in Miami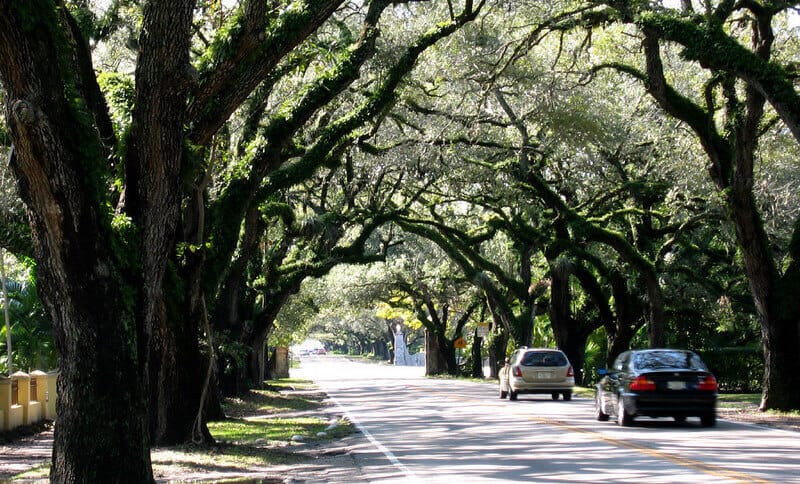 Coconut Grove is a district of Miami that lies to the southwest of downtown. It's a peaceful and laid-back waterfront location that borders the sparkling waters of Biscayne Bay.
Coconut grove is a low-rise, suburban neighborhood that is full of parks and green spaces. Among the largest of these parks is The Kampong, a vast tropical garden, and the Barnacle Historic State Park, containing the Ralph Middleton Monroe home. This historic building is the oldest house in the Miami area.
Coconut Grove is an excellent suburb to explore on foot. In particular, the waterfront and the large open-air shopping malls, filled with exciting shops, restaurants and bars, are great places to spend time.
The relaxed and pedestrian-friendly nature of Coconut Grove makes it a very inviting place to stay with family. There's lots of mid-range accommodation here too.
Coconut grove is a good out of town location that still enjoys a convenient link to the city center via the Metrorail network.
Coconut Grove is a great area to stay if:
You want a leafy waterfront suburb that's full of parks.
You want great shops and restaurants in an attractive open-air setting.
You're traveling with family.
You want an out-of-town feel with useful links to the city center.
Best Places to Stay in Coconut Grove
9. Coral Gables, best place to stay in Miami for romantic vacations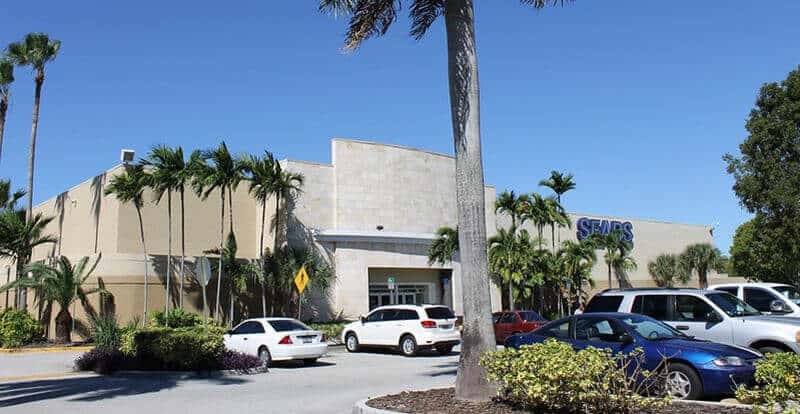 Coral gables is a pretty District of Miami located to the southwest of the city center, not far from coconut grove. It's a great place to stay if you don't fancy the hectic central beaches or city center of Miami but want to stay in a place where there's a great deal to see and do on your doorstep.
Highlights of the area include the Coral Gables Museum and the Fairchild Tropical Botanic Garden, an expansive Park filled with an enormous variety of tropical plants from all over the world.
The Venetian Pool is another highlight of Coral Gables. This is a huge open-air public swimming pool that dates back to 1924. It's a pretty place and well worth a visit, and of course a dip.
Coral Gables owes its attractive appearance to the fact that it was initially designed and developed as a Mediterranean-themed community back in the early 20th century.
The central part of coral gables is known as the miracle mile. It's only half a mile long but, whatever. This mini downtown area is where you'll find the best local restaurants, bars and nightlife. Plenty is going on here, not least because Coral Gable is home to the University of Miami, and the large student population adds to the vibrancy of the nightlife here.
Coral Gables is on the western side of Miami and is located close to Miami International Airport. It's an excellent place to book a room if you want to stay close to the airport for the convenience of onward travel.
Most of the things to see and do in Coral Gables are located within a reasonably compact area, at least by American standards, so it's quite a pedestrian-friendly part of town. Therefore Coral Gables is an excellent place to stay if you don't have a rental car.
Coral Gables is a great area to stay if:
You want an out of town setting, with lots to do.
You want apartment rentals or good mid-range hotels.
He wants a peaceful neighborhood with a low-key but lively night scene.
You are traveling with family.
You want to stay close to Miami International Airport.
Best Places to Stay in Coral Gables
Where to stay in Miami on the Beach?
Miami is the city with the most tropical climate in the mainland USA. It enjoys a superb seaside location towards the southeastern tip of Florida. Miami's beautiful beaches and year-round warm temperatures are one of its greatest appeals to visitors. So even though there are so many other things to see and do in the city, you really should visit at least one beach while you are here.
Miami is a city that has so many beaches that you're almost spoiled for choice. If you want an excellent all-around central beach, then you can't do better than Miami beach.
If you want a fun-filled party-oriented beach resort, then head south to South Beach, on the same barrier island. This is the center of Miami's nightlife scene and home to some fabulous art deco architecture.

And if you prefer a more peaceful beach holiday, then head south to pretty Key Biscayne island, an oasis of calm away from the rush of the city.
Where to stay in Miami South Beach?
Miami's South Beach occupies the southern end of the barrier island that runs alongside the central part of Miami city. This thriving, party-friendly destination has plenty of good accommodation for all budgets. There are many hotels here, and also a large number of good apartment rentals that can be of great value, especially if you're traveling with a group. Whatever your budget you'll find somewhere here to suit.
One tip is that if you are a lover of great architecture, then you should aim to book a room in the fabulous Art Deco district.
Where to stay in Miami on a Budget?
The best part of Miami for budget travelers and backpackers is Miami Beach. This central beach resort is extremely convenient for exploring other parts of the city, and it is very well provided for with budget hostels and economical apartment rentals.
There are several shopping malls in Miami Beach and many places serving economic street food, so it's full of good places to eat well on a budget. Miami Beach also has a long beautiful stretch of sand, and, best of all, the beach is free!
Little Havana is a budget-friendly Miami suburb that's away from the beach. This exciting urban neighborhood has lots of well-priced hostels and hotels and some cheap budget rentals. You should be aware that it's a downtown urban neighborhood, and you need to be street smart, especially at night. But it's a fun place to stay, and as long as you know what you're doing, you can have an exciting and safe stay here enjoying superb ethnic street food and low-cost accommodation.
Where to stay in Miami for nightlife?
Miami's South Beach is the heart of Miami's nightlife scene. No matter what kind of nightlife you're looking for, you'll find it here. Whether it's partying with college spring breakers or sipping sophisticated cocktails and being seen with Miami's high society, there's a place for you on South beach. There are excellent upscale restaurants here, featuring gourmet cuisine from all over the world.
If you're looking for great live music, then the Little Havana district to the south of Miami's downtown has some super places specializing in Latin American music. If you visit little Havana on the last Friday of every month, you can enjoy the Viernes Culturales street festival, one of Miami's nightlife highlights.
Where to stay in Miami with family?
Despite being a large urban center, Miami has some excellent family-friendly suburbs and neighborhoods. If the main focus of your trip is the beach, then you and your family should head out to beautiful Key Biscayne island, a relaxed and beautiful beach destination connected to the city by a stunning 10 km bridge.
But if you and your family are more interested in exploring the city than the sand, then two lovely suburbs off to the south and west of Miami that are very family-friendly are Coral Gables and Coconut Grove. These districts are mainly low rise, pedestrian-friendly places with lots of parks and plenty for kids to see and do.
Where to stay in Miami before cruise?
If you're lucky enough to be taking a cruise from Miami, then your ship will depart the city from Port Miami, which has several different cruise terminals. The Port Miami Miami development occupies a large area of Biscayne Bay, which is the body of water lying between Miami's mainland and the barrier island to the east.
If you're looking to stay somewhere convenient to Port Miami, then the closest option is downtown Miami. This urban center of the city is a fabulous place to stay, with all kinds of things to see and do, and many accommodation options for all budgets. Alternatively, if you want to begin the holiday with a visit to the beach, then Miami Beach and party central South Beach are also very close to Port Miami.
Where to stay in Miami romantic?
If you are visiting Miami with your significant other and you're looking for a classy and sophisticated place for a romantic getaway, then you should stay in Bal Harbor.
This super-exclusive district is a swanky beach resort located just to the northeast of the city center on the barrier Island beside Miami. You will have no trouble finding a great upscale hotel, and there are lovely beachfront bars and restaurants where you can whisper sweet nothings to each other.
Where to stay in Miami for a bachelorette party?
If you're visiting Miami for a bachelorette party, then you should definitely stay in the South Beach area of the city. This part of Miami is party central, and you will have no trouble seeing out the last single days of the bride-to-be.
South Beach caters for many such events, and there are loads of nightclubs, karaoke joints, pool parties, and you can even head out on a private boat trip.
South Beach also has a fabulous beach, so it's a great place to catch some rays and get a tan while you're preparing for the next big night out.
Where to stay in Miami for a bachelor party?
Bachelor party groups should head straight for South Miami. After all, it's where all the bachelorette parties are. This nightlife center of the city is a beach resort on the barrier island to the southeast of downtown Miami.
Here, you'll find beach parties, bars and nightclubs aplenty. You'll run out of energy before you run out of places to party. South Beach is full of hotels at all price ranges, or your group could hire a private apartment, a cheap and convenient option. You may be hungover but you'll never be bored!
Where to stay in Miami for one night?
If you're just staying in Miami for one night, and you want to see as many of the sights as possible, then you should stay in downtown Miami. Miami city center has an enormous number of things to see and do like the Miami Art Museum, Science Museum, and art galleries aplenty. There are great restaurants and excellent hotels.
Downtown Miami is also the center of the city's public transport network, so if you can squeeze in the time to head, you can head east and have a quick dip in the waters at Miami Beach.
Where To Stay In Miami First Time?
If you've never been to Miami before, then you should probably stay in the Downtown Miami area. This is the part of the city that has the most to see and do on your doorstep. It's packed full of art galleries and museums and Bayfront Park is a large public park that houses regular public shows and performances.
A great feature of downtown is the Metro Mover rail system which is a free public transport service that has three lines running all over the center of town. It's a fun, economical way to get around.
Where to stay in Miami for young adults?
Miami's most appealing area for young adults is Downtown Miami. This central part of the city has something to appeal to teenagers of all interests, with its profusion of artistic and entertainment venues.
Downtown Miami is also an excellent springboard to get out and explore all of the other city districts, and Miami Beach, in particular, isn't far away to the east.
Where To Stay In Miami With A Car?
Like most American cities, Miami is straightforward to explore by car. Everywhere seems to have car parks, since the residents travel almost exclusively by car.

It's quite easy to orient yourself in Miami since most of the streets are laid out in grid formation. The metropolis is relatively narrow and very long from north to south, following the line of the coast, making it easier to find your way around.
If you have your own car, this gives you the option to stay in and out of town area, where accommodation may be cheaper, and the surroundings will be prettier and less built up. You could even stay somewhere like Biscayne Bay, a lovely beach resort connected to the central city by a road bridge.
Where To Stay In Miami Without A Car
Miami has a pretty good public transport system, but nevertheless if you are staying in the city without your own transport it makes sense to stay in a central location. The best option here is downtown Miami if you're more interested in exploring the cultural highlights of the city.
Alternatively, if the main priority of your trip is the beach, then if you stay at Miami Beach. This is the most Central of the beach locations and it's very easy to get into Downtown Miami or visit the hedonistic delights of nearby South Beach.
Where To Stay In Miami For Shopping?
Shopping is everywhere in Miami. The city is packed full of malls, and it's kind of hard to find a part of town that doesn't have good shopping. Having said that, the areas of the city that cater best for the shopping needs of visitors are the ones that are most popular with tourists. So you will find the best shopping for visitors is in the districts of Downtown Miami, Miami Beach, and South Miami.
When is the Best Time to Visit Miami?
Since Miami enjoys a tropical climate, you can visit at any time of the year and enjoy warm weather. Peak temperatures occur during the summer months of July and August, but the lowest temperatures in the northern winter rarely drop below the mid-20s centigrade.
Springtime has the best combination of warm weather and low rainfall, so the months of March and April are probably the best times to visit Miami.
How to Get Around Miami?
Miami has an excellent public transport network. If you stay in Miami's Downtown district, then you can take advantage of the free Metro Mover service which is a light rail network that connects with all of the central highlights of the city.
If you want to venture further afield, then a great option is the Metro Rail, a full-size train network that connects with many of the most interesting out of town destinations.
Miami also has a comprehensive bus network and a good but quite expensive taxi service. Both of these forms of transport, however, are susceptible to the gridlock of rush hour. And if you're traveling by road in Miami, you should choose your times wisely.
Miami is also a relatively easy city to find your way around so hiring a car gives you the freedom to explore the city at your leisure.
How Many Days in Miami?
If it's at all possible, you should plan to spend at least three days in Miami. There's so much to see and do here; it's almost two destinations in one. You should spend some time exploring the museums, galleries and cultural highlights of the center of the city.
But you also need to remember that Miami is a beautiful tropical beach destination too. No trip to Miami is complete without visiting one of the city's superb beaches, whether it's the exclusive retreat of Bal Harbor, the budget-friendly center of Miami Beach, or the raging party HQ that is South Beach.
See More
Conclusion
So there's my detailed guide to the best areas in Miami. It sounds like a pretty exciting place doesn't it? Now's your time to find out. Just pick the part of the city that suits you best, book a room, and off you go. Enjoy your trip!