Where to Stay in Boston: 10 Best Areas
With so much on offer, it can make deciding where to stay in Boston quite challenging, especially for those visiting Boston for the first time. That's why, in today's article, I will be looking at some of the best areas to stay in Boston.
Boston is the capital and most populous city in the state of Massachusetts, as well as the New England region of America. With a rich history, countless tourist attractions and a number of successful sports teams, Boston is an incredibly popular destination for tourists.
Before we begin, I want to give you some tips and info. These will be things you should consider if you want to make sure you select the perfect place to stay in Boston.
For example, if you want the best combination of attractions, amenities and historic locations, Downtown Boston is your best bet. However, while Downtown is definitely great for history, it may be slightly outdone by North End.
With a number of historic buildings, districts and a portion of the Freedom Trail, North End Is an ideal place to consider for anyone prioritising history on their trip.
South End is a great place to stay for those interested in Latin culture or travelling on a budget, while South Boston is the best choice for those interested in Irish culture or wanting to stay near the airport.
Speaking of different cultures, Chinatown and the Theater District are a great option if your preference is for east Asian culture, or even if you are just a fan of the performing arts.
If you like sports, Back Bay is a great choice for visitors coming to see the Boston Marathon, while Fenway Park and a huge selection of sports bars are found in Fenway-Kenmore.
There are even districts worth considering that aren't the most obvious for tourists. The Financial District is ideal for business travellers, Beacon Hill is perfect for people looking for high-end accommodation, while Charlestown offers something a little quieter and more residential.
If you keep things like these, as well as other similarly important issues, in mind while reading, it will make choosing where to stay in Boston as quick and easy as possible.
>> 🔍FIND BEST HOTELS IN BOSTON <<
📌10 Best Areas to Stay in Boston, Massachusetts
So, now you know what you're looking for while reading, I'm going to show you what I believe are the 10 best areas to stay in Boston. This should hopefully give you everything you need, to ensure your trip is one you remember forever.
Best areas to stay in Boston map
1. 💖 Downtown, where to stay in Boston for first time visitors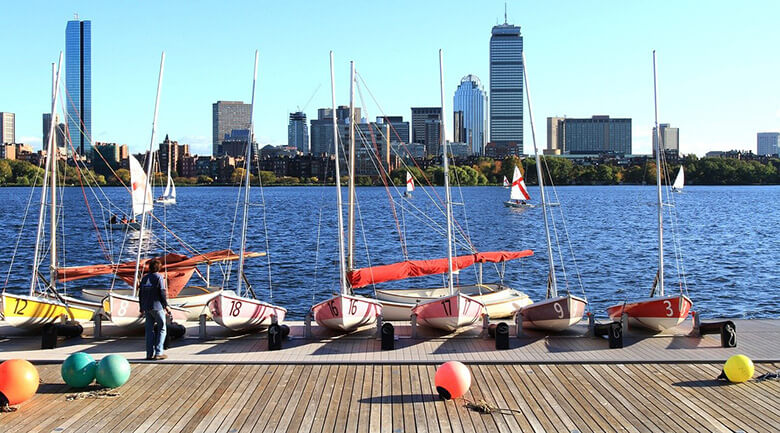 We begin our search for the perfect place to stay in Boston by looking at its most popular area, Downtown Boston. Like many city centres, Downtown Boston features an incredible range of amenities to keep you comfortable and entertained throughout your trip.
Some of the best hotels, bars, restaurants and shops are conveniently located within walking distance of one another. This is perfect for anyone seeking a relaxing stay in Boston, enjoying the luxuries the city has to offer.
However, while you can find those sorts of things in any major city, there are plenty of things that are unique to this city located in Downtown Boston. For starters, it is the location of the Waterfront neighborhood, home to one of the city's most historic sites.
Boston has a long history, dating back to the founding of the U.S, and was one of the most important locations in the war for independence. The Boston Tea Party was a political protest that took place in the Boston Harbor and was responsible for considerable growth within the American revolution.
Visitors to the Waterfront neighborhood will not only get a sense of everything that happened to shape the country but can also visit the Boston Tea Party Ships & Museum. Here you'll see artifacts from the event itself and learn everything there is to know about the most infamous event in Boston's history.
You'll also find the Rose Fitzgerald Kennedy Greenway within the Waterfront neighborhood. A 1.5-mile string of parks, it contains green spaces, a carousel and an ever-changing collection of fine arts, making it an ideal place to stay in Boston for art lovers and outdoor enthusiasts alike.
The Waterfront neighborhood isn't the only part of Downtown Boston that has attractions on offer though. There is the iconic Boston Center Plaza and Boston City Hall, where the city's governors have worked since 1968. You can also check in Boston Public Garden, Boston Common, and Downtown Crossing.
Then you have Faneuil Hall Marketplace, a legendary marketplace and meeting hall that was opened by Samuel Adams in 1743. It is one of the most iconic buildings in not just Boston but the country as a whole, now being listed as a National Historical Park and featuring the popular Quincy Market.
Other things to do in Downtown is visiting New England Holocaust Memorial, the Rose Fitzgerald Kennedy Greenway, Boston largest outdoor market-Haymarket, or just simply enjoy a drink at the Beantown Pub and The Point bar.
With these and countless other attractions and amenities located just a short walk apart, Downtown Boston is perhaps the best location in the city for those who are truly stuck when it comes to deciding where to stay in Boston.
Stay in Downtown if you want to visit Boston Harbor or the iconic Faneuil Hall; you prefer to stay somewhere with a central location; you want a choice of the best hotels and amenities in Boston.
🔍FIND BEST HOTELS IN DOWNTOWN BOSTON
Check out my virtual tour about the best places to stay in Boston in this video or continue reading:
You might want to read:
2. Financial District, the best area to stay in Boston for business travelers
The part of Boston known as The Financial District is actually a section of Downtown Boston. Home to the headquarters of countless major corporations, it is the best neighborhood to stay in Boston for business travelers, as it provides them with the utmost convenience.
Not only does it have numerous bars, hotels and restaurants catering to those staying in the area while working in the city, but it also has attractions for you to enjoy as well. For example, locations like Post Office Square provide beautiful examples of the historic architecture Boston is known for.
On top of that, the rest of the attractions and amenities Downtown Boston is known for are just a short walk away. That makes it ideal for when you have a slightly longer break from work as well.
While accommodation prices in the area are admittedly quite high, its location still makes it the prime choice for anyone whose main purpose for their visit is work.
Stay in Financial District if you are traveling on business; you aren't concerned about price.
🔍FIND BEST HOTELS IN FINANCIAL DISTRICT
3. Chinatown & Theater District, for Asian cuisines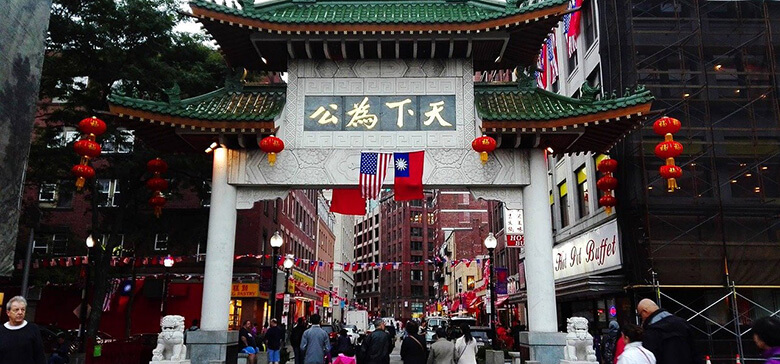 The Theater District and Chinatown are a pair of neighbouring districts sandwiched between Boston Common and Downtown Boston. With their compact, intertwined nature, they are two of the best neighbourhoods in the city for those who prioritise diversity in their attractions.
The Chinatown district is one of the largest Asian areas in America outside of New York City and is the last remaining historic Chinatown in all of New England. Featuring shops, bars, restaurants and various other businesses run by Chinese, as well as Vietnamese, Korean, and Filipino people, it's a great place to enjoy a different type of culture and cuisine. Some of the best restaurants in Chinatown to try are Shabu-Zen, Gourmet Dumpling House, and Winsor Dim Sum Café.
Meanwhile, the Theater District is the heart of the city's theatre scene. The Washington Street Theatre District at the centre of the area contains 7 buildings listed on the National Register Of Historic Places, including the Boston Opera House, Paramount Theatre and Modern Theatre.
With all of these attractions in such a small area, it makes The Theater District and Chinatown a great choice for anyone wanting a vacation filled with culture, live performances and memories that will last a lifetime.
Stay in the Theater district and Chinatown if you are interested in east Asian cuisine and culture; you want to catch a theatre performance.
🔍FIND BEST HOTELS IN CHINATOWN
4. Back Bay, where to stay in Boston for shopping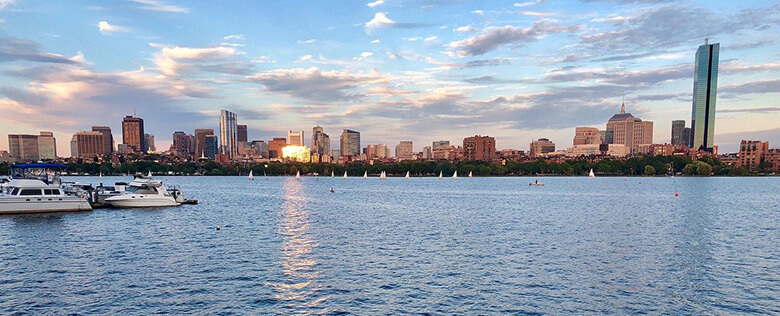 Outside of Downtown Boston, there might not be a neighbourhood in the city that has more to offer a tourist than Back Bay. Bordered to the east by Boston Common and to the north by the Charles River, it is home to some of the most iconic events and locations in all of Boston.
For starters, Back Bay is the location of the finish line for the world-famous Boston Marathon. Despite being called the Boston Marathon, the race actually begins in a separate city altogether, Hopkinton.
The competitors then race the 26 miles between the two, following a route just south of Commonwealth Avenue. This makes Back Bay a perfect place for anyone visiting Boston to take part in the festivities of the event.
While you're waiting, the finish line is set on an intersection containing a number of iconic locations, including Copley Square and the Boston Public Library, so there's plenty to keep you entertained.
One of the most visited parts of Back Bay, Copley Square features sculptures, green spaces and is surrounded by buildings with iconic architecture, making it a great place to relax and take in some history.
One of those buildings is the Boston Public Library. Opened in 1895 and proclaimed a palace for the people, it boasts lavish decorations, an arcaded courtyard and consistently displays a collection of works of art.
Another is the John Hancock Tower, the tallest skyscraper in all of New England. While its famous viewing deck has been closed for some time now, it still gives a stark comparison between the distinctive architectural styles Boston has seen throughout the years.
Just around the corner you also have the Hynes Convention Center. Home to a number of the most popular events and conventions held in the city, it can make Back Bay a great place to stay in Boston if you're here to attend more than one thing.
Beyond events and history, Back Bay is also known as a great neighbourhood for shopping as well.
For starters, you have the Copley Place and Prudential Center shopping malls. Connected by a skybridge and featuring a combined 155 stores, as well as hotels, offices and eateries, they make Back Bay a great place to stay in Boston for the shopaholics out there.
Then there is Newbury Street. Located just a short walk from the two malls and featuring yet more stores and restaurants, it creates a level of choice beyond most people's wildest dreams.
Other things to do in Back Bay including visiting The Mapparium, Skywalk Observatory, and browse shops at Boylston Street.
So, whether you're visiting Boston for shopping, architecture or events, you should definitely consider staying in Back Bay.
Stay in Back Bay if you plan to go shopping; you are attending the closing ceremony of the Boston Marathon or one of the events held at the Hynes Convention Center.
🔍FIND BEST HOTELS IN BACK BAY
5. Fenway-Kenmore, best areas to stay in Boston for nightlife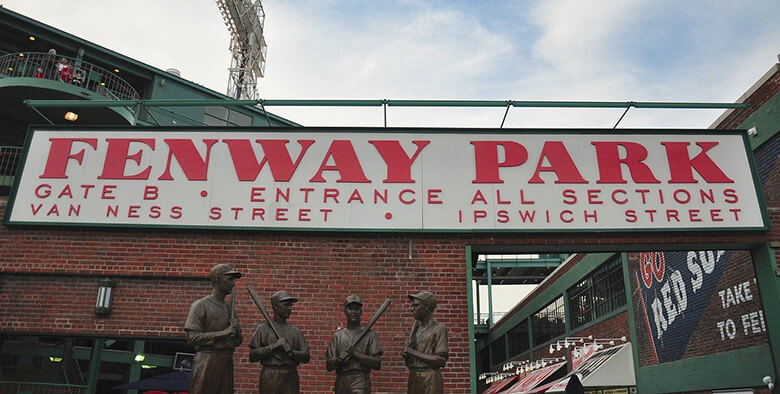 Fenway-Kenmore is considered a Boston neighbourhood, despite actually being made up of a number of smaller areas. It is located on the west side of Boston, immediately west of Back Bay, on the southern bank of the Charles River.
The most popular attraction in the area, and what most people associate Fenway-Kenmore with, is Fenway Park. Fenway Park is an outdoor stadium capable of holding more than 37,000 people and is the home of Major League Baseball's Boston Red Sox.
This makes Fenway-Kenmore the best place to stay in Boston for anyone visiting to attend a game. Baseball isn't the only thing the stadium is used for though. Over the years, soccer, American football and boxing matches have all been held here, along with events like concerts and extreme sports competitions.
Located just a short walk from the stadium, you will also find the iconic Kenmore Square. Featuring a number of sports bars, buzzy restaurants, and even the iconic Citgo sign, it is just as suitable for your average tourist as it is for the countless sports fans who come here throughout the year.
There's even Symphony Hall in the southeast section of the district. Home to the Boston Symphony Orchestra, the second oldest of America's "Big Five", it makes a great stop for anyone seeking a slightly more refined style of entertainment.
It isn't all sports and tourism that make Fenway-Kenmore popular though, as the neighbourhood is also the location of Boston University. With nearly 34,000 students studying a range of subjects, it is also one of the best places to stay in Boston for anyone who is, or is visiting, a student there.
Just across the river you have Harvard Square, home to the world-famous Harvard University. Surrounded by stores and restaurants, it makes this easily one of the best Boston Neighbourhoods to stay in for those focused on higher education.
Stay in Kenway-Kenmore if you are attending an event at Fenway Park or are a fan of the Boston Red Sox; you want to spend an evening at Kenmore Square and see the iconic Citgo sign; you want to attend a performance by the Boston Symphony Orchestra; you are, or are visiting, a student at Boston University; you want to visit Harvard Square or Harvard University.
🔍FIND BEST HOTELS IN FENWAY
6. South End, the best area to stay in Boston for dining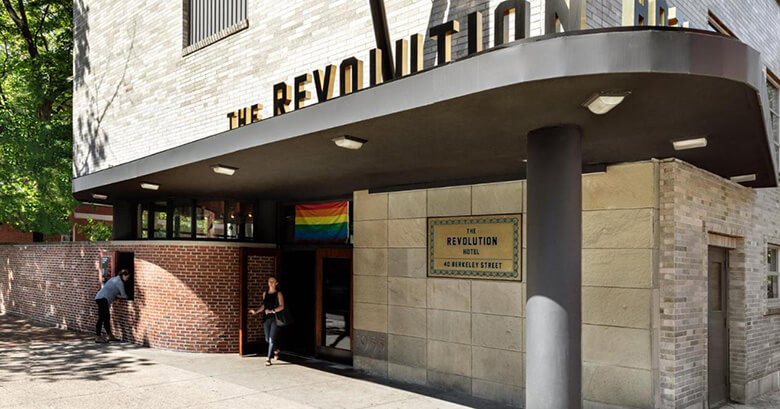 Despite its name, the South End of Boston is not actually in the south of the city as a whole. Rather, it is the South End of the city center.
Another of the city's historic neighbourhoods, South End features the largest intact Victorian house row district in the country. This makes South End one of the best neighbourhoods to visit for fans of historic architecture.
South End is largely popular for another reason though, as it offers more affordable accommodation than many other parts of the city. Connected to Downtown Boston by Washington Street, it's quick and easy to get between the two, making South End a great choice for those on a budget.
Its location also makes South End ideal for visiting other parts of the city located further out of the center, such as Jamaica Plain.
Jamaica Plain is known as the "Latin Quarter" of Boston, featuring a high Latin population, as well as numerous businesses, festivals and churches. It even contains the oldest community theatre in America, the Footlight Club. This all makes Jamaica Plain a must visit area for anyone wanting a diverse and slightly different trip to the city.
Other things to do in South End including visiting SoWa Art + Design District, Harriet Tubman House, the International Poster Gallery, SoWa Open Market, and the Boston Center for the Arts.
Stay in South End if you are travelling on a budget; you want to visit Jamaica Plain; you want easy access to the city center.
🔍FIND BEST HOTELS IN SOUTH END
7. South Boston, where to stay in Boston near airport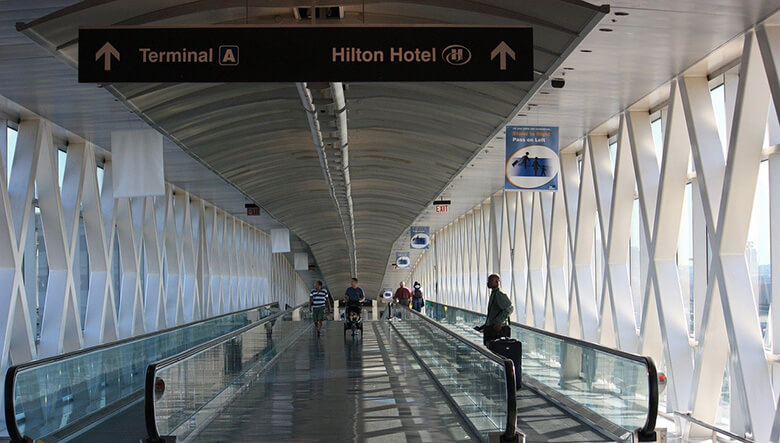 South Boston is located immediately to the east of South End. Located just 3 miles from Boston Logan International Airport, it is the best neighbourhood in the city for those who prioritise staying near the airport during their visit.
While Boston as a whole is known for its Irish American community, perhaps nowhere in the city is quite as abundant with the culture as South Boston. In addition to the various bars, restaurants and businesses, it is also the location of Boston's legendary St. Patrick's Day Parade.
This makes South Boston the perfect choice for anyone who prioritises experiencing the unique culture of the city during their stay.
Beyond the culture, there are plenty of other attractions in the area too. The Boston Children's Museum, a collection of parks and churches, and a vibrant array of events make this a fabulous location for a whole range of interests.
Stay in South Boston if you want to visit the Boston Children's Museum; you are interested in the city's Irish culture; you want to stay near to the airport.
🔍FIND BEST HOTELS IN SOUTH BOSTON
8. North End, the best areas to stay in Boston for Italian cuisines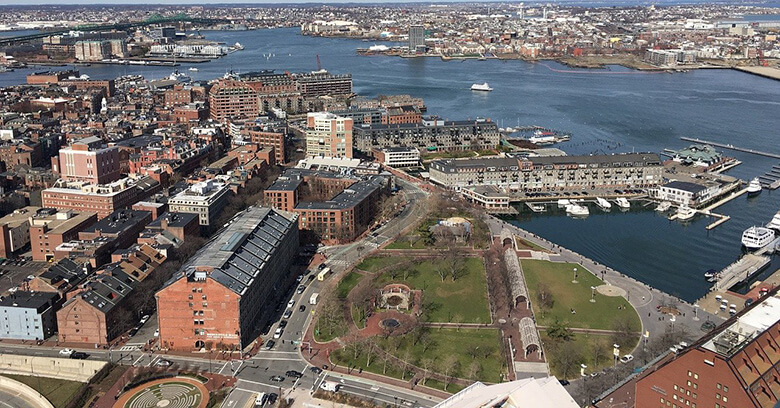 Boston North End is located immediately north of Downtown. It's an area known for its collection of historic buildings and attractions, with the Blackstone Block Historic District located at its core.
The Freedom Trail winds through the North End, on its way from Boston Common to Charlestown. Dotted along it are some of the most historic buildings in the city, most of which are walking distance apart, making it a great place for a stroll for history buffs.
For starters, North End is the location of the Old North Church. The North Church was built in 1723 and is the oldest church in Boston. It features a bust of George Washington considered the most accurate likeness in existence.
North End is also the location of the Paul Revere House, the former home of the American revolutionary. It has been converted into a museum, allowing visitors to learn about people and events that would have stood and occurred in the very spot they currently occupy.
As you may be unsurprised to learn, this also makes North End a great place for anyone hoping to stay in one of the oldest hotels in Boston. Considering the history of the city, who wouldn't want their accommodation to be of a similar calibre?
The North End neighbourhood isn't all history though, as it's unofficially known as Little Italy too. Home to the largest Italian American population in the city, it boasts numerous Italian restaurants and shops, making it an ideal location to sample another distinctive culture during your stay.
Stay in North End if You want to dine in some of the fabulous Italian restaurants in Little Italy; You want to stay in some of the oldest hotels in Boston; The main reason for your trip is to experience the history of Boston
🔍FIND BEST HOTELS IN NORTH END
9. Charlestown, a residential location in Boston
Located immediately across the Charles River from North End, our penultimate destination of Charlestown is another historic location, as well as the end of the Freedom Trail. Originally settled in 1629 as a separate town, it was the original capital of the Massachusetts Bay Colony.
While its history means it is filled with sites of historical significance, in modern-day Charlestown is a largely residential area. This makes it a great place for visitors to come and explore some of the area's background, without being surrounded by mobs of tourists the whole time.
Sites like the Bunker Hill Monument, USS Constitution Monument and Boston National Historic Park are all fabulous places that often get missed by those who don't venture outside of the city centre.
In addition to its history, Charlestown also offers stunning views of the Charles River. Combined with its smaller population, it makes the area one of the most relaxing neighbourhoods in the city.
Stay in Charlestown if you want to see the end of the Freedom Trail; you prefer a quieter, more residential location where you won't be surrounded by mobs of tourists all the time.
🔍FIND BEST HOTELS IN CHARLESTOWN
10. Beacon Hill, the best neighborhood to stay in Boston for romantic feels
Our final destination of Beacon Hill is located immediately west of Downtown Boston and north of Boston Common. Another of the many historic districts in the city, Beacon Hill is considered to be one of the most expensive areas to live or stay in Boston.
The name derives from the fact it is the location of the Massachusetts State House. Traditional federal buildings surround it, with gas lamps and brick sidewalks completing the distinctly historic feel of the neighbourhood.
Perhaps nothing symbolises what Beacon Hill is all about better than the old Charles Street Jail. Located on Charles Street, it was built in 1851 and housed a number of infamous prisoners. It operated until 1990, before being closed due to being considered unconstitutional.
In 2007, it was renovated and reopened as the luxury Liberty Hotel. One of the best hotels in the area, it perfectly combines the style and history Beacon Hill is renowned for.
Not only that, but Charles Street also runs straight through Boston Common, making Beacon Hill convenient for the days you want to relax outdoors as well.
Stay in Beacon Hill if you want to stay in one of the wealthiest parts of Boston; you want to see the Massachusetts State House or the old Charles Street Jail.
🔍FIND BEST HOTELS IN BEACON HILL
So, there you have it, the 10 best areas to stay in Boston. Now, while the majority of you will know where to stay in Boston to get maximum value by now, there will still be others who are undecided.
With that in mind, I'll now answer some of the most frequently asked questions people have about Boston, to try and help you decide as well.
Where Is The Best Location To Stay In Boston?
The best location for most to stay in Boston will be between Downtown Boston and Back Bay. Downtown Boston is better for history, amenities and convenience, so is the most popular choice. However, Back Bay is better for events and shopping and is only just behind it.
Where Should You Not Stay In Boston?
Most visitors will want to avoid the neighbourhoods of Dorchester, Mattapan and Roxbury. All located in the southeast section of Boston, they are largely rundown and have the highest crime rates in the city. Not the sort of place for tourists looking to have a safe, fun trip.
What Are The Good Parts Of Boston?
The "good" parts of Boston will depend on what you mean. Some of the quieter neighbourhoods on the outskirts of the city are the safest, while Downtown Boston has the most attractions and best location. However, the neighbourhood that best combines the two is probably Back Bay.
Where Can I Stay In Boston For Cheap?
If you are travelling on a budget when visiting Boston, then South End is undoubtedly the best neighbourhood to consider. It has affordable hotels and amenities, isn't too far from the centre of the city, and despite being cheap isn't one of the more dangerous neighbourhoods in Boston.
Read More:
No matter where you stay in Boston, it is a city with so much to offer, you are sure to have a good time. However, if you make sure you get your location perfect, it will turn what would have been a good trip into a great one.
Hopefully, this article should have given you everything you need to make an informed decision. All that's left is to go and start getting things booked, so you can experience it all for yourself as soon as possible.