Where to stay in Fort Lauderdale? The best areas to stay in Fort Lauderdale are Las Olas, Fort Lauderdale Beach, Lauderdale By The Sea, Wilton Manors, Imperial Point, Poinsettia Heights, Harbordale, Hollywood Beach. These are popular neighborhoods that provide a wide range of attractions and amenities.
In this post, we're going to take you through where to stay in Fort Lauderdale without a car, for family, couples, nightlife, and on the beach. I'll also give you the list of the best areas to stay in Fort Lauderdale, the best hotels in Fort Lauderdale for all budget travelers.
Fort Lauderdale is a coastal city located in Florida, 48 km north of Miami on the the Atlantic Ocean. Fort Lauderdale is well-known for its beaches, a spring-break hot spot, and Venice-like series of waterways and canals.
Where is the best area to stay in Fort Lauderdale?
Fort Lauderdale Beach is the best area for first-time tourists. It's the city's most popular beach resort, with miles of sand, a huge range of attractions, amenities, hotels.
Fort Lauderdale Beach, Las Olas and Downtown are the best areas to stay in Fort Lauderdale without a car. These areas are walkable and have easy access to public transportation, making them great locations for car-free travelers in the city.
Hollywood Beach is located on the southern outskirts of Fort Lauderdale, so is a great choice for those who want to split their time between both Fort Lauderdale and Miami.
Meanwhile, Harbordale and Port Everglades has a port for cruises, a water taxi for exploring, and is even near Fort Lauderdale-Hollywood International Airport, making it convenient for anyone visiting by plane.
Map of Best neighborhoods to stay in Fort Lauderdale: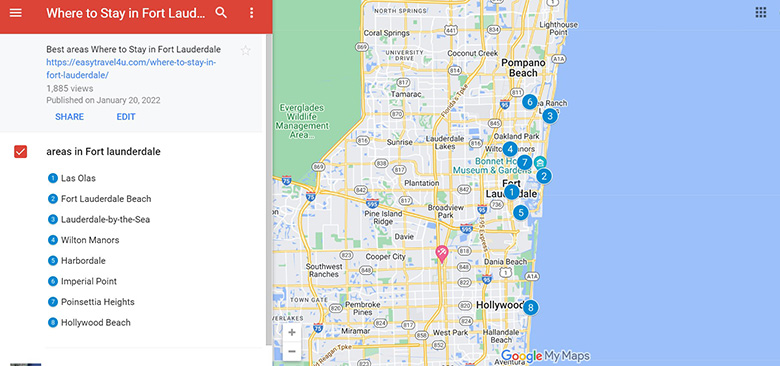 How to get around Fort Lauderdale without a car?
Fort Lauderdale offers several transportation options for getting around the city without a car. Whether you're a resident or a visitor, you can easily navigate Fort Lauderdale using the following methods:
Bicycles:
Fort Lauderdale has bike-friendly streets and a growing network of bike lanes and trails. You can rent a bike from one of the many bike rental companies in the area. Additionally, many hotels offer complimentary bicycles to guests.
Walking:
Fort Lauderdale has several pedestrian-friendly areas, especially in downtown and along the beach. Walking can be a great way to explore the city's neighbourhoods, parks, and attractions.
Public Transportation:
Broward County Transit (BCT) operates public buses throughout Fort Lauderdale and the surrounding areas. You can plan your routes and find schedules on the BCT website or use smartphone apps like Google Maps or Transit to get real-time information on bus routes and arrival times.
Sun Trolley:
The Sun Trolley is a convenient and affordable way to get around Fort Lauderdale, especially in the downtown area, the beach, and Las Olas Boulevard. They have various routes and schedules that can help you explore different parts of the city.
Water Taxis:
Fort Lauderdale has an extensive network of waterways, and you can use water taxis to travel between various waterfront destinations. Water taxis offer a unique perspective of the city and are a fun way to get around.
Ridesharing:
Popular ridesharing services like Uber and Lyft operate in Fort Lauderdale, providing on-demand transportation. Simply download the app, request a ride, and wait for your driver to arrive.
Trolley Services:
Some neighbourhoods and districts in Fort Lauderdale have their own trolley services, such as the Las Olas Link, which connects various points of interest along Las Olas Boulevard. These services are often free or have a minimal fare.
Tri-Rail:
If you need to travel to other cities in South Florida, you can use the Tri-Rail commuter train service, which connects Fort Lauderdale to Miami and West Palm Beach.
Brightline:
The Brightline high-speed rail service connects Fort Lauderdale to Miami and West Palm Beach. It's a quick and convenient way to travel between these major South Florida cities.
Scooters:
Some areas of Fort Lauderdale may have scooter-sharing services that allow you to rent electric scooters for short trips. Check with local providers for availability.
Before relying on any of these transportation options, it's a good idea to check schedules, routes, and availability, as they may change over time. Planning your transportation in advance can help you make the most of your time in Fort Lauderdale without the need for a car.
8 Best areas to stay in Fort Lauderdale are:
1. Fort Lauderdale Beach
Fort Lauderdale Beach is Fort Lauderdale's Central Beach that features an incredible 7-mile-long beach of beautiful golden sand. With Fort Lauderdale Beach having such an incredible expanse of beach, there are parts guaranteed to please everyone.
There are sections of Fort Lauderdale Beach ideal for families, with calm, shallow waters for them to play in (but avoid college spring break season). There are sections of Fort Lauderdale Beach with water sports, ideal for the thrill-seekers. There are even sections of Fort Lauderdale beach perfect for those simply hoping to top up their tan.
At the rear of Fort Lauderdale Beach, a fabulous promenade is filled with shops, bars, restaurants, and hotels. This makes Fort Lauderdale Beach perfect even for the time you don't spend at the beach, as you can spend a day shopping or a night dining or sleep in style.
Staying in Fort Lauderdale Beach also gives you easy access to Central Beach. Central Beach is the more built-up area to the rear of Fort Lauderdale Beach. Nightclubs, tiki bars, stylish hotels, cafes, and restaurants are in abundance in Central Beach.
As a result, it has become incredibly popular with both tourists and students on spring break. Central Beach also has a number of prominent attractions too. For example, The International Swimming Hall Of Fame & Museum features artwork and exhibits to the history and development of swimming.
Then you also have the Bonnet House Museum & Gardens. A 1920's plantation house, it features beautiful gardens and stylishly decorated buildings, where guided tours will teach you all about the history of Florida.
Fort Lauderdale Beach is one of the best bases without a car because staying near the beach allows you to enjoy the beautiful coastline and access many attractions on foot.
You combine these attractions and amenities with the beach itself and it's no wonder Fort Lauderdale Beach is the most popular beach resort in the city.
Stay In Fort Lauderdale Beach If this is your first visit; you travel without a car; you want nightlife and shopping; You want to make the most of the great range of hotels in Central Beach.
Best places to stay in Fort Lauderdale beach:
luxury ($$$): The Ritz-Carlton, Fort Lauderdale This 5-star beachfront hotel provides an on-site spa, an infinity pool, private cabanas, as well as a private car parking. Close to upscale shopping at The Galleria, Broward Center for the Performing Arts.
mid-range ($$$): Pelican Grand Beach Resort, a Noble House Resort This 4-star hotel has an oceanfront pool, private beach, lazy river tubing ride, a spa, on-site fitness center, and and on-site car parking.
budget ($$$): Deco Boutique Hotel This 3-star hotel has thirty-six guest rooms divided into two buildings, each building has a pool right at the front, with lounge chairs, umbrellas, as well pool and beach towels supply.
>> 🔍MORE HOTEL DEALS IN FORT LAUDERDALE BEACH <<
2. Las Olas – Downtown
Las Olas along with Downtown, and Fort Lauderdale beach is one of the best areas in Fort Lauderdale if you travel without a car because it is well-connected by public transportation.
Known as the downtown entertainment district, Las Olas area is centered around Las Olas Boulevard, which runs from Las Olas Beach on the coast to The Wharf Fort Lauderdale, an outdoor plaza filled with food vendors, bars, music, and a vibrant atmosphere.
Las Olas Boulevard is filled with all the amenities you would expect to find in downtown Fort Lauderdale. Bars, outdoor restaurants, nightclubs, high-end shops, boutiques, and some of the best hotels in Fort Lauderdale are walking distance apart and cater to your every need, both night and day.
Some of the most iconic buildings on Las Olas Boulevard include the Elbo Room bar and Riverside Hotel. These historic establishments are a throwback to old Florida, allowing you to soak up the history of Fort Lauderdale while you enjoy a drink or a night in comfortable accommodation.
Beyond being centrally located and full of amenities, Las Olas also has a number of popular attractions as well. For example, the NSU Art Museum Fort Lauderdale, the Broward Center for the Performing Arts, Historic Stranahan House Museum, NSU Art Museum Fort Lauderdale, and the Museum of Science and Discovery are some of the highlights in this area.
With its Modernist architecture and a collection of more than 6,000 pieces, including works by legendary artists such as Pablo Picasso, it is a must-see location for any fans of art visiting Fort Lauderdale.
It is considered to hold the largest collection of northern European CoBrA Avant-Garde works anywhere in North America. Due to its location in South Florida, there is also a prominent Cuban and Caribbean culture displayed in its exhibits.
New River also runs through Downtown Fort Lauderdale. A man-made waterway that connects to the Intercoastal waterway, it runs parallel with Las Olas Boulevard for most of the road's duration.
Surrounded by high-end accommodation, exhibiting a traditional Floridian style, it is a great way to explore the area by boat, without any of the worries involved with traveling on the open sea.
Downtown Fort Lauderdale isn't all about dining in fine restaurants and relaxing in the best hotels in Fort Lauderdale though. That's because Downtown Fort Lauderdale also includes the Financial District, home to the largest concentration of major corporations in the city
This makes Downtown Fort Lauderdale the best neighborhood for anyone traveling to the city on business. Companies are surrounded by shops, bars, restaurants, hotels, and other forms of accommodation, ensuring those here to work find it as easy to do so as possible.
Stay In Las Olas If you travel without a car; you want access to a great range of bars, restaurants, hotels, shops, and other amenities; you want to stay in one of the best hotels in Fort Lauderdale; you are traveling on business.
Best places to stay in Las Olas:
luxury ($$$): Hyatt Centric Las Olas Fort Lauderdale This 4-star hotel has a restaurant, outdoor swimming pool, a fitness center, a bar in Fort Lauderdale, a 24-hour front desk, a shared lounge, a buffet breakfast, free WiFi, and a paid private car parking. You will be easily accessed to attractions like the Museum of Art Fort Lauderdale, Las Olas Boulevard, and Broward Center for the Performing Arts.
mid-range ($$$): Riverside Hotel This hotel offers on-site restaurants, the Wild Sea Oyster Bar and Grille and The Boathouse at the Riverside, an outdoor heated pool, and free WiFi. It has guestrooms with coffee facilities, a mini-fridge, an in-room safe and a desk.
budget ($$$): Villa Venezia This 3-star hotel has an outdoor swimming pool, free private parking, a garden, a terrace, a concierge service, and free WiFi. The hotel offers family rooms with air conditioning, a flat-screen TV, a microwave, a coffee machine, a bath, a hairdryer, a wardrobe, and a private bathroom with free toiletries.
>> 🔍MORE HOTEL DEALS IN LAS OLAS <<
See more about Floria:
3. Lauderdale By the Sea
The family-friendly area of Lauderdale By The Sea is situated in the far north of Fort Lauderdale, where the city borders that of Pompano Beach. Lauderdale By The Sea is a small quaint beach town covering roughly six blocks that is located entirely on a long, narrow barrier island.
Lauderdale By The Sea is best known for its fishing and marine life. Anglin's Fishing Pier is found in the east and named after the town's first mayor. This is the perfect spot for any anglers who are in town looking to add their own name to the record books.
Another of its most popular attractions is the SS Copenhagen. A 19th-century British steamship that wrecked on a coral reef just offshore in 1900, it is now recognized as a Florida Underwater Archaeological Preserve and is listed on the National Register Of Historic Places.
This has led to Lauderdale By The Sea becoming immensely popular among scuba divers, a pastime that the town has embraced and now promotes extensively. This is one of the reasons why Lauderdale By The Sea has become known as Florida's beach diving capital.
With tourism being the main source of income in Lauderdale By The Sea, numerous renovations have been done in the past decade. New plazas have been installed, filled with restaurants, shops, benches, bike racks, sculptures, and a variety of street art.
The renovations haven't completely swept away the characteristics of the town's more traditional side though. Many of the older buildings contain local businesses and options for accommodation. This is perfect for those who like traditional architecture or are seeking cheap hotels.
With a relaxed atmosphere unlike what you will find in the city center of Fort Lauderdale, Lauderdale By The Sea is much better suited to those seeking where to stay in Fort Lauderdale to avoid the hustle and bustle and enjoy a slightly more serene experience.
Stay In Lauderdale By The Sea If you want to go scuba diving or fishing; you prefer a quieter village atmosphere to the city center; you are looking for a cheap hotel; you are a fan of street art.
Best Places to Stay in Lauderdale by the Sea:
>> 🔍MORE HOTELS IN LAUDERDALE BY THE SEA <<
4. Wilton Manors
Our next destination of Wilton Manors is located just to the south of Lauderdale By The Sea. This is an area that has developed a reputation as one of the primary hubs for Florida's LGBT community.
In fact, it is recorded as having the second-highest percentage of same-sex couples compared to the overall population anywhere in the country.
As a result, it has blossomed into a tourist destination for those in the community, as they feel safer and better catered to here. Never is this truer than in the heart of Wilton Manors, which centers around Wilton Drive.
Here you will find a huge collection of LGBT-owned businesses like restaurants and shops, as well as gay bars and nightclubs. This makes it ideal for those who want to eat, drink, and dance the night away, while surrounded by like-minded people.
There is also a vibrant performing arts and entertainment district in the area, again operated predominantly by those from the LGBT community. This not only draws a large number of LGBT performers in but also crowds wanting to see their unique take on the arts.
Unsurprisingly then, Wilton Manners is where you will find most of the festivities when Fort Lauderdale holds its annual Pride Parade. Each June, people travel from all over to celebrate the growth and ever-increasing acceptance of the LGBT community.
Parades with floats, live performers, food, drink, and music create a jubilant atmosphere. Members of the LGBT community can party and embrace their lifestyle, while others can also enjoy the fun while getting a better understanding of what it is all about.
There are more serious attractions dedicated to the LGBT community in Wilton Manors too though. The World AIDS Museum & Archives and a branch of the Stonewall National Museum & Archives are both located here.
These institutions teach and remind people about darker times for the community. By showing past cases and explaining the history, they hope to educate younger generations, remember the past, and ensure atrocities of years gone by are never repeated.
While Wilton Manors is undoubtedly the best neighborhood for people from the LGBT community to stay in Fort Lauderdale, there are a number of outdoor attractions that may be attractive to others as well.
First off, you have an abundance of parks, such as Hagen Park, Donn Eisele Park, Snook Creek Park, Colohatchee Park, and Mickel Field. With trees, wide-open green spaces, nature boardwalks, lakes, and even baseball and softball leagues, they are a great place to enjoy some time outside.
Then you also have Richardson Historic Park & Nature Preserve and Island City Park Preserve. These preserves protect the habitats of the local wildlife, making them a great visit for any nature lovers hoping to catch a glimpse of an animal or two.
Stay In Wilton Manors If you are a member of the LGBT community or are interested in the community and its history; you are attending the city's Pride Parade; you want a great selection of parks; you are interested in nature and wildlife.
Best places to stay in Wilton Manors:
>> 🔍MORE HOTELS IN WILTON MANORS <<
5. Port Everglades (Harbordale)
Our penultimate destination is a pair of neighborhoods found in the very south of Fort Lauderdale. We'll begin in Port Everglade, Harbordale, and 17th Street Causeway, which is the slightly more inland of the two, and centers primarily around the Broward Convention Centre.
With its stunning glass atrium providing stunning views of the river, as well as statues and fountains, it is a truly stunning place to visit. Home to many of the largest conventions and exhibitions in Fort Lauderdale, it makes Harbordale the ideal place to stay for anyone attending an event at the Broward County Convention Center.
Outside of the convention center, a lake park and marina are also fabulous destinations for anyone who enjoys the water. The latter is particularly useful for anyone who is traveling to Fort Lauderdale by boat or yacht and needs somewhere to store it while they are in town.
It also helps to promote a vibrant fishing community, spearheaded by the 15th-Street Fisheries. Local restaurants, including that of the fishery itself, make the most of this, serving some of the finest, freshest seafood you are likely to find.
Meanwhile, the Port Everglades side of the area is a cruise port that is among the busiest and most important in South Florida. One of the primary economic engines in the state, it is essential in both the import and export of products like gasoline, jet fuel, and alternative types of fuel.
Beyond trade, the port is also a hub for cruise ships, both international and domestic. This makes it an ideal choice for those looking at where to stay in Fort Lauderdale when docking for a night during a cruise, as well as those thinking of taking one during their stay in Fort Lauderdale.
Sticking with the theme of travel, you have more options than just a cruise. You could jump on a water taxi, take a gondola ride and explore the area by sea, without spending a fortune to do so. Then, Hollywood – Fort Lauderdale International Airport is also located on the outskirts of the district.
This makes it the best neighborhood to stay for anyone worried about missing their flight, dragging their baggage all over town, stopping on a layover, or simply wanting to remain near the airport for any other reason.
Stay In Harbordale/Port Everglades If you want to stay near the airport and cruise port; you want to go on a cruise or a water taxi; you are attending an event at the Broward Centre; you are a fan of seafood.
Best places to stay in Harbordale:
>> 🔍MORE HOTEL DEALS NEAR PORT EVERGLADES <<
6. Hollywood Beach
Hollywood Beach isn't actually located within the city limits of Fort Lauderdale. It is instead in the city of Hollywood, which is located within the greater Fort Lauderdale area. Hollywood Beach is best described as Florida's answer to the legendary Venice Beach out in Los Angeles.
Long, wide stretches of soft, white sand, sprawl for what seems like forever. Filled with beach chairs it is the perfect place to relax in the sun, people watching or enjoying the view and sound of the turquoise ocean rolling up the shore.
Conveniently located at its rear, the famous Hollywood Beach Boardwalk contains more than 50 restaurants and 30 shopping destinations, all walking distance apart. This provides a huge range of options to keep you entertained when you fancy a short walk to break up your sunbathing.
This area is doubly desirable for beach lovers, as it links together with a number of surrounding beaches. Hollywood Beach, Keating Beach, Green Street Beach, Playa Preferida, Dania Beach, and even Hollywood Dog Beach complete a continuous stretch of sand that runs for more than 2 miles.
Outside of Hollywood Beach, Dania Beach is the most famous of the group. Significantly quieter than its neighbor, Dania Beach offers serene, scenic views, as well as a fishing pier, where you can relax by the ocean without being bothered by others.
It isn't all quiet in Dania Beach though. That's because you have a huge range of things like a casino, great restaurants, hotels, and shopping outlets, and even attractions like amusement parks and the IGFA Fishing Hall Of Fame And Museum to keep you occupied.
Another popular reason to stay in Hollywood Beach is its location on the Intercoastal Waterway. A stunning inland waterway, its water taxis provide easy access to both Miami and Fort Lauderdale, as well as locations further afield.
What better way to explore the entire region than by traveling up and down beautiful waterways on a water taxi, taking in the stunning views, and relaxing as you go.
Stay In Hollywood Beach If you want to stay in the greater Fort Lauderdale area, as opposed to within the city itself; you want to travel on water taxis; you want a great choice of beaches; you want easy access to Miami as well as Fort Lauderdale; you want place to stay close to beach without a car;
Best places to stay in Hollywood Beach:
>> 🔍MORE HOTELS NEAR HOLLYWOOD BEACH <<
7. Imperial Point
The Imperial Point neighborhood is located in the very north of Fort Lauderdale. A primarily residential neighborhood, it is full of modern, middle-class residences, that are home to a thriving local community.
A great range of shops, bars and restaurants provide a great range of everything you could need to ensure you have a pleasant stay. As a less popular area with tourists, you will also find these establishments considerably quieter than in more common tourist hot spots.
This means Imperial Point can provide a much more peaceful and serene environment. This is furthered by the fact that Imperial Point is considered one of, if not the, safest neighborhood in Fort Lauderdale.
With crime rates lower than the Fort Lauderdale average across the board, it makes Imperial Point a great option for anyone concerned about safety during their stay. As for attractions, the selection on offer within the neighborhood itself is quite limited, as it isn't marketed as a tourist destination.
However, with the beaches and attractions of Lauderdale By The Sea only a matter of minutes away by car, you can still enjoy a stereotypical beach vacation, without having to worry about the crowds or price usually attached to it.
Then, on those days when you don't want to travel anywhere? A range of small, pleasant parks give you places to enjoy the fabulous weather of Fort Lauderdale, while the local establishments provide all the food, drink, and shopping opportunities you desire.
Stay In Imperial Point If you are concerned about safety; you want to stay in a quiet, residential area; you don't need to be by the beach but want one not too far away.
>> 🔍MORE HOTELS DEALS IN FORT LAUDERDALE <<
8. Poinsettia Heights
Poinsettia Heights is an inland neighborhood, located in the northeast section of Fort Lauderdale. Originally known as North Ridge, it was founded to create new housing in the aftermath of World War II.
Surrounded to the north and east by the Middle River, it is a beautiful place to take a stroll and enjoy the area's fabulous weather, without being surrounded by mobs of tourists.
An almost exclusively residential neighborhood, where only townhomes and condos are permitted in certain areas, it is a neighborhood with a strong sense of community. As a result, most of the bars, shops, and restaurants cater primarily to the locals, as opposed to tourists.
This means not only will you be able to experience the more authentic side of Florida, in everything from its culture to its cuisine, you can also save yourself a little money, as you won't have to deal with the tourist inflation of the more popular areas.
It is truly little in the way of attractions in Poinsettia Heights itself, however, it is located less than 10 minutes drive from both the city center and one of its main beaches. This means you can enjoy the value and serenity on offer here, without feeling cut off or like you're missing out.
Additionally, there are very few hotels located in the area, with accommodation largely relying on private rentals and guest houses. Whether you specifically want a hotel or not, it is important to book early in Poinsettia Heights, otherwise, the lack of options may leave you disappointed.
Stay In Poinsettia Heights If you are planning to rent a car; you are flexible when it comes to staying in hotels or guest houses.
>> 🔍MORE HOTELS DEALS IN FORT LAUDERDALE <<
If you want to local feel when staying in Fort Lauderdale, you can consider staying in Victoria Park and Flagler Village, a mile north of downtown. It is a quiet and residential area where you can find many cafes, bars, breweries, and privately-owned condos.
The small beach town of Dania Beach is another convenient location near the Hollywood International Airport. Here you will find some highlights like 3 Sons Brewing, Jaxson's Ice Cream Parlor, and Historic Dockers.
See more about the USA:
Read more:
Fort Lauderdale is easily one of the best cities in south Florida and perhaps even in the entire state. Whether you prioritize a beach, spa, days shopping, great restaurants, and hotels, or simply the best location to relax in the sun, Fort Lauderdale will have an option to keep you happy.
There are many more things to do such as Sawgrass Recreation Park, Flamingo Gardens, Butterfly World, Gulfstream Park, Hugh Taylor Birch State Park, and many more.
Summary – Where to stay in Fort Lauderdale?
In conclusion, Las Olas, Fort Lauderdale Beach, Lauderdale By The Sea, Wilton Manors, Imperial Point, Poinsettia Heights, Harbordale, Hollywood Beach are the best places to stay in Fort Lauderdale. They provide plenty of things to do and see for all visitors.
Overall, Fort Lauderdale Beach and Downtown is the best area to stay in Fort Lauderdale because they both popular central neighborhoods, offering widest range of accommodation options as well as restaurants, bars, and shops.