Where to stay in New Orleans first time? without a car, for one night, nightlife, and family? In this post, I will help you to decide the best areas to stay in New Orleans for first-time visitors (include map and video), the best hotels in New Orleans for all budgets, and safest places.
New Orleans is the largest city in Louisiana, located along the banks of the Mississippi River. It is famous for its cool vibe, legendary Mardi Gras festival, and for being the home of many of the world's most legendary jazz musicians. That's before we even get to things like its stunning Cajun food, unique cemeteries, and history with voodoo.
Where to stay in New Orleans first time?
The best areas to stay in New Orleans for tourists and first-timers are French Quarter, Downtown (Central Business District), Garden District, Uptown, and Faubourg Marigny. These are popular and safe neighborhoods for visitors that offer a variety of attractions and amenities.
The French Quarter is the best place to stay in New Orlean for first-timers due to its proximity to major attractions and high concentration of hotels, bars, restaurants, and shops. Staying here puts you within walking distance to main sights such as Jackson Square and Bourbon Street.
French Quarter, CBD, Garden District, and Faubourg Treme are some of the best areas to stay in New Orlean without a car. They are walkable and well-connected by streetcar. You can easily explore the city on foot, by public transportation, and ride share services like Uber and Lyft.
If you are looking for vibrant nightlife or the best place to experience Mardi Gras, you simply have to stay on Bourbon Street. With its bars and clubs, it will let you party around the clock throughout your stay in New Orleans.
The Central Business District is primarily aimed at those traveling to the city to work. However, it is also a great place for anyone attending an event at the Mercedes Benz Superdome.
Marigny and Bywater offer a lot of similar attractions to Faubourg Treme as well. However, this is an area that is probably better suited to those more interested in the Creole style of art and architecture than their actual history.
For those who love the great outdoors, Mid-City and Lakeview are ideal choices. Not only do they give you access to City Park and some of the largest remaining areas of the bayou in the city, but they are also located close to the shores of Lake Pontchartrain.
For visitors who prioritize safety, French Quarter, Central Business District, Warehouse District, and Garden District/ Uptown are some of the safest areas to stay in New Orleans. Remember that crime can occur anywhere, so it's important to take basic precautions wherever you stay.
The Garden District/ Uptown are the two lowest crime rates neighborhoods in New Orleans. While primarily residential, they both have one distinct feature that will determine which you prefer. They are well-connected with the downtown New Orleans via St. Charles Avenue streetcar line.
Map of Areas and neighborhoods in New Orleans for tourists:
Best areas to stay in New Orleans for first-time tourists are:
1. French Quarter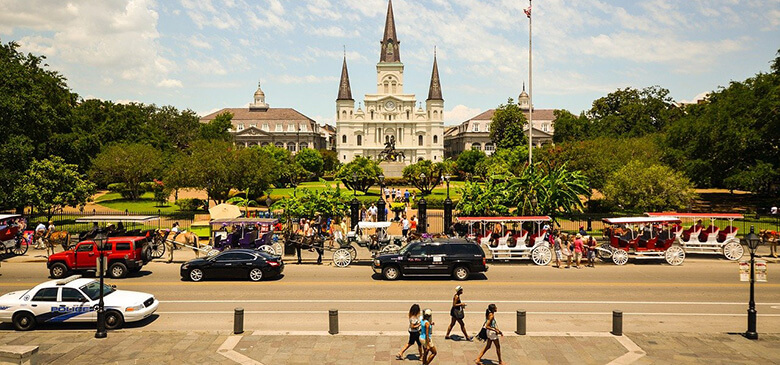 French Quarter is the best area to stay in New Orleans for first-time travelers because it is the heart and cultural center of New Orleans that has central location, vibrant nightlife, amazing food, lively music, and well-connected transportation.
The entire French Quarter is designated as a national historic landmark, with many individual buildings being considered significant in their own right.
The French Quarter, also known as old square or the Vieux Carré, is one of NOLA's most historic neighborhoods, spanning from the Mississippi River northwest to North Rampart Street and from Canal Street to Esplanade Avenue.
Due to its location in the city, it received relatively light damage from Hurricane Katrina, compared to most other parts of New Orleans. Combined with it being the first part of New Orleans to be settled, it means you'll find many of the city's oldest, most historic buildings here.
Almost every street in the French Quarter features a historic building or historic hotel, as well as live music venues that have hosted some of the greatest jazz musicians in the world over the years.
Perhaps the most famous building in the French Quarter is the St. Louis Cathedral. While the current structure was rebuilt in the 1850s, the original church on this site was constructed in 1718, the same year New Orleans was settled.
This makes it a fabulous place to enjoy the changing architecture the city has experienced through the years. It also opens out onto Jackson Square, a city park containing statues and buildings with red, exposed brick walls.
Next to the Cathedral, you will find the Cabildo, an elegant Spanish colonial building and was served as the seat of government during the Spanish colonial period.
If you love jazz music, be sure to check the show at Preservation Hall which historic music venue hosts jazz musicians every night.
In fact, the New Orleans French Quarter is one of those places that is simply brimming with things to do and see. You have the Tennessee Williams House, where the legendary playwright wrote and set many famous works.
You have the St. Louis Cemetery 1 & 2, which are fabulous examples of the iconic burial grounds New Orleans is famed for. You have the French Market, where you can purchase foods and wares synonymous with the city.
You even have specifically designed tourist attractions, such as the New Orleans Museum Of Death, New Orleans Jazz Museum, Marie Laveau's House Of Voodoo, and The Presbytère – Louisiana State Museum where you can learn more about the Mardi Gras.
That's all without mentioning the world-famous and Quarter's main artery, Bourbon Street, which lies at the heart of the district. Bourbon Street is lit by neon lights, live music, the best place to stay if you come to New Orleans to party.
Running parallel to Bourbon Street is the famous Chartres Street and Royal Street. Ther are both filled with historic sites, bars, Creole restaurants, antique stores, art galleries, and boutiques.
French Quarter is a pedestrian-friendly area and well-connected with streetcar lines on Riverfront, Rampart, Canal Street, and St Charles Street.
Other places of interest are Jean Lafitte National Historical Park, Cafe du Monde, Pirates Alley, the New Orleans Aquarium, and Woldenberg Park. All in all, the New Orleans French Quarter is a fabulous place to stay, no matter what you're looking for from your trip to New Orleans.
French Quarter is fairly safe for tourists and visitors with a high police presence. But as you travel to any other cities, you should be aware of pickpocketing, use your common sense, and avoid walking alone at night in any dark alleys.
French Quarter has plenty of accommodation options that suit all budgets from backpacker hostels to luxury resorts. Be sure to book well in advance during the Mardi Gras.
Best places to stay in French Quarter:
🔍MORE HOTELS IN FRENCH QUARTER
2. Bourbon Street
Bourbon Street is actually a section of the French Quarter, running from Canal Street to Esplanade Avenue. It is considered to be the single most popular destination in New Orleans, drawing more than 17 million visitors per year and being responsible for a third of the city's operating budget.
Bourbon Street is quiet during the day and comes alive at night. It is filled with a huge range of bars, restaurants, and clubs, serving cocktails, beers, and Cajun-style New Orleans cuisine, while offering entertainment like dancers and live music.
Speaking of live music, of all the music venues in the city, perhaps none are as famous as New Orleans Musical Legends Park. An outdoor venue, it offers free performances of the style of Jazz New Orleans is famous for. It even has a number of sculptures and tributes dedicated to New Orleans Icons.
It probably comes as no surprise then that Bourbon Street is the most popular destination for those visiting the city for Mardi Gras. Each February, New Orleans hosts one of the largest Mardi Gras festivals in the world.
Floats and parades fill the streets, bars and clubs put on their best events and promotions, while revelers party around the clock. Mardi Gras may be a citywide festival, but the bars and general vibe of Bourbon Street make it the best place to stay in New Orleans to experience the festivities in all their glory.
While Bourbon Street largely prioritizes nightlife, it is within walking distance of the rest of the attractions located elsewhere in the French Quarter. This makes Bourbon Street a fabulous place to stay so you can enjoy every second of your trip, without having to worry about how you get back to your hotel each night.
Other famous sights on Bourbon Street are the Mardi Gras Museum at Arnaud's, Musical Legends Park, The Chris Owens Club, Old Absinthe House, Jean Lafitte's Blacksmith Shop, Desire Oyster Bar, and the Royal Sonesta Hotel.
While we're on the subject, Bourbon Street contains some of the best hotels in New Orleans. Like everything else in the city, New Orleans hotels have their own distinctive style. Whether you prefer luxury hotels or boutique hotels, the options here are sure to keep you immersed in your surroundings.
Bourbon street is a famous nightlife strip and tend to be a crowded tourist area. You should be aware of surrounding, pickpockets and scammers. You should also pratice basic rules of safety as you would travel to any other cities.
Stay in Bourbon Street if Nightlife is a priority on your trip to New Orleans; You want to indulge in traditional Cajun cuisine; You are visiting for Mardi Gras.
Best places to stay in New Orlean in Bourbon Street:
🔍MORE HOTELS IN BOURBON STREET
3. Downtown / CBD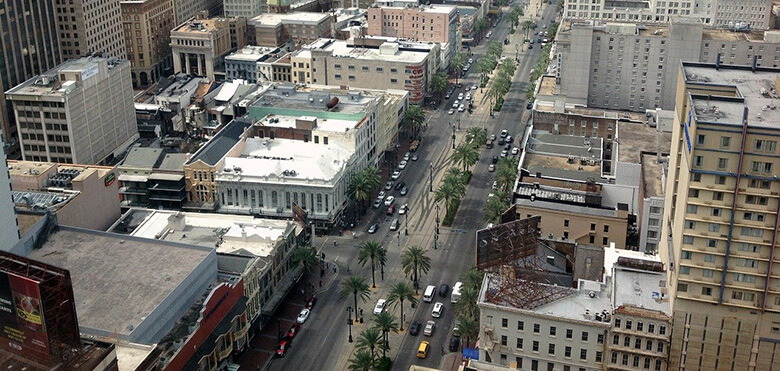 The Central Business District is located immediately to the south of the French Quarter, with the two separated by Canal Street. As the name may suggest, this is the part of the city that operates a little more normally, with countless businesses and corporations located here.
While the district as a whole prioritizes business, perhaps the most popular area is at the junction of Magazine Street and Julia Street. Not only will you find numerous office blocks here, but there is also an abundance of hotels and restaurants, ideal for catering to the workers, no matter how far away they've come from.
Magazine Street even contains a huge number of parking lots. This provides the utmost convenience for anyone who prefers to travel in a car as opposed to using public transport to get to work each morning.
The Central Business District doesn't just have to be a place for those traveling for work though. For starters, in its southern end is the Warehouse / Arts District. Historically, this was the part of the city that was dedicated to warehousing and manufacturing.
However, in recent years, with the way shipping has evolved, these industries began to burn out. The area took a downward turn for a number of years until the 1984 Worlds Fair shone a light on it.
With many seeing the potential of the Warehouse District, investment and redevelopment exploded. Now, many of the warehouses have been converted into some of the best hotels, bars, restaurants, art galleries, and condos in the city.
There's also the Mercedes Benz Superdome. A venue that hosts many of the city's largest events, it is primarily home to the New Orleans Saints of the NFL. This makes the Central Business District a great place to stay in New Orleans for anyone coming to see a game or a show.
Families with children will love to stay in the CBD with more affordable accommodations, quieter than the French Quarter, and many family-friendly attractions. You will find the Audubon Aquarium of the Americas, National World War II Museum, Caesars Superdome, and Smoothie King Center.
There are also South Market, Lafayette Square, NOLA Tropical Winery, Immaculate Conception Church, and Orpheum Theater.
If all of that isn't enough, the French Quarter is just a short distance away, and you even have a unique way to visit it. The Charles Avenue Streetcar Line is the oldest continually operating streetcar line in the world, having been in operation since 1835.
It travels along the Mississippi Riverfront, going from the Central Business District, across Canal St, and into the French Quarter. This allows you to take in some history and stunning views on your way between two of New Orleans's most popular areas.
Central Business District's accommodation caters to every type of traveler, family, business traveler, art lover, and those who come for Mardi Gras, Jazz Fest, and events.
Stay in Downtown/Central Business District if you are traveling on business; you are traveling by car; you want to visit the French Quarter but don't want to stay in it; you are a fan of art galleries.
Best places to stay in New Orlean Downtown:
🔍MORE HOTELS IN NEW ORLEANS DOWNTOWN
4. Marigny and Bywater
Faubourg Marigny and Bywater are located to the northeast of the French Quarter, separated from it by Frenchmen Street. It lies right on the bank of the Mississippi River, filled with jazz clubs, bars, local craft beer, live music venues, and stylish restaurants.
Both of the neighborhoods survived largely unscathed from Hurricane Katrina, due to their higher elevation and the natural levees along the Mississippi River. Considering both were already listed on the National Register Of Historic Places, it has only elevated their standing as some of the most history-rich parts of New Orleans.
Located on lands that once featured a plantation, it was bought and developed by the Creole people in the early 1800s. This is clearly visible in its unique architecture, which features a blend of French, Spanish and Caribbean styles.
As the rest of the city has evolved, Marigny and Bywater have largely managed to retain their traditional charm, with Creole Cottages and Shotgun Houses being renovated as opposed to replaced.
Over the years, countless famous Jazz musicians have made the area their home. The local community has embraced their music, helping them to grow and reach the highs they eventually achieved.
Perhaps the best place to experience the style of the neighborhood first-hand is at The Aquarium Gallery & Studios. A rotating art gallery displaying a range of local art, it is a fabulous opportunity to not only see a historic area but discover how it has influenced the people who live there to this day.
For those that want to avoid the hustle and bustle of the French Quarter, the east end of Bywater is also one of the best places in the city to eat. The area around Royal Street features numerous buzzy restaurants, making it an ideal place to have a quiet night out, no matter your personal taste.
Marigny/Bywater is home to 1.4 miles waterfront Crescent Park with unparalleled views of Mississippi river. You can relax here, sits on its bank enjoy people watching, take a stroll, or ride your bike.
Some of the places nearby are St. Roche Market, Harold's Plants, the Frenchmen Art Market, Euclid Records, Marigny Opera House, and the Voodoo Spiritual Temple.
You can easily find accommodations in Marigny/Bywater including the Lamothe House Hotel, Royal Frenchman Hotel, and the Balcony Guest Bed & Breakfast from booking.com.
Stay In Marigny/Bywater If you want to see where some of the world's greatest jazz musicians lived and grew up; you want to sample traditional Creole cuisine in a slightly quieter environment; you want to take in some historic architecture.
Best places to stay in Bywater:
🔍MORE HOTELS IN BYWATER
See more:
5. Lakeview and Mid-City
Mid-City and Lakeview are two centrally located districts, found just south of Lake Pontchartrain. Straight off the bat, this makes it a great place to stay for anyone wanting to travel across the Lake Pontchartrain Causeway, the longest bridge over water in the world.
However, it is another "natural" location that is perhaps the best reason for many to stay in Mid-City or Lakeview. The location in question is New Orleans City Park, one of the most visited urban parks in the United States.
Approximately 50% larger than Central Park in New York City, it isn't just a place to enjoy the great outdoors. Much like its more famous counterpart, it is filled with sites and attractions to keep all manner of visitors happy.
For starters, it houses the New Orleans Museum Of Art. Opened in 1911, it is one of the oldest fine art museums in New Orleans. It contains more than 90 sculptures and 40,000 objects, covering more than 5,000 years of history. It even hosts events and joint showings with other museums, making it a must-visit location for art lovers.
There is also Louisiana Children's Museum, which is great places to spend a day with your kids.
There is the New Orleans Botanical Gardens. Here, not only can you find more works of art, but you can enjoy strolling through a range of unique and beautiful flowers and plants.
If a large park wasn't family-friendly enough already, it even contains the Carousel Gardens Amusement park. Here you'll find rides and attractions to keep the whole family entertained for hours.
With gondola rides, boat rentals, festival grounds, a dog park, fishing spots, a sculpture garden, a water park, horse stables, historic structures, multiple museums, and even a welcome center and gift shop, the attractions at City Park go on forever.
You can take the red streetcar from Canal to the Cemeteries or ride a bike on the new 2.6-mile-long Lafitte Greenway from Basin Street to Carrollton Avenue.
Mid-City restaurants are loved by locals, visitors flock here during the New Orleans Jazz & Heritage Festival, and Voodoo Experience. It's best to make reservations well in advance if you visit during this busy time.
This makes it a great place to visit, no matter your tastes, as does the fact that it contains the largest remaining sections of bayou inside the city.
With its central location between Mid-City and Lakeview, it makes either a great option if visiting the park is one of your main considerations when deciding where to stay in New Orleans.
That said, Mid-City is a better choice for those wanting to be nearer the city center, while Lakeview is better for access to Lake Pontchartrain. They are both family-friendly neighborhoods to stay in New Orleans.
Stay in Mid-city/Lakeview if you want to be centrally located; you want a family-friendly location; you want to visit City Park; you want to explore Lake Pontchartrain.
Best places to stay in Lakeview/Mid-city:
🔍MORE HOTELS IN MID-CITY
6. Uptown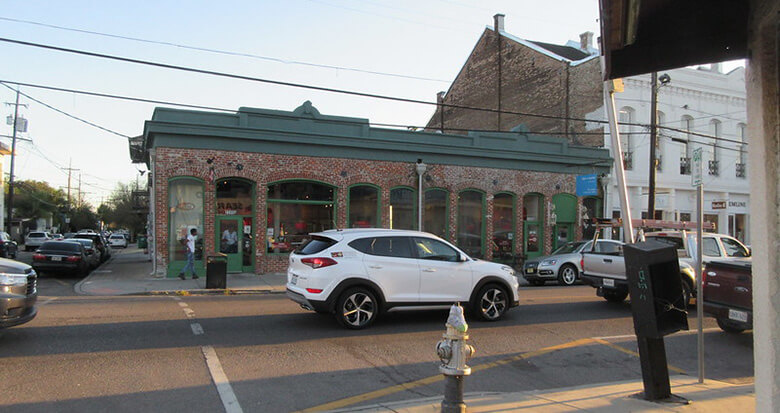 Uptown is located in the southwest corner of New Orleans. A largely residential area, it is recognized as one of the two neighborhoods with the lowest crime rates in the city. That makes it a great option for anyone who is concerned about safety on their trip to New Orleans.
The federal Uptown New Orleans Historic District stretches from the River to S. Claiborne Avenue and Jackson Avenue to Broadway. But the adjacent neighborhood: Carrollton, the Garden District, the Irish Channel, Central City, and the Lower Garden District are often referred to as parts of Uptown.
Uptown is where you can find Loyola University New Orleans, Tulane University, Audubon Park, Lafayette Cemetery No. 1, St. Charles Avenue with many mansions drowsing beneath ancient, stately oaks; and Magazine Street with indie coffee shops, and boutiques.
Being largely residential, it is much quieter than most parts of New Orleans. Shops, restaurants, and bars are all geared to the local community. While this won't be right for everyone, it is perfect for those who are looking to get a truly authentic experience of the city.
In terms of attractions, there isn't much in Uptown that will wow most visitors. However, there is one option in the southwest of the district that will draw some attention, and that is Audubon Park.
The park covers 350 acres of land along the bank of the Mississippi River and has been open to the public since 1871. The land was originally used as a plantation but was purchased by the city in order to hold the World Cotton Centennial World Fair in 1884.
Unfortunately, only one remnant from that time still remains, due to the 1915 New Orleans Hurricane, that being a large iron ore from the Alabama State Exhibit. In modern times, the most popular attraction of the current park is Audubon Zoo.
Home to more than 2,000 animals, it gives visitors a chance to get up close and personal with some of the iconic local wildlife, such as alligators, as well as more exotic options, such as gorillas, lions, and orangutans. They even have an incredibly rare white leucistic, blue-eyed alligator.
If the zoo isn't for you, there is plenty of wildlife to be found in the park itself. It is particularly popular with birds who use it as a watering point on migrations, with species including egrets, herons, cormorants, anhingas, ducks, and ibis all being a common sight here.
For those who aren't interested in wildlife, the park even includes a number of athletic facilities. Options such as a golf course, swimming pool, tennis courts, horse stables, and an athletic field all provide great options for those looking for a little outdoor recreation.
Stay in Uptown if you want a local vibe; you prioritize staying in a safe neighborhood; you want to stay in an area with an authentic feel; you want beautiful views of the Mississippi River.
Best places to stay in New orlean in Uptown:
🔍MORE HOTELS IN UP TOWN
7. Garden District
The Garden District might be a better choice than the touristy French Quarter if you prefer more of a residential area and laid back vibe. The Garden District is located in the south of New Orleans within a short streetcar ride from the French Quarter. Also known as Lafayette City, it's bordered with Toledano Street to the west, First Street to the east, Magazine Street to the south, and St. Charles Avenue to the north.
Much like Uptown, the Garden District is one of the two safest neighborhoods in the city and is, for the most part, residential. It's best to visit during the day time, and avoid Magazine Street towards the river.
Developed throughout the 1800's by residents who didn't want to live near the Creole people, many of the buildings were designed as opulent plantations. More than 20 of these still stand almost untouched.
Garden District is home to the Lafayette Cemetery No. 1, one of the famous above-ground graves in New Orleans that safest to visit. You can find the entrance at the Washington Street and Sixth Street.
You can also find "The Rink" Garden District Bookshop on Prytania Street. The bookshop is a favorite of local wel-known writer Anne Rice. You can also check the Still Perkin Cafe which is the local specialty coffees nearby corner of the Rink building.
If you want to grab your lunch and dinner, head to the Commander's Palace. It is the finest old-line Creole restaurants in the city, with the blends traditional Cajun and Creole fare with contemporary technique.
In this area, you'll also find Garden District Marketplace with locally-made art, handicrafts, and fun cat paintings of Cary Chun Lee's. Meanwhile, the Magazine Street is packed with shops, bars and restaurants; and home to award-winning National WWII Museum, Stein's Deli & Market, and Audubon Zoo.
When combined with its location along the bank of the Mississippi River, this makes the Garden District a great place to see New Orleans as it may have looked hundreds of years ago with at secluded mansions, brick lined sidewalks, and canopy of oak trees.
This residential neighborhood offers accommodations that suits all budget with everything from brand-name hotels to B&B's.
Stay in Garden District if you want to stay in one of the safest parts of New Orleans; you are a fan of historic mansions; you prefer a more residential area.
Best places to stay in New Orlean in Garden District:
🔍MORE HOTELS IN GARDENT DISTRICT
8. Faubourg Treme
Often referred to as Treme and officially listed as Treme/Lafitte, Faubourg Treme is located to the northwest of the French Quarter. It is known as the birthplace of jazz and the origin of the southern civil rights movement.
If you watched the 2008 documentary film directed by Dawn Logsdon and written by Lolis Eric Elie, Faubourg Tremé: The Untold Story of Black New Orleans, you will learn more about the history of Treme.
Faubourg Treme was originally known as "back of town", but had its name changed in an attempt to revitalize the area.
As one of America's oldest African American neighborhoods, it has great historical significance. For starters, it was the main neighborhood for free people of color during the time of slavery. This allows it to offer a unique insight into the past that you may not experience elsewhere in the city.
While traditionally an ethnically mixed neighborhood, it has particular significance for the Creole people. Creole can have a variety of definitions but largely refers to black people in the southeast of America, whose ancestors were linked to the French or Spanish colonies.
They have distinctive styles of everything from food and music to the Voodoo religion that is popular with the older generations. For anyone wanting to experience any of these things, Faubourg Treme is a true hidden gem of the city.
If you want to delve even deeper into the history, there are plenty of establishments available to help you do just that. For example, you have the New Orleans African American Museum.
The brick walls of the museum were originally built in 1828 on former plantation lands, to form what is considered the finest Creole Maison De Maître in New Orleans.
Featuring exhibits of art and historical artifacts, located within a building containing as much history as the items it displays, there may not be a better place to get a true sense of the culture of the area than right here.
You also have the St. Augustine Church, the oldest African American Catholic parish in the United States. Both of these are located along the Louisiana African American Heritage Trail, making Faubourg Treme a prime location to stay in New Orleans for anyone interested in Creole history.
Within walking distance from the French Quarter, you will see Armstrong Park, which is named after the jazz great Louis Armstrong. At the south of the park stands Congo Square, where slaves and free blacks gathered for meetings and markets during the 19th century. The square also gathering base of local voodoo practitioners for rituals.
Neaby lies the Backstreet Cultural Museum. This unique place has collection of Mardi Gras Indian costumes, memorabilia, photos and video footage of Mardi Gras Indians, jazz funerals, and artifacts related to African American culture.
You can also take a guided, licensed tours to St. Louis Cemetery No. 1. New Orleans' oldest cemetery attracts over 100,000 visitors each year to leave offerings for Voodoo Queen Marie Laveau, to grave the loved ones, or to experience city's living history.
To experience this charming and historic neighborhood at its best, you can choose to stay in guest homes and B&Bs.
Stay in Faubourg Treme if you are interested in the history of the city and the Creole people; you want to sample Creole food; you want to stay in one of the oldest parts of the city; you are looking for cheap hotels;
Best places to stay in Faubourg Treme:
🔍MORE HOTELS IN FAUBOURG TREME
Check out my virtual tour about the best places to stay in New Orleans in this video:
Is New Orleans safe to visit and how to stay safe?
New Orleans has a reputation for being a fairly dangerous city with higher crime rates than the average US cities. However, New Orleans is safe for tourists, even for solo females if you stay out of the bad neighbourhoods, careful, practise common sense, and be aware of the surroundings.
For accommodation, you should book a hotel in a safe and touristy area, so you are surrounded by people. French Quarter, Garden District and Uptown are some of the safe neighbourhoods to book a hotel because they have low crime rates and are close to the major sights.
While you should stick into touristy areas, there are some no-go zones that you should avoid such as South Seventh Ward, Central City, and Saint Roch, Fischer Dev, Desire, Viavant-Venetian Isle, Florida because they has higher rate of burglaries, robberies and assaults than the rest of NL.
It is also recommended to travel in groups and avoid walking alone on unlit streets at night. You should do research on an area that you are planning to go or stay.
To avoid purse-snatching and pickpocketing, which is one of the most common crimes in New Orleans, you should stay in the well-lit and populated areas. You should also protect your wallet, using a front pocket or a cross-body bag and avoid showing cash in public areas. Also take extra precautions in popular neighbourhoods such as the French Quarter.
If you use the bus, try to sit close to the drivers. If you need to use a cab, call a reliable taxi company. To stay safe in the famous Mardi Gras Festival, you should take extra alert with petty crimes like pickpocketing. Monitor your drink, stay in main streets and don't walk alone at night.
Where should I stay in New Orleans for the first time?
This varies depending on why you're visiting New Orleans, however most will find the French Quarter, the best place to stay in the city for the first time. It's great range of historical sites and attractions will keep everyone entertained.
What are the best areas to stay in New Orleans?
French Quarter, Bourbon Street, Downtown, Marigny, Lakeview, Uptown, Garden District, and Faubourg Treme are some of the best areas to stay in New Orleands for tourists because they are the most popular neighborhoods in the city that provides a range of attractions and amenities.
What is the safest area to stay in New Orleans?
The safest neighborhoods to stay in New Orleans for visitors are French Quarter, Central Business District, Warehouse District, and Garden District/ Uptown. Remember that crime can occur in any city, and it's important to stay vigilant regardless of where you are staying.
Where to stay in New Orleans without a car?
The best places to stay in New Orleans without a car for tourists are French Quarter, CBD, Garden District, and Faubourg Treme. They are walkable and offer easy access to public transportation options like streetcars and buses, making it possible to enjoy the city without a car.
Is it better to stay in the French Quarter or Downtown New Orleans?
Downtown New Orleans is a great place for those travelling on business to stay, as it is the central business district. However, for the majority of tourists, the French Quarter is far superior. Containing Bourbon Street as well, it offers more attractions than anywhere else in New Orleans.
Read More:
In conclusion, French Quarter, Bourbon Street, Downtown, Marigny/ Bywater, Lakeview/ Mid-City, Uptown, Garden District, and Faubourg Treme are the best places to stay in New Orleans for tourists. They offers a wide range of accommodation options for all budget travelers.
Overall, French Quarter is the best area to stay in New Orlean for first-time visitors due to its central location and proximity to major attractions such as Jackson Square and Bourbon Street. If you stay here, you will be located in the middle of the action!