When I planned my 2 days in Melbourne itinerary, I was pleased to find that there was a free tram going around the City. It meant that I could get on and off to spend time at the best landmarks even though the City was not familiar to me. Even with limited time, I realized that I could see and do plenty of things.
Is 2 days in Melbourne enough?
Two days in Melbourne may not be enough to fully experience all that the city has to offer, but it can still be a great opportunity to see some of the main attractions and get a feel for the city.
It's important to plan ahead and prioritize which sites and activities you would like to do in order to make the most of your time.
How can I spend 48 hours in Melbourne?
There are many ways to spend 48 hours in Melbourne. Some ideas include exploring the city's vibrant neighborhoods, visiting popular landmarks like the Melbourne Cricket Ground and Federation Square, checking out local markets and shops, and trying the city's renowned food and drink.
You could also take a day trip to nearby attractions like the Great Ocean Road or the Yarra Valley. With so much to see and do, you'll be sure to have a memorable and enjoyable stay in Melbourne.
The heart of Melbourne has a number of interesting landmarks:
St. Paul's Cathedral
Queen Victoria Market
National Gallery of Victoria
Parliament
The Royal Botanic Gardens
Royal Exhibition Building
The free tram that runs around the City is a great help, especially for first-time visitors to Melbourne. It means that even complete strangers to Melbourne can plan to visit outlying areas such as the Yarra Valley vineyards and the beaches south of the City.
Where to Stay in Melbourne in 2 days?
Melbourne CBD is the best area to stay in Melbourne for the first time visitors. It is the hub of Melbourne's great cafes, tourist attractions, bars, restaurants, shops and next to Melbourne's main sporting arena, Melbourne Cricket Ground.
Day 1 Itinerary
Using the tram, I was able to explore Melboune's city highlights in just a few hours. The tram runs every 30 minutes and armed with information, including maps, I was able to spend time at a few of Melbourne's landmarks. I started and ended at Flinders Street Station.
I was able to see St. Paul's Cathedral before boarding the tram. Gothic in style, it is located in Flinders Street and was completed towards the end of the 19th Century. The spires were added 30 years later,
Queen Victoria Market is the largest open air market in the Southern Hemisphere but time constraints limited my visit. There was time however to understand why Melbourne's cuisine is so good with so much quality produce on display.
The Parliament Building dates back to the middle of the 19th Century. It was home to the Federal Parliament for the first three decades of the 20th Century.
I stopped for a late lunch in Flinders Street which is close to Federation Square, the cultural heart of Melbourne. Highlights in the Square include.
National Gallery of Victoria (NGV) the oldest gallery/museum in Victoria.
Ian Potter Centre with its aboroginal works opened nearly 20 years ago and is part of the NGV.
The Australian Centre for the Moving Image
Koorie Heritage Trust which is owned by the aborigines gives a great insight into the indigenous Australian people.
I realized there wasn't enough time to spend too much time in Federation Square if I was to be able to wander Melbourne's cobbled laneways and arcades. Melbourne is famous for its narrow streets(laneways) and historic arcades. I decided to visit just a few of the forty or so in the City.
Block Arcade has existed since 1891, Its glass canopy and mosaic flooring are stunning. Unfortunately, I did not have time to queue to get into its most famous store, the Hopetoun Tea Room.
Royal Arcade is even older and is filled with boutiques and gift shops.
AC/DC Lane is named after the famous rock band and with time passing, I decided on having a beer in its famous bar, Cherry Bar before picking a restaurant for dinner.
I settled on a Peruvian restaurant actually in AC/DC Lane, Pastuso. Its extensive menu made it difficult to pick something but I managed. There are set menus for 2 that are worthwhile for couples.
Day 2 Itinerary
I made an early start on my second day because I wanted to visit one of Melbourne's vineyards and see the lovely beaches south of the City. I hired a car for the hour's drive south to Mornington Peninsula. There is sufficient to do on the Peninsula for a holiday in itself:
The National Park
Beach walking
Dolphin viewing
Hot Springs
I selected a small winemaker, Crittenden Estate and enjoyed the visit and lunch even though I limited myself to a single glass as I was driving. If I visit Melbourne again, I may look for a tour because the region is also famous for its craft beers.
I was back in Melbourne by mid-afternoon and headed to the Royal Botanic Gardens before thinking about a place to enjoy a pre-dinner drink. The Gardens were founded in the middle of the 19th Century on the south bank of the Yarra River. There are over 8,500 different species and 50,000 individual plants.
Cafe Rosco close to the Gardens was my choice for dinner, fine Italian cuisine.
🎬 Check out my virtual tour about the best places to stay in Melbourne or continue reading:
How to Get From Airport to City Center
Melbourne Airport is around 14 miles north of the city center and the journey takes around 30 minutes. Skybus runs buses every 10 minutes so there is little point in getting a taxi unless you want to be dropped at your hotel door. You may find that your hotel will also do transfers.
Extra Day trip from Melbourne Suggestions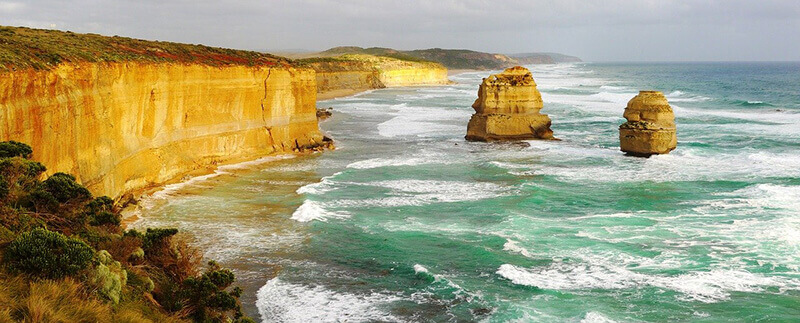 Although I had been outside the City on Day 2, I looked to see whether there were day trips that I might have booked. Would any of them justify a third day? Decide for yourselves!
Mornington Peninsula has sufficient to attract you back there to enjoy more of its activities.
Although you will need deep pockets to take this tour, you can book a hot air balloon flight with champagne breakfast, weather permitting, over the Yarra Valley.
The Great Ocean Road trip is interesting, indeed spectacular and this can be done in a day, albeit a long one.
Steam train enthusiasts will love the day trip through Sherbrooke Forest into the Dandenong Range, stopping in the town of Sassafras.
A wine tour with plenty of sampling as well as lunch is a great way to learn more about Victoria's wines, with collection from your hotel.
See Also: 
Conclusion
Melbourne is an interesting city, thoroughly modern but with plenty of historical content. The tram makes it easy to navigate the main landmarks and I admit I was spoilt for choice when looking at where to have lunch and dinner. The airport is close by so Victoria's main city is ideal for a short break away from home.