Looking for the best hotels in Perth, Western Australia? In this guide, I will give you an insight into the best hotel in Perth for couples, families, backpackers, and business travelers, all budgets. Read on as I show you the best of Perth.
The finest places to stay in this destination are all listed here. So, whoever you are and whatever your budget, all you need to do is read on to find a place that's perfect for your requirements.
See Also:
Crown Towers Perth is a five-star hotel that promises its guests celebrity treatment. The hotel is located on the east side of the city on the Swan River's Eastern Bank. It is an expansive property that takes excellent advantage of the riverside setting with a fabulous series of lagoon-style outdoor swimming pools.
The guest rooms at Crown Towers are very special indeed, with marble bathrooms, state of the art in-room technology, and wonderful views. To really make the most of this indulgent delight, you could also reserve access to The Crystal Club on the 15th floor.
Overall, guests rate this high-end resort as superb and remark that staying here feels like being in a movie.
QT Perth is a five-star hotel located on Murray Street in the heart of Perth CBD. It's an excellent choice for the convenience of restaurants, bars, and the main Perth sights and attractions right on your doorstep.
It's a smartly designed urban hotel with a contemporary look and feel. The ostentatious rooms use local jarrah timber and velvet and polished brass fixtures and fittings.
The QT is popular with guests because of its central location, its excellent staff service, and superb comfort. Rooms here come in various twin and double bed room layouts, so it's a perfect choice for business travelers and couples.
The Adnate is a hotel in Perth's central CBD, which is rated by guests as superb. It is a boutique urban property that packs in many features such as an outdoor swimming pool, a fitness center, and a restaurant and bar.
Because of the central location, this hotel is a great choice for shoppers and people who want to enjoy some great dining in the city center. This hotel is also a good family choice since, in addition to double studio rooms, there are some twin rooms with two double beds and a family studio with two extra-large double beds.
Guests love the convenience of the central location and the spotless and spacious rooms.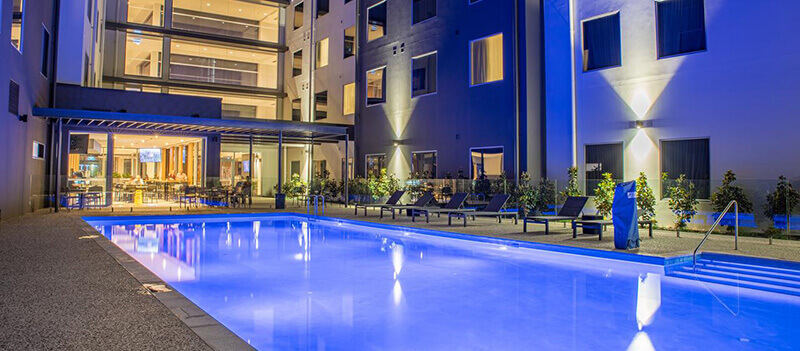 The Ingot hotel is a great four-star accommodation located in the Redcliffe area on Perth's Eastern side. Redcliffe is a suburban location, suitable for people who want to stay a little way out of the CBD's hustle and bustle. If you're a racing fan, it's a perfect choice, because it's very close to Ascot Racecourse. The Swan River is also nearby.
Ingot has an outdoor heated swimming pool and a restaurant and bar. There are a variety of room types ranging from simple doubles to apartments that sleep four guests. Some of the rooms have spa baths.
Address: 285 Great Eastern Hwy, Belmont WA 6104
Alex Hotel is a centrally located 4-star Property with an engaging, funky design. It's an excellent hotel choice for culture lovers since the Perth Cultural Center is very close by. Perth metro station is also nearby, so it's a superb base for exploring the city.
Some of the air-conditioned rooms have balconies. There are no family rooms, so this place is best for solo travelers and couples. The central location makes Alex Hotel a good choice for business travel.
Alex Hotel is well located for the vibrant Northbridge area's nightlife scene, so if you've come to puff the party, this could be the place for you.
The treasury is a beautiful five-star hotel in the center of Perth CBD. Guests rate this place extremely highly, giving it a rating of "Exceptional" achieved by just a few of the best hotels.
The hotel is set in evocative 19th-century red brick buildings that have been ingeniously adapted and converted to modern standards without detracting from their old-world charm. The hotel interior has a modern light and clean design.
Hotel features include valet parking, the Shambhala Spa, a swimming pool, and a fitness center. All of the rooms are large doubles, ranging in size from 55 sqm. to a huge 80 sqm.

The Sebel West Perth is an excellent four-star hotel located on the western side of Perth's center. This location is a little quieter than the central CBD but still convenient for all the city center's shopping and entertainment. Not far to the South is a large and beautiful King's Park and Botanic Garden, which is a delight to explore with its fantastic views over the Swan River.
Hotel facilities are excellent for a mid-range property and include an outdoor swimming pool and a fitness center. All rooms have a balcony, a fully equipped kitchen with a stove, and a spacious seating area. The studio apartment-style rooms sleep two or three people, and the wealth of facilities makes The Sebel excellent value for money.
Nightcap is a mid-range hotel located above a popular bar and restaurant in Perth CBD. It's an excellent choice for anyone wanting to stay centrally and make the most of all the bars, restaurants, and infrastructure of the city center.
Guests rate the hotel as superb; in particular, they praise the staff's kindness and helpfulness and the convenience of the central location.
Nightcap is a good choice for families since the family studios sleep up to five guests in comfort. This is a boutique urban hotel with great room facilities, but if you're looking for a swimming pool or gym, then this might not be the choice for you.
Quest is an excellent mid-range hotel with fabulous views over the Swan River from the quieter South Bank. It's a fantastic choice for those who want to explore the lovely parks that skirt the river to be east.
While Quest is outside Perth's busy center, it's very close to a bridge, so everything is just a few minute's drive away.
Quest South Perth Foreshore has studio rooms and one and two-bedroom apartments, all with excellent facilities like a dishwasher and a kitchenette. This hotel is a good choice for larger groups since the three-bed rooms sleep up to six.
Attika Hotel is a boutique accommodation offering excellent four-star facilities in the city's Northbridge area, Perth's entertainment and nightlife center. So if you like to party, this is a great choice, and also if you just want to sample the bewildering variety of top quality restaurants and bars around here.
All of Attika's rooms are apartment-style accommodations that are spacious and extremely well-featured, with kitchens, desks, and seating areas.
Guests write the hotel as superb, describing it as a hidden gem. They mention that despite the hotels' proximity to all of the city's nightlife, it is actually in a quiet and secluded location.
As the name implies, Aurum is an excellent choice of accommodation right next door to Perth airport. If you arrive late or have onward travel early the next day, this is a convenient place to stay. Equally, it's a good out-of-city option for people with their own transport.
All of Aurum's accommodation is apartment style. There is a good choice of room layouts suitable for one or two travelers and also for groups or families.
Despite being over on the eastern side of Perth, this hotel is close to the airport shuttle route, which offers a great way to get into and out of the city.
New York on King is a highly-rated four-star hotel located in Perth's CBD. If designer shopping is your thing, then you will be delighted to find that King Street is Perth's leading luxury shopping area. The hotel is also well located for Northcliffe's nightlife hotspot, just a few minutes' walk to the north.
All of the rooms here are suites and have balconies. An attractive feature of this hotel is an inner courtyard and lounge seating area.
This hotel is rated as superb by guests, who highly recommend the family welcome and excellent service.
Crossland House is one of the very few places to stay in Perth that guests rate as exceptional, the highest possible rating for a property. It's a perfect place for families to stay since accommodation is in the form of a large 100 sqm. two-bedroom apartment. This large space is extremely good value, coming in at the lower mid-range and sleeping four people.
The location is excellent, especially if you love the beach and the coast since it's in the Hillary's Park area of Western earth. Popular Pinnaroo Point Beach is close by.
Guests are impressed by the exceptional service, spotless cleanliness, and excellent location close to the sea.
This very well-priced bed and breakfast accommodation is located in Gooseberry Hill, a suburb on Perth's Eastern outskirts. National parks and forests surround this lovely, suburban location. It's the perfect choice for people who want a leafy and quiet base for their stay in the Perth area.
Guest rooms are situated in a large garden with an outdoor swimming pool and veranda. There is also a shared lounge and library.
Gourmet breakfasts are available every morning, and guests rate these as delicious. Visitors appreciate the natural setting and the birdlife that visits the garden.
St Catherine's is a beautiful apartment-style accommodation close to the Swan River in the southwest corner of Kings Park and Botanical Garden. It's a perfect choice for guests who want to be close to the city center but in a location that has a suburban feel. The University of Western Australia is close to the South, as is the Matilda Bay Wildlife Reserve, a beautiful spot on the Perth river.
The large apartments feature double beds, and interconnecting rooms are available, so this is a perfect choice for families. Room features include extra-long beds, alarm clocks, kitchenware and cooking facilities, and board games for the kids.
This highly rated mid-range holiday home rental is in Brentwood, a suburb to the south of Perth CBD, not far from seaside Fremantle. It's a good choice if you will be spending some of your visit exploring the beaches and coastline of Western Australia, and also visiting the city center. It's also a good choice if you have a hire car.
The home has three bedrooms and sleeps up to six guests, and it's the perfect choice for families or independently-minded groups happy to self-cater. The house is very reasonably priced and will set you back about the same as a mid-range double room in the city center.
Lakeside bed and breakfast is close to the center of Perth in the suburb of Leederville. It's a great choice if you want convenient access to the city center through the Perth Metro System but prefer to stay outside the most central areas.
Lake Manga and its nature reserve is just a few minutes' walk from this suburban B&B, and the paths in the park there are a great place to walk or run.
There is a swimming pool in the attractive terrace garden, and guests are welcome to use a shared lounge as well.
Country Comfort is a mid-range hotel close to Ascot racecourse and the Swan River over on Perth's Eastern side. This location is also close to Perth Airport, so it's convenient if you are arriving or leaving by air.
The accommodation comes in the form of spacious apartments with kitchens and balconies. There is an outdoor pool and garden area with barbecue facilities.
Visitors rate this place as fabulous, highlighting how clean, comfortable, and well-designed the rooms are and giving lavish praise to the excellent breakfasts.
Pan Pacific Perth is a five-star hotel located on the Eastern side of Perth CBD, close to the Swan River. The hotel has a selection of rooms and suites catering to two or three guests.
The central location and excellent river view are guest highlights of this accommodation. There are an outdoor swimming pool and a fitness center that is open 24 hours. Pan Pacific also has a restaurant and a sports bar offering the best sporting action.
The Crown Metropol is a huge five-star resort located in the attractive eastern suburb of Burswood.
The large 42 sqm. rooms have excellent entertainment facilities and a large desk and work area perfect for business travelers. Guests rate the Crown Metropole's customer service very highly and appreciate nice touches like the free bottle of champagne on their birthday.
That is a good selection of rooms, including some with two double beds, ideal for families. The resort has a vast outdoor pool and garden area with sun-loungers and a children's pool.
Rendezvous Hotel is a mid-range beach resort accommodation located in Scarborough, a popular beach to Perth's Northwest. This is a great location if you want to spend more time on the beach than in the city.
This four-star resort has excellent facilities, including an outdoor swimming pool, fitness center, and the Vanilla Face and Body Spa offering a variety of beauty treatments.
All guest rooms have balconies, and the sea view rooms, in particular, have phenomenal views. The rooms cater for two or three guests.
Duxton Hotel is a smart five-star establishment situated right in the heart of Perth CBD. The hotel has luxury rooms and facilities that include a restaurant, bar, fitness center, and an outdoor swimming pool.
Guests rate this establishment is fabulous, and in particular, they praise the spacious and comfortable rooms and the excellent breakfasts. The Club Room package is popular, and if you want to go for broke, then why not hire the presidential suite with fabulous views over the city and the Swan River from the upper story of the building.
Citadines is an upper mid-range city hotel on saint George's terrace in the heart of Perth CBD. It's an extremely convenient location for all of downtown Perth's shopping, dining, and cultural sites.
The rooms have a beautiful and stylish design. All rooms are studios, featuring a kitchenette and a seating/working area. This boutique hotel is ideal for business travelers or couples who want to stay right in the heart of things.
Guests write this hotel as fabulous and appreciate the kitchen facilities, great location, and friendly and attentive staff service.
Crown Promenade is a boutique upper mid-range hotel located to the east of central Perth. This location is a little outside of CBD and allows you to enjoy the open spaces of the parks that fringe the South Bank of the Swan River. The hotel is situated within the Crown Casino complex, so if you're a keen gambler, this is an excellent choice. This complex also has many restaurants and bars, so there's plenty to keep you entertained.
All of the twin rooms have twin double beds, so there's plenty of space for families. Guests love the location and the restaurant, and overall, rate the Crown Promenade as fabulous.
Aloft Perth is a top-rated mid-range hotel close to Cracknell Park on the east side of the city. This location enjoys excellent views and connects conveniently to the city center by the Perth Metro system. The hotel is close to Perth stadium and also the airport and Crown Casino nearby.
The suburban location is very popular with couples, and if you request one of the river view rooms, you are gifted with superb views. Guests particularly highlight the comfort of the large rooms and the extra-large double bed.
The Ritz Carlton name is synonymous with comfort and luxury, and this five-star waterfront hotel is no exception. The hotel complex is right on the Swan River banks in the South part of the city's CBD. The iconic Bell Tower viewpoint is right next door, as is Elizabeth Key, a waterfront complex packed with restaurants and shops.
The five-star facilities include restaurant, fitness center, outdoor swimming pool, and a sauna and hot tub. If you're looking for the most central, attractive, and convenient location in the city, and money is no problem, this is an excellent hotel choice.
If nightlife and culture are what you're looking for, then this boutique resort operated by Hilton is in a perfect location in the Northbridge area of the city. Facilities are extremely good for a mid-range price, and guests particularly appreciate the smart and modern rooms with excellent city views. The hotel is a perfect choice for culture-loving couples.
The hotel's rooftop pool has panoramic views of the city skyline, and Doubletree also has a restaurant, bar, and fitness center. Visitors rate this hotel has fabulous and single out the comfortable beds, great value for money, and modern decor for praise.
Peppers Kings Square Hotel is a highly rated boutique hotel in a superb location in the heart of the CBD. All of the shops, restaurants, and bars of the city center are right at hand. This central location makes the hotel popular with business travelers, as much as it does with keen shoppers.
Facilities are excellent, especially given the mid-range price, and guests like the large rooms with their modern design and seating area next to full-wall windows overlooking the city.
Unlike many central hotels, Peppers offers family rooms that sleep groups of up to five guests.
The Flag Motor Lodge is a highly rated hotel close to the South Bank of the Swan River on Perth's Eastern side. It is close to Perth airport, and also to the crown casino complex and Ascot Racecourse. If you want to be in the heart of the city, this place isn't for you, but if you'd rather explore Perth from a quieter suburb and enjoy excellent facilities for a reasonable price, this lower mid-range hotel is well worth considering.
Rooms can cater to groups of up to five so families and groups can stay in comfort here.
All rooms have kitchen facilities and spacious work areas suitable for business travelers.
Pension Hotel Perth is a great value boutique hotel in the lower mid-range price bracket. The location is very convenient, right in the heart of Perth CBD. So if your trip involves visiting museums and seeing sights, dining in excellent restaurants, and visiting lots of shops, then you couldn't pick a better base of operations.
Guests rate their stay in Pensione as fabulous. They appreciate the excellent location and the friendly and helpful staff. Many visitors comment on the excellent beds that provide an incredibly comfortable night's sleep. The hotel offers several types of double and twin rooms suitable for couples or solo travelers.
Spinners is a highly rated hostel that is situated in the party center of Northbridge. it has all the facilities you expect from a hostel featuring a shared kitchen and garden courtyard, barbecue facilities, and a billiard table.
The accommodation comes in the form of six and eight-bedroom dorms that are either mixed or female only. Spinners is a friendly and sociable hostel and a great place to meet like-minded travelers and explore the city.
The hostel also provides a great service with their free bus that will pick up and drop off guests at any Central Perth tourist locations.
Hostel G is a fabulous travelers accommodation located in the heart of Perth CBD. This is a good choice for any travelers wanting the convenience of such a central location. There are twin rooms and some family rooms in addition to a variety of mixed and female-only dormitories.
Hostel G has an on-site bar-restaurant, which is a great place to meet other travelers over a drink. Hustle G has good facilities for disabled guests, so they genuinely offer something for everyone.
Visitors rate the hostel as fabulous, and in particular they appreciate the central location and the friendly and helpful staff.
Brittania is a popular hostel on William Street, one of the main thoroughfares of the vibrant Northbridge suburb. If you came to sample the best of the city's nightlife, then this is an excellent base of operations.
The hostel occupies an old two-story building that has been converted to provide some excellent facilities. There's a comfortable TV room and a large communal kitchen.
Some budget double rooms with one double bed and a bunk bed are a perfect and super economical option for families. Britannia also has mixed and female-only dormitory rooms. This is a secure and friendly hostel with an excellent location and plenty for travelers to do.
One of the main draws of this popular hostel is its outdoor swimming pool and deck. Few places at this budget have a pool, so it's a nice feature, as is the huge shared lounge with table football and pool table. There's also a fitness room, and of course a shared kitchen and laundry.
There are dorm rooms and twin and double rooms for couples, so this place is well set up to accept all sorts of budget travelers.
Beatty Lodge is a little way out of central Perth in the suburb of Leederville, but the Metro Rail link is close by, so the city center is just a few minutes' ride away.
Koalas is a well-established hostel in Perth CBD. It has a car park, so if you are doing the Great Australian drive-around, there's somewhere safe to park the wheels. Other facilities include shared kitchen facilities and a large lounge and TV room. The double and twin rooms have a kitchenette, so this is an excellent place to self-cater. The mixed dorms range in size from 4-bed to 18-bed, but there are no female-only dorms.
Koalas is one of the cheapest hostels in the city, and given its location, you can't do better if you want to stay somewhere central on a budget.
This hostel is located just to the north of Perth to CBD, close to all the entertainment, sights, and activities. It offers great value accommodation in double and twin rooms as well as female-only and mixed dormitories. The dormitories are suitable for groups since they have a maximum of six beds.
Travelers rate The Shiralee as a very good place to stay and particularly praise the high standard of cleanliness and excellent security. In another nice touch, the hostel offers free pasta, tea, coffee, and breakfast. This is a friendly and sociable place to stay and an excellent place to meet other travelers.
You guessed it; this highly rated travelers hostel is situated in a converted fire station. Old Fire Station is an adult-only place to stay in Fremantle, Perth's hip and happening coastal satellite town.
This hostel has a fun decor and design with wall art off every description you can think of, from South Park characters to natural scenes.
Old Fire Station offers a shared kitchen and a large lounge area with table tennis and a pool table. The accommodation comes in the form of mixed and female-only dorms, and there are also double rooms with dishwashers, flat-screen TV, and kitchenette.
The hostel has an entirely separate women's only area featuring a communal kitchen, showers, and lounge.
Conclusion
So there you have it, you've just read the most exhaustive guide to the best places to stay in Perth. Now you can decide what part of the city you like and pick accommodation that perfectly suits your needs and budget. It's a wonderful city to visit and you're sure to have a great stay. Enjoy!