In this blog post, I will help you to find Where to stay in Adelaide, the best areas to stay in Adelaide (include map and video) and the best hotels in Adelaide for all budget travelers.
Adelaide is the capital city of the state of South Australia. Known for its gorgeous weather, world-class wine, natural beauty, and stunning architecture, Adelaide is well worth a visit. With a population of just 1.3 million, Adelaide is one of the smallest state capitals in Australia.
Adelaide is good base to explore the surrounding well-known wine regions such as The Barossa, Clare Valley, McLaren Vale, Coonawarra, and the Adelaide Hills. Consider taking a winery tour from Adelaide to discover the best of South Australia.
Where to stay in Adelaide?
The best areas to stay in Adelaide for tourists are Adelaide CBD, Glenelg, North Adelaide, West Beach, Port Adelaide, and Adelaide Hills. These are popular and safe locations for tourists, offering a wide variety of attractions and amenities.
Adelaide CBD is the overall best area to stay in Adelaide for tourists, especially for first-timers due to its central location, easy access to transportation, attractions and amenities. Staying here puts you close to major sights such as Adelaide Oval, as well as many restaurants, bars, and shops.
If you want to be closer to the beach, there are various great suburbs along the West End of Adelaide which offer fantastic beachside areas. But if you enjoy quiet areas, there are great spots all around Adelaide such as North Adelaide, which offers relaxing open space.
To book hotels, I recommend spending at least three day in Adelaide, which allows you explore main sights, enjoy the food and wine, and get the sense of the local culture. You can also take a day trip to the wine region such as Barossa Valley, Victor Harbor, and Kangaroo Island.
Map of areas and neighborhoods in Adelaide for visitors:
6 Best areas to stay in Adelaide for tourists are:
1. Adelaide CBD

Adelaide CBD is the best place to stay in Adelaide for first-timers, family, couple, and solo travelers due to its prime location. The CBD is home to the broadest range of accommodation that suits all types of budgets, and it has the vastest range of attractions of anywhere in the city.
A popular attraction in the CBD is a thriving hub of food and culture, Adelaide Central Market. This market houses one of the largest fresh food markets in the world. It is an incredibly popular market which attracts over 9 million visitors per year.
The CBD is packed with cultural and historical attractions. You can take a free public guided tour of the Parliament of South Australia on weekdays from 10am and 2pm.
Within walking distance from the Parliament lies the State Library of South Australia. You can enjoy its stunning artchitecture, or find a book that you love to read.
Adelaide CBD is home to the South Australian Museum, one of the most visited museum in Australia. Open daily from 10am to 5pm, it is a great place to learn about the history of the state. The museum's ground is also home to the Museum Shop, Terrace Eatery, Terrace Coffee Caravan, and Discovery Centre.
History buffs and art lovers can also visit many other museums and art galleries such as:
Many big city in Australia has its own Chinatown, and Adelaide also has an Chinatown. It is a great area to try international cuisine including Chinese, Vietnamese, Japanese, Korean, and Thai.
You can find many restaurants, food courts, cafes, pubs, and wine bars in Chinatown, especially on Gouger Street or Grote Street. There are also photo opportunities at its gates, red lanterns, pagoda style roofs in this area.
Adelaide offer plenty of shopping with many mall, shopping centers, and stores. The Rundle Mall is the premier shopping destination in South Australia, where you can find brand stores like H&M, Tiffany & Co. and Sephora, and some of the best restaurants of the state.
Adelaide CBD is surrounded by green spaces and parks. SA's first Surveyor-General, Colonel Light, wanted to build a city of parks and gardens in 1836.
The Elder Park is a beautiful riverfront park, offering chances to relax, hangout with friends and families, sunbathing, and have a picnic. Adelaide Botanic Garden and Adelaide Park Lands are also well worth a visit!
Adelaide CBD has vibrant nightlife. There are many boutique bars, pubs, and live music venues, on the city's thriving laneways and main streets.
You can find any accommodation in Adelaide CBD, from budget hotels to mid-end hotels and even 5-star luxury hotels. Adelaide CBD is a great location.
Stay in CDB if you want to stay in a central location; you are first time visitor; you want to be near many attractions;
BEST PLACES TO STAY IN ADELAIDE CBD for first-timers:
Holiday Inn Express Adelaide City Centre is located in the vibrant north-west quarter of Adelaide's CBD. The central location provides guests with easy access to Adelaide Oval, Adelaide Convention Centre, the Royal Adelaide Hospital, the SA Health and Medical Research Institute, University of South Australia, Adelaide Casino, and Rundle Mall, all within a 10-minute walk away. This 4-star hotel is a great place to stay for couples, business and leisure travelers.
ibis Adelaide is a 4-star hotel, just 10 minutes walk from Adelaide Convention Centre, The Adelaide Botanic Gardens and Royal Adelaide Hospital. It is 15 minutes' drive from Adelaide Airport and Glenelg Beach. Adelaide's arts district, which includes the Festival Center and Dunstan Playhouse is just 10 minutes' drive away.
Adelaide Central YHA is ideally located for enjoying the West End, with markets, shopping, restaurants, cafes, bars and nightclubs within walking distance. The property is just 20 minutes by bus from Adelaide Airport or Adelaide Parklands Rail Terminal. This hostel is a great place to stay for backpackers.
>>🔍 MORE BEST PLACES TO STAY IN ADELAIDE CBD <<
Read more: 20 Best things to do in Adelaide, Australia
2. Glenelg

Glenelg is a beautiful beach area, located within a short distance from Adelaide CBD and Adelaide Airport by car or even by trams. With its wide beach, amazing sunsets, and sidewalk cafes, it is perfect if you're in Adelaide during the summer when it can get unbearably hot.
It's great are to learn the city's rich heritage, relaxing on the beach, with many boutique shops and galleries or the cafes and restaurants.
A popular attraction in Glenelg is Glenelg Beach. Glenelg Beach has beautiful white sand that covers the entire beach, and plenty of open space. The beach is a great spot to escape the heat, to go diving, snorkelling, fishing, and swim with wild dolphins.
Another popular attraction in Glenelg is the pier. The Glenelg jetty is also a popular spot for sunset. Built-in 1859, the pier tells a tale of the history of Adelaide.
Take a stroll along the Jetty Road, filled with stylish clothing and homewares stores, as well as cafes and restaurants, where you can have brunches or brekkies with your family and friends.
For a movie night, visit Event Cinemas on Cowper Street, spend a fun day with your kids at the Beachouse, or head to Marina Pier for a relaxing spa or dining.
In addition to the beach and its acitivites, you can learn more about the history of this neighborhood at the Glenelg Museum or the Bay Discovery Centre.
Glenelg is home to a wide variety of accommodation. It is perfect for budget travellers with a great selection of budget hotels and backpacker hostels.
Stay in Glenelg if you like to be next to the beach, you want to be away from the CBD, you like relaxing surroundings, you don't mind being away from many attractions., you don't mind staying in quieter areas with fewer things going on.
BEST PLACES TO STAY IN ADELAIDE GLENELG AREA:
Stamford Grand Adelaide is just a perfect getaway location and beautiful place to stay. Ideal for relaxation and unwinding. The hotel is located right on Glenelg Beach, 25 minutes' drive from the Adelaide city centre, 15 minutes' drive from Adelaide Airport . All grand rooms have been newly refurbished, with the new chic and modern décor accentuating the relaxed and stylish beachside culture of Glenelg.
Ensenada Motor Inn and Suites is an excellent location, close to Jetty Road. Lovely, very clean comfortable room, and friendly staff.
Seawall Apartments is located right on the beachfront of the beautiful Glenelg Beach, Seawall Apartments offer unique self-contained accommodations with free WiFi and free car parking. Guests enjoy a sun terrace with BBQ facilities.
>> 🔍MORE BEST PLACES TO STAY IN GLENELG <<
3. North Adelaide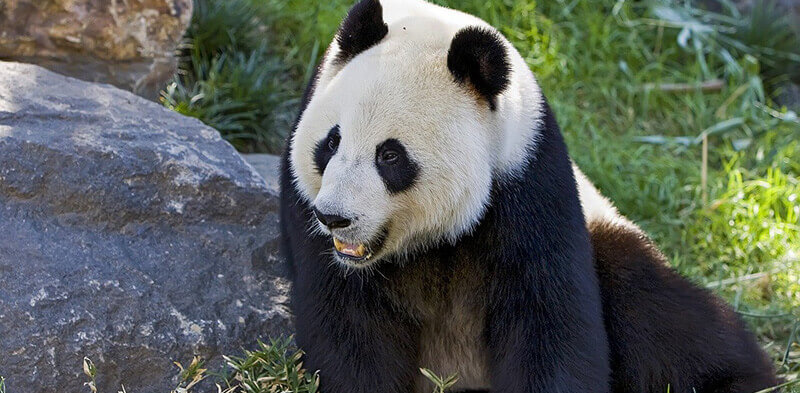 North Adelaide is beautiful place located just across the River Torrens from Adelaide CBD. It is an excellent option for those who want to relax and is home to vast open space and parks.
A popular attraction in North Adelaide is the Adelaide Zoo. Home to over 2500 animals and 250 different species, this is a superb spot for anyone looking to escape the busy CBD life. The Zoo is the second oldest zoo in Australia and offers a lot of fun for kids and family.
The neighborhood's street are packed with heritage mansions, historical pubs, villas, and worker's cottages.
You can shop at the North Adelaide Village and shopping complex with a supermarket, butcher and pharmacy.
North Adelaide is home to the famous Adelaide Oval, the venue for world-class events such as cricket, and footy. To explore the Adelaide Oval, you can take Adelaide Oval Stadium Tour, visit Bradman Collection, or take a RoofClimb adventure.
You can also explore the a fascinating cultural landmard called St. Peter's Cathedral, and the Cathedral Hotel.
North Adelaide offers plenty of outdoor activies with its green spaces and playgrounds for kids, including North Glover Playspace, Peace Park, Lefevre Park, Nantu Wama, or just strolll a long the scenic River Torrens.
North Adelaide has a wide variety of hotels that suit all different types of budgets. The area is popular with backpackers, but it's also common to see mid to high-end hotels around the area.
Stay in North Adelaide if you travel with family; you like relaxing spots, you don't mind being away from the beach.
BEST PLACES TO STAY IN NORTH ADELAIDE for first-time tourists:
Majestic Old Lion Apartments offers 4-star fully self-contained studio apartments with free unlimited Wi-Fi. Majestic Tynte Street Apartments is ideal for long and short term accommodations. Great location close to shops and free connector bus into the city. Lovely apartments with everything you need to self cater with supermarkets close by.
North Adelaide Boutique Stays Accommodation: is within walking distance of local bars and the dining precinct. The iconic Adelaide Oval and Adelaide Festival Center are a short stroll along O'Connell Street.
Majestic Tynte Street Apartments: is in a great location, with cafes, restaurants and shopping only steps away, these apartments are just over a kilometer from the center of Adelaide. Adelaide Oval and Adelaide University are within a 20-minute walk of the property.
>> 🔍BEST PLACES TO STAY IN NORTH ADELAIDE <<
4. West Beach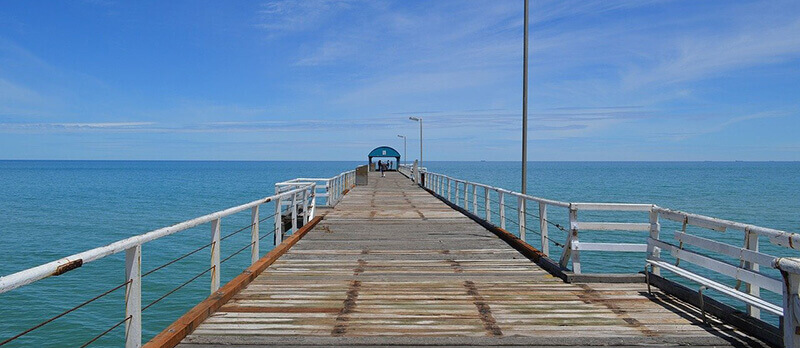 Another popular coastal spot in Adelaide is West Beach. Home to glorious beaches, golf courses, shopping malls and numerous restaurants and bars.
Visitors enjoy many attractions in West Beach, but many enjoy the mega-adventure park based there. The mega-adventure park is home to a massive obstacle course that provides an observation deck and zip wire options for children. Alternatively, West Beach is home to a glorious coastline that anyone will enjoy relaxing on.
West Beach has hotels for all budgets, and it's especially popular with travellers looking to be close to the airport. You can find anything from budget hotels to luxury hotels.
Stay in West Beach if you want to be near to the beach, you like relaxed spots, you want to be close to the airport, you don't mind being away from the CBD, you don't mind being away from the nightlife.
BEST PLACES TO STAY IN ADELAIDE WEST BEACH:
West Beach Parks Resort is set on the stunning coastline and just a short drive from the Adelaide CBD, West Beach Parks Resort offers direct beach access and a beautiful natural environment with spacious, lush grounds. There are a range of Adelaide accommodations options, including deluxe self-contained units, villas and bungalows.
BIG4 West Beach Parks is located on West Beach. It features manicured gardens and BBQ facilities. Guests can enjoy a lagoon swimming pool, family friendly facilities and beach access.
>> 🔍BEST PLACES TO STAY IN WEST BEACH <<
5. Port Adelaide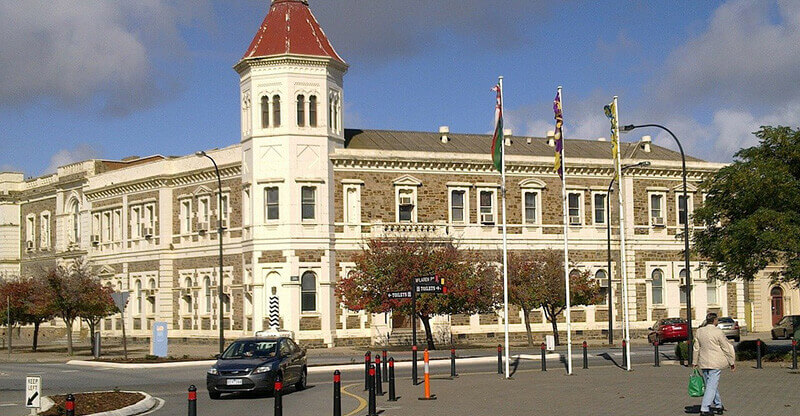 Port Adelaide is a superb spot to stay. It is located on the Adelaide coast, around a 30-minute drive from the CBD. Port Adelaide is an excellent location if you're looking to be close to the beach.
There are many cool things to do in Port Adelaide, one of the coolest things is to check out the National Railway Museum Port Adelaide. This museum is Australia's largest railway museum and shows exhibits from the commonwealth and South Australia railways.
Another great thing to see is the Port Adelaide Dolphin Cruise, which shows the local dolphins on a delightful boat ride.
You can also check out Fishermen's Wharf Market, and Port Adelaide Lighthouse.
Port Adelaide is home to a variety of Adelaide accommodation, it is possible to get cheap deals, but many hotels are mid to high end.
Stay in Port Adelaide if you want to see grand museums, you like to be near the coast, you want to see the dolphin tours, you like to be away from busy areas, you don't mind being away from the principal attractions
BEST HOTELS IN ADELAIDE PORT ADELAIDE
Nightcap at Exeter Hotel: provides a bar, garden and terrace. Featuring a restaurant, the 3-star hotel has air-conditioned rooms with free WiFi, each with a private bathroom. Private parking can be arranged at an extra charge.
>>🔍 BEST PLACES TO STAY IN PORT ADELAIDE <<
6. Adelaide Hills
Located only a 20-minute drive from Adelaide city centre, Adelaide Hills is home to some of SA's best food, wine and scenery. The easiest way to visit Adelaide Hills is by car, but you can also catch the bus to Hahndorf, Cleland Wildlife Park, Mount Lofty Summit and Waterfall Gully.
One of the best things to do in the Adelaide Hills is taking a winery tour from Adelaide to see the best of what the region has to offer without a car. You can try Chardonnay, Pinot Noir, Riesling and Sauvignon Blanc.
There are also plenty of other things to do in this area. Firstly, you can start exploring the Adelaide Hills and Cleland National Park at Waterfall Gully. It has 7 beautiful waterfalls, and many walking trails. You can hike up to the Mount Lofty lookout and Mount Lofty Botanic Gardens from one of its tracks.
On the way to the lookout, you will see Cleland National Park inside Waterfall Gully, the best place to see South Australia's native animals including koalas, kangaroos, wallabies, wombats.
You can also visit and enjoy a traditional German feast at the heritage German village, Hahndorf. Walking around the main street, grab a drink or meal at its bakeries, pubs and cafes. You can also visit Beerenberg Farm; and famous cellar doors: The Lane Vineyard and Hahndorf Hill Winery.
There are plenty of places to stay in the Adelaide Hills in heritage villages of Hahndorf, Balhannah, Aldgate, Oakbank and Stirling. You can choose an area that allows you to explore on foot, stop in at local cafes and walk out to dinner.
Best places to stay in Adelaide Hills for first-time visitors:
7. Barossa Valley
Just a 50 minute drive north east of Adelaide, Barossa is easily accessible by car or take the daily bus to Barossa via the Gawler Railway Station.
Barossa is one of the world's great wine producing areas, with 150 wineries and 80 cellar doors. Here you will find shiraz, grenache, mataro, cabernet sauvignon and semillon vines. There are many charming chateaus or big-name wineries including Chateau Tanunda, Penfolds Barossa Cellar Door, and Jacob's Creek.
You can admire the vines from a hot air balloon with Barossa Valley Ballooning and Balloon Adventures; dine at well-known restaurants and discover nearby villages and national parks.
Barossa Valley hosts the annual Barossa Vintage Festival with the five-day celebration. You can enjoy tea, lunch, live music, and wine tasting.
You can also visit the Barossa Farmers Market, run every Saturday at Vintners Sheds, Angaston.
Best places to stay in Barossa Valley:
8. McLaren Vale

Located just a 45 minute drive by car south of Adelaide, the McLaren Vale is a fantastic option if you want a quiet stay. The McLaren Vale is home to some of Australia's best wine.
If you're in the McLaren Vale, you should visit the numerous wineries. Famous wines that come from the McLaren vale are shiraz, grenache and chardonnay. Some excellent wine tours cover the entire area. But if you're in the Mclaren Vale, you should also check out the beautiful beaches such as Aldinga Beach, Maslin Beach, and Moana.
It isn't easy to find budget accommodation in McLaren Vale, but you can find some tremendous mid to high-end hotels all around the area.
Stay in McLaren Vale if you like wine, you want to escape the busy CBD, you want to go trekking, you don't mind being on the city outskirts, you don't mind being away from other attractions.
BEST PLACES TO STAY IN ADELAIDE MCLAREN VALE:
McLaren Vale Motel & Apartments is located in the heart of the McLaren Vale wine region, McLaren Vale Motel offers spacious accommodations with modern appliances. It features an outdoor pool, barbecue facilities and free parking.
Serafino McLaren Vale is located in the heart of the McLaren Vale wine region, only 26 mi from the Adelaide CBD. Set among impressive vines, 200-year-old gum trees and in front of a tranquil lake, the hotel shares its grounds with Serafino Wines & Cellar Door, where guests can sample the latest Serafino wines.
Casavino Luxury Villas offer modern self-contained accommodations in the McLaren Vale wine region, just 5 minutes' walk from a number of wineries.
>> 🔍BEST PLACES TO STAY IN MCLAREN VALE <<
🎬 Check out my virtual tour about the best places to stay in Adelaide:
See More:
Adelaide is home to world-class sport, excellent museums, superb old colonial buildings and vast open green spaces around the city. It is also the gateway for many people to explore the outback, with many visitors beginning their drive into Alice Springs and Northern Territory from Adelaide.
In conclusion, Adelaide CBD, Glenelg, North Adelaide, West Beach, Port Adelaide, Adelaide Hills, and McLaren Vale are some of the best places to stay in Adelaide for tourists due to their popularity, safety, and wide selection of accommodations for all budgets.
Personally, I recommend Adelaide CBD as the best area to stay in Adelaide for first-timers due to its prime location. If you stay here, you will be located within walking distance to major tourist attractions, as well as shopping, dining, and nightlife venues.