The best areas to stay in Cairns first-timers are Esplanade, CBD, Parramatta Park, Cairns North, Trinity Beach, Port Douglas, Edge Hill, Kuranda, Palm Cove, and Holloways Beach. These are popular and safe neighborhoods for tourists that offer a wide variety of attractions and amenities.
In this post, I will help you to decide where to stay in Cairn for for families, couples, nightlife, and best places to stay in each area.
Cairns is a trendy town in Tropical North Queensland with 3 million tourists visiting every year, and there are plenty of accommodation options. It is a relatively small city, with a population of around 150,000, you don't have to worry about being very isolated from attractions.
Located next to the Great Barrier Reef, Cairns is Australia's best gateway to the natural wonder along with Port Douglas, Palm Cove, Mission Beach and Dunk Island, Townsville, Mackay, Airlie Beach, and the Whitsunday Islands. Cairns is also a perfect base for tourists to visit Cape Tribulation, the Daintree Rainforest, Atherton Tablelands, and Kuranda.
Cairns Esplanade along with CBD is the best area to stay in Cairns for tourist, especially for first-timer because they have a super central location. They both offers the widest range of accommodation options that suit all budget travelers. If you book a hotel here, you will be located within walking distance from tourist attractions as well as many restaurants, bars, and shops. It easily reachable from the airport, and to other spots along the coast.
The Cairns CBD is a nightlife hub with some great nightlife and very cheap drinks deals, but spots like the Esplanade offer relaxing areas too. You can also consider staying in the surrounding beach resorts just outside Cairns like Trinity Beach or Port Douglas. You can stay a couple of night in these beaches, but you can also stay in Cairns city, and take a day trip to Trinity Beach, Palm Cove, or Port Douglas.
Cairns is a great family destination, with Great Barrier Reef, Esplanade Lagoon, aquarium, wildlife, and Muddy's Playground to explore. Cairns Esplanade, CBD, Trinity Beach are best places to stay in Cairns for family because it offers an incredible selection of family activities for all ages.
Cairns has significant accommodation areas for backpackers, families, large groups, and high-end travelers. You can easily find all kind of lodging including luxury resorts, hotels, guest houses, airbnbs, motels, hostels, and camping sites.
Where to Stay in Cairns: 10 Best Areas to Stay in Cairns
1. Esplanade, where to stay in Cairns for first time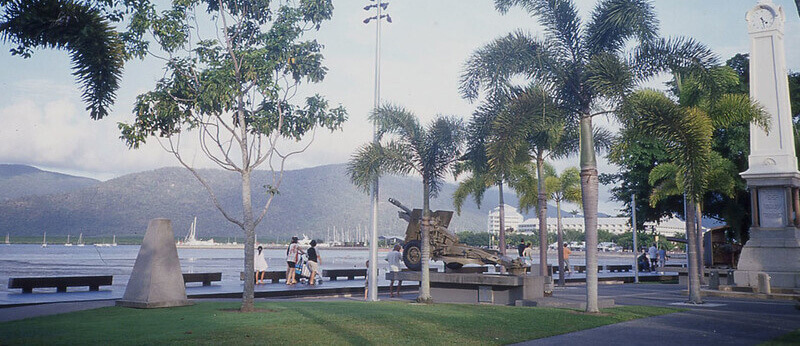 Esplanade is best place to stay in Cairns for couples and families of all ages. It is a fantastic place to stay if you want to be right on the coast and next to the beach. It's a great spot if you're going to be near the lagoon, restaurants, coffee shops, bars, clubs, and all the main attractions.
A popular spot to hang out in the Esplanade is the large, free pool complex, Esplanade Lagoon, a 4800 square meters saltwater lagoon overlooking the Trinity Inlet. It is the best place to swim in the city without the fear of saltwater crocodiles.
In the surrounding park grounds, there are many tables and 12 BBQ facilities under the huge Banyan Trees, great for a picnic.
There are numerous monuments and memorials around including the Olympic Torch Monument, the US Army Small Ships Memorial, The Cairns Cenotaph and Memorial, and the Merchant Navy Memorial.
You will find family-friendly areas along the beachfront boardwalk such as Muddy's Playground, a Skatepark, Beach Volleyball, Healing Garden playground, and the Funship Playground.
If you stroll along the Harbour Walk, it will lead you to the lagoon, the marina, and the Trinity Inlet. The walk also offers good opportunities to do bird watching!
You can also learn more about the marine life at Cairns Aquarium, Cairns ZOOM & Wildlife Dome on the top of the Reef Hotel Casino with 65 elements of crossings, ziplines, and Australian wildlife.
Take a look at the Esplanade Artwork, where you can see unique sculptural works from local artists. The giant Fish of Bryan Robinson is the most iconic of all of these sculptures.
There are also Esplanade Markets with a wide range of local products such as woodwork, art, fashion, leatherwork, and pottery.
If you want to be next to the lagoon, this is the best spot. You will find some good budget hotels here, catering to backpackers and budget travelers. And you can also find plenty of medium to high-end hotels.
Stay in Esplanade if this is your first visit; you want to be on the coast, you would prefer to be next to the lagoon, you want to be close to the attractions, you like to be near the shops, you don't mind busier areas.
Best Places to Stay in Cairns Esplanade:
luxury ($$$): Shangri-La The Marina, Cairns The 5-star Shangri-La Hotel offers luxury accommodation with stunning ocean views of the Cairns Marlin Marina. Within walking distance from The Barrier Reef Departure Terminal, the Pier Shopping Centre, Cairns Marlin Marina, Cairns Regional Gallery, Cairns Night Markets, Cairns City Library, and The Cairns Museum.
mid-range ($$): Novotel Cairns Oasis Resort is a 4.5-star resort featuring a gorgeous pool, complete with a sandy beach, children's pool, and a swim-up bar. The hotel is a short walk from the Esplanade, The Center of Contemporary Arts, Cairns Railway Station, The Cairns Civic Theater, Rusty's Markets, and the Reef Casino.
budget ($): Bounce Cairns is one of the best hostels in Cairns, offers resort-style, award-winning hostel accommodation featuring free breakfast and free high-speed WiFi. Guests can relax in the outdoor pool and enjoy the outdoor bar to socialize and meet new people. It is centrally located in the heart of Cairns and just a short walk from the main attractions of the city.
Crystalbrook Riley This 5-star hotel is centrally located at the northern end of Cairns. It has 311 stylish rooms and suites, three restaurants and bars including Cairns' highest rooftop bar, Rocco, an expansive lagoon pool and private beach, the stunning Eléme Day Spa, functions and events spaces for up to 400 people and a 24-hour fitness center.
🔍FIND BEST HOTELS IN ESPLANADE
See more: 21 Best things to do in Cairns, Australia
2. Cairns CBD, best place to stay in Cairns for nightlife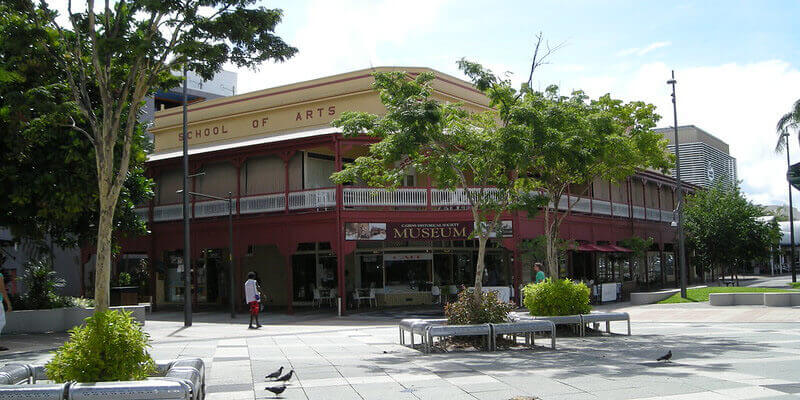 Cairns CBD along with Esplanade is the best area to stay in Cairns for tourist. The CBD is the heart of Cairns, and it's where you will find all the best shops, bars, nightlife, restaurants, and some great attractions. The CBD is home to the best nightlife of the city, such as the popular nightclubs The Woolshed and Gilligans.
But if nightlife isn't what you're looking for, you have the option of the brilliant Cairns Aquarium which first began in 2017. The aquarium is the only one in the world that is dedicated to fish found on the Barrier Reef, it's an excellent spot to learn about the native marine life.
You can also grab a coffee at Grafton Street, check out Rusty's Farmers Market for some street foods, and do some shopping at The Pier Shopping Centre or Cairns Central shopping center on McLeod Street.
If you want a spot to relax, picnics, and sunbathe, head to the Munro Martin Parklands, with many open spaces, shady trees, and gardens.
The hustle and bustle of Cairn night markets are open daily from 5 PM near the esplanade. You can grab dinner or buy souvenirs.
Cairns CBD is a hub of Great Barrier Reef tour operators, you can easily book guided tours that have swimming, sailing, diving, snorkeling, and exploring islands such as Michaelmas Cay, Arlington Reef, Green Island, Fitzroy Island, and Hastings Reef.
The Great Barrier Reef is one of the seven wonders of the natural world and the largest coral reef system in the world. It more than 1,800 miles that stretch from Cape York to Bundaberg with approximately 2,900 coral reefs, 600 islands, and over 1,500 species of fish.
You can find an excellent array of accommodation options. The CBD is perfect for backpackers, and you can find lots of budget accommodation. Alternatively, you can find medium to high-end hotels too.
Stay in Cairns CBD if you want a central location; you love shopping and nightlife; you don't mind a lot of people around you;
Best Places To Stay In Cairns Cbd?:
Pullman Reef Hotel Casino This 5-star hotel offers Cairns Wildlife Dome, with koalas, wallabies, and crocodiles, a casino, 4 bars with live music, a rooftop swimming pool, spa pool, and sauna. It's within walking distance from Cairns Convention Centre, Martin College, Reef and Rainforest Research Centre, and Cairns Family Court.
Southern Cross Atrium Apartments is conveniently located in central Cairns, this property offers access to 3 tropical landscaped pools and a fitness center with a sauna. There is also an on-site cafe, open for breakfast only, and a tour desk. Within a short stroll from the restaurants and bars on the Cairns Esplanade, the railway station, Cairns Central Shopping Complex, Cairns Convention Centre. Don't miss out on restaurants like Ochre Restaurant, Barnacle Bill's Seafood Inn, Golden Boat Chinese Restaurant, and Waterbar & Grill Steakhouse.
Cairns Queenslander Hotel & Apartments offers 4-star accommodation with a private, furnished balcony. Free parking is available on-site. The property is located within easy walking distance of the Cairns Esplanade and waterfront. Cairns city center is a 20-minute walk from the property and there are many restaurants and convenience stores nearby
Cairns City Palms self-contained suites and apartments are located 20 minutes' walk from the centre of Cairns, and a 10-minute drive from Cairns Airport.5-minute walk away you will find supermarkets, restaurants, bars, bottle shops, a fitness centre and other take away food outlets.
🔍FIND BEST HOTELS IN CAIRNS
3. Parramatta Park, quiet area in Cairns
If you want to stay in a spot that's very close to the CBD, but a bit quieter then you will love Parramatta Park. Parramatta Park is home to Cairns Showground, Little Barlow Park, West Barlow Park, Parramatta Park, and Barlow Park.
Parramatta Park is next to some of the best shops in the city, and you're next to Cairns Central Shopping Centre. The shopping center is home to some great food, options, a variety of shops, and the local supermarket such as Myer, Kmart, Target, Coles.
You also have DFO Cairns, the only outlet center north of Brisbane. It offers all the shops you need!
Also, there are Cairns Performing Arts Centre, Cairns Convention Centre in this neighborhood.
Parramatta Park will locate you next to Cairns Railway Station which is a fantastic thing if you want to catch a ride on the Kuranda Scenic Railway. The Kuranda Scenic Railway offers incredible views of the surrounding rainforest scenery.
Parramatta Park has a type of accommodation to suit all needs; you can find great budget hotels and some mid to high-end hotels too.
Stay in Parramatta Park if you like quieter areas, you want to be away from the CBD, but still close, you enjoy shopping, you want to catch the Kuranda Scenic Railway, you don't mind being away from the best nightlife.
Best Places to Stay in Cairns Parramatta Park:
SKYE Hotel Suites Parramatta Boasting a 3-story atrium hotel lobby, a 25 m outdoor lap pool, fitness center and a contemporary restaurant, SKYE Hotel Suites Parramatta is located in the heart of Parramatta CBD.
PARKROYAL Parramatta PARKROYAL Parramatta is located in the popular Church Street dining and shopping precinct in Parramatta, Western Sydney. It features free WiFi throughout and a fitness centre. Riverside Theatre is a 5-minute walk away and Parramatta Train Station is a 10-minute walk. Rosehill Gardens Racecourse is a 5-minutes drive away. Sydney Olympic Park, Raging Waters Sydney and the ANZ Stadium are a 15-minutes drive
Meriton Suites Church Street, Parramatta Set beside the Parramatta River, Meriton Suites Church Street, Parramatta boasts a range of self-contained, luxurious 1, 2 and 3 bedroom suites. Guests enjoy the indoor and outdoor swimming pool, an onsite 24-hour fitness centre and free unlimited WiFi. Parramatta Station is 10 minutes' walk away and onsite car parking is available.
Western Sydney University Village – Parramatta is just 650 m from the University of Western Sydney Parramatta. It offers a lounge with a flat-screen cable TV. It is 5 minutes' drive from Parramatta Train Station and Westfield Parramatta Shopping Mall. Sydney's city centre and Sydney Airport are each a 45-minutes drive away.
🔍FIND BEST HOTELS IN PARRAMATTA PARK
🎬 Check out my virtual tour about the best places to stay in Cairns in this video:
4. Cairns North, best place to stay in Cairns for couples
Located in the Yidinji traditional Aboriginal country, close to Edge Hill, Cairns North is an excellent spot if you want to stay in the most hipster part of the city.
Cairns North is only a short walk from the principal attractions, but it also offers a quieter part of the city to relax.
Cairns North is home to the famous healthy food shop called the healthy hub, which has lots of vegan food. But it's also great if you like coffee shops and restaurants with some excellent options in this part of the city.
Cairns North is home to North Cairns Sports Reserve, tennis courts, Apex Park, Tobruk Memorial Swimming Pool, Cairns Hockey Association, and the Cairns City Library.
You can also find The Cairns Esplanade Coconut Grove and Cairns Esplanade Fun Ship Playground.
The significant aspect of Cairns North is that it's very close to the Cairns International Airport, and you are still close to the barrier reef tours. It's also straightforward to get around the city and to the surrounding attractions from here.
In the Edge Hill neighborhood nearby, there are Cairns Botanic Gardens Precinct, the scenic trail walk of Red Arrow Circuit, Aboriginal Plant Use Garden, Flecker Botanic Gardens, and Tanks Arts Venue.
You can find accommodation to suit all types of budgets in Cairns North, due to the quieter location there are fewer backpacker options, but there is still a wide range of low to high-end accommodation.
Best Places to Stay Near Cairns North:
Summer House Backpackers Cairns features a restaurant, free bikes, an outdoor swimming pool and bar in Cairns. 3.7 km from Cairns Convention Centre and 1.8 km from Cairns Flecker Botanic Gardens, the property features a shared lounge and a garden.
Tropic Towers Apartments Featuring a private balcony with lovely garden views, Tropic Towers Apartments are just 5 minutes' walk from Cairns Esplanade. The property features an outdoor pool and a barbecue area set in landscaped tropical gardens.
🔍FIND BEST HOTELS IN CAIRNS NORTH
5. Trinity Beach, where to stay in Cairns with a family
Trinity Beach along with Cairns Esplanade and Cairns CBD is some of the best places to stay in Cairns with a family because it is only a short drive from Cairns and it offers beatiful sandy beaches safe for kid for swimming.
Trinity Beach is Cairns' coastal suburb. it is located only 30 minutes from Cairns, 10 minutes from Palm Cove, and 15 minutes from the Cairns International Airport on the Captain Cook Highway.
Trinity Beach is next to many fantastic beaches, such as Palm Cove and Clifton Beach, which are all tremendous tropical spots. It's straightforward to catch the road north to Port Douglas, and many other beautiful sites in the area.
Take a stroll around along a 2.3km loop that hugs the coastline, head to Taylors Point, where you can admire the sweeping views of Trinity Beach and Double Island.
If you like hiking, hike up to Earl Hill and enjoy breathtaking views over the Coral Sea. And you can easily access the Barron Gorge National Park which has some of the best waterfalls in the area.
There are children's playgrounds, BBQs, picnic shelters, tables, and toilets in Trinity Beach Foreshore, great for picnics.
Trinity Beach has more local feel with apartment type accommodation rather than Palm Cove. it's superb for couples and families, it's less touristy than Palm Cove.
Stay in Trinity Beach if you are traveling with familiy; you like to be next to the beach, you like quiet areas, you want to relax, you don't mind not being near the CBD, you don't mind not being away from any nightlife.
Best Places to Stay in Trinity Beach:
Blue Lagoon Resort is a 4-minute walk from Trinity Beach, this palm-fringed resort offers accommodation with balconies overlooking rainforest mountains, 2 outdoor pools, and a tennis court. You can easily find many cafés along the shore and the local shopping centers nearby, and beaches such as Kewarra Beach and Clifton Beach. The resort has free parking and is 20 minutes driving from Cairns city center, and 15 minutes drive from Cairns International Airport.
On The Beach Nestled on the spectacular beachfront at Trinity Beach and set against a backdrop of stunning rainforest. Don't miss out on Lunico's Italian Restaurant, Trinity Beach Bar and Grill, Blue Moon Grill. You can also find attractions nearby such as Bluewater Marina, Half Moon Bay Marina, Skyrail Rainforest Cableway, and Cairns Flecker Botanic Gardens.
Sea Change Beachfront Apartments is situated on Trinity Beach, just 15 minutes north of Cairns. It offers luxurious 5-star apartments with breathtaking ocean views of the Coral Sea from each private balcony. Guests enjoy free WiFi and free on-site parking.
Trinity Beach Club Holiday Apartments The 4-star Trinity Beach Club Holiday Apartments are just 200 m from Trinity Beach. Cairns city and Cairns International/Domestic Airport are a 20-minute drive away. Each of the fully-furnished apartments are surrounded by gardens
🔍FIND BEST HOTELS IN TRINITY BEACH
6. Port Douglas, upmarket beach town, 55 km from Cairns CBD
Located 55km from Cairns CBD, Port Douglas is a fantastic option if you're looking for an alternative to staying centrally in Cairns but still want to be close to the city. It is a classic beach holiday town with an upmarket vibe.
Port Douglas is a quiet tourist beach town just North of Cairns, and it has an array of excellent beaches such as the Four Mile Beach that spans along the coast.
Port Douglas is the gateway to the Great Barrier Reef and the Daintree Rainforest, two UNESCO World Heritage natural wonders; if you want to be in a better location for Cape Tribulation and Daintree Rainforest, this area is an excellent choice.
Port Douglas is a getaway to the barrier reef with the opportunity to snorkel at Agincourt Reef, but also check out the local native wildlife at the Wildlife Habitat Port Douglas.
You can learn about traditional Aboriginal ways of life on the Ngadiku Dreamtime Walks, conducted by the local Indigenous people at Mossman Gorge. Mossman Gorge Cultural center is about a twenty-minute drive from Port Douglas.
If you are an active hiker, check out the Flagstaff Hill lookout and the 6km Bump Track that passes through eucalypt and rainforests.
There are also day trips to the rainforest village of Kuranda with Skyrail Rainforest Cableway or to Atherton Tablelands.
if you want to spot crocs, check out The Lady Douglas, Crocodile Express Daintree Cruises, or visit a crocodile farm – Hartley's.
This area has some budget hotel options, but not many. You will find more mid to high-end hotels in the town, with some great luxury options.
Stay in Port Douglas if you want to stay in a tranquil spot, you want a better location for Daintree Rainforest and Cape Tribulation, you enjoy hidden tropical beaches, you don't mind being away from any nightlife, you don't mind being a short drive from Cairns.
Best Places to Stay near Cairns Port Douglas:
Sheraton Grand Mirage Resort, Port Douglas boasts a prime location as the only beachfront property to the Famous Four Mile Beach. Surrounded by 147 hectares of lush gardens, the hotel offers 2 hectares of sparkling saltwater lagoon pools, an an18-hole golf course, and 5-star resort amenities. You can also easily explore attractions nearby such as Mossman Gorge, Flames of the Forest, Rainforest Habitat Wildlife Sanctuary, Macrossan Street, and Crystalbrook Superyacht Marina.
Sea Temple Port Douglas Luxury Apartments is located on Four Mile Beach. Among the various facilities of this property are an outdoor swimming pool and a fitness centre. The resort provides pool views and a sun terrace.
Silkari Lagoons Port Douglas Whether you want to can relax by one of the resorts 6 lagoon-style pools or explore the world-famous Barrier Reef and Rainforest, Silkari Lagoons is the place for you. Silkari Lagoons is located just a short stroll from the Four Mile Beach.
Pool Resort Port Dougla offers luxury apartments just 5 minutes' walk from the world-famous Four Mile Beach. Guests can swim up to their apartment from the lagoon-style swimming pool. All apartments offer a balcony with outdoor furniture. Pool Port Douglas is a short 5-minute stroll from cafes, bars and restaurants. It provides guests with the perfect base to explore the nearby Barrier Reef and Rainforest.
🔍FIND BEST HOTELS IN PORT DOUGLAS
7. Edge Hill, a residential area with local vibe
Located about 11 minutes drive north from Cairns CBD, the established inner suburb of Cairns, Edge Hill is surrounded by the forested hills of the Mount Whitfield Conservation Park to the north and west.
This residential area is one of the most expensive suburbs in Cairn. Its population is mainly of families and young professionals.
For shopping, there is the IGA at Pease Street in Manunda, Cairns Central Shopping Centre, the Anderson Street with a wide variety of homewares, electrical, and mechanical.
One of the highlight attractions that draw tourists into the area is the Cairns Botanic Gardens on Collins Avenue. This is an affordable family-friendly holiday attraction in Cairns. It has four areas Flecker Gardens, Centenary Lakes, Mt. Whitfield Conservation Park, Tanks Art Centre.
The Tanks Arts Centre was transformed from three WWII oil storage tanks to contemporary art and entertainment venue. It is an iconic heritage-listed site.
There is live music, performance, visual arts, market days, workshops. The Tank 5 is the main performance space with a licensed bar.
Created in 1886, the Flecker Botanic Gardens is home to many tropical plants. It covers a large area between Goodwin Street, Collins Avenue, and Greenslopes Street.
The garden has the Watkins Munro Martin Conservatory. There are butterflies fluttering around the Penta flowers.
There is the Botanical Garden Visitor Centre and the Tank sixty-four cafe inside the garden.
Centenary Lakes nearby is an exotic wilderness parkland. It is a great place for picnics and bird watchers.
Behind the Flecker Botanic Gardens lies the 300 hectare Mt. Whitfield Conservation Reserve. It has two walking tracks including the Red Arrow trail where you can see the Eucalypt forest and the Blue Arrow for active hikers.
Cominos House is home to the Cominos House, a unique Queenslander residential house in the 1870s, it has been converted into an arts and environment center.
Best places to stay in Edge Hill:
🔍FIND BEST HOTELS IN EDGE HILL
8. Kuranda, charming mountain village
Located just 25 kilometers northwest of Cairns, Kuranda is a charming mountain village in Far North Queensland that is surrounded by World Heritage Rainforest.
A visit to Kuranda is not complete without taking the ride on the Skyrail Rainforest Cableway. The journey will take around 90 minutes, you can hop off at two rainforests mid-stations Red Peak and Barron Falls with a view of the beautiful vistas below.
You can take a ride on the Kuranda Scenic Railway to the hinterland town, or take a historic train for a journey into the Barron Gorge National Park with the views of the Coral Sea and Cairns coast.
There are two outdoor markets in Kuranda: the Kuranda Original Rainforest Markets on 13 Therwine Stree and the Kuranda Heritage Markets. You can find handmade local produce, gemstones, and Indigenous art.
You will find the Australian Butterfly Sanctuary, which is home to more than 1,500 tropical butterflies. The nearby Birdworld Kuranda, on Rob Veivers Drive, is home to over 350 birds including a Southern Cassowary.
If you want to cuddle a koala, you can visit the Kuranda Koala Gardens. For a more natural adventure, take the Kuranda Riverboat cruises on the Barron River.
You can also take the Kuranda's Rainforest Walks including four walks in the Wet Tropics World Heritage Area. There is The Village Walk, Jumrum Creek Conservation Park, The Jungle Walk, and The River & Esplanade Walk.
Another sight to see is the Rainforest Nature Park on Kennedy Highway. You can take Army Duck Rainforest Tours, learn about the local Indigenous culture, traditional dance, and cultural performance by the Pamagirri Aboriginal Experience; and take a Dreamtime Walk with boomerang throwing and spear-throwing.
Kuranda has plenty of cafes, restaurants, outdoor dining with a cooler mountain climate.
Kuranda has an array of accommodation types including eco-cabins, bed and breakfasts, luxury rainforest resorts, cheap backpacker hostels, and camping sites, there will be something to suit everyone.
Best places to stay in Kuranda: Kuranda Ngorongoro Lodge
🔍FIND BEST HOTELS IN KURANDA
9. Palm Cove, where to stay in Cairns for beaches
Palm Cove is a 30-minute drive north of Cairns. There is a public bus service from Cairns to Palm Cove that take about an hour. You can also book uber, taxi, or a tour to travel between. It's best to hire a car so you can have freedom to see around.
It is a small beachside village centered around the beachfront main street, Williams Esplanade lined with centuries-old paperbark, melaleuca trees. Palm Cove has proximity distance to the Great Barrier Reef, Kuranda Village, Port Douglas, the Daintree, and the Cape Tribulation.
Palm Cove is home to numerous world-class resorts, restaurants, day spas, and wellness retreats spanning the length of a gorgeous esplanade.
You can have a spa treatment on Spa Street, the food regional restaurant Nu Nu, or kayak to Double Island.
Palm Cove has a variety of accommodations, but popular luxurious hotels with a sea view. There are stylish beach houses, holiday homes, self-serviced apartments, and a Caravan Park on the beachfront esplanade.
Best places to stay in Palm Cove:
🔍FIND BEST HOTELS IN PALM COVE
10. Holloways Beach, quiet beach town
Located 10 minutes drive north of Cairns, easy to reach from Captain Cook Highway, Holloways Beach has clean gentle waters of the Coral Sea.
There are nice cafes, restaurants, and beach-side dining that offer fresh local produce.
Holloways Beach is narrow but is a lovely spot to cool off, take the dog for a walk, sit and enjoy the fresh air. This beach has a stinger net during the stinger season, only swim inside its protective barriers.
A more secluded spot is at Holloways Beach Park. There are markets that are held by the beach on a regular basis.
Holloways Beach has accommodation that ranges from affordable self-contained units to a five-star beachfront resort. One of the best place to stay in Holloways Beach is Cairns Beach Resort.
Should I Stay in Cairns, Palm Cove, or Port Douglas?
I recommend to book hotel in Cairns then hire a car, take a bus or taxi for a day trips to Port Douglas or Palm Cove. You can also consider to stay in each town few nights. Cairn has many budget-friendly hotels, great nightlife, and shopping; Port Douglas and Palm Cove is a beach holiday town with an upmarket vibe and luxury resort.
How many days should I stay in Cairns?
You should spend at least 3 days in Cairns but six days to a week is an excellent amount of time to see Cairns and surrounding areas. This time will allow you to see some of the top attractions such as Great Barrier Reef, Kuranda Village, Cape Tribulation & Daintree National Park.
See Also:
Cairns is a wonderful connection point to the surrounding Tropical Northern Queensland and it is the best gateway to the Great Barrier Reef. The city is very small, so there isn't a massive dilemma when it comes to areas to stay because you're always a short walk from everything the city has to offer.
Overall, Cairns CBD and Esplanade are the best place to stay in Cairns for tourist due to its prime location. It offers the widest range of accommodations, shopping, dining, and nightlife. If you stay here, you will be located within walking distance from tourist attractions as well as well-conneted to many other beaches and towns in North Queensland.
However, an important choice is whether to stay in Cairns or the surrounding beach resorts such as Trinity Beach or Port Douglas. With suggestions of the best areas to stay in Cairns, I hope you find out where to book your accommodations for your next holiday!