Where to stay in Yokohama Japan for tourists, nightlife, shopping, families, couples? In this post, I will help you to find the best areas to stay in Yokohama for tourists (include video and map), and the best hotels in Yokohama for all budgets.
Yokohama is the capital of Kanagawa Prefecture, a 30-minute train ride from central Tokyo. Originally it was a small fishing village, but when Japan reopened to the world after a period of national isolation, it became one of the first ports which allowed foreign trade.
Where to stay in Yokohama?
The best areas to stay in Yokohama for tourists are Minato Mirai 21, Kannai, Motomachi, and Takashima. These areas provide a diverse range of experiences for tourists, families, and couples, combining modern attractions, historical sites, shopping opportunities, and cultural highlights.
Minato Mirai 21 is the best overall base for first-timers due to its central location, well-connected to public transportation, and wide range of accommodation options for all budget travelers. It offers easy access to major landmarks, restaurants, and shops.
Overviews of best areas to stay in Yokohama for tourist
Here is an overview of recommended areas in Yokohama for first-time visitors:
| Best areas in Yokohama | Why should you stay in this area? |
| --- | --- |
| Minato Mirai 21 | best overall area for first-timers due to its central location and well-connected to public transportation. It's a popular waterfront district with a blend of modern skyscrapers, shopping malls, and entertainment facilities such as the Landmark Tower, Yokohama Cosmo World amusement park, and the Red Brick Warehouse. |
| Kannai | a bustling district known for its historical and cultural sites. Kannai also has a vibrant nightlife scene, with numerous bars, restaurants, and live music venues. This area is best suited for travelers interested in history, culture, and culinary experiences. |
| Motomachi | a charming neighborhood, located close to close to Chinatown and Yamate Hill, offering a mix of Western and Japanese influences. It features tree-lined streets, European-style buildings, and boutique shops. |
| Takashima | a popular shopping and entertainment district is home to numerous department stores, fashion boutiques, and electronic shops. Takashima is known for its modern and energetic vibe, making it an ideal choice for shoppers and those looking for a lively city experience. |
Map of areas and neighborhoods in Yokohama: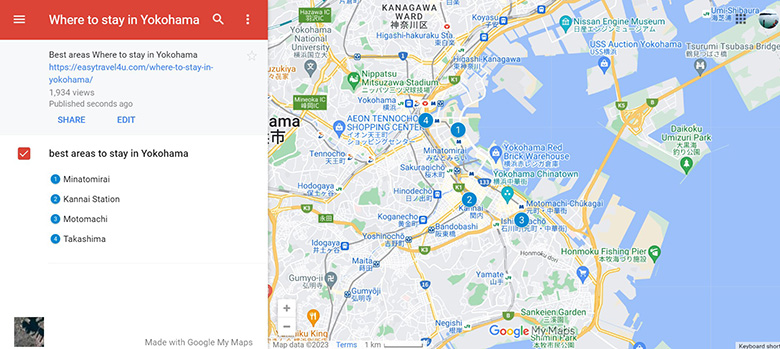 🎬 To get an overall idea of Yokohama's neighborhoods, check out this video:
Best areas to stay in Yokohama for tourists are:
1. Minato Mirai 21 – best overall area to stay in Yokohama for first-timers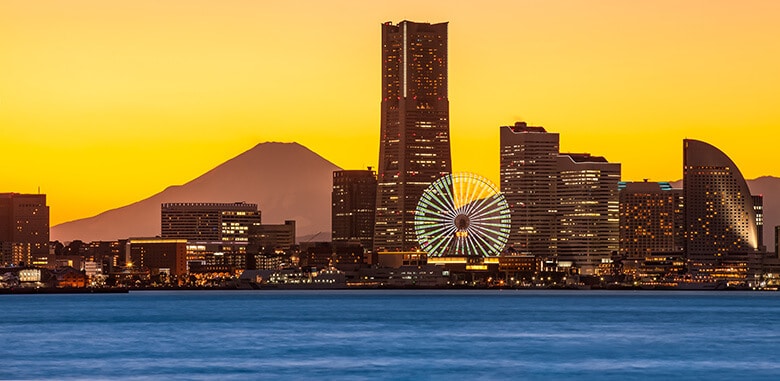 Minato Mirai 21 is the best place to stay in Yokohama because it has a super central location and it has a wide range of tourist amenities such as hotels, restaurants, bars, and shops. The waterfront area of Minato Mirai 21 is the main business and shopping district of Yokohama.
Minato Mirai 21 offers beautiful views of Tokyo Bay. It is within walking distance to restaurants, shopping malls, tourist attractions, and close to the ancient city of Sakuragi-cho.
Minato Mirai 21 is a convenient location, close to the central train station. If you want to travel on the Shinkansen bullet train around Japan to Kyoto, Osaka, Tokyo, Sapporo, Nagoya, and Fukuoka, Minato Mirai 21 is the best area to stay in Yokohama.
This modern district of Yokohama is home to skyscrapers, shopping centers, and Yokohama's famous landmarks.
The most recognizable feature in Yokohama, Landmark Tower, is one of the tallest buildings in Japan. Landmark Tower is home to offices, the 5-star Yokohama Royal Park Hotel, the observation deck Sky Garden on the 69th floor which offers a 360-degree view of the city and Mt. Fuji. Landmark Tower has the fastest elevator in Japan, you can reach the 69th floor within 40 seconds.
Located within walking distance from Yokohama Landmark Tower is the Nippon Maru. This tall ship was built in 1930, and used as a training ship for the Japanese Merchant Marines. It's a part of the Yokohama Port Museum and is open to the public.
Minato Mirai has numerous museums for history buffs to explore, including:
The Mitsubishi Minatomirai Industrial Museum, an interactive museum on aerospace, technology, ocean, transportation, and environment.
The Yokohama Anpanman Children's Museum, a great place to visit for families with kids.
The Yokohama Museum of Art, a museum of modern and contemporary art that shows works of artists and the history of Yokohama.
The Yokohama Cup Noodles Museum, a food museum that shows the history of Japanese instant Ramen noodles including Nissin Ramen noodles.
At the Yokohama Cup Noodles Museum, you can create your own cup of noodles in My Cupnoodles Factory workshop, and make your own instant ramen noodle from My Chicken Ramen workshop.
Located right next to Yokohama Landmark Tower, you can find Queen's Square shopping complex, on the three Queen's Towers. It is home to a Minato Mirai station, Yokohama Minatomirai concert Hall, restaurants, Yokohama Bay Hotel Tokyu, many restaurants, and stores.
For more shopping experience, visit the Landmark Plaza which has similar shops, restaurants, and also a Pokemon Center.
Kishamichi Promenade is a 500m boardwalk located near that links the Nippon-maru Memorial Park area and the man-made Shinko district where you can find Red Brick Warehouse, World Porters Mall, and Yokohama Cosmo World. Kishamichi Promenade has Cherry trees that bloom beautifully in spring and offers stunning city views.
You can also find the children's playground Cupnoodles Park and the Asian food court Noodles Bazaar in this Shinko Island.
The small amusement park, Cosmo World, is within 3 minutes walk from Cup Noodles Museum. Cosmo World is popular with kids, tourists, and couples. It has a large ferris wheel, Cosmo Clock 21 Ferris Wheel, with the largest clock in the world at the time of its opening and a roller coaster.
Also located on Yokohama Bay, the retro and old-fashioned building, Red Brick Warehouses western-style brick buildings that were built in 1911 and 1913 which has many designer stores and stylish restaurants. It has some events like Oktoberfest and Christmas Market.
For open-air shopping, head to the Marine & Walk Yokohama along the seafront with stylish boutiques and many food options.
For relaxation, head to the spa and relaxation center Manyo Club. It has hot spring baths with water brought in daily by truck from the Izu Peninsula. Rinko Park is the largest seaside park and offers a beautiful view of Yokohama Port.
The Pacifico Yokohama – one of the largest convention complexes in the world area are also worth a visit!
Advantages: Central location, stunning waterfront views, wide range of shopping and entertainment options, various notable and family-friendly attractions.
Disadvantages: Higher cost in accommodation and dining due to its central location, can become crowded, especially on weekends and holidays, limited traditional atmosphere.
Minato Mirai 21 is a fantastic area to stay in Yokohama for first-timers, offering a mix of attractions, convenience, and scenic views. However, it's important to consider your budget and preference for a traditional atmosphere when making a decision.
Best places to stay in Yokohama in Minato Mirai for first-timers:
luxury ($$$): Yokohama Royal Park Hotel, 5-star hotel, located above the 52nd floor of Yokohama Landmark Tower, offering views of Yokohama City or the Yokohama Bay Bridge. It is located within walking distance from the Red Brick Warehouse, Chinatown, Pacifico Yokohama convention centre. There are limousine bus ride to Haneda and Narita Airports.
luxury ($$$): InterContinental Yokohama Grand, an IHG Hotel, 5-star hotel offering views of Yokohama Bay, short walk from the Cosmo Clock 21 ferris wheel, Minato-Mirai Hall, and Minato-Mirai Train Station.
budget ($): Navios Yokohama, great accommodation, located within walking distance from Yokohama Red Brick Warehouse, Yokohama Chinatown, Yamashita Park, and Yokohama Stadium.
🔍FIND BEST HOTELS IN MINATO MIRAI
See more: 30 Best things to do in Yokohama, Japan
2. Kannai / Chinatown / Yamashita Park – great area for nightlife
Kannai is a historic district, located within the JR Negishi Line, Yokohama waterfront, the Ōoka River, and Nakamura River.
It offers great nightlife! Some of the popular bars and nightclubs are Antenna America – Kannai, Yokohama Brewery, Baird Taproom Bashamichi, and Yokohama Bay Brewing.
Yokohama Chinatown (Chukagai in Japanese) is the biggest Chinatown in Japan and one of the largest Chinatowns in the world. Chinatown has narrow and colorful streets with hundreds of restaurants and food stalls.
Steamed buns (manju) and ramen noodles are must-try food in Chinatown. Yokohama Chinatown holds a festival in the New Year around February.
You will see numerous gates when you enter Chinatown and the highlight is the Kanteibyo temple. Also known as Guan Gong Temple or Emperor Guan's Temple, the Kanteibyo was built in 1873, and dedicated to the god of good business and prosperity.
Yamashita Park is located just 7 minutes walking from Chinatown. The park was built in the Great Kanto Earthquake of 1923 and stretches along the waterfront from Osanbashi Pier to Yamashita Pier.
Yamashita Park can be reached from the Motomachi-Chukagai Station on the Minato Mirai Line and from Sea Bass boats which leave from Yokohama Bay Quarter. Here you will find several statues, monuments and fountains.
It offers a great view of the Japanese ocean liner, the ship Hikawa Maru, which was served in 1930 and interested by the imperial family and Charlie Chaplin. It's now a floating museum.
It is close to Bashamichi, Museum of Cultural History, NYK Maritime Museum, Kaiko-Kinen Kaikan, Ôsanbashi, Marine Tower, Motomachi, and Yokohama Bay Bridge.
Yokohama Marine Tower is a 106m-tall tower south of Yamashita Park. It has observation decks, offer stunning views of the city.
For a shopping experience, head to Bashamichi Shopping Avenue. It is located near Sakuragi-cho where you can find the brick-tiled roads and gas lights, several modern Western-style buildings, such as the Kanagawa Prefectural Museum of Cultural History and the former Fuji Bank Yokohama Branch in Bashamichi.
NEKO-Café Leon is located near Yokohama Chuukagai and Yokohama Stadium. It's a cat cafe where you can have a drink and interact with cats.
The Yokohama Park, Yokohama Doll Museum, Broadcast Library and the Silk Museum are also the highlight attractions in the Kannai area.
Advantages: convenient Location, home to numerous historical and cultural landmarks, lively atmosphere, and excellent Transportation Accessibility.
Disadvantages: Potential Noise, can get crowded, Limited Green Spaces.
Kannai's central location, cultural attractions, and convenient transportation options make it a great choice for first-timers exploring Yokohama. However, those seeking a quieter and more serene environment may want to consider other areas.
Best places to stay in Yokohama in Kannai:
🔍FIND BEST HOTELS IN KANNAI
3. Motomachi / Honmoku / Yamate – where to stay in Yokohama for couples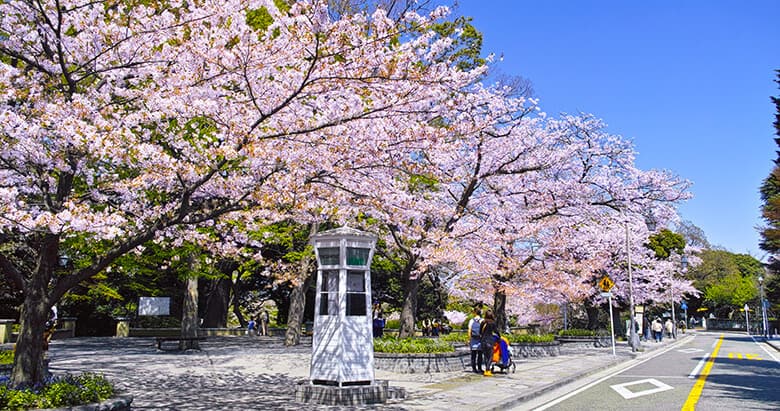 Motomachi is situated close to Chinatown and Yamate.The Motomachi Shopping Street, a high-class shopping street with a European feel, is the main draw of the Motomachi neighborhood. It's home to Uchiki Pan, the first bakery in Japan.
If you visit Motomachi in February and September, you will take part in the biggest event on Motomachi Shopping Street,the annual Charming Sale, when you can hunt for a great discount price. Other events include a March's St. Patrick's Day Parade, an October's Food Fair and Halloween, and in January and February with the winter illuminations.
Not only shops that have Western influence, there are also a variety of international restaurants, coffee shops, and bars.
Some more highlighted attractions are the American Mountain Park, Berrick Hall, Harbour View Park, Yokohama Christ Church, Yokohama Archives of History, the Foreign General Cemetery, and the British House Yokohama.
The Harbor View Park is within walking distance from Motomachi-Chukagai Station. It was the British soldiers' barracks and was opened to the public in 1962. The park offers beautiful views of Yokohama Bay Bridge and Yokohama port.
The Sankeien Garden is a huge traditional Japanese garden, opened to the public in 1906. It was the private home of Tomitaro "Sankei" Hara, a wealthy silk merchant.
You will find many historical houses and buildings, a three-storied pagoda, bridges, small waterfalls, bamboo groves, and a pond. Sankeien Garden is at its most beautiful in the cherry blossoms (sakura) late March or early April, the pink lotus blossoms in July and August, and plum blossoms in February.
Advantages: European-style streets, centrally located close to popular landmarks, wide range of Shopping and dining options;
Disadvantages: Due to its desirability, accommodation and dining options in Motomachi can be relatively expensive compared to other areas in Yokohama.
Best places to stay in Yokohama in Motomachi:
🔍FIND BEST HOTELS IN MOTOMACHI
4. Takashima – where to stay near Yokohama Station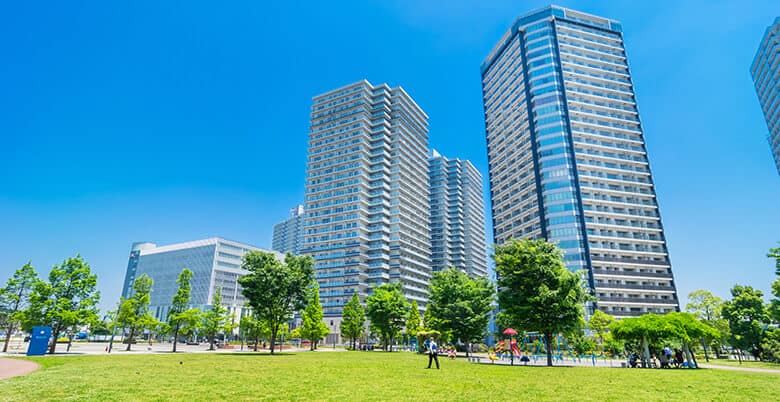 Takashima is the area around Yokohama Station where tourists first arrive in Yokohama. This is a convenient transportation area, easy to travel around, and also close to the tourist district of Minato Mirai 21.
Yokohama Station is one of the busiest stations in the world. It is not a shinkansen stop but the Shin-Yokohama Station is 5 km away.
Shin Yokohama is a bullet train station that serves as a gateway to Yokohama. The area is home to major sports and event venues such as Nissan Stadium and Yokohama Arena. You can also find Shin Yokohama Raumen Museum here.
You can shop in the underground mall of the station and plenty of shopping nearby the station.
To the east of Yokohama Station, you will find the Porta underground shopping mall, Sogo Yokohama department store, Bay Quarter Yokohama, Lumine shopping building, Marui department store, Yokohama Plaza Hotel, and the Yokohama Sky Building, Yokohama Central Post Office.
To the west, there's the Diamond underground mall, CIAL, Sotetsu Joinus, Yokohama More's, Yodobashi Camera, Bic Camera, Daiei supermarket, Vivre shopping buildings, and the Sotetsu Movil 109 cinemas.
The Yokohama Station area is also home to a few luxury hotels such as Yokohama Bay Sheraton Hotel and Towers, the business-hotel Toyoko Inn Yokohama Nishi-guchi, and the 3-star Hotel Plumm.
Other nearby attractions are the Minatomirai Bridge, Nissan Gallery, and Keikyu Museum. If you're a car lover, you must visit the Nissan Global Headquarters Gallery, the headquarters of the worldwide automobile manufacturing company.
Advantages: Convenient Location, beautiful views of Yokohama Bay, numerous entertainment venues, International Atmosphere.
Disadvantages: can get crowded, especially during peak travel seasons; Limited traditional atmosphere;
Best places to stay in Yokohama in Takashima for first-timers:
🔍FIND BEST HOTELS IN YOKOHAMA STATION
Where should I stay in Yokohama for the first time?
Minato Mirai 21 is the best area to stay in Yokahama due to its super central location. If you book a hotel here, you will be located in the middle of action.
What are the best areas to stay in Yokohama?
Minato Mirai 21, Kannai, Motomachi, and Takashima are some of the best areas to stay in Yokohama because they are Yokohama's most popular locations for tourists.
How long to stay in Yokohama?
The ideal duration of a visit to Yokohama depends on your preferences and interests, but two to three days would suffice to explore the city's top attractions and experience its unique culture.
See more:
Northern Yokohama is an industrial area. It's home to the Kirin Yokohama Beer Village, Kodomo-no-Kuni, and Yokohama Zoo Zoorasia.
Southern Yokohama is a bayside area contains of popular tourist attractions such as:
Yokohama Hakkeijima Sea Paradise,
Mitsui Outlet Park Yokohama Bayside,
Yokohama Municipal Kanazawa Zoo,
The Bunko Museum,
Tenen Hiking Trail,
Hakkei Kanazawa,
Kanazawa Natural Park,
Shomyoji Buddhist temple,
Marine Park.
In coclusion, Minato Mirai 21, Kannai, Motomachi, Takashima are the best places to stay in Yokohama for tourists due to their popularity, and well-connected to public transportation. They offers a wide range of accommodations for every budget traveler.
Personallt, I recommend Minato Mirai 21 as the best base to stay in Yokohama. If you stay here, you will be located in the middle of action, within walking distance to tourist attractions, as well as many shopping, dining, and nightlife venues of the city.