The best areas to stay in Osaka for tourists are Kita (Umeda), Minami (Namba), Honmachi, Shin-Osaka, Tennoji, and Osaka Bay. All of these areas are great locations for the first time, but Umeda and Namba are the favorite places of many first-time visitors.
Remember that Osaka has an efficient transportation system, so even if you don't stay in the very heart of the city, you can easily access all the attractions.
Between Umeda and Namba, Umeda is more convenient in terms of public transit with easier access to JR Lines. Namba has better nightlife and street food as it is home to Dotonbori district.
Osaka has a wide range of accommodation options, including budget guesthouses, traditional Japanese style inns called ryokan, B&Bs, apartments, and luxury international hotels.
The hotels in Osaka can get fully sold out far in advance for a busy season such as the cherry blossom season from late March to mid-April and the autumn foliage season in November.
Be sure to book well in advance at least 3 to 4 months ahead during peak seasons. And try to book a hotel close to Midosuji subway line because it is Osaka's most important transport route that offers easy access to almost everywhere.
If you are a first-timers, I recommend spending at least two to three days in Osaka to see all the city's major attractions without being too rushed. If you have more time, you can take a day trips to Nara, Kyoto, Kobe, or Himeji.
You can continue reading the detail of each area in Osaka with map and video, or if you travel as a family, you can check this article: Best areas to stay in Osaka with family. If you after nightlife, I have this post for you: Best areas to stay in Osaka for nightlife.
Maps of areas and neighborhoods in Osaka:
🎬 To get an overall idea of best areas in Osaka, check out this video, or continue reading:
If you like the video format, please subscribe to my YouTube channel at @easytravel4u, I have tons of similar videos over there.
How to Get Around Osaka for tourist?
Getting to Osaka is easy by air, train, and bus. Osaka is primarily served by Kansai International Airport and Itami Airport. Kansai airport is set on an artificial island in Osaka Bay, handles most international flights. From the airport, you can take trains, buses, or taxis to reach the city center.
Osaka's Itami Airport mainly operates domestic flights. It's closer to the city center compared to Kansai International Airport, making it more convenient for domestic travelers.
Additionally, Osaka is well-connected by the Shinkansen (bullet train). If you're traveling from Tokyo or other cities, you can take the Shinkansen to Shin-Osaka Station, one station north of Osaka Station by JR train.
Getting Around Osaka is also easy, on foot, by public transport, or taxi. Many of Osaka's popular areas are compact and pedestrian-friendly. Walking is an excellent way to explore the city.
Osaka has an efficient metro system, consisting of several lines, each identified by a color. Midosuji Red Line is the busiest line in Osaka, running from south to north, passing through major stations, including Umeda, Tennoji, Shinsaibashi, and Namba Stations.
To access to the trains and subways, you can use many cards, including Icoca, Pasmo, Osaka Amazing Pass, Japan Rail Pass, and Suica.The one-day pass also gives you access to all eight lines.
Where to stay in Osaka first time? Best areas to stay in Osaka for tourists are:
1. Kita district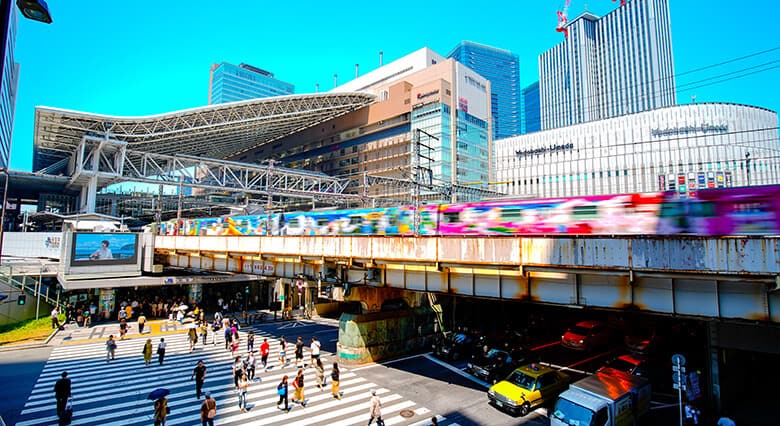 Kita district, also known as Umeda, is the best overall area to stay in Osaka for first-timers due to its central location and excellent connection to transportation. It is home to JR Osaka Station and Umeda Station, a major transportation hub of Osaka, making it a great base to explore the city.
Kita is the modern part of Osaka, located in the northern section of Osaka. Not only the the transport hub but also business hub of the city. Staying here allows you to be located within easy access to some of Osaka's best restaurants, bars, and shops.
The Kita area is the best-connected area in Osaka, located only few minutes train ride to Shin-Osaka station where you can take shinkansen bullet trains to other cities in Japan.
Umeda Station and JR Osaka Station are located right next to each other. Osaka Station is actually part of a facility called Osaka Station City. It has rooftop gardens, and lots of shops selling Japanese and international goods.
Kita is also the transport hub to visit Kansai region. It is home to the stop of four train lines including JR Line (JR Osaka Loop Line, JR Kobe Line, and JR Kyoto Line), as well as three private lines of Hankyu, Keihan and Hanshin.
Kita has direct trains to Himeji, Kobe, Kyoto and Nara, as well as the airport. You can also easily visit the Osaka Castle and Sakuranomiya Park for cherry blossoms by public transport.
In addition to the public transportation, Kita is known for its modern skyscrapers and shopping centers, office buildings, restaurants and bars, entertainments, hotels, big brand department stores.
This North district also offers clean, safe, wide pedestrian-friendly sidewalks, making it an enjoyable place to explore the city on foot.
One of the must-see landmark in Umeda is the Umeda Sky Building, located in Shin Umeda City. It is a 173 meter tall skyscraper with an open-air observation deck on its roof. It's one of the tallest and most impressive buildings in Osaka. You will find the Westin Osaka hotel nearby.
Kita district offers plenty of shopping opportunities at the Tenjimbashi-suji Shopping Street, the Hep Five, Grand Front Osaka, Links Umeda, Lucua Shopping Mall, and Yodobashi Camera.
The Tenjimbashi-suji Shopping Street is the 2.6km shopping arcade that stretches from the Tenjinbashi-suji Rokuchome Subway Station to the Tenjinbashi Bridge. It's the longest shotengai in Osaka that offers plenty of retro shops, restaurants and cafes.
Meanwhile, HEP (Hankyu Entertainment Park) is a huge shopping, entertainment, and dining complex including the HEP FIVE and HEP Navio buildings, east of the Hankyu department store. The HEP FIVE has a red Ferris wheel on its roof that offers a great view over the city of Osaka.
For history buffs, there are numerous museums to explore. The Osaka Museum of Housing and Living near the Tenjinbashisuji 6-chome Station, has recreated buildings and streets that show the entire city during the Edo Period. Visitors can learn all about what life was like in Osaka in the past.
Families with children can visit Kids Plaza Osaka, the first museum in Japan dedicated to child education. There're plenty of activities for young kids to enjoy.
The Museum of Oriental Ceramics is a Japanese art museum and regarded as one of the best ceramic-collections in the world. The museum displays collections of Chinese and Korean, and Japanese ceramics.
Located near the Osaka Science Museum is the small National Museum of Art, Osaka. It's on underground floors on Nakanoshima Island in central Osaka. It shows works of Japanese and foreign contemporary art.
For a nice little stroll, visit the 11 hectare park, Nakanoshima-koen Park. It is sandwiched between Tosabori and Dōjima Rivers. The is home to a stunning rose garden, Osaka Prefectural Nakanoshima Library, Osaka Central Public Hall, and close to the City Hall of Osaka building.
Located in the renowned nightlife Tenma district, Osaka Tenmangu Shrine is one of the most important shrines in Japan. It's famous for the Tenjin Matsuri festival, which is held each year on July 24 and 25. During the festival, there are land marches and a river procession with fireworks.
Not only shopping, sightseeing, there are plenty of restaurants for you to try. There are a wide selection of bars and restaurants near the stations, on the street, and inside department stores. The cuisine served varies greatly from Japanese food like yakitori to Western food.
The area offers plenty of activities to do at day but pretty quiet at night. If you want a great nightlife, head to Dotonbori.
There are a wide variety of budget, luxury and upper mid-range hotels with more spacious rooms compared to Japanese standards. The accommodation in Kita can be relatively more expensive compared to other parts of Osaka but it is well worth it due to its central location and popularity.
Pros: central location, easy access to transportation options, vibrant nightlife, home to various iconic landmarks; wide range of shopping, dining, and lodging options.
Cons: can get quite crowded, especially during peak tourist seasons; Higher prices in accommodation and dining; limited traditional charm;
Stay in Kita district if you area a first time traveller; you want to do a lot of day trips to other cities in Kansai region; you love modern cityscape; you love shopping, you want easy access to sights and attractions by public transport.
Best places to stay in Osaka in Kita for first-timers:
🔍MORE HOTELS IN KITA
2. Minami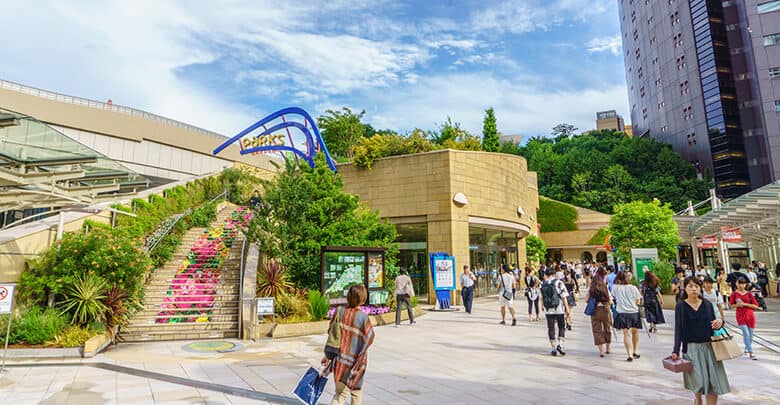 Minami (Namba) is one of the downtown hubs of Osaka, making it a great base for first-time visitors. Similar to Kita (Umeda) in terms of central location, excellent transportation links, great shopping and dining options, but while Minami has better nightlife and food scene, Kita has more modern skyscrapers and shopping centers.
Nightlife, shopping, and dining in Minami are a more traditional way. It is better to stay in Minami than in Kita if you come to Osaka to enjoy nightlife and local food.
Minami is home to Namba Station and Shinsaibashi Station, important transport hub and home to the stop of three train lines including the Kintetsu Line, JR Line, and Nankai Line. It offers easy access to southern Osaka, Wakayama, and Nara.
The Midosuji subway line stops at Namba station and Shinsaibashi station. Namba station is well-connected by train and subway, making it the best place to stay in Osaka to travel to other parts of Osaka, Kansai airport, Nara, and Kyoto.
Namba Station contains multiple interconnected subway and train lines which are within walking distance from each other. They are Namba Nankai Station, Namba Station Subway Line, and JR Namba Station.
Minami is divided by the wide boulevard of Midosuji from north to south, and by Dotonbori Canal from east to west. There're plenty of shopping, dining, and nightlife in this neighborhood.
The central Dōtonbori canal was built during the Edo period of Japan's history, when the country was first ruled from the town that would later become Tokyo.
Dotonbori is probably Osaka's most famous part for nightlife, shop, and food. The street runs parallel to the Dotonbori canal, and packed with restaurants, bars and amusement arcades. The area comes alive at night, when all the neon lights and mechanized signs colour the strip.
Dotonbori Arcade is where you can find the most famous and largest restaurants, and Osaka symbols such as the renowned Glico running man above Ebisubashi Bridge, the huge crab sign and neon lights. The Glico Running man is one of the most famous photo spots in Osaka.
If you are a foodie, you must try octopus dumpling in Kukuru restaurant, authentic Japanese beef shabu shabu in Hariju restaurant, deep fried kebabs of skewered meat fish in Kushikatsu Daruma restaurant, and crab in Kani Douraku restaurant with its huge moving crab in front of the shop.
Not only famous for its street food scene, Dotonbori is the best place to learn about the history of Osaka. You can explore Hozenji Yokocho stone-paved alley at south of south of the Dotombori Arcade, where you can find many traditional stores, okonomiyaki shops, and izakayas.
On the west end of the Hozenji Yokocho lies the Hozen-ji Buddhist temple, where you can pray for for good luck to the Mizukake-Fudo statue.
You can watch a performace at the National Bunraku Theatre, and visit the Takoyaki Dotonbori Kukuru Konamon Museum to learn more about its famous dish.
Next destination in the Minami area is Nippombashi, to the east of Dotonbori. In this area, you can find Kuromon Ichiba Market, a bustling market and foodie destination that offers fresh fruits, cheap bento boxes, and grilled seafood.
Nippombashi is also home to Den-Den Town, where you can bargain shopping on electronics, computers, and cameras. It's similar to Tokyo's Akihabara district.
Neighboring Dotonbori is Osaka's Shopping Center, Shinsaibashi. Shinsaibashi is home to the famous shopping arcade in Osaka called Shinsaibashi-suji Shopping Street and Midosuji avenue.
Shop lovers can also visit the 600 meters long Shinsaibashi-suji Shopping Street with more affordable items, while Osaka's main street Midosuji provides a luxury shopping experience.
You can also shop at the nearby hip and trendy America Village, Amerika-Mura. The village has plenty of hip-hop wear shops, foreigner-friendly cafes, restaurants, and international food.
Other attractions in the Minami area are the Namba Yasaka Shrine (Lion Shrine), Namba Parks, Kamigata Ukiyo-e Museum, and Namba Grand Kagetsu Theatre.
Pros: Vibrant nightlife, excellent shopping, convenient transportation, abundance of dining options, and proximity to the city's popular attractions.
Cons: can get quite crowded and noisy, especially during peak tourist seasons; higher accommodation costs due to its central locatio;
Stay in the Minami (Namba) if you're first-timers; you want vibrant nightlife, great shopping, dining, sightseeing and convenient access to Downtown Kyoto, Nara, and Kansai airport.
Best places to stay in Osaka in Minami for first-time visitors:
🔍MORE HOTELS IN MINAMI
See more: How many days in Osaka is enough?
3. Honmachi (Central Osaka)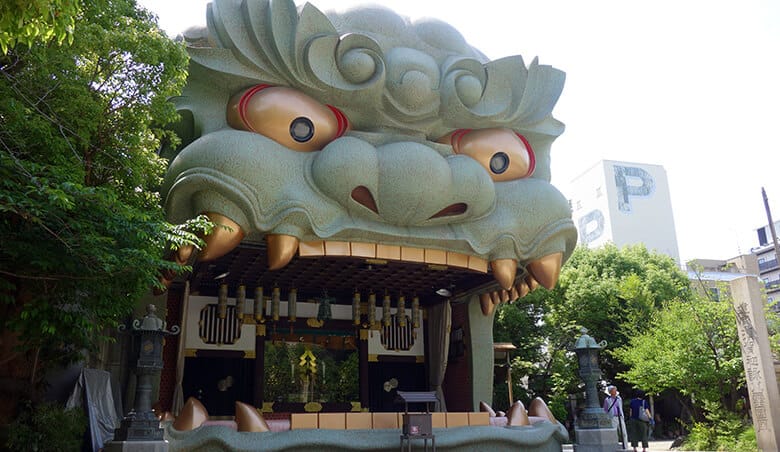 Honmachi (Central Osaka) is the best area to stay in Osaka if you're struggling to decide whether to stay in Kita or Minami because it is conveniently located on the Midosuji subway line, between Minami and Kita districts. Honmachi neighborhood is still in a central location but quieter than the North and the South district.
Honmachi is located within a short distance to Kita and Minami by both foot and subways. This office district has plenty of restaurants and a few bars, and most importantly it provides more affordable accommodations with many mid-priced hotels.
Many restaurants can be found at Semba Center Building and underground area beneath Hommachi Station. You can check out Senba Shinsaibashi Shopping Street for local street food.
The Midosuji Avenue is a Osaka's major street running north to south from Kita to Minami, passing Honmachi area. Midosuji Avenue offer lots of shopping experiences with brand name such as Dior, Louis Vuitton, Chanel, and Daimaru department store.
In Central Osaka, you will find Utsubo-koen Park which is located within a short walk from Honmachi subway station. Utsubo-koen Park has a rose garden, fountain, and a tennis center. It's a good place for a walk, a picnic, and is the most popular spot for cherry blossoms in Spring.
Honmachi is only a 20 minute walk from the biggest attraction in Osaka, Osaka Castle Park. It is a great option to stay in Honmachi for cherry blossoms.
Honmachi doesn't have many sights but you're within walking distance to the nightlife, shopping, and food in Kita and Minami. You can easily see attractions like Namba Yasaka Shrine, Nishinomaru Garden, Osaka International Peace Center, Osaka Kigyoka Museum, and Chukasoba Kazura.
Pros: Central location, great transportation links, budget-friendly, variety of dining options, a modern city vibe.
Cons: While Honmachi has some nightlife options, it may not be as bustling as areas like Namba or Shinsaibashi.
Stay in Honmachi if you're looking for where to stay in Osaka cheap as you want cheaper hotels than downtown areas; you want a quiet neighborhood close to the centre; you want to stay close to the cherry blossoms area.
Best places to stay in Osaka in Honmachi for first-timers:
🔍MORE HOTELS IN HONMACHI
4. Shin-Osaka area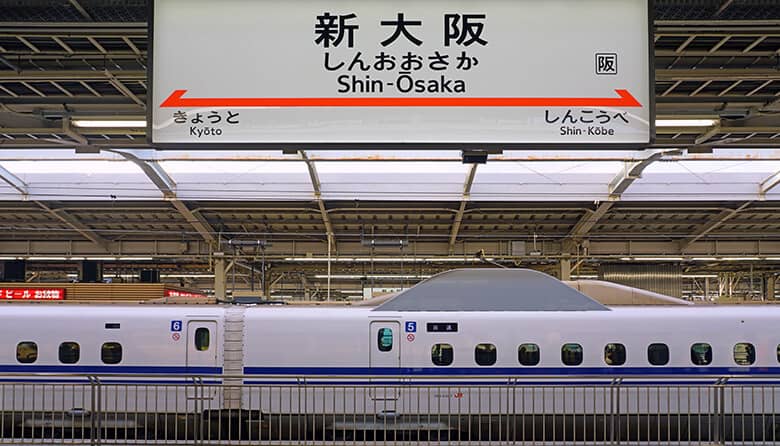 Shin-Osaka area is one of the best places to stay in Osaka for first-time visitors because its offers easy access to shinkansen bullet train lines and a few minutes train ride to downtown Osaka with the Midosuji subway line.
Conveniently located on the north of the Yodo-gawa River, Shin-Osaka station provides easy access around Japan with Japan Rail Pass to Himeji, Kyoto, Hiroshima, and other parts of Osaka.
While Umeda Station and Osaka Station are the hub for local transport, Shin-Osaka is the hub for Osaka's bullet train, to acccess other cities of the country. You can easy travel from Shin-Osaka to Umeda Station and Osaka Station via JR Tokaido-Sanyo line within few minutes.
There are plenty of places to stay and many restaurants and eateries around Shin-Osaka station. Popular restaurant is Aji no Kouji or Flavor Lane.
You can easily find decent hotels here with good deal prices from budget hotels to mid-range hotels but you can find more luxury hotels in the downtown area.
Some of the best hotels are the budget hotel Hotel Wing International Shin-Osaka, the luxury Courtyard by Marriott Shin-Osaka Station, the mid-range hotel Remm Shin-Osaka, and the family-friendly hotel Shin-Osaka Station Hotel Honkan.
Pros: Excellent transportation hub, well-connected to popular tourist spots in Osaka, modern infrastructure.
Cons: less vibrant atmosphere, limited nightlife options, and distance from traditional sightseeing spots such as Dotonbori and Shinsekai.
If you want affordable accommodation, a convenient location with well-connected transport to travel around Japan, the Shin-Osaka area is a good choice for you.
Best places to stay in Osaka in Shin-Osaka for first-time tourists:
🔍MORE HOTELS IN SHIN-OSAKA
5. Osaka Castle area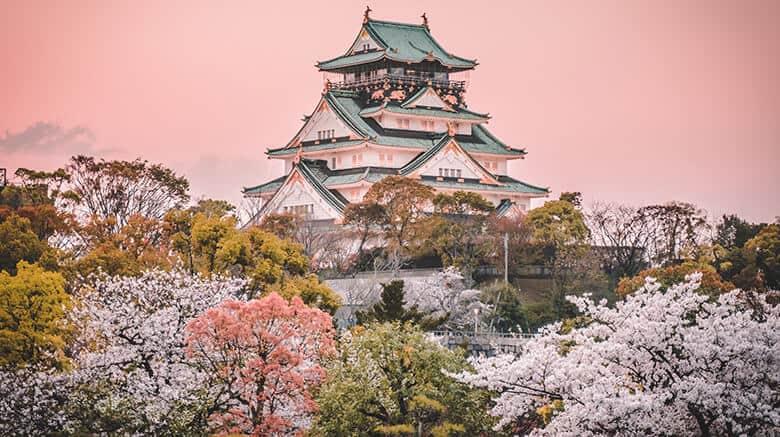 Osaka Castle and Osaka Castle Park area are some of the best locations to stay in Osaka because they are the popular tourist attractions in spring when visiting Osaka for the beautiful cherry blossoms.
Osaka Castle is located to the east of Osaka's downtown, with easy access by the public transport such as on the JR Osaka Loop Line, the private Keihan Line, and two subway lines.
Osaka Castle, or Osaka-jo in Japanese, is a famous landmark in Japan. It was built by Hideyoshi Toyotomi and was destroyed several times, most recently during WWII.
Osaka Castle is located on the ground of the Osaka Castle Park, or called Osakajo Koen in Japanese. It is the second largest parks in Osaka, home to Nishinomaru Garden with hundred of cherry trees and a tea house.
If you head to the south of Osaka Castle Park, you will see small Shinto shrine called Hokoku Shrine. It is dedicated to Toyotomi Hideyoshi, who built Osaka Castle.
Osaka Castle Park is also home to Jo-terrace Osaka, a shopping and dining area, conveniently situated next to Osakajo Koen Station. You can eat, or buy some souvenirs here.
Nearby the Osaka Castle Park and Tanimachiyonchome Station is the Osaka Museum of History where you can learn more about the history of Osaka and enjoy beautiful views of Osaka Castle from its 7th to 10th floor.
To the south of this museum lies the Naniwa-no-Miya Palace Ruin, which is a great place to relax and take a break from the crowd in Osaka Castle Park.
To the the north of Osaka Castle is the riverside park, Kema Sakuranomiya Park. The park has more than five thousand cherry blossom trees along the charming river bank. During the cherry blossom season from late March to early April, the park is filled with people having hanami picnics under the trees on the Osaka park grounds.
The area around Osaka Castle have plenty of restaurants to try Japanese food like soba noodles, tempura, Unadon, ramen, and curry. Take a look at restaurants such as Menya Ageha, Shuhari, and Nishihara.
Pros: Historical and cultural significance, convenient transportation, scenic surroundings, wide range of Shopping and dining options.
Cons: can get crowded, limited nightlife, and distance from other attractions.
The benefits of staying near Osaka Castle are that you will be convenient for cherry blossoms and beautifully illuminated at night time and you will have bigger rooms with cheaper prices compared with the Kita and Minami area.
Best places to stay in Osaka Castle area:
🔍MORE HOTELS IN OSAKA CASTLE
6. Osaka Bay and Universal Studios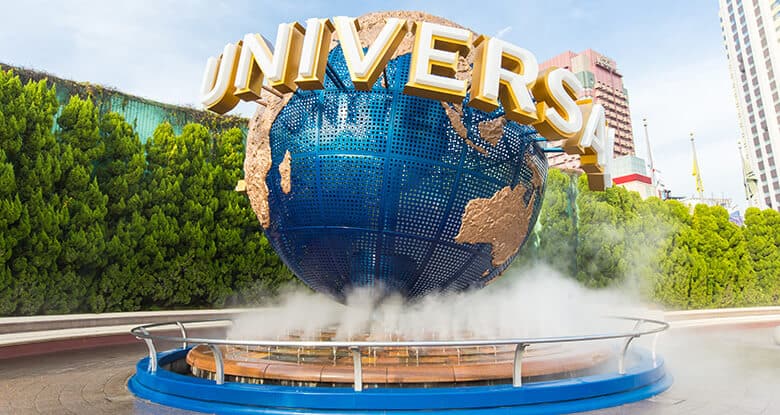 Osaka Bay is located 30 minute by train from Osaka Downtown and is home to two entertainment hubs including American-style theme parks – Universal Studios Japan, and Tempozan Harbor Village with its giant Ferris wheel, Osaka Aquarium, and a shopping and dining center.
If you're looking for the best places to stay in Osaka for the theme parks, look no further than Osaka Bay! Osaka Bay is the best area to stay in Osaka for families with children and want a lot of family-friendly activities.
Kids will love Universal Studio Japan is a massive American-style amusement park. It is one of Japan's most popular themed park, after right after Tokyo Disneyland. It's not cheap, and I suggest you buy an express pass to avoid spending all day in a queue.
Universal Studio Japan is divided into 9 sections including the Hollywood Area, New York Area, San Francisco Area, Wizarding World of Harry Potter, Minion Park, Universal Wonderland, Jurassic Park, Waterworld, and Amity Village.
Outside of the Universal Studio Japan stands the UJ Universal City Walk Osaka, a shopping & dining complex where you can buy souvenirs, or dine in at of of its restaurants including TGI Fridays and Hard Rock Café.
Be sure to check out the Osaka Aquarium (Kaiyukan), one of the best aquariums in the world. The entry ticket is pretty expensive but it's well worth it. It has the tunnels where you can walk among marine creatures.
You can also take a look at the Tempozan Ferris Wheel (Ferris wheel), which is located between Osakako subway station and Osaka Aquarium. It offers a fantastic view of the Bay Area, Kobe, and Osaka.
The Osaka bay neighbood is also home to Tempozan Market Place, shopping and dining complex You can purchase typical Osaka souvenirs, enjoy local food at its food court, and Naniwa Kuishinbo Yokocho to see streets of 60s and 70s of Osaka.
Osaka Bay provides all types of accommodation options for your family holday in the area ranging from luxury resorts to budget hotels.
Pros: easy access to popular attractions, modern infrastructure, beautiful waterfront views, and well-connected by public transportation.
Cons: Limited nightlife options, distance from downtown, and Fewer dining options.
Overall, the Osaka Bay area is best suited for first-timers who are interested in visiting attractions like Universal Studios Japan and the Osaka Aquarium Kaiyukan. It offers a modern and scenic environment, though it may have limited nightlife options compared to other areas in Osaka.
Best places to stay in Osaka Bay for first-time travelers:
🔍MORE HOTELS IN OSAKA BAY
7. Tennoji area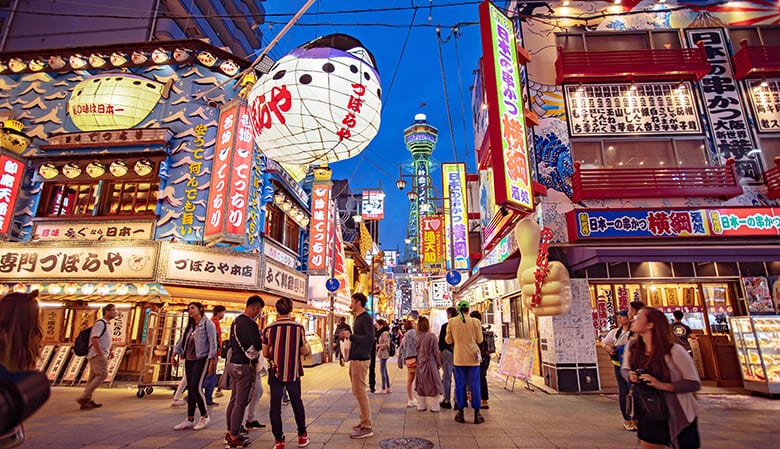 Tennoji is a up-and-coming shopping, dining and entertainment district, located in the southeast of central part of Osaka. It is Osaka's third major downtown hub after Kita and Minami, making it one of the best areas to stay in Osaka.
One of the interesting landmark in the area is the Abeno Harukas, one of the tallest skyscrapers in Japan. Located above Kintetsu Abenobashi Station, it has an observation deck, offering stunning views of its surroundings.
If you want to stay in this area, the Osaka Marriott Miyako Hotel is a good option for you. There's also the Abeno Harukas Art Museum inside the building.
You can easy access to the Shinsekai retro entertainment district, or New World, which is home to many inexpensive restaurants, bars, and pachinko parlors. You can try Osaka's specialty foods like Kushikatsu, meat or vegetables skewers; and Doteyaki, a kind of beef stew.
Shinsekai neighborhood is home to Tsutenkaku Tower, which looks very much like the Eiffel Tower. Spa World is a large bath complex with a great number of pools on an Asian themed floor and a European themed floor.
If you head to the south of Shinsekai, you can find JanJan Yokocho covered shopping arcade, with many standing bars, kushikatsu restaurants, and souvenir shops.
Located very close to Tennoji Station, you will find a gorgeous Tennoji-koen Park, a great play to visit for families with children. The park grounds are home to Museum of Fine Arts, Tennoji Zoo, a pond, and the famous Shitenno-ji Buddhist temple.
Shitennoji Temple is home to a five-storyed pagoda and is the location of the famous monthly flea market.
Pros: Convenient transportation, budget-friendly area, a variety of cultural attractions, restaurants, and shops;
Cons: can get crowded, Limited nightlife, and Lack of English signage.
If you are looking for budget accommodations close to the city center, the Tennoji area, particularly the Tennoji station, is the best place to stay in. You will be close to the Osaka loop train line and the Midosuji metro line.
Best places to stay in Osaka in Tennoji for first-timers:
🔍MORE HOTELS IN OSAKA
See more:
In conclusion, Kita, Minami, Honmachi, Shin-Osaka, Tennoji, Osaka Castle, and Osaka Bay are the best places to stay in Osaka for tourists. They offer safe central locations, offering easy access to public transportation, attractions, amenities, and a wide selection of hotels for all budgets.
Personally, I recommend Kita (Umeda) and Minami (Namba) as the best overall base for first-timers due to their central locations, excellent connections to public transport, and widest range of accommodations. They are the heart of Osaka!