In this post, I will help you to find Where to stay in Kyoto for the first time, best areas to stay in Kyoto for first-time tourists (with a video and map), and the best hotels in Kyoto for all budgets (including the hotel where I stayed).
Kyoto is a historic city located in the Kansai region of Japan. It is known for its rich cultural heritage, stunning temples and shrines, traditional wooden architecture, and beautiful gardens. It is a top destination for travelers interested in experiencing Japan's traditional side.
Kyoto was the capital of Japan for over a thousand years, from 794 to 1868. During this period, it was known as Heian-kyo and served as the center of Japanese culture, art, and politics.
The city is famous for its numerous temples and shrines. Some of the most well-known include Kinkaku-ji (the Golden Pavilion), Ginkaku-ji (the Silver Pavilion), Kiyomizu-dera, Fushimi Inari Taisha, and the Ryoan-ji Zen rock garden.
Kyoto is one of the few places in Japan where you can still experience traditional geisha culture. The Gion district is particularly famous for its geisha and maiko (apprentice geisha).
Kyoto hosts various festivals throughout the year, with the Gion Matsuri in July being one of the most famous. It features stunning parades and traditional events.
The Arashiyama Bamboo Grove, located in the western part of Kyoto, is a popular tourist attraction known for its towering bamboo stalks and serene atmosphere.
In spring, the city is adorned with cherry blossoms (sakura) in full bloom, making it a prime destination for hanami (cherry blossom viewing) gatherings.
🎬 You can watch this short video (1 minute) about best areas in Kyoto, and continue reading:
Where to stay in Kyoto first time?
The best areas to stay in Kyoto for first-time tourists are Downtown Kyoto, Gion and Southern Higashiyama, Kyoto Station, Northern Higashiyama, and Arashiyama. These are central safe neighborhoods that offer plenty of accommodations and easy access to major tourist attractions.
Remember that Kyoto is well-connected by public transportation, so even if you stay a bit outside the city center, you can easily access all the major sights.
Downtown Kyoto is is the best area for easy access to public transportations, attractions, restaurants, bars, and shops. Gion is the best base for traditional Japanese experience. Kyoto Station is the best place for convenience and easy access to transportation and day trips.
Arashiyama is the best part for couples and families seeking a more relaxed and nature-oriented experience, away from the hustle and bustle of Downtown Kyoto.
Kyoto has all types of accommodation ranging from budget guesthouses, traditional Japanese style inns (ryokan), traditional townhouses (machiya), B&Bs, to luxury international hotels.
The hotels in Kyoto can get fully sold out far in advance for a busy season such as the cherry blossom season from late March to mid-April and the autumn foliage season in November. Be sure to Book well in advance at least 4 to 5 months ahead during peak seasons.
If hotels in Kyoto are fully booked, you can stay in Osaka, which is only one hour by train from Kyoto. Kyoto and Osaka are the two most popular places to stay in southern part of Japan. Kyoto offer more of an authentic traditional Japanese experience. Osaka has better shopping and food.
Where did I stay in Kyoto?
When I visited Kyoto, I stayed for 3 nights in Downtown Kawaramachi at the mid-range Good Nature Hotel Kyoto. It has a prime location within walking distance of Gion and Kiyomizu-dera Temple. Close to a bus stop where you can catch the bus to Arashiyama. My room was very clean, spacious, and comfortable.
Map of areas and neighborhoods in Kyoto: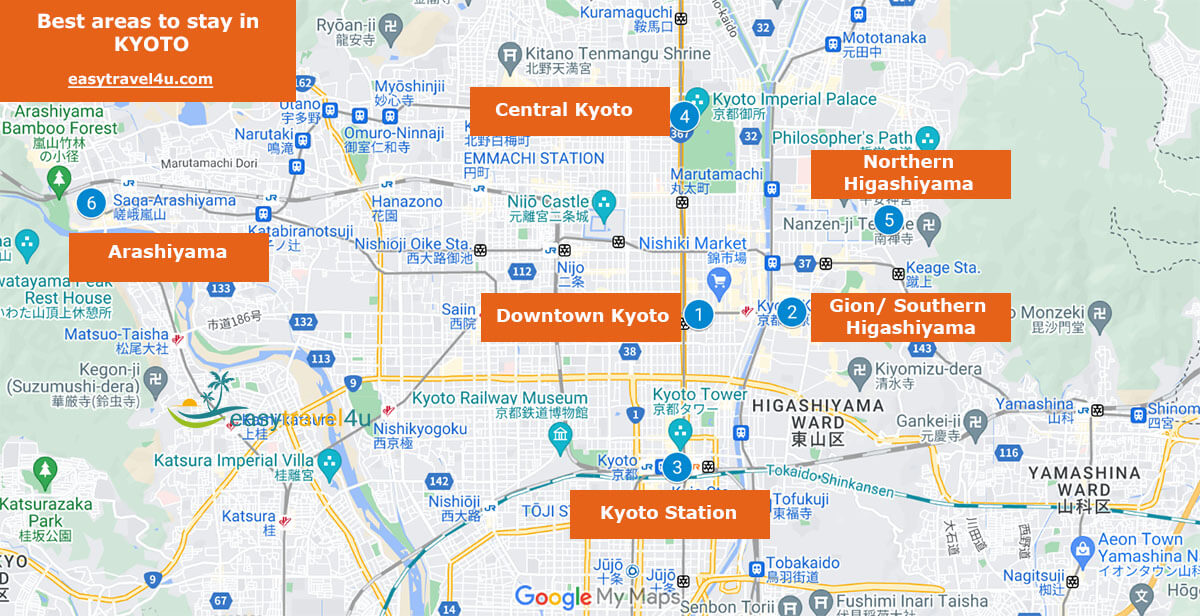 Best areas to stay in Kyoto for first time tourists are:
1. Downtown Kyoto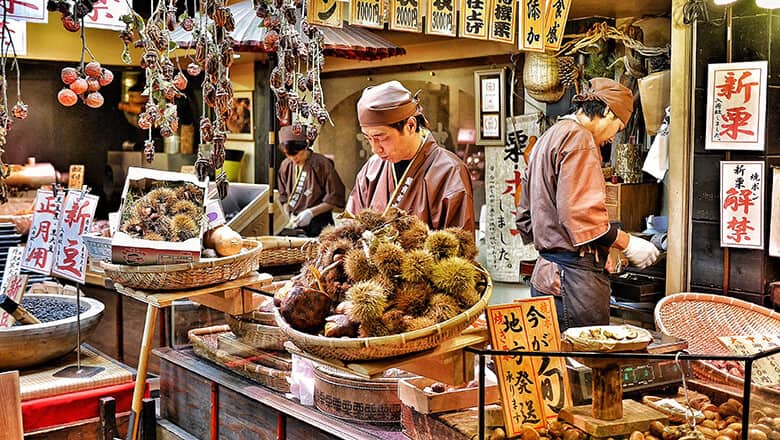 Downtown Kyoto, for me, is the overall best place for first time tourists. It has a central location, well-connected transportation, and cheaper accommodations compared to the historic Gion district. Staying here allow you to be close to major attractions, restaurants, bars, and shops.
Downtown Kyoto, also known as Kawaramachi, is a small area that is bounded by Oike-dori in the north, Kamogawa River in the east, Shijo-dori in the south, and Karasuma-dori in the west.
Downtown encompases the historic Ponto-Cho Geisha neighborhood and the shopping area of Shijo. This area is easy to explore on foot, and it has many covered arcades that make it the best places to explore on a rainy day.
Downtown Kyoto provides excellent public transport with two main subway lines and two train lines. It offers easy access to the rest of the city. Karasuma Oike Subway Station has direct line to Kyoto Station.
Downtown is home to Nishiki Market (Kyoto's Kitchen), the traditional food market. Nishiki Market is a great place for foodies to sample the variety of culinary delights that Kyoto is famous for, like dried seafood, sushi, Japanese sweets, and pickles.
For a perfect food trip on a rainy day, to get a real insight into a variety of Japanese cuisine, you can also visit the Daimaru basement food floor and Takashimaya basement food floor.
Running parallel with Nishiki Market is the Shijo Shopping Strip. Shijo Avenue is one of the most modern shopping districts in Kyoto that runs through the heart of the city from East to West. You can also find everything here from traditional Japanese crafts, Kyoto-style clothing (Kimono), to high-end brands, cafes, fast food and Japanese restaurants.
The busiest part of the street is Shijō Kawaramachi Intersection, the area between Karasuma-dori and Higashioji-dori. There are high density of shops around Kawaramachi-dori and Karasuma-dori where you find boutique shopping buildings Fujii Daimaru and Marui, and shopping malls like Daimaru Department Store and Takashimaya Department Store.
If you want more shopping, you can head to the two popular covered shopping arcades in Kyoto, Teramachi Kyogoku Shopping Arcade and Shinkyogoku Shopping streets.
If you want to see Geiko or Maiko on their way to work, head to the Pontocho Alley, a traditional nightlife area in Kyoto. The narrow atmospheric alley Pontocho Alley is located between Sanjo-dori and Shijo-dori, on the west bank of Kamo-gawa River.
If you're a fan of Japanese comics, you must visit the Kyoto International Manga Museum. It's the best manga museum in the entire Japan with more than 300 000 Manga comic books.
The hotels in Downtown can be a little expensive due to its prime location but it's worth it to be in the middle of the city. The best places to stay in Downtown Kyoto are the areas near the train station like Kawaramachi Station (Hankyu Line), Gion Shijo Station (Keihan Line), and Sanjo Station (Keihan Line).
You can easily find all types of accommodations downtown from cheap guesthouses, traditional Japanese inns ryokans, to vacation rentals, and luxury hotels. Some of the best hotels in Downtown Kyoto are the Nishiyama Ryokan and Royal Park Hotel Sanjo.
Pros: Central Location, excellent public transport connections; vibrant nightlife; wide range of shopping and dining options; a mix of traditional and modern elements.
Cons: can be some noise, particularly in the evenings and during peak tourist seasons; higher prices in accommodation and dining options;
Downtown Kyoto is a great choice for first-timers who want to be at the heart of the city's action, with easy access to attractions, shopping, dining, and a vibrant atmosphere. Downtown offers cheaper accommodations compared to the historic Gion district.
Best places to stay in Kyoto downtown for first-timers:
luxury ($$$): Good Nature Hotel Kyoto, 5-star hotel, centrally located in downtown Kyoto, easy access from Gion Shijo Station and Kawaramachi Station.
mid-range ($$): Mitsui Garden Hotel Kyoto Shijo, great 4-star hotel, in downtown Kyoto, easy reach from Karasuma Station and Shijo Station Exit 2 on the Karasuma Subway Line.
budget ($): Hotel Resol Kyoto Kawaramachi Sanjo, great 3-star hotel, located close to Samurai Kembu Kyoto, Kyoto International Manga Museum and Shoren-in Temple.
🔍MORE HOTELS IN DOWNTOWN
2. Gion and Southern Higashiyama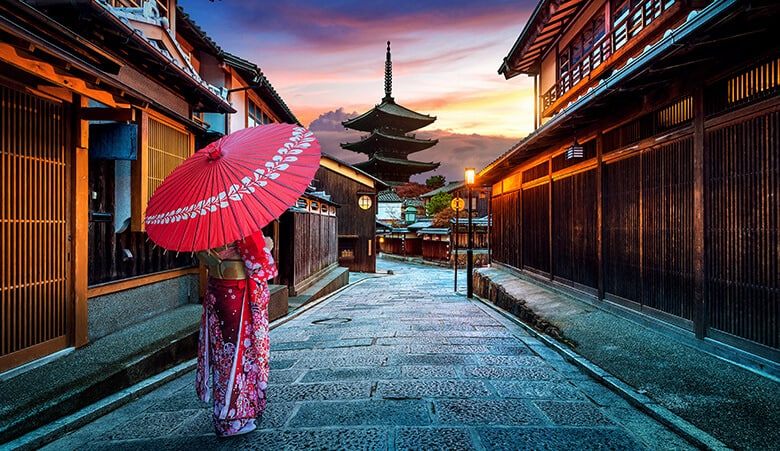 Gion is a traditional entertainment and famous Geisha district (geiko district) right in the middle of the historical district Southern Higashiyama. Southern Higashiyama is one of the best areas to stay in Kyoto for sightseeing due to its abundance of attractions to see.
Southern Higashiyama is a part of Higashiyama, which means eastern mountain. It's located between the Higashiyama mountain range and the Kamo River, between the Sanjo-dori street in the north and the Shichijo-dori street in the south.
Gion is the area around Shijo Street, between Kamo-gawa River in the west and Yasaka-jinja Shrine in the east. The center of the district is the intersection of Hanamikoji Street and Shijo Street. Gion-Shijo train station is the closest station of Gion neighborhood.
Gion is packed with old wooden shops, restaurants, bars, and traditional teahouses. It is especially atmospheric in the early evening when Japanese lanterns are lit up and apprentice geisha (maiko) prepare to start their work.
You also have plenty of things to do in Gion and Southern Higashiyama during day time with historical sites, shrines, temples, parks, and Zen gardens.
You can start to explore the area with one of the most famous temples in Kyoto, Kiyomizu-dera Temple. It is one of the Historic Monuments of Ancient Kyoto by the UNESCO World Heritage site. It's more beautiful in March and April with cherry blossoms and November autumn leaves.
Kiyomizu-dera Temple is a huge temple and is home to some highlights: the impressive two-story main entrance gate Nio-mon, west gate of Kiyomizu-dera Temple Sai-mon, Zuigodo Hall, the main hall Hondo with its Kiyomizu Stage, Jishu Shrine, Otowa Waterfall, Okuno-in hall, and the Koyasu Pagoda At Taisanji Temple.
In addition to Kiyomizu-dera Temple, Gion is home to the famous Yasaka Shrine (Gion Shrine), which is the venue of the Gion Festival (Gion Matsuri) celebrations in July. It's a popular spot for cherry blossom viewing and picnic in spring.
There are also many other interesting temples and pagodas, such as:
The Yasaka-no-to Pagoda (Hokanji Temple), Kyoto's oldest pagoda, located on Yasaka Street.
The Kodaiji Zen Temple, a buddist temple, located at the base of Higashiyama Ryozen Mountains.
The Kennen-ji temple, Kyoto's oldest Zen Buddhist temple, belonging to the Zen sect. Here you will find a tea house, monuments, gardens, and different halls.
Gion has so many small atmospheric lanes and streets to explore including:
Ninenzaka and Sannenzaka, very popular historical stone, pedestrian-streets, that is lined with traditional tea houses, shops, restaurants, and ryokan inns.
Ishibei-koji Lane, Kyoto's most atmospheric pedestrian-only walkway, home to small traditional wooden houses and shops.
Nene-no-Michi Lane (Path of Nene), a scenic flagstone walkway, founded by Nene, a widow of the warlord Toyotomi Hideyoshi, and named after her.
Ishibei-koji Lane, an atmospheric pedestrian-only passage in Southern Higashiyama district.
If you are tired of sightseeing, you can take a break at the Maruyama Park (Maruyama Koen). It is a very popular place for cherry blossom viewing parties (hanami) in the first two weeks of April.
In the heart of Goin is the Shirakawa area. The Shirakawa area is on the quiet side of Gion. It lies along the Shirakawa canal and is surrounded by willow trees, sakura cherry trees, high-class restaurants, inns, teahouses, and Tatsumi Daimyōjin that offer attractive riverside dining and Kyoto cuisine.
Hanami-Koji area is home to the Gion Kobu Kaburenjo theater (Gion Corner), a venue to watch cultural shows about Japanese arts like tea ceremony, dances performed by real maiko, ikebana flower arranging, and bunraku puppet theater.
If you love history, Kyoto National Museum is a must-see. It is a major art museum in Japan and one of the four national museums of the country.
Stay in Gion if you want to have the best chance to spot a geisha, you want plenty of choices in traditional Japanese accommodation in ryokans and machiyas.
Gion is home to mant accommodations because it is the traditional center of Kyoto. You have choices of hostels, guest houses, inns, and hotels.
Pros: Geisha sightings, historic atmosphere, proximity to attractions, temple hopping, Beautiful scenery; lot of traditional shops, cafes, and restaurants;
Cons: can get crowded, especially in the evenings when tourists gather to spot geisha; higher prices in accommodation and dining options;
Best for: Those interested in experiencing traditional Kyoto, geisha culture, historic temples, enjoying scenic walks, and immersing in Kyoto's cultural heritage.
Best places to stay in Gion and Southern Higashiyama:
luxury ($$$): Hotel The Celestine Kyoto Gion, 5-star hotel, located within walking distance from Gion-Shijo Station, Kiyomizu-dera Temple, Kennin-ji Temple. It is 30 minute bus ride from Kyoto Station.
mid-range ($$): Hotel Grand Bach Kyoto Select, 4-star hotel, set in walking distance from Kawaramachi Train Station and Shijo Station. It is short train ride from Nijo Castle and Kyoto Station.
budget ($): Hotel M's Est Shijo Karasuma, great 3-star hotel, conveniently located a minute's walk from Shijo Subway Station and Karasuma Station. Easy bus ride to Nijo Castle, Kinkaku-ji and Ginkaku-ji.
🔍MORE HOTELS IN GION
You can read more about Gion in this article: Where to Stay in Gion
3. Kyoto Station and Shimogyo Area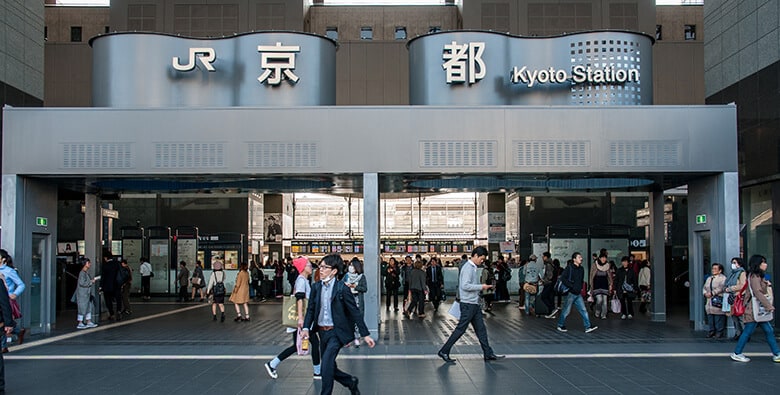 Kyoto Station is the main transport hub of the city, if you want convenient public transport to travel to other parts of Japan and don't mind commuting to see the sights, Kyoto station is the best area to stay in Kyoto for you.
Kyoto Station is the stop of the Haruka airport express train and shinkansen bullet train. This is a good base if you plan to do day trips to Osaka, Himeji Castle, Fushimi Inari shrine, and Nara.
Kyoto Station is not a sightseeing destination, the main activity here is shopping, and visiting some temples and museums nearby.
The futuristic Kyoto Station Building is filled with shops and restaurants. There are several big shopping stores at Porta Underground Shopping Mall, The Cube Shopping Mall, and Isetan Department Store.
There are temples located close to the station like Nishi Honganji Temple, a World Heritage Site, as well as Higashi Honganji Temple, and To-ji Temple.
If you like museums there are one of the best railway museums Kyoto Railway Museum, and a small Kyocera Museum of Art. Costume Museum on the fifth floor of the Izutsu Samegai Buildin is also well worth a visit if you are interested in the history and traditional fashions of Japanese.
Located just across the Kyoto station is the Kyoto Tower. Kyoto Tower is 131 meters tall, the tallest structure in Kyoto. The viewing platform offers stunning view of Kyoto.
Apart from the traditional shrines and temples, families, couples, and tourists can have a fun day at the Kyoto Aquarium, located in Umekoji Park. It has several zones with various themes.
As the transport center of the city, the area around the Kyoto Station, has a wide variety of accommodations ranging from luxury to budget hotels.
Pros: Central Location, well-connected to various transportation options, a diverse selection of accommodations, modern amenities;
Cons: can get quite crowded, especially during peak travel seasons; more modern and may lack the traditional ambiance; accommodations and dining options may be slightly higher prices; limited green spaces;
The Kyoto Station area is a great choice for first-time visitors due to its accessibility, wide range of accommodations, and convenient amenities. However, if you are seeking a more traditional atmosphere or tranquility, you may consider exploring other areas in Kyoto as well.
Best places to stay in Kyoto Station:
luxury ($$$): Hotel Granvia Kyoto, 5-star hotel, ideally located within Kyoto Station, within 3-minute walk to Kyoto Tower. Short train ride to Arashiyama and Fushimi Inari Shrine with hundreds of red gates. A 20-minute bus or taxi ride away from iconic Kiyomizu Temple.
mid-range ($$): Mercure Kyoto Station, 4-star modern hotel, located within easy reach from Kyoto Station and TKP Garden City Kyoto.
budget ($): Tune Stay Kyoto, great 3-star hotel, well-located to Kyoto Station.
🔍MORE HOTELS IN KYOTO STATION
You can continue reading the detail of each area, you can also read these articles:
4. Central Kyoto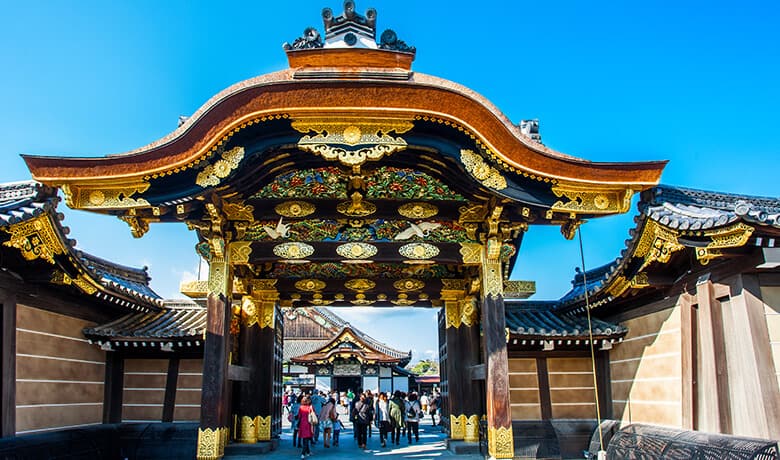 Central Kyoto is one of the best areas to stay in kyoto because it is home to the most popular tourist attractions of Kyoto, the Imperial Palace (Kyoto Gosho) and Nijo Castle. It also offers easy access to the Kyoto Station with the Karasuma subway line.
Nijo Castle (Nijojo) is one of the most impressive sights in Kyoto. Nijo Castle was built in 1603 as the residence of the first shogun of the Edo Period, Tokugawa Ieyasu.
When visiting the castle, you will first see the Chinese-style gate Karamon and enjoy the attractive wood carvings, covered in beautiful detailing. It's a popular photo spot with tourists. Nijo Castle has three areas, Honmaru palace, Ninomaru palace and some surrounding gardens.
Ninomaru Palace was the residence and office of the shogun when he visited Kyoto. It has 5 buildings, connected with each other by corridors. The palace rooms are tatami mat covered and feature finely decorated ceilings and attractively painted sliding doors.
Located outside the Ninomaru Palace is the Ninomaru Garden. It is a traditional Japanese garden with a large pond, and was designed by Kobori Enshū, famous landscape architect and tea master.
The Honmaru Palace was designed similar to the Ninomaru Palace, but it was destroyed after the fire in 1788. After the fall of the shogunate, the current building was transferred from the Kyoto Imperial Palace.
Inside the Nijo Castle, you will see the Seiryū-en garden. It's a half Western, half Japanese, style garden built in 1965 for tea ceremonies.
Nijo Castle is surrounded by trees and flowers such as Camellia (Tsubaki), Japanese Plum (Ume), Spike Winter Hazel (Tosamizuki), Cherry Blossoms (Sakura), maple, ginkgo. Nijo Castle is a popular place when it's the spring cherry blossom season.
Apart from Nijo Castle, another impresive attraction in Central Kyoto is the Kyoto Imperial Palace (Gosho ), the official residence of the Emperor in Kyoto.
Located in the large Kyoto Imperial Park (Kyoto Gyoen), it is home to the Sento Imperial Palace, Kaninnomiya Mansion, and Konoe Pond. The most beautiful time is when cherry blossoms bloom in late March, early April.
If you are interested in the traditional textiles, pay a visit to the Nishijin District in the northwest of central Kyoto. The historic streets are lined with old wooden houses, or machiya. You can take a weaving class, wear a kimono, and pose for a photo in its alleys.
Other attractions in Central Kyoto include the Daitoku-ji, Kyoto Botanical Gardens, Kamo-gawa Riverside, and Kamigamo-jinja Shrine Handicraft Market.
If you tired of sightseeing, you can take a rest at the Funaoka Onsen, one of the best onsen in Kyoto. Originally built as an extension to a ryokan with a restaurant, but after WWII, Funaoka Onsen concentrated on the bath business.
Central Kyoto neighborhood provides plenty of accommodation options. You can choose a hotel that is located close to the Imperial Palace.
Pros: easy access to historical sites, convenient transportation, and a vibrant atmosphere.
Cons: can be crowded, especially during peak travel seasons; may be some noise from traffic or tourist activities; accommodation can be relatively more expensive compared to other areas due to its central location and popularity;
Best places to stay in Central Kyoto for first-timers:
luxury ($$$): Kyoto Brighton Hotel, 5-star hotel, located in a quiet residential area, in the heart of Kyoto, a 5-minute walk from Kyoto Imperial Palace.
mid-range ($$): Kyoto Four Sisters Residence, 4-star hotel, located close to Nijo Castle and Kyoto International Manga Museum.
budget ($): Kyoto Garden Palace, located right in front of Kyoto Imperial Palace, short walk from from Kyoto Gyoen Garden, Nijo Castle, and Marutamachi Subway Station.
🔍MORE HOTELS IN CENTRAL KYOTO
5. Northern Higashiyama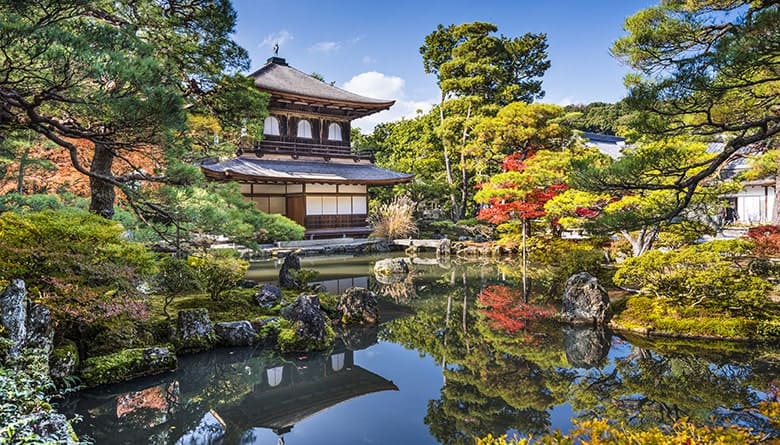 Northern Higashiyama is one of the best areas to stay in Kyoto for those looking for a quiet area with breathtaking shrines, old temples, Japanese Zen gardens, and lots of greenery. It has many sights and is less crowded than its neighbor Southern Higashiyama.
The Northern Higashiyama is limited by the Kamo-gawa River in the west, Sanjo-dori in the south, Shugakuin in the north. You will find Okazaki-koen in the central area and temples along the base of the Northern Mountains.
The museum district of Kyoto, Okazaki-koen is home to The Museum of Modern Art, the Kyoto Municipal Museum of Art, and Kyoto Museum of Traditional Crafts.
You can also find a shinto shrine called Heian-jingu Shrine in Okazaki-koen. It is the location of the Jidai Festival each year in October and is at its most beautiful in the cherry blossom season.
There are also a large concert hal, Kyoto Hall, and Kyoto City Zoo, which is a good place for families with children to see the animals.
Northern Higashiyama is also home to the Path of Philosophy (Tetsugaku-no-Michi), a 1.5km pedestrian stone path at the foot of Higashiyama mountains. Stretching along a Lake Biwa Canal, Philosopher's Path is lined with hundreds of cherry trees, so it is a popular hanami spot in spring.
The path is a 30 minutes walk starting around Ginkaku-ji Temple (Silver Pavilion) and finishing in the district of Nanzenji at the sprawling Nanzen-ji, Zen temple complex.
There are also many temples and shrines that surround Philosopher's Walk, including:
Otoyo Shrine (Kyoto Kasuga).
Honen-in, the most famous temple in Kyoto, founded in 1680 to honour the founder of the Jodo sect.
Eikando Temple, at its best during autumn foliage and the light-up event.
To the north east of the area, you can find Shugakuin Rikyu Imperial Villa. It was built in 17th century as a lavish retreat for the retired Emperor Gomizuno-o with three villas and gardens.
There are not many hotels in Northern Higashiyama, but you can easily find Japanese traditional style accommodations, Ryokan.
Pros: rich cultural heritage, traditional atmosphere, well-connected by public transportation, beautiful scenery, especially during cherry blossom and autumn foliage seasons.
Cons: lacks a vibrant nightlife scene; may be fewer modern amenities;
Overall, Northern Higashiyama is an excellent choice for first-time visitors who want to experience Kyoto's rich cultural heritage and immerse themselves in a traditional atmosphere.
Best places to stay in Kyoto in Northern Higashiyama:
🔍MORE HOTELS IN NORTHERN HIGASHYIAMA
6. Arashiyama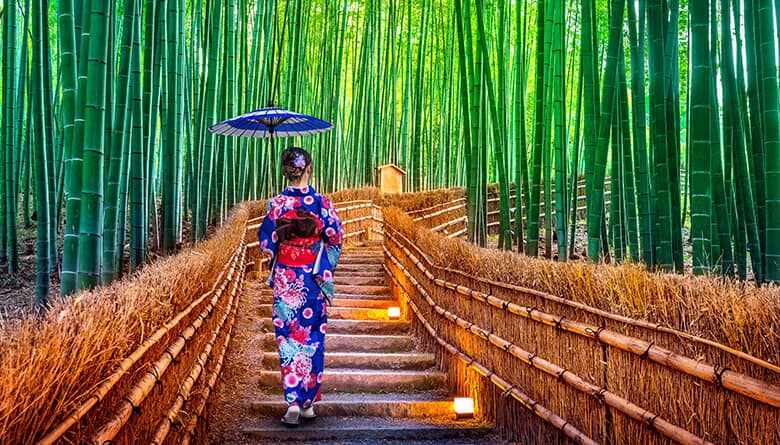 Arashiyama is a beautiful suburb, located in the far west of Kyoto on the foot of the Arashiyama Mountains. It is not a popular area to stay in Kyoto for first time tourists, but if you want to stay close to nature, it's good to stay a night or two.
It's worth noting that Arashiyama is easily accessible from Kyoto city center, and you can visit it as a day trip even if you decide to stay in Kyoto.
Arashiyama is can be access from Kyoto Station via one of these train lines, the JR Sagano Line, the Keifuku Randen Tram Line, and the Hankyu Line.
Arashiyama is where you can see world-renowned Bamboo Groves, the iconic Togetsukyo Bridge, some wonderful temples, autumn fall foliage, and phenomenal cherry blossoms.
The Togetsukyo Bridge is an iconic 155-meter bridge, across the Katsura River. Togetsukyo bridge with the main street of Arashiyama area is always busy with tourists from morning to evening.
Arashiyama is home to Arashiyama Bamboo Grove, one of the most incredible sights of Japan. It is free to enter and open daily. It is best to visit in the early morning or at sunset in the high season to avoid crowds.
The Bamboo Alley is one of the most photographed attractions in Kyoto along with the geisha(maiko) in Gion, the Golden Pavilion of Kinkakuji, and the tunnels of red torii gates at Fushimi Inari Shrine.
Located at the end of bamboo forest is Kameyama-kōen Park, a hilltop and riverfront park that is popular during cherry blossom and autumn foliage seasons.
To the east of Kameyama-kōen lies the UNESCO World Heritage Site Tenryu-Ji temple. It is a sprawling Zen temple and is one of the five major temples of Kyoto with a beautiful garden and fantastic mountain views.
Another popular temple is the Jojako-ji Temple, a small temple built in the 16th century, famous for its autumn foliage. It has a small pagoda and is surrounded by greenery.
You can take the Hozugawa River Boat Ride, a 16km long, two hours sightseeing by boat to explore the fabulous scenery of the Tanba-Kameoka. It is recommend to combine it with the Sagano Romantic Train Trip on the way back.
There is the Iwatayama Monkey Park located near to the Tsutenkyo Bridge. It is where you can get a chance to get close and feed Japanese macaques.
Other points of interest area Okochi Sanso Villa, Okochi Sanso Garden, Nisonin Temple, Kameyama-koen Park, Tenzan-no-yu Onsen.
In addition to beautiful natural landscape, Arashiyama is a great place to try Japanese street food and snacks, especially the area around Togetsukyo Bridge. You can eat dango and tofu ice cream.
After a day exploring, you can dip yourself in an Arashiyama Onsen. Many ryokan offers on-site onsen, but your ryokan doesn't have one, you can check the Fufu-no-Yu near the Hankyu Arashiyama Station.
Arashiyama provides a range of accommodations including modern hotels and Japanese traditional inns, esspecially along the Katsura River. You can stay in one of Kyoto's very best ryokan in this area.
Pros: a mix of natural beauty, cultural attractions, and easily accessible by train or bus from the city center;
Cons: Distance from Central Kyoto, Limited Nightlife, can get crowded, particularly around major attractions like the bamboo forest.
Overall, Arashiyama is ideal for those seeking a blend of natural beauty, cultural experiences, and a quieter atmosphere. But if you prioritize proximity to the city center or vibrant nightlife, you may want to consider other areas in Kyoto.
Best places to stay in Kyoto in Arashiyama for first-time tourists:
🔍MORE HOTELS IN ARASHIYAMA
7. Kibune and Kurama
Kibune and Kurama are tranquil rural villages, located in the north of Kyoto and are famous for hiking and onsen. It's 30 minutes by train on the Eizan Line from Kyoto's downtown. If you're looking for a romantic holiday, you can stay in this charming neighborhood for a night or two.
The town's main attraction is the Kurama-dera Buddhist Temple, located on the shoulder of Mt. Kurama, the birthplace of reiki. You can hike if you love hiking or take a cable car to the visit the temple and enjoy stunning views of the surrounding mountains.
On the on the grounds of Kurama-Dera temple lies the Yuki-jinja historic Shinto shrine. It is a famous Kurama Fire Festival on October 22 each year, one of the unique festivals of Kyoto.
You can relax at Kurama Onsen after Kurama-dera Mountain Temple. It is the hot spring where you can sit in the outside tub which is surrounded by the forests.
You can find a beautiful Shinto shrine the town's main street. To reach Kibune-jinja Shrine, you have to climb its numerous rock stairs and make wish to the Shinto deity of water.
The Main Hall of Kifune Shrine has stone staircase lined with red wooden lanterns, making it a renowned sight often photographed by tourists in all seasons. If you are thirsty, you can drink sacred water (goshinsui) that flows from the mountain.
You can also enjoy the meal at one of the town's restaurants along the Kibune River. You can sit at the restaurant's wood terraces above the water in summer months and enjoy the kaiseki meals.
Kibune is beautiful all year round, it is cool in summer, and red maple foliage in the fall, and snow covers the shrine's buildings in winter. The famous winter landscape of Kibune has been shown on many photos and post cards.
If you are on your honeymoon, you must check out the stylish traditional inns and Ryokan such as Ryokan Ugenta. Kibune is a great base if you want relax and unwind.
Pros: Serene and peaceful, Nature and scenic beauty, a traditional Shinto atmosphere;
Cons: Distance from central Kyoto, Limited accommodation and dining options.
Kibune can be a great choice for travelers seeking a peaceful retreat and a taste of traditional Japan. But for first-time visitors who want to explore the main tourist sites easily, staying in central Kyoto might be a more convenient option.
Best places to stay in Kyoto in Kibune for first-timers:
🔍MORE HOTELS IN KURAMA
See more:
In conclusion, Downtown Kyoto, Gion and Southern Higashiyama, Kyoto Station, Central Kyoto, Northern Higashiyama, and Arashiyama are some of the best places to stay in Kyoto for tourists. They offer safe central locations with a wide range of accommodations for all budgets.
Personally, I recommend Downtown Kyoto as the best area for first-timers due to its central location and wide selection of hotels (cheaper than in Gion). But you can also consider staying in Gion, Southern Higashiyama, and Kyoto Station, which are favorite areas of many travelers.