This article will give you an insight on how to spend two weeks in Japan, a definitive guide on how to spend 2 weeks in Tokyo, Osaka, Hokkaido, Okinawa Itinerary.
Japan is one of very few Asian national to have it all. Beautiful coastlines and blue ocean encompassed islands, snow capped mountains, cherry blossom lined meandering rivers and of course buzzing metropolises and vibrant futuristic cities. If you are going to spend 2 weeks in Japan, here is the suggestion for you.
Japan's wonderful capital city Tokyo has a whole host of historical and cultural gems to discover. The Japanese youth have their very own quirky pop culture which simply must be experienced during any visit to Japan. From anime to manga you're world view will be widened and more culturally rich with time spent with Japanese pop culture fanatics.
How to Spend 2 Weeks in Japan – Two Weeks in Japan Itinerary
For those who fancy a more nature filled and tranquil experience in Japan look no further than Hokkaido, the Furano Flower Fields are a marvel to behold and for those looking to get off the beaten track than this sleepy northern island is a must visit.
Japan has several international airports and is famed for it's quick, efficient and effective public transport. The iconic bullet train takes passengers from Tokyo to Osaka in under four and a half hours! Watch in awe as the spectacular countryside flashes before your very eyes. For many nationalities free 90 days visas are available on arrival in Japan but be sure to check with your nearest consulate before you travel.
There are many ways to spend 2 weeks in Japan and with so much to see it would be a shame to stay in one place! Let's start with the metropolitan capital of Tokyo and go from there..!
Spend 2 weeks in Japan in Tokyo
Japan's infamous capital Tokyo renders high on many keen backpackers bucket list and it's not hard to see why. With a phenomenal nightlife and party scene, quirky and interesting accommodation options and an out of this world food culture Tokyo has something for everyone.
If you're planning a 2 week trip to Japan and want to see as much of the country as possible then spend no more than five days in Tokyo. It's easy to get pulled in by the bright city lights but Tokyo is best experienced whistle stop!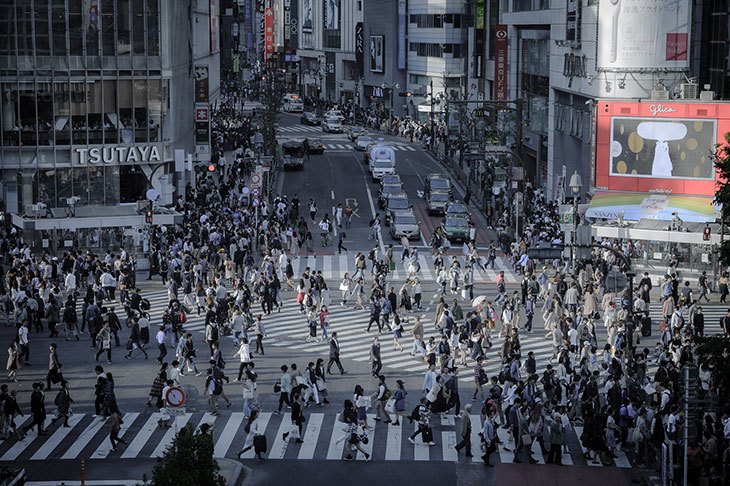 Upon landing at the international airport utilise the city's great public transport and head straight into the city centre. Drop your bags off at your hotel if you're not travelling light and make your way to the iconic Shibuya crossing. The Shibuya crossing is the ultimate city centre, putting Times Square and Piccadilly Circus to shame. Get caught up in the hustle and bustle as the traffic lights turn green but be sure to stop dead in your tracks when the lights return to red.
Over the next few days in Tokyo expand your horizons and visit the Meiji Shrine, Harajuku and Yoyogi Park. Brush up on your oriental history and absorb as such Japanese heritage and traditional culture as you can before hopping on the bullet train to Osaka for even more city-style exploration.
See Also: Where to Stay in Tokyo – Best Areas to Stay in Tokyo
Spend 2 weeks in Japan in Osaka
Osaka is the industrial second city of Japan and is easily accessible by the numerous efficient public transport options on offer. Three days is enough time to scratch the surface of Osaka and if you plan your itinerary wisely and chose accommodation central to the city centre you'll fine yourself in the perfect position to start your adventure in Osaka.
On your first day be sure to tick off Osaka Bay and Osaka Aquarium. The oceans surrounding Japan are rich in marine life and the centre is a great place to learn about Japan's wild and abundant oceans. Grab dinner at Osaka Centre or venture further a field to Minami or Kita.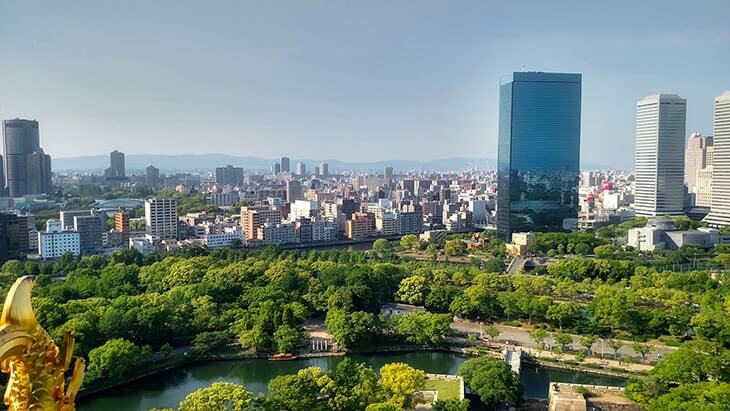 If you don't head to Minami for dinner on day one be sure to head that way on day two. Visit the Dotombori shopping area or saunter down Midosuji the district's famous shopping street. If the bright lights and neon billboards are not your thing then head to Hozenji. Yokocho the traditional alley two blocks east of Midosuji as it is widely regarded as on of the beautiful streets in Osaka.
On your third and final day in Osaka return to places you fell in love with over the past couple of days or venture further a field in to Osaka's outer districts like Banpaku Park and Expo City.
Spend 2 weeks in Japan in Hokkiado
Of Japan's four main island's Hokkiado is the Northern most and second largest in size. It is the least industrially developed and with an incredibly varied terrain attracts wildlife lovers, countryside enthusiast and even snowboarders from the world over. With Mt Niseko boasting perfect power snow the year round the snow capped mountains of Hokkiado are a not only picturesque but provide thrills for adrenaline junkies too!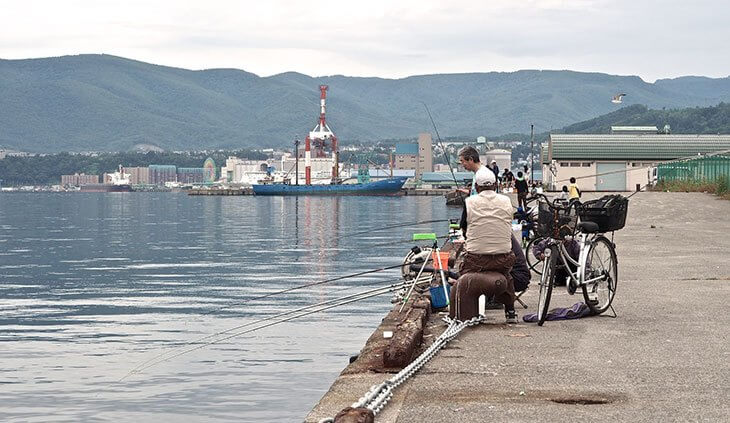 For those who love a little more tranquility then the flower field of Furano are a welcomed restbite from the hustle and bustle of Tokyo and Osaka. As the summer sunshine beats down on the rows and rows of fields be sure to have your camera at the ready to capture the petals dancing in the breeze.
Otaru is a quaint harbour side town and is a lovely spot to start you adventure on Hokkiado island. Featuring a canal and a mix of modern and traditional architecture clean and bright Otaru has plenty of guesthouses and small hotels available from which to rest your weary head!
If you choose to head to Japan with snow sports in mind look no further than Hokkiado and spend your full 2 weeks there! For those who wish for more variety it would be fair to say that a week in and around Hokkiado would satisfy your wanderlust.
Spend 2 weeks in Japan in Okinawa
If you love island life, beaches and crisp clear and cool blue seas look no further than Okinawa. At the exact opposite end of Japan, the southerly Okinawa islands can be accessed by domestic flights from airports throughout Japan for very reasonable ticket prices.
Consisting of over 150 individual islands Okinawa is encompassed by the Pacific Ocean. Hiji Waterfall is a wonderful day trip. The hiking trail takes you through dense Japanese forest woodland and culminates at the spectacular Hiji Waterfall. For those who really love being outdoors you'll be interested to hear about Shikinaen Garden. The second residence of the former Ryukyu Kings and these beautifully kept gardens are wonderful for an afternoon stroll.
If you are interested in Japanese history then Okinawa is the perfect place for you, there are countless castles and forts to explore! From Zakimi Castle to the Nakamura Residence, from Nakagusuku Castle to Tamaudun Mausoleum there is a whole world of relicts and forgotten kingdoms to explore.
The beaches of Okinawa are a little tricky to access but certainly worth the effort, there are a number of tour companies that run day trips to the more remote islands and beaches for a truly authentic experience . Satisfy your castaway cravings and arrange a visit to Gahi-jima, one of the uninhabited Okinawa islands. Bring a picnic and watch at the soft salty foam laps against the pale creamy sands. You could easily spend a week island hopping around Okinawa but three days is enough to get a taste of the sea area and see the castles in all their glory.
Mt Fuji
No self respecting traveler to Japan would consider missing out on watching the sun rise over Mt Fuji. The largest mountain in Japan is in fact an active volcano. Although it is possible to climb My Fuji many visitors chose to reside at one of the many stations in the area and observe from a distance.
Like in Hokkaido, Mt Fuji has some great snow boarding resorts where you can hire equipment and sign up for lessons. With such an iconic and stunning background you'd be a fool not to take a stop off at Fuji!
Just Japan…
With so much to see and do in Japan it's difficult to devise a two week itinerary that incorporates all the many sides this wonderful country has.
By starting in the major cities and spending no more than three days in each you will leave yourself plenty of time to head to the northern island of Hokkaido or the southern islands of Okinawa to take in some countryside air, strap on a snow board and get a glimpse of the glistening Pacific Ocean.
---
---