The best areas to stay in Tokyo for first-timers are the neighborhoods of Shinjuku, Shibuya, Ginza, Roppongi, Tokyo Station, Odaiba, Asakusa, Uneo, Shimbashi, Ebisu, and Akihabara. In this guide, we will be looking at where to stay in Tokyo for tourists, for nightlife, shopping, foodie, family, cheap, and near the train station.
Shinjuku and Shibuya are both the best place to stay in Tokyo for first-timers. It offers easy access to the train station. It is better to stay in Shinjuku than in Shibuya if you prefer more nightlife scene. It is better to stay in Shibuya than in Shinjuku if you prefer more shopping scene. Whether you choose to stay, they are only 5 minutes by train from each other.
First time visitos will want to stay in the neighborhoods that are on the JR Yamanote train line which offers you very easy access to the tourist attractions and to the airport such as Shinjuku, Shibuya, Roppongi, Tokyo Station, and Ginza.
If you're looking for the best areas for nightlife, look into Shinjuku, Shibuya, Ginza, Roppongi and Tokyo Tower. They offer plenty of bars, nightclubs, izakayas, and restaurants to have a great night out!
The artificial island of Odaiba is probably the best place for family. It provides plenty of activities with your kid and is also close to Disneyland.
The best time to visit Tokyo is the cherry blossom season in late March, early April; and fall foliage season in November. If you're planning to visit Tokyo this peak season, be sure to book accommodation well in advance! You can find all types of accommodation from budget guesthouses, traditional Japanese style inns – ryokan, B&Bs, Capsule Hotels, to luxury international hotels.
11 Best Areas to Stay in Tokyo for tourist
1. Shinjuku, where to stay in Tokyo for first time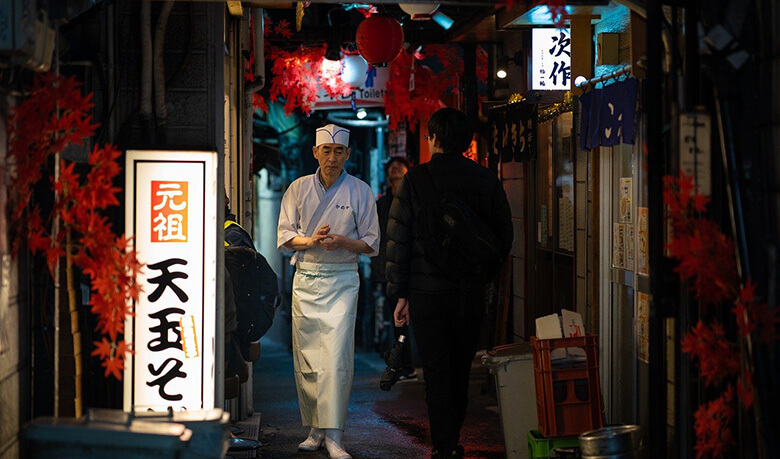 Shinjuku is the best area for first time tourists. This central location offers great nightlife, shopping, and easy access to other parts of the city with public transport. It is better to stay in Shinjuku than in Shibuya if you prefer a more nightlife scene.
Located in the heart of the city, Shinjuku is packed with thousands of shops, restaurants and bars, hotels, crowded train stations, lively streets, bustling nightlife, bright neon lights, electronics shops, department stores, high-rise buildings, and tourist attractions.
Shinjuku is one of the biggest transport hubs in Tokyo, and on the important Tokyo loop line, Yamanote Line. Shinjuku is home to the busiest station in the world, Shinjuku train station. From Shinjuku train station, you can travel anywhere in Japan and within Tokyo.
You can easily make a day trip to Mount Fuji and Hakone with the Odakyu train and public bus from Shinjuku train station. It's also very convenient to travel between the city and the airport with the Narita Express train.
The Shinjuku train station divided Shinjuku into two different areas: West Shinjuku (Shinjuku Nishi-Guchi) and East Shinjuku (Shinjuku Higashi-Guchi). If you're looking for where to stay in Tokyo with a family with children, I would recommend staying in the West Shinjuku to avoid the nightlife district of Kabukicho on the east side.
In the west side, you will find many tall buildings and government offices. You can find the Tokyo Metropolitan Government Building, Mode Gakuen Cocoon Towers, and the tiny alley Omoide Yokocho (Memory Lane/ Piss Alley) in this high-rise district.
The Tokyo Metropolitan Government Building has observation decks on the 45th floor where you can visit for free and enjoy the panoramic views of the city, and the views of Odaiba and Mt. Fuji on a clear day. Tokyo Metropolitan Government Offices is one of the best places to have stunning city views along with the Sky Tree Building and Tokyo Tower.
The modern tower, Mode Gakuen Cocoon Towers, is the most recognized icon of the Shinjuku Skyscraper District. It is home to a medical services school, an IT school, and a fashion school.
Located near the west gate of Shinjuku Station, Omoide Yokocho (Memory Lane) is a tiny alley also known as Piss Alley. This small lane is filled with old-school restaurants and bars. Order yourself a beer and sake and some grilled spears of chicken called Yakitori, and enjoy exploring the old-world Japanese atmosphere.
On the east side of Shinjuku train station, you will find the red-light district Kabukicho, Robot Restaurant, Golden Gai district, Shinjuku Gyoen Garden, and some history and cultural attractions such as Tokyo Toy Museum, Fire Museum, and Hanazono-jinja Shrine.
The entertainment red-light district Kabukicho is a great area to go to experience Japan's nightlife with many bars and restaurants. You can explore the famous Robot Restaurant where you can watch robot shows while having some drinks. You can also go bar hopping and grab a drink at Golden Gai district.
Located very close to Shinjuku-gyoenmae subway station, the Shinjuku Gyoen Garden is the most beautiful garden in Tokyo. It is a great place to take a stroll, have a picnic, and is one of the best places to see cherry blossoms in spring and when the leaves turn gold and red in autumn foliage season.
If you love shopping, there're plenty of modern shopping complexes such as Takashimaya Times Square, Shinjuku West Exit Camera Town, Odakyu Department Store, Kinokuniya, Tokyu Hands Shinjuku, and Isetan Department Store.
Stay in Shinjuku if you're looking for the best area to stay in Tokyo for first-time tourists; You plan to travel around japan want convenient access to other parts of Japan; You want easy access from the airport.
Best places to stay in Tokyo in Shinjuku:
🔍FIND BEST HOTELS IN SHINJUKU
See more:
2. Tokyo Station and Marunouchi, central Tokyo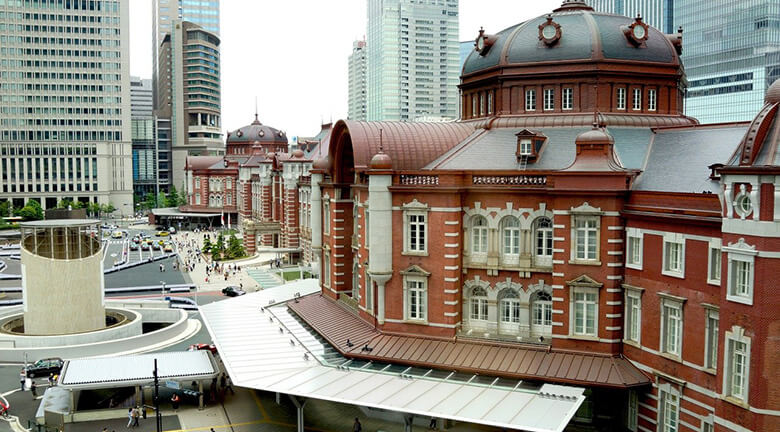 This central location is the main transport hub of Japan, a well-connected area, close to Ginza, Imperial Palace, and offers plenty of choices in shopping, dining, sightseeing, and accommodations.
Tokyo Station itself is a shopping and dining complex where you can find many shops and restaurants. You will likely pass this station when you're visiting Tokyo or take the train out of Tokyo as it's the main hub of many JR train lines, the bus, and bullet trains.
There are several dining areas inside the station such as Kitchen Street, the well-known Tokyo Ramen Street, and First Avenue Tokyo Station (Tokyo Station Ichiban Gai).
If you're a history buff, there are several museums for you such as the ceramics museum Idemitsu Museum of Arts, the art museum Mitsubishi Ichigokan Museum, and the Bridgestone Museum of Art.
You can also visit the food trucks and the monthly Oedo Flea Market near the prominent building, Tokyo International Forum Building.
Within a short walk from Tokyo Station, you will find the Imperial Palace. The Imperial Palace is close to the public and only open on the Emperor's birthday 23 December, and the New Year's greeting on 2 January. If you want to take a tour, you can book it via the Imperial Household Agency.
You can do sightseeing around the Imperial Palace such as the Imperial Palace East Garden, and take photos at Nijubashi Bridge. Other attractions nearby are Yasukuni-jinja Shrine, Yushukan Museum, Kitanomaru-koen Park, Koishikawa Koraku-en Garden, Showa-kan Museum, Zenkoku-ji Buddhist Temple, Hibiya-koen Park, and JCII Camera Museum.
Stay in Tokyo Station and Marunouchi if You are traveling around Japan in the shinkansen bullet train and stop over in Tokyo. You want easy access to central Tokyo, to Haneda Airport, and Narita Airport.
Best places to stay in Tokyo Station and Marunouchi:
🔍FIND BEST HOTELS IN TOKYO STATION
3. Ginza and Tsukiji, where to stay in Tokyo for shopping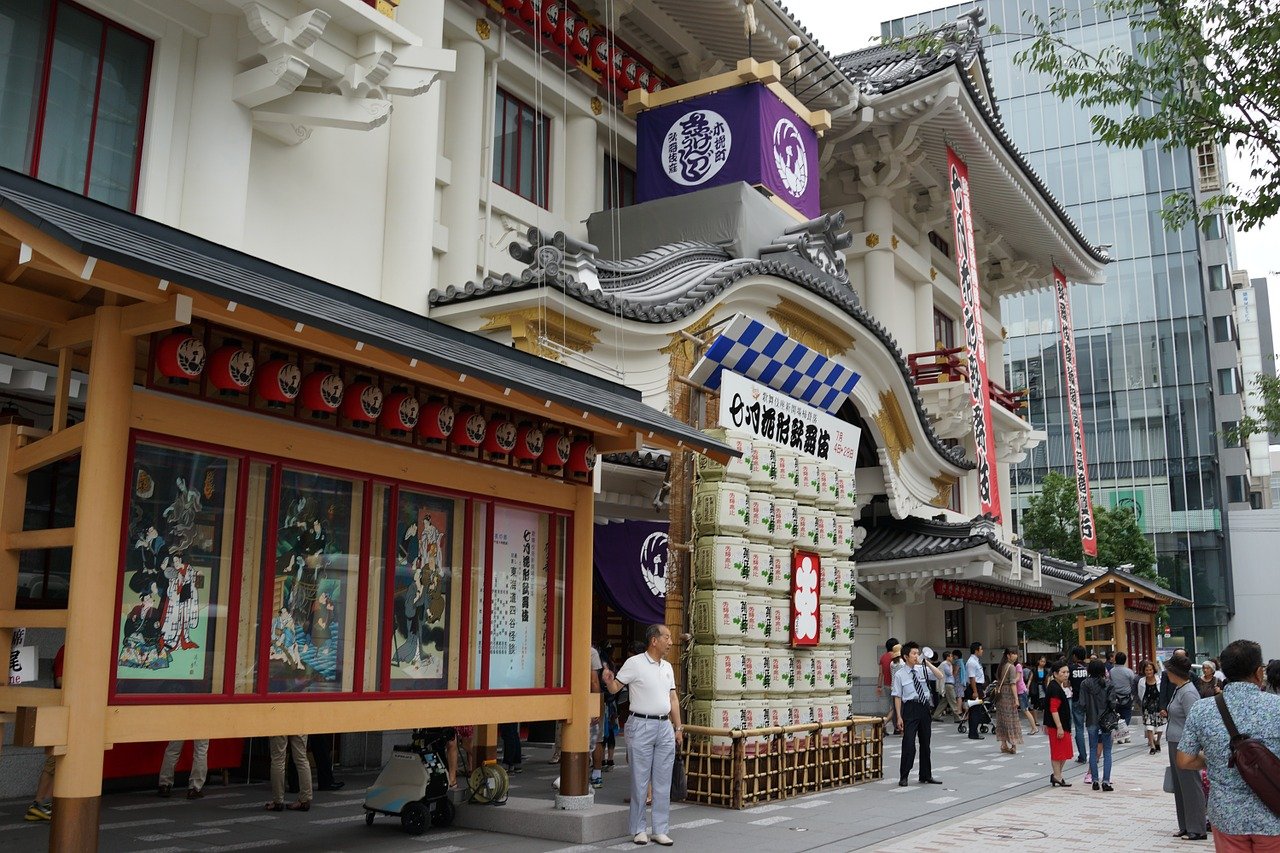 Ginza is basically an upscale shopping district. It is located next to the Tokyo Station and the Imperial Palace. It is filled with luxury boutiques, chic cafes, restaurants and bars, and department stores. While Shinjuku provides the most vibrant atmosphere and a wide selection of restaurants and shops, Ginza is quieter in the evening, but it still has many the restaurants and shops.
This high-end shopping haven is home to Chuo-dori Shopping Street, Harumi-dori Shopping Street, Kabukiza theatre and Ginza Graphic Gallery.
The main shopping avenue in Ginza, Chuo-dori Shopping Street is home to Mitsukoshi and Wako department stores. It's a pedestrian area on weekends. Harumi-dori Shopping Street is another shopping street with many shops and cafes. Some shopping malls you can find in Ginza are Ginza SIX, Ginza Wako, and Ginza Mitsukoshi.
The famous Tsukiji Fish Market has now moved to Toyosu. It's now the busy market on the site of the old Tsukiji fish market.
Stay in Ginza if you are looking for the best area to stay in Tokyo for shopping and you want convenient transport.
Best places to stay in Ginza:
🔍FIND BEST HOTELS IN GINZA
4. Shibuya, Harajuku, and Aoyama, best places to stay in Tokyo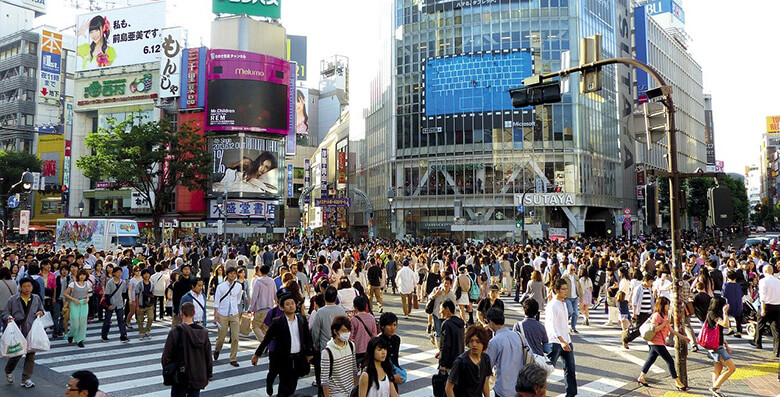 Similar to the bustling atmosphere of Shinjuku, Shibuya Station is the transport hub on the Yamanote Line. The lively area of Shibuya is filled with restaurants, izakaya, clubs, bars, and fashion shops. Shibuya is the shopping paradise of Tokyo. If you love shopping, it is better to stay in Shibuya than in Shinjuku.
Apart from a convenient location, well-connected transport, Shibuya is a center of youth fashion and culture with a younger crowd and students with their uniforms. There are not many sights around but plenty of shopping, and partying opportunities when staying in the Shibuya area.
The most prominent attraction of Shibuya is Shibuya Crossing (also known as The Scramble). Shibuya Crossing is the main intersection in front of the Hachiko Exit of Shibuya Station. This busiest pedestrian crossing in the world is a popular location in movies such as Fast and the Furious: Tokyo Drift and Lost in Translation.
You can enjoy a drink and people-watching in one of the many cafes and restaurants around Shibuya Crossing. The giant Starbucks shop is the popular one!
During big seasonal events like the New Year Countdown and Halloween, Shibuya Crossing has become a popular meeting spot. Shibuya Crossing is a famous photography location for tourists. The best photo places are Shibuya Sky (Shibuya Scramble Square), Starbucks (Shibuya Tsutaya), Mag's Park, Inside Shibuya Station, L'occitane Cafe, and Shibuya Crossing itself.
For more shopping and dining, head to Shibuya Center Gai Street just right off the Scramble Crossing.
Located right in front of the station is the famous Hachiko Statue. Hachiko is a loyal dog, who waited for his master every day at Shibuya Station, even after his master passed away. Hachiko Statue is one of the popular meeting points in the city,
If you like history and culture, you must visit the Bunkamura Museum of Art and the Toguri Museum of Art, Beer Museum Yebisu, and the Tokyo Photographic Art Museum.
Located near Shibuya are the Harajuku and Aoyama neighborhoods. This district is filled with wide tree-lined streets, stylish stores and fashionable European-style restaurants and cafes.
Harajuku is home to Meiji-jingu Shrine, Omotesando shopping street, Takeshita-dori Shopping Street, Yoyogi-koen Park, Togo-jinja Shrine, Kawaii Monster Cafe.
Meiji-jingu Shrine is located near the JR Harajuku Station, and the most visited Shinto shrines in Japan. It attracts million visitors during the first days of the New Year to come to pray. The highlight of the Meiji Shrine is its 12 meters tall giant wooden torii gate.
Located to the south of Meiji-jingu Shrine is the Yoyogi Park. Yoyogi Park is one of the largest city parks in Tokyo, a popular place for jogging, picnicking. It is home to Yoyogi National Stadium, the site of Olympic Village in 1964.
For a shopping experience visit Tokyo's Champs Elysées in Omotesando Boulevard where you find Ralph Lauren store, Gyre shopping center, Omotesando Hills complex, and Kiddy Land. Takeshita Dori is the longest shopping street in Harajuku.
Running between Harajuku and Shibuya is Cat Street (also known as Kyu-Shibuya-gawa Yuhodoro or Yuhodo) is the hipster area to shop in Harajuku beside Takeshita street, Meiji Street, or Omotesando. It is packed with boutiques, cafes, food trucks, and hole-in-the-wall eateries.
There are also some art galleries and museums like Watari Museum of Contemporary Art/Watari Um, Nezu Museum, and Ukiyo-e Ota Memorial Art Museum.
Stay in Shibuya and Harajuku areas if you love the youth atmosphere with great shopping and lively nightlife.
Best places to stay in Tokyo in Shibuya and Harajuku:
🔍FIND BEST HOTELS IN SHIBUYA
5. Roppongi and Akasaka, best area to stay in Tokyo nightlife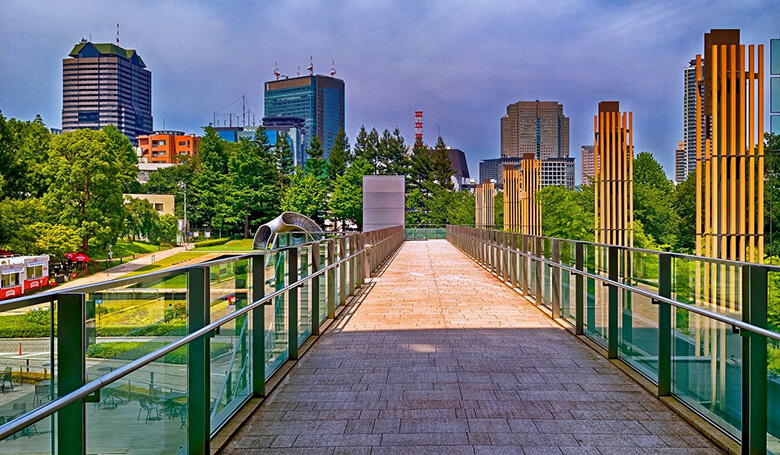 Roppongi is a popular nightlife and entertainment neighborhood for foreigners in Tokyo. Akasaka is north of Roppongi, an upmarket area packed with affluent ex-pats, businessmen, and politicians.
Roppongi is filled with foreigner-friendly bars and nightclubs, and restaurants that cater to international business people.
Roppongi Hills is the heart of Roppongi. It's a shopping, dining, and entertainment complex. It also has a SkyDeck rooftop, Tokyo City View observation deck on the 238 meters tall Mori Tower, and a Tsutaya bookstore.
Similar to Roppongi Hills, Tokyo Midtown is more upscale. Midtown Tower is 248 meters high and was the tallest building in Tokyo until 2014. If you want to stay here, you can check out the Ritz-Carlton, one of the best hotels in Tokyo. You can access Tokyo Midtown directly from Roppongi Station.
You can also find some cultural attractions like art galleries, museums, and shires in Roppongi and Akasaka neighborhoods such as Japan's largest art museum National Art Center Tokyo, Mori Art Museum inside the Mori Tower, Suntory Museum of Art inside Tokyo Midtown, Musée Tomo, and Nogi-Jinja Shrine.
The three modern art museums in Tokyo make the Roppongi Art Triangle and can be visited by Triangle Pass.
Nearby Roppongi you can visit the 333 meters high Tokyo Tower, taller than its model the Eiffel Tower.
Roppongi and Akasaka offer great nightlife, dining, and shopping but it's not on the Yamanote Line. If you don't travel around a lot, Roppongi is the best place to stay.
Best places to stay in Tokyo in Roppongi:
🔍FIND BEST HOTELS IN ROPPONGI
6. Odaiba, Tokyo bay, and Tokyo Disney, best place with family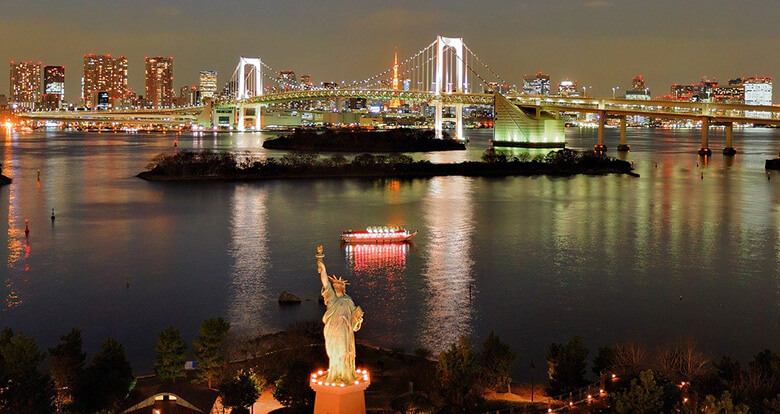 The popular leisure shopping and entertainment district, Odaiba (Daiba) is a man-made island in Tokyo Bay. This artificial island of Odaiba and Tokyo Bay is the best place to stay in Tokyo if you are a family traveling with young children and want to visit Tokyo Disney Resort or just to entertain and shop with friends for the weekend.
You can reach Odaiba by:
the Rinkai line from Ikebukuro, Shinjuku or Shibuya Stations and stop at Tokyo Teleport Station
the Yurikamome monorail lines from Shimbashi Station getting off at Odaiba Beach Park.
take the suijo bus (water taxi) from Asakusa.
The best way to explore Odaiba is to buy a day-pass on the Yurikamome monorail line that leaves from Shimbashi station. The Yurikamome line makes a full loop through Odaiba, you can easily visit Odaiba Beach Park, VenusFort, Tokyo Big Sight, and other tourist attractions.
This seaside location attracts thousands of visitors each day with plenty of technology centers, shopping malls, museums, parks, beaches, and many entertainment options with a more relaxed vibe.
From the Rainbow Bridge, the world-famous Fuji TV Building, the Gundam Statue and Statue of Liberty, the Tokyo Big Sight, the Museum of Science and Innovation (MIRAIKAN), there are always some things for you to do.
The most iconic bridge in Tokyo, the 800 meters long Rainbow Bridge connects Odaiba with the other parts of Tokyo. You can walk the bridge for 30 minutes, take a mini-cruise, have dinner and drink while viewing the bridge.
The Statue of Liberty (Symbol Promenade Park) is located in Odaiba Beach Park. It's a good spot for taking photos with the famous Rainbow Bridge in the background.
If you're Gundam fans you must visit the Gundam Front Tokyo (DiverCity Tokyo Plaza). It is an entertainment space on the 7th floor of DiverCity.
The Fuji Television Main Building (Fuji Television Headquarters) is located in the Fuji TV main office building, also a must visit.
If you like history, there are several museums for you to explore. The National Museum of Emerging Science and Innovation (Miraikan) to learn more about the latest technology and science. The interactive digital art museum, Mori Building Digital Art Museum Teamlab Borderless, is the most popular and Instagrammable art experience.
For shopping, choose from Aqua City Odaiba, Divercity, Venusfort, And Decks Tokyo Beach. Mediterranean Sea town-themed tourist attraction, Aqua City Odaiba is with many shopping stores and restaurants.
VenusFort is located in Palette Town where you can enjoy both shopping and entertainment with Tokyo Leisureland, Megaweb. In Palette Town, you can also find the enormous Ferris wheel with the view of Tokyo Tower, SkyTree, the Rainbow Bridge, and Tokyo Gate Bridge.
Decks Tokyo Beach is a big urban shopping mall where you can find Daiba Kaiki Yashiki, Odaiba Takoyaki Museum, and Tokyo Trick Art Museum.
If you want to break from the shopping, you have a few parks to relax like Odaiba Beach Park, Daiba Park, Aomi Minami Port Park.
Other attractions are the Oedo Onsen Monogatari hot springs near the Telecom Center Observatory and the Toyosu Fish Market which replaced the old famous Tsukiji Fish Market.
Stay in Odaiba and Tokyo Bay if you're looking for a relaxing feeling away from the hustle and bustle of the city center.
Best places to stay in Odaiba and Tokyo Bay:
🔍FIND BEST HOTELS IN ODAIBA
7. Asakusa, Ryogoku, and Skytree, where to stay in Tokyo on budget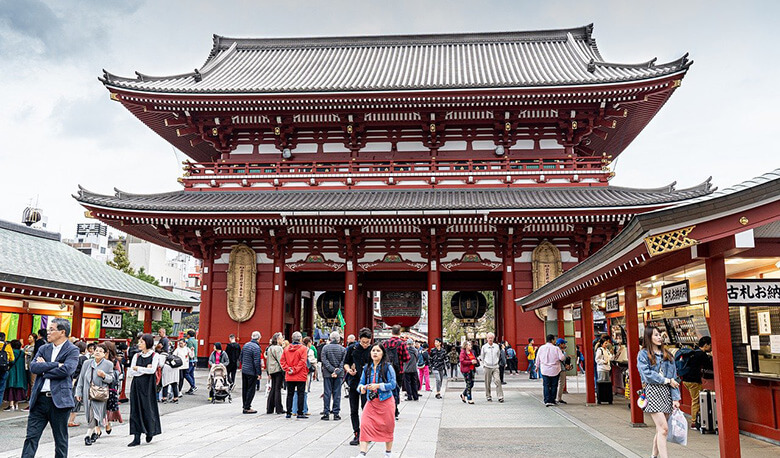 Asakusa is home to the famous Sensoji Buddhist temple, and nearby Ryogoku is home to the Sky Tree, the National Sumo Stadium Kokugikan, and the Edo-Tokyo Museum.
If you want the old feel of Tokyo different from Western Tokyo, Asakusa is the best place to stay in.
The Buddhist temple, Sensoji temple (Asakusa Kannon Temple), was built in the 7th century, and reconstructed during postwar. To enter the temple, you will pass one of the two large entrance gates Kaminarimon (Kaminari Gate) which is the symbol of Asuka.
The Nakamise shopping street spreads from Kaminarimon to the main grounds of Sensoji Temple. You can buy local specialties and tourist souvenirs.
The Tokyo Sky Tree observation tower was the world's tallest building. Tokyo Sky Tree has two observation decks that offer a panoramic view of the city, and are home to a large shopping complex with an aquarium, Sumida Aquarium. You can easily access the tower by the Toei Asakusa Line and Hanzomon Line.
To have a great view of the Tokyo Sky Tree, visit Sumida Park nearby. Along the Sumidagawa River, this Riverside park is just a few minute's walk from Asakusa Station. It is home to the annual Fireworks Festival. It's a good spot for cherry blossoms (sakura) viewing in the spring.
Edo-Tokyo Museum is located close to the Sumida River. Visit the Edo-Tokyo Museum to learn more about the history of the Edo period. The Nihonbashi Bridge is a full-scale replica of the original wooden bridge.
If you like sumo matches or you are already at the Edo-Tokyo Museum, pay a visit to National Sumo Stadium Kokugikan.
You can also find more museums and shrines in the Asakusa area like Asakusa-jinja Shrine, Taiko Drum Museum, and The Sumida Hokusai Museum.
Asakusa and Ryogoku offer plenty of cheap hotels and guest houses. If you're traveling on a budget and looking for the old atmosphere of Tokyo, Asakusa is the best place to stay. To experience old Tokyo, you can stay at one of the few traditional Japanese Inns, Ryokans.
Best places to stay in Tokyo in Asakusa:
🔍FIND BEST HOTELS IN ASAKUSA
8. Ueno, where to stay in Tokyo for museums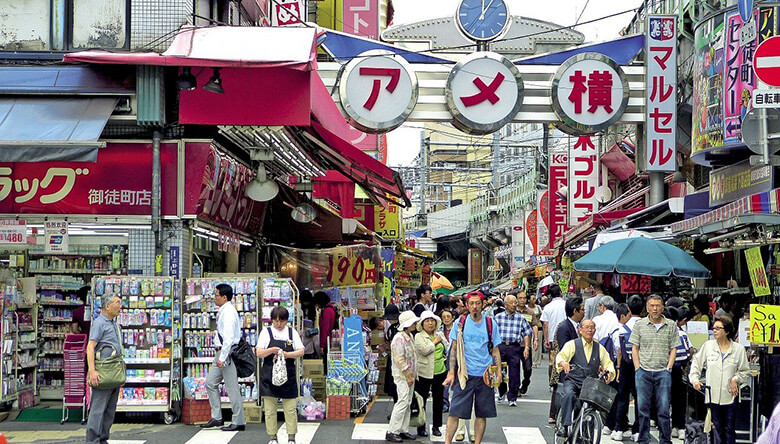 If you love museums, parks, and looking for budget accommodations, Ueno is the best place to stay in Tokyo with cheaper hotels compared with Shibuya and Harajuku.
Ueno-koen Park is a prominent landmark in the Oeno area, within a short walk from the transport hub of Ueno Station. Ueno-Koen Park is a famous spot for hanami cherry blossom parties in Spring.
Ueno-Koen Park is home to many excellent museums, the Tokyo National Museum, the National Museum for Western Art, the National Science Museum, and the Tokyo Metropolitan Art Museum. In the Ueno-Koen Park, you can also find Shinobazu Pond, Ueno Zoo, and the historic Toshogu Shrine.
Tokyo National Museum is the oldest and largest museum in Japan. It displays a large collection of Japanese art including swords and lacquerware.
The National Museum for Western Art (NMWA) specializes in art from the Western tradition and was designed by Le Corbusier. The National Museum of Nature and Science is one of the biggest science museums in Japan, a domed 360-degree movie theater is the highlight of the museum. Tokyo Metropolitan Art Museum is the first public art museum in Japan, built in 1926.
Ueno Zoo is the first zoological garden in Japan. If you're traveling with kids, Ueno Zoo is a must-visit. If you want free entrance, you can visit the Zoo on Greenery Day, Tokyo Citizen's Day, and Ueno Zoo's Anniversary Day.
Other attractions are Nippori Fabric Town, Ameya Yokocho Arcade, Kyu Iwasaki-teien, and SCAI The Bathhouse.
Ueno offers cheaper hotels, many budgets and mid-range accommodations, and several ryokans spreading around this neighborhood. If you're looking for budget-friendly hotels, you love museums, and you don't mind a bit of travel to see tourist attractions.
Best places to stay in Ueno:
🔍FIND BEST HOTELS IN UNEO
9. Shimbashi, Shiodome, Hamamatsucho and Shinagawa
These 4 waterfront districts are located on the Yamanote Line. Shiodome is home to the headquarters of Nippon Television, many high-rise office buildings, hotels, cafes, restaurants, shops, theaters.
Shimbashi (salaryman) and Hamamatsucho districts are popular after work. Here you will find yakitori restaurants and taverns packed full with middle-aged men having dinner and drinking after work.
Shinagawa is home to the Shinagawa Station, one of the busiest stations in Tokyo. It's a transport hub connecting the Yamanote Line and the Tokaido Shinkansen, and offers direct access to the Narita Airport and Haneda Airport given by the Narita Express and Keikyu Railways.
There're also plenty of sights to see in this waterfront area including Hama Rikyu Gardens, Tokyo Tower, Shiba-koen Park, Hara Museum of Contemporary Art, Advertising Museum Tokyo, and Zojo-ji Temple.
The Hama Rikyu Gardens is a famous garden located along Tokyo Bay. It is beautiful all year round, especially in late November and early December for fall foliage, late February for plum blossoms, and late March to early April for the spring cherry blossom season.
The iconic red and white Tokyo Tower is a 333-meter high observation tower and was built in 1958, modeled on Paris's Eiffel Tower. Tokyo Tower is the second tallest tower in Tokyo after the Tokyo Skytree.
Located nearby the Tokyo Tower is the Shiba-koen Park, one of the oldest parks in Tokyo. In here you can find several ancient trees like giant ginkgo. It's a good spot for Momiji-dani (Autumn Leaf Valley) in autumn and hanami in cherry blossom season. If you visit the park in July, you can take part in the Turkish Food Festival.
Best places to stay in Tokyo in Shiodome:
🔍FIND BEST HOTELS IN SHIODOME
10. Ebisu, Meguro and Daikanyama
Ebisu, Meguro and Daikanyama are western Tokyo suburbs. These districts are one of the most desirable residential areas. If you want a more local atmosphere, these neighborhoods are the best areas to stay in Tokyo.
Ebisu is within a short walk from the south of Shibuya Station. It is one of the most desirable areas to live in with green spaces, it offers first-class restaurants, excellent hotels, and fashionable retail.
Daikanyama is home to many premium fashion boutiques and some of the best brunching spots in Tokyo. .
Meguro is neighboring trendy and cool Nakameguro. Meguro is conveniently located on the JR Yamanote line, Mita subway line, the Tokyu Meguro line, and the Tokyo Metro Namboku Line.
Top attractions nearby Ebisu, Meguro, and Daikanyama are the Museum of Yebisu Beer, Tokyo Metropolitan Museum of Photography, Tokyo Metropolitan Teien Art Museum, and Institute for Nature Study.
If you love beer, you must visit the small beer museum which is located in Yebisu Garden Place and sample some Ebisu beer.
Stay in Ebisu, Meguro and Daikanyama if you like the local atmosphere with boutique shopping and hip restaurants and bars.
Best places to stay in Tokyo in Ebisu:
🔍FIND BEST HOTELS IN EBISU
11. Akihabara, Iidabashi, Kanda, and Jimbocho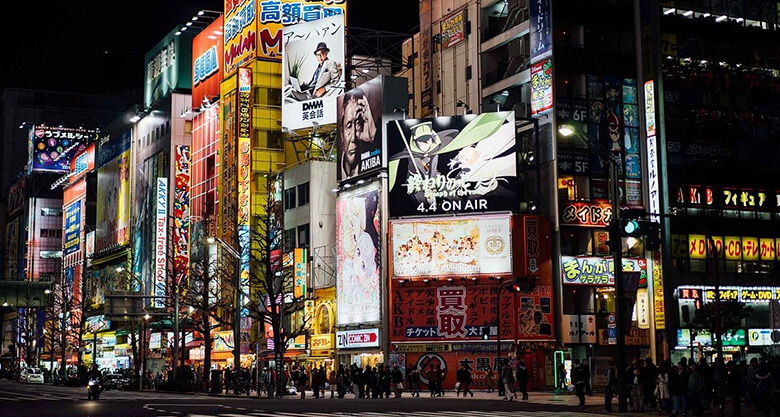 Akihabara (Akiba) is a center of otaku (geek) culture, and famous for its many electronics shops, maid cafes, manga, anime goods. The neighbor Kanda is famous for its Shinto shrines and Jimbocho is a bookshop district.
Akihabara is a good spot for shopping and sightseeing due to its convenient location, easy access to Ueno and Narita Airport.
For game lovers, you can visit the Arcades and Game Centers, Akihabara Gamers Main Store, The Akihabara Gachapon Kaikan (Akihabara Capsule Toy Center), and Final Fantasy Eorzea Cafe.
The Akihabara Electronics Town and Akiba Denki-gai is a cheap electronics paradise where you can find almost everything from laptops, headphones, cameras, to anime and manga goods. Here you will find Chuo-dori Street, Yodobashi Camera complex.
Tokyo Dome City is the entertainment, shopping complex where you can find the Yomiuri Giants baseball team, the LaQua spa, an amusement park, Tokyo Dome Hotel, the LaQua spa, and many shops and restaurants.
Kanda Myojin Shrine is a popular Shinto shrine and hosts the Kanda Festival, one of the three great festivals in Japan. It's a 1300-year-old shrine within a short walk from Ochanomizu Station and Akihabara. Highlights of the Shrine are The Grand Zuishinmon Gate, Main Hall Designated as a National Treasure, Daikoku statue, and the roof garden.
If you're book lovers, you'll want to visit the Jimbocho Bookshop Neighborhood. It is lined with stylish hole-in-the-wall coffee shops, quirky hut café, and countless stores selling antique books.
Best places to stay in Tokyo in Akihabara:
🔍FIND BEST HOTELS IN AKIHABARA
See more:
Overall, Shinjuku and Shibuya are the best area to stay in Tokyo for first-timers. It has central location and wide range of accommodation options. Being transport hubs of the whole city, you can easily travel to not only in Tokyo but also everywhere in Japan. There is train to Kyoto, Osaka, Hiroshima that you can take a day trip from the capital of Japan.
By now you should know which Tokyo neighborhood is best for you to stay in. Finding an excellent location to call home for your vacation will make your visit even more magical.  Now you have a better idea of where to stay in Tokyo, it's time to get booking your dream vacation and head off on your once-in-a-lifetime trip.