Where to Stay in Nashville: TOP 11 Best Areas
Where you stay in Nashville can make or break your experience there. That's why, in today's article, I am going to look at the best areas to stay in Nashville. I will break each one down and give you all the information you need, to ensure you get the destination for your own trip absolutely perfect.
Nashville, affectionately known as Music City USA, is the capital and most populous city in Tennessee. An incredibly popular destination, it has so much variety on offer that everyone will be sure to find something to entertain them.
See more about the USA: Best Areas to Stay in San Francisco
Before we begin, I want to give you some tips and info. These will be things you should consider, in order to ensure you choose the best place to stay in Nashville based on your own personal needs.
For example, any of the districts surrounding Broadway are perfect for visitors looking for a wild break, full of partying. If you're planning bachelor or bachelorette parties, the abundance of bars and attractions will give you plenty of nights to remember.
12 South is another great option for anyone seeking a great choice of bars and entertainment. While it's a little more detached from the city centre, it offers much more affordable pricing, so will help those on a budget.
At the west end of Broadway, the Midtown & West End area is home to the world-famous Vanderbilt University. This makes it a great choice for anyone studying here, visiting a student, or who simply enjoys the student atmosphere
East Nashville is the perfect option for anyone who prioritises walking and time outdoors during their trip. Combined with its subdistrict, Five Points, it even has some of the best shopping and dining opportunities available in Nashville as well.
That said, as it is quite detached from the city, it may be worth considering Midtown & West End or Belmont/Hillsboro Village as well.
Music Valley is another destination located a way outside the city centre. If you want plenty of shopping and dining amenities, as well as a famous attraction, without the hustle and bustle of Downtown, it is well worth considering.
If its history you're after, there's plenty of options. Music Row is a completely historic district so will have plenty to wow you. However, perhaps the most iconic historical locations are found in SoBro.
You could even want a completely unique experience to anywhere else in the city, in which case Germantown is ideal. This can be an especially great choice for those who have visited Nashville before and want to experience another side to it.
If you keep these and other similar issues in mind while reading, it will make deciding where to stay in Nashville as quick and easy as possible.
FIND BEST HOTELS IN NASHVILLE
Where To Stay in Nashville, Tennessee: 11 Best Areas to Stay in Nashville
So, now you know exactly what to look out for while reading, I am going to show you the 11 best areas to stay in Nashville. This should give you everything you need, to make sure your trip goes as smoothly as possible.
Best areas to stay in Nashville map
1. Downtown, where to stay in Nashville on a budget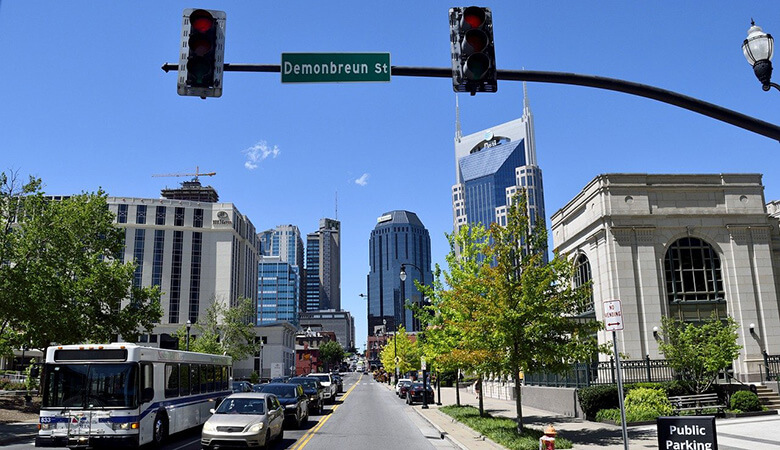 Located in the city centre, the Nashville Downtown area is the financial and economic heart of Nashville. This is the most popular destination for tourists, as it is full of restaurants, bars, hotels, and shops, ensuring there is something to suit everyone, no matter their interest or budget.
With its history and reputation for music, many of the bars in Nashville feature live performances. Among the most popular is BBs Blues Club, founded by legendary blues guitarist BB King.
The Printers Alley historic district is a section of Downtown Nashville that features bars dating back to the 1940's, so you can combine your drinking with a cultural and historic adventure.
Then there is a collection of honky tonks on a section of Broadway known as the Honky Tonk Highway. Honky tonks are bars that specialise in country music and are incredibly popular in this part of the United States. This makes visiting one something of a cultural experience.
Downtown Nashville also boasts one of the most complete collections of attractions in the city as well. For starters, the Tennessee State Capitol Building is located in Downtown Nashville. This alone brings visitors from far and wide to learn the history of not just Nashville, but the state as a whole.
Surrounding the State Capitol, you have Victory Park. A beautiful green open space, with attractions like statues and tombs, it is a great way to combine a little history with the great outdoors.
Following on with the themes of history and country music, you also have the Johnny Cash Museum. Founded in 2013, the Johnny Cash Museum features the largest collection of Johnny Cash artefacts and memorabilia in the world, so is a must visit location for any of his fans.
In a similar vein, the Downtown Location is also home to the Ryman Auditorium. A live music venue built in the late 1800's and boasting stunning architecture, it was the former home of the Grand Ole Opry for more than 30 years.
It is listed on the National Register Of historic Places and designated a National Historic Landmark for its role in popularizing country music.
History is so ingrained in Downtown Nashville that you can even get a taste of it in your hotel as well. Take for example the 21c Museum Hotel. One of the most popular hotels in Nashville, it combines a boutique hotel with one of the best art galleries in the city.
All in all, Downtown Nashville is the sort of location that is likely to have something for everyone, making it the ideal neighbourhood for anyone wanting a well-rounded trip to the city.
Stay in Downtown if:
You want to visit the Johnny Cash Museum or the Ryman Auditorium
You want to stay in the city centre
You're looking for the best area to stay in nashville without a car
You're looking for where to stay in nashville for live music
You want an incredible selection of restaurants, bars, hotels, shops and attractions
You want to visit the State Capitol Building
You are a fan of live music and or history
You're traveling on a budget
FIND BEST HOTELS IN DOWNTOWN
See more:
2. SoBro, where to stay in Nashville for bachelorette party & bachelor party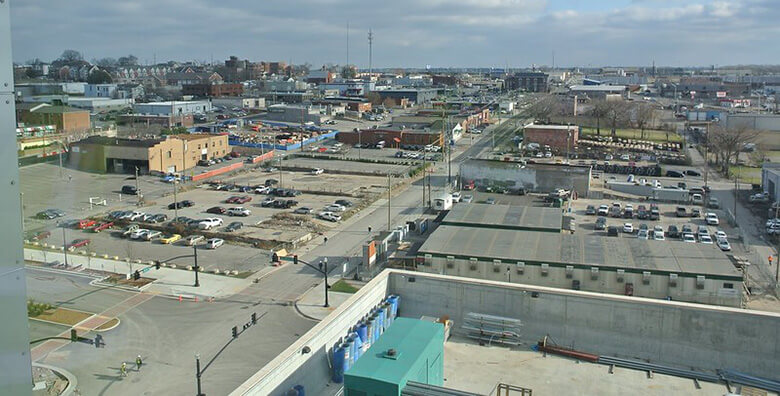 SoBro is technically a subdistrict of Downtown Nashville and makes up the majority of Downtown that is located south of Broadway. In fact, that is where the area takes its name from, as SoBro literally means "South Of Broadway".
The location of SoBro provides excellent access to all of the attractions found in the rest of Downtown, while being marginally quieter and more affordable. However, that doesn't mean SoBro lacks attractions of its own as well.
For starters, SoBro is the location of the Country Music Hall Of Fame & Museum. Founded in 1967, the Country Music Hall Of Fame & Museum is one of the world's largest music museums and research centres, containing one of the most extensive music collections.
While it is obviously a must visit attraction for country music fans, it is also a fabulous place to visit for anyone with an interest in music or history of any kind. It acts as the heart of the SoBro neighbourhood as well, with many of its other prominent attractions located around it.
To the west is the Music City Center, the largest convention centre in the city. It hosts all manner of conventions throughout the year, making SoBro an incredibly convenient place to stay for anyone attending one.
To the south is the CMA Theater. Linked to and operated by the Country Music Hall Of Fame & Museum, it is an incredible live music venue, giving you the chance to catch a performance in the world's most iconic location for country music while in SoBro.
To the northwest you have the Nashville Symphony, home to the Nashville Symphony Orchestra. While SoBro and the city as a whole may be primarily known for country music, this gives you a great chance to see world class musicians of another genre perform while you are in "Music City".
To the north you have the Walk Of Fame Park. This is one of the best outdoor locations in SoBro. Featuring beautiful gardens and star-studded pavements, similar to those you would find in Hollywood, it is a great place to enjoy both nature and memorials to some Nashville music legends.
Finally, to the northwest, you have the Bridgestone Arena. One of the most popular attractions in SoBro, located immediately south of Broadway, Bridgestone Arena is a 17,000+ seater multipurpose area.
Not only does it host some of the largest concerts and events in all of Nashville, but it is also home to the Nashville Predators of the National Hockey League. This makes SoBro the perfect choice for anyone coming to the city to catch a game or a show.
Stay in SoBro if:
You're first time visiting Nashville
You are attending an event at the Music City Center, CMA Theater, or Nashville Symphony
You want to visit the Country Music Hall Of Fame & Museum or Walk Of Fame Park
You want to see the Nashville Predators or another event at Bridgestone Arena
FIND BEST HOTELS IN SOBRO
3. The Gulch, the best areas to stay in Nashville for a hip atmosphere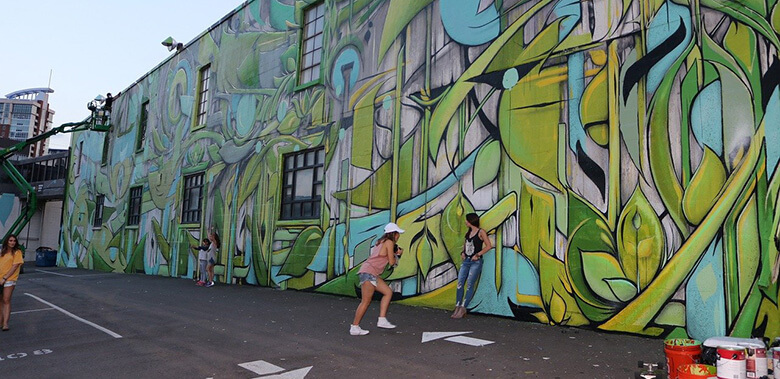 The Gulch is another sub district of Downtown, bordered to the east by SoBro, the south and west by the I-40, and the north by Broadway and the rest of Downtown. The Gulch is best described as an up-and-coming neighbourhood, having been undergoing revitalisation since 2006.
One of the main reasons people are drawn to The Gulch is for the value on offer. As with many less established neighbourhoods, The Gulch features better prices on everything from hotels, restaurants and shops to houses and businesses.
This makes The Gulch a fabulous neighbourhood to stay in Nashville for anyone needing budget accommodations, while not wanting to be too far away from the centre of the city.
In addition to price, The Gulch is also home to some of the most popular and historic music venues in all of Nashville. Venues like The Station Inn, The Mercy Lounge, and The High Watt give music fans a chance to watch performances in iconic surroundings.
The Gulch even features one of the most historic hotels in Nashville, Union Station Hotel. A former railroad terminal that opened in 1900, it has been converted into a luxury hotel. This gives you a chance to stay in Nashville surrounded by quality and history in equal measure.
With attractions like these, combined with a number of trendy bars, restaurants, cafes and shops, The Gulch has developed a hip atmosphere that is very popular with students and younger visitors.
This makes The Gulch a great choice for those looking for where to stay in Nashville for a vibrant, upbeat vacation.
Stay in The Gulch if:
You are travelling on a budget
You want to visit some historic hotels and music venues
You want somewhere with a hip atmosphere
You don't want to be too far from the attractions of Downtown
FIND BEST HOTELS IN THE GULCH
4. Midtown & West End, where to stay in nashville first time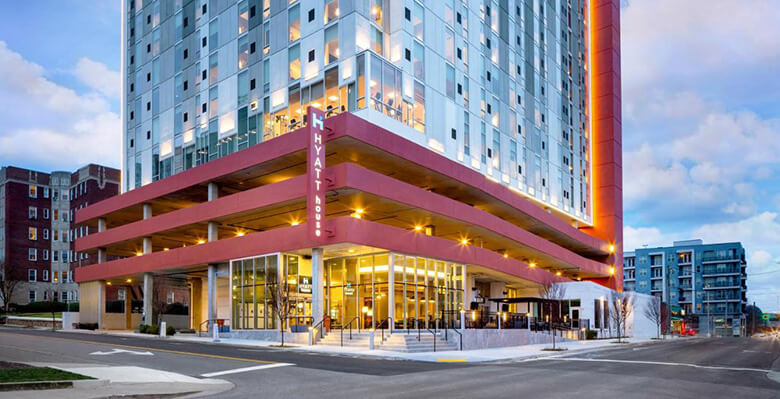 The Midtown and West End area is located southwest of Downtown, with Broadway concluding in the eastern side of the neighbourhood. While Midtown & West End isn't one of the first places on most people's list to stay, they are home to Vanderbilt University.
Founded in 1873, Vanderbilt University is a private research university located in the heart of the Midtown & West End neighbourhood. With almost 14,000 students, it helps give the Midtown & West End neighbourhood an incredibly youthful and vibrant atmosphere.
As a result, restaurants, bars and hotels in Midtown & West End offer better rates than many other parts of the city, as if often the case in student dominated areas.
Beyond the university, the other main attraction in Midtown & West End is Centennial Park. Covering 132 acres, Centennial Park has seen historical farmlands converted into wide open green spaces for the public, full of beauty spots and historical monuments.
Perhaps its most famous site is The Parthenon. A full-size replica of the Athenian Parthenon in Greece, it houses a number of art galleries, giving you the chance to enjoy beauty, both inside and out.
Stay in Midtown & West End if:
You are, or are visiting a student, studying at Vanderbilt University
You want to visit Centennial Park or the art galleries in The Parthenon
FIND BEST HOTELS IN WESTEND
5. Belmont/Hillsboro Village, residential areas in Nashville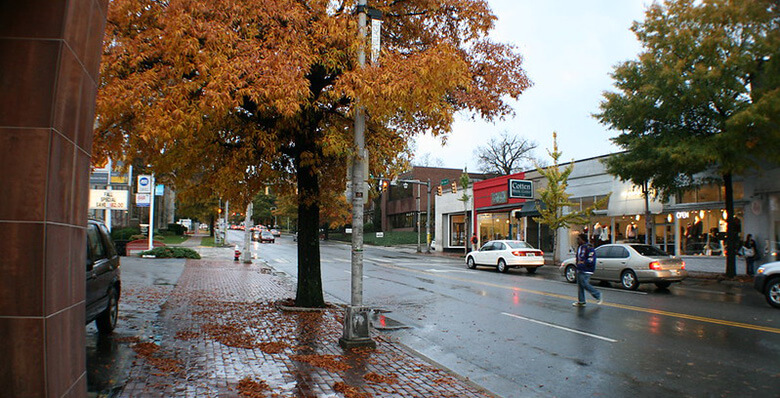 The Belmont/Hillsboro Village neighbourhood is located in the south of the city. It is a relaxed, primarily residential area, filled with local restaurants, bars and shops.
Its proximity to the university makes it a popular destination for students, who gravitate here as a way to get a little peace, away from the hectic environment in the university's immediate vicinity.
This has helped to create a truly bohemian atmosphere to the area. Independent clothes stores, book shops, vegan food shops and even an art gallery complete a truly hip environment. As does the Belcourt Theatre, where you have the chance to take in a classic or art house movie in historic surroundings.
Meanwhile, you even have attractions like the Belmont Mansion. Built in the 1850's in the Italian architectural style, it has been restored and had a museum added, giving you a fabulous way to learn more about the city's past.
You aren't likely to find any major chain hotels in the area, but those looking for a small family hotel or private vacation rentals shouldn't have an issue.
Stay in Belmont/Hillsboro Village if:
You are a fan of parks and breath-taking views
You want a more relaxed location with a bohemian atmosphere
You prefer private vacation rentals to large chains
FIND BEST HOTELS IN BELMONT
See more:
6. 12 South, the best neighborhood for dining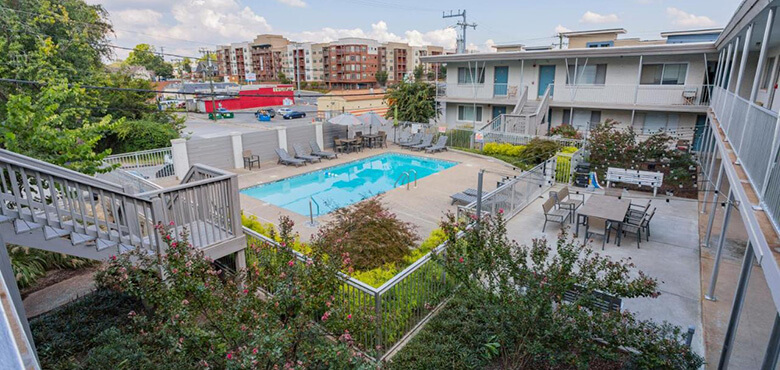 12 South is a part of Nashville located in numerous neighborhoods, with its eastern half located in Belmont/Hillsboro Village. It is the sort of destination ideal for those looking for pure relaxation throughout their stay in Nashville.
Numerous bars, restaurants, and stores are located within walking distance of one another. This means whether you're looking to indulge in a little retail therapy, wanting to sample some of the finest cuisines in the city, or simply looking to kick back and relax with a drink, you are guaranteed to find something you enjoy.
It is well known around the city for its bungalow-style homes, some of which are even available as vacation rentals for those seeking a slightly different experience.
The most famous attraction in the area is "I Believe in Nashville", an iconic mural that is a popular photo hotspot for tourists. That said, there are other things to do and see, such as exploring Sevier Park, home to an Antebellum mansion, towering trees, picnic areas and playgrounds.
Stay in 12 South if:
You want a great selection of bars, shops and restaurants
You want a unique style of accommodation
You want to explore Sevier Park or get a photo with the "I Believe in Nashville" mural
FIND BEST HOTELS IN NASHVILLE
7. Opryland & Music Valley, where to stay in Nashville with family
The Music Valley and Opryland neighbourhoods are located on the very outskirts of the city, in its north-eastern corner. It is an area in the city that features a considerably more relaxed vibe, offering guests a slower pace throughout their stay.
Live music bars, restaurants, shops and hotels are abundant throughout Music Valley. This makes it a great place to stay in Nashville whether you are a foodie, looking for a drink and a show, or simply want stylish lodging options that aren't going to cost you a fortune.
Perhaps the most popular area in the neighbourhood is the part that is located around Opryland. For starters, it is the current home of the legendary Grand Ole Opry, a weekly country music stage concert radio show.
Fans of the genre descend on the area each week, hoping for the chance to see a performance or catch a glimpse of their favourite artist in the flesh.
With the nearby Opryland Resort and Convention Centre containing shops, restaurants, gardens, waterfalls and rivers under an incredible atrium, this is a neighbourhood that allows you to combine a relaxing vacation with the sort of lodgings and attractions Nashville is famous for.
Stay in Opryland & Music Valley if:
You are a fan of the Grand Ole Opry
You want a more remote location
You want a great choice of restaurants, shops and hotels
You aren't worried about being quite a way from Downtown
FIND BEST HOTELS IN NASHVILLE
8. Music Row, the most romantic neighborhood in Nashville for couples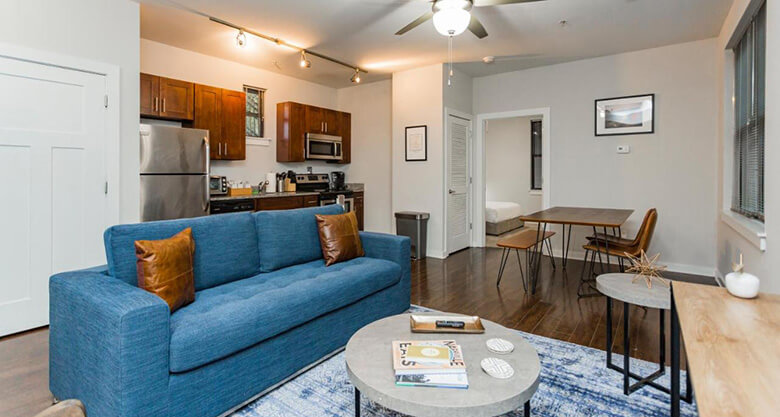 Music Row is located on the eastern edge of Midtown & West End, with the two neighbourhoods actually overlapping in places. This makes it a great choice for anyone who wants easy access to both Midtown and Downtown, without staying in either.
Music Row itself is a historic district that largely centres around businesses relating to country, Christian and gospel music. Numerous recording studios, record labels, publishing houses, licensing firms and businesses relating to advertising and video and radio networks are based in the area.
While Music Row is quite a small area, it is a must visit location for anyone interested in the history of the music industry. A few boutique hotels can be found in the area, giving you the chance for a truly sophisticated break taking in some culture.
Stay in Music Row if:
You want easy access to both Midtown and Downtown
You are interested in the history of the music industry
FIND BEST HOTELS IN NASHVILLE
9. Germantown, for unique architecture and culture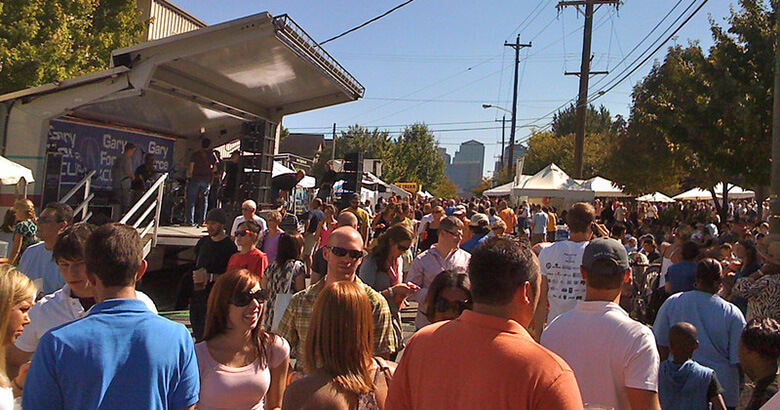 Located in the north of the city, Germantown offers an experience that differs from what you are likely to find anywhere else in Nashville.
The buildings largely feature Victorian architecture, giving the neighbourhood a charm and character all of its own. Many now contain stylish cafes and restaurants, giving you the opportunity to relax in a stylish, sophisticated location.
Even the warehouses have been converted into boutique stores, selling both high end and independent shoes, clothes and other fashion ware.
The area is even home to the Nashville Farmers Market, the largest in the city. Here you can find everything from eateries to stalls selling goods and produce, both local and imported. Depending on the time of year you visit, you can have an entirely different experience, even if you've been before.
It isn't just shopping and dining that makes Germantown so special though. Take for example the Bicentennial Capitol Mall State Park.
Covering 19 acres, the park features lawns, plants, statues, memorials, columns, time capsules and its main attraction, a 2000 seat terraced amphitheatre. This makes it a great place to explore for those who want to enjoy the history and culture, without being confined to a concrete jungle the whole time.
Stay in Germantown if:
You want to see the unique architecture and culture
You are a fan of stylish shops, cafes and restaurants
You want to visit the Nashville Farmers market
You want to explore Bicentennial Capitol Mall State Park
FIND BEST HOTELS IN NASHVILLE
10. East Nashville, the best area for walking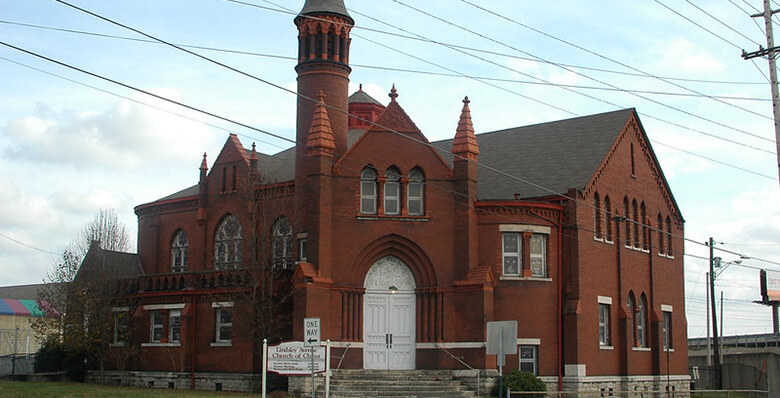 East Nashville is a huge area, located on the opposite side of the Cumberland River to Downtown. It is a primarily residential part of the city, made up of a number of smaller neighbourhoods containing housing, businesses, and amenities like restaurants primarily catering to locals.
Perhaps the biggest selling point of East Nashville for the majority of visitors is that the area features a huge number of fabulous parks. Options like East Park, Cornelia Fort Airpark Cumberland Park, Shelby Bottoms and Shelby Park fill the neighbourhoods from the banks of the Cumberland River to the outskirts of the city.
This makes East Nashville a fabulous place to stay in Nashville for anyone who plans to spend a large portion of their vacation outdoors, taking in the natural beauty of the area. There is one thing that gives East Nashville a wider appeal as well though, that being Nissan Stadium.
Located on the banks of the Cumberland River, Nissan Stadium is a 69,000-seat outdoor area. The home of the Tennessee Titans of the National Football League, it makes East Nashville the perfect location for anyone coming to see a game or attend one of the many other major events held at the stadium.
Stay in East Nashville if:
You want to go for walks in beautiful parks and along the banks of the Cumberland River
You prefer a more residential area
You don't mind being separated from Downtown
You are coming to attend a game or event at Nissan Stadium
FIND BEST HOTELS IN NASHVILLE
11. Five Points, for hip and trendy area in Nashville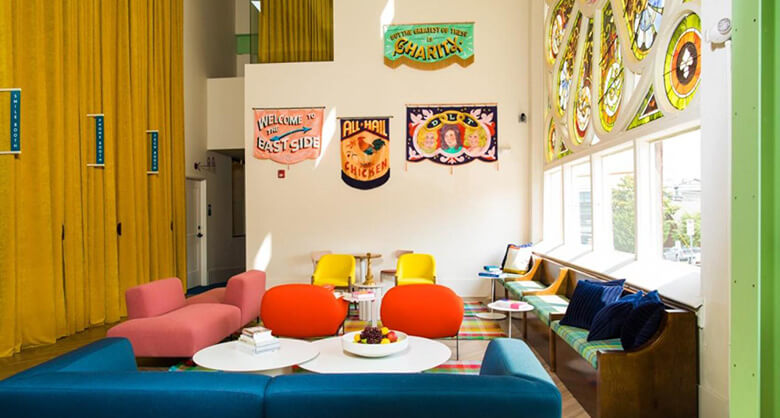 Our final destination of Five Points is actually one of the many subdistricts of East Nashville. The neighbourhood takes its name from the five-pointed intersection at its heart, with everything it offers spreading out from this location.
Like much of East Nashville, Five Points is a primarily residential neighbourhood that caters mainly to locals from the area. This makes it a great place to stay for those who want to experience what life is truly like for those who live in the city.
The reason it has come to prominence in recent years is due to the fact it is home to some of the finest restaurants in the whole city. This makes it ideal for anyone who wants to sample the best cuisine the city of Nashville has to offer during their stay.
It also has a very hip and trendy reputation, due in large part to the collection of vintage shops, cafes and natural food markets present in the area.
When combined with some of the historic architecture that's also on display, it makes Five Points a destination well suited to anyone who wants to experience the finer side of Nashville, without having to pay a fortune or be caught up in massive crowds the whole time.
Stay in Five Points if:
You want to dine in some of the city's best restaurants
You want to stay in a neighbourhood with a hip, trendy atmosphere
So that's our list of the 11 best areas to stay in Nashville. By now, most of you will have decided where to stay in Nashville based on your own wants and needs.
However, for those who still have a few remaining doubts, I will now answer some of the most frequently asked questions people have about Nashville, in order to help you pick a neighbourhood as well.
FIND BEST HOTELS IN NASHVILLE
What Is The Best Area To Stay in Nashville?
While the best area in Nashville can vary from person to person, for most I would recommend Downtown. It has numerous restaurants, hotels and attractions, all walking distance apart, plus has easy access to other areas, making it an incredibly well-rounded neighbourhood.
Where Should I Stay in Nashville For Walking?
If walking is your main consideration when deciding where to stay in Nashville, I would strongly suggest East Nashville. With an abundance of parks and easy access to the Cumberland River, there are plenty of different places to ensure your walks never get boring, no matter how long you stay.
What Is The Street in Nashville With All The Bars?
The street in Nashville with all the bars is Broadway. Separating the bulk of Downtown from SoBro and The Gulch, Broadway is ideal for anyone who wants to get a drink and enjoy some live music, whether you prefer a craft cocktail and bluegrass music or beer and country music.
See more:
Conclusion
Nashville is a wonderful place that has something to offer for everyone. Whether it's the neon lights and restaurants of Downtown, the historic hotels and venues south of Broadway, or something in one of the many other areas we have looked at, you should now know where to stay in Nashville to get the most out of your trip.
All that's left is to pick your favourite neighbourhood and hotel, so you can take the next steps to getting it all booked, so you can experience Nashville for yourself as soon as possible.