The best areas to stay in San Francisco for first-timers are the neighborhood around Union Square, Nob Hill, SoMa, Fisherman's Wharf, Marina District, Mission District, Haight-Ashbury, and The Castro. These are the most popular districts for tourist that offers a wide variety of tourist attractions and amenities.
In this guide, we will be looking at where to stay in San Francisco without a car, for nightlife, couple, family, budget, near the airport, and the safest area to stay in San Francisco.
San Francisco is known for being a tech city, one of the most expensive cities in the world. Its also famous for its summer fogs, cable cars, Golden Great Bridge, Alcatraz Island, Fisherman's Wharf, and more.
Union Square is the best area to stay in San Francisco for the first time due to its proximity to tourist attractions and many choices in accommodations. If you stay here, you will be located in the heart of San Francisco's downtown, with many restaurants, bars, and shops right at your doorstep.
Union Square is also the best area to stay in San Francisco without a car because it is the most convenient location with good public transportation, and many things are located within a walking distance.
There is the Tram Routes round to Fisherman's Wharf and the historic Cable Cars. Along with Union Square, Financial District, Fisherman's Wharf, and Nob Hill are some of the best neighborhoods to book hotel if you dont have a car.
San Francisco is generally safe travel to, but it's important to be aware of the surroundings and take precautions. If you are searching for the safest areas to stay in San Francisco, you should stick into tourist areas such as Union Square, Fisherman's Wharf, The Embarcader, Chinatown, and Nob Hill. You should avoid walking at night alone and stick into well-lit area.
You can take an airplane to one of three SF's international airports including Oakland International Airport (OAK), San Francisco International Airport (SFO), and San Jose International Airport (SJC). there are also train, bus and car to city.
If this is your first visit, I recommend spending at least three days in San Francisco, but 4 days is good amount of time to explore the city's most famous attrations, enjoy food and drinks. You will able to take a day trip to famous wine region: Napa Valley and Sonoma; or visit the Marin County and Muir Woods.
Where to stay in San Francisco? 14 Best areas & neighborhoods
1. Union Square, where to stay in San Francisco for first timers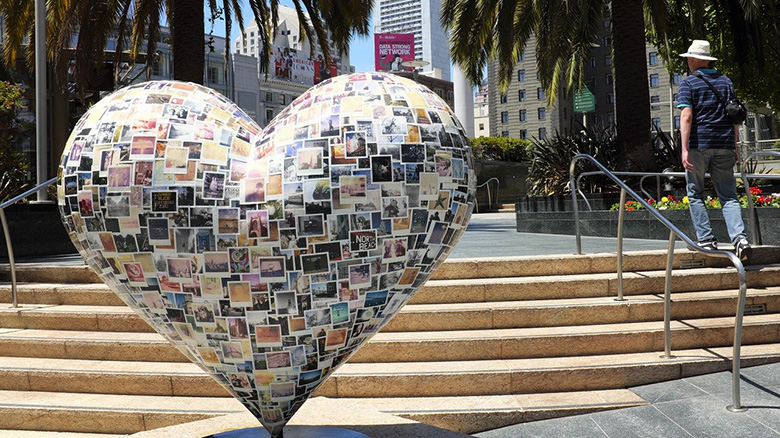 If you are looking for the best place to stay in San Francisco without a car, look no further than in Downtown, especially around the Union Square area because it's the central hub for city transportation, easy access to other parts of the city. Downtown is also ideal base for first-time tourists, businesses, families, couples, singles who want to stay in the heart of the city.
The Financial District, Union Square, and parts of Chinatown, Tenderloin, and SoMa combine to form what is unofficially known as Downtown San Francisco. This is where you'll find the largest concentration of corporate headquarters anywhere in San Francisco.
All six San Francisco Fortune 500 companies are headquartered in the Financial District, as are many major brands, like Levi Strauss and Chevron. In addition, numerous diplomatic missions are located here, including those of countries such as France, Japan, Mexico, Brazil, and the United Kingdom.
With so many workers coming in and out of the district on a daily basis, it unsurprisingly has some of the best public transportation options in the city. Combined with numerous restaurants and stores catering to the workers, it makes the Financial District an incredibly convenient place to stay.
Union Square is centered around the San Francisco Union Square itself, a beautiful plaza with the Dewey Monument at its heart that is a California Historical Landmark. In recent years, the city has even commissioned additional art installations around the Union Square plaza to add to its appeal.
The single block that Union Square lies on has the largest collection of department stores, gift shops, beauty salons, art galleries, and upscale boutiques in the United States. Then, for several blocks in all directions from the plaza, Union Square is filled with malls, shops, dive bars, restaurants, and hotels.
There is the Macy's department store stretches all the way from Powell to Stockton along Geary. This iconic retailing brand has more than 740 stores where you can find the Cheesecake Factory and Sears Fine Food.
You will find high-end shops like Saks Fifth Avenue, Tiffany & Co., and Louis Vuitton around the square, and the famous shopping streets nearby include Maiden Lane, Powell Street, and Westfield San Francisco Center which contains Nordstrom and Bloomingdales.
There's even a Theater District on the outskirts of Union Square, giving you the opportunity to catch performances by both established and up-and-coming performers at Marines Memorial Theatre, the Curran Theater, and American Conservatory Theater.
Union Square also has some of the best public transportation options in the city. Two Cable Car lines serve Union Square, as do multiple subway systems, limo, ferry, and trolleybus and bus lines. You can enjoy watching the cars come and go at the turnaround.
Union Square has the largest concentration of accommodations in the city, from backpacker hostels, guesthouses, B&B's, to luxury hotels that suits all budget travelers.
Stay In Union Square If you are a first-time tourist; you travel without a car; you want to stay in a safe neighborhood; you want to stay in Downtown San Francisco;
Best places to stay in Union Square:
luxury ($$$): Hotel Nikko San Francisco Located only 300 m from Union Square, this 5-star hotel has an on-site restaurant, private car parking, a bar, and 24-hour front desk. It's also a short drive by car from Moscone Center, City Hall, Coit Tower, Oakland International Airport. All guest rooms has air conditioning, a flat-screen TV, a safety deposit box and a bathroom.
mid-range ($$): citizenM San Francisco Union Square Located only 200 m from Union Square, this 4-star hotel offfer a restaurant, a 24-hour front desk, free WiFi, a safe box. You can enjoy à la carte breakfast in each morning.
budget ($): Handlery Union Square Hotel Located in Union Square, this 3-star hotel has an outdoor pool, a private car parking, on-site fitness center and dry sauna. It is also close to Museum of Modern Art and Moscone Convention Center.
>>🔍 CHECK BEST HOTELS IN UNION SQUARE <<
See more: 28 Best things to do in San Francisco
2. Nob Hill, one of the safest area to stay in San Francisco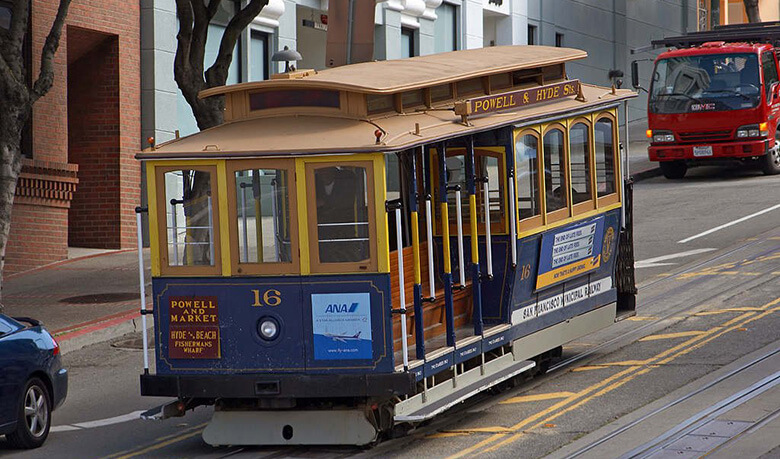 Nob Hill along with Union Square is one of the safest areas in San Francisco for tourist. Located directly south of Russian Hill, Nob Hill, also known as Snob Hill, is one of the most high-class neighborhoods in not just San Francisco but the US as a whole.
Beautiful tree-lined streets and stunning buildings make it an ideal choice for those looking to where to stay in San Francisco for the most luxurious experience. It's one of the original seven hills of San Francisco and offers sweeping views of the city.
A collection of some of the best hotels, Michelin-starred restaurants, and boutique stores make Nob Hill perfect for a laid-back vacation, enjoying the best things in life.
If you are looking for some nightlife, check out the Polk Gulch strip on Polk Street, or grab a drink at Top of the Mark's bar on the roof of Intercontinental Mark Hopkins, or at the historic Tonga Room bar.
Meanwhile, a collection of art galleries, cultural institutions, and historic landmarks gives you plenty to do and see.
One popular institution in Nob Hill is the San Francisco Cable Car Museum. With San Francisco being well known for its cable car network, what better way to learn about these icons of the city than by seeing some of the original cars and learning about how they are made and operate.
The Nob Hill neighborhood also has a number of beautiful parks you can relax in. Perhaps the most popular is Huntington Park. A grand park with wide-open spaces, the replica of the Roman Fountain of the Tortoises, and native plant species, will allow you to enjoy the more natural side of San Francisco.
It even backs onto the James C. Flood Mansion. One of the oldest and most stunning buildings in Nob Hill, it gives you a great opportunity to enjoy the historic architecture of the city. In a similar vein, you also have the Grace Cathedral.
Built in 1849, the Grace Cathedral is an absolutely stunning building, that is the largest place of worship in the San Francisco Nob Hill area. This will let you see not just the style of the city through the years but its religious history as well.
There are also things to see such as visit the Antique Vibrator Museum, or see a concert at Nob Hill Masonic Center which is one of San Francisco's coolest concert venues.
As Nob Hill is surrounded by some of the busiest, most famous locations in the city, it offers easy access to all of the attractions you are likely to want to visit. While it certainly isn't cheap to stay here, it is well worth it if you have the money and are looking for the most stylish vacation possible and stay at some of the luxury hotels of the city.
Stay In Nob Hill If you want to stay in one of the most affluent areas in the city; you want safe area; you want to stay, dine, and shop in the city's best hotels, restaurants, and stores;
Best places to stay in San Francisco in Nob Hill:
>>🔍 CHECK BEST HOTELS IN NOB HILL <<
3. SoMa, affordable accommodations in San Francisco
SoMa stands for South Of Market is located south of Market Street, San Francisco's main street. SoMa is a large district consists smaller sub-area like Rincon Hill, South Park, Yerba Buena, and East Cut.
SoMa was the warehouses and factory district but now it's home to the transportation terminal Salesforce Transit Center, and César Pelli's Salesforce Tower, many high-tech companies,.
Located at the exit to the San Francisco – Oakland Bay Bridge, it is the first part of the city most people will experience when driving in from the east. While still located close to the main bulk of the city, you will begin finding more deals available on both accommodation and amenities.
This makes South Of Market a good choice for those looking at best places to stay in San Francisco on a budget that won't add a huge amount of traveling each day. This is especially true given the attractions located within SoMa itself, which include a number of the city's most popular museums.
The Contemporary Jewish Museum opened in 1984 and hosts a rotating collection of exhibits, designed to make the Jewish experience relevant to a 21st-century audience. The Asian Art Museum offers visitors the chance to see one of the world's finest collections of Asian art.
The San Francisco Museum Of Modern Art features more than 33,000 works of art, across disciplines like painting, sculpting, photography, architecture, design, and media arts. There's also the Moscone Convention Centre, which hosts some of the largest conventions and exhibitions in the city.
Around the Yerba Buena Gardens, you will find a cluster of museums including the Museum of the African Diaspora, California Historical Society, Yerba Buena Center for the Arts, Children's Creativity Museum, Mexican Museum, and historic sites like St Patrick Church
South Of Market is even perfect for sports fans looking at where to stay in San Francisco to catch a game. Chase Center and Oracle Park (AT&T Park), home to the Golden State Warriors of the National Basketball Association and San Francisco Giants of Major League Baseball respectively, are both found here.
South Of Market is also known for being the home of the Leather And LBGTQ Cultural District. With San Francisco as a whole known as one of the most LGBT-friendly cities in the country, this is an ideal spot for people in the community to feel at home, or for others to learn more about their history.
The Folsom Street Fair, Up Your Alley Fair, How Weird Street Faire, and even events during the city's Pride Festival all take place here, allowing visitors to learn and embrace the culture with a wild party atmosphere.
LGBT festivals aren't the only ones that take place in South Of Market either. Numerous Filipino cultural events are held throughout the year, giving you the opportunity to learn more about another group that calls the area home.
SoMa offers great nightlife with some of the best restaurants, bars, and late-night dance clubs in the city.
If you like the sound of South Of Market but are worried by the budget accommodation I mentioned don't be, as there are other options as well. The South Beach part of the district, located near Oracle Park, is an affluent neighborhood, that will provide options to allow you to enjoy SoMa in style.
Stay In SoMa/South Of Market If you are traveling on a budget but still want to be near the city center; you want wel-connected transports with bus, car and BART; you want to catch a baseball or basketball game; you love museums;
Best places to stay in South Market:
>>🔍 CHECK BEST HOTELS IN SOUTH OF MARKET <<
4. Fisherman's Wharf, family-friendly neighborhood, good fresh seafood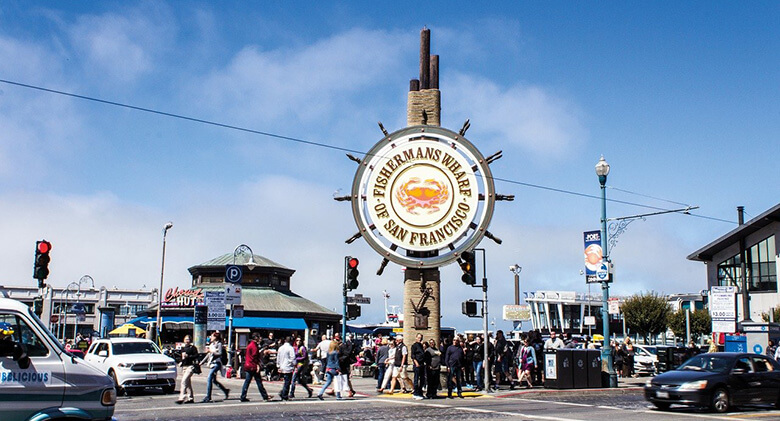 The Fisherman's Wharf has many family-friendly activities and attractions for kids such as Sea Lion Center, a boat trip to Alcatraz island prison, Hyde Street Pier, the Aquarium of the Bay, Maritime Museum, Musée Mécanique, Madame Tussauds San Francisco, Boudin Bakery Museum, and Pier 39.
Fisherman's Wharf is undoubtedly the most famous tourist area in San Francisco, originally settled in the 1800s by Italian fishermen who came to the area to take advantage of the quickly growing population that the gold rush was causing.
To this day it remains one of the most important fishing areas in San Francisco, with local delicacies like clams and Dungeness Crab some of the most common catches. This ensures visitors will have easy access to some of the finest, freshest seafood they will find anywhere in the city.
A perfect example would be spending an afternoon at the Buena Vista Café. One of the oldest remaining restaurants in the Fisherman's Wharf, this Irish restaurant allows you to combine history and the area's iconic cuisine in one location.
In 2010, the San Francisco council poured $15 million into rejuvenating the area. This was done not only to encourage more tourists to visit Fisherman's Wharf but also to try and bring local residents back as well.
The most famous destination within Fisherman's Wharf is undoubtedly Pier 39. Here you'll find an abundance of shops, restaurants, street performers, an arcade, and the Aquarium Of The Bay. There is even a number of rides, including an iconic, two-story carousel that dominates the pier.
Pier 39 is also where you'll find the famous California sea lions of Fisherman's Wharf. Indigenous to the San Francisco Bay, they have been a staple attraction of Fisherman's Wharf since the late '80s.
You'll find them lazing about all over the end of the pier and playing in the water, providing a wonderful experience for nature lovers.
At the far end of the district, you will find San Francisco Maritime National Historical Park. This contains a fleet of historic vessels, the San Francisco Maritime Museum, a library and research center, and a visitor center, where you can learn more about the maritime history of San Francisco.
It also includes two of the other famous piers in Fisherman's Wharf, Pier 45 and the Hyde Street Pier. Pier 45 contains a number of historic vessels and preserved museum ships for you to explore and learn from. Meanwhile, Hyde Street Pier has some more modern vessels as well, allowing you to explore San Francisco Bay.
This connects to Ghirardelli Square, a city block that was originally dedicated to the production of goods by the Ghirardelli Chocolate Company. It has been listed on the National Register Of Historic Places since 1982.
Converted into a shopping and dining complex in the '60s, many of the original shops and restaurants still remain. When combined with modern shops, stunning architecture, and a historic hotel in the original clock tower building, it makes for a truly diverse and relaxing day out.
San Francisco Fisherman's Wharf isn't all about shopping, dining, and maritime history though. For starters, you have a great collection of museums and art galleries, ensuring you have plenty of cultures to indulge in throughout your stay.
Then there are tourist attractions like Ripley's Believe It Or Not, The Wax Museum At Fisherman's Wharf, and the Bubba Gump Shrimp Company. There are also the filming locations from numerous major movies, allowing film fans to search out iconic locations from their favorite flicks.
With so much on offer, all within easy walking distance, it makes Fisherman's Wharf the easy choice for those seeking a laid-back, touristy San Francisco experience. This city's tourist hub has a wide range of hotels and guest houses for you to choose to stay.
Stay In Fisherman's Wharf If you are traveling as a family with children; you like museums, art galleries, and tourist attractions; you love fine food and drink, especially fresh seafood.
Best places to stay in San Francisco in Fisherman's Wharf:
>> 🔍CHECK BEST HOTELS IN FISHERMAN'S WHARF <<
See more:
5. Marina District, where to stay in San Francisco on budget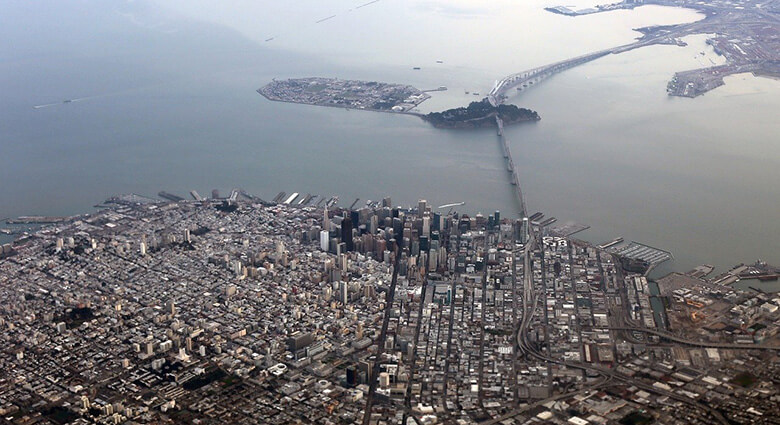 If you have a car and looking for a budget-friendly area to stay in, Marina District is your best bet. It offers cheaper price hotels, inns, B&B's, low-cost parking, and Golden Gate Bridge within eyesight.
The Marina District is set immediately to the west of Fisherman's Wharf. It was established in 1915 after the Panama-Pacific International Exposition, a world's fair to celebrate the completion of the Panama Canal, as well as to showcase the city's recovery from the 1906 San Francisco Earthquake.
While most of the district was rebuilt after the fair, the one building that still remains is the Palace Of Fine Arts. Built to depict the decaying ruins of ancient Rome, it features a lagoon, walkways, and stunning architecture that make it one of San Francisco's most iconic landmarks.
The palace was at the very heart of the exposition and was campaigned to be saved after it ended. While it originally contained permanent exhibits, it has since taken to hosting rotating exhibitions and has even been used as the filming location for many movies, and game and TV shows.
The majority of the Marina District is a residential area. This makes it ideal for those who like to stay in style while they are away, without having to deal with the crowds of more tourist-focused areas. The marina itself is usually filled with stunning yachts and other vessels.
Whether you need somewhere to keep your vessel during your San Francisco trip, you want to try and book a trip out on the water, or simply want to enjoy a meal or a drink while watching boats bob up and down in the water, the Marina District is the perfect place to start.
In the south of the district, you also have a campus of San Francisco's Academy Of Art University. Not only does this further the vibrant, bohemian feel that is present in much of San Francisco, it also makes it a great choice for anyone visiting the university or somebody studying at it.
Perhaps the most popular attraction in the area, and a reason many people choose to stay in the Marina District, is Presidio Of San Francisco. A 1,500-acre park, it lies at the San Francisco end of the iconic Golden Gate Bridge.
Built between 1933 and 37, the Golden Gate Bridge is a suspension bridge that used to be both the longest and tallest in the world. Considered the most photographed bridge on Earth, the Golden Gate Bridge is one of the main reasons many people choose to visit San Francisco in the first place.
The Golden Gate Bridge even has its own shade of red that is continually being reapplied to keep it looking nice. You combine this with the plaques and memorials located on the bridge, and a stroll across its 1-mile length is an absolute must for any visitor to San Francisco.
The Presidio Of San Francisco is no slouch in its own right either. The beautiful, wide-open green spaces offer stunning views of the Bay Area and the city skyline. This provides people a perfect way to relax and get some fresh air while visiting San Francisco.
Meanwhile, attractions like the San Francisco National Cemetery, Fort Mason Center for Arts & Culture, Walt Disney Family Museum, Yoda Fountain, World War II West Coast Memorial, and even beaches, photo opportunities, and a golf course provide plenty of things to keep you busy during your stay in San Francisco.
Marina District has all types of accommodation for every type of travelers, from luxury hotels, to motels, holiday homes, apartment rentals, hostels, and B&B's.
Stay In The Marina District If you are traveling with a car; you want to walk across the Golden Gate Bridge or just see it up close; you want to play some golf during your stay in San Francisco;
Best places to stay in Marina:
>> 🔍CHECK BEST HOTELS IN MARINA DISTRICT <<
6. North Beach, Italian neighborhood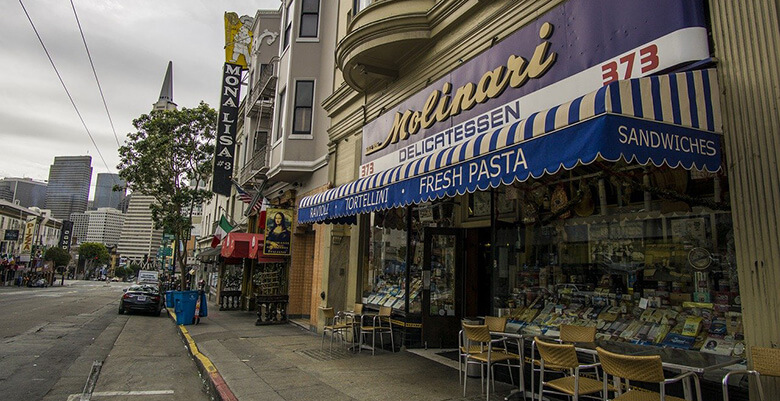 Our next destination of North Beach keeps the theme of ethnic enclaves but moves away from Asia. I say that as North Beach is primarily known as the location of San Francisco's "Little Italy" district.
The area is home to a large population of Italian Americans, the vast majority of which have immigrated from northern Italy or are descended from those who did.
That said, a great number of different ethnicities have moved into the area in recent years, creating a really diverse destination.
A large number of Italian restaurants, shops, and cafes are present throughout the neighborhood. This makes North Beach a great place to stay in San Francisco for anyone wanting to sample some Italian cuisine or sit in a coffee shop sipping some Italian-style coffee.
The Italian Heritage Parade is also held every Columbus Day. The longest-running Italian festival in the United States, it runs from the Fisherman's Wharf neighborhood to Washington Square Park. Speaking of which, Washington Park Square is a fabulous attraction in its own right.
It has a collection of amenities including the Park Tavern restaurant and Liguria Bakery, as well as attractions like Saints Peter And Paul Church, the Ben Franklin Statue, and the Volunteer Firemen Memorial. This makes it great for a relaxing day outdoors, enjoying the culture and architecture.
North Beach is also known as one of San Francisco's main nightlife hubs. Italian bars, blues clubs, jazz clubs, vibrant nightclubs, and countless restaurants and trattorias give you options to spend your nights however you please. It also borders the legendary Barbary Coast.
A historic red-light district, now known as Jackson Square, North Beach has taken inspiration from its neighbor. While it isn't a red-light district, North Beach does now feature the best collection of strip clubs in San Francisco, so is ideal for anyone seeking that type of entertainment.
The beatnik subculture that was prominent between the 40's and 60's is also still very prominent in North Beach. This makes it a good place to stay in San Francisco for anyone who enjoys a retro vibe.
If you plan your trip's date right, you can even attend the North Beach Festival. A street fair held on Fathers-Day weekend in June, it is one of the largest in San Francisco and the oldest in the US. This is a perfect opportunity for anyone seeking the clock party during their stay in San Francisco.
Accommodations in North Beach are varied, you can choose to stay in highend hotels, motels, inns, and B&B's.
Stay In North Beach If You are a fan of Italian culture and cuisine; You want to attend either of the festivals held here; Nightlife is a priority during your stay; You are interested in beatnik culture or strip clubs.
Best places to stay in SF in North Beach:
>>🔍 CHECK BEST HOTELS IN NORTH BEACH <<
7. Mission District, where to stay in San Francisco for foodies
Also known simply as The Mission, the Mission District is located immediately to the southwest of SoMa. It is named after the 6th Alta California Mission, the Mission San Francisco De Asis which, built in 1776, is the oldest building in San Francisco.
Also known as Mission Delores, it is a museum and California Historical Landmark, teaching people about the city's past. Meanwhile, the newer basilica built next to it in 1918 continues to serve an active congregation, giving a perfect view of the evolution of religion in the city.
Mission District has many of the trendiest restaurants and offers some of the best foods and drinks in the city.
Mission Delores Park surrounding the buildings is the largest park in the district, providing wide-open spaces, designed in a Mediterranean Revival style, for you to enjoy the architecture in.
The Mission Pool and Playground is an ideal spot to take the kids, located two blocks east on Valencia Street.
The local community includes one of the largest Mexican populations in San Francisco, with an incredible number of taquerias and Mexican restaurants such as La Taqueria, Taqueria El Farolito,Papolete, and Taqueria Cancún, allowing you to sample the best burrito.
You will also experience a great deal of Mexican art throughout the neighborhood. From street art, murals and even dedicated art galleries and centres, to a vibrant music scene, the entire spectrum of the arts is available here, all with its own Mexican flavour.
That means whether you want to catch a live performance, attend an exhibition, or simply roam around the neighborhood looking at the fabulous street art, you will have plenty of ways to embrace the culture.
The Mission District is also a great choice for those looking to have quick, easy access to the airport. While San Francisco International Airport is located 11 miles away, in South San Francisco, being in a quieter part of the city, right at an on-ramp to the freeway, you can be there in just 15 minutes.
This makes it ideal for anyone worried about missing their flight or dragging their baggage all over town, as they won't have to stay so far away that the rest of their trip becomes a chore.
If you choose to stay in Misson District, you can stay at one of its B&B such as Noe's Nest Bed and Breakfast, Inn San Francisco, and 1906 Mission.
Stay In The Mission District If you love food and trendy restaurants; you want to visit the oldest building in San Francisco; you are interested in Mexican cuisine, art, and culture; you are travelling on a budget; you want quick, easy access to San Francisco International Airport.
Best places to stay in SF in Mission District:
>> 🔍CHECK BEST HOTELS IN MISSION DISTRICT <<
8. Castro, famous LBGTQ+ neighborhood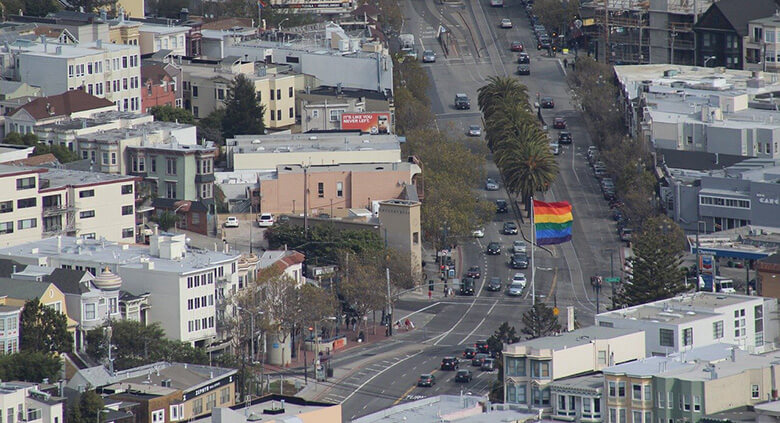 Located at the south end of Market Street, immediately west of the Mission District, The Castro is an area dominated by the LBGT community. With numerous cultural institutions and events, it is widely considered one of the primary LGBT hubs in the entire world.
The Castro Theater, Twin Peaks Tavern, and GLBT Historic Museum all provide glimpses into the history of the LGBT community and their growth within the district. Perhaps the most enjoyable historic attraction for most though will be the Castro Street History Walk.
A sidewalk installation featuring 30 historical fact and event plaques, you can learn about the history of The Castro between 1776 and 1960. It explains many of the most significant events that helped shape the neighborhood from its humble beginnings to the LGBT hub it is known as today.
In a similar vein, the Rainbow Honor Walk, an LGBT walk of fame, was installed in 2014. Much like the iconic walk of fame in Los Angeles, it features plaques dedicated to LGBT icons, who were considered inspirations and experts in their given fields.
You can also learn more about the LGBTQ history in San Francisco at the Human Rights Campaign Action Center which is the former house camera store of Civil rights activist Harvey Milk; and the Pink Triangle Park, which remember gay men in Nazi camps in World War II.
Other places to visit are the Corona Heights Park, where you can find the Randall Science Museum, and enjoy the city views from its viewpoint; The Mt. Davidson Landmark Park and Cross is also the must-see attraction nearby.
With its historic attractions combined with a great collection of Adult stores, LGBT tourism is one of the primary sources of income to the neighborhood. There is even a great collection of gay bars and clubs, for anyone who wants to enjoy the culture around the clock during their stay.
Not everything revolves around sexual identity in The Castro though. It is also known for its incredible collection of restaurants. With lower prices than the city centre, this means The Castro is perfect for foodies looking to sample some of the city's finest cuisine, without breaking the bank.
The neighborhood hosts numerous festivals such as Castro Street Fair, The National Queer Arts Festival, San Francisco International Film Festival, and San Francisco Film Noir Festival.
Castro neighborhood is also a good spot for art lovers with Mural on 16th Street, near Market Street, and a Harvey Milk mural at the former Harvey Milk's Castro Camera store.
Castro is served by Castro Station. You can easily reach Castro by the MUNI on lines L, M, and KT. there are also BART option and hop-on, hop-off city bus line.
Accommodations in Castro are mostly apartment rentals, but there are hotel options, guest houses and B&B's.
Stay In The Castro If you are interested in, or are a part of, the LGBT community; you want lively nightlife; you are traveling on a budget; you want to sample some of the best cuisines in San Francisco.
Best places to stay in San Francisco in Castro:
>>🔍 CHECK BEST HOTELS IN CASTRO <<
9. Haight-Ashbury, cool place in San Francisco
Located immediately north of The Castro, to the twin neighborhoods of The Haight and Ashbury. This is location of Summer of Love and the hippy counterculture movement of the 1960s was born, with many iconic locations still remaining.
Those interested in retro stylings will find vintage clothing boutiques, record shops, and bookstores, letting you spend your days scouring for treasures from the past. There are even a few historic locations, such as the infamous Grateful Dead House, for you to get a true sense of the area's past.
For those less interested in the area's history, there are also a number of bars and fabulous cafes and restaurants for you to try out. This lets you kick back and relax, enjoying the unique style and vibe of the neighborhood, without being surrounded by mobs of people.
On the second Sunday in June, the Haight – Ashbury Street Fair also takes place each year. With live music, street food, and vendors, as well as an all-around party atmosphere, it offers a great opportunity to let loose and have some fun if it is taking place during your visit.
The area is even known for including a number of large, fabulous parks, such as Buena Vista Park. Containing 36 acres of trails, oak tree groves, and stunning views of the city, Buena Park is a great way to enjoy a little slice of nature during your stay.
However, it is a park located outside the limits of Haight – Ashbury that is the crowning attraction. That's because the neighborhood borders Golden Gate Park to its west.
Golden Gate Park covers over 1,000 acres, making it 20 percent larger than Central Park in New York City. It is also the 3rd most visited city park in the United States, behind only Central Park and the National Mall in Washington D.C.
Natural features including a botanical garden, bison paddock, and countless lakes, plants, and wild animals make it ideal for anyone interested in the native wildlife of San Francisco.
In addition to its wide-open green spaces, it features museums, a science academy, a Japanese tea garden, a nursery, and a conservatory, as well as installations such as windmills, memorials, statues, a carousel, a "hippie hill", and even a beach chalet.
Golden Gate Park also includes a number of features that make it popular with those involved in a variety of sports. A polo field, archery range, and Kezar Stadium, which hosts football, soccer, track and field events, and lacrosse, draws plenty of visitors who plan to either participate or spectate.
There are not many accommodations in The haight, but if you set your heart in this neighborhood, you can take a look at Stanyan Park Hotel and The Metro Hotel.
Stay In The Haight & Ashbury If you are interested in retro stores and hippie culture; you are attending the Haight – Ashbury Street Fair; you are going to play sport or attend an event at Kezar Stadium.
Best places to stay in SF in Haight & Ashbury:
>> 🔍CHECK BEST HOTELS IN HAIGHT <<
10. Hayes Valley, beautiful area in San Francisco
One of the most beautiful neighborhoods in San Francisco is Hayes Valley, located between Haight – Ashbury, and Japantown. It takes its name from Hayes Street, which runs through the center of Hayes Valley, which itself was named after 19th century San Francisco landowner Thomas Hayes.
Townhouses featuring Edwardian, Victorian, and Queen Anne architectural styles give Hayes Valley a certain historical flair all of its own. The close-knit community that calls the neighborhood home gives it a very homely feeling and is more than welcoming to visitors who appreciate its charm.
A community park and pocket garden allow you to unwind and relax outdoors, getting to know the locals and experiencing a more authentic way of life than you will find in most parts of the city. They also feature a number of art installations, further adding to the local style.
High-End boutiques sell local fashions, while restaurants provide gourmet cuisine options for those who are seeking a stylish vacation, without dealing with the crowds of the city center. Meanwhile, a range of bars, cafes, and dessert shops provide choices for the days when you want pure relaxation.
For those seeking entertainment during their stay in Hayes valley, the Civic Center is surrounded by a number of venues that play host to theatre and musical shows. One such venue is the SFJAZZ Center, known as the first free-standing building in the west built for jazz performance and education.
One of the most common tourist attractions in the area actually lies just outside the limits of Hayes Valley. The location in question is a row of houses known as "The Painted Ladies", a row of stunning Edwardian and Victorian townhouses, painted in 3 or more colors to accentuate their features.
The Painted Ladies have been featured in numerous movies and TV shows, including Mrs. Doubtfire and the Full House franchise. This has made them and the fabulous park opposite a popular destination for movie buffs, hoping to get a feel for where some of their favorite films were shot.
There are limited lodges at this neighborhoods, but you can choose to stay at Hayes Valley Inn and Edwardian Hotel.
Stay In Hayes Valley If you want high-end shops and restaurants; you want a neighborhood with a homely feel, with plenty of parks and cafes to relax in.
Best places to stay in SF in Hayes Valley:
>>🔍 CHECK BEST HOTELS IN HAYES VALLEY <<
11. Russian Hill, beautiful residential area
Located directly south of the Fisherman's Wharf and Marina District neighborhoods, Russian Hill is a beautiful residential area. Anyone looking at where to stay in San Francisco to be near the most famous attractions, yet without all the crowds, will enjoy what this neighborhood has to offer.
Located on a steep hill, the area provides some of the most stunning views of the bay area you will find. Alcatraz Island, the Golden Gate Bridge, San Francisco – Oakland Bay Bridge and even neighboring Marin County are all visible, providing a perfect opportunity for photographers.
The area is also incredibly popular with artists of other types as well.
The San Francisco Art Institute and Academy Of Art University are both located in the neighborhood. Containing classrooms and studios, aspiring painters, musicians, photographers and videographers flock here to study and progress in their desired disciplines.
The university also has facilities for sports as well, particularly in the athletics field. Combined with both indoor and outdoor community basketball and tennis courts, it makes Russian Hill a great place to stay in San Francisco for anyone hoping to watch or play some sport during their visit.
There aren't many tourist attractions in Russian Hill, although one that does draw many visitors is Lombard Street. Known as the "crookedest street in the world", it features switchback hairpin turns on a steep decline, making for a unique and exciting driving experience.
In fact, Lombard Street is so popular that you will sometimes find queues of up to 20 minutes just waiting to enter it.
The street and views in the surrounding area have led to Russian Hill being frequently used as a filming location for movies throughout the years. Hit films like 48 Hrs, Bullitt, Vertigo, and Star Trek 2 & 3 have all had scenes shot here.
As a primarily residential area, you aren't going to find many large hotels in Russian Hill. However, if you are looking for a private guest house or boutique hotel, there are accommodation options available to meet your needs.
Stay In Russian Hill If you want to take a drive down Lombard Street; you want to spot locations from the various movies filmed here; you are a photographer or just want to take in stunning views of the bay area;
Best places to stay in San Francisco in Russian Hill:
>> 🔍CHECK BEST HOTELS IN RUSSIAN HILL <<
12. Chinatown, budget friendly area in SF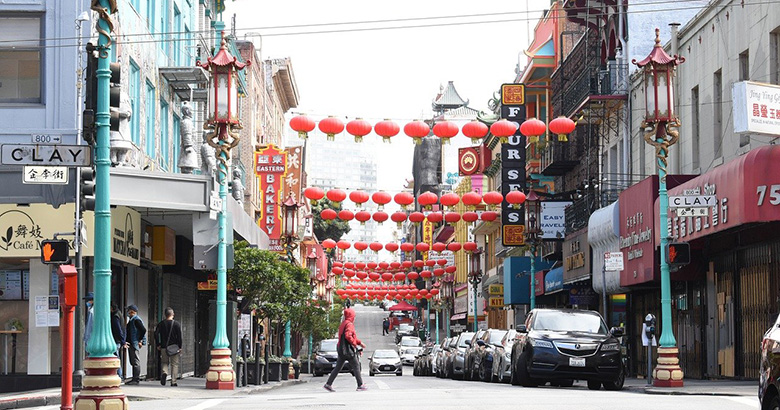 Chinatown along with Union Square and Nob Hill, is the best area to stay in San Francisco without a car. It is located only 10 minutes waking from the Union Square, the transport hub of the city, offering easy access to almost everywhere.
Located immediately to the east of Nob Hill, separated by Powell Street, San Francisco's Chinatown is the oldest and most iconic Chinatown area in the entire United States.
With three other Chinese enclaves located in San Francisco, there is much more of an authentic feel to this community that you will find in many Chinatown areas across the country. Traditional culture, customs, languages, social clubs, and places of worship make it a wonderful place to experience.
Low-priced, great value housing has continued the trend of new immigrants to San Francisco taking up residence in Chinatown, as opposed to the rest of what is generally an expensive city. This is particularly true with those from east Asia, who feel much more at home here.
The Dragon's Gate archway at the southern end of the district lets you enter Chinatown in style and gives you a taste of what you are about to experience. Shops, bars, restaurants, and more offer "local" wares and cuisine, allowing you to immerse yourself in the spirit of the area.
Even the nightlife offers a different experience to what is on offer in the rest of San Francisco. Nightclubs and cocktail bars offer a distinctly Oriental feel, giving you the chance to get the full Chinatown experience around the clock.
Depending on the time of year you choose to visit, there are also a number of incredible festivals to be enjoyed in the city as well. The most famous is the San Francisco Chinese New Year Festival And Parade, which takes place for two weeks in January and February each year.
The streets are filled with parades, floats, acrobats, marching bands, school, performances, street dances, martial arts, music performances, and fashion shows.
As the grand finale, a 268 foot long Golden Dragon, worn by 100 performers, dances through the heart of Chinatown, to signify the celebrations have come to an end.
You also have the Autumn Moon Festival, celebrated in September each year, to give thanks for a bountiful harvest. Celebrations include bazaars, entertainment, and a delicacy known as mooncakes.
You can also find traditional Chinese funeral processions taking place regularly. While not designed as an attraction, marching bands and motorcycle escorts create quite an experience for those who have never seen one before.
Even the outdoor parks and areas here help to create a sense of culture and community. Portsmouth Square in the east features playgrounds, historical markers, and statues, while Woh Hei Yuen in the northwest is elaborately designed, with a tai chi court, pagoda, art, rec center, and play area.
For those seeking a more traditional park, there are other options as well though. St. Mary's Square and the Willie "Woo Woo" Wong Playground offer playgrounds, benches, athletic courts, statues, memorials, and an outdoor gym, perfect whether you want to play, relax, or work out.
While many may feel that staying in Chinatown won't give them an authentic experience of San Francisco's culture, it is centrally located among some of the best neighborhoods in the city.
This means you can enjoy everything it has to offer while having easy access to many of the most traditional parts of San Francisco by bus and BART. You can easily find budget-friendly hotels, inns and backpacker hostels.
Stay In Chinatown If you want to visit the oldest, largest Chinatown area outside of Asia; you want better value accommodation in a central location; you want an area with its own unique culture; you want to attend one of the festivals held here.
Best places to stay in SF in Chinatown:
>>🔍 CHECK BEST HOTELS IN CHINATOWN <<
13. Japantown, Japanese neighborhood
While Chinatown is undoubtedly the most famous Asian enclave in San Francisco, it is by no means the only one. Located roughly a mile and a half to the west, Japantown is a compact, historic district, that is also known by the names Nihonmachi and J-Town.
Like its neighbor, it is also considered one of the oldest and largest Asian enclaves in the United States. Covering 6 city blocks, it features numerous restaurants and supermarkets that specialize primarily in Japanese cuisine, along with a few Chinese and Korean additions.
Whether you want to prepare the food yourself or spend a relaxing evening having it served to you, Japantown is a perfect place to sample delicacies like ramen, sushi, and shabu. However you choose to dine, you can complete your evening with a night at a karaoke bar, an incredibly popular pastime in Japan.
Indoor shopping malls host countless stores selling Japanese products, including one of the only American branches of the popular bookstore chain Kinokuniya. Meanwhile, a collection of local and souvenir stores sells more traditional wares.
A range of beautiful hotels and Asian-style day spas ensure you can not only experience Japanese culture, but you can also treat and pamper yourself while doing so. A number of international businesses, such as banks, are also available, to ensure all your needs are catered to.
Undoubtedly the heart and soul of the district is the Japantown Peace Plaza. A courtyard with a stunning, five-tiered Peace Pagoda, it not only features beautiful architecture but also hosts most of Japantown's cultural events, including its two annual festivals.
The larger of the two festivals, the Northern California Cherry Blossom Festival, takes place over the course of two weeks each April. This includes festivities such as Kabuki Theatre, parades, and floats, as well as educational events.
Meanwhile, the other festival, the Nihonmachi Street Fair, takes place for one weekend each August. Craft activities, face painting, music performances, street food, fashion, and classic car shows, plus a number of community events are held to celebrate and educate people about Japanese culture.
You will find some popular hotels in Japantown such as the 4-star hotels of Hotel Kabuki, part of JdV by Hyatt, Kimpton Buchanan Hotel, an IHG Hotel, and the 3-star Queen Anne.
Stay In Japantown If you are a fan of Japanese culture or cuisine; you want to treat to yourself to a day of pampering at an Asian spa.
Best places to stay in SF in Japantown:
>> 🔍CHECK BEST HOTELS IN JAPANTOWN <<
14. Embarcadero, waterfront area in San Francisco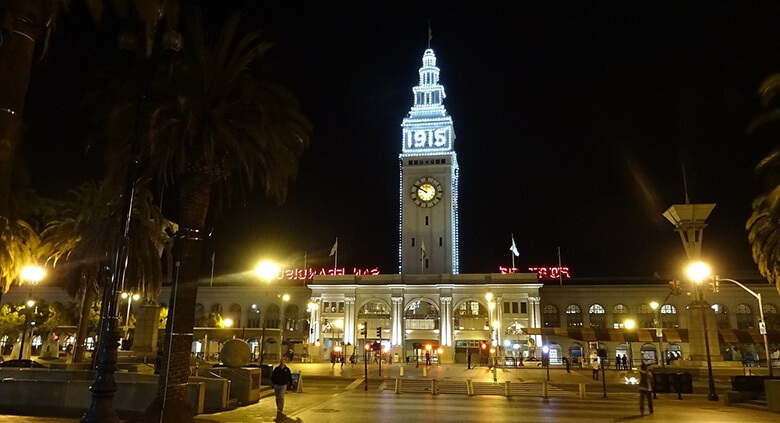 The Embarcadero district lies at the very east end of Fisherman's Wharf. It makes up the area that covers all of the San Francisco bay waterfront from Pier 39 to South Beach Harbor. It is credited with the renaissance and economic revival of the bay area.
Embarcadero has easily the largest collection of piers in San Fran and, while those in Fisherman's Wharf are largely tourist-based, many of these still have primarily industrial uses. The Embarcadero Piers Historic District was even added to the National Register Of Historic Places in 2002.
The Embarcadero Center is one of the most prominent structures in the area, consisting of five, 30 to 45 story towers. Contained within are 2 luxury hotels, 2 movie theatres, 5 blocks of offices, a fitness centre, and more than 125 shops, bars, and restaurants.
The center even has an outdoor ice-skating rink during the winter months. This makes it a great place to stay in San Francisco for anyone who wants shopping, business, health, and entertainment facilities all within walking distance of one another.
Another similar yet much smaller complex, Embarcadero Plaza, is also located just a short way away.
Beside the Embarcadero Centre, you have perhaps the most iconic and popular building in the district, the San Francisco Ferry Building. Known for its stunning clock tower, the Ferry Building is a food hall and ferry terminal for countless vessels crossing the San Francisco Bay.
The most popular of these routes is the one that takes you to the legendary Alcatraz Island. Featuring a lighthouse, military fortification, military prison, and federal prison, it has become one of the most popular attractions in the United States in the 20th century.
The prison, Alcatraz Federal Penitentiary, is the primary attraction on the island and was in use from 1934 to 1963. The cold water and strong currents around the island made escape almost impossible, leading to many high-risk inmates being housed there.
While its numerous escape attempts made it infamous, its high-running cost, poor conditions, and deteriorating buildings led to its closure in the 60's. Now a museum and guided tours teach visitors about its incredible past.
Meanwhile, the rest of the attractions and landmarks on the island are a great way to spend a morning, strolling around, taking in some history, and enjoying views of the San Francisco skyline.
With only one company authorized to dock on the island and tours often selling out months ahead of time, it is essential you book in advance if you want to visit Alcatraz Island during your stay in San Francisco though.
If you are choosing to stay in Embarcadero, have look at the 3-star Hotel Griffon and the 4-star Harbor Court Hotel.
Stay In Embarcadero If you want to visit Alcatraz Island; you want a great range of shops, bars, restaurants, and entertainment facilities; you are traveling on business; you want to see the iconic Ferry Building or the largest collection of piers in San Fran.
Best places to stay in SF in Embarcadero:
>>🔍 CHECK BEST HOTELS IN EMBARCADERO <<
See more:
Getting Around San Francisco Without a Car
If you travel to San Francisco without a car, don't worry, you don't need a car to explore San Francisco city center. There are many top attractions are located within walking distance to each others; you can also easily reach by Muni system, San Francisco Municipal Transportation Agency.
San Francisco has the extensive public transport networks including trains, buses, street cars, bikes, and cable cars will get you almost anywhere you want to go in the Bay Area.
San Francisco's bus and metro system, Muni operating buses, trains, cable cars and the streetcars (or trolleys). The F-line street car will take you from the Embarcadero to Fisherman's Wharf.
The cable cars system has three line: Powell-Hyde, Powell-Mason, and California Street. It is more of an attraction than a type of transportation. It is more expensive than a Muni ride.
Another way of public transportation is to use Bay Area Rapid Transit (BART). You can easily travel from both the San Francisco International Airport directly and Oakland Airport to downtown by BART.
Traveling by ferries is also one of the way to explore the city from the water. There are many ferries depart from the Ferry Building Terminal on the Embarcadero or Fisherman's Wharf.
Other form of public transport that you can use without a car are the Shared vehicle services, Shuttles, Biking, Caltrain, and on Foot! To pay for many type of transport, you can consider buying a Clipper Card.
Union Square, Financial District, Fisherman's Wharf, and Nob Hill are the best areas to stay without a car. These neighborhoods has good public transit and you can aslo explore many things within walking distance.
Where should I stay in San Francisco for the first time?
Union Square is the best place to stay in San Francisco for first-timers due to its prime location. If you stay here, you will be located within easy access to attractions, as well as restaurants, bars, and shops.
What are the best areas to stay in San Francisco?
Union Square, Nob Hill, SoMa, Fisherman's Wharf, Marina District, Mission District, Haight-Ashbury, and The Castro are the best areas to stay in San Francisco because they are the most popular areas for tourists that offer many things to do and see.
Where to stay in San Francisco without a car?
Union Square is the best area to stay in San Francisco without a car because it is the public transportation hub of the city. You can easily get around on foot, or by public transport system.
Where to stay in San Francisco with a car?
Most hotels in Downtown San Francisco offer paid parking. If you are looking for a hotel with free car parking in San Francisco, look into Marina District, with hotels such as Cow Hollow Inn and Suites and Coventry Motor Inn.
What is the safest area to stay in San Francisco?
Union Square, Fisherman's Wharf, The Embarcadero, Chinatown, and Nob Hill are safest places to stay in San Francisco for tourists with plenty of things to do and see. It is recommended to always practice common sense as you travel to any big city.
Where not to stay in San Francisco?
You should avoid the Tenderloin because it has a high crime rate and a large number of homeless people. You should also always stay alert, and pay attention to your surroundings.
Overall, I recommend Union Square as the best area to stay in San Francisco for the first time due to its super central location. If you stay here, you will be located in the middle of the action.