In this post, I will help you to find Where to stay in Ibiza to party, the best areas to stay in Ibiza to party, nightlife, and the best hotels in Ibiza for party and club (including the hotel where I stayed).
Ibiza (White Island) is the 3rd largest island in the Balearic Islands after Mallorca and Menorca. It is known for its stunning white sandy beaches, incredible sunsets, historical attractions, hippie culture, as well as vibrant nightlife and club scenes.
The island attracts world-class DJs, electronic music enthusiasts, and party goers from around the world. It hosts legendary clubs such as Pacha, Amnesia, Privilege, and Ushuaïa, where people can enjoy all-night parties and performances by top DJs.
Where to Stay in Ibiza to Party?
The best areas to stay in Ibiza to party are Playa D'en Bossa, Sant Antoni de Portmany, Ibiza Town, and Santa Eulària des Riu. These are the most popular nightlife destinations on the island that is home to the world's well-known nightclubs, bars.
Ibiza's party season typically runs from May to October, with July and August being the busiest months, so be sure to book your accommodations well in advance if you plan to visit during these peak times.
Where did I stay in Ibiza?
When visiting Ibiza, I stayed for 5 days in Ibiza Town at the popular El Puerto Ibiza Hotel Spa. It has a great location, easy access to public transportation as well as the famous Marina Botafoch, Pacha and Hard Rock Cafe Ibiza. I had a clean, spacious room and very good breakfast.
Map of Best areas where to stay in Ibiza to party: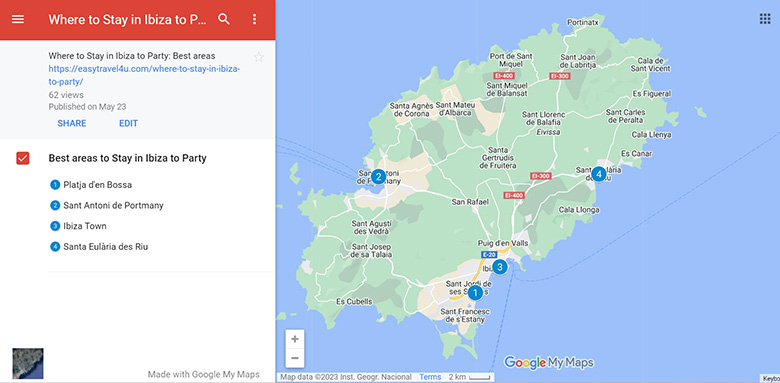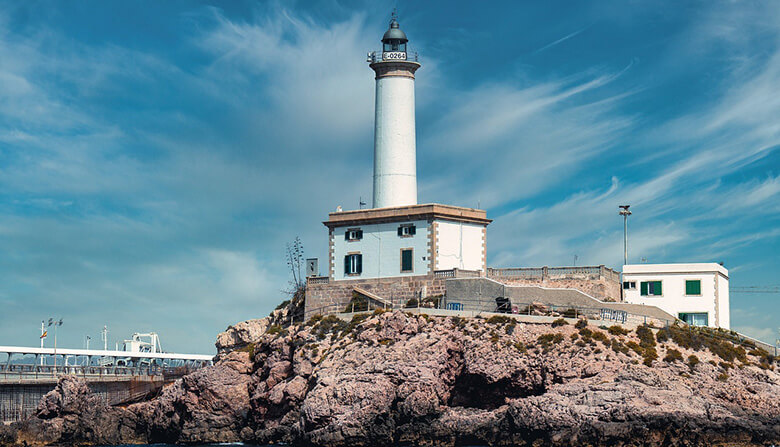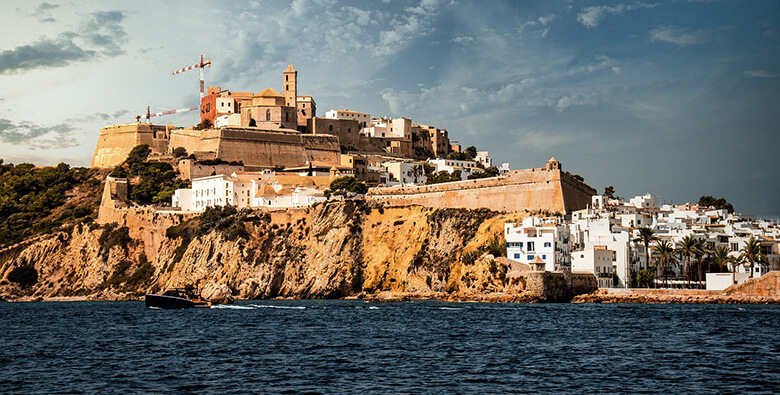 Overviews of best areas to stay in Ibiza to party
Here is an overview of recommended areas in Ibiza for party and nightlife:
| Best areas in Ibiza to party | Why should you stay in this area? |
| --- | --- |
| Playa D'en Bossa | Best overall area to party, famous for its beach clubs, renowned DJs, and energetic party scene. Some of the world-famous clubs like Ushuaïa Ibiza Beach Hotel and Hï Ibiza are located here. It has a mix of beach parties, pool parties, and club events. The long sandy beach is also a hotspot for daytime relaxation and pre-partying. |
| Sant Antoni | Best budget-friendly nightlife town, that is known for its stunning sunsets and a wide variety of bars and clubs along the waterfront. The West End area is popular for its budget-friendly bars and lively atmosphere. Café del Mar and Café Mambo are iconic sunset-watching spots and nightlife hubs in the evening. |
| Ibiza Town | Best for first-timers who want both sightseeing and party as the island's capital offers a mix of high-end clubs, historic charm, and upscale dining, especially the area around the Ibiza Marina and Pacha Ibiza. Dalt Vila, the old town, adds a cultural touch with its cobbled streets, charming boutiques, and restaurants. |
| Santa Eulària des Riu | best for a laid-back nightlife. While not as intense as some of the other areas, Santa Eulària offers a more relaxed party scene with beachfront bars, live music venues, and trendy restaurants. |
4 Best areas to stay in Ibiza to party and nightlife are:
1. Playa D'en Bossa – overall best area to stay in Ibiza for party
Playa D'en Bossa is one of the best places to stay in Ibiza for parties and nightlife because it is home to many of the island's most famous nightclubs and bars, and it is home to beautiful white sandy beaches.
Playa D'en Bossa is also conveniently located close to Ibiza Airport (Aeroport d'Eivissa in Spanish) and the island's capital city, Ibiza Town, making it easy to reach and a popular base to stay on the island even if you don't plan to hire a car.
By day, you can swim, sunbathe, at the island's longest beach, Platja d'en Bossa Beach, which has soft sand, crystal clear, clean, and shallow water. The beach has facilities such as sun loungers, parasols for rent, and lifeguard services, as well as beach bars, tapas bars, clubs, and seafood restaurants.
There are water sport activities on the beach such as kayaking and stand-up paddling. For more fun, check out the Aguamar Water Park, located right next to Platja d'en Bossa Beach.
You can enjoy a meal and drink at the dayclubs such as Nassau Beach Club, l, Bora Bora, and Beachouse Ibiza; or climb up to the Torre des Carregador at the end of the beach to have stunning views over the sea; or visit the historical attractions in Ibiza Old Town.
By night, you can go clubbing. There are a fantastic selection of restaurants, cool nightclubs and bars such as the super-club Hi Ibiza, Ushuaia, Octan Ibiza, Swag Ibiza Club:
Hi Ibiza, was first opened its door in 2017, in the building previously known as Space. It is a great place for party animals and clubbers to enjoy one of the island's best EDM, Disco, Techno, and Deep House experiences.
Ushuaia club, opened its doors in 2011, and is known as number 1 outdoor club with a vibrant party atmosphere and world-class DJ performances.
Octan Ibiza, a great place for deep underground dance music.
Swag Ibiza Club, great for Hip-Hop, RnBmusic, and some electronic music
DC-10, a well-known underground club with Circoloco party
If the clubs in Playa D'en Bossa weren't enough for you, you can easily hop on the bus or taxi to go bar hopping in Ibiza Town at the famous Pacha, or at Privilege and Amnesia in San Rafael.
Playa D'en Bossa is located only 10 minutes drive by car from Ibiza Old Town. It is well-connected by public transport such as buses. The disco bus runs every 30 minutes and stops at super clubs and bars on the island such as Pacha, Privilege, and Amnesia, making it easier and safer for a night out drinking.
As a popular party destination on the island, Playa D'en Bossa provides plenty of accommodation options including luxury beachfront hotels, apartments, guest houses, and B&B.
Best places to stay in Ibiza in Playa d'en Bossa for party:
🔍MORE HOTELS IN PLAYA D'EN BOSSA
2. Sant Antoni – best budget-friendly area to stay in Ibiza to party
Sant Antoni along with Playa d'en Bossa is one of the best places to stay in Ibiza island for a party holiday. While Playa d'en Bossa is located on the island's east coast, Sant Antoni is located on the island's west coast.
San Antonio (Sant Antoni de Portmany) is the best known place to watch the sunset and is a cheaper place compared to the more exclusive Playa d'en Bossa.
Originally a fishing village, the town has been developed into a famous party destination with a wide selection of lively bars, super clubs, boast parties, and pool parties at Ibiza Rocks Hotel, O Beach Ibiza, and Es Paradis.
The most popular nightlife venues in the area are Edén and Es Paradís, while the famous Amnesia Ibiza and Privilege Ibiza are only 15-minute drive away:
Edén, located close to Ibiza's iconic Egg roundabout, known for its Void Incubus sound system, with music genres such as House, Tech, rance, Garage, EDM, and Reggaeton.
Es Paradís, a classic club of San Antonio since the mid '70s.
Privilege, the world's largest nightclub
Amnesia, a pillar of Ibiza's nightlife for more than 500 years.
Sant Antoni has two popular party areas, the West End and the Sunset Strip. The West End is found in the heart of the old town and is packed with British tourists, bars, pubs, restaurants, and nightclubs.
Meanwhile, the Sunset Strip, a popular beachfront promenade, is home to the famous Café Mambo and Café del Mar, with chill music sessions and spectacular sunset views.
In addition to the vibrant nightlife atmosphere, Sant Antoni is home to stunning beaches. Playa de S'Arenal (or playa de San Antonio) is the area's main beach with a wide range of water activities.
You can find smaller beaches and coves nearby including the Playa de Cala Gració, cala Gracioneta, cala Saladeta, and Cala Salada.
There are so many other activities during the day, like taking a boat Trip to Es Vedra, visiting the 14th-century Església de Sant Antoni, spending a fun day out with your children at the Aquarium Cap Blanc S.L, or experiencing the adrenaline rush at Slingshot Amusement Park.
San Antonio is well-connected to Ibiza Town by bus. There is a nightly Disco Bus service running to big clubs on the island for clubbers to do bar hopping.
San Antonio provides many choices in accommodations with tons of budget-friendly apartments, hotels, villas, beach houses, and guest houses options. Compared to Playa d'en Bossa, San Antonio is more ideal for budget travelers and backpackers.
Best places to stay in Ibiza in San Antonio to party:
🔍MORE HOTELS IN SAN ANTONIO
3. Ibiza Town – best for a combination of sightseeing and nightlife
Ibiza Town is the cultural capital of the island and is an ideal place to stay in Ibiza for first-timers and party-goers, who enjoy a combination of lively nightlife and cultural sightseeing.
Ibiza Town (Eivissa in Catalan) is a charming town located on the island's southeast coast, within a short drive by car from Ibiza airport. Ibiza Town is well-connected to other parts of the island, making it a popular place to stay in Ibiza without a car.
The town is home to a great selection of bars, restaurants, clubs, which can be found around the Dalt Vila, the old town, the port, Marina Botafoch, and waterfront area. Most popular bar in the town is the world-famous Pacha nightclub.
There is a discobus night bus service taking you to big clubs in Ibiza Town, San Antonio, Playa d'en Bossa, and San Rafael during summer.
Ibiza Town can be separated into 3 parts, the Old Town ( the upper part of the city), the New Town (area around Vara del Rey), and La Marina (the harbor area).
The Old Town is surrounded by a 16th century wall and is home to many historical and cultural landmarks. You can stroll along its narrow, cobbled streets, explore historic churches, museums, fortified bastions, city's gates, and squares.
Top tourist attractions in the Old Town are the Ses Taules portal city gate, Plaza de Vila square filled terrace restaurants, bars, and shops; the 13th century Catedral de Santa Maria de la Neu de Vila d'Eivissa, Church of Santo Domingo, and the Castell d'Eivissa, all offering stunning views over the city and the sea.
If you are interested in the history of the island, you can visit the Archaeological Museum, the Museu d'Art Contemporani d'Eivissa, Monographic Museum, and Puig des Molins Punic Necropolis.
If you head down to the Passeig de Vara de Rey, you will find a selection of shops,and the Plaza del Parque square with many restaurants, terraces, bars.
The La Marina borough is one of the island's liveliest spots to go out at night with countless restaurants, bars with outdoor terraces, nightclubs, shops, and hippy markets.
Ibiza is a mixed destination of sightseeing, shopping, dining, and nightlife. There are also famous beaches nearby such as Ses Figueretes, Talamanca, and En Bossa beach.
You can also take a boat party, take a ferry to the neighbor Formentera island, or take part in the August Eivissa Jazz Festival and the May Medieval Festival in Dalt Vila.
Ibiza town has a wide choice of accommodation options ranging from budget to luxury. You can find boutique hotels, luxury villas, apartments, B&B, and guest houses.
Best places to stay in Ibiza town for party:
🔍MORE HOTELS IN IBIZA TOWN
4. Santa Eulària – best for a chilled-out nightlife
Santa Eulalia (Santa Eulària in Catalan) is the island's 3rd largest resort located in the north east island. It offers a laid-back atmosphere and relaxed nightlife.
The town is home to a charming promenade lined with palm trees. You can take a stroll along the seafront promenade, or the peaceful river-walk passing to an 18th century stone bridge.
There are full of charming white houses in the old quarter and at the top of Puig de Missa hill lies the Parish Church, offering stunning views of the area.
The town has several museums and art galleries to explore, including the Ethnographic Museum, and the Barrau Gallery which shows local artworks.
You can find some of Ibiza's best restaurants in the Marina area. There are also lots of cafes, restaurants along the town's main streets, the tree-lined Calle San Jaime and the Calle San Vicente (Restaurant Street).
Restaurant Street is pedestrianized and is close to traffic in the evening, where you can sit at the chairs and tables, enjoy a meal and listen to live music.
Santa Eulalia has more laid-back and chiller nightlife compared to Ibiza Town, Playa d'en Bossa, and San Antonio. If you stay here, you can easily explore nearby neighbors Es Caná, S'Argamassa, Cala Nova with more chiringuitos, beach clubs, and restaurants.
You can visit the Akasha, the new club located inside famous Las Dalias Mercadillo Ibiza, in the north of the island. It is popular with local residents.
Santa Eulalia provides a great shopping experience, with many small boutiques, shoe shops, souvenir stores, with cheaper prices compared to the capital city. You can also shop at one of the island's largest hippie markets, Las Dalias Hippy Market in San Carlos and the Hippie Market in Es Canar nearby.
There are some stunning beaches and coves near Santa Eulalia. Aigües Blanques, for example, is surrounded by cliffs and with incredible views. You can also find Cala Boix, the island's only black sand beach, Cala nova with crystal clear water, and Cala mastella cove.
Santa Eulària has many choices of loding. There are apartments, hotels, villas, adult-only accommodations, as well as guest houses, and hostels.
Best places to stay in Ibiza in Santa Eulària for party:
🔍MORE HOTELS IN SANTA EULALIA
See more:
Summary – Where is the best place to stay in Ibiza to party?
In conclusion, Playa D'en Bossa, Sant Antoni de Portmany, Ibiza Town, and Santa Eulària des Riu are some of the best places to stay in Ibiza to party. These are the most popular areas in Ibiza for vibrant nightlife and party scene. Each area has its own unique atmosphere and offerings.
Overall, Playa D'en Bossa is the best area to stay in Ibiza to party because it is the heart of the party scene on the island with lots of clubs and bars, and it is conveniently located close to both island's airport and capital city with plenty of things to do and see.
On the other hand, if you want a budget friendly nightlife destination, head to Sant Antoni; while Ibiza Town is ideal for first-timers who want a combination of both nightlife and sightseeing; For a quieter nightlife and party, head to Santa Eulària.