Where to Stay in Cardiff: 8 Best Areas
Do you know where to stay in Cardiff? If not, look no further. This blog will tell you all about the best areas to stay in Cardiff and what benefits they offer. Let's get started!
If you are travelling to the UK, the Welsh capital, Cardiff, should definitely be on your list of places to visit. Home to the iconic Cardiff Castle, the city is a hot spot for anyone interested in the history and culture of Wales.
A rising star amongst tourist cities, investment and rejuvenation projects over the past few decades have driven Cardiff to become an increasingly popular destination with travellers. Whether you want to spend your trip shopping in the City Centre, trying local street food at the historic Cardiff Market or taking in the ocean views from Cardiff Bay, everyone will find plenty to keep them entertained in Cardiff.
See more: 7 Best Areas to Stay in Oxford
Cardiff has a wide range of attractions and appeals to a broad variety of tourists, so it can be difficult narrowing down where the best area would be for you to stay. I have provided some brief suggestions for where to start looking based on general priorities you may have.
The City Centre is ideal for anyone on a shorter visit or those who are travelling in and out of the city by Train. It's also where you'll want to stay if you are attending an event at the Principality Stadium.
Cardiff's nightlife draws revellers from across the UK. The best areas to stay to take advantage of it are the City Centre, for the densest variety, or Newtown and Butetown, for more indie, underground scenes.
If you are staying with family, the area around Cardiff Bay offers a great range of things to see and do to keep visitors of all ages entertained. Riverside has lots of wide open, green space for kids to work off their energy.
If you are working on a smaller budget, the areas of Adamstown and Riverside will keep you within walking distance of the bustling City Centre without having to pay a premium for accommodation.
>> 🔍FIND BEST HOTELS IN CARDIFF <<
📌 Where to Stay in Cardiff: 8 Best Areas to Stay in Cardiff
To better aid you in deciding where you should start looking for accommodation, I have selected the eight best areas in Cardiff. By summarising what each area has to offer and the general tourist crowd they cater to, I hope to help you find the best place to spend your time in the Welsh capital.
Best Areas to Stay in Cardiff Map
To see more detail of where to stay in Cardiff, go to google map;
1. 💖 City Centre, Where to Stay in Cardiff for First Time Travelers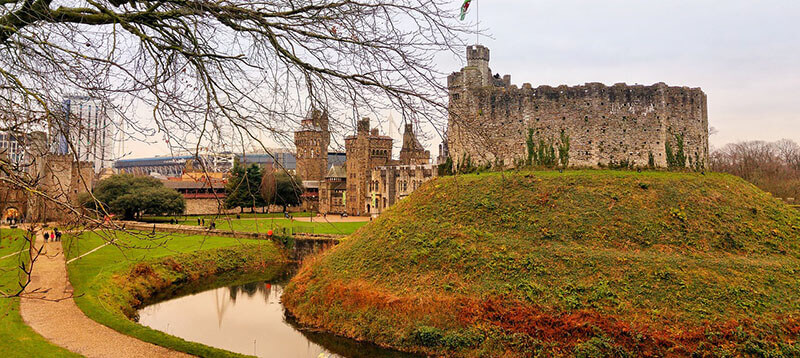 The City Centre is where you'll find most of Cardiff's most famous attractions, including Cardiff Castle and the Principality Stadium. It also has the highest density of shops, hotels, hospitality, and nightlife in Cardiff, making it an all-rounder that can suit most travellers' needs. With so much in such close proximity, the City Centre is ideal for first time visitors or those visiting for a shorter stay.
Cardiff Castle is one of the most iconic attractions in all of Wales. From its origins as a roman fort in the 1st century, to its development as a Norman keep in the 11th century, and the final addition of the gothic manor in the Victorian period, the castle has a long and fascinating history. Set in stunning garden grounds, visitors flock to the castle and it's definitely not to be missed by anyone passing through Cardiff.
The Principality Stadium (Millennium Stadium) is home to the Welsh Rugby Union and so is the venue for most major rugby matches in Wales. In addition to rugby, the stadium also hosts a variety of other sporting events as well as concerts. If you are attending a game or show at the stadium, staying in the City Centre would definitely be the most convenient option.
However, the area gets very busy around event days, so if you don't like crowds you may want to check ahead for any big matches or shows around the time of your visit.
In the south of the district is the Cardiff Central train station, the main train terminal in the city. If you want to stay near the station for the duration of your trip there is plenty of quality accommodation nearby.
Accommodation here caters to all budgets and preferences, with a good mix of affordable and luxury options. There is a good variety of hotels, apartments, and guesthouses here, so you will definitely be able to find a place to stay that suits you.
Stay in City Centre if Visiting Cardiff Castle is a priority; You are attending an event at the Principality Stadium(Millennium stadium); Shopping is an important part of your trip; You are travelling to and from Cardiff by train; You are only staying for a short time; You want a good range of nightlife options.
Best Places to Stay in Cardiff City Centre:
Hotel Indigo – Cardiff, an IHG hotel – If you are looking for a beautifully stylish, modern hotel in the heart of Cardiff, this is a superb choice for you. Just minutes from some of the city's top attractions, such as Cardiff Castle , St David's Hall, Motorpoint Arena Cardiff, Cardiff National Museum & Gallery, and the Principality Stadium, it's ideal for first-time visitors.
Hilton Cardiff – Travellers who are looking for a little more luxury from their accommodation will appreciate the many conveniences and comforts of this Hilton. This 5 star hotel overlooks the City Hall and Cardiff Castle. Within a short stroll from Queen Street, St Mary's Street, Cardiff Central Rail Station, and Principality Stadium.
Clayton Hotel Cardiff is a fabulous, 4-star hotel, offering style and comfort at the heart of Cardiff's tourism and hospitality district. The View Restaurant allows guests to dine on delicious international cuisine whilst taking in stunning views of the city. Directly opposite Cardiff Central Station and just a few minutes' walk from the Principality Stadium, this is a fantastic option for anyone visiting for an event at the stadium, or just planning a shorter break.
Jurys Inn Cardiff is an elegant, modern hotel, hosted in a beautiful Victorian building. Located just a few minutes' walks from the bustling Cardiff city centre, historic Cardiff Castle, National Museum Cardiff, and sprawling Bute Park, this hotel is ideal for first-time visitors who want to experience everything Cardiff has to offer.
Check out my virtual tour about the best places to stay in Cardiff in this video:
2. Riverside, Where to Stay in Cardiff for families
Riverside is an affluent district just northwest of the Cardiff city centre, running up the opposite bank of the River Taff. The region offers an escape from the more urban, inner-city districts. Meanwhile the fashionable cafes and bistros in the wealthy neighbourhood of Pontcanna have been known to be frequented by celebrities.
The gardens that run along the banks of the river for the length of the district are popular with local sportspeople. Composed of a variety of open fields, as well as bowling and cricket facilities, the gardens are an ideal place for visitors of all ages to work off some energy.
Further north the gardens open into sprawling fields that make for a lovely walking route along the river. Bridges connect over to the Blackweir fields and woodland trails on the eastern banks. Along the trails you can find a number of tea rooms to enjoy a relaxing break, before continuing south back towards Bute Park and the mysterious ancient Gorsedd Stone Circle.
The southern end of the district offers a range of affordable accommodation within a few minutes' walk of the often pricier and busier Cardiff City Centre. Accommodation along the river offers views directly across the water to the Principality Stadium. The Wood Street bridge connects the area to the City Centre, meaning you can be at the stadium in just a few minutes.
You also have Riverside Farmers Market, Riverside's Sophia Gardens, Sports Wales National Centre to explore in the Riverside area.
Stay in Riverside if you want to stay close to the Cardiff city centre but avoid the crowds; you want a neighbourhood with lots of open green space; you enjoy walking in nature; you are visiting with family and young children; you are attending an event at the Principality Stadium but want to avoid City Centre prices;
Best Places to Stay in Cardiff Riverside:
Inn Cardiff – Part trendy boutique hotel, part comfortable cozy guesthouse, this is a superb option for stylish accommodation with a home-away-from-home vibe. Close proximity to Principality Stadium, Cardiff University, and St David's Shopping Center.
Cathedral64 is a beautiful, luxury guesthouse with a personal atmosphere. Set in a quiet suburb, yet still close to the Cardiff city centre, this is a wonderful option for any guest who wants to experience local Cardiff life with a high-end twist. Located near Cardiff Castle, Principality Stadium, Cardiff University, and St David's Shopping Center.
Pontcanna Inn is a unique boutique hotel, perfect for those who love socializing with both locals and fellow travelers. The hotel boasts a popular restaurant and bar with a beautiful garden area, decorated with fairy lights and quirky furniture. Attractions nearby are Principality Stadium, St David's Shopping Center, and St David's Dewi Sant.
3. Butetown & Century Wharf, Where to Stay in Cardiff on Budget
Butetown is Cardiff's multicultural epicentre, full of independent restaurants and shops offering cuisines and products from around the world. One of the less affluent areas of Cardiff, Butetown has its own distinct vibe of authenticity that derives from being a bustling residential area not geared around the tourist industry.
Accommodation is less plentiful than in the main hubs, but the options are typically more affordable. Those travelling to or from Cardiff by train will appreciate Butetown's proximity to Cardiff Central train station. The tracks run along the north of the district, separating it from the Cardiff City Centre.
Running up the west length of Butetown is Canal Park, a stretch of inner-city green space, providing residents and visitors a pleasant area to relax. The park has some nice walking routes that lead down into the larger Hamadryad Park in Cardiff Bay.
On the other side of Canal Park is Century Wharf. This modern complex provides residential and tourist accommodation along the banks of the River Taff.
The area is right between the more fashionable areas of the Cardiff City Centre and the east side of Cardiff Bay. This a perfect area to stay in if you want to enjoy the luxuries of the surrounding areas without the higher rates for accommodation.
Stay in Butetown & Century Wharf if you are on a budget; you want to stay near the City Centre or Cardiff Bay but without the higher prices; you are travelling to or from the city by train.
4. Atlantic Wharf and East Moors, Where to Stay in Cardiff Quiet
To the east of Butetown, around the East Bute Docks, is the Atlantic Wharf area. This area is home to the Cardiff City Council buildings, overlooking the water. Around these buildings are a number of parks and local hospitality, catering to the officials who work here.
In the south is the Red Dragon Shopping and Leisure Centre. Ideal for anyone visiting with family and children, the centre contains a variety of restaurants, contemporary shops, and a large cinema.
East of the docks is the East Moors district, a largely residential suburb full of parks, local shops, and cafes. In the southeast corner of the neighborhood, you can access Splott Beach. The sheltered, pebbled cove provides pleasant family-friendly walks right down by the water.
A little ways out of the City Centre Cardiff, Atlantic wharf, and the East Moors are still within a short distance of the more tourist-centric districts. To the north, the district borders the trendy neighborhood of Newtown, whilst to the south is the affluent east side of Cardiff bay. This is a great place to stay if you want easy access to these areas with a lower cost for accommodation.
Stay in Atlantic Wharf and East Moors if you want to stay near to the City Centre or East Cardiff Bay but are on a budget; you want a quieter, more residential area, away from the tourist crowds; you are travelling with family.
5. Newtown, Where to Stay in Cardiff for Nightlife
Newtown was once a purely residential area of inner-city Cardiff, that housed a predominantly Irish population. The area has been repeatedly renovated and is now largely comprised of offices and student accommodation. However, don't let that fool you into believing the area is dull. It is now well known to be one of the best quarters in the city for nightlife.
The area's popularity with the after-dark crowd is, in part, due to its proximity to the city centre, bordering some of the club and bar dense streets of the main town. However, Newtown is also popular in its own right as being a centre point for the more underground entertainment scene.
At the southeast corner of Newtown you can find the Magic Roundabout. This art installation by Pierre Vivant is one of the most iconic attractions in Cardiff and consists of a number of geometric sculptures, formed from old road signs, set on an otherwise nondescript roundabout.
Accommodation in the area is mostly situated along the main roads of Adam Street and Tyndall Street. Options range from budget to more luxury hotels.
Stay in Newtown if Nightlife is a priority for your visit; You want to explore Cardiff's more underground nightlife scene; You want to stay close to the City Centre but avoid the crowds of the main district.
6. Cardiff Bay West
The west side of Cardiff Bay was once an industrialized area of warehouses and dockyards. In recent years it has been heavily renovated into a centre for sports and adventurous activities, including facilities built for the 2012 Olympic Games.
This side of the bay is less tourist centric than the east, so the dining and hospitality on offer is more geared towards the local residents. The perk of this is that rates for both food and accommodation are typically lower.
The south end of the district is taken up by the International Sports Village. The complex houses a wide variety of sporting venues from ice rinks and skate parks to pools and white-water facilities. The less adventurous can enjoy the indoor waterpark with its numerous slides or attend a hockey match at the Viola Arena.
The north is dominated by the sprawling Grangemoor Park, which consists of vast fields intersected with winding paths, leading to the Silent Links art sculpture at the top of the hill.
From here you can take in stunning panoramic views across Cardiff and out over the bay. Bridges over the River Ely connect this part of Cardiff Bay to the nearby town of Penarth.
Stay in Cardiff Bay West if you want a more active vacation, you are travelling with children who enjoy physical activity, you are travelling on a budget and don't mind staying further from the city centre, you are interested in visiting the nearby town of Penarth, you want to visit Wales Millennium Centre.
Best Places to Stay in Cardiff Bay:
voco St. David's Cardiff, an IHG hotel is a stunning, luxury 5-star hotel, right by the water of Cardiff Bay. From the plush bedrooms and award-winning spa to the up-scale restaurant with waterside terrace and cocktail bar, this hotel will complete anyone's dream city vacation. Rooms with additional accessibility features are also available if required.
Future Inn Cardiff Bay is a lovely affordable option for those who want to stay within walking distance of both the city centre and Cardiff Bay without breaking the bank. The hotel is modern and comfortable, with spacious rooms and multiple lounge and dining areas. The on-site restaurant and bar serves meals throughout the day, prepared with local ingredients, offering guests an authentic taste of Wales.
Quayside Apartment in Cardiff Bay – For guests looking for a more independent experience in the welsh Capital, the Quayside Apartments offer residents everything you will need to live like a local. The apartments boast a fully equipped kitchen, open-plan lounge-dining area with flatscreen TV and stylish modern bathroom. Bike rental is available from the property and a supermarket is located on the ground-floor for ultimate convenience.
Holiday Inn Express Cardiff Bay, an IHG hotel offers stylish affordability overlooking the old East Docks of Cardiff Bay. The rooms are chic and comfortable, with spacious bathrooms, flatscreen TVs, and air-conditioning. Guests can enjoy a buffet breakfast each morning, and drinks in the lounge bar overlooking the water. Wi-fi is available throughout the hotel.
7. Cardiff Bay East, Best Area for Families with Young Children
This side of the bay has quite an eclectic selection of interesting attractions, to appeal to a range of visitors. The area is full of trendy bars and restaurants, particularly along the waterfront and around the marinas. Roald Dahl Plaza is a popular spot for fans of the Welsh author, frequently hosting fairs, markets, and open-air concerts. Boat tours are available from companies along the bay.
The Mermaid Quay Shopping Centre is a popular, contemporary commercial hub, right by the water, whilst the Craft in the Bay Maker's Guild further inland provides the opportunity to pick up some unique souvenirs from local artists.
A large portion of the bay is taken up by the Cardiff Bay Wetlands Reserve. This protected area is designed to preserve the habitats of many species of fish, amphibians, and birds. Much of the area is off limits to the public but boardwalks and footpaths provide enjoyable walking routes, along which you can enjoy a close look at the protected wildlife. This area is ideal for visitors with children, as it provides a fun education day out.
Fans of the BBC may recognise some locations from favourite shows, as the BBC Roath Lock Drama Village film studios are nearby. They are located on Porth Teigr, just across the bridge from the Norwegian Church Art Centre.
Fans of Doctor Who spinoff Torchwood may be interested in visiting Ianto's Shrine. The memorial, dedicated to the beloved character following his tragic exit from the show, is located near the Mermaid Quay and is comprised of a selection of tributes left by fans and a permanent plaque.
Accommodation near the waterfront can get very pricy, particularly if you want a room with a view overlooking the bay. More budget friendly options can be found further inland, where you may not get sea views but can still be just a few minutes' walk from the bay.
Stay in Cardiff Bay East if you want to stay near the water; you are staying with family and young children ; you want to indulge in some of Cardiff's more upscale accommodation and hospitality; you are a fan of the BBC, particularly Doctor Who and Torchwood.
8. Roath, Student Living Area in Cardiff
Roath is a large residential suburb in the northeast of Cardiff. Containing the Cardiff University Halls of Residence, the area is particularly popular with students. With the students comes a market for trendy cafes, independent shops and restaurants catering to a varied crowd.
In the west, Roath Park runs along the length of the neighbourhood, separating it from neighbouring Cathays. The park contains pleasure gardens, a large lake, and the Roath Park Conservatory Botanical Gardens.
In the east of the neighborhood, near to the Rhymney River, is the Howardian Local Nature Reserve. The wild space is full of pretty paths and walking trails, where you can spot a variety of local wildlife. The neighbourhood is ideal for anyone who appreciates spending time outdoors.
Being so far out from the main town, Roath may not be the best option for first time visitors or those visiting for shorter trips. However, you can find some really lovely accommodation here for much better rates than you would expect in the City Centre. The caveat is that you may wind up spending extra on travel to and from the central districts.
Stay in Roath if you want to stay in a quieter, more affordable residential neighbourhood; you don't mind being further out from the City Centre; you are in Cardiff to visit a student living in the university halls.
Best Places To Stay In Cardiff Cheaply?
Whilst Cardiff may be gaining in popularity amongst the tourist market, it is still an up-and-coming destination, meaning affordable accommodation is still fairly bountiful. Even right in the City Centre you can find options to suit every budget.
ML Lodge is a 'good' option for anyone who prioritises staying in the very heart of the city. The rooms are basic but comfortable and just minutes from major attractions such as Cardiff Castle.
Meanwhile, Austin's Guest House is just across the river from the City Centre in Riverside. Rooms here are minimalist but stylish, and if you are really strict on your budget, rooms with shared bathrooms are on offer for lower rates.
Where To Stay In Cardiff With Parking?
Cardiff is full of affordable car parks and parking facilities throughout the city. However, if you specifically want a hotel that provides onsite parking, you have plenty of options to choose from, particularly around the City Centre and surrounding areas.
The Jurys Inn is a 'fabulous' hotel in the city centre, offering spacious rooms, in a beautiful Victorian building, just a few minutes' walk from Cardiff Castle.
If you are on a budget, the Ibis Budget Cardiff Centre is a 'good' option. Rooms are basic but modern and stylish, with everything you will need for a stay in the heart of the city.
Where To Stay In Cardiff By The Sea?
As a port city, the Cardiff Bay area is a thriving district, with plenty of options for accommodation. Hotels near the waterfront can get quite pricey, so if you are working with a smaller budget, you may want to consider a self-catered apartment instead.
There are some superb apartments overlooking the bay, with options to choose from both dedicated holiday blocks and independently let flats in residential areas. If you specifically want to stay right by the water, you will have to pay premium rates. Budget friendlier options are available further back from the bay but still within just a few minutes' walk from the waterfront.
For more generous budgets, Voco St. David's is a 'fabulous' five-star hotel, with rooms looking straight out over the water.
Where To Stay In Cardiff For Rugby?
The Principality Stadium in the City Centre is home to the Welsh Rugby Union and where most major rugby matches are played in Cardiff. Staying in the City Centre will keep you nearby the stadium but, particularly around game day, accommodation rates can get extremely high.
If you are comfortable paying for the convenience of staying as close to the stadium as possible, there are plenty of lovely options in the immediate area.
If you are on a budget, or would rather spend the extra money on comfort over convenience, Riverside has more affordable options just across the river. Nearby Newtown and Butetown also offer reasonably priced options that are still within comfortable walking distance of the stadium.
Where Do Celebrities Stay In Cardiff?
If you are planning to keep your eyes peeled for celebrities during your trip to Cardiff, the east side of Cardiff bay may be your best bet.
There are some stunning, five-star hotels around this area, which appeal to the luxury lifestyles of the rich and famous. More importantly though, this is where you can find both the BBC Roath Lock Drama Village film studios, as well as a number of recording studios. If you are following rumours that a certain actor or musician is working in Cardiff, this could be the most likely area to spot them.
Alternatively, the affluent Riverside suburb of Pontcanna is popular with wealthy visitors and famous faces can often be spotted in the local cafes and bistros. Meanwhile, younger celebs are often seen taking advantage of Cardiff's thriving nightlife in the City Centre and edgier Butetown and Newtown.
How Long To Stay In Cardiff?
For all that there is plenty to see and do in Cardiff, the city is still relatively compact. Moving between sights and attractions does not take long, so you can fit a lot into each day here.
If you plan your trip well, you can comfortably explore most of the city's major attractions over a weekend break. If you are attending an event that will take up a significant portion of time, you may want to stay for an extra day or two, so as not to feel pressured to cram everything in.
Even exploring the city at a relaxed pace, you shouldn't need more than a week to really get to know Cardiff.
See More:
Over recent years, the investments put into developing Cardiff as an international tourist destination have paid off. The city is a vibrant, modern metropolis, with plenty to see and do for every demographic. Between the City Centre and the parks and bay, Cardiff offers the best of both urban convenience and natural beauty, which is sure to leave any visitor craving a return visit.
Hopefully, you should now know exactly where to stay in Cardiff, to ensure your trip is an experience of a lifetime. All that's left is for you to go and start getting everything booked, so you can experience it all for yourself as soon as possible.