Where to stay in Manchester? for tourists, for families, couple, nightlife? In this guide, I will help you to find the best areas to stay in Manchester (include video and map). I'll also give you the list of the best hotels in Manchester for all budgets and the safest places to stay in Manchester.
Manchester is a large city in North West England. It is home to two of Europe's top soccer clubs, City and United. They have huge local support and plenty of followers worldwide. You would not go to Manchester for its weather because North West England gets plenty of rain. You may well go there for soccer, but there is much more to the City than sport.
It has always been an important commercial center with the Ship Canal due west to Liverpool and the Irish Sea a route for imports and exports. It is an important educational center in the UK as well as the best city in the north for shopping.
Manchester's International Airport is to the South of the City. Direct flights from Manchester include those across the Atlantic as well as most major European destinations, both scheduled flights, and low-cost airline routes. There are excellent regular links into the heart of the City.
The railway is probably the best option and certainly the quickest way to get to the city center. Manchester's public transport system is good but the speed of travel is dependent upon the volume of traffic. That can be heavy in the morning and evening.
Motorways give Manchester access to other parts of England, including east-west on the M62. The ring road west of the City then heads south. If you are traveling from Manchester, you may decide to stay close to these motorways.
Where to stay in Manchester?
The best areas to stay in Manchester for tourists are Manchester City Centre, Northern Quarter, Ancoats, Chorlton, Whalley Range, Didsbury, Levenshulme, Sale, Trafford, and Salford.
Manchester City Centre is the best area to stay in Manchester for tourists, especially for first-time visitors due to its prime location and well-connected to public transportation. Staying in the heart of the city center gives you easy access to major attractions, shopping, dining, and nightlife.
For first-timers, I recommend spending at least 3 to 4 days in Manchester to explore key attractions like the Manchester Museum, Old Trafford, and the Northern Quarter, as well as enjoying its vibrant cultural scene and diverse dining options.
Overviews of best areas to stay in Manchester for tourists
Here is an overview of recommended areas in Manchester for first-time visitors:
| Best areas in Manchester for first-time tourists | Why should you stay in this area? |
| --- | --- |
| Manchester City Centre | This area is the heart of the city and offers easy access to major attractions, shopping districts, restaurants, and nightlife. |
| Northern Quarter | Known for its vibrant atmosphere, independent shops, trendy bars, and live music venues, the Northern Quarter is a popular choice for young travelers. |
| Ancoats | Recently transformed into a trendy neighborhood, Ancoats offers a mix of historic buildings, hipster coffee shops, craft breweries, and stylish eateries. |
| Chorlton | Located southwest of the city center, Chorlton is a bohemian neighborhood known for its independent shops, organic food markets, and diverse dining options. |
| Whalley Range | A residential area with beautiful Victorian houses, Whalley Range offers a quieter stay while still being within easy reach of the city center. |
| Didsbury | Situated south of the city center, Didsbury is a leafy suburb with picturesque parks, stylish bars, and a range of restaurants. |
| Levenshulme | A diverse and multicultural area, Levenshulme has a vibrant local community, a lively market, and a variety of international cuisine options. |
| Sale | Located to the south of the city, Sale offers a relaxed suburban atmosphere, a popular shopping center, and easy access to the nearby Trafford Centre. |
| Trafford | Home to popular attractions like Old Trafford Stadium (Manchester United) and the Intu Trafford Centre, Trafford is an excellent choice for sports fans and shoppers. |
| Salford | Just west of Manchester city center, Salford offers a mix of historic sites, cultural attractions, and waterfront developments, including the renowned MediaCityUK. |
Map of areas and neighborhoods in Manchester: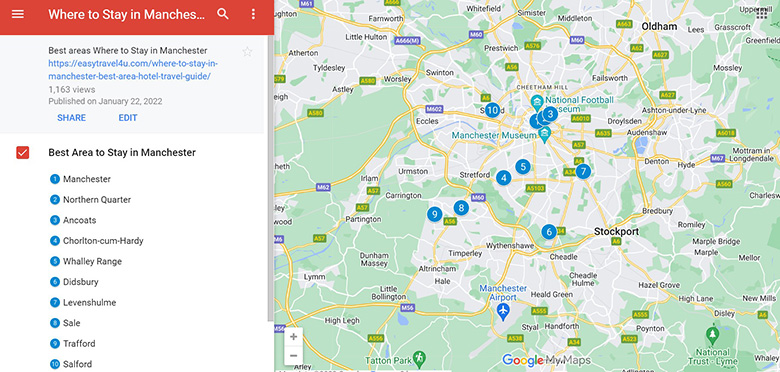 The Best areas to stay in Manchester for tourists are:
1. Manchester City Centre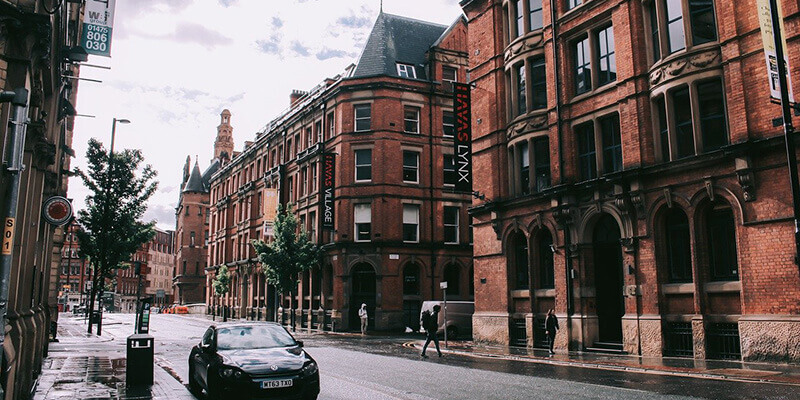 Manchester City Centre is the best overall area to stay in Machester for first-time visitors due to its central location and excellent connection to transportation. It is the transportation hub of the city, offering easy access to various parts of Manchester, including the Manchester Airport.
The city centre is home to an array of shopping options, from high-street brands to luxury boutiques, making it a shopaholic's paradise. Additionally, the area is packed with diverse dining choices, ranging from international cuisines to local delicacies.
The are is compact and easily navigable on foot. You can explore many attractions within walking distance, making it convenient for sightseeing and exploration.
It is also well-connected to public transportation. It is home to the Piccadilly Train Station, a transport hub of Greater Manchester, making it a convenient location for day trips.
The area boasts numerous cultural and historical landmarks such as the Manchester Town Hall, Manchester Cathedral, and the John Rylands Library.
The area also hosts several museums, including the Science and Industry Museum, the Manchester Art Gallery, People's History Museum, and National Football Museum.
Buildings such as the Royal Exchange, the Corn Exchange, and the Free Trade Hall were built in the 19th century. Manchester's economy shrank as traditional industries declined yet the City center has certainly survived that decline.
Shoppers will love Manchester, with the:
Another major street in Manchester city center is Oxford Road which runs through The University of Manchester, Manchester Metropolitan University, the BBC offices, theatres, and museums.
Oxford Road is home to the Art Deco building Dancehouse, Palace Theatre Manchester, Contact Theatre, Capitol Theatre, Manchester Museum, and Whitworth Art Gallery.
Take a look at the St. Peter's Square where you can find the Manchester Cenotaph, Manchester Town Hall, Manchester Central Library, Chinatown, and Albert Square.
Other places of interest nearby are the Piccadilly Gardens, Bridgewater Hall, Manchester Central Convention Centre, Emmeline Pankhurst's home.
Keep in mind that accommodation prices here can be higher compared to other areas of Manchester. However, the convenience and abundance of amenities make it an excellent choice, particularly for first-time visitors looking to experience the best of what Manchester has to offer.
Stay in Manchester City Centre if this is your first visit; you have primarily come to go shopping, you want plenty of transport options; you are looking for a good quality hotel;
Best Places to Stay in Manchester City center for first-timers:
luxury ($$$): Stock Exchange Hotel, 5-star family-friendly hotel located in the heart of Manchester City Centre, short walk from the Royal Exchange Theatre, John Rylands Library, Canal Street, and Opera House. It has an on-site restaurant, private parking, and Airport shuttle (free).
mid-range ($$): Leonardo Hotel Manchester Central, popular 4-star hotel, one of the best hotels in central Manchester, located easy walk from St Peters Square, Manchester Central Convention Centre, and Bridgewater Hall.
budget ($): Motel One Manchester Piccadilly, 3-star hotels, one of the best places to stay in Manchester on a budget, for adults and couples. It is located within walking distance from Manchester Piccadilly train station and Manchester Conference Centre.
See more:
2. Northern Quarter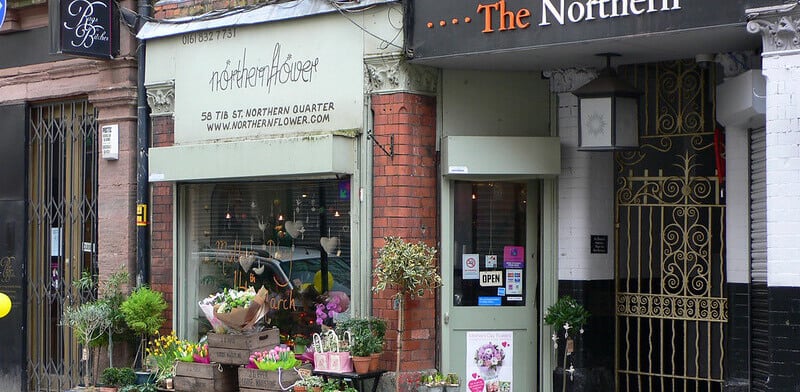 Located between Northern Quarter, this sprawling area of narrow streets and alleys is regarded as the heart of Manchester's bohemian culture. There are many small businesses within these streets. Some are boutiques while others are bars and cafes. If you enjoy craft ales or good coffee, you are sure to find it in the Northern Quarter.
In years gone by, the old warehouses in this district were busy places. In more recent years, they have been redeveloped to offer the small units of today. The impressive architecture in general dates back to the thriving economy of the 19th Century.
The boutiques are an alternative to shopping in the Arndale or along Deansgate. Specialist shops are found in the Northern Quarter. If you love music on vinyl, you must visit the different record shops along Oldham Street.
There are several restaurants in the Northern Quarter which is also the place where you can find nightclubs that stay open until late. Northern Quarter is one of the most popular places to go for nightlife in Manchester, home to some of the best bars and traditional pubs.
The Northern Quarter is regularly used for TV and film locations. The ''plot'' does not need to involve Manchester because the Northern Quarter could pass as a neighborhood in many cities, or even English-speaking countries.
Northern Quarter is also a good spot for art lovers, with a large number of murals appearing in the area since the Cities of Hope festival. You can find the best street arts at Stevenson Square, or visit some of its art galleries like Northern Quarter Gallery and Centre for Chinese Contemporary Art.
Other attractions include Cervantes Institute, the Printworks, Manchester's cathedral on Victoria Street, the Craft and Design Centre– the former Victorian fish market, Swan Street's Mackie Mayor Building, and Neo-Romanesque arches of the Smithfield Market.
Stay in Northern Quarter if you want vibrant nightlife; you enjoy spending your time in small independent establishments; you like exploring small shops and boutiques.
Best places to stay in the Northern Quarter for first-time visitors:
mid-range ($$): Crowne Plaza Manchester City Centre, 4-star children-friendly hotel, located in the lively Northern Quarter of Manchester's city centre. Ideal location for first-timers, offering easy access to all major attractions, including Manchester Arena, the Printworks, the Arndale Centre, National Football Museum, Harvey Nichols and Selfridges.
budget ($): Holiday Inn Express Manchester City Centre Arena, 3-star family-friendly hotel, located in the heart of Manchester, easy walk from the Manchester Arena, as well as the Arndale Shopping Center and main shopping areas.
budget ($): Hampton By Hilton Manchester Northern Quarter, 3-star hotel, great base on a budget in central Manchester, located in the northern quarter area, short walk from AO Arena and Victoria Station.
3. Ancoats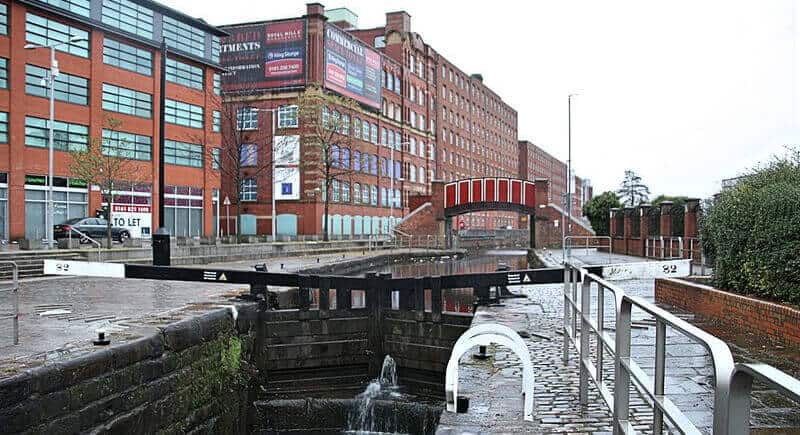 In many ways, Ancoats is similar to the Northern Quarter which is its neighbor. Ancoats is still developing. Visitors can wander its streets and find things that were not there a few months ago. There is an artistic element to Ancoats with independent theatre and art studios on offer.
Even though Ancoats is developing, the rents are still relatively low for its central location. This district was also known for the textile business that was once so flourishing. Its former nickname was ''cottonopolis.''
Other industries developed because of Ancoats' commercial activities with glass and machinery manufacture emerging but all have now gone.
No longer are any of the buildings empty. Businesses have taken some of the property while conversions have led to trendy apartments for purchase or rent.
Bars and coffee shops have a ''hippy'' feel while there are some excellent restaurants in Ancoats as well. If you are looking for plenty of choices in one district, Ancoats is worthy of consideration. There is cuisine from a variety of places as diverse as Vietnam and Japan, Mexico, and Scandinavia.
Craft beers are readily available and many of its bars have a real atmosphere.
Stay in Ancoats if you enjoy vibrant areas, especially those that are still developing; you want to be fairly central without being in the center itself; you don't mind taking local transport to get you around.
Best places to stay in Manchester in Ancoats for the first time:
4. Chorlton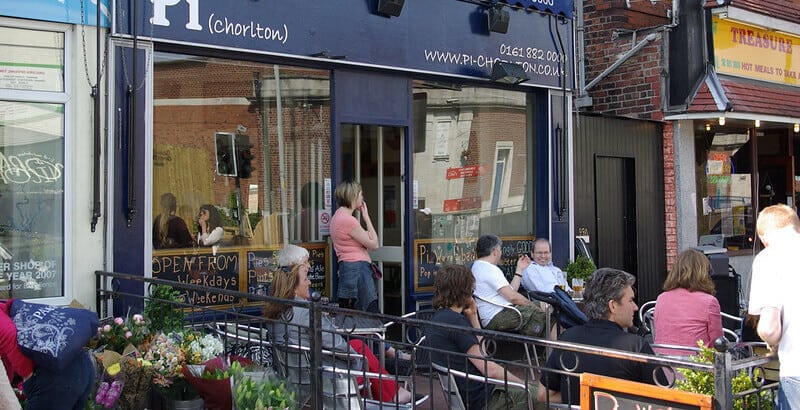 Located ten minutes by tram from Manchester city center, Chorlton is a popular stay to stay near Manchester City. Manchester has a huge student population and most of the seats of learning are south of the center of Manchester. That includes the Halls of Residence and plenty of private rental accommodation.
Chorlton has small shopping blocks, neighborhood bars, and plenty of places to eat. It is a liberal bohemian neighborhood that will certainly appeal to young travelers.
At one time, Chorlton was countryside and it developed as those benefiting from the textile boom sought to live outside the city with the newly laid railway their means of ''commuting.''.
The 19th Century properties have been ideal for conversion for a modern-day living although passenger rail services are not available to today's inhabitants. Subject to traffic flow, it is still fairly easy to get into and out of the center.
There are still green spaces and Chorlton Green has been designated as a conservation area. you also have Sale Water Park, Chorlton Ees, Maker's Market, Longford Park, Chorlton Water Park, and Southern Cemetery.
There is an annual Arts Festival each May over 9 days, an Autumn Books Festival, and Chorlton plays a role in the October City Food & Drink Festival.
Stay in Chorlton if you want all the facilities of a big city but prefer a suburban base to go back to at the end of the day; you like the feel of neighborhood bars; you enjoy community activities.
Best places to stay in Manchester in Chorlton:
5. Whalley Range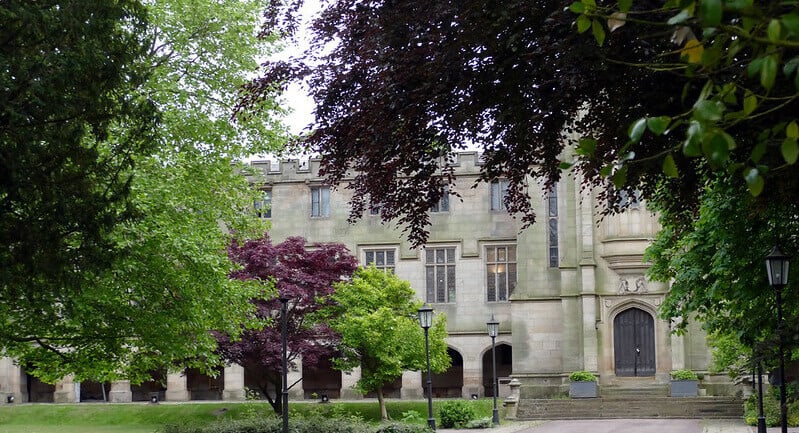 Neighbouring Whalley Range is another district that appeals to the younger generation. There is plenty of private rental accommodation hence a decent proportion of its population are students. Many of the Victorian buildings have been converted into smaller units.
It is not purely a residential district. Visitors will find relaxed bars and good food alternatives. It is limited in terms of shopping because its residents are seen as mobile and hence will travel to shop.
There are no ''streets'' in Whalley Range which indicates the class consciousness of Victorian times. Instead, visitors find tree-lined roads, lanes, and avenues.
Whalley Range is just a couple of miles from the middle of Manchester and history tells us it was one of the City's first suburbs. It gets its name from the town in Lancashire where the wealthy businessman, Samuel Brooks who developed the district towards the end of the 19th Century, originated.
An interesting piece of historical records is that wealthy women and spinsters in Whalley Range were some of the first females to get the vote. (Married women's rights were subordinate to their husbands.)
Here you can also find Carlton Club, Whalley Range's social club; and the 24-hectare Alexandra Park that offers walking paths, a football field, a cricket pitch, a lake, and a bowling green.
Stay in Whalley Range if you want a local vibe: you want access to the middle of Manchester but prefer your base in a quieter environment; you are looking for apartment accommodation.; you are happy with good bars and eating options without being interested in club life.
Best places to stay in Machester in Whalley Range:
Check out my virtual tour about the best places to stay in Manchester in this video:
6. Didsbury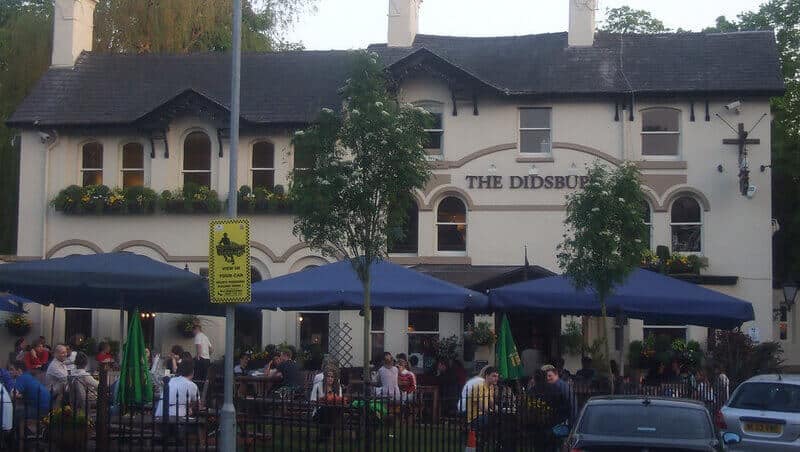 Located on the north bank of the River Mersey, one of Manchester's most expensive suburbs, Didsbury is around 4.5 miles from Manchester city center.
The main road running through Didsbury en route to Chorlton is home to many independent bars selling craft beers and small shops selling a huge variety of products. If you prefer a quieter environment that ordinary pubs offer, you might like to try the cocktail bars that you will also find.
It is another district that the younger generation enjoys. The vegetarian cafe in Withington has earned a good reputation while another cafe, Fuel, is known for its music
Didsbury is another district that was originally rural before the Industrial Revolution saw the rapid growth of Manchester. Its church was built in the 13th Century but today's building is primarily the 17th Century. It was named St. James in 1855 and the buildings in its immediate vicinity form the biggest concentrations of listed buildings in Manchester.
People tend to associate the River Mersey with Liverpool but it actually flows through South Manchester, Didsbury included, westwards to this City which is Manchester's greatest rival, especially on the soccer pitch.
It is an affluent suburb with an unemployment level well below Manchester's average. There is some employment within Didsbury itself but many locals head into the City center each day.
You'll also find lots of great places in Didsbury such as Marie Louise Gardens, Fog Lane Park, Hugh End Playing Fields, Didsbury & Withington Community Baths.
Stay in Didsbury if you want a base away from the middle of Manchester but with good transport links; you like neighborhood pubs with craft beers; you are not worried about being close to large shopping areas.
Best places to stay in Manchester in Didsbury:
7. Levenshulme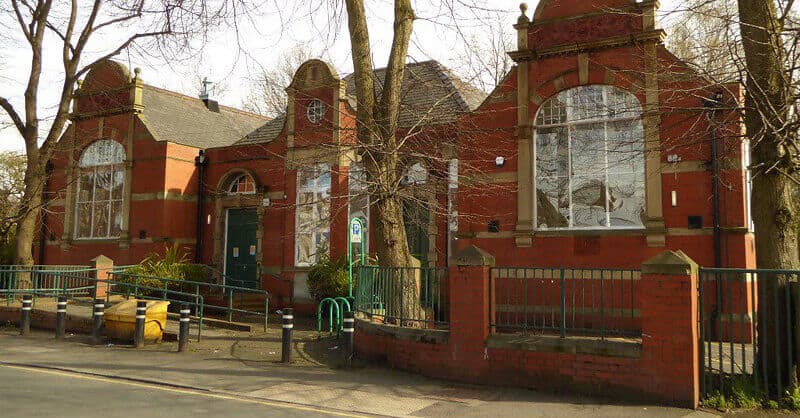 Levenshulme is often referred to as the 'new Chorlton'. House prices remain lower in Levenshulme than in some of these other neighborhoods in South Manchester. That has appealed to first-time buyers, and by definition the younger ''set.'' This district is due south of Manchester, halfway towards Stockport and its station is on the route to London.
As Levenshulme has become more popular so has the choice of places to eat and craft beer bars. The Saturday Market attracts large numbers of people each week looking for a bargain. You may be looking for something different but not have fixed ideas on what. Levenshulme Market could be the place you find it.
Dick Turpin was said to be a regular visitor to the Blue Bell Inn in Barlow Road. There has been an inn on that site for 700 years but German bombing destroyed the one standing there before the outbreak of the Second World War.
Despite there being people living here for many centuries, there was minimal development until the late Victorian era. No fine buildings, just rows of terraces define Levenshulme.
The annual ''Levenshulme'' Festival has established itself over the last couple of decades. It is very much a multi-cultural event with plenty of different activities including music concerts. While there, make sure you visit ''The Street with No Name'' that has been there for 160 years, with no name.
Stay in Levenshulme if you want good transport links to other parts of Manchester; you want some cheap accommodation; you have no need to be in the City center.
Best places to stay in Manchester in Levenshulme:
8. Sale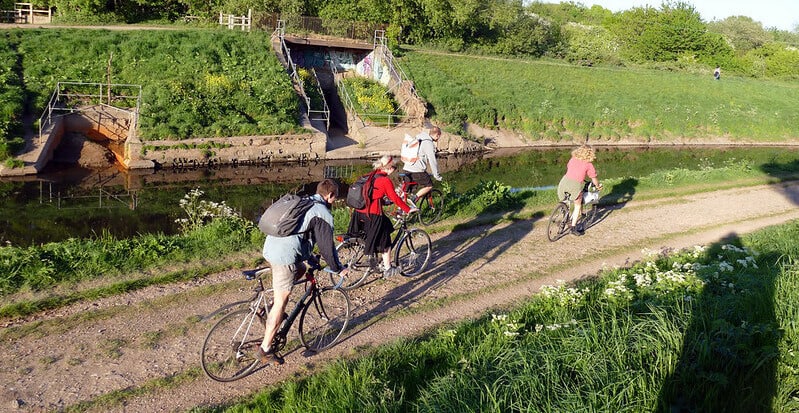 Sale is less than 6 miles from the heart of Manchester. While administratively it has borough status, visitors to Manchester often choose to stay in Sale to get a rural feel with good amenities.
The M60 which runs down the west of Manchester passes Sale. It follows that there are good transport links making it simple for commuters and tourists to go backward and forwards, The Metrolink into Manchester City center means even first-time visitors can get around easily.
Sale is located on the Mersey which is perhaps a reason why evidence of settlement goes back many centuries. An old Roman road ran between Chester and York. Today it is the A56.
There is quite a variety of architecture with old buildings, 1930s developments, and new estates found in Sale. At one time it was strictly working class but now it is perceived as very much middle class. From a crop growing and livestock area, it is now service industries and commuters.
Sale's Shopping center is thriving despite the competition, a result of a very low unemployment rate. One of Sale's real attractions is green space. There is a water park, a nature reserve that attracts migrating birds, and Woodheys Park with several activities and amenities.
Another place to visit is the Sale Water Park, an area of countryside and parkland containing a lake, woodland, meadows, the River Mersey, cafe, restaurant, and water sports center.
Stay in Sale if you want to see Manchester but are reluctant to stay in the busy center; you enjoy the rural feel that Sale can provide; you are looking for a choice of restaurants at night; you seek open spaces and the natural environment
Best places to stay in Manchester in Sale:
9. Trafford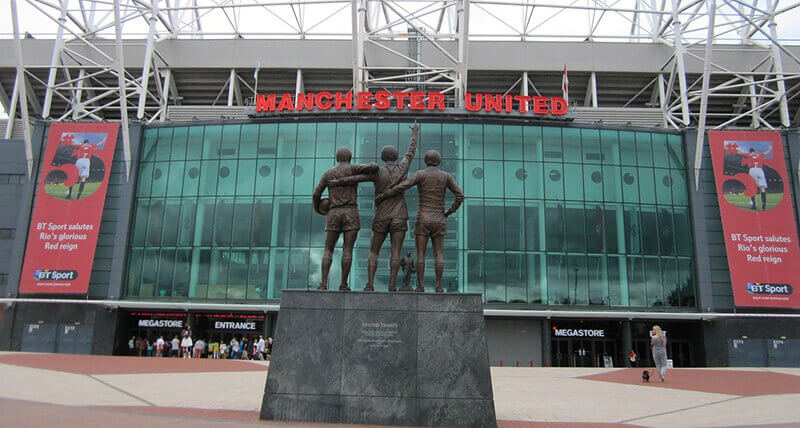 When people hear Trafford, many immediately think Manchester United because its iconic ground is called Old Trafford. Shoppers with no interest in soccer know the Trafford center which opened in 1998.
It is a metropolitan borough that was formed during local government reorganization over 40 years ago. For the purposes of areas to stay, the area under discussion is around that Shopping center and Trafford Park Industrial Estate.
The name ''Trafford'' was a compromise as the name for that Metropolitan Borough which absorbed small towns. Each was keen to maintain its identity and not be absorbed by a neighbor.
Almost 50,000 workers are employed at Trafford Park. Over the years agriculture was replaced by the textile industry then the Business Park opened. Business activities require a good infrastructure and that includes hotel accommodation.
Trafford may not be the first place a visitor thinks of if intending to visit Manchester. However, its name, the proximity of Manchester United and Old Trafford as well as the Test cricket ground make it worth consideration.
Stay in Trafford if you do not want to be in the middle of Manchester but want good shopping alternatives; you intend to watch a sporting event or concert and want to be close to the venue;
Best places to stay in Manchester in Trafford:
10. Salford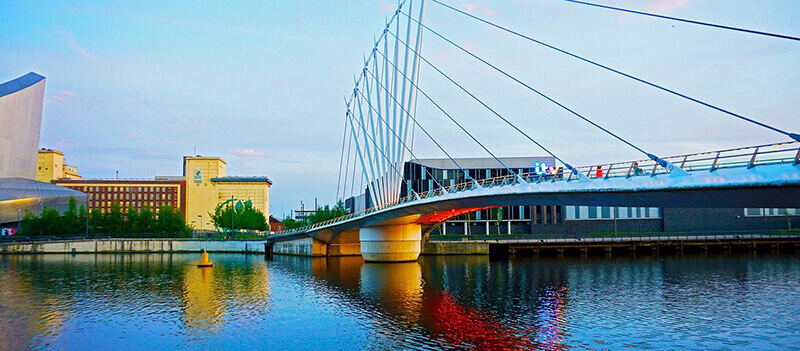 In recent years, the development of Salford Quays and the Lowry center has raised the profile of Salford. Lowry was Manchester's artist who depicted local life. His name means a lot to Manchester people.
Salford is west of Manchester City center. It developed during the prosperity that the textile industry brought to the City. Its location on the Manchester Ship Canal guaranteed that while the textile industry and trade thrived, so would Salford.
Salford University's School of Arts is separate from Manchester's institutions. As a result, there is a significant student population which makes the area youthful and vibrant. It has reversed the decline that came as textile prosperity waned. At that point, Salford was seen as an area with significant slums and crime.
Salford has seen major investment with much of the old terraced properties demolished in regeneration. There remains a number of important buildings that were constructed in the 19th Century when Salford prospered.
They include the Museum and Art Gallery. The park is named after Sir Robert Peel while Salford had the first free library in the UK.
''Coronation Street'' is the longest-running soap on TV anywhere. While its location is ''Weatherfield'', it really represents working-class Salford before its regeneration. Ewan McColl's ''Dirty Old Town'' represented Salford very well. However, these days, the place has changed and is well worth visiting.
Stay in Salford if you enjoy the atmosphere that you get within a city; your time in Manchester is intended to show you typical daily life and teach you a little about its history; you want easy access to Manchester City center.
Best places to stay in Manchester in Salford:
Where should I stay in Manchester for the first time?
Manchester City Centre is the best area to stay in Manchester for first-timers due to its prime location. If you stay here, you will be located in the heart of the city, within easy access to tourist attractions and amenities.
What are the best areas to stay in Manchester?
Manchester City Centre, Chinatown, Northern Quarter, Salford Quays and Old Trafford, Castlefield, Didsbury, Chorlton are some of the best areas to stay in Manchester because they are the most popular locations for tourists.
What is the safest area to stay in Manchester?
If you're looking for a safe area to stay in Manchester, some of the top options include Didsbury, Chorlton, and Sale. These neighborhoods are known for their low crime rates and friendly atmosphere.
How many days in Manchester is enough?
Well, that really depends on what you want to see and do in Manchester. Generally, 2-3 days should be enough to get a good feel for the city's culture, history, and nightlife.
See More:
Summary – Where to stay in Manchester as a tourist?
In conclusion, Manchester City Centre, Northern Quarter, Ancoats, Chorlton, Whalley Range, Didsbury, Levenshulme, Sale, Trafford, and Salford are some of the best places to stay in Manchester for tourists. They offer a wide range of accommodation options for all budgets!
Overall, Manchester City Centre is the best area to stay in Manchester for your first visit because it is the most convenient location in the city for tourists. If you stay here, you will be located in the middle of the action!