In this blog, I will help you to find Where to stay in Edinburgh first time (for families, couples). I'll provide you the list of the best areas to stay in Edinburgh (with a video and map), best hotels in Edinburgh for all budgets (including the hotel where I stayed) and safest places.
Known for its stunning historic districts, world-famous arts festivals, and student-led party scene, it's easy to see why Scotland's capital is so popular with a wide variety of tourists.
Edinburgh is one of the safest cities in the UK, but as in any big city, you should use common sense and be aware of surrounding. Old Town, New Town, Newington, and Dean Village are some of the safest neighborhoods in Edinburgh for tourist.
Where to stay in Edinburgh first time?
The best areas to stay in Edinburgh for first-time tourists are Old Town, New Town, Newington, West End, Bruntsfield, Leith, Broughton, Stockbridge, Dean Village. They offer a range of hotels for all budget travelers.
Old Town is the best area to stay in for Edinburgh for first-time visitors due to its central location and proximity to major attractions. Staying here offers easy access to transportation, important historical landmarks, and tourist amenities such as restaurants, bars, and shops.
The Old Town and New Town are the most popular neighborhoods for first-timers. Old Town is the best place for travelers seeking easy access to many of Edinburgh's iconic landmarks. New Town is the best area for visitors seeking a modern lifestyle, vibrant shopping and nightlife.
Both areas have their own unique charm, and it is worth exploring both if you have the opportunity. Edinburgh is a compact city, and you can easily walk between the two districts in a matter of minutes.
Some of the best areas to stay in Edinburgh with family are the Old Town, New Town, Stockbridge, and Leith. These neighborhoods offers a range of familly-friendly accommodations and activities for children of all ages.
Where did I stay in Edinburgh?
When I first visited Edinburgh, I stayed for 4 nights at the mid-range hotel Radisson Blu Hotel. It has a central location, only a 5-10 mins walk from Waverley train station, Edinburgh Castle, Princes Street, Holyrood Park. My room was clean and spacious. Breakfast buffet was nice with a great selection of dishes.
Map of areas and neighborhoods in Edinburgh: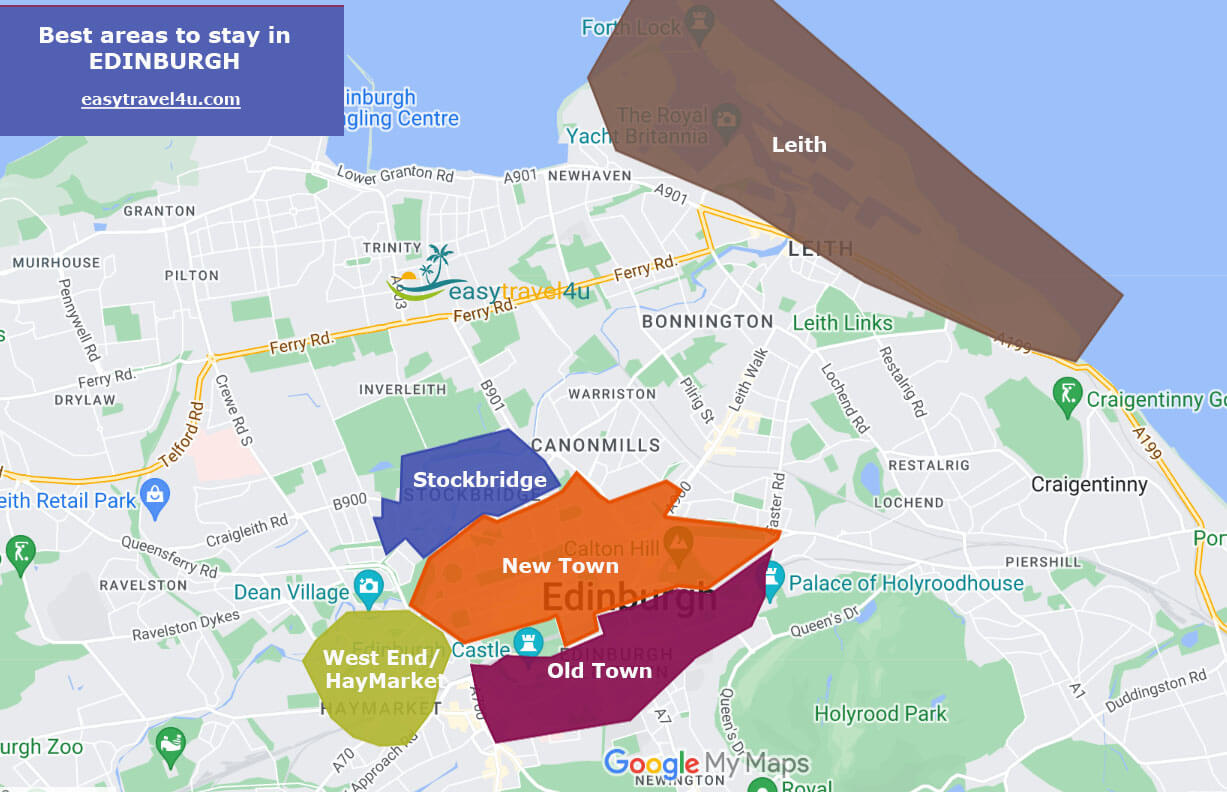 🎬 You can watch this short video about best areasin Edinburgh, and continue reading:
Best areas to stay in Edinburgh for first-time tourists are:
1. Edinburgh Old Town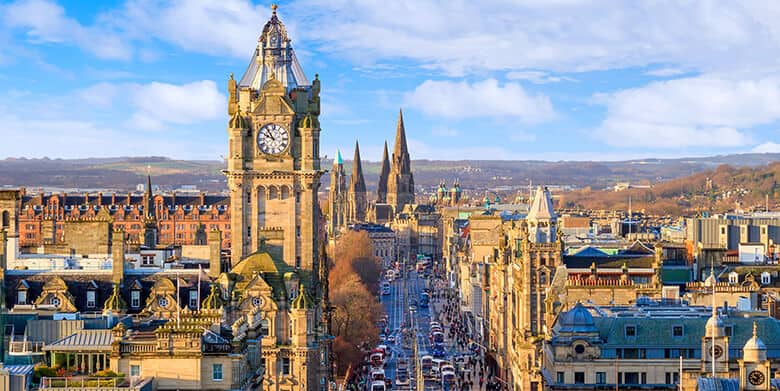 Old Town is the best overall area to stay in Edinburg for first-time visitors. It is the historic heart of Edinburg, known for its charming medieval architecture, narrow streets, and historical attractions. Staying here offers easy access to major sights such as Edinburgh Castle & Royal Mile.
Old Town is well-connected to other parts of the city by public transportation, including buses and trams. Waverley Train Station, one of Edinburgh's main transportation hubs, is located in the heart of Old Town.
Probably the most famous attraction in the city is Edinburgh Castle, dating back to the 11th-century, with numerous restorations, and alterations made throughout the intervening centuries. The castle's St Margaret's Chapel is believed to be the oldest remaining building in Edinburgh.
Having been a royal residence for centuries and seen countless significant battles and uprisings, the castle boasts an incomparably rich history. Today it houses Scotland's crown jewels, as well as the National War Museum and various monuments and memorials.
Nowadays, the royal residence in Edinburgh is the Palace of Holyroodhouse. The stunning 16th-century palace houses the British monarchy for at least a week each summer when they attend meetings and carry out royal duties in and around the Scottish capital.
Holyroodhouse was built on the site of the 12th-century Holyrood Abbey. The wonderfully preserved ruins of the beautiful abbey are also open to be explored by visitors. The palace grounds even contain the Queen's Gallery, a must-visit for any art lover.
Just across the road from Holyroodhouse Palace is the Scottish Parliament Building. The angular, stone building is a modern contrast to the historic structures that populate the rest of the district.
Edinburgh Castle and Holyrood Palace are connected by the partially-pedestrianized Royal Mile, Edinburgh's main street. Lined with cozy pubs and shops, not to mention various attractions, the street itself is a popular tourist destination. However, the real treasure can be found beneath it.
If you visit Edinburgh in August, you will have a chance to take part in the world-famous Edinburgh fringe festival. The Royal Mile comes alive with street performers, comedy shows, and cultural events, offering a vibrant atmosphere for visitors.
The Real Mary King's Close is a medieval street concealed below the modern Royal Mile. Sealed off from the outside world centuries ago to quarantine plague victims, the street is a wonderfully preserved look into what Medieval Edinburgh would have been like.
Another impressive look at Edinburgh's historic architecture comes from St Giles' Cathedral. The magnificent, 14th-century cathedral sits along the Royal Mile, so you can easily appreciate its imposing exterior. You certainly won't be able to miss its towering spires.
The interior is just as worth exploring, with stunning stained-glass windows, intricately carved stone features, and numerous memorials, monuments, and artifacts.
The smaller Greyfriar's Church just around the corner is also worth a look. Harry Potter fans in particular may want to take a walk around the graveyard.
The first of the popular books were written nearby and JK Rowling found the names for many of her characters from the gravestones in this cemetery.
With Edinburgh staying relatively cool and rainy throughout the year, you may often find yourself wanting to escape indoors. Helpfully, there are plenty of museums in the city center to keep you entertained when the weather turns:
The National Museum of Scotland houses artifacts from throughout Scotland's history, as well as natural history exhibits.
The Museum of Edinburgh offers a more niche look at the historic development of the local area and people.
The Writers' Museum showcases manuscripts and various personal items from various renowned Scottish writers. It is just down the road from the National Library of Scotland.
the Edinburgh Dungeon offers a look at the more macabre side of the country's past.
The Museum of Childhood, was the first museum in the world to be dedicated to the history of childhood with toys, games, and dolls, dating back to the 1800s.
If museums aren't your thing, try the Scotch Whisky Experience instead. Featuring a barrel ride and the opportunity to get hands-on experience in the whisky-making process, this is the perfect opportunity to learn more about one of Scotland's most popular exports.
In the evenings, head to Grassmarket. One of Edinburgh's most iconic streets, you can spend your nights crawling between the numerous historic pubs that line the road in the shadow of the mighty castle.
The main downside to staying in the Old Town is how expensive it is. Bars and restaurants, as well as accommodation, all charge a premium for being so close to the city center. That said, there are some particularly lovely luxury options here that are well worth the price point.
There are some more affordable options, but they tend to be more basic than what you could get for the same price elsewhere in the city.
While Old Town offers a lot for first-time visitors, it's worth noting that it can be busy and crowded, especially during peak tourist seasons. If you prefer a quieter atmosphere, you may also consider other neighborhoods such as New Town or Stockbridge.
Stay In The Old Town/Royal Mile If You are visiting Edinburgh for the first time; Sightseeing is your top priority; You have a more generous budget; You are visiting for a shorter trip;
Best places to stay in Edinburgh in Old Town for first-timers:
luxury: Cheval Old Town Chambers, 5-star family-friendly hotel, one of the best places to stay in Edinburg for first-time visitors, located in central Edinburgh, a 2-minute walk from Waverley train station and a 5-minute walk from Edinburgh Castle. It also offers easy access to a wide selection of shops, restaurants, and bars in the center of Edinburgh.
mid-range ($$): Radisson Blu Hotel, Edinburgh City Centre, 5-star hotel, located in the heart of Edinburgh City Center, easy walk from Waverley train station, Edinburgh Castle, Holyrood Park and Palace. It has rooms for singles, couples, and families with children of all ages.
budget: ibis Edinburgh Centre Royal Mile – Hunter Square, 3-star children-friendly hotel, one of the best places to stay in Edinburg on a budget, located just off of the historic Royal Mile.
hostel: CoDE Pod – The CoURT – Edinburgh, great hostel, one of the best places to stay in Edinburg for backpackers and budget travelers, attractively located in Edinburgh, a short distance from Royal Mile, National Museum of Scotland, and Camera Obscura and World of Illusions.
FIND BEST HOTELS IN OLD TOWN
2. New Town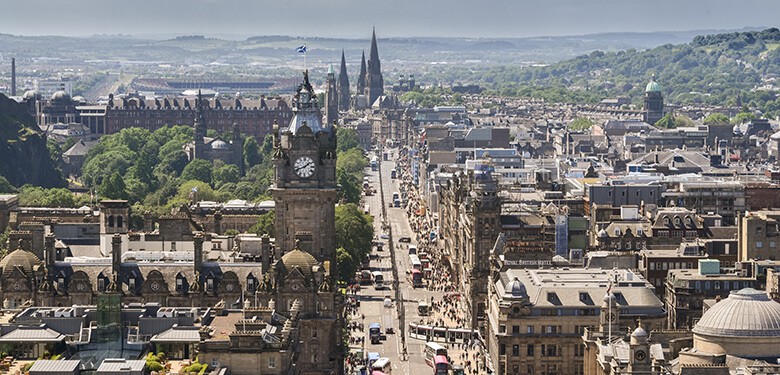 Don't be deceived by the name, the New Town area was established centuries ago and packs its own historical punch. New Town offers a glimpse into Georgian-era Edinburgh, with beautiful historic architecture lining every street.
Developed as an alternative to the winding, narrow streets of the Old Town, New Town gives you wider streets whilst still supplying tons of historic charm. It is perfect if you want to stay close to the city center but outside of the most touristy section.
A little quieter and more intimate than the packed Old Town, New Town is also a top choice for romantic getaways. You can wander along charming, cobbled streets, taking your pick of cozy restaurants and bars, without fighting through throngs of tourists.
Another perk to staying in New Town is Waverly Train Station where you can travel to London and Glasgow. The main train terminal in Edinburgh, most people traveling into the city by train will be coming through here. If you are on a shorter trip, staying close to the station minimizes the time wasted traveling to and from your hotel.
New Town is a particularly good choice of neighborhood for families traveling with children. The various urban parks offer lots of green space for kids to burn off some of their energy. Meanwhile, the sparser crowds make it easier to shepherd children from place to place without losing anyone.
You will also be super close to the city center attractions, within walking distance even for little legs. The New and Old towns are only separated by the train station and the Princes Street Gardens.
Located at the base of Castle Hill, the gardens contain various monuments, memorials, and pretty fountains, scattered around the manicured lawns. The Ross Band Stand in the middle of the park is a popular venue for open-air concerts and shows.
At the east end of the Princes Street Gardens stands one of Edinburgh's most iconic installations, the Scott Monument. The freestanding gothic spire towers over the surrounding park. A set of 278 steps lead up to the top, where visitors can enjoy wonderful panoramic views of the city.
New Town is also a haven for appreciators of classic art. The Scottish National Gallery, the Scottish National Portrait Gallery, and the Royal Scottish Academy are all located within New Town. Various smaller galleries can also be found here, particularly around the Queen Street Gardens area.
There are many shopping streets in New Town, including:
Princes Street, Edinburgh's busiest street, lined with well-known stores. There are also trams linking the city center with Edinburgh Airport.
Rose Street, a lively pedestrian street that is packed with bars, restaurants, and pubs. It's the perfect place to retreat once you need a rest from shopping and sightseeing.
George Street, a great hub for high-end fashion boutiques, swanky bars, and some of the best dining in the city.
In the evenings, there are some great nightclubs that open up around the area. If you prefer a livelier nightlife scene then you will find plenty to keep you entertained in New Town.
Sandwiched between Princes Street, Edinburgh Castle, and Waverly Train Station, Princes Street Gardens can get pretty crowded, especially on a lovely summer's day. If you want a quieter alternative, where you can really lay back and relax, try the Queen Street Gardens instead.
Just around two hundred meters north of Princes Street, the Queen Street Gardens are a leafy oasis of calm. You can sit back and unwind on the grass, or amble along the walking trails that wind between the lush trees.
Being so close to the city center also means that there are still plenty of options for accommodation. You also get the added perk of slightly lower prices than in the Old Town, although it's still not the best for low-budget travelers.
Stay In The New Town/Princes Street If you want more reasonably priced accommodation close to the city center; you are visiting Edinburgh for the first time; you are traveling with children; you want to stay close to Edinburgh's main train station;
Best places to stay in Edinburgh in New Town for first-time visitors:
luxury: InterContinental Hotels – Edinburgh The George, an IHG Hotel, 5-star hotel, located close to Edinburgh Castle, Princes Street Gardens and Holyrood Palace.
mid-range: Malmaison Edinburgh City, 4-star family-friendly hotel, well situated in the center of Edinburgh, offering air-conditioned rooms, a restaurant, free WiFi and a bar.
budget: ibis Styles Edinburgh St Andrew Square, great 3-star children-friendly hotel, ideal base for budget travelers, located 2 minutes' walk from Princes Street, 10 minutes' walk from Edinburgh Train Station.
FIND BEST HOTELS IN NEW TOWN
3. Newington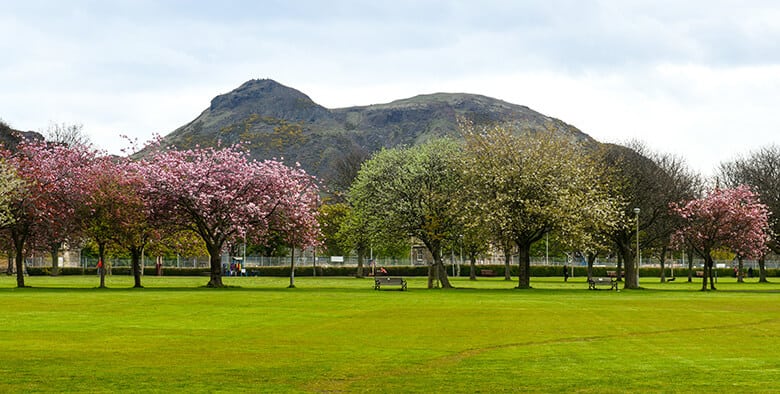 Newington along with Old Town and New Town is one of the safest area in Edinburgh for tourist. Located just 20 minutes walk from Edinburgh Royall Mile, laidback Newington is the neighborhood to the south of the city center, on the other side of the University of Edinburgh. It is a calmer, residential community, removed enough from the bustling tourist districts to be noticeably quieter.
Being close to the city center, this is a popular student district. There are plenty of small bars and restaurants in the area catering to the tighter budgets of the student population. As such, this is a good choice for anyone trying to keep costs down, both in terms of food and accommodation.
With The Meadows to the west and the sprawling Holyrood Park to the east, Newington is perfect for anyone who wants easy access to the city center, as well as plenty of space to get out in the fresh air.
Holyrood Park leads into the grounds of Holyroodhouse to the north, providing a beautiful walking route if and when you feel like visiting the palace. Holyrood Park is full of interesting monuments and sites to discover.
The park is huge, covering a craggy network of hills. One of the highest points in the park is known as Arthur's Seat. The spot is renowned for its stunning views across the city. Sunsets viewed from here are particularly spectacular and well worth the trek.
To the north, approaching the grounds of Holyroodhouse, you can find the Saint Anthony's Chapel Ruins. Perched on the top of one of the hills, the ruined chapel makes a striking contrast against the backdrop of the modern city in the distance.
Just west of the chapel is St Margaret's Well, another historic holy monument. Access to the well's water is sealed off by a metal grate, but supposedly it has mystical healing properties which prompted it to become a site of religious reverence in the middle ages.
There are various lochs throughout the park, the largest of which is Duddingston Loch in the south. Surrounded by forest and Dr. Neil's Botanical Garden, this is a particularly lovely area to enjoy a walk, especially on a warm day when the trees and lake breeze offer an escape from the summer heat.
If you have the time to venture a little further afield, Craigmillar Castle is open to be explored in a neighboring park.
Although partially ruined, the remains of the 14th-century castle are excellently preserved. Reinforced walkways wind around the castle, allowing you to explore the whole place safely.
Newington is also home to Edinburgh Science Festival, Edinburgh International Magic Festival, and a Gin distillery which is hosted in Summerhall.
There's a good mix of affordable and more indulgent accommodation options in the area. Budget travelers can pick from reasonably priced guesthouses and quirky hostels. Meanwhile, if you have a bigger budget to play with, you can enjoy boutique hotels with park views.
You Should Stay In Newington If you want a quieter neighborhood close to the city center; you want easy access to lots of green, open space; you enjoy spending time outside in the fresh air;
Best places to stay in Edinburgh in Newington for first-timers:
luxury: Prestonfield House, 5-star retreat has a fine-dining restaurant and romantic bedrooms, ideal base for couples. It is surrounded by gardens and a golf course. Busses to the city center are a 5-minute walk away. It has free parking and a beautiful garden.
mid-range: Southside Guest House, stylish, family-run guest house close to Edinburgh city center and has easy access by bus.
budget: Edinburgh Holiday Guest House, offering free WiFi and free onsite parking. The University of Edinburgh is just 10 minutes' walk away.
FIND BEST HOTELS IN NEWINGTON
4. West End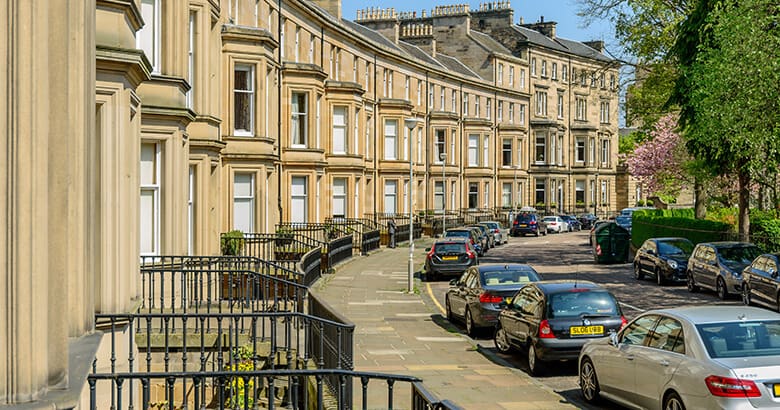 The West End of Edinburgh is an upscale, residential neighborhood, immediately west of the Old Town. An extension of the historic city center, you will find plenty of beautiful old buildings and pretty cobbled streets.
With its quieter atmosphere and quaint, historic charm, it is easy to see why this is one of the most desirable areas in the city.
Less overtly touristy than the more immediately central districts, the West End feels more community-focused, offering a local vibe that lets you feel what ordinary life is like in Edinburgh. The area is populated with small shops and cozy cafes, where residents mingle and go about their days.
In keeping with the affluent population of the area, you will find more boutique shops here than the chain stores of New Town.
The Edinburgh Farmers' Market takes place here each week, in the shadow of Edinburgh Castle. Aside from being a perfect opportunity to sample local produce and delicacies, it's also a great chance to chat with the locals.
The West End is Edinburgh's arts and culture center. Various theatres line the border between the West End and the Old Town, the most notable of which is the beautiful Royal Lyceum Theatre.
The prestigious theatre frequently produces critically acclaimed performances, so it is worth trying to get tickets for a show if you have a love for theatre.
The theatre district is packed with cafes and restaurants catering to the crowds that flock to the popular shows throughout the afternoons and evenings. There is a broad range of cuisines available to try, so you are sure to be satisfied, no matter what you fancy on the night.
After dinner, you can move on to one of the many bars that draw crowds to the area after dark. This is another excellent choice for nightlife if you prefer your evenings to stay a little more refined.
The Edinburgh Gin Distillery is a great place to spend an evening, or an afternoon, learning about and observing the gin distillation process while, of course, tasting a few varieties. Make sure to pick up a bottle to take home while you're there.
Or perhaps you prefer the more traditional whisky, in which case head to Johnnie Walker just across the road. Here you can enjoy multisensory tasting experiences, exclusive souvenirs, and expertly mixed cocktails at the rooftop bar.
The gothic-style St Mary's Cathedral is rather young as cathedrals go, built in the mid-19th century. It is an imposing structure nonetheless, with its multiple spires towering over the surrounding buildings.
There are daily choral performances held here, so, if you time it well, you can get some live music whilst you appreciate the artistry of the architecture.
Despite being such an affluent area, the West End is just outside of the city center enough to avoid the steep prices for accommodation. There are some great budget and affordable options to choose from in the West End area, along with a few more high-end, luxury hotels.
Stay In The West End If you want to stay in an upscale, residential neighborhood, close to the city center; you want a laid-back neighborhood where you can experience everyday life in Edinburgh; you love the theatrical arts;
Best places to stay in Edinburgh in West End for first-timers:
luxury: The Bonham, 5-star Victorian town house located in West End, easy walk from the Shops and restaurants on Princess Street, Calton Hill, Edinburgh Castle, The Royal Mile.
mid-range: Grosvenor Suites, family-friendly accommodation, located close to the Haymarket Train Station and a 10-minute walk to Princes Street.
budget: 22 Chester Street, great accommodation, featuring family rooms, offering views of St Mary's Cathedral, in the Georgian West End, 10 minutes walk from Edinburgh city center.
FIND BEST HOTELS IN WEST END
5. Bruntsfield/ Morningside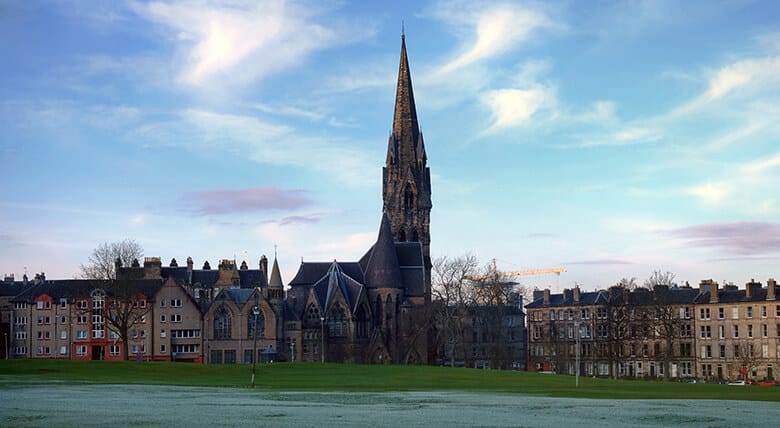 Bruntsfield is a cool, residential neighborhood, just south of the West End. Full of small restaurants and cozy coffee shops, this area is perfect for dropping your tourist hat and living like the locals.
Bruntsfield sits in the sweet spot, where it's just removed enough from the city center to lack crowds of tourists but is still close enough that you can comfortably walk to all the top attractions.
The Bruntsfield Links and adjacent Meadows offer plenty of open, green space to spread out in. kids can take the opportunity to run around or head to the playground whilst adults can take advantage of the various sports pitches or just relax on the grass.
An annual fair is set up here in the summer, adding to the local community atmosphere.
The residential and upmarket of Morningside is further south, well away from the city center and even less touristy. Home to a university campus, this is another popular student neighborhood, which may be the reason why this is becoming an increasingly trendy place to live.
Laid-back restaurants, vegan cafes, and chic coffee shops reflect the local population of families and hipster students. Little boutiques and small gift shops add to the small-town vibe that helps you forget you are in Scotland's capital city.
There are some curious attractions in the neighborhood, including a backstreet designed to look like it was taken straight from the American wild west. Supposedly built as a unique advert for a local furniture store, the façade has been left untouched for years, adding to its gritty, ghost-town vibe.
There's plenty of green space to enjoy down here too. The Hermitage of Braid and Blackford Hill Local Nature Reserve stretches out into the countryside surrounding the city. Within you can find golf courses, hiking trails, and the remains of various historic buildings.
The Royal Observatory is located in the north of the park. The pretty, Victorian structure is available for pre-booked tours and visitors can even gaze through the powerful telescope.
Stay In Bruntsfield And Morningside If you want to stay in one of the safest areas in Edinburgh; You want somewhere with fewer tourists but still within reasonable walking distance of the main attractions; Being right in the city center is not your top priority;
Best places to stay in Edinburgh in Bruntsfield:
FIND BEST HOTELS IN BRUNTSFIELD
6. Leith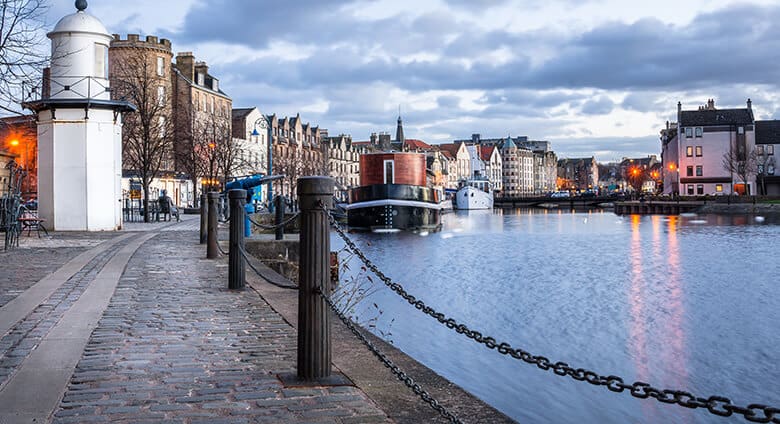 Located right by the docks on the shores of the Firth of Forth, Leith is a neighborhood quickly rising from its rough and ready past reputation into one of the coolest districts in Edinburgh. Right by the seafront, Leith is particularly lovely in the summer, when you can enjoy the sea breeze on a balmy day.
Out of the way of the central tourist districts, Leith has a much more residential, local vibe. Small shops and cafes line the quieter streets, and weekly market, Leith Market brings the community out to browse local produce and antiques.
Like many affordable, cool areas, Leith is popular with Edinburgh's arts community. The area is speckled with galleries and studios. Arts cafes and blues bars offer the chance to get to know the local creatives in a laid-back setting.
The main tourist attraction in Leith is the Royal Yacht Britannia. The luxury yacht was used as a residential and holiday ship by the royal family for decades, often sailing them to state visits in other countries. It is now permanently moored at the Leith docks and open to visitors to explore.
Leith is known to be particularly popular with foodies. As it has grown into an increasingly trendy neighborhood, fantastic restaurants have been springing up across the breadth of the district.
Covering a range of cuisines from traditional Scottish to Spanish and Polish, you are sure to find something to suit your tastes. With multiple harbors and marinas nearby, the seafood restaurants here are particularly excellent, stocked with fresh fish from the local fishing boats.
Many of the bars and restaurants in the area are lined up along the waterfront, taking advantage of the natural scenery. As a working port, you can enjoy a delicious meal whilst watching the ships drift in and out of the harbor.
A short walk, just a few hundred meters south along the waterfront, will lead you to Portobello Beach. On a warm day, it is the perfect place to lay back on the soft sand and relax. There are various bars restaurants and ice-cream stalls running along the back of the beach to keep you comfortable and refreshed.
If the sea is not enough for you, you can take a walk along the Water of Leith river instead. Much of the river is lined with trees and bars, while cafes are never too far away.
Further outside of the city center than the other districts in this neighborhood guide, Leith isn't the best base from which to spend your whole trip sightseeing.
However, it's just a short journey away from the city center attractions by bus, so still walkable if you have more time to spare.
For all that it is steadily growing into a more desirable area, its rougher roots and distance from the city center makes it one of the more affordable districts of the city. Being close to the water, staying grants you the opportunity to score a very reasonably priced room with stunning sea views.
You Should Stay In Leith If You want to stay in a cool, edgy neighborhood; You are working with a smaller budget; City center sightseeing is not your top priority; You are visiting for a longer stay;
Best places to stay in Edinburgh in Leith:
budget ($): Ocean Mist Leith, great accommodation, within walking distance from the Royal Yacht Britannia, offering express check-in and check-out, allergy-free rooms, a terrace.
budget ($): Crioch Guest House, family-friendly guest house, located in the Scottish capital of Edinburgh, offering family rooms and free parking which is ideal base for those travel with a car.
FIND BEST HOTELS IN LEITH
7. Broughton/ Calton Hill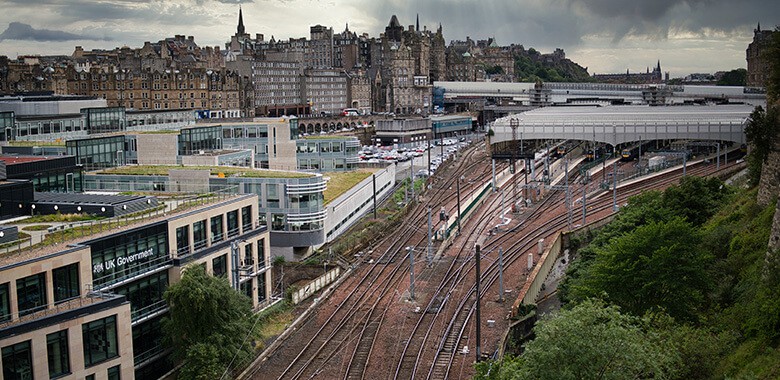 To the south of the city center is the residential neighborhood of Broughton. Bordering both the Old and New Town districts, this is a super central area that has all the atmosphere and laid-back attitude of a residential suburb.
Just a short walk from Waverly Train Station, it's a super convenient location with fantastic transport links, both throughout and outside of the city.
With accommodation typically cheaper than the main tourist districts, Broughton is the perfect choice for budget travelers, especially those backpacking around Scotland by train.
Broughton is a fantastic area for nightlife too. Close to the vibrant nightclubs of the city centre, and with plenty of bars and pubs of its own, you will be spoilt for choice for places to spend your evenings.
One of the most notable attractions in the Broughton area is Calton Hill. One of the most photographed parts of the city, Calton Hill is covered in significant monuments, several of which are iconic images of Edinburgh.
The National Monument of Scotland is the most prominent and impressive. The columned memorial is dedicated to the slain soldiers and sailors of the Napoleonic wars and resembles a Greek temple.
Built in 1926, it was technically never completed, due to lack of funding. However, in my opinion, that only adds to its resemblance to an ancient, ruined temple.
The neighboring Dugald Stewart Monument was also modeled on Greek architecture, with a circle of columns around a covered plinth. Various other monuments, as well as an observatory, top the hill, creating an impressive skyline.
It's not just the monuments that draw people up Calton Hill though. The high point offers uninterrupted views across the city and a particularly exquisite location from which to enjoy the sunset.
Stay In Broughton And Calton Hill If You want an affordable location close to the city centre; Being surrounded by vibrant nightlife is a priority; You want easy access to some of the most iconic monuments in the city;
Best places to stay in Edinburgh in Broughton and Calton Hill:
FIND BEST HOTELS IN BROUGHTON
8. Stockbridge/ Dean Village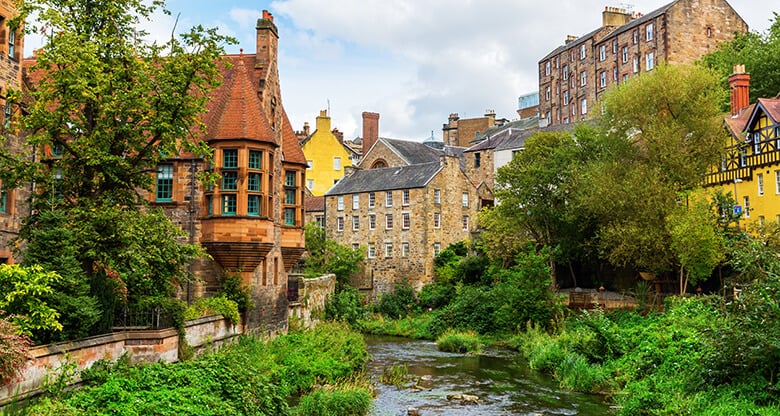 An upmarket neighborhood with a laid-back, village vibe, right at the heart of Edinburgh, Stockbridge is one of the most charming areas of the city. Extending out of the New Town district, the lovely Georgian architecture continues throughout Stockbridge.
If you want a glimpse at what the interiors of those houses may have looked like when they were first built, take a trip to Georgian House. The preserved house is furnished with period fixtures and décor, providing a detailed look at how the homes of the area would have originally been styled.
To the north of Stockbridge is the Royal Botanic Garden Edinburgh. Featuring over seventy acres of garden and greenhouses filled with thousands of plant species, the botanical gardens make a lovely escape from the press of the city.
There are frequent events and temporary exhibitions, so make sure you check what's on during your visit.
Despite being so close to the city center, Stockbridge retains a small town, community feel. Each Sunday, the Stockbridge Market brings the locals out to Kerr Street to sample various street-food dishes from around the world and pick up craft items.
The quaint Dean Village is an even more delightful example of a village atmosphere at the heart of the city. The Water of Leith river winds through the village, with the historic houses perched on the riverbanks.
The cobbled streets, ivy-covered stone houses, and burbling streams make a postcard-perfect scene that begs to be explored. Even if you don't stay here, it is definitely worth making a visit to Dean Village for an afternoon.
Just around the corner from Dean Village is the Scottish National Gallery of Modern Art. This provides a bit of a change from all the classic history of the area.
The collection spills out into the gardens, where you can often find interesting sculptures dotted around the uniquely shaped, ornamental lake.
There's an interesting mix of accommodation options in the area. More affordable options include charming B&Bs and apartments in historic houses. Meanwhile, the higher-end offerings include luxury hotels and riverside views.
Stay In Stockbridge And Dean Village If: You want to stay somewhere with a super local vibe, close to the city center; Being surrounded by stunning historic buildings is ideal; You want to stay somewhere with a small town, village atmosphere;
Best places to stay in Edinburgh in Stockbridge:
luxury ($$): Hapimag Resort Edinburgh, great 4-star family-friendly accommodation, offering quiet, elegant suites with a large bathroom and in-room dining facilities.
budget ($): The Raeburn, 4-star hotel, located in a beautiful Georgian property in the Stockbridge area of Edinburgh and within 20 minutes' walk of Princes Street and the New Town. It has fmaily rooms, wonderful breakfast and 24-hour front desk.
budget ($): New Town Guest House (Adults Only), great 3-star guest house, ideal base for adults and couples in Edinburg.
FIND BEST HOTELS IN STOCKBRIDGE
Where should I stay in Edinburgh for the first time?
Old Town is the best overall area to stay in Edinburgh for first-timers due to its central location, excellent connection to public transportation, and proximity to iconic attractions such as Edinburgh Castle and Royal Mile. Staying here allows you to be located in the middle of action!
What are the best areas to stay in Edinburgh for tourists?
Old Town, New Town, Newington, West End, Bruntsfield and Morningside, Leith, Broughton are some of the best areas to stay in Edinburgh for tourists because they are the most popular locations in the city, offering plenty of things to do and see.
Where to stay in Edinburgh with family?
Old Town, New Town, Leith, Haymarket, and Stockbridge are some of the best places to stay in Edinburgh with family. They provide a range of children-friendly accommodations and attractions for the whole family to stay and explore the city.
Is it better to stay in Edinburgh Old Town or New Town?
It ultimately depends on your preferences. If you want to be surrounded by history and charm, the Old Town is the place to be. However, if you prefer a more modern and cosmopolitan atmosphere, the New Town may suit you better.
How many days in Edinburgh is enough?
Well, that really depends on what you want to see and do! To experience Edinburgh's main attractions and a few hidden gems, 3-4 days is a good start.
In conclusion, Old Town, New Town, Newington, West End, Bruntsfield, Leith, Broughton, Calton Hill, and Dean Village are some of the best places to stay in Edinburgh for tourists and first-time travelers. Each area has its unique charm, so consider your preferences to choose the right base.
Overall, Old Town is the best area to stay in Edinburgh for first-timers because it's the most central location and a wide range of accommodation options. Staying here puts you within walking distance to major attractions, as well as many shopping, dining, and nightlife venues.