Where to stay in Cornwall first time? without a car, for families, beaches, and for couples? In this guide, we will be looking at the best areas to stay in Cornwall for first-timers (include map and video) and the best hotels in Cornwall for all budget travelers.
Located in the southwest of England, Cornwall is a part of the west country known for its outstanding natural beauty, sandy beaches, historic castles, fishing villages and so much more. In fact, it and the Lake District are often regarded as the two best outdoor locations in the UK.
Cornwall can be reached from London within 5 hours by car. Without a car, you can take direct trains from London, Bristol, Bath and Exeter to Penzance (main train station in Cornwall), Truro, St Austell, Bodmin Parkway. There are flights into Cornwall Airport Newquay. Add to it is the extensive bus network connecting Cornwall's towns and villages.
Where to Stay in Cornwall first time?
The best areas to stay in Cornwall for first-timers and tourists are St Ives, Penzance, Bude, Newquay, Bodmin, Looe, Falmouth, Padstow, and Truro. These are popular and safe towns, offering a wide varierty of attractions and amenities.
St Ives is the best area to stay in Cornwall for first time visitors. It is picturesque town that is known for its stunning beaches, art galleries, and narrow winding streets. It's a great choice if you're looking for a mix of beach activities and cultural experiences.
St. Ives, Falmouth, Newquay, Penzance, and Truro are some of the best places to stay in Cornwall without a car. These areas have plenty of things to do and see on foot. Additionally, they are well-connected by train and bus, allowing you to explore other parts of Cornwall easily.
The best areas to stay in Cornwall with family are Newquay, St Ives, Padstow, Falmouth, Bude, and Tintagel. These towns offer a variety of family-friendly accommodations, as well as an array of restaurants, cafes, and shops catering to different tastes and budgets.
The best areas to stay in Cornwall for couples are St. Ives, Padstow, Falmouth, and Newquay. Each of these locations offers unique experiences and attractions, ensuring a memorable stay for couples in search of a romantic getaway.
Map of areas and towns in Cornwall: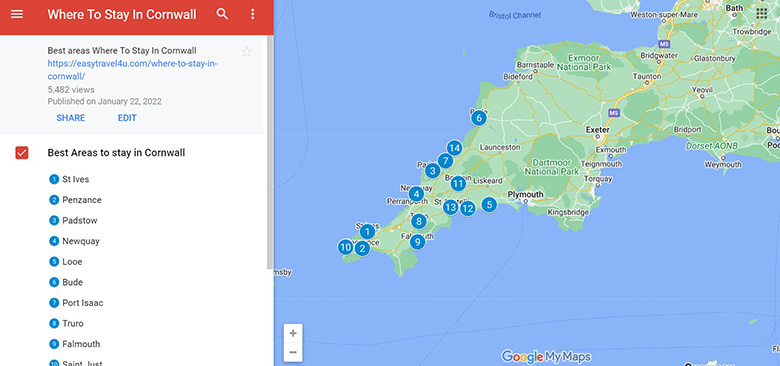 🎬 To get an overall idea of Cornwall, check out this short video, or continue reading:
Best areas to stay in Cornwall for tourists and first-timers are:
1. St Ives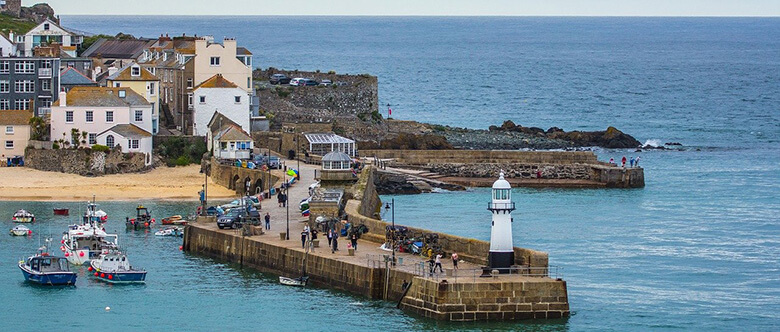 St Ives stands out as a charming coastal town with a unique blend of natural beauty, artistic heritage, and cultural attractions, making it a popular choice for first-time visitors to Cornwall.
St Ives is situated on the west coast of Cornwall, surrounded by beautiful beaches, rugged cliffs, and breathtaking coastal scenery. The town's picturesque harbor and quaint streets offer a unique and charming atmosphere that captivates visitors.
St Ives boasts a number of stunning sandy beaches, including Porthmeor Beach, Porthminster Beach, and Harbour Beach. These beaches are known for their crystal-clear waters, golden sands, and excellent facilities. They provide opportunities for swimming, sunbathing, and even surfing, making St Ives an ideal destination for beach lovers.
Carbis Bay also features the Carbis Bay Estate. A stunning building featuring bay windows and ball-painted walls, it has recently hosted the leaders of the world at the G7 Summit. What better way to get that exclusive feeling than to stay where the most powerful people in the world have?
Then there is the reputation St Ives has for its artwork. The town is also known for its independent boutiques, art galleries, and craft shops, offering unique and locally made souvenirs.
You can find works by both local and world-famous artists side by side at Tate St Ives Gallery, giving fans of art the best of both worlds.
There is the Barbara Hepworth Museum and Sculpture Gallery. Dedicated to the famous sculptor, her works have been preserved on the very grounds that she lived for 26 years, until her untimely death in 1975.
Depending on what time of year you visit, you may even be able to attend a fabulous festival as well. With attractions like the St Ives Feast, St Ives May Day, St Ives September Festival, and West Cornwall May Day Celebrations, there is almost always something going on to get involved in.
St Ives is also located on the South West Coast Path. The coastal path is one of the longest and most popular walking routes in the country, making St Ives a fabulous place to stay in Cornwall for anyone who enjoys coastal walks while taking in the sea air.
For golf enthusiasts, check out West Cornwall Golf Club, the oldest course in the County, which offers superb views over St Ives Bay and Hayle Estuary.
St Ives offers a fantastic selection of restaurants, cafes, and eateries, serving both traditional Cornish cuisine and international dishes. From freshly caught seafood to traditional Cornish pasties, there are plenty of options to satisfy your taste buds.
St Ives is easily accessible, with good transport links, including a train station and bus services. It is a great base for exploring other attractions such as Land's End, the Minack Theatre, St Michael's Mount, and the Eden Project.
St Ives Bay is located right along the coastal path. One of the best holiday parks in not just St Ives but Cornwall as a whole, it is a great way to choose from a range of self-catering cottages, that will keep you right in the thick of things throughout your stay.
Stay in St Ives if you're visiting Cornwall for the first time; you enjoy beautiful beaches; you are a fan of art; you are following the South West Coastal Path.
Best places to stay in Cornwall in St Ives:
luxury: Downsfield Bed and Breakfast, 5-star family-friendly hotel, one of the best places to stay in Cornwall for couples and families with children of all ages. Short distance from St Ives, Carbis Bay beach, and Carbis Bay Rail Station. It has free parking, family rooms, and wonderful Breakfast.
luxury ($$$: 27 The Terrace, 5-star hotel, one of the best places to stay in Cornwall for couples and adults. Children not allowed. It has free parking and is a 4-minute walk from Porthminster Beach and half a mile from Porthmeor Beach.
mid-range: Harbour Hotel St Ives, 4-star children-friendly hotel, offering views of Porthminster Beach with impressive views across St Ives Bay and Godrevy Lighthouse. You can enjoy local seafood in the traditional restaurant.
budget: Palma Guest House, a 3-star beachfront accommodation, located in St Ives, facing the sea. It has private check-in and check-out. Guests can enjoy sea views.
🔍MORE HOTEL DEALS IN ST IVES
See more:
2. Penzance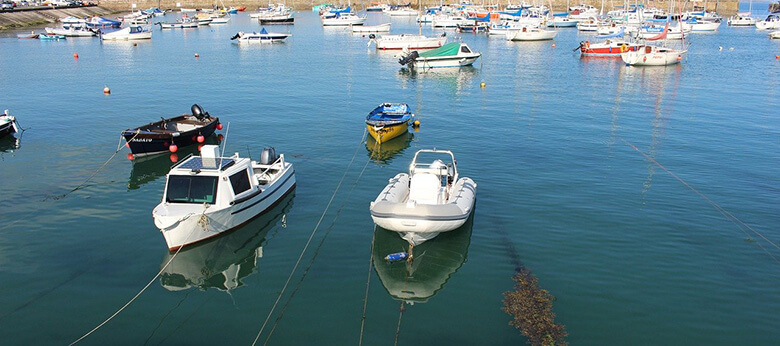 Penzance is located in West Cornwall, facing the shores of Mount's Bay, less than 10 miles from the most south-eastern point in the United Kingdom, Land's End. Penzance is more of a working town than a seaside resort. But is also has fantastic sea views, historic castles, museums in narrow streets.
At the heart of Penzance, you will find historic Chapel Street, the former main street of the town. With attractions like the Egyptian House, Branwell House, the Union Hotel, and a Georgian theatre, Penlee House Gallery and Museum, The Exchange Art Gallery, it is a great place to take a stroll and soak up some history.
Practically every building on Chapel Street has a story with others of note with the Admiral Benbow pub, the Rotterdam Buildings, and the Turk's Head pub.
However, for many, it is the outstanding natural beauty further away from the heart of the town that is the real attraction. For example, you have the Tanglewood Wild Garden, featuring ponds and manicured gardens in the Cornish countryside, surrounding a café serving fresh cakes and drinks. Other gardens to visit are Morrab Gardens and Trengwainton Gardens.
Then there is the Tremenheere Sculpture Gardens. This time featuring more exotic plants, it boasts a fabulous collection of modern art installations, as well as stunning views of the bay.
The Jubilee Pool, between the Promenade and the harbor, is the jewel in Penzance's seafront, the best spot in town in summer.
Be sure to check out the fishing village of Mousehole, a few miles west of the market town of Penzance, nestled on the western edge of Mount's Bay.
For the more adventurous among you, you even have the opportunity to visit St Michaels Mount. St Michael's Mount is a tidal island just off the Cornish coast. With a beautiful chapel and castle, it is a great destination for boat trips or even long walks when the tide is out.
Stay in Penzance if you're traveling on a budget; you travel without a car; you want to take a trip to St Michael's Mount; you are traveling to the most south-eastern point in the United Kingdom.
Best places to stay in Cornwall in Penzance:
🔍MORE HOTEL DEALS IN PENZANCE
3. Padstow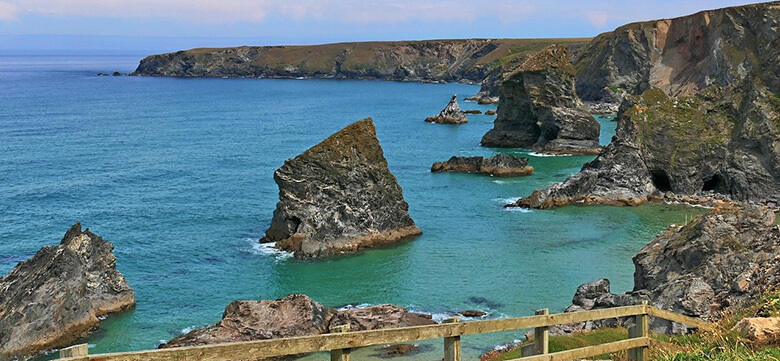 Located on the northwest coast of Cornwall, Padstow is a traditional fishing village, it began to gain traction for having some of the most outstanding natural beauty spots in the region. It's now become a famous tourist destination.
Padstow is by far one of the best towns in Cornwall for a foodie break, you will find four restaurants by famous chef Rick Stein like Stein's Fish and Chips and Michelin-starred Paul Ainsworth at No 6.
The Marble Cliffs and the Tregudda Gorge are both fabulous places to see how millions of years of erosion from the sea has affected the landscape. For the more adventurous, there is also The Round Hole, a collapsed sea cave, for you to explore.
The natural features even lend themselves to those simply wanting to relax as well. Cornwall is known for its rock pools and Padstow features some of the best in the entire region.
Padstow Habour is one of the greatest attractions of Padstow. it's filled with a gallery, Cornish ice cream parlors, restaurants, shops, tearooms, and pubs.
Hawker's Cove, George's Cove, and Tregirls are golden sandy beaches just within a short walking distance from Padstow harbor. You can easily find the surfing spot at Polzeath, Harlyn, and Constantine Bay along the coast nearby Padstow.
There are also many activities you can do while staying in Padstow such as taking a boasts trip to see dolphins, walk along the coast to Harlyn Bay, or Sir John Betjeman Walk.
It isn't all about natural beauty here though, as there is plenty of local culture, art, and architecture to enjoy as well.
Churches and memorials dating back as far as the 13th-century allow visitors the chance to delve into history, while a considerably more modern skatepark gives you somewhere to leave kids who don't want to tag along.
Prideaux Place, an Elizabethan Manor House set in a deer park and gardens offers the best view of the town.
If you like hiking, riding, check the 18-mile track Camel Trail connecting Padstow to Wadebridge and then Bodmin by an old railway track set through the Camel Estuary.
Depending on when you visit, you may even get lucky enough to witness one of the annual events that take place in Padstow. 'Obby 'Oss Festival and Mummers' Day both see the streets filled with people singing and dancing, allowing you the chance to see some Cornish culture live and in person.
Stay in Padstow if you travel with family; you enjoy natural beauty spots.
Best places to stay in Cornwall in Padstow:
luxury ($$$): Coswarth House, 5-star bed and breakfast, ideal place for couples and adults, located in Padstow, in a building dating from 19th century. You can enjot English Breakfast at Rick Stein's St . Petroc's Bistro or at Rick Stein's Cafe.
mid-range ($): Harbour Hotel Padstow, 4-star children-friendly hotel, located on Padstow's busy harbor front, offering views of the town and Camel Estuary. It has free car parking, and is located within easy walk from restaurants of Padstow harbor, including those of famous chef Rick Stein.
budget ($): Drang house, great accommodation, featuring guest house, rooms come with a wardrobe, a flat-screen TV, a private bathroom, bed linen and towels.
🔍MORE HOTEL DEALS IN PADSTOW
4. Newquay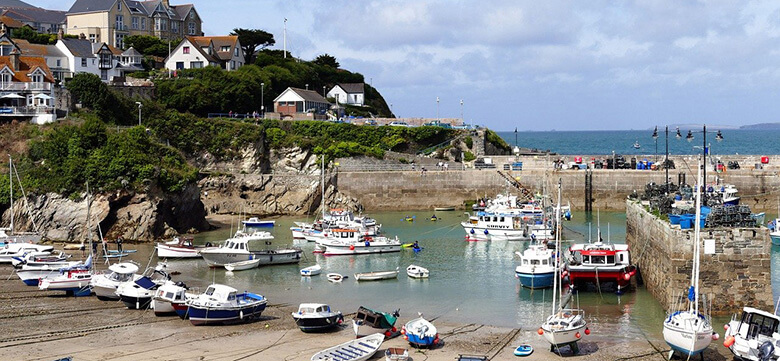 Newquay is an incredibly popular place to stay in Cornwall. A former fishing village, it has become one of the most famous surfing destinations in the United Kingdom. It has a lively nightlife, busy bars, water sports, and many family-friendly activities.
With numerous beaches and surf schools, it is a great place to hit the waves, no matter how much experience you have. Fistral Beach is perhaps the most popular option. With waves from the Atlantic Ocean breaking onto golden sand, it is ideal for surfers and casual tourists alike. You also have Bedruthan Steps, and Towan Beach, Watergate Bay, and Perranporth to choose from.
The further north you also have Watergate Bay. Located on a stretch of a more rugged coastline, it is better suited to more experienced surfers, looking to avoid the crowds, as well as anyone who simply enjoys beautiful coastal walks.
The surfing community has also helped the area to develop a distinctive culture. Various "hip" bars, shops and restaurants are dotted around, helping you to enjoy a truly laid-back and relaxing stay.
For those who don't want to spend all of their time at the beach, there are a number of other attractions available as well. For example, you have the Blue Reef Aquarium Newquay.
Cornwall Aviation Heritage Centre is a wonderful opportunity for families to experience the excitement of aircraft. The Newquay Riding Centre, Cornwall's Zorbing Park, the Bunker Cafe, and Holywell Bay Golf Club are worth a visit too.
Featuring more than 40 displays that include creatures like sharks, seahorses, lobsters, octopus, turtles, terrapins, rays, all manner of tropical fish, and even a 4-foot polychaete worm, it is a great place to learn about the ocean, without actually being in it.
Stay in New Quay if you want to learn at a surf school; you're into great nightlife; you are a surfer or enjoy surfer culture; you want to visit Blue Reef Aquarium Newquay; you enjoy coastal walks.
Best places to stay in Cornwall in New Quay:
🔍MORE HOTEL DEALS IN NEW QUAY
5. Looe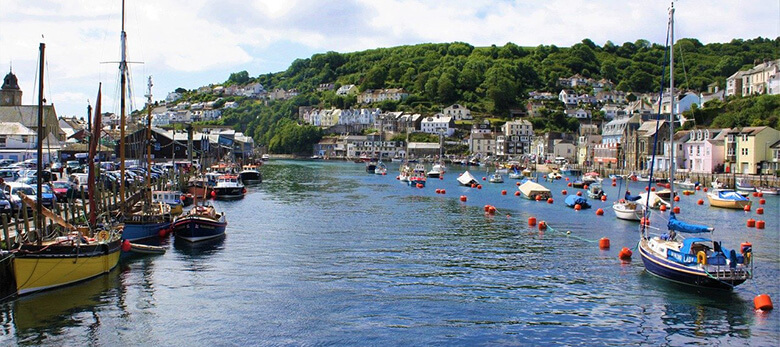 Looe is an all-rounder holiday destination for families. Looe has a stunning coastline, a charming harbor, beautiful sandy beaches, a wide range of activities, good shopping, and delightful restaurants.
Further east along the south coast you'll come to the town of Looe. Originally formed as two separate towns, East Looe and West Looe, connected by a bridge over the River Looe, it is centered around a beautiful harbor.
Known primarily as a fishing village, a number of fishing dealers operate in the town quay in East Looe. This makes it a fabulous choice for anyone seeking to enjoy some fresh seafood. There is also Looe Island just offshore, for anyone who really wants a watery getaway.
That said, in more recent times, the town has developed a strong surge in tourism, to the point it became the primary source of revenue. Hotels, guest houses, pubs, restaurants, souvenir and beachwear stores, as well as ice cream and Cornish pasty vendors have sprung up all over the town.
Similarly, so have a number of tourist attractions, such as the Wild Futures Monkey Sanctuary. The park was originally designed as a refuge for woolly monkeys; however, it has expanded to include capuchin monkeys, barbary macaques, and even the rare lesser horseshoe bats as well.
The Looe Museum is in the 15th century Old Guildhall on the main street to East Looe's seafront and jail on Higher Market Street, the Wild Futures Monkey Sanctuary, and Adrenaline Quarry.
With them all living in large enclosures that represent faithful recreations of their natural habitats, it makes a great way to get a break from the beach for a while and enjoy some wildlife.
Stay in Looe if you want to visit Wild Futures Monkey Sanctuary; you want to take a boat ride to Looe Island; you are a fan of areas targeted towards tourists; you like a great choice of beaches and amenities; you're traveling as a family.
Best places to stay in Cornwall in Looe:
🔍MORE HOTEL DEALS IN LOOE
6. Bude

The town of Bude is located on Cornwall's north coast, right on the Cornwall and Devon border. While historically a busy fishing town, it is now known primarily as a tourist destination.
With plenty of amazing restaurants, shops, cafes, small businesses, and sandy beaches, it's a great place to stay in Cornwall for some good, clean family fun.
Perhaps its most famous attraction is the Bude Sea Pool. A partially man-made tidal pool, it's a great place for the whole family to safely enjoy some time in the ocean. Further inland, you also have Bude Castle, a perfect attraction to keep the history buffs entertained while you're enjoying a swim.
Being on the north coast also means it will be the first major town you come to in Cornwall for anyone traveling down the South West Coastal Path. This makes it a great place to stop and rest up while hiking the route, as it adds plenty of options to keep you entertained during your break.
Stay in Bude if you are traveling along the South West Coastal Path; you want to swim in the Bude Sea Pool; you want an area that is specifically targeted at tourists.
Best places to stay in Cornwall in Bude:
🔍MORE HOTEL DEALS IN BUDE
7. Port Isaac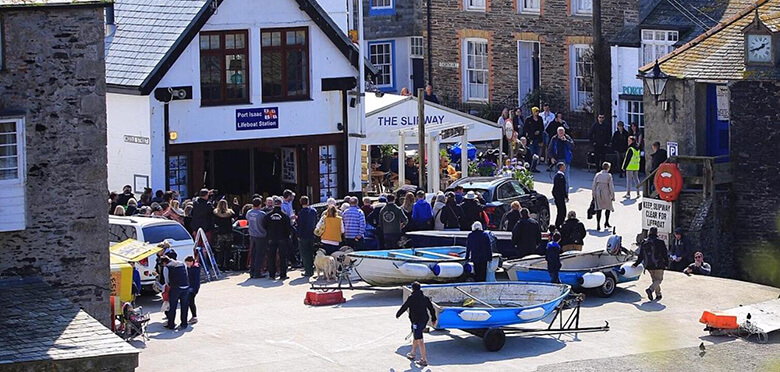 The town of Port Isaac is primarily known as a fishing village. Its picturesque harbor is one of the most important points for the fishing industry along the Cornish coast.
For years people have come here to enjoy the outstanding natural beauty on offer, as well as the relaxing atmosphere that accompanies it.
However, in recent times it has gained notoriety for its appearances in movies and television shows. Its narrow streets, independent shops, village pubs, and country houses made it the ideal setting for shows like Doc Martin and films like Fisherman's Friends, the latter of which was based on a true story that actually took place in the village.
You can explore Port Gaverne, Port Quin, Polzeath, Daymer, and Rock beaches, or walk at Camel Trail.
With the opportunity to enjoy fresh seafood, take in the stunning views, embrace the local culture and even hunt for recognizable locations, Port Isaac has transformed itself into the perfect place to stay in Cornwall to ensure there's something for all the family to enjoy.
Stay in Port Isaac if you want to visit a stunning small fishing village; you are a fan of any of the projects recorded here; you prefer independent shops, pubs, and businesses.
Best places to stay in Cornwall in Port Isaac:
🔍MORE HOTEL DEALS IN PORT ISAAC
8. Truro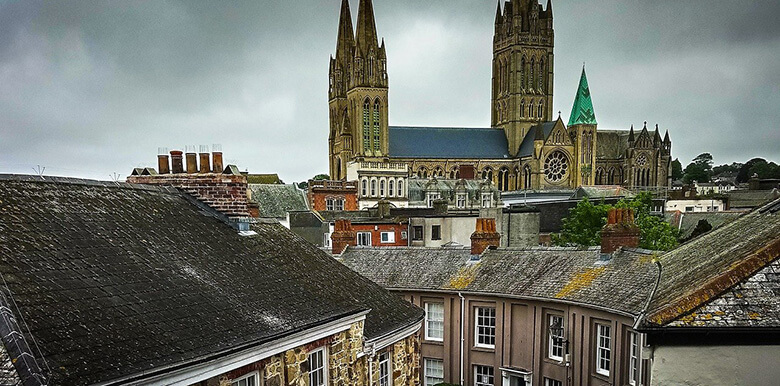 Truro is the administrative capital of Cornwall, its only city in the county, as well as the most southerly city in the United Kingdom. This means you are much more likely to find things like large chains and high street stores than you would elsewhere in Cornwall.
Truro is the county's main shopping hub with lots of traditional, independent shops, restaurants, and excellent public transport.
While this may make it more appealing to those who enjoy their home comforts while away, it shouldn't put off those looking for a more traditional experience either.
Originally settled as a market town, it still features the permanent Pannier Market, as well as holding multiple farmers markets each week, on a Wednesday and a Saturday. This gives you the opportunity to buy traditional wares and foods while taking in some of the local cultures.
As with many places in the UK designated a city, Truro also features a cathedral. Truro Cathedral is one of the most popular attractions in all of Cornwall, which was built in the late 19th and early 20th-centuries in the Gothic-Revival style.
Combined with The Royal Cornwall Museum, which holds relics and teaches the history of the entire region, it makes Truro one of the best places to stay in Cornwall when traveling as a group, as there is something that will please all types of visitors during their stay.
Don't forget to check out beautiful gardens such as Poppy Cottage Garden, Victoria Gardens, Tregothnan Estate, and Bosvigo Garden. And Lemon Street Indoor Market, Skinner's Brewery, Healey's Cornish Cider Farm are nice places to see.
Stay in Truro if you want to shop in a market town; you want to visit Truro Cathedral or The Royal Cornwall Museum; you prefer an area with more home luxuries.
Best places to stay in Cornwall in Truro:
🔍MORE HOTEL DEALS IN TRURO
9. Falmouth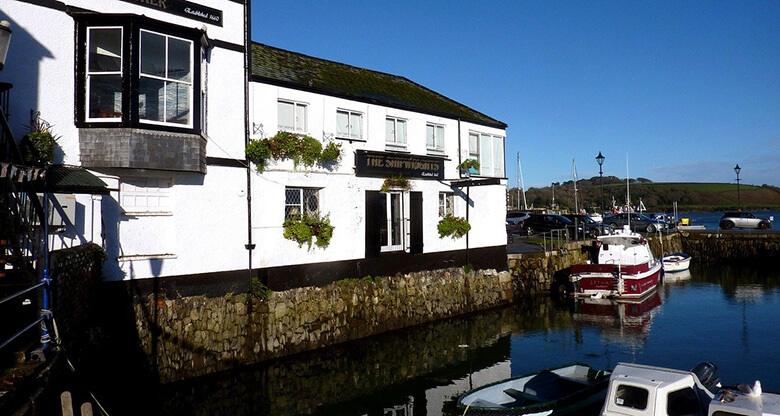 Falmouth is a favorite location for a family stay in Cornwall. Its convenient location with a train station makes it a great base to explore. And many restaurants, pubs, museums, and outdoor activities.
Falmouth is located on the east coast of Cornwall, about 11 miles south of Truro. Throughout history, it has remained an important location as the largest port in Cornwall. While not as busy as it once was, the docks still represent a huge portion of the city's economy to this day.
Outside of the docks, the other main contributor to the city economy is tourism. For starters, it has a collection of 5 beaches: Castle, Gyllyngvase, Maenporth, Swanpool and Tunnel. This gives beach fans a great selection to choose from based on their tastes and how busy each is, ensuring they can always find somewhere to relax.
Beyond the beaches, there are also a couple of popular tourist attractions as well. The National Maritime Museum Cornwall tells the history of boats and the sea and explains how they have shaped Cornwall and the lives of the people who have lived here through the centuries.
Another place to visit for history buffs is Pendennis Castle. Pendennis Castle is one of the finest of the mighty fortresses built by Henry VIII to defend the country against invasion.
Then there is the Trebah Tropical Gardens. Located 7 miles outside the town, it features a wide range of strange, yet beautiful tropical plants, giving you the opportunity to enjoy a completely different side of nature for a while.
Other gardens are the Fox Rosehill Garden and the Glendurgan Valley Garden.
Stay in Falmouth if you want to visit the Trebah Tropical Gardens, the National Maritime Museum Cornwall; you like a good selection of beaches.
Best places to stay in Cornwall in Falmouth:
🔍MORE HOTEL DEALS IN FALMOUTH
10. St Just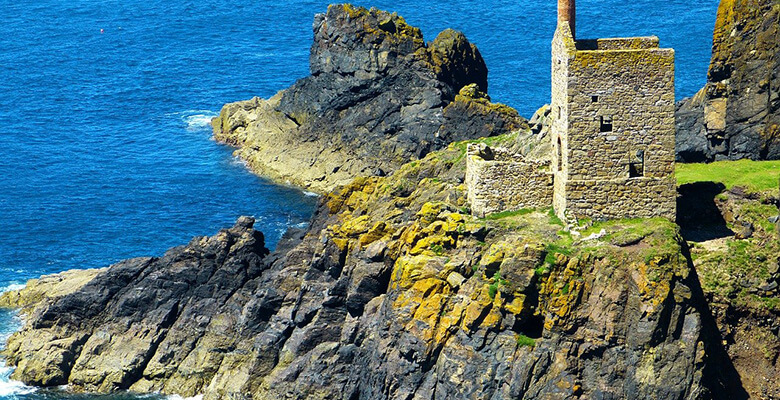 St Just is located in the very southwest of Cornwall, 7 miles west of Penzance, and just 6 miles north of Land's End. In fact, it is recognized as the most westerly town in all of mainland Great Britain.
It is also one of only two towns located within the famous Cornwall Area Of Outstanding Natural Beauty.
A very small town with a quiet residential community, its main source of income throughout the centuries has largely revolved around the mining of copper and tin. In terms of physical attractions, the 15th century Parish Church Of St Just is really all there is to speak of, as beautiful as it is.
However, what makes St Just worth visiting is the distinctive culture you will find there. For starters, the town has a thriving artistic scene. Local painters, musicians and legendary comedian Jethro all hail from the town and regularly display their works for locals and visitors to enjoy.
A number of Plen An Gwarry, essentially open-air Cornish playhouses, are also located in St Just. In addition to hosting the types of performance we have already looked at, they also provide a sense of history and culture, as well as the ability to be used for something else St Just is known for, festivals.
Most prominently, the Lafrowda Festival is a week-long festival held every July. With feasting, church services and performances, it celebrates the dedication of the parish church and is perhaps the best way to get a true sense of the culture and community that exists in St Just.
Attractions nearby include Cape Cornwall, Botallack, the Pendeen Lighthouse, Geevor Tin Mining Museum.
Stay in St Just if you are visiting the Cornwall Area Of Outstanding Natural Beauty; you want to attend the Lafrowda Festival; you are interested in the local art.
Best places to stay in Cornwall in St Just:
🔍MORE HOTEL DEALS IN ST JUST
11. Bodmin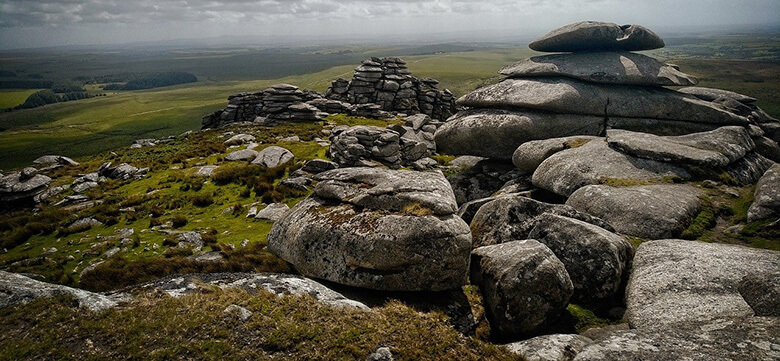 Bodmin is located at the very center of Cornwall, making it an excellent destination for those who are planning to explore more than one area. The former capital of Cornwall, it is one of the more built-up areas in the region.
Bars, restaurants, coffee shops, and stores provide plenty of conveniences to help fuel a relaxing break. This makes Bodmin a perfect place to stay in Cornwall for those who don't want to leave their city luxuries behind.
While there are a number of attractions in Bodmin that draw visitors to the area, there are two that stand out above the others.
First, you have Bodmin Jail. Opened in 1779 and in operation for 150 years, the ruins are a popular destination for history buffs. Parts have even been renovated and turned into a museum and hotel, allowing you to learn about and stay in one of the town's most famous institutions.
Then, you also have Bodmin Moor. Covering 80 square miles, this is where the town takes its name from. Abundant with marshes, rivers, plants, wildlife, and even historic buildings, monuments, and ruins, it is a fabulous place to spend some time walking and taking in the beauty and culture of the Cornish countryside.
Stay in Bodmin if you want to visit Bodmin Moor or Bodmin Jail; you prefer a slightly more built-up town; you enjoy walks in the countryside, looking at wildlife, landscapes, and historic sites.
Best places to stay in Cornwall in Bodmin:
🔍MORE HOTEL DEALS IN BODMIN
12. Fowey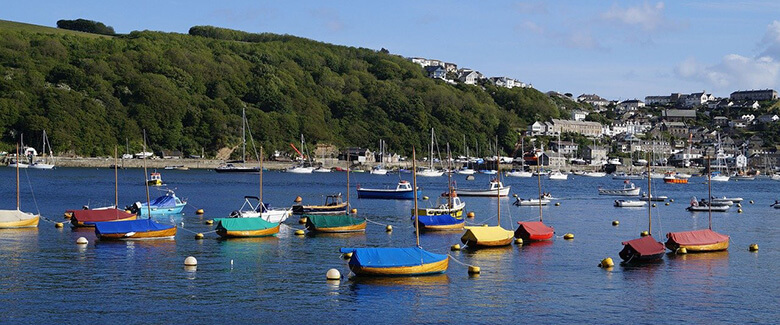 Located on the south coast, it has long been an important trading point, due to its beautiful, natural harbor. The combination of its River Fowey and seafront location makes it a great place to stay in Cornwall for anyone wanting to take a boat trip. Whether it be a quick water taxi or a longer voyage, it's a perfect way to get out on the water.
In fact, most of the people who visit Fowey do so based on its watery amenities. Perhaps you want to attend an event at the Royal Fowey Yacht Club? Maybe you want to try some of the fresh seafood caught by the many local fishermen? You might even want to go out and catch some yourself?
Whatever it is you have in mind, if you're a fan of the sea, Fowey is a place you definitely need to consider when deciding where to stay in Cornwall.
You also have plenty of attractions nearby to explore like the Old House of Foye on Fore Street, the Fowey Museum, St Catherine's Castle, the Daphne du Maurier Literary Centre, and the Fowey Aquarium.
Stay in Fowey if you want to take a boat trip; you are attending an event at the Royal Fowey Yacht Club; you are a fan of fishing or enjoy fresh seafood.
Best places to stay in Cornwall in Fowey:
🔍MORE HOTEL DEALS IN FOWEY
13. St Austell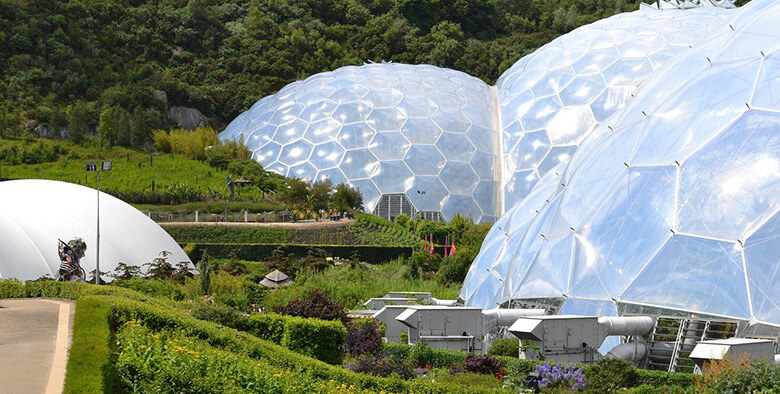 St Austell is again located on the south coast, this time to the west of Fowey, and is one of the largest towns in Cornwall. However, the majority of its visitors are actually looking for somewhere to stay in Cornwall while they visit the attractions located in the surrounding area.
Most prominently, you have the Eden Project, located 3 miles to the southwest of St Austell. Completed in May 2000, the Eden Project features two huge, domed enclosures, that house thousands of species of plant.
Designed primarily as a way for people to see and learn about all manner of plants, it has evolved into a full-scale tourist attraction. In recent years, facilities including art installations and stages for musical performances have been added, ensuring it can provide entertainment for the whole family.
Another popular attraction in the area is the Lost Gardens Of Heligan. It boasts walled gardens, lakes, a charcoal kiln, various plants, fruits and vegetables, as well as the only pineapple pit in Europe. This makes for a great place to have some unique outdoor adventures.
There's even the Wheal Martyn China Clay Museum, where visitors can learn about China clay mining at a preserved, Victorian clay works. You can also visit St Austell Brewery and St Austell's White River Place.
St Austell's central location makes it the ideal place for anyone wondering where to stay in Cornwall while visiting these and some of the other attractions located in the area.
Stay in St Austell if you want to visit the Eden Project or the Lost Gardens; you want to stay in a larger town.
Best places to stay in Cornwall in St Austell:
🔍MORE HOTEL DEALS IN ST AUSTELL
14. Tintagel

Tintagel is located on the west coast of Cornwall, less than 10 miles north of Port Isaac. While it can still be enjoyed for many of the same reasons as the rest of Cornwall, the primary reason people visit Tintagel is for its archaeological value.
Excavations of the area began in the 30's and have uncovered a rich past, with numerous buildings and artifacts having been unearthed. A building believed to be either a Celtic monastery or fort is surrounded by an ancient trading settlement. Mediterranean oil and wine jars show the diverse nature of the inhabitants, while traces date the settlements as early as the Bronze Age.
Perhaps the most famous location in the area is Tintagel Castle. Built in the 13th-century and standing right on the coast, the imposing structure demonstrates the power of the area throughout the ages.
Tintagel is also a place steeped in Arthurian legend. From the mention of a castle called "Tintagol" in the legends, to the Artognou Stone found in its ruins, Tintagel is a place many believe to be the best proof available that the legends were perhaps true after all.
Other attractions near Tintagel are the Hall of Chivalry, King Arthur's Great Halls, St Materiana's Church, the Old Post Office, and Merlin's Cave.
Stay in Tintagel if you want to visit Tintagel Castle; you are a fan of archaeology; you are interested in the legend of King Arthur.
Best places to stay in Cornwall in Tintagel:
🔍MORE HOTEL DEALS IN TINTAGEL
See More:
Summary – Where to stay in Cornwall?
In conclusion, St Ives, Penzance, Bude, Newquay, Bodmin, Looe, Falmouth, Padstow, and Truro are some of the best places to stay in Cornwall for tourists and first-time travelers. They offer a diverse range of accommodation options and activities for preferences and budgets.
St Ives is the overall best area to stay in Cornwall for first-time visitors. It is a picturesque seaside town that is known for its artistic community, sandy beaches, and clear blue waters. It's a great choice if you're interested in art galleries, boutique shopping, and coastal walks.
Cornwall is a wonderful location that's equally brilliant whether you want a relaxing vacation enjoying beaches and quaint villages or a fast-paced trip surfing and taking in the sights.
Hopefully, this article will have helped you decide where to stay in Cornwall for first-time travelers to best meet your own needs. All that's left is to start getting things booked, so you can set off on your perfect trip and experience it all for yourself as soon as possible.