The best areas to stay in Glasgow for first-timer are the beautiful neighborhood of Glasgow Central, Glasgow East, West End, Glasgow South, North West, Glasgow North. This blog will help you to find where to stay in Glasgow for tourist, and best places to stay in each areas.
The historical port city of Glasgow has a long and complex history that grants the modern-day metropolis a wealth of character. As the city with the largest student population in Scotland, Glasgow is great for anyone looking for an active and varied nightlife. Alternatively, the numerous universities in and around the city mean there is no shortage of museums, exhibitions, and shows, for anyone looking for a more cultural trip.
Glasgow City Centre is the best area to stay in Glasgow for tourist, especially for first-timer due to its central location and wide range of accommodation options. If you book a hotel here, you will be located in the heart of the city, within walking distance to many shopping, dining, and nighlife venues.
If this is your first visit, I recommend spend at least 3 days in Glasgow to explore the city. This time will allow to see some of the best landmarks in the city as well as get the sense of the local history and culture. If you have more days, you can enjoy the city in a slower and more relaxing pace.
Depending on when you intend to visit Glasgow, it's worth checking up on whether any of the city's year-round calendar of festivals will be taking place. Even if you've visited Glasgow before, there's always something new to check out each time you return.
📌8 Best Areas to Stay in Glasgow for tourists
1. Glasgow City Centre, where to stay in Glasgow for first time tourists
Located on the north of the River Clyde, Glasgow city center is, as you would expect, located right at the heart of Glasgow. It's a hub of stunning Victorian architecture, as well as shops, restaurants, and bars, which caters to the local population as well as tourists.
The range of shops on offer has appeal for all price points. There is a wide array of well-known, high-street brands, as well as streets populated with higher-end boutiques and big-name designers.
In fact, the area to the south of this district is so renowned for its shopping culture that it has earned the nickname 'Style Mile'.
You can find large commercial avenues and mostly pedestrianized thoroughfares in the city center such as Buchanan Street, Argyle Street, George Square, and Sauchiehall Street.
If you love shopping, be sure to check out the Buchanan Galleries which is one of the most stylish shopping centers in the country. The St. Enoch Centre is another fantastic place to shop in the city.
The area is built on a grid system that makes finding your way around amazingly easy, even for first-time visitors.
This is also where you will find most of Glasgow's most prominent theatres and concert halls. If you intend to take in some of Glasgow's world-class performance art, this is an area that's worth looking into. You would be wise to plan ahead and book tickets in advance though, as the venues are extremely popular.
If you prefer cinema to theatre, the Cineworld on Renfrew Street offers a unique experience, as it holds the status of being the tallest cinema in the world, with 18 screens spread over six floors. With so many options to choose from, they're sure to be showing something you will enjoy.
If you are traveling to or from Glasgow by train, then this would be a good place to start looking for a place to stay. Serviced by the two main train stations in the city, Glasgow Central Station and Glasgow Queen Street Station, you will have no trouble hauling your luggage to and from your hotel.
You also have Buchanan Street Bus Station, the main bus terminus in Glasgow where you can easily travel to many parts of the city, Scotland, and the United Kingdom.
This is particularly convenient if you will only be staying in the city for one night or two, as you won't have to worry about missing your train or wasting ages getting to the station.
Popular tourist attractions near the city center are Glasgow Cathedral which is the oldest cathedral in mainland Scotland; the Necropolis which is a Victorian garden cemetery full of wonderful architecture; the St. Mungo Museum Of Religious Life & Art, and Provand's Lordship.
Stay in Glasgow City Centre if you're looking for where to stay in Glasgow as a first-time tourist; you are coming in or out of the city by train; you are planning a shorter trip; shopping is a priority for you; you would like to catch a show;
Best places to stay in Glasgow City Centre:
Kimpton – Blythswood Square Hotel, an IHG Hotel One of the best luxury hotels in Glasgow, located right in the heart of the city center, within a short walking distance from Sauchiehall Street and Buchanan Galleries. Close to all the main stations such as Glasgow Central Train Station, Buchanan Street Station, and Glasgow Queen Street Station.
DoubleTree by Hilton Glasgow Central A 4-star mid-range hotel in Glasgow central, within an easy walking distance from Glasgow Central Station, Glasgow Queen Street stations, Buchanan Street bus station, Buchanan Galleries, and the Hydro and SECC – the main shopping district in Glasgow.
ibis Styles Glasgow Central A budget 3-star hotel, located in an excellent location, close proximity to many main train stations and most major sights in Glasgow such as Buchanan Galleries, Glasgow Royal Concert Hall, George Square, Sauchiehall Street, and Kelvingrove Art Gallery and Museum.
See more:
2. George Square, heart of the city with stunning architecture

George Square is a prominent civic square to the northwest of the city center. As a regular host to a wide range of events, from open-air concerts and presentations, to ceremonies and parades; there will usually be something going on here.
The surrounding buildings are all very architecturally distinctive. Mostly built in the late 1800s, the buildings have a grand, ornate style, which speaks to the city's history as a trade and economic center.
The most notable buildings overlooking George Square are the Glasgow City Chambers to the east, which houses the city council.
Perhaps of more interest to general visitors, however, would be the Merchants House to the west, another beautiful building, which often hosts performances by orchestras and jazz musicians.
The square itself is home to a number of statues and monuments, including the city's cenotaph, which acts as the centerpiece in Glasgow's Memorial Day parades.
There are 12 statues in George Square, including monuments to Robert Burns, James Watt, the 80ft tall column dedicated to writer Sir Walter Scott, and the only known equestrian statue of Queen Victoria.
The streets leading off of the square are host to a wide array of cafes and restaurants, perfect to relax in when you need a break from walking around. Once you're ready to take in more culture, the Gallery of Modern Art (GoMA) is just a short walk away to the southwest of the square.
Other places of interest around the square are the Millennium Hotel Glasgow, Royal Exchange Square which is a great space for enjoying alfresco dining, and The Cenotaph – George Square War Memorial.
The square is very conveniently located with both the Glasgow Queen Street train station and the Buchanan Bus terminal, two of Glasgow's biggest transport hubs, within easy walking distance. This makes the area ideal if you are only planning to be in the city for a short time.
Stay in George Square if you appreciate ornate architecture; you are traveling in and out of the city by bus or train; you like history; you want to be close to the city center but away from the worst of the crowds.
3. Merchant City, where to stay in Glasgow for shopping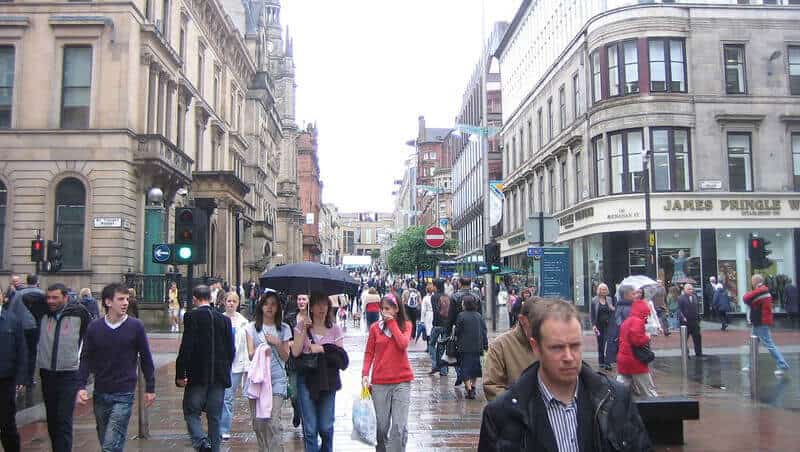 Considered the cultural quarter of Glasgow, Merchant city sits immediately to the east of the city center. The area gained its name due to being home to many of the wealthiest merchants of the 18th century.
Merchant City's reputation as a commercial hub continues to this day, with the area known for housing the most high-end boutiques and shops in the city especially on Argyle Street and Ingram Street, two of Glasgow's best shopping streets.
You can spend an afternoon browsing around big-name brands like Ralph Lauren and Boss, whilst also discovering some more exclusive designers.
Smaller, independent designers and artists also populate this area. You can find a number of art galleries and studios settled in beautiful renovated older buildings around the Merchant City.
Investment into the area over the past few decades has introduced a wealth of cafes, restaurants, and bars into the surrounding streets. Great for kicking back and relaxing after a long day's shopping.
Once the evening draws in you can head out to some of the many theatres and music venues that populate this area, as Merchant City is well-known for its art and culture scene.
The new arts scene makes use of the area's commercial heritage though, by reappropriating some of the old trade buildings into events spaces, with one of the most iconic of these renovations being the Old Fruitmarket.
Every summer, the area also hosts the Merchant City Festival. An open-air festival of arts and performance, the celebrations often include parades, live music, and street theatre. It's a vibrant event you won't want to miss if you're in town during the occasion.
Stay in Merchant City if you enjoy high-end shopping; you are looking to enjoy the more luxurious aspects of the city; you are interested in art and culture; you are planning to attend the Merchant City Festival.
4. Finnieston, where to stay in Glasgow for foodies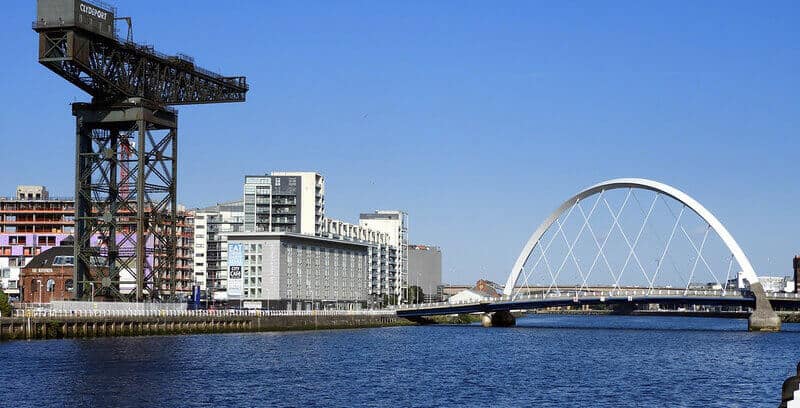 West of the City Centre is the district of Finnieston. Granted the title of "One of the Top 10 Coolest Neighborhoods in Europe" by The Independent, this is the area to go if you want to experience the trendier side of Glasgow.
Close proximity to popular attractions such as Kelvingrove Art Gallery and Museum, Riverside Museum, the University of Glasgow, Kelvingrove Park, The Mitchell Library, the Botanic Gardens.
The biggest draw to Finnieston is the food. The area is jam-packed with some of the top, award-winning restaurants in the city. There is a wide variety on offer here, from traditional Scottish fare, cooked with fresh, local ingredients, to Spanish tapas and exclusively vegan bars.
Many of the restaurants in this area have been recognized in the Michelin Good Food Guide, so you are certain to find something to please your palette.
If you are looking for a more relaxed dining experience, then you will definitely want to visit one of the nearby street food markets. The Dockyard Social Market is a covered venue hosting a plethora of street food vendors and lives music every weekend.
If you don't want to spend your whole trip eating, there is still plenty to keep you entertained after you've had your fill.
The Hidden Lane, just off of Argyle Street, is a hive of studios, home to a community of over 100 independent artists, designers, musicians, crafters, and general creatives. It's a great area to pick up some really unique gifts and souvenirs.
There are also some big events venues in this area, most notably the SSE Hydro Arena, which hosts a variety of entertainment by some big names including Elton John, Dua Lipa, and Bill Bailey.
Stay in Finnieston if you love good food, you want to experience the young and hip area of Glasgow, you appreciate small and independent artists and craftspeople, you are attending a concert or event at the SEC Centre or SSE Hydro.
5. West End, where to stay in Glasgow in a student area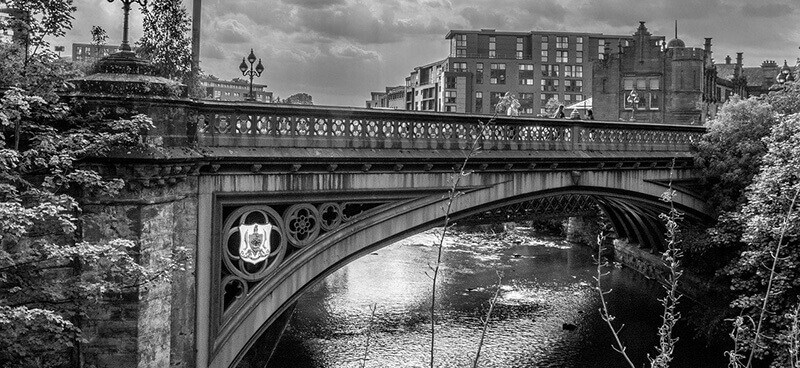 Glasgow's West End consists of a number of smaller, mostly residential, neighborhoods. The area is best known for its beautiful Victorian architecture and quirky backstreet shops and cafes.
Byres Road is particularly well known for its cobbled streets and charming array of small restaurants and cafes. If you visit in the evening you can enjoy a drink from one of the intimate bars, under the glow of fairy lights draped between the buildings down the length of the street. It's around areas of Hillhead and Dowanhill.
You can also find a number of vintage and antique shops in the lanes surrounding Byrnes Road. It's a great place to pick up some unique souvenirs or to do a bit of bargain hunting.
Home to the University of Glasgow, this area is particularly popular with students, so you will find an active nightlife scene here. Connected to the neighboring fashionable districts of Finnieston and Partick, this part of the city is full of popular clubs and bars.
Ashton Lane is a popular hangout for local university students, lined with shops, cafes, bars, and pubs.
The University of Glasgow building itself is also an attraction that is well worth visiting. The iconic building is a gorgeous example of gothic revival architecture.
As the fourth oldest university in the English-speaking world, the campus houses the oldest museum in Scotland, the Hunterian Museum and Art Galleries.
In the north of the area are the Glasgow Botanic Gardens. Particularly beautiful in spring and summer, this Victorian glasshouse is home to a collection of marble statues dotted amongst the flowers. You also have Kelvingrove Park South.
In summer, the gardens are host to the Bard In The Botanics festival, where you can witness Shakespeare's works performed around the grounds of the park.
In June, the area hosts the West End Festival, which involves several weeks of parades, street parties, live music, markets, and outdoor entertainment. It's the biggest annual festival in Glasgow and draws quite a crowd of both locals and tourists who travel in for the occasion.
Other attractions near West End such as Kelvingrove Art Gallery and Museum can easily reach from Kelvingrove subway station; Kelvingrove Park located near River Kelvin, Glasgow Exhibition and Conference Center, and the fascinating Police Museum.
Stay in West End if you appreciate architecture, you want to experience student life in Glasgow, you want a vibrant nightlife, you are visiting for the West End Festival, you want more independent shops and eateries.
There's plenty to see and do in Glasgow's sprawling West end but, with much of the area dedicated to residential housing, it can be tricky finding a hotel that suits you. Situated just off of the thriving Argyle Street, The Kelvingrove Hotel is one of the best places to stay in Glasgow West End and will have you staying right in the heart of the action.
6. East End, where to stay in Glasgow on a budget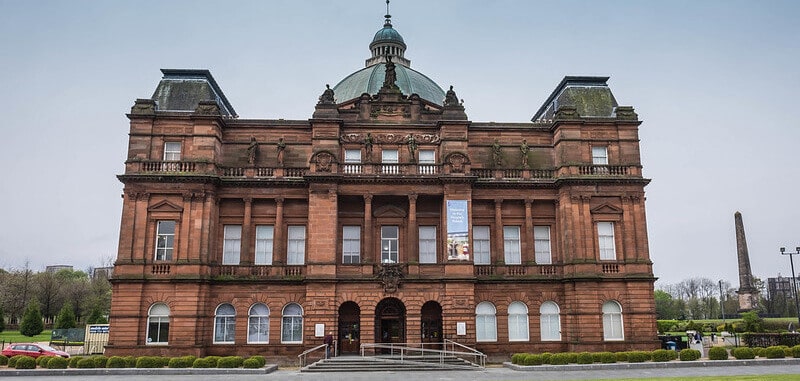 The East End of Glasgow is a less fashionable neighborhood but it has a distinct charm of its own. Historically a more working district, the area retains its unpretentious character.
One of the most iconic features of Glasgow's East End is Barrowland. Easy to spot with its massive neon signage, Barrowland is a ballroom turned world-famous music venue, surrounded by streets hosting both open-air and covered markets, known as the Barras. Stalls in the markets sell everything from fresh fruits and vegetables, to antiques and traditional Scottish goods.
To the south, on the banks of the River Clyde, you will find Glasgow Green. One of the oldest public parks in Britain, the grounds are home to the People's Palace and the neighboring Winter Gardens.
The People's Palace Museum is a late 19th-century building, designed as a cultural center for the public. It now houses an exhibition on the history and social development of Glasgow from 1750 to the modern era.
Once you're done with the exhibition, you can head into the Winter Gardens, a beautiful glasshouse where you can enjoy a cup of tea amongst the exotic foliage.
For those with alternative tastes, the Glasgow Necropolis is to the north. Accessible via a pair of ornate gates, this Victorian park cemetery offers a stunning display of 19th-century stonework and artistry. Next to it is Glasgow Cathedral.
This is also the home of the Celtic football club and fans can find a number of shops and pubs around the area dedicated to the team.
Stay in East End if you want to visit the iconic Barrowland Ballroom and markets; you want to learn about the history of Glasgow; you're a fan of Celtic F.C.; you want to stay out of the hustle and bustle of more popular neighborhoods.
Check out my virtual tour about the best places to stay in Glasgow in this video:
7. Glasgow South, lots of open-air and green space

South of the River Clyde is home to one of Scotland's most popular modern attractions, the Glasgow Science Centre. Comprising three buildings, including Scotland's first IMAX cinema, the Science Centre was opened to the public by Queen Elizabeth II in 2001.
The main building, The Science Mall, contains three floors of exhibition space, with the first two floors aimed at encouraging children to take an interest in STEM careers. The top floor hosts frequently changing exhibitions, suitable for visitors of all ages.
Sports fans may be interested in attending a match at the Hampden Park stadium which serves as Scotland's national stadium of football. You can visit Scottish Football Museum to learn more about the history of football.
Much of the rest of this area is composed of residential neighborhoods and public parks. The family-friendly park, Pollok Country Park in the southwest was awarded the title of Europe's Best Park in 2008, so it is worth taking an afternoon stroll around.
There are also Scotland Street School Museum and House for an Art Lover, an art haven, designed by Charles Rennie Mackintosh which is located in Bellahouston Park.
Other places of interest are the Citizens Theatre, the Tramway, Govanhill Baths, and Grand Ole Opry.
The Southside of Glasgow is well-connected by subway, bus, and train with the city center.
Stay in Glasgow South if you want to visit the Glasgow Science Centre; you're attending an event at Hampden Park; you want to stay in an area with lots of open-air and green space.
8. Glasgow North West, where to stay in Glasgow for local life
Glasgow North West is a primarily residential area, with a little specific draw to tourists unfamiliar with the area. Comprising various suburbs, most of the entertainment in these areas is catered towards the local population, with small, niche museums, and community theatres.
A number of public parks and golf courses are available to anyone looking for outside entertainment. Knightswood Park sits next to the Knightswood golf course and boasts a decorating lake with its own model boat club and tennis courts.
Being further out of the city means that prices for accommodation and local restaurants are typically cheaper. If you intend to go into the city, there are a number of train stations dotted about the area to get you into the city center.
Alternatively, if you are driving into Glasgow, the Great Western Road will take you all the way into the center of town. As such, this area is ideal for anyone bringing their car to Glasgow who doesn't want to worry about city-center traffic.
Stay in Glasgow North West if you want to experience every day Glasgow; you want to stay away from crowded tourist centers; you are arriving in Glasgow by car;
Where should I stay in Glasgow for the first time?
Glasgow City Centre is the best area to stay in Glasgow for first-timers due to its prime location. If you stay here, you will be located within easy access to top tourist attractions and amenities.
What are the best areas to stay in Glasgow?
Glasgow Central, Glasgow East, West End, Glasgow South, North West, Glasgow North are some of the best areas to stay in Glasgow because they are the most popular locations for tourists.
How many days in Glasgow is enough?
Well, that really depends on what you want to see and do in Glasgow. But I'd say at least 3-4 days would give you a good taste of the city's attractions, culture, and vibe.
See More:
Overall, Glasgow City Centre is the best area to stay in Glasgow for tourist because it's the most convenient location. If you stay here, you will be located in the heart of action, within easy walk to some of the best attractions, restaurants, bars, and shops and the city. It also offer a widest range of accommodation options that suits all budget.