The best areas to stay in Oxford for first time tourists are the neighborhoods of Oxford City Centre, Cowley Road, Summertown, Jericho, Abingdon, Park Town, Oxford Airport. In today's article, we will be looking at where to stay in Oxford and best things to do in each district.
Whether you prefer exploring the iconic Oxford University campus, browsing the quirky shopping streets, or hitting the clubs, there's certain to be an area perfect for you.
As the location of the oldest university in the English-speaking world, Oxford is home to some of the most beautiful, historic streets in England. Combined with its vibrant, student-led nightlife scene, there's plenty to keep everyone entertained here, both day and night. 
Being quite a small city, most of the main attractions of Oxford are within walking distance of one another. Despite this, there are many distinct neighborhoods to choose from when deciding where to stay in Oxford. 
Oxford City Centre is the top pick for those visiting for a shorter stay. You'll be surrounded by all the iconic, historic sights of the city, as well as plenty of shops and restaurants. This is the best area to take commemorative pictures in locations all your friends and family will recognize.
If you're more interested in taking advantage of the city's famous nightlife, then trendy Jericho, just north of central Oxford, is the choice for you. Here you'll find tons of pubs, bars, restaurants, and clubs, to keep you entertained well into the night.
If you are traveling with family, Park Town, with its open spaces, quieter streets, and close proximity to the city center, is a prime choice. There's plenty of green space for kids to run around, and all the major sights are within comfortable walking distance.
>> 🔍CHECK BEST HOTEL DEALS IN OXFORD <<
📌 Where to Stay in Oxford: 7 Best Areas to Stay in Oxford
1. Oxford City Centre, where to stay in Oxford for first-time tourists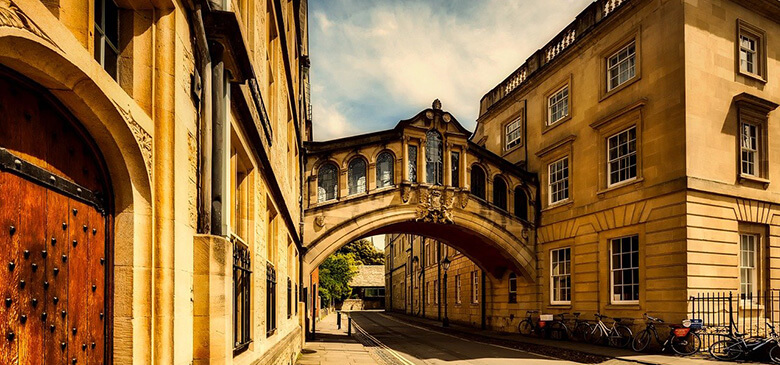 Of course, Oxford City Centre is the default top choice for anyone looking to stay in Oxford. Home to the oldest buildings in Oxford, the most well-known museums and Oxford University buildings, as well as tons of shopping streets and dining options, the city center has it all.
Best known for being home to Oxford's oldest colleges, no trip to central Oxford would be complete without taking in the stunning historic architecture.
If you really want to learn about the history of the area, you can take a guided walking tour or open-top bus ride around the main sites.
A quick walk down the high street will take you past many of the best-known locations you will have seen on postcards. The iconic, domed Radcliffe Camera sits just behind the 11th century University Church of St Mary the Virgin, with access via two narrow alleyways.
Just beyond the Camera, you can see the most famous of Oxford's libraries, the Bodleian. A few steps past the Bodleian and you'll find another of Oxford's most photographed locations. The Bridge of Sighs connects two college buildings over New College Lane.
Just a short walk away is the renowned Ashmolean Museum of Art and Archaeology, just across from the stunning Martyr's Memorial. Meanwhile, just south is the 12th-century Carfax Tower, which tourists can still climb to appreciate views of the surrounding city.
Keep going west and you'll wind up in Castle Quarter where you'll find the Norman Oxford Castle. Guests can enjoy tours around the castle, crypts, and old prison, led by guides in period costumes.
If you are interested in history and arts, there are also many museums and art galleries to explore including The Story Museum, Oxford University Museum of Natural History, and Modern Art Oxford.
Of course, there's still plenty to keep you occupied even if you get tired of all the history. Oxford's City Centre is a hub of wonderful shopping streets and markets. You'll find contemporary clothing brands, university supply stores, and independent niche shops all lined up next to each other.
Oxford's world-famous Covered Market at the very heart of the city center has been running since the 18th century. It's a great opportunity to pick up some unique souvenirs or grab a tasty snack from one of the many small coffee shops or food vendors.
There is also the modern shopping complex of The Westgate at the end of Queen Street, the Clarendon Centre, the Golden Cross arcade, and Gloucester Green which is a weekly fresh produce market.
Alternatively, if you need a break from the city crowds, head to Christ Church College, identifiable by the beautiful clocktower designed by Sir Christopher Wren, the architect behind St Paul's Cathedral.
Adjacent to the college is the Oxford Botanic Garden which is the oldest in the UK and with nearly 5,000 different types of plants; and Christ Church Meadow, a beautiful green space to get a breath of fresh air.
As the most popular tourist destination in Oxford, the city center has a wide variety of hotels to choose from. Whether you are sticking to a budget, or like to stay in more luxury hotels, Oxford's city center will have something to suit you.
Stay In Oxford City Centre If You want to stay at the heart of Oxford's city center; Taking in the history of the city is your priority; You want to see as much of the iconic Oxford University as you can; Shopping is a highlight of your trip.
Best places to stay in Oxford City Centre:
Best luxury hotel: The Randolph Hotel, by Graduate Hotels This 5-star hotel is set in the heart of Oxford, opposite the Ashmolean Museum, within easy walking distance from The University of Oxford Colleges, the picturesque riverside and boathouses, and Oxford Railway Station. It offers sumptuous bedrooms, a wellness center, high ceilings rooms with a modern en suite bathroom, satellite TV, mini-bars, and tea and coffee facilities.
Best mid-range hotel: Courtyard by Marriott Oxford City Centre This 4-star hotel provides air-conditioned rooms, a restaurant, free WiFi, and a bar. You can easily find tourist attractions nearby such as the University of Oxford, Ashmolean Museum of Art and Archaeology and Blackfriars Hall, Taylor Institution Library, St Cross College, and Campion Hall.
Best budget hotel: Royal Oxford Hotel This 3-star hotel provides spacious rooms with air-conditioning, a flat-screen TV, complimentary tea and coffee making facilities, and Full English or Continental Breakfast. Popular points of interest nearby include the Oxford University's Colleges and Oxford Rail Station, Riverside pubs and restaurants, and Oxford Bus Station.
🔍FIND BEST HOTELS IN OXFORD CITY CENTRE
You can watch my virtual tour about places to stay in Oxford in this video:
Read Also: 8 Best Areas to Stay in Cardiff
2. Cowley Road, where to stay in Oxford on budget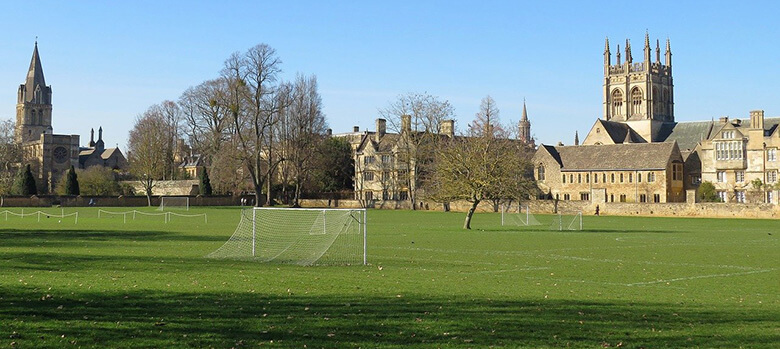 The multicultural and vibrant of Cowley Road is located in East Oxford and connects Oxford City Centre to the residential suburb of Cowley. The road connects into the city center via the lovely Magdalen Bridge, by Magdalen College.
It's a great option if you're traveling by car but don't want to deal with city-center traffic.
The road is lined with trendy restaurants. Boasting an array of cuisines from Japanese to the Caribbean, this is a popular destination for locals and students to head out to for dinner. If you love food, then this could be the perfect location for you.
The wide range of dining options ensures there will be something to suit even the pickiest eaters. Combined with the convenient location, and nearby Christ Church Meadow and various fields, this is a wonderful option for anyone traveling with children.
After dinner, you'll have plenty of pubs and bars to keep you entertained. Alternatively, the nightlife hub of the city center is just a short walk away across the River Cherwell.
Just across Magdalen Bridge are the Oxford Botanical Gardens. As the oldest botanical gardens in Britain, the various gardens and greenhouses are packed with exotic plants from around the world. The gardens host a busy schedule of events, so it pays to check what's on during your visit.
The Cowley Road area is a popular choice for Oxford accommodation since it has easy access into Oxford city center whilst being just removed enough to keep prices low. You can find some great budget hotels along here.
Stay In Cowley Road If you are sticking to a budget; you are traveling with children; you want to stay close to the city centre; you are traveling to Oxford by car.
🔍FIND BEST HOTELS IN COWLEY ROAD
3. Summertown, where to stay in Oxford for families
Bounded by the Cherwell River to the east and the Oxford Canal to the west, Summertown is an affluent residential neighborhood in the north of Oxford.
Being somewhat further out from the city center, it may not be most people's first choice for Oxford accommodation, but it certainly has its charms.
Several artisanal bakeries line the main street, offering fresh bread and pastries. A variety of local restaurants and cafes provide more substantial meals.
In the evenings, there are plenty of pubs and bars to choose from, ideal for getting to know the local residents over a relaxed drink.
If you'd rather stay on a quiet street, away from late-night parties and noisy traffic, then Summertown may be a good option. With Port Meadow to the west and the English countryside to the east, you'll have easy access to green space to escape the urban landscape.
Home to several independent schools, there are plenty of amenities for children in this area. If you are looking for where to stay in Oxford with a young family, then this could be a great choice. Particularly if sightseeing is not your priority.
Summertown is an ideal location to stay in Oxford if you are looking for somewhere to feel at home. Removed from the tourist trap city center, Summertown offers a taste of local Oxford life.
Although Summertown boasts some of the most expensive houses in Oxford, being further out from the city center keeps the rates for accommodation down. Even the luxury hotels here are more affordable.
Stay In Summertown If You are traveling with children; You are looking for a quieter neighborhood; You want to stay in a neighborhood with a more local vibe; It is not your first stay in Oxford; Sightseeing is not your priority.
Best hotels in Summertown:
🔍FIND BEST HOTELS IN CITY CENTRE
4. Jericho, where to stay in Oxford for nightlife
The neighborhood of Jericho is located immediately north of Oxford city center. If you are planning to stay in Oxford to take advantage of the thriving nightlife scene, then trendy Jericho is a perfect location to consider.
Jericho is known for its trendy restaurants and fashionable cocktail bars. As one of the preferred residential locations for students, the demand for local nightlife in the area is ever-growing, making it the best location outside of the city center to party.
Just a short walk from Oxford train station, this is a convenient location if you are planning to stay in Oxford without a car. You'll be within walking distance of the city center and all its sights and won't have to worry about lugging your suitcase too far to your hotel.
Just across Castle Mill Stream is Port Meadow. This vast expanse of fields is a wonderful place to go for a walk. Locals, students, and visitors alike all enjoy relaxing in the wide-open air here. If you grow tired of the press of the city, Port Meadow makes for a welcome respite.
The meadow runs along the river Thames. With several boatyards and sailing clubs located here, you can enjoy an afternoon of watching the boats drift around on the water or head to one of the waterside bars or pubs to relax with a drink with a view.
Jericho has a good range of hotels, with options to suit most budgets. As you'd expect from such a trendy district, there are plenty of boutique hotels and guesthouses here, but you can also find high-quality budget hotels too.
Stay In Jericho If A vibrant nightlife is your priority; You want a central location; You want to stay close to the train station.
🔍FIND BEST HOTELS IN JERICHO
5. Abingdon, where to stay near Oxford for local vibe
Abingdon is a small market town short ways south of Oxford. Situated on the River Thames, Abingdon is ideal for experiencing quaint, local town England, away from the bustle of the city.
If you want to stay close enough to visit Oxford's many sights and attractions, but don't enjoy the crowds of the city center, Abingdon is a fantastic option for you. Oxford City Centre is just a few miles away. Just 20 minutes by car, and under 40 minutes by bus.
Whilst it may be quieter than Oxford City, there is still plenty to see and do in Abingdon too. Abingdon is full of history and traditional charm. From its centuries-old buildings to its cozy local pubs, you'll really get a feel for small-town England here.
As a historic market town, a variety of markets are held here throughout the year. Every Monday, one of England's oldest markets sets up in the town center. Meanwhile, most weekends host one of several monthly markets. They're all a great opportunity to sample some local delicacies and produce.
Alternatively, the Local Excellence Market and the Abingdon Craft market offer a range of locally made wares. If you are looking to pick up some unique, local souvenirs, this is your chance. It's well worth checking to see what markets will be taking place during your visit.
If you're more interested in the history of the town, you can spend your time exploring the quiet streets and alleyways lined with historic buildings. Abingdon Bridge, crossing the Thames, may appear unassuming but it dates back to the 1400s.
In the town center, you'll find Abingdon County Hall Museum. The grand 17th-century baroque building overlooks the market square, so you can pop in once you've had your fill of shopping. You could also enjoy some fresh air in the nearby Abbey Gardens and Meadows and the Abingdon Wildflower maze.
There are some beautiful accommodation options here. Ranging from bright and contemporary, to historical charm, you are sure to find something to suit your preference. Some even have wonderful views over the River Thames.
Stay In Abingdon If A quieter area, with tons of local charm, is ideal; Staying close to Oxford City Centre is not a priority; You would like to stay somewhere overlooking the river Thames;
🔍FIND BEST HOTELS IN ABINGDON
6. Park Town, kid-friendly area with affordable accommodations
Park Town is an area just northeast of Oxford City Centre. It's ideal for those who want to stay close to central Oxford but prefer somewhere a little less crowded.
Bordered by fields and parks, there is plenty of open space, making it ideal for families with children.
Park Town is so named for being home to the sprawling University Parks. 70 acres of fields make for a popular spot for locals, students, and tourists alike to relax in the open air.
The river Cherwell runs through the east side of the park, leading to Parson's Pleasure Bathing Place, perfect for waterside picnics.
Fans of The Lord of the Rings might be interested in taking a rest on Tolkien's bench. The memorial to the famous oxford alumni and author looks over the river Cherwell. A lovely spot to enjoy the scenery and maybe write a page or two.
Just south of the university parks in the Oxford Museum of Natural History. The museum is housed in a beautiful neo-gothic building, nestled amongst the similarly grand buildings of Oxford University.
Within the Natural History Museum, there is also the Pitt Rivers Museum. Here you can find a fascinating collection of archaeological and anthropological treasures from around the world.
Just a short walk south is the world-famous Ashmolean Museum, displaying thousands of beautiful artworks and artifacts. Just around the corner is Oxford's History of Science Museum, where you can view scientific instruments from throughout the ages.
Truly, if you are planning to stay in Oxford to take advantage of its many academic museums, Park Town is one of the best places to consider staying.
Primarily a student and residential area, there are fewer accommodation options here than in other areas of Oxford. Hotels and lodges in this area are typically lovely and high-quality, set in beautiful buildings and grounds. These luxury hotels do come with a higher price tag, however.
If you are hoping to stay in Oxford on a smaller budget, this might not be the best area for you.
Stay In Park Town If You want to stay close to the city center but with fewer crowds; You love browsing museums; You are traveling with children; Easy access to lots of open space is a priority.
🔍FIND BEST HOTELS IN OXFORD CITY CENTER
7. Oxford Airport, where to stay in Oxford near the airport
Oxford International Airport is located approximately 7miles north of the city of Oxford. In the smaller, residential town of Kidlington, this area is quieter than the busier city, with far fewer tourists. If you're looking for somewhere away from the hustle and bustle, this could be a good choice.
The area around the airport consists of miles of beautiful countryside. If you enjoy going for long walks in the fresh, open-air, you will have plenty of opportunities here. Nearby Thrupp Community Forest makes for a pleasant change of scenery if you get bored of fields.
Just beyond the trees, you will find Annie's Tea Rooms, where you can enjoy a traditional English afternoon tea. Alternatively, pop into the Jolly Boatman or The Boat Inn to experience the cozy charm of a local country pub.
The town of Kidlington doesn't cater much for tourists. However, you will find an array of shops and restaurants geared towards the local population. If you want to mingle with the locals, there are plenty of pubs to spend your evenings chatting at the bar.
Outside of the typical tourist sphere, there are fewer accommodation options to pick from around here. There are a couple of hotels close to the airport itself, however, you will have far more choices further into Kidlington town.
Stay Near Oxford Airport If You want to stay outside of the hustle and bustle of the city; You want to stay close to Oxford Airport; You enjoy spending time outdoors; Being close to Oxford City Centre is not a priority.
Best Hotels near Oxford airport:
Oxford Studios This bed and breakfast is set in Kidlington, 7km from Blenheim Palace, 13km from Bicester Village, and 62km from London Luton Airport. It offers apartments with a kitchen with an oven and a microwave, a kettle, a bathroom with a shower and free toiletries, and free wifi.
Sturdys Castle Located just within 1.6 km of London Oxford Airport, offers a bar and restaurant, free unlimited Wi-Fi, and free parking. It is located in the heart of the Oxfordshire countryside, between the villages of Tackley and Kidlington.
🔍FIND BEST HOTELS NEAR AIRTPORT
See more:
Oxford is a city that effortlessly blends traditional charm with modern energy. Whether you are looking to explore the history of one of the oldest university towns, or indulge in the city's vibrant nightlife, Oxford has something for everyone.
At this point, you should have a better idea of where to stay in Oxford for your perfect trip. Now it's time to choose from the wide range of gorgeous hotels and guesthouses. With so many picks, you're sure to find the perfect place to stay for your ideal trip to historic Oxford.