Do you know where to stay in Bristol? If not, look no further. This blog will tell you all about the best areas to stay in Bristol and what benefits they offer. Let's get started!
Bristol is a beautiful, vibrant city in the Southwest of England. Once a busy port town, Bristol is now a fashionable city renowned for its excellent arts and culture, first class nightlife and entertainment, and brilliantly preserved historical architecture.
The home of Banksy, Bristol is a mecca for street art, and the thread of artistic integrity and authenticity runs strongly through the city. If you are looking for a modern city rich with charm and character, Bristol is for you.
Best areas to stay in Bristol: Tips & Info
Bristol is a particularly vibrant city with a number of very distinct neighbourhoods and districts. Whilst so much variety means there is something for everyone, it can also make it difficult to narrow down which part of the city best suits you.
If you are travelling with children, you may appreciate the laid back suburban atmosphere of Clifton. Boasting plenty of wide open green space for kids to run around, whilst still being just a short way from the sights and attractions of the Bristol city centre, this is the perfect area for families.
If shopping is your priority, the area of Broadmead is packed with shopping malls. Surrounded by more historic neighbourhoods, you will still be able to enjoy the sights of the city whilst indulging in as much retail therapy as you like.
However, if you prefer browsing independent stores and boutiques, you would be better off in the neighbouring Old City, where you will find plenty of markets and tiny shops.
For thriving nightlife, Old Market is well known for having the best party atmosphere in the city. Notably this is also where you will find the majority of Bristol's specifically LGBT friendly venues.
Alternatively, the Old City has a great selection of bars, whilst the parts of Clifton and Harbourside bordering the University of Bristol offer the densest selection of nightclubs.
If Bristol's reputation for top class street art is what most intrigues you, then Stokes Croft is the first place you will want to consider. You can find excellent street art across the city, including various famous Banksy pieces scattered around, but Stokes Croft is known as a playground for the local graffiti artists.
If you can get past the neighbourhood's rough and ready appearance, you will be able to find some of the best street art around, in one of the city's coolest areas.
FIND BEST HOTELS IN BRISTOL
Where to Stay in Bristol, UK: 10 Best Areas to Stay in Bristol
If you are still not sure of where exactly you want to look for accommodation or need a bit more information on what Bristol has to offer before you start planning your visit, this next section should clear it up.
I have selected the ten best areas in Bristol for visitors to stay and provided summaries of what makes each one worth considering.
Best Areas to Stay in Bristol Map
1. Bristol Old City, the best area to stay in Bristol
Bristol Old City is, as you might expect, one of the most historic neighbourhoods in Bristol. Lovers of historical architecture will enjoy wandering the lanes and back streets lined with buildings constructed throughout the various eras since Bristol's founding.
Meanwhile, those who prefer indulging in modern culture and hospitality will find plenty of quirky shops and cafes to keep them entertained.
One of the dominating features of the area is the Queen Square at the southern end of the Old City. The leafy park provides a calm green area to relax on warm days and makes for a popular meeting point for both locals and tourists.
This end of the Old City is surrounded by the docklands and the local hospitality takes advantage of the lovely views over the water. You can find plenty of fashionable bars and restaurants lining the waterfront, so you can enjoy wining and dining whilst overlooking the marinas.
The area is full of various art installations and monuments. While they're each worth visiting in their own right, one not to be missed is the Cascade Steps leading down to the water. The fountain installation features a marble staircase turned into a waterfall, while two public access stairways lead down either side, adding to the illusion.
If you prefer performance art, then you should make sure to check ahead to see what's on at the Bristol Old Vic during your visit. The iconic theatre is the centre point for theatrical art in Bristol and puts on some of the best productions in the city. Booking in advance is heavily advised if you don't want to miss out on a show.
If you enjoy shopping but prefer independent shops and stalls over chain stores and shopping centres, you are in luck with the Old City. There are quirky boutiques and artsy shops all over the neighbourhood, so spend a while exploring the lanes as you wind your way north to St Nicholas Market.
Hosted in a Georgian arcade, this bustling market boasts an array of stalls and stores, offering everything from street-food and baked goods to craft items and antiques. You can enjoy browsing in the historic venue before heading over to the nearby flea market for more bargain hunting.
Continue the historic shopping experience by heading to the Christmas Steps next. The narrow shopping lane has been a Bristol icon since the steep steps were constructed in 1669, funded by a local wine merchant.
Bristol Old city is the best neighborhood to stay if:
You are visiting Bristol for the first time
You want to appreciate the history of the city
You want to stay close to the waterfront
You prefer shopping at independent boutiques and markets
Best places to stay in Bristol Old city
The Bristol Hotel On the quayside of the Floating Harbour, The Bristol Hotel is 10 minutes' walk from Brunel's SS Great Britain. It has stylish rooms, free internet and a riverside restaurant. Queens Square and the Arnolfini Gallery are both just 200 m away. Castle Park and The Galleries shopping centre are 10 minutes' walk.
SACO Bristol – Broad Quay Overlooking Bristol's vibrant Harbourside, SACO Bristol – Broad Quay offers luxury accommodation with WiFi access. The stylish apartments are just metres from Bristol Hippodrome.
Radisson Blu Hotel, Bristol Situated in the heart of Bristol's bustling city centre, Radisson Blu Bristol offers impressive views and a stylish restaurant. Overlooking the waterfront, the hotel features modern rooms with free WiFi.
Bristol Harbour Hotel & Spa Located in Bristol, just 600 m from Bristol Cathedral, Bristol Harbour Hotel features an award-winning restaurant, bar and free WiFi. Cabot Circus is 700 m from Bristol Harbour Hotel, while Clifton is 1.9 km from the property. Bristol Temple Meads train station is a 10-minute taxi drive from Bristol Harbour Hotel and Bristol Airport is 11 km away.
FIND BEST HOTELS IN BRISTOL OLD CITY
2. Clifton, where to stay in Bristol for families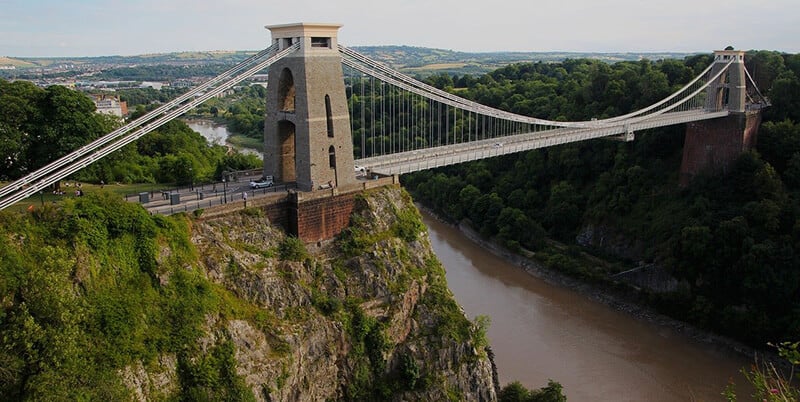 We'll start off a little outside of the Bristol city centre, in the north-western suburb of Clifton. This affluent neighbourhood is known for its independent shops and boutiques, high end dining, and chic bars. But Clifton is more than just a fancy suburb and there is plenty for visitors to see and do here.
The most famous attraction in the area is the iconic Clifton Suspension Bridge. The bridge finished construction in 1864 and has stood as both a marvel of engineering and a major landmark ever since. Images of the bridge can be found on most Bristol souvenirs and postcards, so it is an absolute must see for anyone visiting the city.
If you decide to actually cross the bridge, you will be able to visit the visitor centre and museum, where you can learn more about its construction and the turbulence surrounding its development.
Just north of the bridge is the Clifton Observatory. Converted from an 18th century windmill, the observatory offers some wonderful views. Visitors should definitely stop to enjoy said views and a drink from the rooftop café.
A great venue for a family day out is the wonderful Bristol Zoo Gardens. The zoo focuses on conservation and education, with a wide range of animals housed here, from penguins to gorillas to lizards.
It is a great place for everyone to learn about the animals we share our world with whilst enjoying a walk around the lush gardens. There's even an onsite hotel, The Lodge, for guests who want to stay at the centre of the park.
The north of the district is dominated by the Clifton Downs. The vast fields stretch along the River Avon and then lead away across the top of Clifton, taking up about a third of the region's area. Comprised of both woodland and open grass, it's a great place for the whole family to get out in the fresh air for a walk.
Just across the river are the National Trust Leigh Woods. The protected forest boasts several trails winding through the trees and plenty of historic sites and curious structures to discover.
Clifton is the best neighborhood to stay if:
You want to stay in central Bristol
You are visiting with young children
You want to stay in a laid back suburban area but still have easy access to the Bristol city centre
You enjoy spending time outdoors
Best places to stay in Bristol Clifton
Beech House These stylish boutique apartments are situated just off Whiteladies Road in Clifton. Free WiFi is provided. Beech House is also within walking distance from the shops and restaurants of Clifton Triangle and Park Street and the Clifton Lido and Spa. Clifton Suspension Bridge, Bristol Zoo Gardens, and Bristol city centre are also within walking distance.
Number 38 Clifton A contemporary boutique hotel set in a Georgian townhouse, Number 38 Clifton offers stylish rooms with views of the Clifton Downs or Bristol city centre. With a garden, terrace and free Wi-Fi, this hotel is within 10 minutes' walk of bars, restaurants and Clifton Down Train Station. It also close to Bristol City Museum, Art Gallery, and Bristol Zoo.
Victoria Square Hotel Clifton Village is set on a leafy Georgian square in fashionable Clifton Village. It is located 1.6 km from Bristol's centre.
FIND BEST HOTELS IN CLIFTON
3. Cotham, a residential neighborhood in Bristol
Cotham is another of Bristol's affluent inner-city suburbs, although rather less green than Clifton. Distinctly residential, there is little here in the way of sights and attractions, but it is just a short journey to Bristol city centre.
This is an area for visitors looking for a quieter neighbourhood from which to explore Bristol without being constantly swamped by crowds. The hospitality and shopping in the area is mostly aimed at the local population, featuring primarily family run restaurants and small independent cafes.
Bordering Stokes Croft there is an overflow of independent boutiques and artists studios. If you enjoy exploring local arts cultures, but aren't fond of the edgy vibe of Stokes Croft, Cotham may be your ideal alternative.
The area is known for boasting a lot of boutique hotels and guesthouses converted from residential houses. If you are looking to forgo the big contemporary hotels in favour of something more intimate and cosy, Cotham may just be exactly what you are looking for.
These little guesthouses, located down residential streets, will allow visitors to stay at the heart of the local community. This is a great option if you are hoping to experience what everyday life is like in Bristol.
Cotham is the best area to stay if:
You want a quieter, more residential neighbourhood, away from the crowded city centre
You would like to immerse yourself in the local community and experience what typical Bristol life is like
You don't mind being a little further out from Bristol city centre
It is not your first time visiting Bristol
Best places to stay in Bristol Cotham
FIND BEST HOTELS IN COTHAM
4. Old Market, where to stay in Bristol for nightlife
Just east of Broadmead, Old Market is another of the neighbourhoods that dates back to the time of the city's founding. Old Market in particular is so packed full of superbly preserved historic buildings that it has been designated as a Conservation Area of national significance.
Once a major marketplace lining the road leading to the local castle, Old Market is now a thriving hub of alternative culture. Old Market is well known by both locals and tourists as being home to some of the best nightlife Bristol has to offer.
With more of a laid back, authentic atmosphere than many of the party districts in the city centre, this is an area where you can enjoy a fun night out away from the fabricated gimmicks of the hyper trendy contemporary bars and clubs in the tourist districts.
Many of the venues here are hosted in converted historic buildings, so you can find plenty of unique locations with an authentically quirky atmosphere. This is also where you will find most of Bristol's specifically LGBT friendly nightlife, mostly concentrated around the main A20 road.
Whilst Old Market is relatively close to the city centre, it's still further from the main tourist hubs and attractions than many of the other districts on this list. Old Market is ideal for those looking for a more bohemian neighbourhood away from the tourist traps and crowds of the city centre.
However, if it's your first time visiting, or you are only staying for a shorter trip, then the slightly more awkward location may be a drawback.
Old Market is the best location to stay if:
A thriving nightlife scene is important
LGBT friendly bars are a plus
You appreciate historical architecture
You want to stay in a more alternative, bohemian area
You don't mind being a little way from the major sights and attractions of the city centre
It's not your first time visiting Bristol
Best places to stay in Bristol Old Market
FIND BEST HOTELS IN BRISTOL OLD MARKET
5. Broadmead, one of the best areas to stay in Bristol for shopping
Broadmead is Bristol's modern City Centre. A hub of multiple large shopping centres, connected by broad pedestrian only avenues, this is the perfect area for anyone who wants to spend their vacation engaging in a bit of retail therapy.
This area is for those who enjoy the contemporary shopping experience. If you are looking for independent boutiques and local craft stores, you won't be finding many of those here. What you will find is a host of well known brands from Zara to Ted Baker, as well as plenty of chain cafes and restaurants to keep you refreshed.
If you get tired of shopping and want to experience a bit more of Bristol's modern culture, you might want to see if anything is going on at The Bear Pit. This unusual public park is located in the middle of a busy roundabout, accessible by either the pedestrian crossings or several subways.
The park is a good place to spot some local art, both in the form of official sculpture installations, as well as street art and graffiti over almost every available surface.
Street-food stalls are often set up here, and it is a popular spot for public speakers and street performers to draw in a crowd. It also hosts various public events throughout the year, so it's definitely worth checking out.
But it's not all concrete and shopping malls. At the south of the area is the lovely Castle Park, a large public garden stretching along the length of Broadmead, between the shopping centres and the river Avon.
Aside from being a charming spot for a riverside picnic, the park is home to the remains of several historical structures, most notably the castle which grants the park its name. Bristol Castle is now largely ruined, but what remains is in remarkably good condition considering it dates back beyond the writing of the Doomsday Book in 1086.
Despite various attempts over the centuries to tear it down, and suffering under the bombings of the blitz, there is still enough of this once grand fortress remaining to make it worth the visit.
The centre of the park is home to another ruined building, St Peter's Church. Dating back almost as far as the castle, the church is in somewhat better shape, despite having also been bombed during the blitz.
It's not structurally sound enough for you to go inside but it makes an impressive sight, especially when you consider that it is almost a thousand years old.
One last ruin stands in the west end of the park, the Saint Mary le Port Church. With foundations dating back as far as the Saxons, the church as it stands today was built in the 11th century and stood the test of time until it too succumbed to the blitz. The church is now surrounded by modern buildings, so you have to make a point to look for it through the trees.
Broadmead is the best location to stay if:
Shopping is a highlight of your vacation
You want to stay somewhere very central
You enjoy viewing ancient ruins and historical buildings
You want somewhere with a lot of variety as to what is on offer
Best places to stay in Bristol Broadmead
FIND BEST HOTELS IN BROADMEAD
6. Harbourside, a great area in Bristol for sightseeing
Harbourside gains its name from its past as the primary docklands for this once busy port city. In the modern day it has transformed into a thriving entertainment centre, boasting some of Bristol's top sights and attractions.
One of the main attractions of both the area and the city as a whole is the magnificent Bristol Cathedral. Dating back to the 12th century, parts of the original structure and even furnishings still remain.
However, much of the building has had to be rebuilt or renovated over the centuries and as such the Cathedral stands as a monument to the various architectural fashions through the ages.
The Cathedral sits just across the College Green from the Bristol Council Building. The curved red brick building is a grand structure in its own right, and the proximity between the two offers a great contrast between historic and modern architecture.
Just south of the cathedral is the Bristol Aquarium. Home to an array of exhibits displaying numerous fascinating sea creatures, the aquarium makes for a fun and educational family day out. More than just for entertainment, the aquarium is also a conservation centre, involved in various breeding programmes and awareness campaigns.
For more maritime fun you can head to see Brunel's SS Great Britain. The restored and permanently moored 19th century passenger ship has been converted into a museum for everyone to enjoy.
Visitors can explore the deck and cabins and learn about her construction and journeys. The ship is docked just across the river, so to reach it you can catch a ferry from one of several terminals and enjoy a short cruise.
Whilst in the area, you should also take the time to visit Millennium Square. The open public square is ringed by shops, cafes, and restaurants, whilst the square itself is full of various art installations and statues of notable Bristolians.
Along the waterfront, many of the remaining warehouses and port facilities have been converted into trendy restaurants, bars, and cafes. Especially in the summer, it is a lovely place to go for a meal or a drink with views over the river Avon.
If you need a break from the urban jungle, head to Brandon Hill in the north of the district. The sprawling public park is a great place to take a moment to relax. Families with children will appreciate the opportunity to let them run off some energy in the wide-open space.
Follow the paths to the top of the hill and you will come to Cabot Tower. Built at the end of the 19th century, visitors can still climb to the top of the stone viewing tower for stunning panoramic views across the whole city.
Harbourside is the best area to stay if:
You want to stay close to the river
A central location with a good variety of sights and attractions is ideal
You are travelling with family
You enjoy a good range of educational attractions
Best places to stay in Bristol Harbourside
FIND BEST HOTELS IN HARBOURSIDE
7. Temple, a central location & shopping hub of Bristol
The eastern section of the Redcliffe district is known as Temple Meads, or simply Temple. This area is home to Bristol's major train station Bristol Temple Meads, which dominates the south sector. There are several hotels immediately next door to the station.
This is an ideal location for anyone travelling in and out of the city by train, who wants to minimise time wasted travelling between the station and your accommodation.
Temple is a very central location. Just a few minutes north across the Avon are the shopping hub of Broadmead, and the nightlife centre of Old Market. Meanwhile, immediately west is the popular central hub of Redcliffe. The train station also provides convenient access to districts of the city further from the centre.
Alternatively, the station also links to various villages and local towns in the area surrounding Bristol. If you would like to spend a day or two exploring more typical, small town English life, or ramble around the countryside, this is a great place to stay for that convenience.
The area owes its name to the 12th century Temple Church. Whilst partially ruined by bombing during World War II, the outer walls still stand as testament to the buildings enduring beauty.
The Church itself gets its name from being built on the site of a previous Knights Templar Church. The circular footprint of that ancient church can still be seen within the walls of the newer square church.
Next to the church, the historic graveyard has been converted into the public Temple Garden. The leafy park is surrounded by pubs, restaurants, and bakeries, and makes a lovely place to relax with a picnic.
There is plenty to keep you entertained after sundown here too. There is a variety of bars and pubs that stay open until late, some with lovely views over the river. If clubs are more your style, then head just across the river to Avon Street where you will find Motion.
The iconic converted warehouse venue was ranked as the 19th best club in the entire world by DJ Mag and hosts the industries top DJs and artists, so you know you will be in for a great night.
Temple is the best area to stay if:
You are travelling in and out of Bristol by train and want to stay close to the station
You are interested in venturing out into the towns and countryside surrounding the city
Staying central and well connected to other major districts is ideal
Best hotels in Bristol Temple
FIND BEST HOTELS IN TEMPLE
8. Stokes Croft, a cool neighborhood to stay in Bristol
Stokes Croft is one of the edgier, cooler neighbourhoods in Bristol. Just beyond the contemporary shopping hub of Broadmead, Stokes Croft and the smaller roads leading away offer an ungentrified alternative. This is the area to head to if you want to immerse yourself in the street arts and culture that Bristol has to offer.
The main Stokes Croft Road is lined with independent boutiques and vintage clothing shops. It is a great place to go if you want to find some unique fashion pieces that you wouldn't be likely to find in the chain stores.
There are also plenty of family-owned cafes, restaurants, and pubs that offer a more authentically local experience than what you may find in the city centre. The quieter backstreets leading away from the main road are home to a number of artists studios, small galleries, and artisan shops.
If you love street art, then Stokes Croft will have plenty to keep you happy. Home of the notorious Banksy, some of his first and most famous murals can still be found if you know which walls to check. His mural "The Mild Mild West", depicting a teddy bear facing off against riot police, has survived here since the 90s.
The area may seem quite rundown at first glance, and it's true that it is not known to be one of the most affluent areas of Bristol. However, the buildings in various states of urban decay provide a perfect canvas for the many street artists of the city to work their graffiti magic.
It's always worth taking a walk around the neighbourhood to see what's new, since so many artists in the area create a high turnover rate, and new works are appearing and being painted over every week.
This area is one whose development is largely pushed by the local community, rather than outside investors. Indeed, public protests took place in opposition to the opening of a chain supermarket. As such, the neighbourhood retains a distinct sense of genuine charm and character.
For a rather different look at Bristol's arts heritage, you can visit the Charles Wesley House museum. Converted from the poet's Georgian home, the museum provides insights into the Bristol of the 18th century, as well as the life of the local poet known for writing over 6500 hymns.
Stokes Croft is the best place to stay if:
You have an appreciation for street art
You want to stay in one of the trendier, edgier neighbourhoods of Bristol
You prefer independent boutiques over chain brands and shopping malls
Best Places to Stay in Stokes Croft
FIND BEST HOTELS IN BRISTOL
9. Bristol International Airport area
Bristol Airport is located a few miles southwest of the city. Bridgewater Road leads directly into the centre of Bristol, so it is fairly easy to get in and out. However, the distance means this is not an ideal location if you are hoping to spend multiple days exploring the city.
The airport is surrounded by beautiful countryside, as well as a golf course and several campsites. It makes a decent option for those who enjoy spending time outside. Goblin Coombe Woods, immediately west of the airport is a particularly lovely area for a walk.
Meanwhile, the public road that rings the runway is also a popular spot for aeroplane enthusiasts who enjoy the excellent views of planes taking off and landing. There are also several small villages around this area, the closest being Lulsgate Bottom and the largest being Felton.
Lulsgate Bottom is ideal for anyone who just needs somewhere to stay before their flight. There are several options for accommodation in the village, ranging from boutique to budget, and all are only a couple of minutes away from the airport.
Just east, across the fields, Felton is a typical example of a modern English village, primarily filled with residential streets and cul de sacs.
The town pub, The George, is a great place to enjoy a casual dinner and mingle with the locals. It is also one of several B&Bs and guesthouses in the town that cater to travellers using the airport, many of which offer complementary airport shuttle services.
If small, family run hotels are not your preference, there are still plenty of options to choose from outside of the local villages, with more contemporary, chain options on the grounds of the airport.
Bristol Airport is the best area to stay if:
Staying close to the airport is a priority
You want to enjoy the English countryside
You want to stay in a small local village, whilst still having access to the larger city
You don't plan to explore Bristol City over several days
FIND BEST HOTELS NEAR BRISTOL AIRPORT
10. Redcliffe, staying close to the Bristol city center but less crowd
Redcliffe is a large, central district just across the water from the Old City. The area includes the sub district of Temples Mead, so visitors staying here have immediate access to Bristol's largest train station.
With the Old City to the west, Broadmead to the north, and Old Market to the east, it would be hard to pick a more convenient location. The north of the area is largely council building and offices, but the south has a leafy suburban vibe.
It is here that you will find the primary attraction of Redcliffe, St. Mary Redcliffe Church. The majestic 15th century church is a stunning example of full-scale gothic architecture, with sweeping spires and towering windows.
Whilst much of the structure has survived the many centuries, the stained-glass windows were sadly destroyed during the civil war, with the current panes dating back to the Victorian period.
Various unique local cafes and restaurants can be found throughout the neighbourhood, including the Kiln restaurant which is housed in a converted glass factory. However, much of the hospitality is concentrated in the southwest corner, near to the marina.
Here you will find various bars and restaurants where you can enjoy your meal and drinks with a lovely view overlooking the marina or the River Avon.
For a hidden gem experience, check ahead to see if there are any events going on in the Redcliffe Caves during your visit. The sandstone caves stretch under Redcliffe and are often open to be explored by those wielding a torch.
More notably, they are often used as a venue by local film screening groups, particularly for horror films, so you may be able to catch a unique cinematic experience.
Redcliffe is the best location to stay if:
You want to stay somewhere central with great connections to other popular areas
You are travelling in or out of the city by train
You want to stay close to the Bristol city centre but in a less crowded neighbourhood
FIND BEST HOTELS IN REDCLIFFE
See More:
Conclusion
Bristol is a wildly colourful city, blending a fascinating culture and history with a vibrant modern energy. There is plenty to love here, and by now you should be starting to understand why Bristol has an ever growing fan-club from across the U.K. and the world. All that's left is to experience it for yourself.