If you are looking for the best hotels near Cancun Airport, you will have plenty of options to choose from. That is because there is an impressive number of choices for accommodation near to Cancun airport, catering to broad spectrum of guests.
However, with so much variety, you may be having trouble singling out the hotels that best suit you. That is why, in today's article, I have selected some of the best options in the area, to give you a much better idea of what is available.
So, if you are planning a trip to Cancun and what to stay near the airport but aren't sure which hotel to choose, I highly recommend reading on.
Best Hotels near Cancun Airport: Tips & Info
Before we begin, there are a few things I want to point out. These are tips on things you may want to look out for while reading.
While some are obvious considerations, others are less so, but they all play a vital role in determining the best place for each individual to stay, based on their own personal needs.
If you just want to stick as close to the airport as possible, either the Courtyard or Fairfield Inn and Suites by Marriott Cancun would be ideal. Both are situated just a few minutes' drive from the airport and offer a 24-hour complementary shuttle services.
Those travelling with animals and looking for somewhere to stay for just the one night may appreciate the NH Cancun Airport. The stylish hotel accommodates pets and is surrounded by open green spaces to take them for walks.
For a taste of the local, Mexican suburban atmosphere, Casa en la Selva and Cancun-Soho B&B in the town of Alfredo V. Bonfil, midway between Cancun Airport and the city, are great options. Both offer more personal, boutique experiences, in the heart of a typical residential neighbourhood.
If luxury and relaxation are what you are after, there are various spa resorts near to the airport. Nizuc Resort & Spa is a gorgeous option for those with more generous budgets. Meanwhile, The Westin Resort & Spa Cancun is ideal for those looking for beachfront bliss at a more affordable price.
Taking these, as well as similar issues into account while reading will ensure choosing your perfect hotel will be as quick and easy as possible.
The 7 Best Hotels near Cancun Airport
So, now you have got a better idea of what you are looking for, it is time for us to start looking at what's actually available.
To help narrow your search even further, I have handpicked the seven best hotels near Cancun Airport. I have provided summaries of what each has to offer and who it may benefit. Hopefully by the time you finish reading you will have found your perfect hotel amongst them.
Courtyard is my first suggestion, and the best for anyone whose priority is staying as close to the airport as possible. Just a five-minute drive away and offering a 24-hour complementary shuttle service, you won't have to worry about getting to the airport on time, regardless of how early your flight is.
The rooms are stylish and comfortable, with views of the surrounding gardens. Each comes equipped with a flat screen tv and wi-fi is available throughout the hotel. There is a minimarket on site and room service is available if you would rather eat in privacy.
Just minutes from the suburb of Alfredo V. Bonfi, with its local shopping, hospitality and theme park, there's plenty to fill your time in the surrounding area. Alternatively, Cancun itself and all its attractions are just a few minutes further along Route 307.
However, if you have a shorter stay, or simply don't want the hassle of leaving the hotel, the Courtyard boasts a beautiful pool area and gardens, complete with hot tubs and hammocks. An onsite restaurant and bar means you have everything you need for a relaxing stay. The restaurant even offers some themed dinner evenings, so be sure to check the schedules for events during your stay.
Just around the corner from the Courtyard we have the Fairfield Inn and Suites. The location is similarly convenient, with a 24-hour shuttle able to transport you to the airport in just minutes.
The rooms are more modern, with bright and airy décor. In addition to a flat screen tv, each room also comes equipped with a coffee machine, minibar, and microwave.
There is a hotel restaurant, serving breakfast, lunch, and dinner, and the adjoined bar can take care of you between meals. Combined with the onsite minimarket, you won't have to worry about staying refreshed for the duration of your stay.
There is a good sized pool area and garden, as well as comfortable outside seating, so you can enjoy relaxing in the Mexican sun without having to leave your hotel. Of course, if you do have the time to venture beyond the hotel, Cancun City is just a few miles north. A taxi can have you within reach of the city's best attractions in minutes.
Alternatively, the beaches and amusements of the Hotel Zone in the east are even closer. Meanwhile, the residential suburbs of Alfredo V. Bonfil and Lagos del Sol can be reached on foot, for a more local experience.
Casa en la Selva has a more laid back, boutique vibe compared to the contemporary chain hotels mentioned previously. The whole hotel, from the reception, to the rooms, to the outside areas, is decorated in a rustic, jungle theme, feeling more authentic to the local Mexican neighbourhood it is located in.
The rooms are designed for self-catering, with cooking facilities and a dining area. However, if you would rather eat out, there are plenty of bars and restaurants in the surrounding area to pick from. As a residential area, these are mostly local establishments, offering you the opportunity to experience the authentic atmosphere of suburban Mexico.
Tucked away from the main road, the hotel is not the best for those wanting quick access into Cancun City. However, if you enjoy spending time outdoors, this hotel is ideal. There are various common areas to enjoy the sun, including the onsite swimming pool, gardens, terrace, and barbeque area. The hotel also offers a range of outdoor activities, such as hiking and walking tours.
A little further from the airport, Casa en la Selva is about a 15-minute journey away. The hotel offers a shuttle service but additional charges may apply.
NH Cancun Airport is a beautifully modern, chic hotel, just south of the airport. Rooms are designed in a calm, minimalist theme, providing a comfortable space to relax. The rest of the hotel, from the common areas to the pool, is presented in the same stylish manner. The hotel also allows pets to stay in the rooms, although additional charges may apply.
The onsite bar and restaurant serves meals that cater to various dietary requirements, including vegetarian and gluten free. Alternatively, room service is available, and a kettle is provided in your room, if you prefer to dine in privacy.
The area around the hotel is fairly sparsely populated. There is a small theme park and a golf course within walking distance. If you want more to do outside of the hotel however, you will need to drive or hire a taxi.
Cancun City is about 10 miles north, so this hotel is not ideal if you want to quickly nip in and out of the city. With little to do in the local area, NH Cancun Airport is best for those only staying for one night.
Cancun Airport is less than 4-miles away and a complementary shuttle service is provided, although you will need to check the scheduled departure times in advance.
One of the more luxury options on this list, Nizuc resort and Spa is suitable for those who are not confined by a budget. Located in Punta Nizuc, in the popular hotel zone along the east coast, the hotel offers sea views, beach access, and infinity pools overlooking the ocean.
The rooms are beautifully decorated, with stylish wood accents. Flatscreen tv's and Nespresso coffee machines are standard. Each private bathroom boasts a rainfall shower, separate from the freestanding bathtub.
Pets are permitted to stay, and pet bowls and bedding can be provided on request, although additional charges may apply.
In addition to the nearby beaches, you will have your pick of two pools, with one catering to the whole family, whilst the other is adult only. Perfect if you are looking for some peace and relaxation away from rowdy children.
There are six on-site restaurants to choose from, serving a range of world cuisines. A bar hosting live music performances will provide entertainment in the evenings.
Of course, as a spa the resort offers a host of wellness therapies. Various massages and beauty treatments are available, as well as yoga and fitness classes.
Cancun International Airport is just a 10-minute drive away. Airport pick-up and drop-off services are available at additional cost.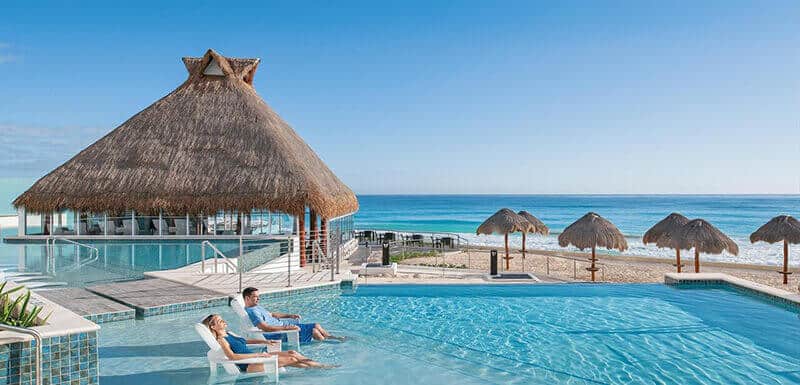 For those looking for the relaxation of a spa resort at a more affordable price, our penultimate option of the Westin Resort and Spa is an excellent choice. With a private beach and oceanside pools, plus rooms with stunning views over the sea, this resort offers everything you could want from a beachside vacation.
The contemporary rooms are more simply decorated than the higher-end option mentioned previously, although they are very stylish and comfortable in their own right. Flatscreen tv's are standard to every room and wi-fi is available throughout the hotel.
For those who require more highspeed or reliable internet, there is also a premium wi-fi service available for an additional fee.
There are four restaurants onsite, each offering a different menu of international cuisines. The Sea & Stones Restaurant offers beachfront, al fresco dining right up against the sand and sea.
The spa facilities offer a full range of beauty and wellness services. Saunas and fitness facilities are also available, in addition to two pools, so you can leave feeling refreshed and invigorated.
Cancun Airport is just 6-miles away and there is shuttle available to transport you to and from the resort.
For our final destination, we have a place that offers a more personal touch. The Cancun Soho B&B is a small guesthouse in the local suburb of Alfredo V. Bonfil, midway between Cancun Airport and Cancun City. The surrounding local neighbourhood offers a great opportunity to experience everyday, Mexican life.
The rooms are spacious and simply, yet stylishly, furnished, with views over the gardens and pool area. Flatscreen tv's and private bathrooms are standard.
Pets are accepted upon request, although additional fees may apply. Laundry facilities are available in the common areas.
As a b&b, a continental breakfast is included. For your other meals you will have the option of using the fully equipped, shared kitchen. There are dining areas both inside and outside for you to use. Alternatively, take the opportunity to explore the local area and visit one of the nearby independent restaurants or cafes.
The b&b is just 2.5-miles from Cancun International Airport. The hotel will provide a shuttle service, for an additional fee, to get you to the airport for your flight.
Conclusion
Whatever your reasons are for wanting to stay closer to the airport during your visit to Cancun, you are sure to find something to suit you, no matter your personal taste.
Hopefully, you now have a much better idea of which of the many options available is perfect for you. All that is left for you to do now is to go and start getting everything booked, before someone else looking for the same things snaps up the last room at your dream destination first.
---
---