Where to Stay in Cancun Mexico: Best Areas and Hotels
Wondering where to stay in Cancun for the first time, family, couple, single, near Airport, budget, nightlife? We'll help you find the best areas and hotels to stay in Cancun Mexico in this guide.
This vibrant resort on Mexico's Yucatan Peninsula has grown enormously over the last three decades. Its population has grown almost fivefold to three-quarters of a million in that time because of the basics of lovely climate, beautiful sand, and warm Caribbean waters.
Mass air travel meant that Cancun was seen as a great location for a beach holiday. Its small airport began to receive flights from the USA and later Europe as well. It took a while before the ''real explosion'' came but once it did, Cancun's growth was rapid. Not surprisingly, the development included an airport with hugely expanded capacity.
Where to Stay in Cancun: Tips & Info
If you are a party animal, you have two choices, Punta Cancun and secondly Zona Hotelera. These two districts certainly attract youngsters on their Spring Break. These areas are not just exclusively for youngsters because the resorts recognize the spending power of the older generation and families.
If you want somewhere quiet, however, start your search elsewhere. Isla Mujeres is good for families and certainly more tranquil. If you want to stay there, you need to accept it will take longer to get to your accommodation from the airport, and also to get back there. If you don't mind that, the Isla is a good choice.
Likewise, Puerto Morelos is a longer transfer but it has some notable advantages once you have checked in. There is more than just good weather, sand and sea.
El Centro is a taste of Mexico even though there are plenty of bars and restaurants. Traditional cuisine is found in many of the hotels. Bars and clubs are plentiful in El Centro.
While you need to travel to reach the beach, it is a very short distance which cannot make it a real inconvenience.
Where to Stay in Cancun Mexico – 5 Best Areas to Stay in Cancun
The original town of Cancun was a sleepy place by the Caribbean. The coastline was ripe for development once Cancun's potential was identified. The result has been modern hotels being built along the beach.
The contrast between the original town and recent developments is very marked.
Where to Stay in Cancun Mexico – 5 Best Areas to Stay in Cancun
Where to stay in Cancun map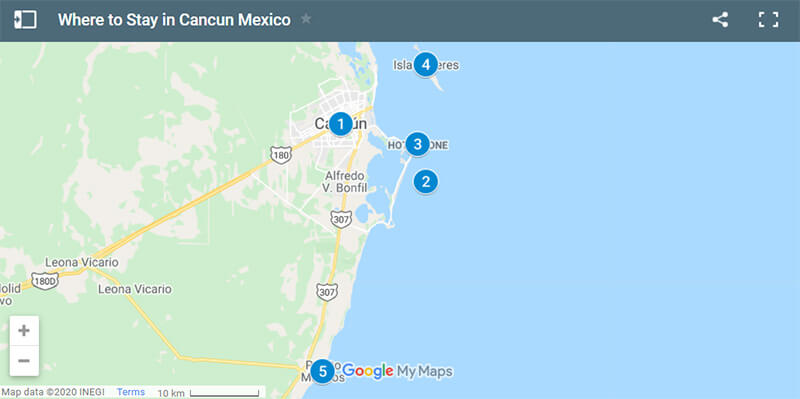 To see more detail of Where to Stay in Cancun map, go to Google Map;
1. El Centro, Where to Stay in Cancun for Real Feel of Mexico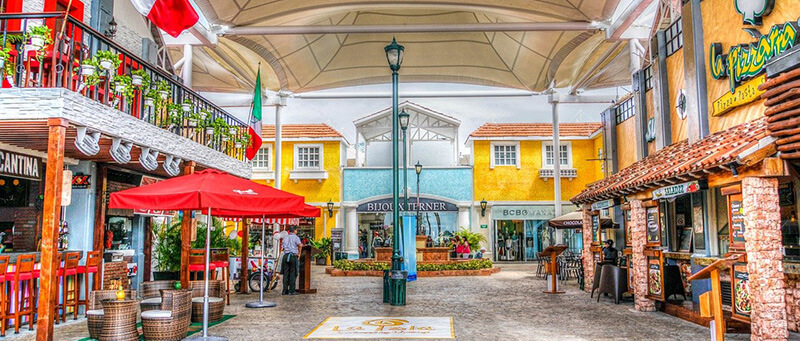 If you decide on Cancun, but still want the authentic feel of Mexico, you will still experience this if you stay in El Centro. It is home to the locals, more of whom are directly employed in tourism than anything else.
There are plenty of restaurants serving local Mexican cuisine as they have for years. It is a place with plenty of variety with artisan crafts and clothing that will remind tourists of their holiday. Plenty of bars are found in El Centro as well.
Budget travelers are most likely to find suitable accommodation in El Centro rather than modern hotels and resorts elsewhere. Backpackers tend to travel for the experience rather than sea and sand so El Centro would be their preference anyway, irrespective of the cost.
There are buses and taxis to take anyone using El Centro as a base to the nearest beaches.
YOU SHOULD STAY IN EL CENTRO IF:
You want a real feel of Mexico
You enjoy local cuisine when you travel
You are a single traveler or on a budget
Your shopping will be primarily local crafts and clothing
You are not concerned about being away from the beach
Best Hotels in downtown
2. Zona Hotelera, Where to Stay in Cancun for First Time Travelers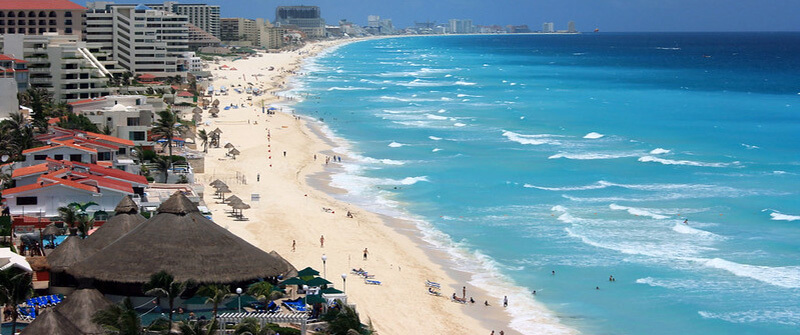 If it is your first time in Cancun, Zona Hotelera is probably the area to look at first. All the hotels are new and their facilities are all that any guest would want. The whole zone, which is around 15 miles long, is a loop.
Each hotel sits on the beach with warm water just a few steps away. By day, guests can enjoy a range of water sports while the clear blue water is great for snorkeling and scuba diving. The El Rey Archaeological Zone is just to the south if you want some time away from the beach.
You can just relax if you wish even though there is plenty of activity around you. Do some research if you want to find accommodation that might be more tranquil than others.
By night, there is plenty of choices when it comes to bars. World-class restaurants serve cuisine from every corner of the world.
YOU SHOULD STAY IN ZONA HOTELERA IF:
You are a first-time traveler to Cancun
The beach and sea are your main interests on holiday
You want plenty of accommodation choices
You enjoy the crowds associated with beach holidays
Best Hotels in Zona Hotelera
3. Punta Cancun, Where to Stay in Cancun for Party, Nightlife
If you are a party animal, there is the third district in Cancun that you should investigate. Punta Cancun seems to never sleep! There are plenty of holidaymakers who can keep going right through the night then sleep from the early hours until lunchtime.
Do you identify yourself in that group? If you do, Punta Cancun is for you. It is located north of the Hotel Zone and is filled with bars and clubs. You also have a wide choice of restaurants.
It would be wrong to sleep all day in Punta Cancun, even with a spot on the beach. This is the best place for windsurfing. As many as 15 reefs in its waters make it also a great place for snorkeling. Those reefs are filled with colorful marine life to please your eye.
YOU SHOULD STAY IN PUNTA CANCUN IF:
You are a party animal
You want to be close to plenty of bars and restaurants
You enjoy windsurfing and snorkeling
You are not on a tight budget
4. Isla Mujeres, Where to Stay in Cancun for Family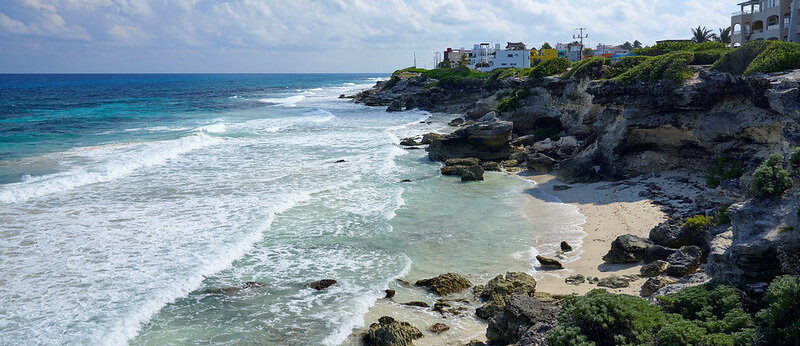 This offshore island is a fourth alternative if you decide on a holiday in Cancun. It is about 12 miles out into the Caribbean. Not surprisingly, it is not as busy as the Hotel Zone so is a good choice for a relaxing holiday.
Isla Mujeres is about 4 miles long and half a mile wide. It has beautiful beaches, plenty of palm trees, and the chance to snorkel or zipline. The resorts will all arrange any activities that you might want.
This island is a great place for families, especially those wanting to avoid the crowds who can tend to be noisy, especially at night. Isla Mujeres lacks for nothing. Its shopping developed with tourism in mind but it is still good. Local cuisine is readily available with seafood,, caught that day, an obvious favorite.
You will find some good pubs and clubs to try each night.
YOU SHOULD STAY IN ISLA MUJERES IF:
You prefer a quiet location
You are traveling as a family
Local cuisine, especially seafood, is a ''must'' on holiday
You still want plenty of choice at night
You don't mind a longer transfer than other districts as long as the final base is good
Best Hotels in Isla Mujeres
5. Puerto Morelos, Where to Stay in Cancun for Couples, Singles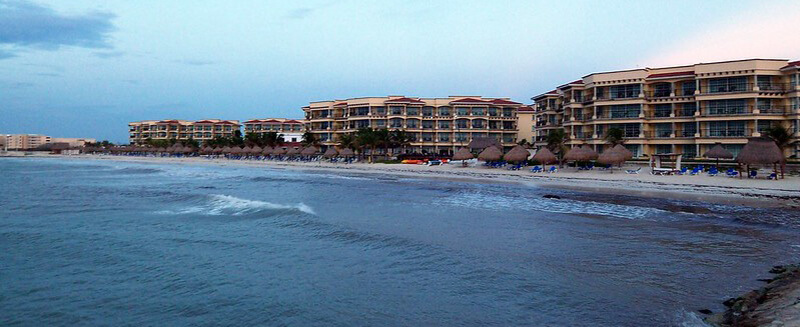 Although this is a small town just over 20 miles south of Cancun, it is often regarded as the fifth option of places to stay when you have decided on Cancun. Its beaches are very good and it is the same clear and warm Caribbean Sea.
One advantage it has over Cancun's most popular district, the Hotel Zone, is that it is quieter. There are still quality hotels and everything a tourist might want on their holiday.
Another advantage is its proximity to Mayan ruins. The Botanical Gardens and a number of cenotes are other attractions. Several of the cenotes are suitable for swimming. Puerto Morelos National Park has an offshore reef filled with colorful marine life.
Puerto Morelos can claim to still be a fishing village so there are no prizes for guessing what you should eat when you sit down for dinner.
YOU SHOULD STAY IN PUERTO MORELOS IF:
You want a feel of local life in Mexico
You enjoy local cuisine, especially seafood
You want to avoid busy and noisy districts
You are comfortable with a longer transfer than other districts if the place is right
Best Hotels in Puerto Morelos
Valentin Imperial Riviera Maya All Inclusive – Adults Only is a stunning, 5-star, over 18's hotel, located on a half mile stretch of its own private beach. As an all-inclusive resort, it gives you the chance to enjoy your luxurious surroundings and make the most of the 7 restaurants on offer, which serve Italian, French, Japanese, Indonesian and Mexican cuisines, as well as steak and seafood.
Catalonia Playa Maroma – All Inclusive is a fabulous, 5-star, all-inclusive, beachfront resort. The restaurant serves a wide range of cuisines suitable for all guests, while a choice of pool and beach bars will let you make the most of your visit. During the day, facilities like swimming pools, tennis courts, a gym, spa and a range of water sports will keep you busy, while there is an on-site nightclub to ensure your evenings are just as exciting.
Now Jade Riviera Cancun Resort & Spa – All Inclusive is a fabulous, family friendly, 5-star, all-inclusive, beachfront resort, featuring bright, spacious suites with luxurious interiors and terraces with stunning views. With a choice of 8 restaurants, 3 pools, a golf course, water sports and a range of clubs and live entertainment for all ages, you can ensure no one who stays here will ever have the chance to be hungry or bored.
Where to Stay in Cancun with the Family/with a toddler?
The modern hotels in Zona Hotelera and Punta Cancan have all the amenities that anyone might want while on holiday. However, these areas are busy and potentially noisy at night, especially Punta Cancun.
As a result family or anyone with a small child is advised to look elsewhere to find a suitable hotel. El Centro is the original town with plenty of accommodation alternatives. While transfer time increases, Isla Mujeres is a great place for families once they arrive at their accommodation.
Krystal Grand Canyon is an option in Zona Hotelera but if you fancy Isla Mujeres, why not try Hotel Playa la Media Luna?
Where to Stay in Cancun for Couples?
Couples wanting a quiet holiday should avoid Punta Cancun which is for party animals. A couple wanting to party should head there but otherwise should think about what they want from the holiday.
Zona Hotelera is the most popular neighborhood in Cancun so clearly plenty of couples decide to stay in one of its many hotels. However, for an authentic Mexican holiday, El Centro and Puerto Morelos have more to offer.
Best Beach Apartments, Cancun Plaza in Zona Hotelera is worth investigating.
Where to Stay in Cancun for a Spring Break?
American students were among the first groups to '' discover'' Cancun. The hotel developments along the coastline have become very popular with students wanting some time away from their studies. Those interested in Mayan culture might consider Puerto Morelos but the top choices for a Spring Break are the Zona Hotelera and Punta Cancun.
Where to Stay in Cancun on a Budget?
El Centro is probably the best place to stay if you are on a tight budget. The accommodation is not new but it is clean and comfortable. This is where the locals live so tourist prices are rare while there is plenty in the way of bars and restaurants.
Fiesta Party Hostel is less than $10 a night and is found in El Centro.
Where to Stay in Cancun for Nightlife/Party?
Punta Cancun is regarded as the place for all-night revelry. There are parties every night, bars and clubs. Those who retire in the very early hours can sleep in hotels or on the beaches.
With plenty of water sports available by the day, Punta Cancun is certainly the first place to look for accommodation if you want an active time, night and day.
Where Should I Stay in Cancun Mexico?
Your decision on where to stay in Cancun very much depends upon your personal circumstances.
Those on a budget should look to see what El Centro has to offer.
Families should avoid the noisy areas of Cancun, primarily Punta Cancun but also parts of Zona Hotelera. Isla Mujeres involves a longer transfer both ways but once you are there, what's the problem?
Couples may want a quiet holiday in which case Isla Mujeres is also a place to look at closely. If they are both party animals, then Punta Cancun and Zona Hotelera are the best choices.
Singles who want to enjoy nightlife and daytime activities can look at Punta Cancun and compare it to El Centro where the accommodation is cheaper. The latter is a bus ride to the beach but if that is not important, El Centro may be the choice?
Where to Stay in Cancun for One Night?
If you just have a single night in Cancun, you will get your bearings quickly if you stay in El Centro. There is not much time to do anything. Take a taxi to the beach perhaps but staying out in Zona Hotelera for just 24 hours is hardly worth it.
Where to stay near Cancun Airport?
If you want to stay close to Cancun Airport to minimize transfer times, you have a few alternatives:
Further options are over 3 miles away:
To give you an idea of Cancun Airport's location, it is south of the Resort, 11 miles to El Centro but closer to parts of Zona Hotelera.
Where Do Celebrities Stay in Cancun Mexico?
Rui Palace has been known to have celebrities staying but more often, celebrities tend to rent the property so as to improve their privacy. Cancun was the first major resort on this coastline but its development has meant that celebrities often select somewhere smaller like Cabo San Lucas and Tulum further south.
Where to Stay in Cancun for Singles?
Single travelers have several options in Cancun. Those who are backpacking or on a small budget are most likely to look at El Centro first. It is a bus or taxi ride to the beach. The liveliest part of Cancun for party animals is Punta Cancun.
If you are traveling alone and the nightlife is not your priority, you should look at Puerto Morelos which still has all the beach and sea activities. There is more and it is the best place for you to explore Mayan ruins, as well as to enjoy the cenotes. If you enjoy snorkeling and scuba diving, the reek offshore in the National Park is impressive with plenty of colorful marine life.
Hotel Suites Gaby or Hotel Kavia are places to look at.
How Much Is It to Stay in Cancun for a Week?
You can spend as little as US$30 per night to get accommodation in El Centro for a week. You can get bus transport and 3 meals a day for something around a further US$ 50 so you will spend less than US$ 600 for a week. If you want to go further afield, for example, to visit Mayan ruins, that will be extra.
At the top end, you can spend more than US$600 for a single 5 star all-inclusive night for a couple although that is an exception. All-inclusive in Zona Hotelera vary between $150 and $300 per night on average.
You can expect to pay more than $200 a night for a couple in Zona Hotelera so you have little change from $1500 for the week.
Conclusion
Cancun has grown enormously over recent years and you can expect it to be busy most of the time. There are plenty of beach areas and good tourist infrastructure to cater to its popularity. Even if you stay in El Centro, you are only a bus or taxi ride from the beach.
If all you want is a beach holiday, there is a huge choice. If you want to experience more of Mexican daily life, El Centro is a good start. Alternatively, if Mayan culture is important to you, it may be that an outlying area closer to the jungle is better. Whichever way you go, you can expect warm seas, sandy beaches, and a great climate.
---
---