The best areas to stay in Cancun for both first time and returning tourists are the neighborhoods of Zona Hotelera, El Centro (Downtown), Punta Cancún, Isla Mujeres, Playa Mujeres (Costa Mujeres), Puerto Juarez, Puerto Morelos. In this blog post, I will go over where to stay in Cancun for couples, families, nightlife, and all-inclusive accommodations!
Mass air travel meant that Cancun was seen as a great location for a beach holiday. Its small airport began to receive flights from the USA and later Europe as well. It took a while before the ''real explosion'' came but once it did, Cancun's growth was rapid. Not surprisingly, the development included Cancun International Airport with hugely expanded capacity.
If you are a party animal, you have two choices, Punta Cancun and secondly Zona Hotelera. These two districts certainly attract youngsters on their Spring Break. These areas are not just exclusively for youngsters because the resorts recognize the spending power of the older generation and families.
If you want somewhere quiet, however, start your search elsewhere. Isla Mujeres is good for families and certainly more tranquil. If you want to stay there, you need to accept it will take longer to get to your accommodation from the airport, and also to get back there. If you don't mind that, the Isla is a good choice.
Likewise, Puerto Morelos is a longer transfer but it has some notable advantages once you have checked in. There is more than just good weather, sand and sea.
El Centro is a taste of Mexico even though there are plenty of bars and restaurants. Traditional cuisine is found in many of the hotels. Bars and clubs are plentiful in El Centro. While you need to travel to reach the beach, it is a very short distance which cannot make it a real inconvenience.
7 Best Areas Where to Stay in Cancun 
1. Zona Hotelera, where to stay in Cancun for first time tourists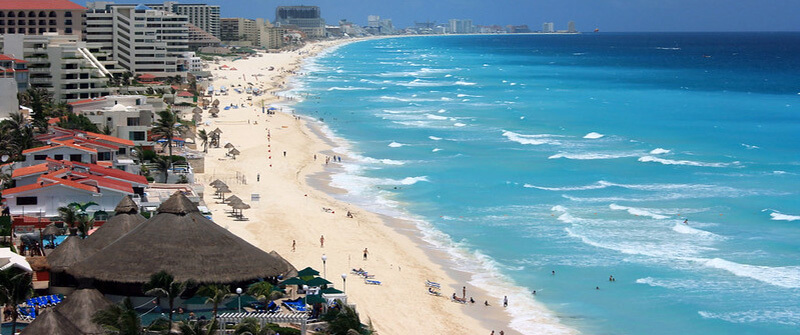 If it is your first time in Cancun, Zona Hotelera is probably the area to look at first. This 22.5km long thin peninsula with a "7" shape is a long stretch of hotels, restaurants, nightclubs, bars, golf courses, and shopping malls.
The North Hotel Zone is the top part of 7 and on Mujeres Bay. It is the closest part of the Hotel Zone to El Centro and the nightlife area of Punta Cancún. The beaches in the north have calm water and soft sand, good for families with small children.
Middle Hotel Zone is the busiest, with nightclubs, malls, and family-friendly attractions; and the South Hotel Zone is the most peaceful area near the Punta Nizuc and Cancun International Airport.
Zona Hotelera has the highest concentrations of exclusive resorts and all-inclusive hotels in Cancun. All the hotels are new and their facilities are all that any guest would want.
Each hotel sits on the beach with crystal clear, turquoise, warm water, and white sand just a few steps away. By day, guests can enjoy a range of water sports while the clear blue water is great for snorkeling and scuba diving.
Some of the popular beaches in the Zona Hotelera are Dolphin Beach (Playa Delfines), Playa Marlin, Playa Ballenas, Playa Tortugas, and Playa Caracol.
Zona Hotelera has a vibrant nightlife with plenty of shops, restaurants, nightclubs, and bars, especially along Blvd. Kukulkan (Kukulkan Boulevard).
If you like shopping, there are several shopping centers such as La Isla Shopping Village, Luxury Avenue Boutique Mall, and Kukulcan Plaza, Marina Town Center (Puerto Cancun).
Apart from the nightlife, shopping, Hotel Zone also boats the El Rey Archaeological Zone, Museo Maya de Cancún y Zona Arqueológica de San Miguelito, Interactive Aquarium Cancún, Cancún Underwater Museum, Cancun Golf Club at Pok Ta Pok, and Iberostar Cancun Golf Club.
To get to Hotel Zone from downtown you can take a taxis but be aware of the rates at taxi stands or one of the two buses: R1 is the route to Avenue Tulum, the ADO bus station, and the Hotel Zone; R2 is the loop route on Avenues Coba, Xcaret, and the Hotel Zone.
Stay in Zona Hotelera if you are a first-time traveler to Cancun, the beach and sea are your main interests on holiday, you want plenty of accommodation choices, you enjoy the crowds associated with beach holidays.
Best luxury hotels in Zona Hotelera:
Nizuc Resort & Spa This 5-star beachfront resort features an outdoor pool, private dock and spa, free wifi, free private parking, and 6 on-site restaurants serving modern Mexican dishes, Peruvian ceviches, Asian and Mediterranean cuisine. It has air-conditioned rooms with coffee makers, flat-screen TVs, spacious bathrooms with a bathtub with rainfall showers.
Le Blanc Spa Resort Cancun Adults-Only All-Inclusive This all-inclusive resort offers luxurious rooms with satellite flat-screen TVs, fully stocked minibars, coffee facilities, bathrobes, slippers, a state-of-the-art gym, 3 outdoor pools, and a buffet breakfast and lunch.
Grand Fiesta Americana Coral Beach Cancun – All Inclusive This all-inclusive resort provides a gym with an ocean view, 6 fine-dining restaurants, a large outdoor pool along with a children's club, it has a suite with a private balcony and a seating area, a minibar and an in-room safe.
Hyatt Ziva Cancun This stunning beachfront resort is set on the beautiful strip of Punta Cancun, offers rooms a flat-screen TV, minibar and a coffee machine, a private bathroom with a shower, bathrobes, and slippers.
Best mid-range hotels in Zona Hotelera:
Panama Jack Resorts Cancun is a fabulous family-friendly resort with sea views, boasting luxurious suites with their own private terrace or balcony, situated between two beaches near La Isla Shopping Mall. Close to The City Nightclub, Coco Bongo, Kukulcan Plaza.
Emporio Cancun is a beautiful, 4-star, beachfront hotel, located right next to the San Miguelito Archaeological Site and the Cancun Maya Museum. The property also boasts a pool and bar, as well as free parking, air-conditioned suites, and free wifi.
Renaissance Cancun Resort & Marina is a beautiful hotel, featuring large, air-conditioned rooms designed in a modern, minimalist style, as well as its own private marina. Located next to both a Puerto Cancun Golf Course and the city's largest shopping mall – Marina Town Center.
Best budget hotels in Zona Hotelera:
Mayan Monkey Hotel & Hostel Cancun is a nice budget property, with free wifi, free private parking, a bar, and an outdoor swimming pool. It's close to La Isla Shopping Mall, Coco Bongo, Kukulcan Plaza.
The Royal Islander – An All Suites Resort This accommodation is located right on the beachfront, with outdoor pools, tennis courts. Rooms and suites with views of the Caribbean Sea and Nichupté Lagoon, air-conditioned, a cable TV, a coffee maker, and a fridge.
La Villa du Golf à Cancun Hotel Boutique This boutique hotel offers rooms with different styles, free wifi, air conditioning, private bathroom. Located near the Chedraui Selecto supermarket, the entrance to the public beach Caracol, the nightclub area (Coco Bongo, Mandala), the international convention center (Cancun ICC), as well as many restaurants.
Read Also:
2. El Centro (Downtown), where to stay in Cancun on budget and local vibe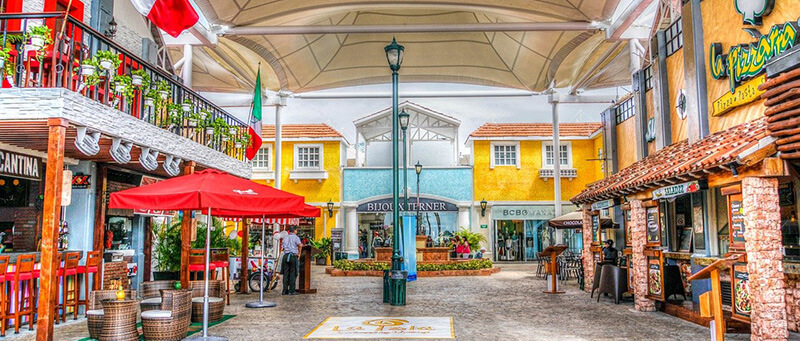 If you decide on Cancun, but still want the authentic feel of Mexico, you will still experience this if you stay in El Centro. It is home to the locals, more of whom are directly employed in tourism than anything else.
There are plenty of restaurants serving local Mexican cuisine as they have for years. It is a place with plenty of variety with artisan crafts and clothing that will remind tourists of their holiday. Plenty of bars are found in El Centro as well.
Parque las Palapas is the main square in the city where locals and tourists hang out. You will find many food stalls that sell local cuisines like homemade ice cream, marquesitas, chicarones, and churros.
Within a short distance from El Parque de las Palapas, you will find Avenida Tulum (Tulum Avenue), Avenida Yaxchilan (Yaxchilan Avenue), and Mercado 28 (Market 28).
Avenida Tulum is where you can find the most popular shopping and dining options, such as Plaza Las Americas Mall, Puerto Cancun Marina Town Center, Shops Cancun, Hallmark Shop, and Skills Grafitti Shop. It's also home to the Monumento a la Historia de México, the Fuente del Ceviche, and the Palacio Municipal.
The lively street of Yaxchilan Avenue offers a great nightlife scene. It is lined with Karaoke joints, sports bars, bars with live music, and traditional Mexican restaurants. You can have your dinner at La Parrilla or Los Arcos, and some beers at La Taberna.
If you want to grab some Cancun souvenirs, head to Mercado 28, a long-running flea market located at Plaza San Miguel. There are also a bunch of restaurants and street-food vendors for traditional Yucatan meals.
Budget travelers are most likely to find suitable hostels, mid-range hotels in El Centro rather than modern hotels and resorts elsewhere. Backpackers tend to travel for the experience rather than sea and sand so El Centro would be their preference anyway, irrespective of the cost.
There are buses and taxis to take anyone using El Centro as a base to the nearest beaches. With the ADO bus station, you can easily travel to Tulum, Playa del Carmen, and Chichén Itzá in colonial Valladolid.
Stay in El Centro if you want a real feel of Mexico, you enjoy local cuisine when you travel, you are a single traveler or on a budget, you like to hang out with locals in the park Parque las Palapas, your shopping will be primarily local crafts and clothing, you are not concerned about being away from the beach.
Best places to stay in Cancun downtown:
Best luxury hotel: Kabah Boutique Hotel This hotel has an on-site restaurant, outdoor swimming pool, a fitness center, a bar, a 24-hour front desk, airport transfers, a shared lounge, and free WiFi throughout the property. it also provides a continental or American breakfast.
Four Points by Sheraton Cancun Centro is also a good luxury hotel that has air conditioning rooms with a coffee machine, a cable TV, a private bathroom, a work desk, and free wifi.
Best mid-range hotel: Suites Malecon Cancun is a 4-star hotel offering beautiful suites, stunning views of Nichupté Lagoon and the city, and an incredible selection of amenities. This Cancun hotel is located within walking distance from Boulevard Kukulkan, and close to Las Américas Shopping Mall.
Hotel Kavia is a stylish, modern, 4-star hotel, boasting a choice of both indoor and outdoor pools, as well as a restaurant and bar. It's situated near Playa Las Perlas, Cristo Rey Church, Cancun Bus Station, and Cancun Government Palace.
Best budget hotel: Nomads Hotel & Rooftop Pool Cancun is a wonderful property, providing affordable accommodation in the heart of the city, within walking distance from the main Cancun Bus Station. It's also near Cancun Government Palace, Cristo Rey Church, and Parque las Palapas.
Another good budget hotel Bed and Breakfast Pecarí offer air-conditioned rooms with access to free WiFi, free parking, breakfast, and an airport shuttle. It's close to Cancun Bus Station, La Isla Shopping Mall, and Cancun Government Palace.
Some of the other best hotels in Cancun downtown including midrange hotel ‣Oh! Cancun – The Urban Oasis, budget hotel ‣One Cancun Centro
3. Punta Cancún, where to stay in Cancun for nightlife
If you are a party animal, Punta Cancun, the northern area of Hotel Zone is the best area to stay in Cancun. Punta Cancun seems to never sleep! There are plenty of holidaymakers who can keep going right through the night then sleep from the early hours until lunchtime.
Punta Cancun is filled with clubs and bars, and restaurants. Here, you will fin find famous clubs at Forum by the Sea like Coco Bongo, Mandala, Senor Frog's, Cabana Beach, and The City.
It would be wrong to sleep all day in Punta, even with a spot on the beach. This is the best place for windsurfing. As many as 15 reefs in its waters make it also a great place for snorkeling. Those reefs are filled with colorful marine life to please your eye.
Here, you will find public beaches like Gaviota Azul Beach, Chac Mool Beach, and Tortugas Beach. Also close to La Isla Shopping Village, Plaza Kukulkan, and Plaza Forum Mall.
Stay in Punta Cancún if you are a party animal, into great nightlife, you want to be close to plenty of bars and restaurants, you enjoy windsurfing and snorkeling, you are not on a tight budget.
Best places to stay in Cancun in Punta:
Best luxury hotel: Live Aqua Beach Resort Cancun This 5-star hotel is located in the Hotel Zone, near La Isla shopping center, and right next to Nichupte Lagoon. It offers direct access to Cancun beach, an outdoor swimming pool with stunning views of the Caribbean Sea.
Best mid-range hotel: Canopy By Hilton Cancun La Isla, Aloft Cancun This 4-star hotel is close to Forum Beach, Marlin Beach, Coco Bongo nightclub, and a short drive from Maya Cancun Museum and El Rey archaeological site.
Best budget hotel: Beachscape Kin Ha Villas & Suites This Cancun resort is just a few minute's drive from the Pok-ta-Pok Golf course. This hotel offers an outdoor pool, children's pool, convenience store, and salon with massage services. It offers direct access to the beach, which is popular for snorkeling and swimming.
Other best hotels in Punta Cancun
4. Isla Mujeres, where to stay in Cancun for families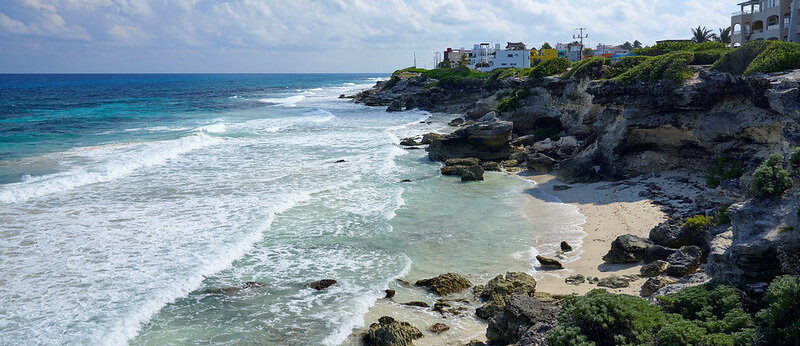 Located a 15-minute boat ride from Cancun, this offshore island is a fourth alternative if you decide on a holiday in Cancun. It is about 12 miles out into the Caribbean. Not surprisingly, it is not as busy as the Hotel Zone so is a good choice for a relaxing holiday.
Isla Mujeres is about 4 miles long and half a mile wide. It has beautiful turquoise blue waters, white-sand beaches, plenty of palm trees, and the chance to snorkel or zipline. Playa Norte (North Beach) is one of the best beaches in Mexico.
This island is a great place for families, especially those wanting to avoid the crowds who can tend to be noisy, especially at night. Isla Mujeres lacks for nothing. Its shopping developed with tourism in mind but it is still good.
On the southernmost part of the island, you will find Punta Sur Park where you can find Mayan ruins at Ruins of Ixchel Temple, trails, cliffs, and iguanas; and the Garrafon National Reef Park to explore the natural reefs.
Tortugranja turtle conservation center, MUSA Underwater Sculpture Museum, Hacienda Mundaca, Dolphin Discovery, and Parque de Los Sueños are also the must-see attractions in Isla Mujeres.
Local cuisine is readily available with seafood, caught that day, an obvious favorite. You will find some good pubs and clubs to try each night.
Stay in Isla Mujeres if you prefer a quiet location with sightseeing, you are traveling as a family, local cuisine, especially seafood, is a ''must'' on holiday, you still want plenty of choice at night, you don't mind a longer transfer than other districts as long as the final base is good.
Best Hotels in Cancun Isla Mujeres:
Best luxury hotel: Izla Beach Front Hotel is a superb, 5-star resort, featuring spacious rooms designed in a minimalist style, located just 450 yards from Paraiso Beach. It's close to Cancun Underwater Museum, National park El Garrafón.
Another luxury option Ixchel Beach Hotel is a beautiful, 5-star, beachfront resort, boasting spacious rooms and facilities like an outdoor pool, bar, grill, and spa. Perhaps its largest selling point though is the range of unique organized activities it offers, which includes scuba diving, deep-sea fishing, swimming with sharks, and a trip to Garrafon Nature Park.
Best mid-range hotel: Privilege Aluxes Adults Only is a luxurious, over 18's, beachfront resort in Isla Mujeres, near Playa Norte. With 2 outdoor swimming pools, a beach club, restaurant, spa, and an incredible range of available excursions, it gives you the freedom to relax or have fun, without having to worry about being surrounded by kids all the time.
Best budget hotel: Nomads Hotel & Beachclub is a fabulous option for those traveling on a budget. With a choice of private rooms and shared dormitories, all set in a beachfront location and boasting a traditional style, it means you can still get to experience the traditional nature of the area, without having to break the bank to do so.
Other best hotels in Isla Mujeres mid-range ‣Bahia Tolok ‣ Hotel La Joya Isla Mujere budget ‣Casa ka'an ‣Casa del Jaguar Beach Hotel
5. Playa Mujeres (Costa Mujeres), new luxury resort in Cancun
Located only 20 minutes north of Cancun and in front of Isla Mujeres, Playa Mujeres (also known as Costa Mujeres) is both luxurious and exclusive. The whole setting is exotic and ideal for a relaxing time during which your every need will be satisfied. The resorts all take advantage of the clear blue waters, lovely climate, and equally impressive white sandy beaches.
Only the finest chefs can compete in this competitive atmosphere as clients only expect the best. This is in terms not only of cuisine but recreational facilities, golf, and water-based, spa and leisure amenities, and shopping.
If you are interested in history and archaeology, the Yucatan Peninsula has all you could want but back at base on a resort in Playa Mujeres, just relax and enjoy.
Playa Mujeres boasts a Punta Sam ferry terminal where you can catch the ferry to Isla Mujeres with several trips throughout the day. There is also an academy Rafa Nadal Tennis Center for tennis lovers and Playa Mujeres Golf Club for golf enthusiastic.
Playa Mujeres is also close to El Meco Archaeological Site, Isla Blanca, and Puerto Juárez
Stay in Playa Mujeres if your expectation is that your every need is satisfied, you're looking for a romantic holiday, you want fine cuisine and are happy to pay for it, your budget allows you to choose the best local resorts.
Best places to stay in Cancun in Playa Mujeres:
🔍FIND BEST HOTELS IN PLAYA MUJERES
6. Puerto Juarez, where to stay in Cancun for quiet holiday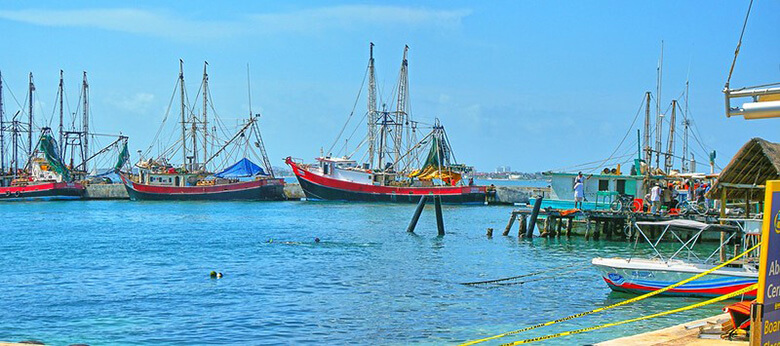 If you like the idea of Cancun but prefer to avoid the worst crowds, take a look at Puerto Juarez. It is just 2 miles to the north of the action on the road to Punta Sam. It is the place where you can take a ferry to Isla Mujeres but it is much more than that.
Puerto Juarez has a good choice of cheap accommodation while the rustic restaurants fit in well with the relatively quiet beaches and relaxed atmosphere. The seafood is probably the first thing you should look at on local menus.
The medium-sized marina has mega-yachts, standard yachts, and boats. If you want to enjoy time in the Caribbean as well as water sports, Puerto Juarez gives you the opportunity.
Stay in Puerto Juarez if You want to avoid the busiest crowds, A relaxed atmosphere is a priority, You have a love of fresh seafood, Time on the sea appeals to you.
Best places to stay in Cancun near Puerto Juarez:
Dreams Vista Cancun Golf & Spa Resort offers a private beach area and an outdoor swimming pool, a fitness center, and free WiFi. It's about 2km from Cancun Government Palace.
Tu Casa en el Caribe this homestay offers accommodation with a garden, a terrace, and free WiFi. This property is 3.9 km from Cancun Government Palace. It comes with a bathroom with a bath or shower and free toiletries. The kitchenette features an oven and a microwave.
Lenderman B&B offers accommodation with free WiFi, air conditioning, a shared lounge and a garden. This homestay provides free private parking and a shared kitchen. It's close to Beto Avila Stadium and Cancun Government Palace.
🔍FIND BEST HOTELS IN PUERTO JUEAREZ
7. Puerto Morelos, where to stay in Cancun for the local vibe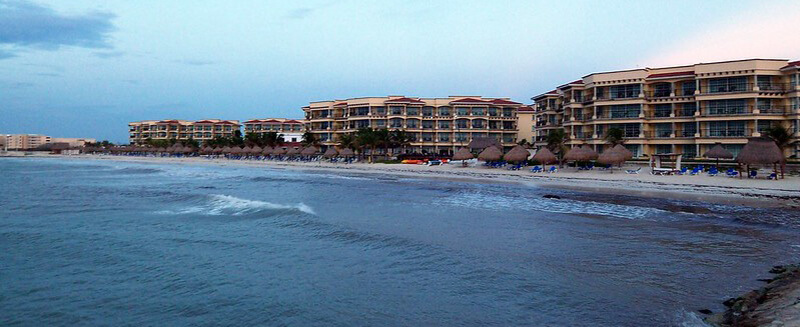 Puerto Morelos is a small town, just 20 minutes south of Cancun International Airport. Its beaches are very good and it is the same clear and warm Caribbean Sea.
One advantage it has over Cancun's most popular district, the Hotel Zone, is that it is quieter. There are still quality hotels and everything a tourist might want on their holiday.
Another advantage is its proximity to Mayan ruins. The Botanical Gardens and a number of cenotes are other attractions. Several of the cenotes are suitable for swimming. Puerto Morelos National Park has an offshore reef filled with colorful marine life.
Puerto Morelos can claim to still be a fishing village so there are no prizes for guessing what you should eat when you sit down for dinner.
Stay in Puerto Morelos if you want a feel of local life in Mexico, you enjoy local cuisine, especially seafood, you want to avoid busy and noisy districts, you are comfortable with a longer transfer than other districts if the place is right.
Best places to stay in Cancun in Puerto Morelos:
Valentin Imperial Riviera Maya All Inclusive – Adults Only is a stunning, 5-star, over 18's hotel, located on a half mile stretch of its own private beach. As an all-inclusive resort, it gives you the chance to enjoy your luxurious surroundings and make the most of the 7 restaurants on offer, which serve Italian, French, Japanese, Indonesian and Mexican cuisines, as well as steak and seafood.
Catalonia Playa Maroma – All Inclusive is a fabulous, 5-star, all-inclusive, beachfront resort. The restaurant serves a wide range of cuisines suitable for all guests, while a choice of swimming pool and beach bars will let you make the most of your visit. During the day, facilities like swimming pools, tennis courts, a gym, spa and a range of water sports will keep you busy, while there is an on-site nightclub to ensure your evenings are just as exciting.
Now Jade Riviera Cancun Resort & Spa – All Inclusive is a fabulous, family-friendly, 5-star, all-inclusive, beachfront resort, featuring bright, spacious suites with luxurious interiors and terraces with stunning views. With a choice of 8 restaurants, 3 pools, a golf course, water sports and a range of clubs and live entertainment for all ages, you can ensure no one who stays here will ever have the chance to be hungry or bored.
Other best hotels in Puerto Morelos ‣luxury ‣Hotel Marina El Cid Spa & Beach Resort – All Inclusive ‣midrange ‣Vela's Condos Ocean Front ‣ Hotel El Moro budget ‣Casa Boutique Hokhmah ‣Abbey Del Sol
🔍FIND BEST HOTELS IN PUERTO MORELOS
See more:
Check out my virtual tour about the best areas to stay in Cancun in this video:
See Also:
This vibrant resort on the Mexican state of Quintana Roo on Mexico's Yucatan Peninsula has grown enormously over the last three decades. Its population has grown almost fivefold to three-quarters of a million in that time because of the basics of lovely climate, beautiful sand, and warm Caribbean waters.
The Yucatan Peninsula is packed with tropical beaches, golf courses, cenotes, colonial villages, theme parks, and famous ancient Mayan ruins such as Chichen Itza near Valladolid, Ek Balam, Tulum, and Coba ruins.
Cancun has grown enormously over recent years and you can expect it to be busy most of the time. There are plenty of beach areas and good tourist infrastructure to cater to its popularity. Even if you stay in El Centro, you are only a bus or taxi ride from the beach.
Now as you know where to stay in Cancun, all you need to do is to book your accommodations and ready to go!