In this article, I will give an insight into where to stay in Riviera Maya and best areas to stay in Riviera Maya, and the best hotels in Riviera Maya for all budgets.
Located on the west coast of the Yucatan Peninsula, Riviera Maya stretches from Puerto Morelos, a seaside village south of Cancun to Punta Allen. It encompasses Puerto Morelos, Playa del Carmen, Akumal, Soliman's Bay, Tank Ha Bay, Tulum, and the Sian Ka'an.
Covering 100 miles of coastline, it contains numerous tropical beaches, golf courses, Ecological Theme Parks, ancient Mayan ruins, cenotes, villages, and tourist resorts. However, with the more famous Cancun located just 20 miles north, it is a destination many people often overlook. 
The most popular travel location in the Riviera Maya is Playa del Carmen, where you can take ferries to Cozumel Island which is a famous spot for snorkeling and diving.
Along the coast, there are a few famous theme parks such as Xcaret Eco Archaeological Park, Xel Ha Ecological Park, Sian Ka'an Biosphere Reserve, Aviario Xaman-Ha, and Xplor.
Perhaps exploring some of the ancient Mayan ruins along the Riviera Maya coast is what has drawn you to the Riviera Maya? Anyone for whom that's the case will want to give serious consideration to either Tulum or Akumal.
Some of the best Mayan ruins to visit in the Riviera Maya are Chichén Itzá in Valladolid which is the New Seven Wonders of the World, Mayan ruins of Tulum, Mayan ruins of Cobá, Mayan archeological site Ek Balam, Mayan ruins of Xaman-Há, Mayan sites in Uxmal, Archeological Area of Palenque, Chunyaxché.
Apart from the beaches, theme parks, ruins, Riviera Maya is also well-known for its cenotes ( natural sinkhole where you can swim) such as Cenote Dos Ojos, Grand Cenote in Tulum; Chikin Ha, Jardin Del Eden, and Azul Cenote near Playa del Carmen;
If it's an active trip you're looking for, then the sports on offer in Puerto Aventuras should have you covered. If that doesn't sound like your sort of thing, you could always stay in Felipe Carrillo Puerto and get your exercise exploring the Boca Paila Peninsula.
There will even be those who simply want to remain near the airport, to avoid missing their flight or dragging their baggage all over the place. In this case, you will want to stay in the legendary Cancun.
Where to Stay in Riviera Maya?
The best areas to stay in Riviera Maya are Playa Del Carmen, Cancun, Tulum, Cozumel, Puerto Morelos, Akumal, Puerto Aventuras, Felipe Carrillo Puerto.
Your choice of where to stay in the Riviera Maya should align with your interests, whether that's beach relaxation, adventure, nightlife, or cultural exploration.
Consider what activities and experiences are most important to you, as well as your budget, when making your decision.
Overviews of best areas to stay in Riviera Maya for tourists
Here is an overview of recommended areas in Riviera Maya for first-time visitors:
| Best areas in Riviera Maya | Why should you stay in this area? |
| --- | --- |
| Playa del Carmen | Playa del Carmen is a vibrant coastal town known for its beautiful beaches, bustling Fifth Avenue (Quinta Avenida) with shops and restaurants, and lively nightlife. It's a great choice if you want a mix of relaxation and entertainment. |
| Cancun | Cancun is famous for its luxurious resorts, beautiful beaches, and vibrant nightlife. It's a popular choice for those looking for an all-inclusive resort experience and easy access to the Hotel Zone. |
| Tulum | Tulum is known for its bohemian and eco-friendly vibe. It offers stunning beaches, boutique hotels, and the famous Tulum Ruins. If you're into yoga, wellness, and a more relaxed atmosphere, Tulum is a great option. |
| Cozumel | Cozumel is an island located just off the coast of Playa del Carmen. It's known for its excellent scuba diving and snorkeling opportunities. If you're a water sports enthusiast, Cozumel is a fantastic choice. |
| Puerto Morelos | Puerto Morelos is a charming fishing village that offers a quieter and more laid-back atmosphere compared to some of the busier towns in the region. It's great for those seeking a tranquil getaway. |
| Akumal | Akumal is known for its beautiful bay where you can swim with sea turtles. It's a more secluded and relaxed destination, perfect for nature lovers and snorkeling enthusiasts. |
| Puerto Aventuras | Puerto Aventuras is a gated community with a marina, golf course, and a relaxed atmosphere. It's a good choice if you're looking for a peaceful and family-friendly environment. |
| Felipe Carrillo Puerto | This town is less touristy and offers a more authentic experience of Mexico. It's a great option if you want to explore the local culture and less-visited areas. |
Map of areas to stay in Riviera Maya:
Best areas to stay in Riviera Maya are:
1. Cancun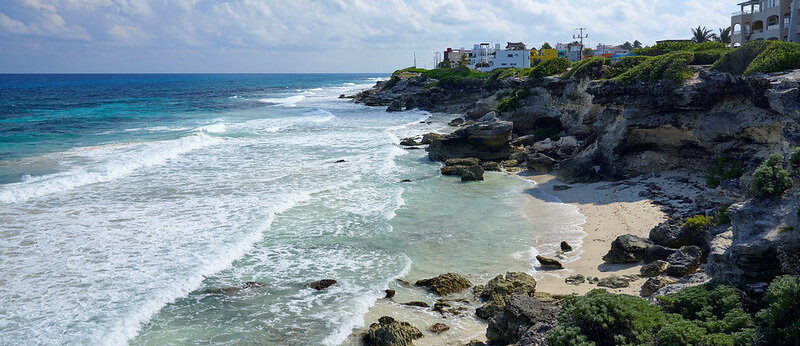 Cancun is a great base to explore Riviera Maya, it has beautiful beaches, great nightlife, shopping, cenotes, theme parks,
Located just half an hour's drive north of Riviera Maya, it is a location that most traveling here will still visit, as it is the location of the region's international airport.
A built-up city, popular for its history as a spring break destination, you will find the greatest collection of bars, shops, clubs, restaurants, and beaches in the entire region.
Staying here will allow visitors to make the most of the amenities on offer, while still being able to travel to all of the destinations in the Riviera Maya that they were hoping to see.
This is definitely a location that will only be suitable for those planning to rent a car and who like to stay in a busy location.
There are plenty of things to do in Cancun, the party capital of Mexico:
Enjoy the tropical beaches with crystal clear turquoi water and white sand of Playa Delfines and Playa Chac Mool in the famous Hotel Zone (also known as Zone Hoteliera); and Playa Norte in islands of Isla Mujeres.
Enjoy the vibrant nightlife in Punta Cancun, the northern part of Hotel Zone, with Cancun's best clubs and bars such as Coco Bongo, Mandala.
Enjoy the local vibe in the Downtown (Centro) with authentic Mexican foods at Mercado 28,
Visit world famous adventure parks like Xcaret, Xplor, Xel-Ha, Xplor Fuego, and Xenses where you can find caves, ziplines, rafting, coves, and ATV's for swimming, norkling, diving, hiking.
Take a day trip to the famous Mayan ruin, Chichen Itza, the New Seven Wonders of the World
Visit Underwater Sculpture Museum at MUSA and Isla Contoy
Cancun has a wide range of accommodations that suit all budgets. There is a high concentration of hotels on the Zona Hotelera; if you are looking for budget-friendly accommodation, head to the El Centro with more affordable options.
Stay in Cancun if: you want great nightlife, shopping, and accommodation options; you are planning to rent a car and don't mind having to travel to see the sights, you like staying in busy, built-up, tourist areas, you want to stay near the airport.
FIND BEST HOTELS IN CANCUN
Read Also:
2. Playa Del Carmen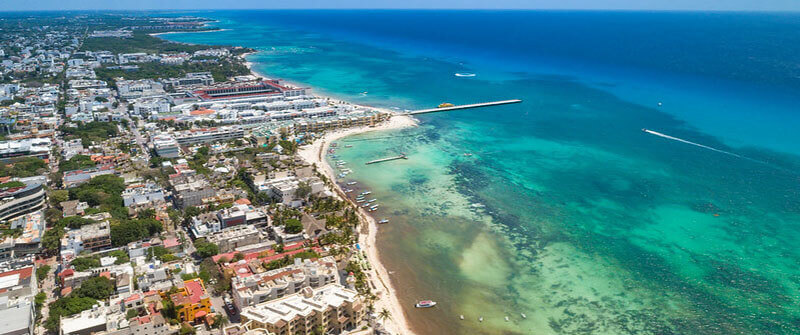 Playa del Carmen is perhaps the most popular destination on Riviera Maya, halfway to both Cancun and Tulum. Originally a small fishing village, it now has one of the fastest-growing populations anywhere in Mexico.
Being a spot on the PGA golf calendar, as well as the filming location for numerous tv shows and films, it has drawn a huge influx of visitors in recent years. As such, the tourism industry in the town has exploded, as you would expect.
All-inclusive resorts, restaurants, shops, bars, boutiques, and entertainment venues, including an aviary and the aforementioned golf course, have sprung up all over Playa Del Carmen. These offer plenty of activities and home comforts to please visitors during their stay.
When you combine all these amenities with its selection of fabulous beaches, it makes an ideal place for tourists looking for a relaxing vacation. Whether shopping, sipping drinks in bars, having fun in the sun, surf and sand, or even playing a round of golf, there's plenty on offer to help you unwind.
The town is even a popular docking spot for cruise ships in the region. That means if you fancy getting out on the open water during your stay, you will have plenty of opportunities to do so.
Likewise, if you are already on a Caribbean cruise, Playa Del Carmen offers a perfect chance for you to get off the ship for a while and enjoy some of the fabulous offerings available on land.
Best things to do in Playa Del Carmen:
La Quinta Avenida (5th Avenue), the famous thoroughfare in the city, where you can find plenty of shops, restaurants, and nightlife. It's also home to Frida Kahlo Museum and Gaston Charo Gallery, and many shopping malls such as Quinta Alegría, Calle Corazón, and Paseo del Carmen.
Calle 12 Nightlife District, the nightlife hub of Playa del Carmen with best bars and clubs like Coco Bongo, La Vaquita, Coco Maya Beach Bar, and Mandala.
Parque Los Fundadores in EL Centro to see Portal Maya bronze sculpture, Mayan Dancers and flying Papantla performers.
Playacar Beach, Punta Esmeralda, Xcalacoco Beach, some of the best beaches with crystal clear water.
You should stay in Playa Del Carmen if you are interested in taking a cruise, you are a fan of golf, you want a wide range of bars, restaurants, and shops to choose from, you like to stay in all-inclusive resorts, you prefer a destination with plenty of entertainment venues.
FIND BEST HOTELS IN PLAYA DEL CARMEN
See Also:
3. Tulum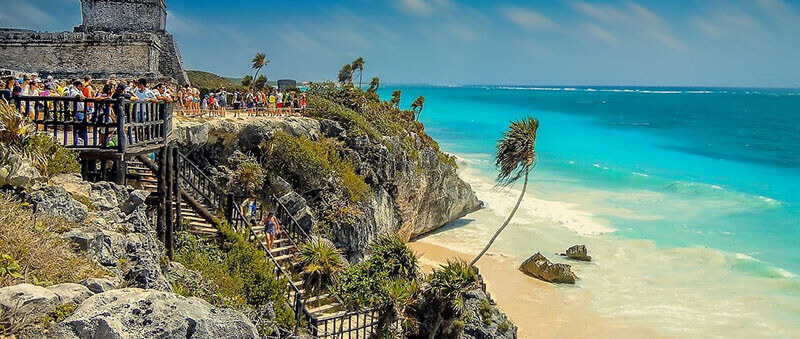 Our next destination of Tulum is one that is notably different from most of the locations we have looked at so far. This time, instead of being focused on all-inclusive resorts, this is a location where history and culture are the main selling points.
Centered around the ruins of a Mayan walled city, Tulum is a location perfect for those who want to explore the history of the legendary Mayan people.
It features a large pyramid known as El Castillo, The Temple Of The Descending God, The Temple Of The Frescoes, a number of smaller structures, as well as the wall that surrounded the city.
All of these remain in fabulous condition and allow you to study the architecture and beliefs of the Mayan people first-hand. This gives visitors a chance to truly take in the history of the area, without having to travel further afield, to more famous locations such as Chichen Itza.
Outside of the ruins, other attractions in the area include the Sian Ka'an, a biosphere reserve that was declared a UNESCO World Heritage Site in 1987. There are also some beautiful beaches and numerous cenotes, where tourists can swim in some truly unique locations.
Accommodation in the area is on a much smaller scale than elsewhere, with individual hotels and even guest houses in the local village being the preferred choices. This just cements the area as a destination that is much better suited to those wanting a more local experience of the region.
Best things to do in Tulum:
Enjoy the beaches like Playa Paraiso, Playa Ruinas, Ziggy's Beach, Santa Fe Beach, and Mirador Tulum Beach
Visit The Tulum Ruins (Archeological Site) and Parque Nacional Tulum
Explore the Sian Ka'an Biosphere
Check out cenotes for swimming, snorkling, diving in Gran Cenote, Casa Cenote, Dos Ojos Cenote, Carwash, Cenote Taak Bi Ha, and Punta Laguna Nature Reserve.
Join yoga class on the beach
Take a day trip to Mayan Ruins Of Coba
Try Mexican cusines in Downtown/ Tulum Pueblo
You should stay in Tulum if you want to explore the Mayan ruins, you are interested in visiting a biosphere reserve, you would prefer to stay in a more local destination, you want to swim in sinkholes and on quieter beaches.
FIND BEST HOTELS IN TULUM
See Also:
4. Cozumel
Located just 14 miles off the coast of Playa Del Carmen, The island of Cozumel is a famous spot for snorkeling and diving. Covering 250 square miles, the island is a diverse paradise that has a number of different sides, which will appeal to visitors from all walks of life.
Resort towns dotted around the island offer visitors all the same luxuries they would have just over on the mainland. Everything from high-end resorts to local fishing communities provide a fabulous range of options.
Perhaps the most intriguing option for traditional tourists is the incredible choice of more than 300 restaurants on the island. They serve a wide range of cuisines to suit any pallet, although, perhaps unsurprisingly on an island, they are particularly known for their seafood.
One of the main draws to the island for many is their incredible wildlife, with an abundance of plants and animals, both on land and in the surrounding waters. There are numerous birds and animals endemic to the island, with at least 9 species that can't be found anywhere else in the world.
Surrounding the island is a number of stunning coral reefs, featuring a diverse ecosystem that is home to more than 1,000 different species. This has led to countless scuba diving and snorkeling companies setting up around the island. You can use these to rent or buy equipment, or even take an organized tour out to the reefs, with a guide who can show you the best spots.
There are even a number of seasonal events on the island, such as the Cozumel Carnival, the El Cedral Fair, and the Santa Cruz Festival. These offer visitors a vibrant atmosphere, with the chance to take in some of the local culture and traditions.
Cozumel's Top Highlights:
Swim and Snorkel at Playa Chen Rio, Punta Morena
scuba diving to see Mesoamerican reef system
Enjoy a Beach Club like Buccanos Beach Club, The Cabana Beach Cozumel, Paradise Beach Cozumel
You should stay in Cozumel if You are a fan of great restaurants, You want to go snorkeling or scuba diving, You love nature, You want to attend one of the traditional festivals.
FIND BEST HOTELS IN COZUMEL
5. Puerto Morelos
We move next to the town of Porto Morelos, the northernmost point in Riviera Maya, located just 24 miles south of Cancun. Not historically considered to be a part of the Riviera Maya, it has been included in recent years as the region has expanded, due to the tourism boom.
The main claim to fame in the town is its historic port, which handles some of the largest imports in the region and is also the primary setting-off point for boats heading to the island of Cozumel.
It features many resorts of a similar nature to those found in Cancun or Playa Del Carmen. However, it is the collection of entertainment options on offer, as well as some more traditional elements in the town, that set it apart from those locations.
There is the Crococun Crocodile Zoo, where you can learn about the legendary reptiles and see some impressive examples of their species in the flesh. You have a botanical garden, where you can explore some of the area's plant life, as well as a variety of stunning foreign species.
There are even a number of Cenotes, the local name for natural sinkholes, where visitors can take the opportunity to swim in stunning, more isolated locations.
As for the traditional side of the area, a number of smaller inns have been built in the town over the last few years. These offer visitors the opportunity to attend talks of an evening, where they can learn more about the local history and way of life, as well as the marine biology of the area.
In the water, you even have the Mesoamerican Barrier Reef System National Marine Park, located just 100 meters offshore. This gives tourists the chance to swim and snorkel around this stunning location, taking in an abundance of marine wildlife.
You should stay in Puerto Morelos if you are planning to take a trip to the island of Cozumel during your stay, you are a fan of snorkeling or are interested in swimming in a Cenote, you want to find out more about the local way of life, you want to visit the crocodile zoo or botanical garden.
FIND BEST HOTELS IN PUERTO MORELOS
6. Akumal
Located between Playa Del Carmen and Tulum, Akumal is a destination that combines a little bit of what both its neighbors have to offer. Bordered by the Mayan ruins of Xel-Ha to the south and the Xpu-Ha beach to the north, it offers a great blend of history, culture, and relaxation.
With both less than a 15-minute drive from the town, you can easily split your time between both. You could spend one day exploring the ruins and the next lazing on one of the area's best beaches. In fact, if you wanted, you could even mix both on the same day, offering a true sense of freedom when it comes to planning your trip.
Perhaps the best-known draw to the region though is its history as a scuba diving destination. Originally settled as a scuba diving community in 1958, it has become a world-famous location for scuba enthusiasts.
While the crystal-clear waters and reefs surrounding the area are certainly accommodating for this activity, there is one specific reason it is so popular. The waters here are home to the endangered Green Sea Turtle. This offers visitors the unique opportunity to swim with a rare and stunningly beautiful creature.
The area is also the home of the Akumal Arts Festival each November. During this time, more than 120 artists from around the globe descend on the town. Tourists can then watch them work as they take part in one of the largest mural festivals in the world.
You should stay in Akumal if you are hoping to swim with the endangered Green Sea Turtles, you want a beautiful beach and historic ruins both just a short distance away, you are attending the Akumal Arts Festival, you prefer a slightly quieter, less built-up location.
FIND BEST HOTELS IN AKUMEL
7. Puerto Aventuras
Located between Akumal and Playa Del Carmen, Puerto Aventuras is the second-largest community in the region, behind only Playa Del Carmen. Primarily seen as an upmarket area, this is a destination better suited to those who like to remain active while on vacation.
Activities such as golf, tennis, and swimming in sinkholes are among the most popular choices with visitors staying in the area. Its golf course is even considered to be one of the best in the entire Riviera Maya.
For those who prefer to keep their activities in the ocean while on vacation, there are also a number of fabulous opportunities to be had here. Snorkeling and scuba diving are two of the most popular pastimes and there are numerous locations where you can rent or buy equipment or even book a guided tour if you prefer.
For the nature lovers out there, there are even tours available where you can swim with dolphins and manatees. A memorable activity like that simply can't be missed while in the area if it's your type of thing.
It isn't all fast-paced action the whole time in Puerto Aventuras though, and there are certainly a few relaxing options to be had as well.
For starters, there is a stunning marina and yacht club in the area. Whether you simply want to sit sipping a drink while looking at the boats or hope to get lucky enough to actually get aboard one of the vessels, this is undoubtedly a beautiful and relaxing location.
You also have one of the most popular beaches in the entire Riviera Maya located just outside the town. Xpu-Ha features beautiful golden sands, clear waters, and considerably less tourists than some of the beaches found in Playa Del Carmen, even with its stellar reputation.
Surrounded by a small community of its own, you can happily spend days lazing here, while never having to worry about traveling too far to find any amenities you may be looking for.
You should stay in Puerto Aventuras if you want to play golf or tennis, you want to go swimming in a cenote, you want to swim with dolphins and manatees, you like scuba diving and snorkeling, you like beautiful yet quiet beaches, you are a fan of yachts, you like upmarket areas and aren't too worried about the price.
FIND BEST HOTELS IN PUERTO AVENTURAS
8. Felipe Carrillo Puerto
Our penultimate destination of Felipe Carrillo Puerto is a place where the selling points will only appeal to a select group of people. A slightly inland community, which is the southernmost town in the Riviera Maya, it is largely detached from the coastal resorts we have looked at to this point.
Not known as a tourist hotspot, the feeling here is one that is much more local. If you are hoping to visit the region to get a feel of what life in the region is truly like, as opposed to how the tourist hubs make it seem, then this is a place that could be ideal for you.
Local shops, bars, and restaurants will allow them to mingle with the native population, try their cuisine, learn their culture and purchase their products. Outside of taking in the culture, there are two points of attraction in the area that many who stay here will want to visit.
Firstly, the Sian Ka'an biosphere reserve is located just a short distance from the city. Filled with a range of unique species of plants and animals, it is a fabulous place to visit to explore and get a feel for the wildlife that is native to the region.
There are also at least 23 known sets of Mayan ruins found within the reserve. This allows you to not only add a little history and culture to your expedition but to do it in a more remote location than some of the other historic sites in the area, which tend to be much more frequented by tourists.
The other selling point is its proximity to the Boca Paila Peninsula. One of the most remote parts of the Riviera Maya, it gives the more adventurous visitors a true chance to get out in the wilds. With no roads and only a few dirt tracks leading to the southernmost point, it allows you to truly go toe to toe with nature for a while.
You should stay in Felipe Carrillo Puerto if you want to stay in a more local, traditional location, you want to explore the Sian Ka'an biosphere reserve, you want to explore the Boca Paila Peninsula.
FIND BEST HOTELS IN FELIPE CARRILLO PUERTO
FAQs on Best Places to Stay in Riviera Maya
When Is The Best Time To Visit Riviera Maya?
When it comes to choosing the best time to visit the Riviera Maya, I would recommend going between February and April, inclusively. The reason for me suggesting this actually comes down to a number of factors.
Firstly, you have the rainfall. Despite its warm weather, the Riviera Maya, like many tropical destinations, suffers from storms and heavy rainfall throughout the year. These three months not only offer the least rainy days on average per year but also have the lowest quantity of rain in general. This makes it ideal for those wanting to enjoy their trip lazing on the beach and exploring the sites, as opposed to hiding under an umbrella or inside for most of your trip.
The second factor I've taken into consideration is also weather-related and that is the temperature at this time of year. While selecting some of the coolest months may seem a strange decision at first glance for a destination like this, there is actually good reason for doing so.
You see, the Riviera Maya is a place that is warm year-round, with temperatures in the summer reaching blistering highs. While that may be desirable to some, for many others the heat will be overbearing, making it a chore to do much during your stay.
The months I have suggested offer warm temperatures that never get too much. This means no matter what you're hoping to get out of your trip, it will never be too hot or too cold for you to achieve it.
Finally, it is worth noting that some of the region's best events take place at this time of year. Occasions such as the Cozumel Carnival, the El Cedral Fair, and the Santa Cruz Festival are all incredible celebrations that take place in the early part of the year. Each of them offers visitors entertainment and enjoyment, mixed with a little bit of culture, so are well worth seeing if you can.
When you combine all of this, it should be easy to see why I am comfortable saying February through April is the best time to visit the Riviera Maya.
Best Things To Do For Riviera Maya?
With so much to do and see in Riviera Maya, it is impossible to suggest the absolute best options. That said, I will attempt to give you the best choices for a few different demographics to consider during their stay.
Families- Families, especially those with children, will have plenty of choices here. There are Crocodile Zoos and protected areas where you can look at the animals. There are beautiful beaches where you can spend days playing in the sand. You even have all-inclusive resorts, where the kids can have fun in the kid's clubs, while you get some well-deserved relaxation time.
Couples- For couples, I would highly recommend staying in Puerto Aventuras. A quieter, more upmarket area, it provides a more romantic atmosphere than the hustle and bustle of the busy tourist locations. With beautiful beaches, isolated cenotes, and the opportunity to engage in activities such as swimming with dolphins and manatees, there is plenty on offer for the couple in love.
The PA Beach Club & Hotel By GuruHotel is a fantastic, 5-star option that I would highly recommend. Located right on the beach, it is the ideal spot to complete a romantic getaway you will never forget.
Adventurers- There are a number of options available for adventurers in the Riviera Maya. You could explore the wild, rugged terrain of the Boca Paila Peninsula or the unique wildlife of Cozumel. You could study the ancient ruins at locations such as Tulum and Xel-Ha. There are even the legendary Mayan ruins at Chichen Itza just 2 hours away by car, which is an absolutely can't miss attraction for true explorers.
Solo Travellers- Solo travelers is perhaps the hardest group to make recommendations for, as it largely depends on their personal interests and preferences. One thing I would suggest though, as someone who regularly travels by myself, is to hire a car.
Opening up the entire area to you, you will never run out of things to do. Whether you want to explore Mayan ruins, take in the wildlife, go snorkeling or scuba diving, relax on the beach, or party in bars, nothing will be off-limits. With a car and no traveling partners to consider, you are completely free to do anything you choose that Riviera Maya has to offer.
Partiers– Perhaps the easiest of them all, partiers simply must explore the legendary spring break destination of Cancun. With perhaps no other destination on earth capable of offering such a wild and thrilling experience, it would be a shame to go all that way to miss out on it. That is especially true if you are visiting at the same time as spring break is taking place.
Things To Know Before Your First Riviera Maya Vacation?
If you have never been to the Riviera Maya before, there are a few things you will want to be aware of before you make the trip.
Firstly, you need to realize the sheer size of the area. At more than 100 miles between the airport and the southernmost point, you are going to need to be willing to travel if you want to see everything on your itinerary.
Speaking of which, you need to decide if you are renting a car before you decide on where you're going to stay. While bus services and taxis will be available to take you to some of the most popular resorts, getting to the more remote towns and attractions will be much more difficult without your own transportation.
As for those attractions, it's definitely a good idea to know exactly what you want to see while you are there. Despite there being a huge number of both beaches and historic locations in Riviera Maya, not every location offers both those things. If you don't want to spend much time traveling around during your trip, I would suggest staying in the area in the center of the places at the top of your list.
While I covered it above, It's worth mentioning again that the weather is worth taking into account before you travel. If you don't plan to go during the time frame I have recommended, be sure to check the weather for when you are planning to go, to ensure it won't cause issues with what you have planned.
As a final thought, Cancun is the most popular destination for students to visit during spring break, for the wild party atmosphere it offers. If you don't want to be surrounded by rowdy teenagers during your stay, be sure to check the exact dates for spring break that year and plan your destination accordingly.
See More:
The Riviera Maya is a fantastic destination, offering culture, history, nature, and relaxation. Spread over such a wide area, it can certainly be difficult to narrow down the best spot to stay while visiting.
That said, after reading this, you should now have a much clearer idea of exactly where you want to stay. Now all that's left is to go and get things booked, so you can spring off for a break and see everything for yourself as soon as possible.