The best areas to stay in Tulum Mexico for both first time and returning tourists are the neighborhoods of Downtown, Aldea Zama, La Veleta, North Beach, Middle Beach Zone, South Beach. This blog post is going to help you decide where to stay in Tulum and best hotels in each area.
Tulum is a great Mexican holiday destination on the Yucatan Peninsula of Mexico, facing the Caribbean. Located in the state of Quintana Roo on Riviera Maya, Tulum is a 45 minutes drive from Playa del Carmen and 90 minutes from Cancun.
If your priority is the beach (playa), it makes sense to be as close as you can be. That applies to families obviously where the kids can play safely without too much supervision. If the kids are happy, you can relax and enjoy your own holiday. Couples wanting a quiet holiday are also best advised to stay on the beach, to north or south extremes of the Resort. 
Downtown (pueblo) is where you will find the most nightlife as well as bars and restaurants. You can cycle to the beach or take a taxi but you need to factor in that slight disadvantage. If you are on a tight budget, it may be that Downtown is the only neighborhood that is affordable.
Tulum is not a huge place. You can walk and cycle around each of the neighborhoods. If you cycle, you can easily explore Tulum so your base becomes less relevant. That said, it always makes sense to be close to the parts that most appeal to you.
If you are looking for budget accommodation, you are going to find it in Pueblo rather than on the beach. The cheapest part of the beach areas is certainly Beach Town where you can find lively beach parties as an alternative to Downtown Tulum. 
Middle Beach is the most exclusive part of Tulum so if you want plenty of choices then look here. There is an area called Aldea Zama which is fast developing and will ultimately offer luxury. It is found between Pueblo and the beach and will certainly deserve future investigation.
6 Best Areas to Stay in Tulum First Time
1. Downtown, where to stay Tulum on a budget, nightlife
Located 10 km from the beach, Downtown, or Tulum Pueblo, one of the best spots on the Riviera Maya, is the lively part of Tulum with multiple bars, restaurants, and clubs.
It is easy to walk around Tulum Pueblo and renting a bike makes sense as well. If you rent a bike you can easily explore the jungle that surrounds Downtown. You are just a 5-minute bike ride from the first of several cenotes found locally.
Cenotes are holes in the ground above subterranean water. You can swim in some depending on their particular structure but do not take any risks. Some cenotes can be found along Avenida Coba, such as Cenote Calavera, Gran Cenote, Cenote Tortuga, Cenote Santa Cruz, and Cenote Zacil-Ha.
To the southwest of the center of Tulum on Calle de Chetumal-Cancun, you will find Cenote Corazon, Cenote Escondido, Cenote Cristal & Escondido and Laguna de Kaan Luum which is a shallow lake with a deep cenote (sinkhole), and Cenote XA'AY HA.
Pueblo is also home to Terminal Autobuses Tulum ADO where you can catch the bus to Coba, Valladolid, Chichen Itza, Playa del Carmen, Cancun, Mérida, and San Cristóbal de las Casas.
Pueblo is real Mexico where traditional cuisine is readily available. You will have no problem finding the popular bars and clubs, taco stands, and local restaurants; you'll hear them. They welcome tourists, and single travelers should probably look to Downtown as a base.
There are some must-try authentic restaurants like El Camello Jr where you can find tasty Mexican food like seafood, shrimp nachos, octopus ceviche, and fish tacos for a low price; La Chiapaneca for the best and most affordable tacos in Tulum; and La Gloria de Don Pepe for Spanish paella, Spanish tapas and fideuà;
For those who looking for nightlife, head to the area around Batey Mojito and Guarapo Bar, and the main street area with Pasito Tun Tun, Kiki, Pasito Tun Tun, Ki'bok. Most bars in Tulum accept cash only, it's best to pay in pesos the USD dollar to get the best rates.
Tulum is a heaven for yoga lovers, most yoga studios are set in the jungle or right on the beach, but there are several in the towns such as Holistika Tulum, Yoga Dicha, Tribal Tulum.
The downside of staying in Downtown is to get to the beach you have to ride for 30 minutes, catch a taxi, or Colectivo minivan.
There are some luxury hotels but it tends to be the place where the more affordable accommodation is available such as campsites, hostels, and budget boutique hotels. The beaches are not far away so you need not worry.
Stay in Pueblo if you are traveling on a budget, looking for affordable accommodation; you want vibrant nightlife; you want the authentic vibe of the local life, you enjoy local cuisine when you are traveling, you are visiting Tulum for the first time.
Best places to stay in Tulum Town:
Best luxury hotels:
Coco Hacienda Tulum This hotel is located within walking distance from Tulum Bus station, close proximity to Tulum Archeological Site, Bus station Tulum Ruins, and Parque Nacional Tulum. It offers an outdoor pool, a spa center, an on-site restaurant, a bar, free private parking, and free wifi. It features air-conditioned rooms with a flat-screen TV, a coffee machine, and a private bathroom.
Kaab Tulum This 4-star hotel is set 2.5 km from Paraíso Beach, it has a restaurant, a continental or American breakfast, free private parking, an outdoor swimming pool, and a bar, a 24-hour front desk, a shuttle service, room service, and free WiFi. It offers air-conditioned rooms with a desk, a coffee machine, a minibar, a safety deposit box, a flat-screen TV, and a private bathroom with a shower, and a wardrobe.
Biwa Tulum This luxury hotel has a restaurant, free private parking, an outdoor swimming pool, a terrace, a concierge service, a tour desk, a 24-hour front desk, airport transfers, room service, and free WiFi. Each room has air conditioning, a desk, a flat-screen TV, a private bathroom, bed linen, towels, a patio with a city view, and a safety deposit box.
Era Hotel & Spa Tulum This accommodation in Tulum town offers a restaurant, free private parking, an outdoor swimming pool, and aba, a garden. It has air-conditioned rooms with free WiFi, each with a private bathroom.
Best mid-range hotels:
XscapeTulum is a beautiful, traditionally themed hotel, featuring air-conditioned rooms with a private bathroom and seating area, just half a mile from Tulum main square and close to Tulum Archeological Site, Tulum Bus station, and Tulum beaches.
Elements Tulum Boutique Hotel This stylish, 4-star hotel is one of the best boutique hotels with a pool, garden, terrace, and restaurant on-site, free private parking, and a local bus makes going off and exploring the area just as easy too. It's close to Paraíso Beach, Tulum Archeological Site, and Tulum Bus station.
Best budget hotels:
Joy Tulum – Adults Only. is an over 18's resort that features beautiful, traditional-style bungalows with an outdoor pool and sun terrace. Free parking and bicycle rental are available and free Wi-Fi. It's close to Bus station Tulum Ruins, Parque Nacional Tulum.
Casa Abanico Tulum Hotel is one of the perfect places to stay in Tulum town. It is a traditional villa that offers simple yet stylish rooms, just 10 minutes from Tulum's legendary Ruins. It's within walking distance from Avenida Tulum and Tulum ADO Bus Station.
Che Tulum Hostel & Bar is a wonderful budget option, offering a choice of either a bed in a shared dormitory, as well as private rooms, suites, and apartments, making it suitable for both solo travelers as well as those in large groups looking to keep the cost down. A pool, kitchen, and garden are available for all guests to use, while there are also lockers to keep your valuables secure.
🔍FIND BEST HOTELS IN TULUM DOWNTOWN
See more:
2. Aldea Zama, where to stay in Tulum for families
Tulum is developing all the time and one place that is becoming increasingly popular is Aldea Zama which you will find between Pueblo and the Beach Zone. It is an upmarket neighborhood where you will find luxury homes as well as condos and boutique hotels.
Aldea Zama is a planned neighborhood with paths part of the development, allowing cyclists and walkers to get around it easily. It is early days and Aldea Zama has yet to emerge with any characteristics to create a personality.
Aldea Zama has a quiet and relaxed feel, and also a convenient location, within a short distance to the Mayan Ruins and to the beach.
If you stay here with children, you will find a play area for them, and there are new bars and restaurants to enjoy. The shopping is good with some excellent boutiques. The beach is easily accessible while at nighttime, this is a quiet district.
Stay in Aldea Zama if you are looking for a modern, quiet neighborhood, your budget allows you plenty of accommodation choices, access to the beach is important.
Best places to stay in Aldea Zama:
Orchid House Tulum features a restaurant, outdoor swimming pool, a bar, and garden in Tulum. Featuring a private beach area, the 5-star hotel has air-conditioned rooms with free WiFi, each with a private bathroom
Naay Tulum Curamoria Collection Located in Tulum, 2.6 km from Las Palmas Beach, this 4-star hotel provides accommodation with a restaurant, free private parking, a bar, and a terrace.
Other best place in Aldea Zama are Hotel Panacea Tulum
🔍FIND BEST HOTELS IN ZAMA
3. La Veleta, a new area in southwest of Downtown
La Veleta is another of the newer areas in Tulum. It is just to the southwest of the city and its real estate is proving popular. As a result, there are rental properties available for tourists only wanting a holiday in Tulum.
It looks brand new, and it is. Luxury condos and boutique hotels have sprung up and there are a couple of all-inclusive resorts as well. If you are thinking about where to stay in Tulum, you will find prices in La Veleta cheaper than in the Town without any loss of quality. However, there is not much to do here.
It does mean that you will need cabs to get to most places outside the neighborhood whether the beach, the ruins, or the town itself.
Stay in La Veleta if You want a good choice of accommodation, Amenities nearby are unimportant, You are looking for a quality base without paying too much. Best hotels are era hotel and spa, Hotel Holistika Tulum
🔍FIND BEST HOTELS IN LA VELETA
🎬Check out my virtual tour about the best places to stay in Tulum in this video or continue reading:
4. North Beach, near the Mayan ruins in Tulum National Park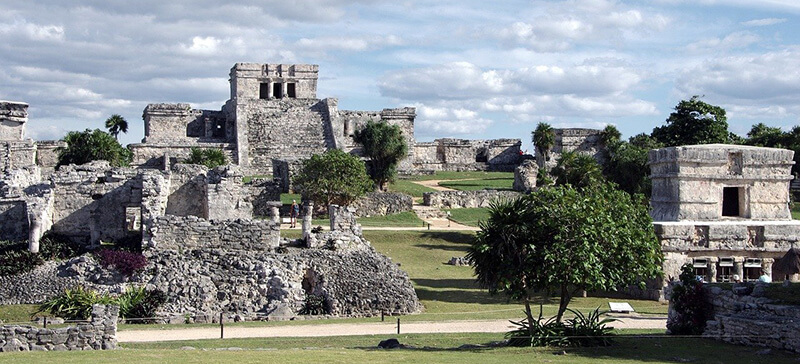 This is the stretch of beach beside Tulum National Park. Impressive Mayan ruins are found in the Park and are a reason to leave the beach for a time. North Beach hotel zone is around 2.5 miles from north to south.
If you are looking for a quiet part of Tulum, this is the district to begin your search. Beach clubs, restaurants, and boutique hotels in Tulum are found just off the beach. There are some interludes of rocky sections.
The top two best beaches are Playa Paraiso/Paradise Beach and Playa Pescadores. You can also find Santa Fe Beach and Ruins Beach in the north beach zone.
If you want to snorkel, the best place is Playa Maya beach for a cheap trip. If you are a good swimmer, there are Mayan ruins almost 600 yards out to sea. Just to the north, you may also like to explore the cenotes but take care and let others know where you are.
You can find Soliman Bay in the North Beach area. This is a small bay in a quiet neighborhood Soliman Bay where several North Americans have decided to spend their retirement. In recent years, increased tourism has gone alongside increased development but Soliman Bay has still not lost any of its appeals.
There is an offshore reef so swimming is safe and snorkeling is interesting. Xel-Ha Water Park is a huge aquarium so if you are on holiday with the family, take the kids there for a day.
Stay in Tulum North Beach if you want a beach location, romantic, and on a honeymoon holiday, your preference is a quiet base for your holiday, you want a choice of boutique hotels in Tulum.
Best places to stay in Tulum North Beach:
Mi Amor a Colibri Boutique Hotel-Adults Only is one of the best luxury Tulum hotels, adults-only, featuring stylish, elegantly decorated rooms, boasting their own private plunge pool, hidden away in a rocky bay on the shoreline. A beautiful bar and a fabulous onsite restaurant of this 5-star hotel will provide all the food and drink you need to complete the romantic getaway of your dreams.
Mezzanine a Colibri Boutique Hotel-Adults Only is a stunning, 5-star, adults-only, beachfront hotel, offering stylish, comfortable rooms and out of this world surroundings. With an incredible restaurant that features and an award-winning chef and a gorgeous pool with views of the ocean, it is a hotel of the highest quality in all areas.
Kai Tulum Hotel is a wonderful, 4-star, pet-friendly, beachfront hotel, boasting a traditional flair and rooms decorated in a chic, modern style, located just a short way from some of the area's legendary ruins. Kai Tulum Hotel features a beautiful onsite restaurant and bar, it is ideal whether you want to see the sights or kick back and relax during your stay.
5. Middle Beach Zone, heart of Tulum's beach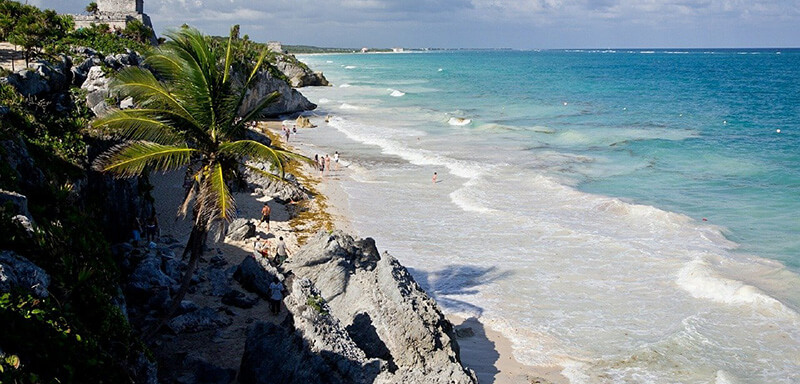 The most exclusive part of Tulum is the Middle Beach zone. It is where you will find the best Tulum hotels, the most stylish boutique hotels in Tulum, and plenty of fine dining. Its beach is long and wide with plenty of space for all.
Many visitors are happy just to walk around Middle Beach, while others cycle. Taxis are easy to find for those that want them. The nightclubs are the definition of chic and stylish, open-air in general.
Dress is casual to the beach clubs and health centers. Be prepared for some high prices if you are staying elsewhere and just visiting for the day.
Staying in Middle Beach Zone if you can afford to pay for the most exclusive part of Tulum, you enjoy a casual environment, a large beach is one of your priorities, you are looking for fine dining, you want a great nightlife.
Best places to stay in Tulum Beach in Middle Beach Zone:
Best luxury hotel:
The Beach Tulum is one of the best luxury hotels in Tulum, an adults-only, beachfront hotel, boasting 2 amazing restaurants giving you plenty of places to kick back and relax. The beach outside this 5-star hotel is lined with beach loungers and umbrellas, while there is also a fabulous pool on-site, giving you choices when it comes to where you want to spend your days basking in the sun.
El Pez a Colibri Boutique Hotel is also good luxury hotel to stay in Tulum Beach.
Best midrange hotels:
Cabanas Tulum- Beach Hotel & Spa is one of the best beach hotels, boasting stylish, swim-up rooms that feature private terraces with hot tubs and hammocks. With a pool, gym, spa, bar and restaurant, it is an ideal spot to treat yourself to a little luxury while you are away. There is even an airport shuttle to make sure your entire trip is completely worry free.
Dune Boutique Hotel This boutique hotel is a superb, 4-star hotel, with a combination of traditional style and modern Tulum luxury hotel that makes it a tropical paradise sure to satisfy all visitors. With its own on-site restaurant, juice bar, swimming pool and private beach, it ensures everyone can enjoy a fantastic trip without ever having to leave the property.
Chiringuito Tulum Hotel is a fabulous 4-star hotel with stunning rooms, some of which even come with their own private pool and terrace, located just over a mile from the Tulum Archaeological Site. In the communal area of Chiringuito Tulum Hotel, a pool and a gorgeous garden provide ample options to let you relax or explore, however you choose.
Best budget hotels:
Amor Rooms provides simple, traditionally styled rooms, all featuring their own private terrace, bathroom and seating area, boasting either garden or jungle views. Located opposite the beach and featuring a private garden and rooftop terrace, it is a wonderful place to relax and enjoy the traditional beauty of your surroundings.
6. South Beach, near the Sian Ka'an Biosphere Reserve
If you are picking a district in Tulum for a family holiday, you really need to look at South Beach first. There is plenty of sand and no rocks to contend with.
The Sian Ka'an Biosphere Reserve is indicative of eco-consciousness shown by everyone in the South. It is a UNESCO World Heritage site and its name means ''Gateway to Heaven.'' There are over 20 ancient Mayan sites in the Reserve which also incorporates the coral reef offshore.
The jungle and its cenotes are close by so if you want more than a beach holiday, this is for you. Walk or cycle to get around and if you are keen on fitness, there are a number of health facilities to enjoy.
There are good restaurants and nightlife but the South, like the North, is more for people seeking a quiet holiday.
Stay in South Beach if you are traveling as a family, your interests include exploring Mayan historical sites, you want the chance of a quiet holiday but with good tourists, venues closeby, you want to be active during your holiday.
Best places to stay in Tulum South Beach Zone:
Casa Malca is a Tulum luxury resort, on a gorgeous beach on the edge of the Sian Ka'an Biosphere Reserve. The rooms are designed with elegant white décor and feature a private bathroom, air-conditioning, and stunning views. Meanwhile, the property boasts a wonderful pool, tropical gardens, and a bar-restaurant, to ensure you can completely relax and unwind, surrounded by natural beauty.
Nativus Glamping & Cenote Tulum is a superb, traditional location, situated 1000 yards from Cesiak. Rooms are simple yet traditionally styled and feature a private bathroom, seating area, desk, and garden view. A continental breakfast, bar, and sun terrace are all available to help you relax, while an airport shuttle, free parking, and a private lakeside dock are all present to help you explore and get around during your stay.
Alma Tulum Hotel Boutique is a beautiful, mid-range hotel, situated on a stretch of its own beach area, boasting stylish, modern rooms that all feature their own private bathroom. In addition to its beach, Alma Tulum Hotel Boutique offers an outdoor pool and bar that give you plenty of options when it comes to how you want to relax, as does the property-wide Wi-Fi. Meanwhile, the babysitting service and on-site car and bike rental ensure you have all the tools at your disposal to get out and do a bit of sightseeing if you so choose.
Alaya Tulum Located in the beach-side of Tulum, Alaya Tulum by Ahau features an on-site restaurant. The property has a special terrace to practice yoga and a private beach area with sunbeds for the guests to use.
See more:
Tulum offers great nightlife, Mayan ruins, cenotes, beaches, lagoons, shopping, and Mayan ruins. Some of the must-see cenotes to dive, snorkel, or swim are the Gran Cenote, Cenote Azul, the Dos Ojos Cenotes, Zacil-Ha, Calavera, and Carwash;
You will find famous ruins include Tulum Ruins in Tulum National Park, Chichen Itza in Valladolid, and Coba Ruins; adventure parks like Xcaret, Xplor, Xel-Ha & Xenotes;
The Caribbean coast is lovely, and with a good climate, Tulum is a place that anyone wanting a memorable holiday should consider. I hope this blog post helps you find the answer for "where to stay in Tulum" and find the best place to stay for your holiday!