Where to Stay in Tulum Mexico: Best Areas and Hotels
Wondering where to stay in Tulum Mexico for a family, honeymoon, bachelorettes, and on a budget? We'll help you find the best areas to stay in Tulum in this guide.
Deciding where to stay in Tulum Mexico requires some research because there are differences within a small area. Those wanting a busy nightlife may be different from those on honeymoon. Likewise, if you are on a honeymoon, you may want a romantic setting that single travelers will avoid.
Tulum's location on the Yucatan Peninsula of Mexico, facing the Caribbean, makes it a great holiday destination. Its climate is excellent and those interested in history and culture will certainly enjoy this location. It was a significant settlement in Mayan times.
Tips for Choosing Where to Stay in Tulum
Tulum is not a huge place. You can walk and cycle around each of the neighborhoods. If you cycle, you can easily explore Tulum so your base becomes less relevant. That said, it always makes sense to be close to the parts that most appeal to you.
If you are looking for budget accommodation, you are going to find it in Pueblo rather than on the beach. If you want to have the most vibrant nightlife, that is also where you should get accommodation so you are close to ''home.''
The cheapest part of the beach areas is certainly Beach Town where you can find lively beach parties as an alternative to Downtown.
Families are more likely to want to be on the beach where the kids can walk out of the front door to the beach and sea. The quieter stretches of the beach are to the north and south with the south especially suitable for families.
Middle Beach is the most exclusive part of Tulum so if you want plenty of choices then look here. There is an area called Aldea Zama which is fast developing and will ultimately offer luxury. It is found between Pueblo and the beach and will certainly deserve future investigation.
Where to Stay in Tulum Mexico – 5 Best Areas to Stay in Tulum
Tulum's growth is fairly recent. Downtown, commonly known as Pueblo, is the oldest part of Tulum and where you will find budget hotels and plenty of nightlife. The majority of tourists visiting Tulum want to enjoy the beach and the warm Caribbean water.
There has been rapid development along the coastal stretch which breaks down into 4 different districts. Read on to find out more in your research to find out the district that best suits your ideas.
Where to Stay in Tulum Mexico – 5 Best Areas to Stay in Tulum
1. Downtown – Best Area to Stay in Tulum for Authentic Mexican
Downtown, Pueblo is the lively part of Tulum with multiple bars, restaurants, and clubs. There are some luxury hotels but it tends to be the place where the more affordable accommodation is available. The beaches are not far away so you need not worry.
It is easy to walk around Pueblo and renting a bike makes sense as well. If you rent a bike you can easily explore the jungle that surrounds Downtown. You are just a 5-minute bike ride from the first of several cenotes found locally.
Cenotes are holes in the ground above subterranean water. You can swim in some depending on their particular structure but do not take any risks.
Pueblo is real Mexico where traditional cuisine is readily available. You will have no problem finding the popular bars and clubs; you'll hear them. They welcome tourists, and single travelers should probably look to Downtown as a base.
YOU SHOULD STAY IN DOWNTOWN IF:
You are looking for affordable accommodation
You want a ''feel'' of real Mexico
You enjoy local cuisine when you are traveling
Your preference is a busy environment
2. North Beach – Best Area to Stay in Tulum for Honeymoon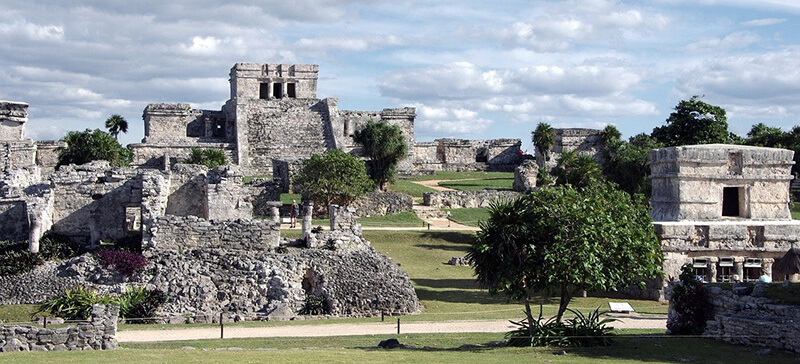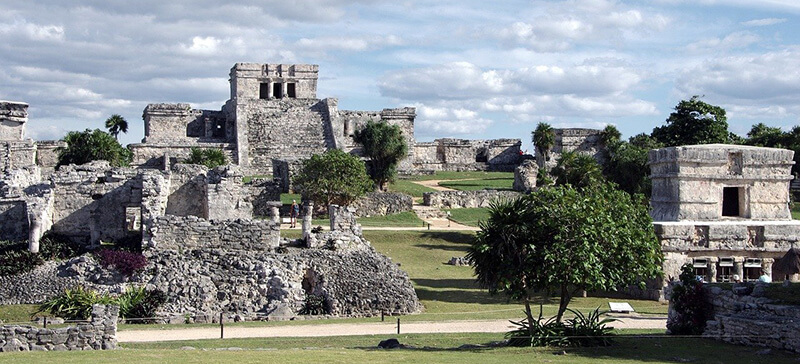 This is the stretch of beach beside Tulum National Park. Impressive Mayan ruins are found in the Park and are a reason to leave the beach for a time. North Beach zone is around 2.5 miles from north to south.
If you are looking for a quiet part of Tulum, this is the district to begin your search. Beach clubs, restaurants, and boutique hotels are found just off the beach. There are some interludes of rocky sections. The top two beaches are Playa Paraiso and Playa Pescadores.
If you want to snorkel, the best place is Playa Maya for a cheap trip. If you are a good swimmer, there are Mayan ruins almost 600 yards out to sea. Just to the north, you may also like to explore the cenotes but take care and let others know where you are.
YOU SHOULD STAY IN NORTH BEACH IF:
You want a beach location
You prefer to stay close to Mayan ruins
Your preference is a quiet base for your holiday
You want a choice of boutique hotels
3. Beach Town – Best Area to Stay in Tulum for Beach Party, Solo Travelers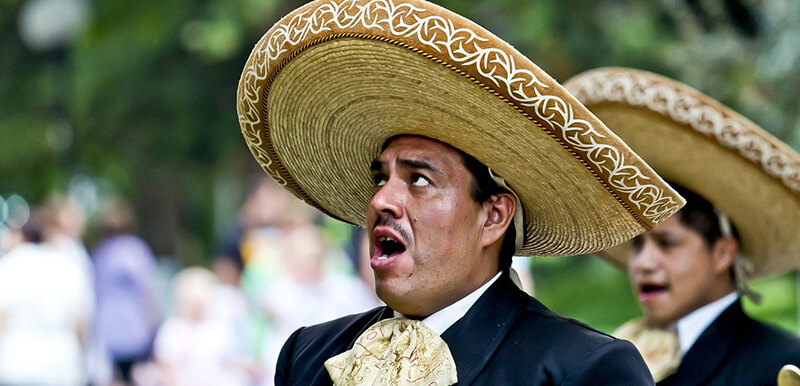 South of the North zone, you will find a stretch of beach around a mile long. This is Beach Town with its shops, restaurants, and hotels. The northern part of Beach Town is best for swimming with the southern end tending to be rocky.
This is the cheapest area directly on the coast so if you are on a budget but want to be on the beach, look here first. A road goes north to south down the Coast with the buildings on the inland side, close to the jungle. It is a good place for artisan souvenirs including Mexican clothing.
While Downtown is the liveliest part of Tulum, if you want a late-night beach party, you will find one at Papaya Playa. It is certainly a reason why singles should choose Beach Town.
YOU SHOULD STAY IN BEACH TOWN IF:
You are on a budget but want a beach location
Beach parties are part of your plans
You travel alone
You want a choice of bars and restaurants
4. Middle Beach – Best Area to Stay in Tulum for Fine Dining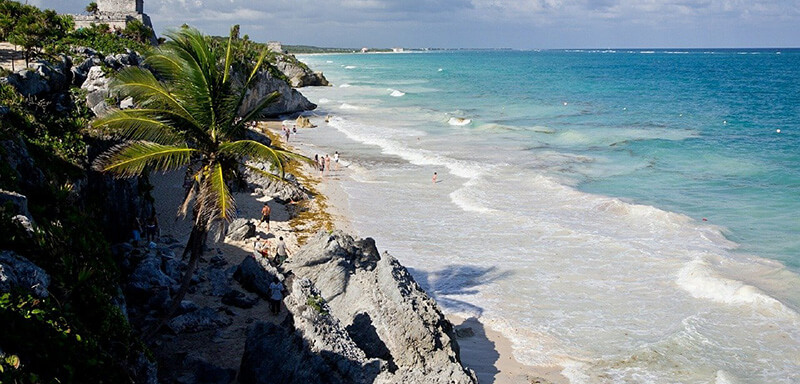 The most exclusive part of Tulum is Middle Beach. It is where you will find the best hotels, the most stylish boutiques, and plenty of fine dining. Its beach is long and wide with plenty of space for all.
Many visitors are happy just to walk around Middle Beach, while others cycle. Taxis are easy to find for those that want them. The night clubs are the definition of chic and stylish, open-air in general.
Dress is casual to the beach clubs and health centers. Be prepared for some high prices if you are staying elsewhere and just visiting for the day.
YOU SHOULD STAY MIDDLE BEACH IF:
You can afford to pay for the most exclusive part of Tulum
You enjoy a casual environment
A large beach is one of your priorities
You are looking for fine dining
5. South Beach – Best Area to Stay in Tulum With Family
If you are picking a district in Tulum for a family holiday, you really need to look at South Beach first. There is plenty of sand and no rocks to contend with.
The Sian Ka'an Biosphere Reserve is indicative of eco-consciousness shown by everyone in the South. It is a UNESCO World Heritage site and its name means ''Gateway to Heaven.'' There are over 20 ancient Mayan sites in the Reserve which also incorporates the coral reef offshore.
The jungle and its cenotes are close by so if you want more than a beach holiday, this is for you. Walk or cycle to get around and if you are keen on fitness, there are a number of health facilities to enjoy.
There are good restaurants and nightlife but the South, like the North, is more for people seeking a quiet holiday.
YOU SHOULD STAY IN SOUTH BEACH IF:
You are traveling as a family
Your interests include exploring Mayan historical sites
You want the chance of a quiet holiday but with good tourist venues closeby.
You want to be active during your holiday
Where to Stay in Tulum on a Budget/on the Cheap?
Downtown is the first place to look if you are on a tight budget. It is comfortably cheaper than the beachfront. If the beach is a priority, then there is good value to be had in Beach Town.
Single travelers will certainly find these two districts the best alternative, even to the extent that Beach Town has the liveliest beach parties.
Where to Stay in Tulum with a Family?
The best place to book a Tulum holiday if you want to be certain that the kids will get bored is as close to the beach and the sea as possible. The South is the first place to look. There are few rocks around but plenty of sand.
If you want to explore, the South is great for cycling or walking in the jungle areas. They contain Mayan ruins which will interest older children and parents. Although the South is regarded as fairly quiet, there is still enough to keep you occupied by night.
How Long to Stay in Tulum?
If you are taking Tulum as your main annual holiday, then two weeks is the obvious length of time you will be considering. The beach, sea, and water sports are reasons why you will never tire of the coastal regions.
There is Mayan history in Tulum as an alternative to staying on the beach each day. Restaurants offer fine cuisine and the freshest of seafood. If you want a nightclub, you will find a few in Tulum.
Where Do Celebrities Stay in Tulum?
This coastline on the Yucatan Peninsula is popular with celebrities. It is not too far away from the USA and yet far enough away to avoid too many intrusive paparazzi. Jennifer Aniston has known the Yucatan for many years.
She likes Cabo which is half an hour away by road but recently enjoyed a break in exclusive accommodation in Tulum, Such accommodation is most readily available in Middle Beach.
Where Should I Stay in Tulum?
If you want to spend your time purely on the beach, then it makes sense to choose a beachfront location. Beach Town is the best choice if you are on a budget. If you are traveling as a family, the South may be a good alternative.
Middle Beach is where you will find top quality accommodation with fashionable shopping and the best choice of quality hotels.
Others looking for plenty of nightlife with comfortable accommodation should look at Downtown.
Is It Better to Stay in Tulum or Cancun?
Cancun was the first place to develop a significant tourist trade. Thirty years ago, the small airport welcomed tourists yet development on the coast was still limited. The old town retained a ''feel'' of Mexico.
Rapid development is often at the expense of good planning, and sometimes quality. Cancun is known for mass tourism and if you are keen on such resorts, you should head there.
Tulum is to the south, anything up to 90 minutes by road but it is a stunning journey down the Caribbean coastline. There are budget and luxury accommodation, the same lovely sand and sea, plenty of restaurants and fewer crowds. Add the history associated with Tulum, and the Mayans, and Tulum may just be worth a try?
Where to Stay in Tulum Beach or Town?
If your priority is the beach, it makes sense to be as close as you can be. That applies to families obviously where the kids can play safely without too much supervision. If the kids are happy, you can relax and enjoy your own holiday.
Couples wanting a quiet holiday are also best advised to stay on the beach, to north or south extremes of the Resort.
Downtown is where you will find the most nightlife as well as bars and restaurants. You can cycle to the beach or take a taxi but you need to factor in that slight disadvantage. If you are on a tight budget, it may be that Downtown is the only neighborhood that is affordable.
Where to Stay in Tulum for Bachelorettes?
The first place for singles to investigate in Tulum is Downtown. It is where there is plenty of choice of accommodation. You will also find good restaurants, plenty of bars and nightclubs.
The only thing missing is a beach party. The best place to enjoy a beach party is in Beach Town. That is not a sufficient reason to stay there without other considerations.
Where to Stay in Tulum on a Honeymoon?
Everyone wants a romantic setting for their honeymoon. The extreme north and south of Tulum's coastal strip are where you have the best chance of finding such an environment. North and South are the quietest two areas in Tulum.
There are hotels in both, some intimate and few of a size where there are huge crowds. The beaches will not be crowded while inland there is plenty to investigate. That includes the Mayan sites as well as the local flora and fauna.
Where to Stay between Cancun and Tulum?
The resorts south of Cancun developed once the potential popularity of this stretch of Caribbean coastline became obvious. The Resort that sits between Cancun and Tulum is Playa del Carmen that has grown enormously from the original town.
It has everything a tourist might want, including the sand and sea. The accommodation meets most budgets while bars and restaurants will satisfy anyone on holiday.
Where to Stay in Tulum for Nightlife?
Downtown is the district with the most nightlife. It includes bars and nightclubs playing music for most tastes. A night at one of the beach parties in Beach Town may be worth a trip but in general, head to Downtown and enjoy.
Conclusion
While Downtown is busy at times, Tulum still retains a quieter environment than resorts further to the north. You will find accommodation to suit any budget, with singles, couples, and families well catered for. Restaurants are plentiful serving everything from local cuisine and fresh seafood to a range of international dishes.
The Caribbean coast is lovely, and with a good climate, Tulum is a place that anyone wanting a memorable holiday should consider.
---
---