The best areas to stay in Sydney for both first time and returning visitors are the neighborhoods of Sydney CBD/Central Business District, The Rocks & Circular Quay, Darling Harbour, Surry Hills & Newtown, Kings Cross, Paddington, Chinatown, Darlinghurst & Potts Point, Bondi Beach, Manly. In this post, I will help you to decide where to stay in Sydney for first timers, and best suburbs without a car, for families, couples, for sightseeing, nightlife, shopping, budget, one night, and a week.
Located right on the eastern coast, Sydney offers the best of both city attractions and sea-side relaxation. Whether you prefer sightseeing and shopping, or chilling on the beach, you will find plenty of things to do in Sydney.
If it is your first time visiting Sydney and want to do lots of sightseeing, you can't beat Sydney CBD, and the Rocks and Circular Quay area. It is home to some of the top tourist attractions in the city, including Sydney Opera House. Both are super central and bursting with things to see and do. Sydney CBD and Darling Harbour has excellent public transport and offer easy access to other parts of the city without a car.
To stay close to the liveliest nightlife areas, look into the Central Business District and Kings Cross. Kings Cross has more of a red light district vibe, whilst Sydney CBD is a bit more chic. Alternatively, Darlinghurst is the go to if you are looking for LGBTQ catered clubs and bars.
If you want to keep close to transport links, Surry Hill and Newtown are great options. They are both relatively close to the city centre whilst also being close to the Central Train Station and Sydney Airport respectively.
How many days should you stay in Sydney is really a personal choice. From one night, to a weekend, and a week, there're always some things for you to explore in Sydney. Sydney CBD is the best area to stay in Sydney for first-timers, when it comes to where to stay in Sydney for one night, weekend, a week, no matter how long you stay in Sydney.
10 Best Areas to Stay in Sydney
1. Sydney CBD, where to stay in Sydney for first time tourists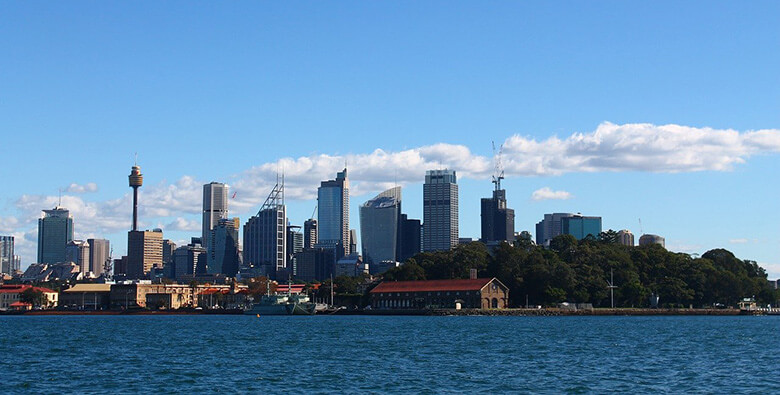 As you might expect from the name, this is the most central area of Sydney. In addition to being the business and finance centre of the city, the Central Business District is also a hub of nightlife, shopping, and great tourist attractions. Sydney CBD is the best area to stay in Sydney for sightseeing, for first-time tourists, and for those visiting Sydney without car.
The architecture here is an interesting mix of practical business chic, and classy historic grandeur. In amongst the glass and steel skyscrapers you can also find many lovely older buildings that will appeal to anyone who appreciates their historic charm.
The grand Town Hall is one such historic building. With columned entrances, stained glass windows, and soaring towers, the Town Hall oozes opulence. It is often possible to tour the inside of the building, but this depends on what is going on at the hall so make sure to book in advance.
The Queen Victoria Building offers both historic style and a wonderful shopping experience. The gorgeous Romanesque building includes mosaiced floors and numerous stores and stalls. You can browse to your heart's content enjoying both the eclectic wares and the beautiful surroundings.
If you love spending your vacation shopping, then there are plenty more opportunities to do so in Sydney CBD. Just a few minutes away is the Pitt Street Mall. This pedestrian shopping street is a popular destination for tourists and locals alike. It boasts a mix of both chain stores and boutiques.
Another great option is the Galeries Shopping Centre. Here you will find multiple floors of fashionable boutiques with an artsy flare. There are plenty of lovely cafes to stop at when you need a rest, too.
If you get tired of the crush of high-rises and crowds, you can escape to Hyde Park. Australia's oldest public park is more than just a breath of fresh air. It is also home to several monuments and fountains to enjoy as you relax on the manicured lawns.
If you want a really stunning view of the city, the Sydney Tower Eye is the place to go. Located right next to Hyde Park, the viewing platform at the top of the tower offers fantastic panoramic views across both the park and the city centre.
In the west of the Central Business District, overlooking darling Harbour, you can find WILD LIFE Sydney Zoo. There are plenty of animals to see, activities to get involved with, and shows to wonder at.
The Sea Life Sydney Aquarium is just next door, so you can get your fill of animals both land and marine in one easy trip. Both the zoo and the aquarium highlight Australia's unique wildlife, so it is a fascinating day out for the whole family.
Whilst much of this district is inland, the western area runs along the water, so you can still enjoy waterfront views and hospitality whilst staying right in the city centre. There are plenty of bars and restaurants that take advantage of the scenic location,
King Street Wharf is a bustling development of shops, bars, restaurants, and cafes that line the banks. After a long day sightseeing, you will have plenty of choices to relax with dinner by the river.
Being so centrally located, if you manage to see everything there is in Sydney CBD, you will be within walking distance of all the incredible attractions in the surrounding districts. Darling Harbour, China Town, and the Rocks and Circular Quay areas all border the Central Business District.
Of course, the caveat to being so central and popular with tourists is that the hotels in the area tend to demand higher prices. If money is not a concern, then this is a fantastic location. Budget travellers may want to consider a more affordable district.
Stay In Sydney CBD – Central Business District If you want to stay right in the city center, sightseeing is one of your top priorities, you are visiting Sydney for a shorter trip, you want to stay where the nightlife is, you have a bigger budget for accommodation.
Best places to Stay in Sydney CBD:
🔍FIND BEST HOTELS IN SYDNEY CBD
🎬 Check out my virtual tour about the best places to stay in Sydney in this video or continue reading:
See more:
2. The Rocks and Circular Quay, where to stay in Sydney for sightseeing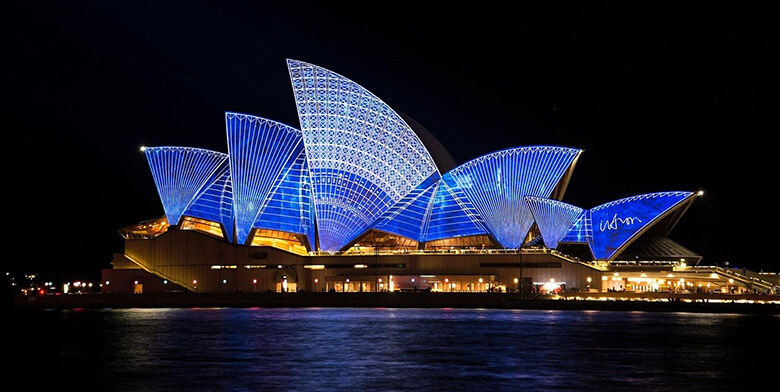 The Rocks and Circular Quay area in North Sydney is a great location for making sure you get to see all the main attractions. Located right on Sydney Harbour, you will be perfectly positioned to enjoy Sydney's most iconic views.
Sydney Opera House is the most prominent attraction in this area. Probably the most well known and most photographed location in all of Australia, no visit to Sydney is complete without a glimpse of the opera house.
If you are lucky enough to have the opportunity to attend a performance or show at the Sydney Opera House you should definitely take it. You will certainly be the envy of all your friends.
Of course, if you just want to view the iconic building, it is best viewed from across the harbour. You can enjoy some spectacular views from Pylon Lookout on Dawes Point, then visit the historic Dawes Point Battery right beside the lookout. The 18th-century fort still features cannons and original floors.
If you do want to get up close to the Sydney Opera House, you will have to walk right by the Royal Botanic Gardens. The huge Botanical gardens boast tons of activities and attractions for all ages.
From numerous themed gardens and educational centres to a pool and open-air cinema, there is plenty to keep everyone entertained.
For such a central district, staying in the Rocks and Circular Quay area will have you surrounded by open spaces and opportunities to enjoy nature. In addition to the sprawling Botanical Gardens, you can also enjoy the lovely Observatory Hill Park.
Aside from being a lovely little public park to relax in, Observatory Hill Park also offers wonderful views of the surrounding city. You can look out across Sydney Harbour and the sweeping arches of Sydney Harbour Bridge. It makes the perfect location for a picnic.
Meanwhile, nearby Barangaroo Reserve offers trails through a lovely waterside nature park. If you want a relaxing afternoon, head to Barangaroo Reserve and enjoy a walk or a picnic with lovely views over the bay.
If you want to head out onto the water rather than just looking at it, then head to Circular Quay Ferry Terminal. From here you can take a pleasant ferry ride to numerous destinations around Sydney Harbour and along Parramatta River.
Just across Sydney Harbour Bridge are the lovely districts of North Sydney and Milsons Point. If you want to stay close enough to see the opera house from your hotel, but also a little further from the inner-city crowds, this area just across the river would be a fantastic location.
Between the river views, the lovely parks, and the iconic and historic attractions, this area is ideal if you are planning a romantic getaway. You will have plenty of opportunities for romantic dates. A honeymoon would even give you an excuse to splurge on a room with views of the opera house.
With such magnificent and iconic views, it is no surprise that hotels here are amongst the most expensive in the city. If you are planning a luxury, money-no-object trip, then you have some fantastic options to choose from here. You could even score a room with views of the Sydney Opera House.
If you are working with a smaller budget on the other hand, you would be better off staying somewhere else and commuting in.
You Should Stay In The Rocks and Circular Quay If you are looking for the best location to stay in sydney close to the major attractions, you want a central area with lots of open space, and you are planning a romantic city break or honeymoon.
Best Places to Stay in Sydney in The Rocks and Circular Quay:
🔍FIND BEST HOTELS IN ROCK AND CIRCULAR QUAY
3. Darling Harbour, where to stay in Sydney with a family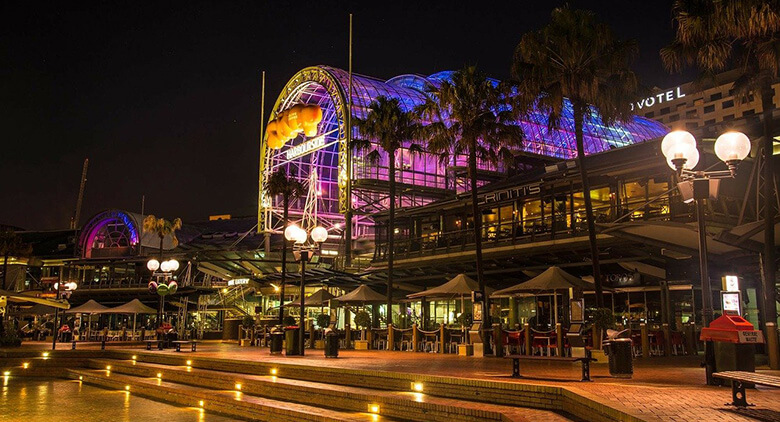 Darling harbour is just west of the Central Business District, wrapping around Tumbalong Bay. Darling Harbour is particularly popular with families, with so many family friendly attractions within easy walking distance.
Sea Life Sydney Aquarium and Wild Life Sydney Zoo are both just a few minutes away along the water. Sydney's Madame Tussauds Wax Museum is just a little further along too. You can enjoy all the top Sydney attractions whilst also keeping close to lovely waterfront views.
Meanwhile, Tumbalong Park offers a well equipped play area alongside its manicured Chinese garden. It's a great place for kids to spend some time outdoors and run off some energy.
If you love a spot of shopping you will want to head to the Harbourside Shopping Centre. The multilevel complex of fashionable boutiques and trendy stores overlooks the water for a scenic shopping experience.
The Harbourside Shopping Centre is also popular with diners. The mall is full of upscale restaurants with waterside dining terraces for a lovely al fresco experience. After dinner, you can head to one of the many stylish cocktail bars throughout the mall and along the waterfront.
On Saturday evenings, you should head to the waterfront to witness the weekly firework show. Cockle Bay Wharf is a particularly popular location to view the fireworks from. It can get pretty crowded though, so you might need to get there early if you want to score a good spot.
Being close to the city centre, and quite a popular location in its own right, Darling Harbour has its share of pricier accommodation. However, whilst many of the hotels here demand higher prices, there are still also plenty of mid-range and affordable hotel options too.
If you are keeping to a budget, you may have to shop around a bit. However, you will have more to choose from than in the central business district or Circular Quays area.
You Should Stay In Darling Harbour If you are looking for the best area in Sydney to stay with family and want to be surrounded by family friendly attractions, you want to stay close to the city centre, you love fireworks and want to witness the weekly fireworks show over cockle bay, you don't mind staying in a crowded, tourist heavy area.
Best hotels in Darling Harbour:
🔍FIND BEST HOTELS IN DARLING HARBOUR
4. Surry Hills and Newtown, where to stay for trendy cafés & restaurants
Surry Hills is one of the trendiest neighborhoods in the city. Popular with Sydney's younger crowd, Surry Hills is a large suburb full of hip eateries and fashionable shopping. Less of a tourist trap, this is a great place to escape the crowds whilst keeping close to the attractions of the city centre.
There is a distinctly hipster vibe to Surry Hills. The area boasts an abundance of fancy cafes offering the best of Sydney's coffee scene. Australia is known for valuing great coffee, so you know any area of Sydney that makes coffee a highlight is going to be serving the good stuff.
In addition to the coffeeshops, there are also numerous quirky boutiques and art galleries to browse around. When you need a break, Surry Hills has a great collection of chic restaurants and fashionable cafes to choose from.
Despite the hipster vibe, there is an authenticity to Surry Hills that keeps it from feeling too pretentious. There's a genuine creativity to the community here that seeps into the general atmosphere.
One particularly notable perk to staying in Surry Hills is its proximity to Sydney's largest train station. Sydney Central Station offers links throughout the city as well as out to districts outside of Sydney. If you are travelling to Sydney by train, it is likely you will be coming into central station.
Staying close by to Central Station will help to minimise time spent travelling between your hotel and the train station. Both when coming in and out of Sydney, as well as when travelling around the city during your stay.
Alternatively, if you are flying into Sydney and want to stay closer to the airport, you might want to consider Newtown. Newtown is a bit further out from the city centre, but it has a similar hipster vibe to Surry Hills.
Rather than coffeeshops and boutiques, Newtown is a hub of thrift stores and secondhand bookshops. If you love vintage, this is where to find it.
Newtown also has one of the most diverse culinary offerings in the city. If you are craving a particular cuisine, there is a good chance you will be able to find a great restaurant serving it in Newtown.
You Should Stay In Surry Hills and Newtown If you want to stay in an area with a trendy but laid back vibe, you love vintage stuff and hunting for second hand bargains, you want to keep close to the city centre but away from the crowds of tourists, you want to stay close to transport links.
Best Hotels to Stay in Surry Hills:
🔍FIND BEST HOTELS IN SURRY HILLS
5. Kings Cross, where to stay in Sydney on a budget
Kings Cross is an inner city neighbourhood a little ways outside of central Sydney. It is only around a 20-minute walk from the Central Business District, so you won't be too far from the popular tourist attractions of the city centre.
Once one of the grittier areas of Sydney, Kings Cross still maintains some of its edgy vibe but has been noticeably uplifted over recent years. Now the streets are lined with trendy cafes and quirky boutiques taking advantage of the lower rents in the area.
One of the things the Kings Cross area is known for is its preserved historic buildings. Many of the streets are lined with pretty, Victorian era houses. It is nice to spend an afternoon wandering the streets, appreciating the aesthetic, and popping into small shops and cafes along the way.
Elizabeth Bay House is a prominent historical building in the area. The 19th century home features columned entrances and balconies overlooking the nearby bay. Guests can enjoy tours of the opulent house and grounds, still furnished in the period style.
Kings Cross is one of Sydney's top nightlife districts. The bars and clubs here are a little edgier than what you might find in the Central Business District. If you prefer your parties less polished and with more of a bite, this would be a great place to go for a night out.
Sex work has been legal, although heavily regulated, in Australia since the early 90s. Kings Cross has been known as Sydney's Red-Light District since well before then. If you are interested in seeing how that impacts a city's nightlife, then Kings Cross is a fascinating place to visit after dark.
Although it has been rejuvenated and uplifted in recent years, Kings Cross still maintains some of its seedier reputation and atmosphere. If you are content staying somewhere with a bit of an edgier vibe, then you can take advantage of the much more affordable accommodation available here.
Kings Cross is well known for being one of the cheapest areas to stay within Sydney. You will find plenty of budget accommodation to choose from. There are even hostels that cater specifically to backpackers that charge incredibly low rates if you are happy to accept the very basic facilities.
If you are concerned about staying in a grittier district, but still want to benefit from the affordable accommodation, try looking for hotels in the northwest section of Kings Cross. Bordering nearby Potts Point, you can still find plenty of budget options whilst staying on the edge of a more upscale district.
You Should Stay In Kings Cross If A thriving nightlife is a high priority, you want to stay in a neighbourhood with a gritty, urban vibe, you are curious to visit Sydney's red light district, you are working with a smaller budget.
Best Hotels In Kings Cross:
🔍FIND BEST HOTELS IN KINGS CROSS
6. Paddington, an upmarket area in Syndey
Paddington is a charming, upmarket neighbourhood just a short way east of central Sydney. Home to lovely historic buildings, Paddington is a vibrant neighbourhood that keeps its fashionable atmosphere without falling into pretentiousness.
If you enjoy shopping, Paddington offers an alternative to the more mainstream fare of central Sydney. The streets of Paddington are lined with chic, independent boutiques and charming cafes.
Oxford Street is a popular road for tourists to visit. One of the main roads in the city, Oxford Street is lined with beautiful Victorian era houses. Dotted with trendy cafes, it is lovely to take a stroll along Oxford Street and appreciate the pretty facades.
Located along Oxford Street are the popular Paddington Markets. The market features numerous stalls selling the wares of local craftspeople, designers, and artists. You can find everything from fashion and homewares to art pieces. It is a great place to pick up some unique, local souvenirs.
Also along Oxford Street are the Paddington Reservoir Gardens. Far from your typical city park, the Paddington Reservoir Gardens are located in the recess of a defunct reservoir. Featuring the remains of old brick buildings against the newer metal bridges and walkways, it's a pretty unique space.
There are also quite a few art galleries scattered about Paddington. From contemporary to classic, canvas to sculpture, whatever art style is your preference there is sure to be a gallery that caters to your tastes. Down practically every street you will stumble across another gallery displaying local artists' works.
Whilst you will be staying close enough to the city centre to easily visit all the major tourist attractions, Paddington is also reasonably close to Bondi Beach. Whilst it's probably a bit too far to comfortably walk, you can get there fairly quickly by train, bus, or car if you fancy a day at the beach.
Alternatively, if you want to spend some time outdoors but don't want to schlep all the way to Bondi Beach, nearby Centennial Park offers a convenient escape from the press of the urban jungle. The park covers almost 470 acres and boasts duck ponds, cafes, and barbeque areas.
Being a little further out from the city centre, even though it is a wealthy area there is a good mix of affordable accommodation here. Whilst there are a couple of pricier options, there are plenty of mid-range and affordable hotels and apartments to consider.
There are some lovely boutique hotels in the Paddington area for very reasonable rates, ideal for those who are looking for luxury and style without breaking the bank. There are even some super affordable hostels for those who want to keep costs as low as possible.
You Should Stay In Paddington If you want to stay in a fashionable, upscale neighbourhood, you love art and browsing galleries, shopping at chic boutiques and quirky markets is how you like to spend your vacations, you want to stay close to the city centre whilst also being able to easily escape to the beach.
Best places to stay in Sydney in Paddington ‣ Mrs Banks Hotel
🔍FIND BEST HOTELS IN PADDINGTON
7. Chinatown, where to stay in Sydney near Central Station
Sydney's Chinatown is a tiny little neighbourhood at the south end of the city centre. The entrance to Chinatown is marked by ornate gateways guarded by Chinese lion-dog statues. It really helps set the aesthetic for the area, welcoming you into a hub of Chinese culture and cuisine.
You will find tons of quality Chinese restaurants here, so if you get a craving for Chinese food, you know where to go. It's not just Chinese food either. You can also enjoy great Japanese and Korean food here too.
There are also numerous shops selling Chinese trinkets and craft goods. If you are looking for a bargain, the markets around this area are full of them. From clothes and accessories to traditional Chinese wares, you can spend hours browsing the varied stalls.
If you want to take in the Chinese culture whilst enjoying the fresh air, there is a Chinese Friendship Garden in nearby Tumbalong Park. The garden features pagodas and koi ponds as well as a charming tea house.
Despite being within easy walking distance of many of Sydney's major attractions, Chinatown offers some incredibly affordable accommodation options. If you want to stay close to the city centre without breaking the bank, this is a perfect location.
Chinatown is also right next to Sydney Central Station. If you are travelling into Sydney by train, then staying in or near Chinatown will mean less time shuffling between the station and your hotel.
You Should Stay In Chinatown If you are looking for budget accommodation super close to the city centre, you want to stay close to Sydney Central Train Station, you really love Chinese culture and food.
Best hotels in Syndey in Chinatown:
🔍FIND BEST HOTELS IN CHINATOWN
8. Darlinghurst and Potts Point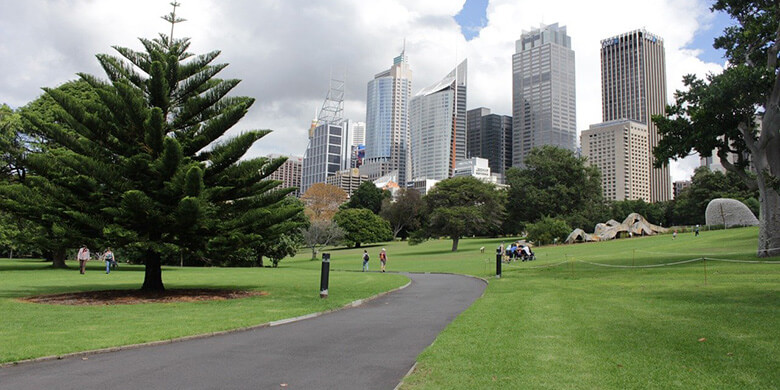 Darlinghurst is a vibrant suburb separated from the city centre by Hyde Park. If you are looking for where to stay in Sydney that will provide an authentic, artsy vibe, with affordable accommodation, within walking distance of the city centre, Darlinghurst is a fantastic neighbourhood to consider.
Darlinghurst is home to the National Art School which explains why there are so many galleries in the area. In amongst all the contemporary galleries showcasing typical modern art, there is also The Artery.
The Artery features various works by local aboriginal artists, perfect for getting to grips with Australia's cultural heritage. Many of the pieces are available for sale. They would make for fantastic, culturally significant souvenirs.
Darlinghurst is the centre for Sydney's LGBTQ community. If you are looking for LGBTQ friendly nightlife, head to the stretch of Oxford Street between Hyde Park and the University of Notre Dame. This area is lined with gay bars and clubs, ensuring you will enjoy a fabulous night out.
Nearby Potts Point is a little more upmarket than its surrounding areas. Just north of Kings Cross, it carries on the artsy atmosphere of the surrounding neighbourhoods whilst adding a little extra chic.
Foodies will love the variety available in the Potts Point area. The streets are lined with fashionable cafes and bistros offering a range of cuisines from around the world. If you aren't feeling up to a fancy sit down dinner, there are some excellent local takeout restaurants here.
If you want to keep things really casual, head to Kings Cross Market. Here you can find dozens of food trucks and street food stalls to enjoy an al fresco lunch. Alternatively, head to one of many farmers' markets to sample some incredible local produce and even more street food.
The northern end of Potts Point is less developed, stretching out into a narrow peninsula. If you head out to the end of the peninsula you can enjoy stunning panoramic ocean views. You can see straight across the water to a wonderful view of Sydney Opera House.
This part of the peninsula is known as Garden Island. It is home to a navy base and the Royal Australian Navy Heritage Centre museum. The walk up to Garden Island is lovely, with the east side offering ocean views and the west side looking across the water to the Royal Botanic Gardens.
Being just outside of the city centre and quite close to Kings Cross, there is plenty of affordable accommodation to be found in the Darlinghurst area. There are a lot of good quality hostels for those who are really trying to keep costs down.
Potts Point can be a little more expensive, with a few more luxury options, particularly overlooking the ocean. However, there are still many mid-range to budget hotels and apartments to choose from. You can get the best of both an upscale neighbourhood and affordable accommodation.
You Should Stay In Darlinghurst and Potts Point If you want to stay in a trendy inner city suburb, you want to stay relatively close to the city centre without breaking the bank, LGBTQ friendly nightlife is a priority for you, you are trying to keep accommodation costs down
🔍FIND BEST HOTELS IN DARLINGHURST
9. Bondi Beach, where to stay in Sydney for the beach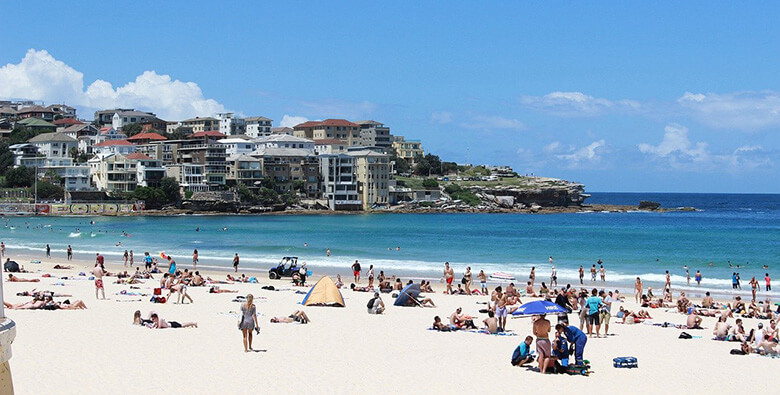 Probably the most famous beach in Sydney, Bondi Beach and the surrounding neighbourhood is hugely popular with tourists. If you are planning to stay in Sydney for a relaxing beach vacation, Bondi Beach is probably high on your list of possibilities.
Located in East Sydney, Bondi Beach itself is covered in things to do. Obviously, you can spend your time relaxing on the soft, golden sand. Alternatively, head into the water and take advantage of the various water sports on offer.
Surfing is a very popular pastime in Bondi. The conditions in the area mean there are plenty of perfect waves to ride. If you have never surfed before, but would love to try, there are surf shops and schools along the length of the beach to get you started.
Being so incredibly popular, Bondi Beach can get super crowded. If you want to relax on a quieter beach, there are plenty of smaller beaches nearby to choose from. Generally, the further out from the main city, the quieter the beach.
It might sound like an unpleasant trek to have to walk out of town to find a more relaxing beach. However, the Bondi Beach area is actually well known for having some of the best coastal walks in the region.
A particularly popular walk is the route that leads from Bondi Beach, through Bronte Park, all the way to Coogee Beach. It is a pleasant 3 kilometre long walk along the clifftops and shoreline, offering stunning ocean views the whole way. There are plenty of cafes to stop at along the way, so you won't get too tired.
Coogee Beach is another super popular location. Being relatively close to Bondi Beach, but away from the more fashionable, and pricy, main town, Coogee is particularly popular with backpackers. Coogee Beach is slightly more sheltered than Bondi, so it is better if you prefer calmer waters.
The Coogee Coastal Walk continues along the shoreline, following it round through nature reserves and numerous smaller beaches. There are even some saltwater pools set into the rocks dotted along the stretch. Ideal if you want to go for a dip but are nervous about Australia's notorious sharks.
Another perk to staying near Bondi Beach is the proximity to Sydney Airport. With the airport just a few kilometres away to the west, you won't have to waste too much of your precious vacation time getting between the plane and your hotel. You can also avoid the often terrible city centre traffic.
Being such a popular and iconic location, hotels and apartments here can get pretty expensive. There are some more affordable options a little further inland that cater to the thriving backpacking community that passes through the area.
If you want to stay somewhere directly overlooking the beach and the ocean however, you are going to be paying a premium for it. There are some delightful luxury hotels around here if you have the budget for it.
If you do want to stay closer to the waterfront without breaking the bank, you may want to try nearby Coogee Beach. There are a few more mid-range options overlooking the beach here and even more affordable hotels, apartments, and hostels just a little further inland.
You Should Stay In Bondi Beach If staying close to some of the best beaches in Sydney is a priority, you love surfing or are interested in learning, you prefer not to be right in the city centre, you want to stay closer to Sydney Airport.
Best Hotels to Stay in Bondi Beach:
🔍FIND BEST HOTELS IN BONDI
10. Manly, a safest area to stay in Sydney
Manly is a charming beach resort a short ways north of central Sydney. Well outside of the main city, Manly is more for those planning a relaxing beach vacation rather than a busy city adventure.
The main attraction of Manly is, of course, the proximity to multiple beautiful beaches. The eponymous Manly Beach is the best known, but far from the only option. You will have your pick of both bustling family beaches and quieter, more secluded beaches.
Manly beach is the longest beach in the area. Lined with beach bars, shops, and water sports companies, Manly Beach is one of the most popular beaches for families to spend the day. It is backed by trees which lends it a scenic quality despite usually being very busy.
If you want a more relaxed beach day, away from the bustling crowds, there are plenty of smaller beaches nearby. Collins Beach and Store Beach are both more secluded. Store Beach in particular requires a bit of a walk to reach, but it is worth it for the peaceful atmosphere.
A lot of the southern end of manly is largely undeveloped and left to the natural landscape of trees. As such, there is plenty of opportunity to escape into nature and enjoy some lovely walking trails. There is a particularly lovely walk that leads from Shelly Beach past some old military ruins.
Just a few minutes away on the other side of the bay is another popular hiking area. Here you can enjoy one of the best coastal walks in the area. The trails will lead you through the trees and past landmarks including lighthouses and Aboriginal rock carvings.
Despite being outside of the city, Manly town is well equipped with everything visitors could want during their stay. There are plenty of bars and restaurants to enjoy at the end of a long day relaxing on the beaches.
If you are put off by being so far from the city centre, don't worry. You can easily get straight into Central Sydney via a pleasant ferry ride. You can relax and take in the river breeze as you coast right into the heart of Sydney at Circular Quay.
In general, Sydney is a very safe city with impressively low crime rates. However, if you do still want to prioritise staying in the safest location possible, it is hard to beat Manly. Quiet, suburban Manly is one of the safest neighbourhoods in Sydney, so you and your family can completely relax.
Although it's far from the main city, being a popular resort area means that prices for accommodation may not be as low as you expect. There are some great mid-range options here though. You will have plenty of opportunities to score a room with sea views.
You Should Stay In Manly If You are planning a family vacation, Staying close to lovely beaches is a priority, You don't mind being a bit further out from the main city center, Sightseeing in Sydney is not your primary plan.
Best hotels in Manly:
🔍FIND BEST HOTELS IN MANLY
See more:
As you can see, there is tons to see and do when you visit Sydney. With so much to pack into your stay, it is important that you find the perfect location to act as your base when you visit the city.
By now you should have a much better idea of exactly where to stay in Sydney to have everything you need for your perfect Australian vacation. No matter where you stay in Sydney, you are certain to have a fantastic time, but loving your neighbourhood is the icing on the cake.
Once you have decided which district is perfect for you, all that's left is to decide on your accommodation and head off on the trip of a lifetime. Have a wonderful trip.