Where to stay in Fes as a tourist? In this post, I will help you to find the best areas to stay in Fes for the first time (include map and video) and the best places to stay in Fes for all budget travelers.
Fes is Morocco's cultural capital. Fes along with Marrakesh is the imperial city of Morocco, making them rich in history and culture. Fez was founded by Idris I in 789, making it the oldest one. Fes is less touristy, more laid-back, little nightlife, and more lesser-known restaurants. Fes is a beautiful city with lots of historical sites, it definitly well worth a visit.
Where to stay in Fes?
The best areas to stay in Fes for tourists and first-timers are Fes El-Bali (Old Medina), Fes El-Jdid (New Fes), Nouvelle Ville, Train Station, and Seffarine. These are the city's most popular and safe areas for tourists that offer a wide variety of attractions and amenities.
In general, Fes El Bali (Old Medina) is the overall best area for first-timers due to its proximity to major attractions. Staying here allows you to immerse yourself in the labyrinthine streets, bustling markets, and traditional riads. It's a great option if you want an authentic experience and easy access to the main attractions.
If you're want to stay in authentic accommodation, book a stay in traditional riads. Riads are traditional Moroccan houses that are coverted into boutique hotels with rooms inner courtyard. Some even have swimming pools or hammam-style spas for guests.
If this is your first visit, I recommend spending at least 2-3 days in Fes, which is is enough to see the major attractions, to get the sense of the authentic Arabian culture, enjoy local food. Many traveler plan 7-8 days trips to see Marrakech, Merzouga, Ouarzazate, Fes, and Chefchaouen.
Map of areas and neighborhoods to stay in Fes: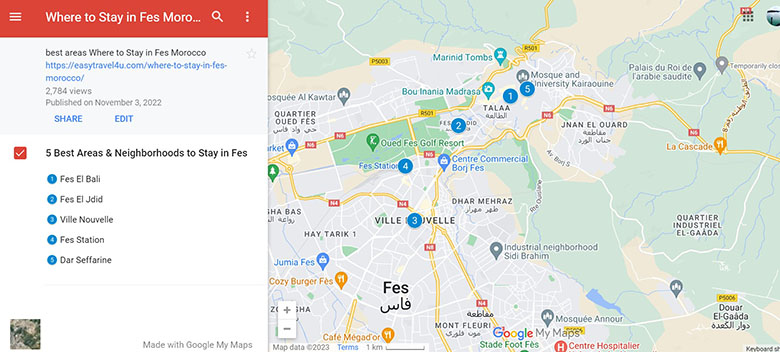 The 5 Best areas to stay in Fes for tourists are:
1. Fes El-Bali (Old Medina)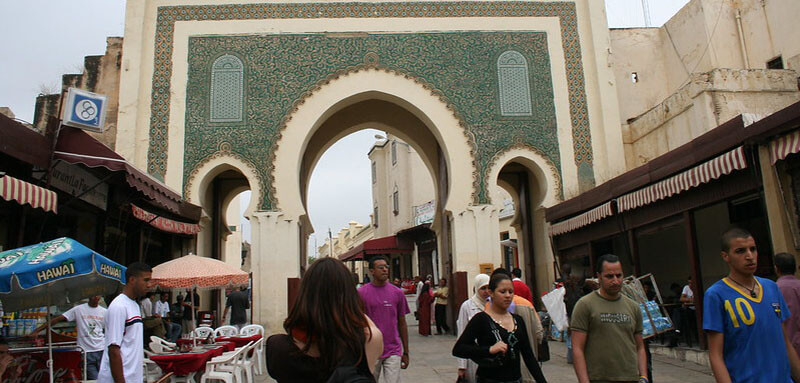 Old Medina is the best overall area to stay in Fes for first-time travelers due to its prime location. If you stay here, you will be located in the middle of everything, within walking distance to the top tourist attractions, as well as many restaurants, bars, and shops.
Fes el-Bali (old city) alongside Fes el-Jdid is collectively called The Medina Of Fes. El-Bali is the world's largest surviving medieval city. Under its out-of-the-box architecture and urban origin, The Medina was designated as UNESCO World Heritage Site.
According to National Geographic, El Bali earned its title as The Medina's Heart for its outstanding monuments. The old city's narrow streets make it impossible for cars, buses, or bikes to pass through. Medina is the largest car-free area in the world.
You will find mosques, madrasas (Islamic schools), leather tanneries, shops and stalls around thousands of winding streets and alleyways in this in ancient medieval city.
Several best attractions are centered around Blue Gate or Bab Bou Jeloud, a gate that was opened by the French when they were in Morocco.
There are numerous Islamic schools to visit in the Old Fes:
The Al Attarine Madrasa, built in the the 14th century and is next to the spice and perfume market.
The Bou Inania Madrasa, has a huge brass entrance door and colourful geometric tilework.
One of many attractions to see in whole Morocco, and in Fes el-Bali is Tanneries. Fez is famous for its quality leather products and home to Chouara tannery, which is the largest ancient tannery in the city.
Old Medina is also home to Mosque and University Kairaouine, which is the oldest university in the world. You can view arched doorways, a tiled floor, and colourful artworks here.
If you love museums, take a visit to The Dar Batha, or Batha Museum. This museum was a former summer palace, but now a museum with a collection of the traditional arts and crafts from Morocco.
The Nejjarine Museum of Wooden Arts & Crafts is also worth a visit. Located in a wonderfully restored funduq, this museum has a rooftop cafe that offers great views over the medina.
And of course, a visit a Fes is not completed without mentioning the souks. There are plenty of them through out the neighborhood. You can find Souk el Henna, Souk Al-Attarine, Souk Jeld, Souk Serrajine, Souk Tillisse, and Souk Haik.
Accommodation in El-Bali is quite affordable. Hostels are abundant for tourists with a lean budget-friendly hostel as well as luxury hotels where you can stay. Some of the luxurious riads (an Arabic name for gardens) offer on-site restaurants and Hammans for guests. Other affordable options are staying in Dars, which are smaller homes that are converted to bed and breakfast.
Stay in Fes El-Bali if:
You are looking for the world's largest surviving medieval city hence rich in history.
You need things to buy from stores and stalls, you are sure to get whatever you want at negotiable prices.
You want an inexpensive cost of living.
You'd love to exercise your feet without minding getting exhausted.
You can handle not getting lost in a maze-like street with 9400 winding alleyways.
You don't mind being in streets crowded with lots of noise.
Best place to stay in Fes El-Bali for first-timers:
Riad Fes Bab Rcif & spa Riad Fes features beautiful, air-conditioned, traditionally styled suites, situated right by the main gate of Medina. A spa, terrace, and restaurant are all located within the property, to ensure you are suitably relaxed at all times, while the multi-lingual front desk is manned 24 hours a day, to make sure any information you may need is always available.
Hotel & Spa Dar Bensouda is a stunning property, featuring architecture of the original palace in which it is set, complemented by modern features like air-conditioning. 2 courtyards, a roof terrace, an upper terrace overlooking the Atlas Mountains and a swimming pool provide a number of places for you to relax and enjoy the views, while a hammam offering massages and beauty treatments is also available.
Riad Farah is a traditional Moroccan riad, with modern features like air-conditioning and Wi-Fi, where the beautiful rooms all boast a private bathroom and patio with a view, just 2 minutes from the Medina. A rooftop terrace and bar will allow you to sip drinks and enjoy the stunning views, while the superb restaurant offers Moroccan cuisine, as well as providing breakfast each morning.
Dar Borj is an exceptional hotel, featuring stunning, traditional Moroccan architecture. The wonderful on-site restaurant serves local cuisine to keep you fully immersed in your surroundings, while the free Wi-Fi and 24-hour front desk ensure you are always connected and know the best things to see and do.
🔍MORE HOTELS IN FES EL-BALI
See more: 27 Best things to do in Fes, Morocco
2. Fes El-Jdid (New Fes)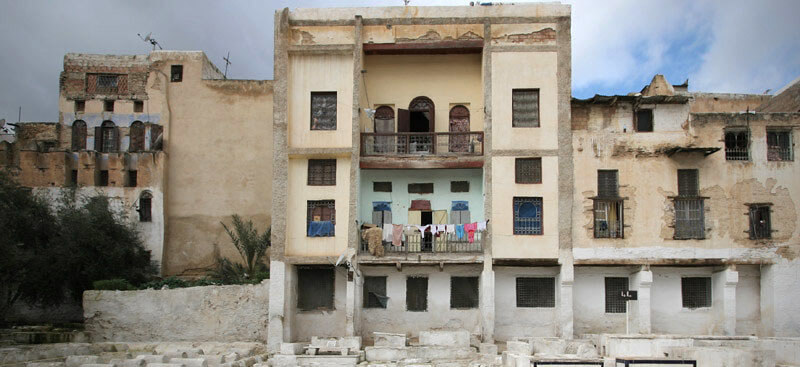 Fes el-Jdid is translated as New Fes. It is more modern compared to El-Bali. Fes el-Jdid was built by the Merinid dynasty in the 13th century to give the city a new dimension.
The neighborhood is occupied mostly by the historic Royal palace (Dar al-Makhzen), formerly the main residence of the sultan and the official residence of His Majesty King Mohammed VI of Morocco.
It was once the center of government in Morocco and is occasionally used by Morocco's king to date. Cars can access this area because the streets are not narrow, unlike those of the old city.
Apart from the Royal Palace, the New Medina is also home to Mellah, or Jewish Quarter. It was relocated to Fes el Jedid from the Old Medina and became a part of the new center of city life. The Jewish cemetery is located in the southwest corner of the Mellah.
Fes el Jdid is a spiritual and religious hub. You can find some of the most wonderful mosques while touring Fes el Jdid such as Grand Mosque of Fes el Jdid which is the main Friday mosque of the royal city. There are also al-Hamra Mosque, Lalla ez-Zhar Mosque, Moulay Abdallah Mosque, al-Beida Mosque, and Lalla Ghibra Mosque.
For hikers, there are off-beaten paths around the Fes. You can hike around the Berbers waterfall and hidden caves or the middle atlas canyon. Porte Monumentale is a beautiful park in El Jdid for park lovers.
Stay in Fes El-Jdid if:
You are passionate about seeing an abundance of historical sites
You enjoy visiting lots of stores for shopping
You don't mind going through the complex navigation. This is due to multiple expansions of the neighborhood.
You are not bothered by the cost of accommodation ranging from affordable to expensive.
🔍MORE HOTELS IN FES
3. Nouvelle Ville
Nouvelle Ville translates to New City. It is contemporary compared to other locations in Fes. Created by the French in the early 20th century, Ville Nouvelle was originally designed to accommodate wealthy foreigners and affluent Moroccans.
There are lots of modern restaurants, fountains, and modern shopping centers in Nouvelle Ville. As a tourist, you can visit interesting places such as the Circular Fountain, Avenue Hassan II, Florence Plaza, and Plaza De La Resistencia.
Great place for party animals who love partying all night. It has locations where you can hike, a great picture background for picture lovers especially couples and families.
Accommodations in Nouvelle Ville are from affordable dars and riads to modern luxury hotels.
Stay in Nouvelle Ville if:
You love attractive touristy locations.
You need accessibility to different forms of transport.
You prefer modern living
You fascinate about bubbly nightlife
You don't mind its expensiveness compared to other parts
You are not bothered by it's little history
Best places to stay in Fes in Nouvelle Ville:
Fes Marriott Hotel Jnan Palace is a stunning, 5-star resort, featuring a traditional Moroccan style, combined with fresh, modern interiors. A swimming pool, gym, sauna, garden and spa ensure you will always be relaxed and entertained, while a choice of 3 restaurants and 3 bars provide a range of drinks and Moroccan and international cuisine, as well as a full breakfast each morning.
Riad Dar Ziryab is a beautiful, traditional Moroccan riad that has been updated with modern features, such as air-conditioning and Wi-Fi. The rooms are all individually decorated and feature stunning views, while the on-site attractions include a swimming pool, garden, hammam, furnished terrace, Moroccan living room and a restaurant serving Moroccan cuisine as well as breakfast each morning.
Sweet Jacob's Apartments 10 & 14 are two beautiful, modern, homely apartments, both featuring a private kitchen, bathroom and seating area, along with free WiFi, a flat screen satellite TV and stunning views. In addition to the apartment, guests will also have free access to a communal hot tub, terrace, children's playground, BBQ facilities and a car park.
🔍MORE HOTELS IN NOUVELLE VILLE
4. Train Station
The ultra-modern train station of Fes is not far from Nouvelle Ville. Cafes with wifi are available around the train station neighborhood, as well as fast-food restaurants and few stores.
This area is perfect for shopping lovers and party all-nighters. It has amazing shopping options, and a bubbling night market. It is a good choice for solo travelers who love to move around a lot and couples who just came to spend a short while.
The train station itself is a tourist destination in Fes. Fes Station has stunning architecture and every traveler will be attracted by the grand white building. There is no need to walk on foot and you can visit the stadium to get all the fun happening.
Fes train station connects Fes to lots of places within Morocco such as Tangier, Marrakech, Rabat, Casablanca, and Meknes.
Stay in Train Station if:
You love easy transportation
You wish to visit different fast-food restaurants and cafes
You prefer a mid-range price for accommodation.
You want a close proximity to Fes multipurpose stadium.
You don't mind shuffling between a few hotels.
You are ready to experience Fez to the fullest.
Best place to stay in Fes near Train Station:
Hôtel Royal Urban Concept provides beautiful, modern, allergy free rooms, complete with air-conditioning and a private bathroom. A shared lounge and terrace are available for all guests to use and there is also site wide Wi-Fi coverage and a 24-hour front desk.
Hôtel Atlas Saiss Fès is a fabulous, 4-star hotel, featuring stylish, modern décor and air-conditioned rooms, which all include a private bathroom, desk and flat screen TV. A continental breakfast is served each morning, while other facilities such as free Wi-Fi and parking, a restaurant, terrace, lounge, concierge service, 24-hour front desk, currency exchange and room service are all available.
🔍MORE HOTELS IN FES TRAIN STATION
5. Seffarine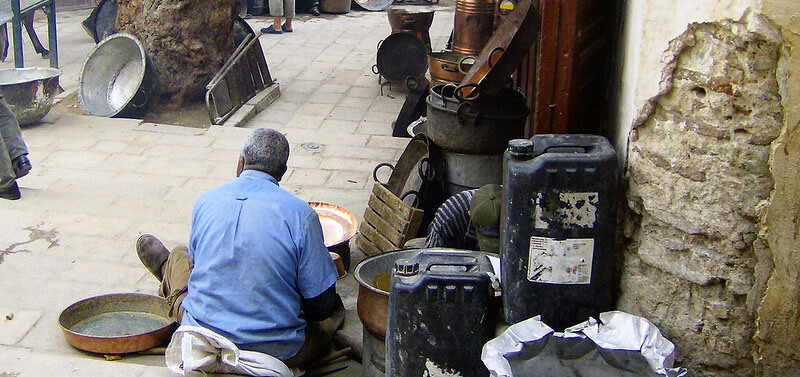 Named after the coppersmiths (seffarine) who have had their workshops here for centuries. It is a small square in the Medina of Fes. Tourists who are interested in how copperware production visit this neighborhood.
Here, you can find the University Al Qaraouiyine's library and madrasah of Seffarine built in 1280 by Sultan Marinid Abu Youssef.
As Seffarine is relatively small compared to El Bali and El Jdid. It is also accessible by car. According to visitors, Dar Seffarine is the most elegant place to stay here. The suites range from affordable to pricey.
One advantage of staying here is its low accommodation prices. They aren't as pricey as accommodation in El Bali. Dar Seffarine happens to be one of the few luxury options. There are also some restaurants around Al Attarine Madrasa.
Stay in Seffarine if:
You are a food lover
You don't care about limited public transportation
You don't need a lot of buying from stores as they are limited in this area
You are not bothered by not having so many interesting sites to see
🔍MORE HOTELS IN AS SEFFARINE
Where should I stay in Fes for the first time?
Fes El Bali is the best area to stay in Fes for first-timers due to its prime location. If you book a hotel here, you will be located in the middle of everything, within walking distance to major tourist attractions, as well as many restaurants, bars, and shops.
What are the best areas to stay in Fes?
Fes El-Bali, Fes El-Jdid, and Nouvelle Ville are the best areas to stay in Fes because they are the most popular and safe neighborhoods for tourists that offer a wide range of attractions and amenities.
Read Also:
If you travel during this peak season, try to book like two months before. The off-season period is after Christmas and new year celebrations and during the annual sacred music festival that starts in June.
Overall, Fes El Bali, or Old Medina, is the best area to stay in Fes for first-timers due to its central location. If you book a hotel here, you will be located in the heart of the city, within walking distance to major tourist attractions, restaurants, bars, and shops.
In summary, a trip to Fes is ideal for whatever occasion. The Riads are perfect for honeymoons. Let's not forget the picture-perfect architecture. Fes is the place to be!