The 6 best areas to stay in Rabat are the neighborhoods of Medina, Agdal, Hassan, hay Riad, L'Ocean, Souissi, Les Ambassadeurs. This blog will tell you all about where to stay in Rabat for tourists and best things to do in each area.
The exotic North African country of Morocco is a popular tourist location. Rabat has not got the romantic reputation of Casablanca or Marrakesh. Rabat is not a huge city, its population being well below that of cities such as Casablanca, Tangier, and Fez. The transport system is good so none of the neighborhoods below are too far away from the city's highlights.
Rabat became Morocco's capital just before the First World War. That status resulted in development and expansion beyond the traditional Medina district. The Medina remains one of the best places to stay for travelers, especially those on a budget. 
The city's coastal location results in plenty to do by the Atlantic Ocean with long stretches of the beach a particular attraction. The historical and cultural gems satisfy the inquisitive tourist, and the vibrant atmosphere of Rabat is captivating.
Those looking for budget accommodation as part of an itinerary based on seeing the whole country should look at Medina first of all. There are plenty of hostels but also quality hotels in Medina for travelers wishing to be in the heart of the City. If you want somewhere quieter, then look at the outskirts in the knowledge that transport within Rabat is well-organized, regular, and inexpensive.
Rabat's status as the national capital makes it the obvious location for some of Morocco's most important landmarks, the country's most important museum, the Mausoleum of Mohammed V, and the Royal Palace.
The Kasbah of the Oudaias is an ancient citadel dating back to medieval times cited in a prominent location overlooking the Atlantic. The Chellah was founded by the Carthaginians and subsequently fell under Roman rule and ultimately Arabs. Travelers will be surrounded by history even though it is now home to migratory storks who return from their nesting sites in Europe in August.
Rabat became the capital of Morocco when it was a French Protectorate. As a result, there remains a French influence in the architecture and the streets. French is widely understood even today, and a few words will be useful for all tourists seeking advice and directions.
>>🔍 FIND BEST HOTELS IN RABAT <<
📌Where to Stay in Rabat Morocco: 7 Best Areas & Neighborhoods
1. Medina, where to stay in Rabat for nightlife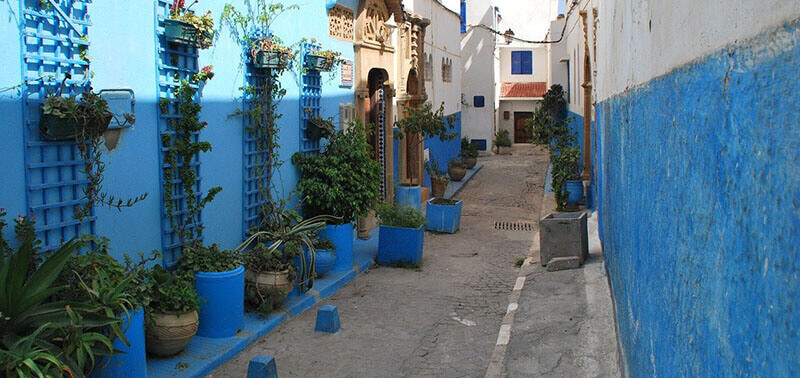 The Medina is the heart of most Moroccan communities and Rabat is no exception. It is a lively central district where travelers will be able to observe the daily activities of the local population.
It is also the top district for those looking for accommodation and working on a budget. Common accommodations are riads, hotels, and dars, with on-site hammams, beautiful rooftop terraces, on-site restaurants, breakfast, and swimming pools in many properties.
Rue Souika is a good place to stop which start from the 14th-century Grande Mosquée de Rabat Medina to the reed-covered Souq as-Sebbat.
To absorb the medina atmosphere, stroll around narrow streets such as Rue des Consuls, one of the oldest and most famous alleys in Rabat. This craft souk is a perfect place to shop for handicrafts and souvenirs.
At the end of Rue des Consuls, you will find the massive walls of the Oudaias Kasbah (Kasbah les Oudaias) with the beautiful gateway Bab Oudaia, originally built in the 12th century.
Kasbah les Oudaias overlooks the Bou Regreg River, the Atlantic Ocean, and Rabat's sister city, Salé. Here you can see narrow, white-washed streets, the Moorish café, Rue Jamaa, Kasbah Mosque which is the oldest mosque in Rabat, Andalusian Gardens, and Oudaya Museum.
You can also find Rabat Beach, the Lighthouse Rabat on Boulevard Mokhtar Gazoulit, the National Photography Museum, the fort of Rottembourg, also known as Fort Hervé which was built in 1914.
Other points of interest are the National Craft Museum, Nouzhat Hassan Garden, the old Jewish Mellah neighborhood, the Bab Laalou which is the western entrance of the Medina.
Staying in Medina, you are also within walking distance to one of the most famous sites of the kingdom, Hassan Tower, known as Tour Hassan in French. This symbol of Rabat is the remains of the Hassan Mosque.
You can also sample the best of both the Moroccan tradition and the French colonial influence in traditional restaurants.
You can easily walk around Medina and neighboring Agdal while the tram and bus services make it easy to reach any part of the City. Taxis are inexpensive as well though it is not recommended to hire a car as opposed to a taxi or public transport.
Stay in Medina if:
You want a central location, an ideal base for exploring Rabat
You want to be close to many of Rabat's major attractions
You are interested in experiencing Rabat's daily life and activities which is such an important aspect with travel
You have a limited budget and are looking for value.
Don't stay here if:
You are looking for a quiet environment
Your priority is a family-friendly neighborhood
Best places to stay in Rabat – Medina area
Best Luxury Hotel: Riad Dar Karima The riad is just a fairy-tale oasis in the noisy and rush medina of Rabat. You could easily reach everything by walking. The hotel is situated within Rabat's medina and only 500 m from the Kasbah des Oudaias. Ryad Dar Karima is 2 km from Chellah and 500 m from Rabat Medina Station. Rabat-Salé Airport is 5 km away.
Best Mid-range Hotel: Riad Meftaha is set in Marassa Ocean in Rabat. Guests can enjoy various activities in the surroundings, including golfing, cycling and fishing. The riad also offers car hire. The hotel is close to Kasbah Oudaya, Moroccan Parliament, Goethe-Institut and Rabat-Salé Airport is 9 km from the property.
Best Budget Hotel: Chambre haut standing is near The National Library of the Kingdom of Morocco, National Railways Office and Ministry of Higher Education, Scientific Research and Executive Training, Chambre haut standing features free WiFi, and guests can enjoy a shared lounge.
🔍FIND BEST HOTELS IN MEDINA
>
🎬 Check out my virtual tour about the best places to stay in Rabat in this video or continue reading:
See more:
2. Hassan & Quartier des Orangers, where to stay in Rabat for your first time
This neighborhood is fairly central and just south of Medina. It is still perfectly easy to walk from accommodation in Hassan to get to the very heart of the City.
Hassan Tower (Le Tour Hassan) is the minaret of a mosque that was commissioned by Abu Yusuf Yaqub al Mansur at the end of the 12th Century, but he died, and work finished, never to be resumed.
Constructed in red sandstone, it was given UNESCO World Heritage status in 2012.
Hassan Tower and the Mausoleum of Mohammed V are both located in the gardens of Jardin Tour Hassan or, Jardin d'Essais Botanique.
Other highlights of Hassan and Quartier des Orangers are t Nouzhat Hassan Gardens St. Peter's Cathedral, Mohammed VI Museum of Modern and Contemporary Art, and the Rabat Archaeological Museum.
In this neighborhood, you can find Rabat Ville station, the central train station in the city. There is the train to the Mohamed V International Airport and Casablanca.
Stay in Hassan & Quartier des Orangers if:
You want to be on the doorstep of landmark attractions
You want a wide choice of hotel and apartment accommodation
Don't stay in Hassan & Quartier des Orangers if:
You are interested in nightlife without traveling into the center.
Best places to stay in Rabat – Hassan area
Best Luxury Hotel: Suite Balima XI Location is ideal as it is very close to the main station. Situated 1.9 km from Plage de Salé Ville and 2 km from The National Library of the Kingdom of Morocco, Suite Balima XI in Rabat features air-conditioned accommodation with views of the city and free WiFi.
Best Mid-range Hotel: Hotel Le Diwan Rabat – MGallery is located next to the Palais Royal in Rabat city centre, Morocco. This 4-star resort has a hammam and the gourmet restaurant serves traditional Moroccan cuisine. Le Diwan is an ideal base to explore the city and Royal Golf Dar Es Salam is just 14 km away.
Best Budget Hotel: Hotel Le Musée is just 900 m from Tennis Stadium, Hotel Le Musée offers air-conditioned rooms with free WiFi. The hotel provides a terrace and a shared lounge. Private parking is available on site.
🔍FIND BEST HOTELS IN RABAT
3. Agdal, where to stay in Rabat on a budget
Agdal attracts younger travelers because of the number of small cafes and bars to choose from and its central location. It also contains quality restaurants and is not simply a place for those on a budget.
The 17-hectare gardens created by the French in 1914, Jardin d'Essais, is the main place to visit within the neighborhood.
Attractions in Agdal are the Royal Palace of Rabat, the Urban Forest Ibn Sina, the Valley of the Roses. Be sure to visit a fine-dining restaurant and bar, L'entrecôte, and an Irish pub called Upstairs.
Agdal is home to one of the two stations in Rabat, Rabat Agdal Station. It is a newer station with a three-level state-of-the-art structure, where you can find McDonald's, Starbucks, MiniSo Shop, and a Léonidas Belgian chocolate stand.
This neighborhood is in the center of Rabat close to Medina, but perhaps slightly quieter?
Stay in Agdal if:
You want to walk around and enjoy Rabat's café culture
You are looking for plenty of choice of food and drink alternatives
You would like to enjoy the relaxing Jardin d'Essais
You want to shop yet are looking for a quieter place than Medina.
Don't stay here if:
You are young and want to enjoy the hectic lifestyle Rabat can offer, day and night.
Best places to stay in Rabat – Agdal Area
Best Luxury Hotel: Dayet Ifrah by RENT-INN is located in Rabat, 3.3 km from The National Library of the Kingdom of Morocco and 6 km from Hassan Tower. Boasting family rooms, this property also provides guests with a terrace.
Best Mid-range Hotel: Ibis Rabat Agdal is 1.6 km from The National Library of the Kingdom of Morocco and 4.2 km from Kasbah of the Udayas, Dayet Ifrah by RENT-INN features accommodation with free WiFi, air conditioning, a shared lounge and a terrace.
🔍FIND BEST HOTELS IN AGDAL
4. Hay Riad, the best place to stay in Rabat for couples

Hay Riad was developed in the 1970s and is recognized as one of the classiest neighborhoods in Rabat. The architecture is impressive and includes stunning villas, a real sign of wealth in Morocco.
While it is the main business district of Rabat, it is also home to plenty of excellent nightlife alternatives including quality restaurants. Even though the French have long gone, French-style cafes feature in Hay Riad.
Tourists wanting to stay at a top-quality hotel should begin by looking to Hay Riad.
Stay in Hay Riad if:
You want a choice of top-quality accommodation
You want a neighborhood with a range of nightlife choices whether restaurant or bar.
You are keen on a very safe neighborhood for visitors, day and night.
Don't stay here if:
You are looking for the most budget-friendly accommodation.
Best Hotels in hay Riad area
Private Apartments – Hay Riad – Prestigia is a self-catering accommodation located in Rabat. Free WiFi access is available. Great central place, nice spots in the close vicinity. Underground around the corner and public parking close by.
The View Hotel is set in Rabat, a 15-minute drive from OLM Souissi Stage of Mawazine Festival, The View Hotel features air-conditioned rooms with free WiFi throughout the property. Guests can enjoy the on-site restaurant. Free private parking is available on site.
🔍FIND BEST HOTELS IN HAY RIAD
5. L'Ocean, Where to Stay in Rabat for Families
Quartier de l'Ocean west of Medina has an extensive coastal section with all the benefits that such a location provides. As a result, there are plenty of choices when it comes to accommodation. Those choices include quality hotels as well as apartments available for rent.
This neighborhood offers quiet accommodation and close proximity to top attractions like National Theater, Medina, the Palace Kabbaj. Close to the Atlantic ocean, you will find Fort Rottembourg, one of the historical attractions in l'Ocean.
The beach areas have been well developed as tourist numbers grew so families will find plenty for the kids to do, relaxing sea air, warm water, and lovely sand. This beach is a popular spot for surfing. Add the refreshment outlets and L'Ocean certainly deserves serious consideration.
Stay in L'Ocean if:
You want a coastal location and all that offers
You want to be close to the heart of Rabat
Your priority is a relaxing environment despite being relatively central
Don't stay here if:
You want a choice of budget alternatives
You want to walk to landmarks if you are traveling with children
Best hotels in L-Ocean area
Best Luxury Hotel: Dar Shâan This Riad is such an awesome place. It's in great location, inside medina with easy access to main road and gardens. The hotels is in walking distance from Laalou Avenue and the beach is just 10 minute' walk away. It's sparking clean and very stylish.
Best Mid-range Hotel: Riad Meftaha is located in good location, close to train station, Moroccan Parliament, Goethe-Institut, while Rabat Aiport is 9km away from the hotel. the service is very friendly and helpful. We highly recommend this hotel. Guests can enjoy various activities in the surroundings, including golfing, cycling and fishing. The riad also offers car hire.
Best Budget Hotel: Hotel Lutece The location is very good, not in the Medina but very close and in a safer area. The staff are very friendly and helpful. Excellent breakfast, very clean rooms, contemporary art on the walls.
🔍FIND BEST HOTELS IN L-OCEAN
6. Souissi, best area to stay in Rabat for families
Souissi is where the annual music festival, Mawazine Rabat is held each May. Several world-famous performers have featured over the years and the Festival is an important date in the Moroccan calendar.
It is a relaxing neighborhood, ideal for families with plenty of open spaces and entertainment for children.
Accommodation choices have limited budget alternatives
Stay in Souissi if:
You are looking for a relaxing atmosphere away from the hectic heart of Rabat
You are traveling as a family and need plenty to amuse the kids.
Don't stay here if:
You are young and single and want to be in the midst of the action
Best Hotels in Soussui Area
La Villa Mandarine is set in an orange grove, a 5-minute drive from Nahda Stage of Mawazine Festival. It offers an outdoor heated swimming pool. You can relax in the massage room and hammam or drive to the beach in 20 minutes.
Sofitel Rabat Jardin Des Roses is in the centre of Rabat, this hotel sits on a luxurious site of more than 7 hectares, including 3 swimming pools and mini-golf area. It offers stylish rooms with balconies. The guest rooms at the Sofitel Rabat Jardin Des Roses have panoramic views of the Andalusian gardens, the swimming pool or the Eucalyptus forest
🔍FIND BEST HOTELS IN SOUSSUI
7. Salé, sister's city of Rabat
Located on the right bank of the Bou Regreg river, opposite the national capital Rabat, Sale is not a major tourist city, it's a great place to explore the local daily life and break from the hustle and bustle of another city in Morocco.
Here you will find Plage de Sale Ville / Sale Beach, a lot of murals and street art, and Sale's medina. Sale's medina is home to the third-largest mosque in Morocco, The Great Mosque of Sale.
There are also sights like The Cemetery of Sidi Benachi, The Great Door of Sale (Bab LaMarissa) which is one of the oldest gates in Morroco, and Oujla Craft Complex.
Accommodations here are affordably dars and riads with breakfast is typically included with the room rate, rooftop terraces, and some accommodations can offer an airport shuttle bus. The Marina Bouregreg Salé are more expensive.
Local taxis do not cost a fortune and will take you to other parts of Rabat to see the significant landmarks.
Stay in Les Ambassadeurs (Salé) if:
You want a peaceful area and want to relax and enjoy some quiet time.
You are fit and looking for physical, outdoor activities
Don't stay in Les Ambassadeurs (Salé) if:
You want to see Rabat's landmarks without needing transport.
🔍FIND BEST HOTELS IN SALE
Read Also: Top 9 Safest Countries in Africa
How long to Stay in Rabat?
While few travelers to Morocco go specifically to see Rabat unless on a business trip, it would be wrong to omit it from a Moroccan itinerary just because cities like Casablanca, Marrakesh and Fez receive more attention.
If time is short, you can see the main landmarks of Rabat in two days, but it is certainly worth relaxing and taking an extra day unless time makes that impossible.
The fine beaches are a great place to relax during a hectic schedule while the café culture that has existed since the time of the French offers a chance to just sit and watch the world go by.
Is Rabat Worth a Visit?
No one who goes to Rabat for a few days will be disappointed. Its growth came about because of its capital status but there is plenty of history there because human settlement dates back to the days of Carthage and its struggles with the Romans.
In addition, its coastal location adds to the options of things you can enjoy. A mix of old and new, it would be a shame to miss it out of your Moroccan itinerary.
Where to Stay in Rabat on a Budget?
The best budget accommodation is found in Medina Rabat. An added advantage is its central location meaning none of Rabat's major attractions are too distant.
There are plenty of signs for hotels as you walk along Mohammed V Street. At peak tourist times, they tend to fill up quickly so if you have not booked in advance, try to call in before lunchtime to book for that evening before continuing to enjoy the City.
A double room in Medina should start for as little as US$15. Prices do rise outside Medina but there is good value to be had throughout Rabat.
What Is the Best Month to Visit Morocco?
The Ocean's influence ensures that Rabat does not experience the really hot summer weather found in Morocco's interior. However, the most pleasant time to enjoy Rabat is spring and autumn, especially for travelers intending to explore Morocco as a whole.
March until May then September and October are all times when the weather is guaranteed to be pleasant and largely dry. Throughout these weeks, the temperatures will be in the high 20s centigrade. At the height of summer, they are regularly into the 30s.
Is Rabat Safe at Night?
Every traveler needs to follow simple rules whenever they visit a strange town or city, but beyond that Rabat is extremely safe. Scams do exist, as do pickpockets but there is a good police presence throughout the City which does not intrude of the experience of a visit.
It does not make sense to wear expensive jewelry or appear to be carrying significant amounts of cash. Walking is fine but ensure your valuables are in your control perhaps by keeping hands in pockets. Dress casually and appropriately.
Solo female travelers should not worry about walking in Rabat. It is common sense in any city to avoid very quiet places that are unfamiliar and that applies to Rabat as it does to anywhere else.
It would be a shame if you are planning a visit to Morocco if you miss Rabat out. There are several cities that receive more attention than Rabat and international flights do go directly into cities such as Casablanca but that is not a reason to miss it out.
Rabat is a mixture of new and old. Its expansion began around a century ago when it became the French Protectorate's Capital, but human settlement existed for many, many centuries before that. You can find something for every taste, balancing history, culture, and outdoor activities by day with fine cuisine and bars by night.
Morocco is a popular destination for travelers of all kinds whether solo, couple, family, young or old. Its capital Rabat has something for everyone and when it comes to choosing accommodation, there is plenty of detailed information online that will narrow down your choice based on interests and personal circumstances.
There is no shortage of accommodation for every budget for the time you spend in Rabat and onward travel to nearby Casablanca and beyond ids readily available and inexpensive.