Where to stay in Casablanca first time? In this guide, we will be looking at the best areas to stay in Casablanca for tourist (include map and video) and best hotels in Casablanca for all budget travelers.
Casablanca along with Marrakech and Fes, are popular city break destinations in Morocco. Located in western Morocco on the Atlantic coast, Casablanca has a population of 3.5 million, making it the largest city in the Kingdom of Morocco. Casablanca is the main gateway to Morocco. It is home to the largest port in the country as well as three airports.
Casablanca is one of Morocco's safest cities with low crime rate. But as you travel to any city, you should always practice commons sense, be aware of surrounding, and avoid walking alone at night. If you are looking for the safest areas to stay in Casablanca, look into the tourist area such as the city center.
Where to stay in Casablanca?
The best areas to Stay in Casablanca for tourists and first-timers are the City Center, Old Medina, Habous and Maarif, Ain Diab, Deroua District, and Boulevard de la Corniche. These are popular and safe districts for tourists that offers a wide variety of attractions and amenities.
In generalm Casablanca City center is the overall best area for first-time visitors due to its proximity to major attractions and a wide choice of accommodation options. Staying here allows you to be located within walking distance to major sights, restaurants, bars, and shops.
If you decide to stay away from the center, then make sure of the transport network and places to stay. You should know Casablanca is a very big city with large car traffic, and the movement of people is huge. If you are a family with kids, you can choose a safe area away from traffic.
I recommend spending at least 2-3 days in Casablanca, which is enough to see the top tourist attractions, enjoy local food and get the sense of the city. If you have more days, you can enjoy the city in a slower and more relaxing pace.
Map of areas and neighborhoods in Casablanca:
The Best areas to stay in Casablanca for tourists are:
1. Casablanca City Center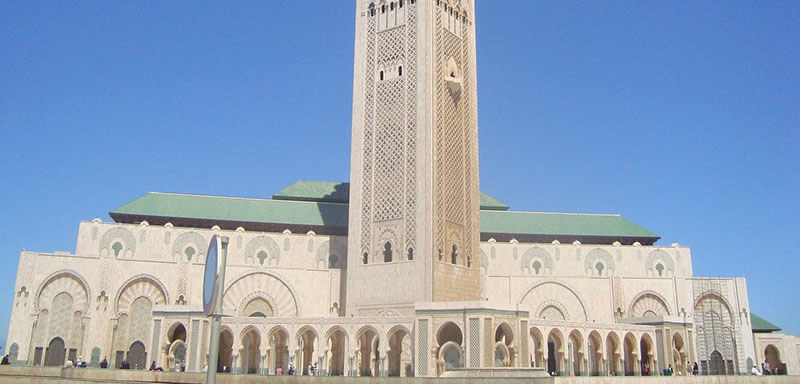 Casablanca City Center is the overall best place to stay in Casablanca for first-timers. It is the heart of the city that has higest concentrations of hotels, restaurants, bars and shops. It is also packed with attractions such as Hasan II Mosque, Ancienne Medina, and Rick's Cafe.
There are numerous of attractions in the city center. Arab League Park, or Parc de la Ligue Arabe is one of the most beautiful and picturesque gardens in Casablanca. It is the green lung of the city. Located in the Boulevar Moulay Youssef, it is the starting point to visit art galleries, museums, and attractions.
Near the park, you can find Hassan II Boulevard, Roudani Boulevard, and Church of the Sacred Heart of Jesus (Casablanca Cathedral). Built in 1930, Casablanca Cathedral is one of the most popular spots in this Moroccan city.
Casablanca city center is also home to the city's main square, United Nations Square, or Place des Nations-Unies. It was built by French architect Joseph Marrast in 1920 as a market, with the name La Place de France. There is a Clock Tower in the middle of the square.
The square is meeting point for major road arteriess including Mohamed V, Houphouët-Boigny, Hassan II, F.A.R, and Moulay-Hassan I. United Nations Square is now a busy meeting point of locals and tourist where you can see impromptu bands and storytellers, as well as surrouned by restaurants and cafes that serve local and international meals.
If you head to the South of United Nations Square, you will see Mohammed V Square, or Place Mohammed V. The square is surrouned by Hispanic-Muslim architecture and Art Deco buildings including Bank of Morocco, the Prefecture, the Post Office building, the Palace of Justice, and the French Consulate. Place Mohammed V is a busy square, one of the symbols of the French reconstruction era.
If you love history, head to the Abderrahman Slaoui's Casablanca Museum to see unique ecollection of Moroccan decorative arts, antique jewelry, and vintage posters. It was former home of Moroccan businessman and art collecto, Abd al-Rahman al-Salawi.
Most of the area is pedestrianized and is well served by all public transport in the city. There are trams, buses, taxis and airport buses. Casa Port train station is here if you want to take a train to Marrakech. If you want a tourist area, city center is best choice;
The city center also offers great places to stay in. Apart from recognizable hotel brands, you can find many other possibilities here. Examples are small hotels and several apartments that are available to visitors at reasonable prices.
Stay in Casablanca City Center if you are a first-time tourist; you stay in Casablanca for a short stay; you want to stay in the most central neighborhood;
Best Places to Stay in Casablanca City Center for first-timers:
luxury ($$$): Radisson Blu Hotel Casablanca City Center This 5-star hotel has an on-site restaurant, an outdoor swimming pool and a fitness cente. The property has a 24-hour front desk, airport transportation, room service and free WiFi.
mid-range ($$): Odyssee Center Hotel This stylish, 4-star hotel offers a range of deluxe rooms and suites. There is an on-site restaurant, bar, shared lounge, and air-conditioned rooms. The choice of a buffet or continental breakfast is offered, while free car parking, a business center and a currency exchange are also available.
budget ($): Relax Hotel Casa Voyageurs This 3-star hotel is located 7-minute walk from Casa Voyageurs Train Station. The hotel has a 24-hour front desk, a shared lounge and currency exchange for guests.
See more: 22 Best things to do in Casablanca, Morocco
2. Old Medina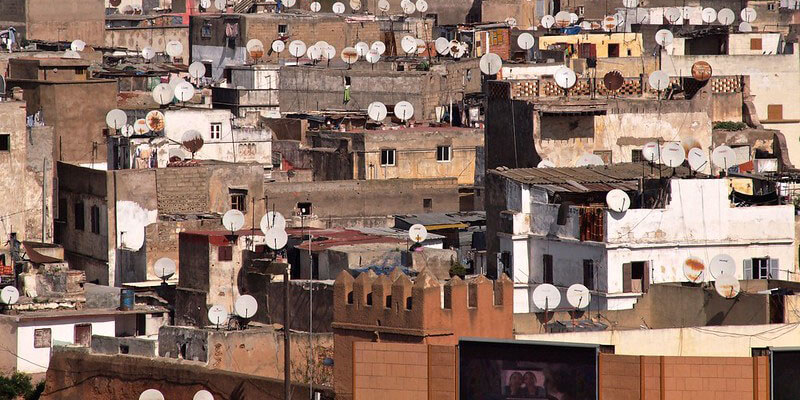 Located between Hassan II's mosque and the port, Old Medina is one of the most beautiful and romantic places in Casablanca. This area is a favorite place for romantic walks of Moroccan kings and their wives. Stroll around the narrow alleyways in the Old Medina, and step back in time as the streets have remained the same for hundreds of years.
The Old Medina was almost destroyed by an earthquake in 1755, the original old town of Casablanca has been renovated over years. with remnants of the old city walls and fortifications still visible in some parts. If you head to the north of the medina, in front of the marina, you can find La Sqala, the last remains of the 18th-century fortifications.
Here you can find many local artisans producing unique Moroccan handicrafts and souvenirs. This ancient area is also home to one of Casablanca's most busy Souks, Bab Marrakech, located on Ave Tahar El Alaoui. From here you can start exploring street-side stalls and local café.
The amazing architecture everywhere in this area captivates the heart of every tourist. In the Sour Jdid neighborhood is the famous Hassan II Mosque, the second-largest mosque in the world. Hassan II Mosque was completed in 1993, its spacious courtyard can accommodate up to 80,000 people.
You must visit Rick Coffee, a restaurant made in the style of the movie Casablanca. In this restaurant, you can enjoy unique live music and sumptuous Moroccan specialties.
Although it is a communicative place with a lot of social spots, there is not a large set of hotels in Ancient Medina. But if you are a couple, there are apartments and rooms suitable for your honeymoon. There is not much choice from public transport, but you can quickly get to the city center while walking.
Stay in Casablanca in Old Medina if you want to stay close to many sights, you want a social and communicative place, you do not mind the lack of a large selection of public transport.
Best places to stay in Old Medina for first-time visitors:
3. Anfa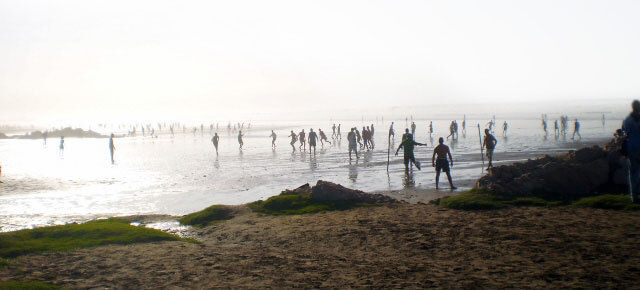 Located near the Ain Diab district and close to the City Center of Casablanca, The Anfa neighborhood is an up-class area with a western-like vibe. Anfa is historically associated with World War II and the Allied landings.
Anfa is the most Westernized neighborhood in Casablanca. Boulevard Kennedy is the main artery in Anfa, named after US president.
The beautiful buildings and the long alleys make the neighborhood a great place to walk. The area offers a large choice of public transport and is close to the most important places in Casablanca.
Anfa is often referred to as the social center of Casablanca because of its many high-end shopping malls like Anfa Shopping Center, upscale restaurants, and even golf courses like Royal Golf Anfa located in it.
If you want to learn about the history of Jewish people in Morocco, visit the Museum of Moroccan Judaism. It's the only Jewish history museum in the Arab world.
The places to stay are close to the promenade and range from low class to luxury and are suitable for all types of tourists.
Best Places to Stay in Casablanca in Anfa for first-timers:
4. La Corniche and Ain Diab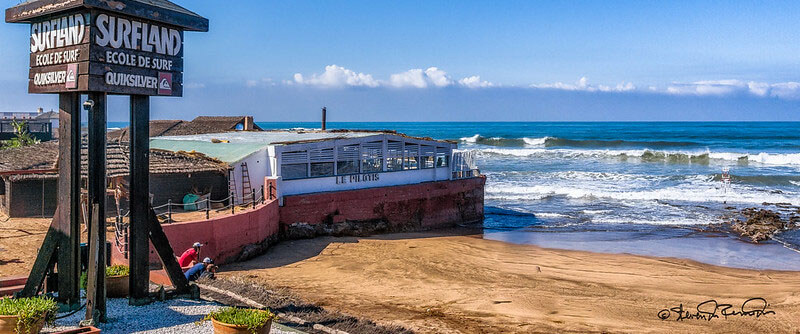 The beachside neighborhood of Ain Diab, also known as La Corniche where you can find Lalla Meryem Beach and Ain Diab beach which is a famous spot for surfing. If you looking for vibrant nightlife with busy bars, and nightclubs, Ain Diab is your best bet.
Boulevard de la Corniche is the beautiful promenade that runs along the coast of Casablanca that offer wonderful view of the Atlantic Ocean, Old Town, and the Hassan II Mosque. It is one of the most popular places in Casablanca for both tourists and locals.
Boulevard de la Corniche has active nightlife with some of the most elite nightclubs for salsa, belly dance, or modern dance.
Neaby, you can find two beaches, Plage Ain Diab and Plage Lalla Meryem. Plage Ain Diab is Casablanca's largest beach with a miles of sandy, ending at Marabout de Sidi Abderrahmane and Morocco Mall. Adjacent to Plage Ain Diab, there is Sindibad Theme Park.
If you are a shopping maniac, you will be surprised by the beautiful boutiques of popular Arab brands. Definitely, Bluverad de la Cornice is a place for lovers of luxury. The restaurants in the area are famous for the excellent cuisine prepared by Moroccan culinary gurus.
Stay in Ain Diab if you want to stay near the beach, you prefer a luxurious place; you want good nightlife, dining, and shopping;
Best Places to Stay in Casablanca in Ain Diab:
5. Habous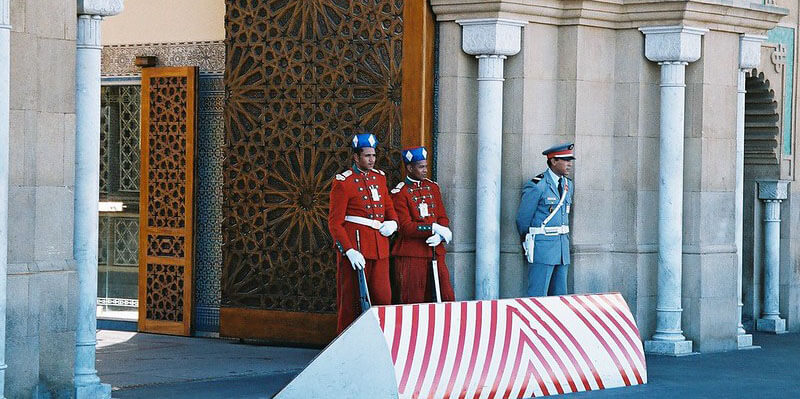 Habous, also known as Quartier Habous, or Les Habous, or New Medina, is one of the oldest neighborhoods in Casablanca and is popular as the cultural and religious center of Morocco. It was built in the 1930s by the French, it has a beautiful mix of French and Moroccan architecture. A lot of historical buildings make the neighborhood a popular tourist destination.
The New Medina is a mix of Moroccan tradition and modern. You will find peaceful, calm and spiritual vibe.
You can find the most beautiful monument in the city, Royal Palace. It was built in the 1920s by the Pertuzio brothers with Arab-Muslim architectural style. There is Mediterranean-style gardens created by the architect Forestier in the middle of the palace. The palace is not opened for public but you can see the the walls from the outside, and the beautiful architecture.
You can also visit the Eglise Notre Dame De Lourdes which was built in the 1950s. it is one of only two Catholic churches in Casablanca. Moulay Yousef Mosque and Mohammad V Mosque are also worth visiting! The Moulay Yousef Mosque was built in 1923 with influenced by Almohad design.
Another beautiful architectural building with Moorish influences is the Mahkama du Pacha, or Pacha's courthouse, which is a parliamentary building, houses the court of justice. Tourist can take photo of the building with its impressive architecture
Here you can find many local markets, restaurants, shops, bazars, and souks which attract shopping tourists. You can find a handicrafts pieces behind the Ibn Khaldoun street. Olive Souk is a fantastic place to buy local products and aromatic barrels of olives.
Murdoch Park (or Isesco Park) is also a great place to check out where you can find popular Venezia Ice, coffee shops, and the Zayna Restaurant nearby to try authentic and traditional Moroccan cuisine. Murdoch Park was created in Casablanca in 1907, and named in honor of the British merchant Murdoch.
The area has quick access to other neighborhoods through a large selection of public transport. Despite the many attractions in the area, the places where you can stay are limited. Apartments and rooms for rent are the main types of accommodation options. You can look at one of the best riads in the area such as Riad Jnane Sherazade nearby.
Stay in Habous (New Medina) if you want a communicative place with many sights, you are in shopping tourism, you want a safe place, you do not mind noise and heavy car traffic.
Best places to stay in Habous for first-timers:
6. Maarif
In the Maarif neighborhood, you will find the Mohamed V Stadium, the Jewish Museum, and upscale shopping areas with high-end fashion and sportswear.
Maarif neighborhood is a perfect destination for shopping with numerous Moroccan stores and international franchises that sell all kinds of goods such as designer glasses, leather shoes, bags, and fashion. There are lots of European and American fashion chains, such as Zara, Prada, Massimo Dutti, Swatch, Mango on El Massira El Khadra boulevard.
Meanwhile, the former Italian neighborhood and rue Normandie near the Maârif mosque has a different feel. There are many small shops with low prices. You can find all kinds of things ranging from jewelry to bookstores.
Nearby, at the intersection of Zerktouni Blvd. and Massira el Khadra, you can find the Twin Center. This complex consists of two skyscrapers including the West Tower and the East Tower, 115 meters and 30 floors each.
In the two twin towers, you can find a big shopping mall with many stores, offices, and a five-star hotel. There is also a rooftop restaurant, and a lounge bar with stunning views over the city of Casablanca.
Apart from the shopping, you can find lots of fast-food eateries, taco restaurants, bakeries, and Italian trattorias.
Best places to stay in Maarif:
7. Deroua District
Deroua is close to Mohammed V Airport and is the main connection between the airport, the city centre and the other districts of Casablanca. The area is the most communicative place in the city and annually between 4-8 million people pass through it.
This is one of the reasons why the neighborhood is full of restaurants, cafes, and shops. Here you have a great choice of places where you can stay and public transport.
Hotels and restaurants are of all types and vary according to the services they offer. The prices are one of the most affordable and are suitable for any type of tourism. Most budget tourists choose to stay in Deroua.
Best places to stay near Mohammed V Airport:
Where should I stay in Casablanca for the first time?
Casablanca City center is the best area to stay in Casablanca for first-timers due to its close proximity to tourist attractions. If you stay here, you will be located in the middle of action, within walking distance to main sights, restaurants, bars, and shops.
What is the best area to stay in Casablanca?
City Center, Old Medina, Anfa, Ain Diab, Habous, and Maarif are the best areas to stay in Casablanca because they are the most popular and safe areas that offer a wide range of attractions and amenities.
You can discover amazing parks, eclectic souks, and thousands of other things to see, do and enjoy. In this area, you can take a guided tour of the Royal Palace. Indulge in authentic Moroccan cakes and pastries at Bennis Confectionery. Stroll through the leafy and relaxing Isesco Park.
Casablanca is gaining momentum as one of the popular tourist destinations and catching up even with Marrakech. In recent years, it has become a tourist, economic, and business center in North Africa.
Read Also:
In conclusion, Casablanca City Center, Old Medina, Habous and Maarif, Ain Diab, Deroua District, and Boulevard de la Corniche are the best places to stay in Casablanca for tourists and first-time travelers.
Overall, Casablanca City center is the best area to stay in Casablanca for first-timers because it is the most central location and it offers a wide range of tourist amenities such as hotels, restaurants, bars, and shops. If you stay here, you will be located in the middle of action!
The tour rankings for 2019 define Casablanca as a very affordable destination for any type of tourism. Although located in the Arab world, Casablanca is defined as a safe place to travel. Hope you find the best areas to stay in Casablanca and answer your question about where to stay in Casablanca. Happy travel!