Where to stay in Durban? In this guide, I will give you an insight into the best areas to stay in Durban for the first time and safest neighborhoods to stay in Duban.
Durban is a beautiful city located in the heart of South Africa and prides itself as the port city of the country. It has a great climate all around the year, a large international airport, luxury hotel, beautiful beaches, and historic landforms to get away for the weekend, bubbling neighborhoods, and many fascinating tourist attractions.
Where to stay in Durban?
The best areas to stay in Durban South Africa for tourists are Durban City Centre, North Durban, Umhlanga Beach, Glenwood, Musgrave, Morningside, and Durban International Airport.
Remember to consider factors such as your budget, preferred location, proximity to attractions or amenities, and the type of experience you're seeking when choosing where to stay in Durban.
You can enjoy relaxing beach time in an extravagant style near the Durban International Airport area for a brief stopover at Durban. If you are interested in a great summertime, lots of surfing, lots of fun, and lots of people, head on to Durban City Center and Umhlanga areas.
Enjoy family vacations in the Durban North Area, with many family-oriented tourist attractions and accommodations. In contrast, young people would love a trendy neighborhood like Morningside. For romantics, art enthusiasts, history lovers, you can start with Glenwood and Musgrave areas.
Map of areas and neighborhoods in Durban:
The 7 Best areas to stay in Durban for tourists are:
1. Durban City Centre
Durban City Center is the center of Durban downtown with many tourist attractions. It has an impeccable transportation system that connects everywhere to Downtown Durban.
Durban City Center is known for its monumental Francis Farewell Square dedicated to the founders of Durban. It has a huge theme park with massive fun activities.
It is filled with beaches, and if you are into surfing, this will be an excellent adventure for you.
Durban City Center is a place for those who want to experience a downtown tour and enjoy many activities. It is a place for anyone and everyone, as you can enjoy many local cuisines and shop as much as you desire.
Central Durban has some family-friendly attractions, such as:
The Fun World Amusement Park, an iconic beachfront amusement park with activities for both young and adults including the Cable Car ride and the Breakdance and Swingboat.
The uShaka Marine World at Durban's Addington Beach, near the Durban harbor. Kids can explore the Sea World aquarium, dolphin stadium, seal pool, and turtle lagoon.
The city center is also home to Durban Botanic Gardens, Africa's oldest surviving botanical gardens, established in 1849. it's a great place to relax.
If you want entertainment, head to the Suncoast Casino, Hotels and Entertainment with live events, movies, dining, and thrills on Durban's Golden Mile; for shopping head to the Victoria Street Market for Indian and African spices.
Durban City Center accommodations are in the mid-range, although some international hotels can be quite expensive there. Overall, you can find accommodation within your mid-range budget.
Stay in Durban city center if you want central and convenient transportation, you want to have lots of fun in Durban, you do not mind a crowded area.
Best places to stay in Durban City Centre for first-timers:
🔍FIND BEST HOTELS IN DURBAN CITY CENTER
See more about South Africa: Where to Stay in Cape Town
2. North Durban
Located between Durban central and Umhlanga, on the north of Umgeni River Mouth, North Durban is a neighborhood in the Northern part of Durban, famous for its convenient public transportation that connects all aspects of the area.
The Durban North has many beaches such as Beachwood, Glen Ashley and Dave, Beachwood Mangroves Nature Reserve, Umgeni River Bird Park, and Japanese gardens, which give you a blissful experience when you visit.
It boasts large numbers of nightclubs, which makes it a fantastic area for the typical Durban Nightlife experience.
North Durban is one of the best areas for family trips, with lots of restaurants, recreation centers, and a serene environment where families can spend time together.
Since North Durban is a more family-oriented neighborhood, its accommodations are mostly guesthouses and vacation rentals. You will also be pleased to know that the accommodations' budget is usually on the affordable and comfortable side.
Stay in North Durban if you're traveling with families, you enjoy serene attraction sites such as the Japanese Gardens, natural mangroves, and beaches;
Best Places to stay in Durban North:
The Riverside Hotel is located in a great area, close to the Umgeni River, Pavilion Mall is just 20 minutes drive away, Durban Country Club is 2 km away, while King Shaka International Airport is 27 km from the property. The hotel features free wifi, an outdoor pool with natural rocks and tropical trees where guests can enjoy a cold beer and relax from the poolside bar.
The Grand Orchid Guesthouse is in an excellent location, 2.8 km from La Lucia Beach, also close to the Umhlanga Lighthouse, Kings Park Stadium. The hotel features an outdoor swimming pool, free private parking, a shared lounge, and a garden.
Endless Horizons Boutique Hotel features an infinity pool offering panoramic sea views. This luxury boutique hotel is situated along Umhlanga Rocks Drive in Durban North and is within 3 km from the beach. Guests can enjoy a drink at the bar or relax on the pool terrace.
🔍FIND BEST HOTELS IN NORTH DURBAN
3. Umhlanga Beach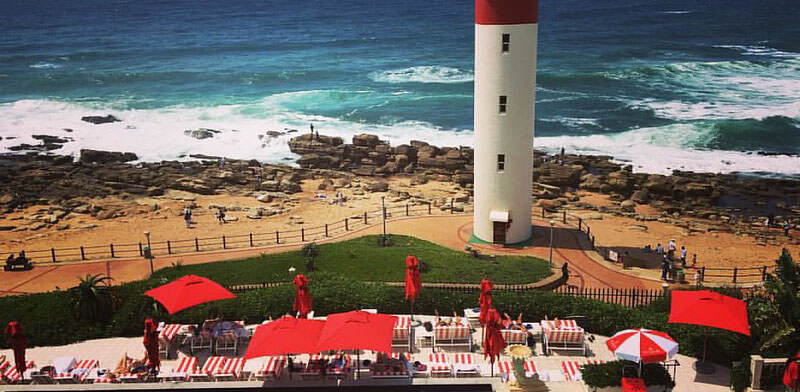 Umhlanga Beach is one of the most exclusive and highly secured neighborhoods in Durban, located in the northern part of Durban and far from the city center. It's just ten minutes south of King Shaka International Airport.
It is home to many exquisite shopping malls, and the Gateway Theater of Shopping, known as one of the 50 largest shopping centers globally, lies in Umhlanga's heart.
The place is populated by those interested in diving, hiking, picnics, and a luxurious getaway.
The Umhlanga Coast is on the Indian Ocean with warm waters, long sandy beaches, great to swim, surf, or sunbathe. Along its coast, you will find Umhlanga Beach, Bronze Beach, Umhlanga Lagoon Nature Reserve, Umdloti beach tidal pool.
Umhlanga Beach area is relatively upscale with a great view and has many expensive accommodations that make you feel at home. Transportation within this place is with the aid of taxis, rideshare, or car hires.
This area in Durban boasts of some world-class hotels, top-rated restaurants, and resorts with luxurious facilities and excellent services.
Stay in Umhlanga Beach if you want a luxurious and upscale area, you desire tight security, you want a taste of the famous shopping hub, you are up for diving, hiking, and enjoying picnics.
Best places to stay in Umhlanga Beach:
Ocean Vista Boutique Guest House provides ocean view from the deck and rooms with free WiFi. Set 3.7 km from Umhlanga Ridge and La Lucia Ridge Office Park, the hotel is also 13 km away from the Durban ICC.
aha Gateway Hotel Umhlanga offers a rooftop pool is behind aha Gateway Hotel – Umhlanga's characteristic green 'screen' surrounding the front the building. This eco-friendly hotel is attached to the Gateway Theatre of Shopping. It has air-conditioned rooms with a private bathroom, shower, and hairdryer, cable TV, and a tea/coffee maker.
Coastlands Umhlanga Hotel and Convention Centre this 4-star hotel is set overlooking the Dolphin Coast, a 5-minute walk from Umhlanga promenade and Gateway Shopping Mall. It is a 25-minute drive from Albert Luthuli International Convention Centre, the city center, Durban's main beachfront, and the Moses Mabhida Stadium. It offers rooms with free Wi-Fi, a flat-screen TV, air-conditioned, warm colors, a minibar, tea and coffee making facilities, and an en suite bathroom.
🔍FIND BEST HOTELS IN UMHLANGA BEACH
4. Glenwood
Glenwood neighborhood is a suburban neighborhood located at Durban City Center Southside area.
This area is a work of art to behold, with various art galleries lining the street. It also has a fascinating view of top-rated eateries that serve worldwide cuisines. Its various parks are popular among people who love nature, walks, and picnics.
Glenwood is suitable for yoga lovers, art enthusiasts and lovers, artists, and people looking for a quiet and artistic atmosphere. Its scenery is so calming and breathtaking that you could spend eternity there.
There is plenty of activities around Davenport, Bulwer, and Ferguson Roads, home to antique shops, the KZNSA Gallery, shops, restaurants, and cafés. Davenport Road has many trendy eateries and boutiques located in the restoration of old Victorian-style houses.
The proximity to the University of KwaZulu-Natal has made the area extremely popular with students. Here you can also find Pigeon Valley Nature Reserve, Bulwer Park, and Durban Botanical Gardens.
Glenwood is more of a hipster area with reasonably priced accommodations. The guesthouses are limited and scattered around the neighborhood, providing you with a more private and comfortable setting.
Stay in Glenwood if you want an area with a more artistic vibe, you want to explore top-rated eateries that serve worldwide cuisines, you are up for picnics or walk at amazing parks.
🔍FIND BEST HOTELS IN GLENWOOD
5. Musgrave
Musgrave is a suburban neighborhood located in Durban City Center, Westside. It is best known for its charming and intimate setting. Museums, shopping centers, restaurants are its most popular tourist attractions, with a convenient transportation system for all.
Musgrave has a historic landmark as the Durban Botanic Gardens is the oldest botanic garden in Africa that is still in existence. This area is perfect for art enthusiasts and history lovers.
It is also known as one of the most architecturally rich sites in Durban, as it mixes Victorian and Edwardian structures with vibrant colors and cubist designs.
Musgrave has good public transport services from buses and taxis; is conveniently close to universities, and colleges;
Musgrave is home to Musgrave Centre, Durban's oldest shopping center with over 100 trendsetting shops with all kinds of products. You also have a monthly Night Market.
Musgrave accommodation is known as charming and intimate, average-range, and personable guesthouses. Only a few hotels exist in this area, as it is for tourists who desire a quiet place close to social sites.
Stay in Musgrave if you love art and history, you are interested in architecture, you love charming and intimate areas.
Best hotels in Durban Musgrave:
Silver Oaks Boutique Hotel is a halal property, located in the Musgrave district in Durban, 300 m from Musgrave Centre, also close to Moses Mabhida Stadium, Westridge Medical center.
Laletsa Lodge offers an outdoor pool and children's playground, Laletsa Lodge is set in the suburb of Berea in Durban, close to Greyville Race Course, ICC Durban. Free private parking is available on site and the guest house has a 24-hour front desk.
🔍FIND BEST HOTELS IN MUSGRAVE
6. Morningside
Morningside is a suburban neighborhood located in eThekwini Metropolitan Municipality (KwaZulu-Natal). It is best known as trendy and hip.
Its primary attraction point is its Florida Road, where galleries, coffee shops, and unique store art are aligned like trees in an orderly manner. Durban City Center's main dining area with many global restaurants is on Florida Road. It is truly an architectural bliss for anyone that explores it.
The Morningside area is best for tourists who want to explore Durban's nightlife as it boasts many nightclubs and bustling streets. It is a trendy Durban area and is popular during events such as the 2010 FIFA World Cup hosted in the Moses Mabhida stadium.
Morningside accommodation is known as trendy and hip with lots of hotels, lodges, and affordable guesthouses. It is relatively cheap to accommodate young people.
Stay in Morningside if you want to explore Durban's nightlife, you are on a budget, you love events and bustling area
🔍FIND BEST HOTELS IN MORNINGSIDE
7. Near Durban International Airport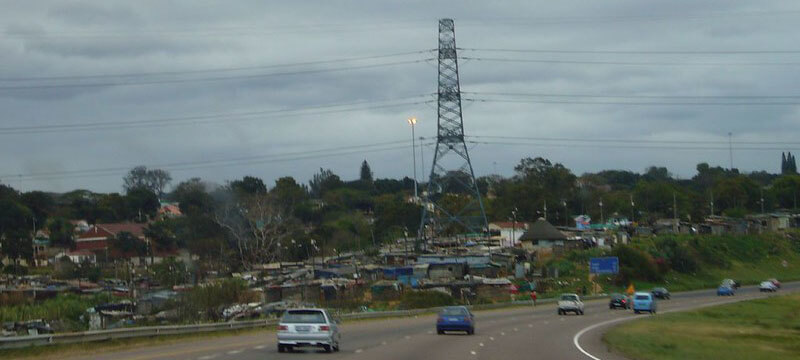 The Durban International Airport is located about 29Km from Downtown Durban and stop for some flights to other areas in South Africa.
For people visiting Durban as a stopover, the International Airport area is suitable for easy access to the Airport.
It is best known for its close by Tongaat Beach, which you can explore for a short recreational period before commencing your flight.
Near Durban International Airport area is the best choice for people with a brief stay in Durban. This allows them to enjoy a short, relaxing vacation before boarding their flights to wherever.
Near Durban International Airport, accommodations are as luxurious as everything around the Airport area is on the high side. It has extravagant hotels and guesthouses with excellent services that cater to your needs during your brief stay.
Staying near Durban international airport if you are only in Durban for a brief visit, you want a short relaxing vacation, you want tight security.
🔍FIND BEST HOTELS NEAR DURBAN INTERNATIONAL AIRPORT
Read Also:
How To Stay Safe In Durban
Durban may seem all modern and safe; however, it has a medium scale crime-rate. For you to enjoy your travel in Durban without falling victims to muggers, robbers, or pickpockets or losing any of your valuables, check out the following useful points:
Gather lots of knowledge about where you are staying.
Never walk alone at night.
Keep your valuables hidden.
Have your wallet or purses near you.
Be on alert at all times.
Stay in crowded areas, and avoid corners or alleys.
Keep your car door locked at all times.
Is North Beach Durban Safe?
The North Beach Durban is relatively safe as Policemen often patrol the place, have massive lighting, and are surrounded by CCTV cameras. Since Durban is known to have a medium-scale crime rate, you must be conscious of crimes like mugging, robberies, pickpocketing, and even rape.
Hence, you should keep your valuables hidden, and if you are a female, you walk in the company of others and stay in plain sight. North Beach Durban has decent security as authorities, lightning, and CCTV cameras contribute to keeping the area safe.
How Much Does A Trip To Durban Cost?
A trip to Durban can cost a lot depending on whether you are going solo, as a couple, a family/group, and going for an average or luxury trip. Flights costs ranges from $1,115 to $2,087 for economy class per person, and $3,499 to $6,549 for first-class per person.
Hotel prices range from $ 30 to $96 per night, while vacation rentals run from $100 to $420 per night. To enjoy activities per day, including transportation, you may need to budget up to $50 per person. Overall, for a 7-day trip in Durban, a person may spend $1,709, a couple $3,069, and a family of four $5,754.
In conclusion, Durban City Centre, North Durban, Umhlanga Beach, Glenwood, Musgrave, Morningside are some of the best places to stay in Durban for tourists and first-time travelers.
These places have all the necessary needs for a pleasant and convenient stay in Durban. They also have fun attractions, safety, and excellent accommodation; hence, the best places to enjoy a wonderful time in Durban.