Where to stay in Marrakech first time? In this guide, we will be looking at the best areas to stay in Marrakech for tourist (include map and video) and the best hotels in Marrakech for all budget travelers.
The Moroccan city of Marrakech, or Marrakesh is the fourth largest city in the Kingdom of Morocco. It is a cultural hub, with something to appeal to any traveler. With a history stretching back almost a thousand years, this former capital city has expanded and evolved quickly within the last century.
Now a sprawling metropolis and globally renowned tourist destination, Marrakech is often known as the culture and tourism capital of Morocco, and for good reason.
Where to stay in Marrakech first time?
The best areas to stay in Marrakech for first-time tourists are Medina, Kasbah, Gueliz, Hivernage, Chrifia, Agdal, Palmeraie, and Kennaria. These are the city's most popular and safe neighborhoods that offers a wide variety of attractions and amenities
In general, Medina is the overall best area to stay in Marrakech for first-timers due to its proximity to major attractions and its wide range of accommodations, restaurants, and shops.
If you are looking for the nightlife, look into Gueliz, which is home to many bars and nightclubs, and live music venues.
Riads are traditional Moroccan houses that have been converted into bed and breakfasts or hotels. Typically found in more traditional areas of the city, they consist of private rooms, with shared common areas, often set around a central courtyard.
Despite their traditional history, you won't lack modern conveniences, as most Riads have been updated with air-conditioning and wi-fi. If you have any interest in immersing yourself in the culture and tradition of Marrakech, stay in a Riad. Inarguably they offer the most authentic experience.
To book hotel, I recommend spending at least three days in Marrakech, which is enough to see major attractions, get the sense of the local history and culture. If you have more days, take the day trip to to Merzouga, the Dadès Gorge, and the fortress of Ait Ben Haddou.
Map of areas and neighborhoods in Marrakech:
Best areas to stay in Marrakech for tourists are:
1. Medina
Medina is the overall best area to stay in Marrakech for first-time travelers due to its prime location. Staying here allows you to be located in the middle of action, within short walk to top attractions such as Bahia Palace, and Jemaa el-Fna square, as well as many restaurants, bars, and shops.
Founded around 1070 by the Almoravids, the Medina of Marrakesh is the old city of Marrakech, contained within the 19-kilometers ancient, pink city walls. Until a little over a century ago the majority of Marrakech was contained within this area, making it a hotspot of culture, history, and tradition.
In fact, this area is so steeped in cultural significance that UNESCO designated it as a World Heritage Site in 1982. Medina is the perfect place to stay if you really want to sink into the history and atmosphere of ancient Marrakech.
The most iconic attraction of Medina is the Jemaa el-Fna square, the primary market square in Marrakech. Packed with street performers, food vendors, and Morocco's largest souk, it's an excellent spot to spend an afternoon.
The entertainment continues after nightfall, so if you're looking for a place to grab dinner, consider one of the many cafes lining the square. Between the year-round warm weather and varied buskers, the street terraces of Jemaa el-Fna are a great place to have a meal.
Outside of the main square, the medina consists of a virtual labyrinth of backstreets. It's easy to get lost wandering around the souks but well worth it to take in the historical architecture and traditional atmosphere.
The shops that you'll find in this district are also excellent places to pick up souvenirs with a distinct Moroccan flare. Souk Semmarine is one of the places where you can buy rugs, leather goods, and silverware.
Koutoubia Mosque was built in the 12th century, the highest structure and the largest mosque in all of Marrakech. The 19th-century Musee Dar Si Said is one of the most popular folklore museums in Marrakesh.
The Bahia Palace was built in the 19th century with Andalusian and Moorish architecture. The building has 150 rooms with colorful tile mosaics, many patios, and lush gardens. The harem of Abu Bou Ahmed's four wives and 24 concubines are the most fascinating parts of the visit.
You can learn more about culture, history, and the former Moroccan way of life at the Maison de la Photographie, a gallery that displays 8,000 photographs of Marrakech between 1870 and 1950.
Another interesting attraction nearby is the 19th century Marrakech Museum, which is housed in the beautiful Dar Menebhi Palace. You can grab a mint tea at the cafe outside. Right next to the Marrakech museum, you will also see the beautiful building of Madrasa Ben Youssef, a former Islamic College.
Being the oldest part of Marrakesh, this area is also widely populated with riads so, if that's the sort of accommodation you're most interested in, this is a great area to start looking.
Stay in Medina Marrakech if you are first time travelers; you love history, you want to visit the Bahia Palace, you want to experience traditional Morocco, you would like to stay in a riad, you love browsing markets.
Best Places to Stay in Marrakech in Medina for first-timers:
luxury ($$$): Les Jardins De La Koutoubia This luxurious 5-star hotel is located within a short stroll from Jamaâ El Fna Square, Menara Gardens. It provides a Carita Spa, a hot tub, an outdoor swimming pool, a hammam, a heated indoor pool, a piano bar on the rooftop terrace, an airport shuttle, and free private parking.
mid-range ($$): Riad Palais Sebban This 4-star stylish riad is situated close to Jamaâ El Fna Square and Koutoubia Mosque. It offers a swimming pool and a rooftop terrace with panoramic city views, a buffet breakfast, and free wifi. It has air-conditioned rooms with a minibar, a seating area, en suite bathrooms with a bathrobe, and complimentary toiletries upon arrival.
budget ($): Riad Spa Sindibad Located in the medina, a short stroll from the Bab Yacout gateway in Marrakech, Majorelle Garden, and Jamaâ El Fna Square is 25 minutes away from this riad. It has a swimming pool on the patio and a hammam. Traditional Moroccan meals can be prepared by the on-site chef, prepared with fresh market produce.
🔍MORE HOTELS IN MEDINA
See more: The 27 Best Things To Do In Marrakech Morocco
2. Kasbah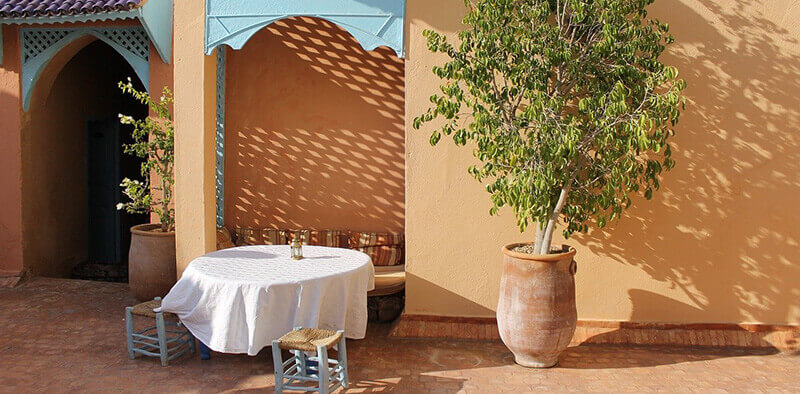 Located south of the Medina, the historic region of Kasbah is as ancient as the city itself. Once serving as the fortified citadel, the area still houses the Royal Palace, the gardens of which are open to visitors.
Once the center of power in Marrakesh, political leaders and influential figures have been building mansions and palaces here for centuries. Many such mansions still remain, making this a great place to wander in search of traditional architecture.
Being such a hotspot of culture and history, there is plenty to see and do here. Saadian Tombs may sound like a macabre suggestion, but their beautiful historic architecture and decorative tiling are anything but morbid. The tombs were restored during the French Protectorate.
To the north of Kasbah, lie the ruined El Badii-Ksibat Nhass Palace, a 16th-century palace whose grounds and ornamental Orange grove are open for exploring by the public.
In the northeast corner of Kasbah, you can find the last remaining gate of the original citadel, Bab Agnaou. This 12th-century structure is one of many wonderful attractions for history buffs visiting Marrakech.
As one of the oldest districts in Marrakesh, you will also find lots of old, traditional shops and cafes in this area. The Kasbah Café is a great place to try local Moroccan cusines, and enjoy the views of the medina and the Kasbah mosque.
It's definitely worth wandering the backstreets of Kasbah if you are looking to pick up some traditional souvenirs without the crush of the Medina souks. You can check out handicraft, Moroccan baboosh, caftans along the Place Moulay Yazid.
To the east of Kasbah is the district of Mellah, the second oldest Jewish quarter in Morocco. In 2016 King Mohamed VI ordered the restoration of the area with precedence on honoring its Jewish history.
Stay in Kasbah if you love history, you want to soak in traditional architecture, you want to experience the culture of old Marrakech without the crowds of the Medina, you want to appreciate the interfaith history of the city.
Best places to stay in Kasbah for first-time visitors:
La Sultana Marrakech one of Marrakech's most luxurious Riads with luxury outdoor swimming pool and a spa. The rooms and suites at Sultana has a Moorish décor and Moroccan furnishings, luxury marble bathroom. You can enjoy breakfast with mint tea and traditional pastries.
Riad Kasbah & Spa Located in the heart of Marrakech, close to Saadian Tombs, Jamaa el Fna square, Marrakech's train station. It offers suites, outdoor pool, and an interior patio.
Riad Omara al Kasbah Set in within a short distance from the most popular attractions such as Koutoubia Mosque, Bahia Palace, Djemaa El Fna, and Souk of the Medina. Saadian Tombs is 0.2 km away from this riad.
🔍MORE HOTELS IN KASBAH
3. Mellah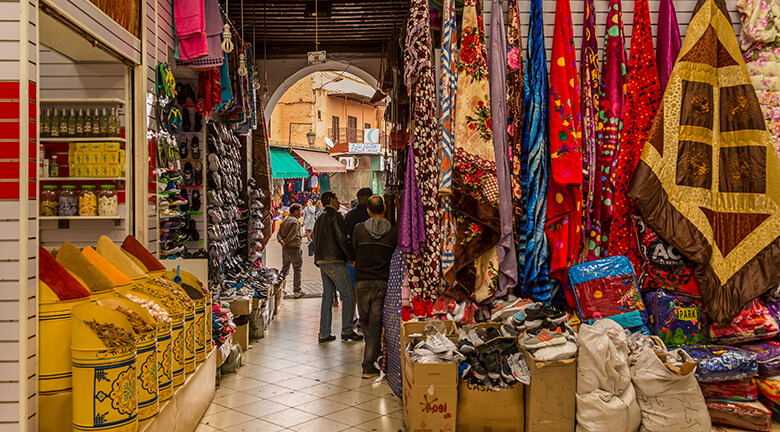 The Mellah of Marrakesh or the Jewish Quarter of Marrakech was formerly known as Hay Essalam. It is the area where the Jewish community resided. Mellah was protected by the Kasbah walls. You can enter through the Place des Ferblantiers, or the Place de Mellah to explore Mellah.
The Mellah was consist of :
riads
fondouks
commercial streets or souk (spices, fabrics).
synagogues
Mellah is located conveniently close to the medina and several tourist attractions. Some of the best things to do and see in the neighborhood are:
Lazama Synagogue is one of the famous Marrakesh synagogues. It's open every day open Sunday-Friday at 9 am.
Tinsmiths' Square (Place des Ferblantiers)
Spice Market: this Spice Souk is a famous place to look for Moroccan spices. It is also home to a few fabric shops where clothes are made by local craftsmen.
Miara Jewish Cemetery: Located within easy walking distance from the Bahia Palace, the 16th-century Miara Jewish Cemetery is the largest Jewish cemetery in Morocco.
Mellah Marche (or Mellah Market): Located to the south of the Medina, this Mellah market offers a wide range of fresh produce, meats, seafood, and the last kosher butcher in Marrakech.
The Kissaria of jewellers and goldsmiths
In Morrocco, you can find Mellah at the city of Fez, the city of Meknes. Mellah offers many riads that have amenities such as hammams and pools. Some of the best places to stay in Mellah for first-time travelers are:
Riad La Vie Located 400 m from Bahia Palace, Riad La Vie offers a continental or an American breakfast. The property features an indoor pool, a garden and rooms with pool views.
Riad Bayti Set just a short walk from the famous Jamaâ El Fna Square, Al Bahia Palace, and El Badii Palace, this Moroccan riad features a rooftop terrace with sun beds, a plunge pool and a lounge with a TV and books. It offers a Moroccan breakfast, a hammam is available next to the riad.
Riad Noos Noos Located in a spice market nearby the Bahia Palace, the riad provides a the rooftop terrace, a cooking class. The guest rooms has traditionally tiled floor, air conditioning and an en suite bathroom.
Riad Alia Located close to famous attractions and museums such as Boucharouite Museum and The Orientalist Museum of Marrakech, this guest house has an outdoor swimming pool, an on-site snack bar and shared lounge.
🔍MORE HOTELS IN MELLAH
4. Hivernage
South of Gueliz is the modern district of Hivernage. Lacking the tradition and cultural appeal of the older sectors, this area is best known for its nightlife. Bursting with upscale clubs, casinos, and cocktail bars, this is one of the best corners of the city to go to when the sun goes down.
If you want to stay in luxury this may be a good place to start looking. The Four Seasons Marrakech and the Savoy Le Grand Marrakech are just two of the selection of 5-star hotels you can find in this neighborhood.
You can even complete your high-end vacation with a trip to the western corner of Hivernage and you will find world-famous designer boutiques such as Louis Vuitton.
Whilst the option for luxury accommodation is here, that shouldn't be a turn-off for anyone working with a smaller budget, as there are plenty of hotels in this region that cater to all wallet sizes.
Placed between the Marrakech Train Station and the Marrakesh Menara Airport, this is a great location for anyone going for a shorter trip. Make the most of the time you have in Marrakesh without having to worry about missing your train or plane.
Some of the places to mention in the neighborhood are Marrakech Casino, Park Lalla Hasna and Cyber Park.
Stay in Hivernage if Vibrant nightlife is important to you; The cultural element of Marrakech is not a primary interest for you; Luxury hotels are your thing; You want to stay near transport links.
Best places to stay in Hivernage for first-timers:
Luxury ($$$): Four Seasons Resort Marrakech Located close to Menara Garden, Koutoubia Mosque, Majorelle Gardens. This 5-star hotel also offers a shuttle bus to Casablanca.
Mid-range ($$): The Red House Conveniently located in the Hivernage district, close to Cyber Park, Koutoubia Mosque, and Marrakech Museum.
Budget ($): Amani Hotel Suites & Spa offers stunning views of Mohammed VI Avenue and the Atlas, the Koutoubia. Located close to Royal Theatre, Royal Tennis Club de Marrakech, and Place du 16 Novembre.
🔍MORE HOTELS IN HIVERNAGE
5. Gueliz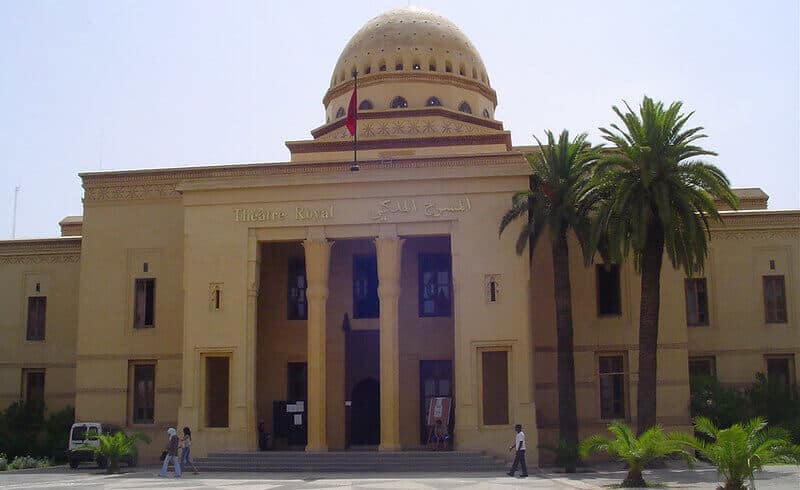 Located to the west of Marrakech is the more modern district of Gueliz. It is home to the main avenues: Mohammed VI and Mohammed V. Popular with ex-pats who settle in the city, the area is a hub of western influence. Perhaps less adventurous than the older, more traditional districts of Marrakesh, the area is particularly convenient for families or picky eaters. From French and Italian to Thai, you'll be sure to find a restaurant that everyone will be happy with. There's even KFC!
If contemporary shopping is your thing, you can enjoy browsing in some familiar stores, such as Zara and Monsoon. This is also where you will find most of Marrakech's more upmarket and fashionable boutiques, particularly along with Avenue Mohammed V, one of the main roads that bisect the city.
Don't worry if you still want to fit some culture into your visit. There are a number of museums, art galleries, and theatres in this area to fill your time. Most notably the Matisse Art Gallery and the Theatre Royal, both of which have a constantly changing selection of exhibitions and performances.
The private museum MACMA Museum of Marrakech and Yves Saint Laurent Museum are also worth visiting. Other places of interest are the Arsat Moulay Abdeslam Cyber Park and Parc El Harti which are great places to relax!
Gueliz is also a good place to stay if you are going to be using public transport to get in and out of the city. Located right by the main Marrakech Train Station, you won't have any trouble getting your luggage to and from your hotel.
Common accommodations are affordable hotels and apartments, you can also find several riads in this neighborhood.
Stay in Gueliz if you are looking for the best place Marrakech for nightlife; you want an area that caters heavily to an international populace, you want more contemporary or high-end shops, you want to stay near the train station, you're traveling with fussy eaters.
Best places to stay in Marrakech in Gueliz for first-time visitors:
luxury ($$$): Radisson Blu Marrakech, Carré Eden 5-star hotel provides an outdoor pool and a restaurant, free wifi, fitness center. Set in a short drive from Marrakesh Train Station, Marrakech Plaza, and Marrakech-Menara Airport.
mid-range ($$): 2Ciels Boutique Hôtel This boutique hotel offers air-conditioned rooms with free WiFi, an outdoor pool, and a restaurant. Within a short stroll from Conference Palace, Carré Eden Shopping Center, and Marrakech Plaza.
budget ($): Hôtel Ibn Batouta Set in Gueliz offers air-conditioned rooms, a restaurant, free WiFi. Located close to Souk of the Medina, Majorelle Gardens, and Djemaa El Fna.
🔍MORE HOTELS IN GUELIZ
6. Palmeraie
Palmeraie literally translates as 'palm grove' and it's an apt name for the region. An area of hundreds of thousands of palm trees, spanning 54 square miles, just north of the city of Marrakech.
Peppered with resorts, the area is suited more for people looking to kick back, relax, and appreciate the Moroccan climate. Generally, expect to pay for the luxury offered in this more exclusive area. Hotels near the golf course in the north of the region can start at $150 per night.
If the luxury travel lifestyle is not what you're looking for, then perhaps you might benefit from the adventure tourism of the area. The distance further from the city center, closer to the desert, also makes it more convenient for those wanting to explore the surrounding land.
Companies such as Quad Marrakech offer guided quad bike tours out to surrounding villages. Alternatively, explore the area with camel rides in the desert on the back of a camel for a truly traditional tour.
However, if you mainly want to spend your time exploring the city of Marrakech itself, then this is probably not the area for you. Attractions nearby are the Musée de la Palmeraie Marrakech, the Museum Farid Belkahia, and the the Bab Doukkala.
Stay in Palmeraie if you want a relaxing break, you want to adventure more into the surrounding deserts, you aren't particularly interested in sightseeing within the city, you don't want to be near the city center.
Best places to stay in Palmeraie:
🔍MORE HOTELS IN PALMERAIE
7. Agdal
The greatest tourist draws for this district is the historical Agdal botanical gardens, which lie directly to the east. Founded in the 12th century, the gardens were designated as a UNESCO World Heritage Site in 1985.
Comprised of lemon, fig, pomegranate, orange, apricot, and olive trees, the gardens span 400 hectares of land. Set around a lake known as the Tank of Health, and dotted with pavilions, the gardens are free for visitors to enter. If you want to escape the thrum of the city and take a walk in the trees, you may want to consider visiting these gardens.
Being further out of the city, this area is also great for those who want to stay in a luxury hotel without the luxury price tag. The area between the Boulevard Mohammed VI and the Agdal gardens is densely populated with 4 and 5-star hotels, with most in the $50-$100 a night range.
Common accommodations here are independently owned riads, with small pools and hot tubs in some riads.
Stay in Agdal if The historic Agdal gardens are at the top of your list of places to visit; You want to stay in a high-class hotel on a budget.
Best places to stay in Agdal:
🔍MORE HOTELS IN AGDAL
8. Chrifia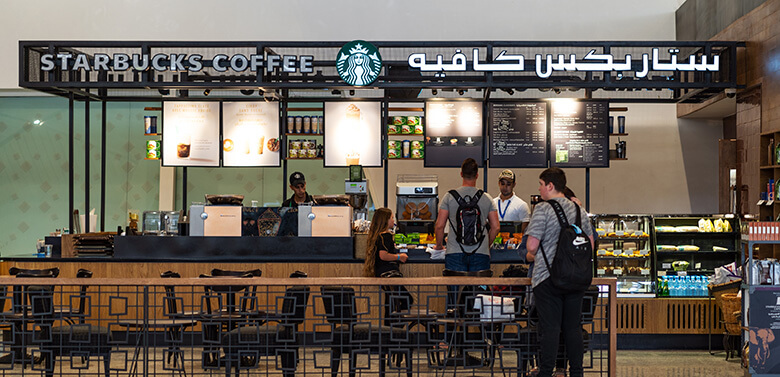 Chrifia is a more low-key neighborhood in the south of Marrakech. Further out from the city center, this area is perfect for anyone who wants to avoid the mass of tourists closer to the Medina.
It's also near to the Marrakesh Menara airport, keeping you close to transport links.
Being further out of the city also makes this area more of a draw for anyone looking to adventure into the surrounding deserts. If the natural beauty and ancient wonders of the land surrounding Marrakech interest you more than the city itself then this may be the place for you.
Locally based companies like My Marrakech Excursions can help you to plan visits to surrounding valleys and villages.
This area is also great for anyone visiting with family, especially those with children. The large waterpark, Oasiria Water Park, will keep the whole family entertained for at least a day, or you could even pick one of several hotels surrounding the park and let your kids play the trip away.
Alternatively, let the whole family burn off some energy at the nearby Laser Games Marrakech or test your wits against the Enigma Escape Game. Whilst the area may not be the most obvious place to stay for anyone wanting to really experience the culture of Marrakesh, there's still plenty to do.
If you love golf you are in luck with this neighborhood. To the south of the area is the Argan golf resort, a huge golf course that could keep even the most enthusiastic golfer putting for days. There's also the smaller Atlas Golf course which sits to the north and is more convenient for anyone who wants to stay closer to the city.
Stay in Chrifia if you are traveling with children, you don't want to be in the city center, you want easier access to the region outside Marrakech, you want more adventurous or active entertainment, you enjoy golf.
Best places to stay in Chrifia:
Selman Marrakech This 5-star hotel is located in a short drive to both the city centre and Marrakesh-Menara Airport. Surrounding by many golf courses such as Noria Golf Course, Atlas Golf Marrakech, and The Montgomerie Golf Course.
Oasis lodge Located in Chrifia within a short distance from Menara Gardens, Koutoubia Mosque, and Marrakech-Menara,.
🔍MORE HOTELS IN MARRACKECH
9. Kennaria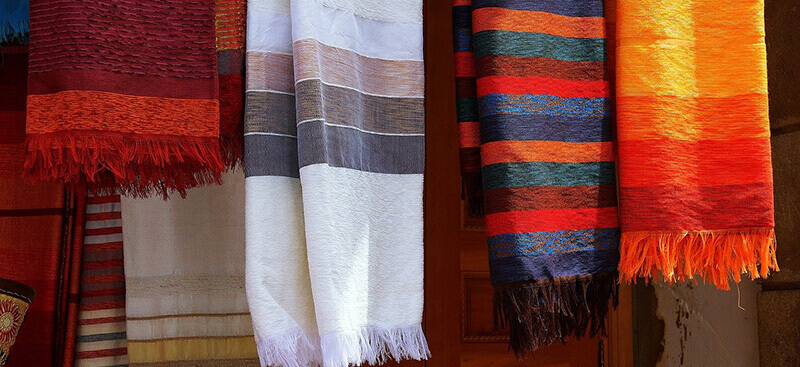 To the east of the Medina, between the Dabachi and Riad Zitun Jdid districts, is the neighborhood of Kennaria. Another of the older districts in Marrakech, this area maintains the traditional feel, but with less of the tourist hustle and bustle of the Medina.
Known for having a greater number of hammams, the region's traditional public bathhouses, than any other area of Marrakech, this is a great place for anyone looking to relax and unwind.
Located so close to the ancient city walls, this is another excellent spot for anyone looking to soak in the traditional vibe of Marrakech.
Its streets are lined with traditional shops and beautiful riads. If you want to pick up some artisanal, handcrafted Moroccan wares to take home, then take an afternoon to browse the backstreets of Kennaria.
If you're worried about finding food to suit everyone's preferences, this area has a variety of cafés and restaurants. Particularly towards the western edge of Kennaria, you can find a plentiful mix of both traditional Middle Eastern and Morrocan cuisine and more familiar western fare.
Some of the cafes and restaurants to check out are Roti d'Or, Kachkach café, Café Corner, La Cantine Des Gazelles. If sweets treats are more what you're looking for, the Derb Dabachi road is home to several bakeries and patisseries.
Stay in Kennaria if you want to relax, you want to experience a traditional hammam bathhouse, you want to shop for traditional handicrafts, you want to stay close to the old town without the press of other tourists.
Best places to stay near Kennaria:
Luxury ($$$): Riad Les Nuits de Marrakech a traditional Moroccan style Riad is just a few steps from Jamaâ El Fna; Menara Garden and Marrakech Airport are less than 20 minute's driving by car. It is decorated in a traditional Moroccan style and features a swimming pool with a hot tub and a terrace with a seating area and views of the Medina. It has air-conditioned suites with a flat-screen TV, a seating area, private bathrooms with free toiletries, a shower, and a toilet.
Mid-range ($$): Riad L'Etoile D'Orient This Riad is located within walking distance from Jamaâ el Fna Square, El Koutoubia, and Royal Palace. You can relax in the hot tub on the rooftop terrace or drink mint tea in the traditional lounges and browse the free WiFi.
Budget ($): Riad Dabachi 3-star hotel is set in the Medina, within walking distance from Jamâa El Fna Square, and a short drive from Bahia Palace and Koutoubia Mosque. It offers free Wi-Fi access, a Moroccan-style décor and a patio with a plunge pool.
🔍MORE HOTELS IN KENNARIA
What is the best area to stay in Marrakech?
Medina is the best area to stay in Marrakech for tourist, especially for first-timer. If you stay in this historic neighborhood, you will be in the heart of the city, within walking distance to the most famous attractions including the famous 19th century Bahia Palace.
How many nights should you stay in Marrakech?
I recommend spend at least three days in this fourth-largest city in Morocco. This time will allow you to enjoy the biggest highlights of the city, and to fully enjoy the experience.
How long you want to stay in Marrakech depends on what exactly you are hoping to get from your trip. If you love history and culture, you could easily spend at least a week here, getting lost in the backstreets of Medina and exploring the old palaces of Kasbah.
🎬 Check out my virtual tour about the best places to stay in Marrakech in this video:
See more:
Marrakech has kept much of its culture and tradition intact despite its recent expansion. A city with a long history that you can experience in the modern-day, Marrakech is a cultural gem of the Kingdom of Morocco.
With something to offer all tastes and priorities, Marrakech is a dream destination for anyone who wants to feel like they're walking in history. Whether that be walking to the souks, the shops, or the clubs, is up to you.
Marrakesh is the best base to explore surrounding areas such as Atlas Mountains, the Sahara Desert, and the Atlantic Coast.
In conclusion, Medina, Kasbah, Gueliz, Hivernage, Chrifia, Agdal, Palmeraie, and Kennaria are the best places to stay in Marrakech for tourists and first-time travelers.
Overall, Medina is the best area to stay in Marrakech for first timers due to its close proximity to top attractions. If you stay here, you will be located in the middle of everything, within walking to major sighs, as well as many restaurants, bars, and shosp.
Now as you know the where to stay in Marrakech to book your accommodations, all you need to do is choose the hotel that suits your budget and ready to go!