The best areas to stay in Stockholm for first-timers are the neighborhoods of Gamla Stan (Old Town), Östermalm, Norrmalm, Södermalm, Djurgården & Skeppsholmen, Kungsholmen, and Vasastan. These are popular and safe areas that offer a wide variety of attractions and amenities.
This guide will help you to find where to stay in Stockholm for tourist, for family, nightlife, budget, and near the train station.
Stockholm is a uniquely beautiful city. Spread over an archipelago of more than 14 islands, there is plenty to explore and discover. With all its rivers and canals, Stockholm is often referred to as the Venice of the North.
Stockholm is the perfect city to experience all the best bits of Scandinavian culture and history in one conveniently compact package. Like most Scandinavian countries, Stockholm's climate varies drastically throughout the year.
One important thing to remember is that, whilst Sweden may be in the EU, they do not use the euro as their currency. Make sure you are stocking up on Swedish krona for your trip instead.
On the subject of money, Stockholm is frequently ranked as one of the most expensive cities in the world. Food, drink, and accommodation tend to be a bit higher than capital cities in southern Europe. You will want to budget accordingly to ensure you do not break the bank during your trip.
Surprisingly, considering it is spread over so many islands, Stockholm has a wonderfully comprehensive underground train system. No matter where you wind up deciding to stay, you will be able to get to anywhere else in the city with little trouble.
Stockholm Old Town, also known as Gamla Stan, is the best place to stay in Stockholm for first-timers due to its proximity to the Stockholm's top tourist attractions and many choices in accommodations.
If you book a hotel here, you will be in the heart of action, within walking distance to city's top sights, as well as many restaurants, bars, and shops. There is also a well-connected public transport by ferries and by metro, you can easily travel to other parts of the city.
If it is your first visit, I recommend spending at least 3 days in Stockholm, but 4-5 days is good amount of time to explore the city. Three days is enough to see the most famous tourist attraction, taste some Swedish food, enjoy a fika, and get the feel of the city.
If you have more days, you can see the city in a slower pace, you can also take a day trip to Uppsala, Fjäderholmarna, and Sigtuna.
🎬 To get an overall idea of where to stay in Stockholm, check out this short video:
Where to stay in Stockholm: Best areas to stay in Stockholm for tourist
1. Gamla Stan (Old Town), where to stay in Stockholm for first-timers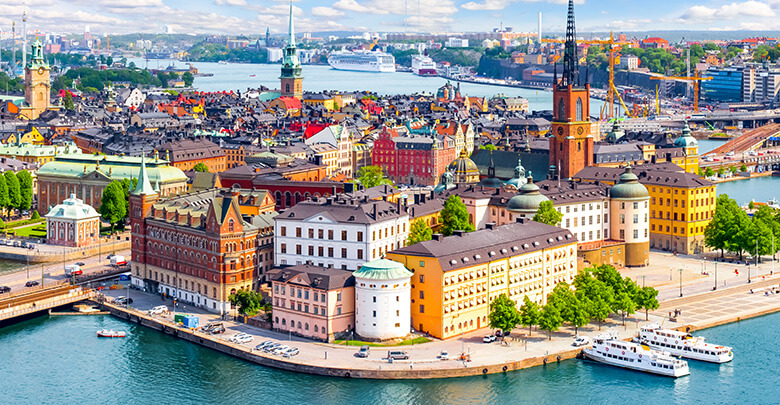 Located between Norrmalm and Södermalm on the Stadsholmen island, Gamla Stan is the historic heart of the city. Appropriately referred to as the Old Town, this is where to stay in Stockholm if you want to immerse yourself in traditional Swedish history and culture.
With its charming, cobbled streets and ancient buildings, Stockholm's Old Town is one of the best-preserved medieval districts in Europe. For all that it is one of Stockholm's smaller islands, you can spend hours exploring the narrow alleys that wind through the Gamla Stan neighborhood.
Whilst Gamla Stan has certainly retained its authentic air of history, it is also one of the most popular areas for tourists and the hospitality industry here reflects that. You will find plenty of restaurants and cafes catering to international tastes, along with traditional Swedish cuisine.
Gamla Stan is even more beautiful in winter, bedecked in a blanket of snow. If you are planning to visit for a festive vacation, then you will definitely want to check out the Christmas Market at Stortorget Square. Having been held here annually for over a hundred years, this is a slice of history in itself.
Whilst the Old Town as a whole is an attraction worth visiting just to take in the history and appreciate the lovely atmosphere, there are also plenty of specific sights to be seen here. You can spend days exploring the various museums and significant buildings in the area.
The Nobel Prize Museum overlooks Stortorget Square. Within the grand building, you can learn about the history of the prize, along with the various winners and what acts won them the prestigious award.
Just behind the Nobel Museum is the Storkyrkan, or Great Church. Built all the way back in the late 13th-century, Stockholm Cathedral (also known as the National Cathedral of Sweden) is a perfect example of the kind of impressive historic architecture to be found in the Old Town.
In addition to its grand structure, the church also houses various fascinating artifacts within its impressive, vaulted interior. Amongst the ancient furnishings and artworks, you will find various tombs, impressive statues, and the oldest known painting of Stockholm, the Vädersolstavlan.
Parts of nearby Riddarholmen Church were also built in the 13th century. Located to the west of Gamla Stan, Riddarholmen is now the resting place for the Swedish monarchy.
The magnificent, baroque Kungliga Slot (Royal Palace) is located north of Gamla Stan. Visitors can enjoy guided tours of the stately rooms, museums, and library, for a fee. Even if you can't work a look inside the Royal Palace into your budget, there is plenty to see here for free.
The building itself is beautiful and worth the visit if you are in the area. Check ahead for the schedule of when the changing of the guard will take place. You can also explore two of the museums, the Royal Armoury and Royal Coin Cabinet, for no fee.
On a tiny island squeezed between Gamla Stan and the mainland, close to the Royal Palace, is Parliament House, the seat of the Swedish government. It is a beautiful, grand building that takes up the entire west side of the island.
The east of the island, just across a pleasant park, is home to Stockholm Medieval Museum. If all the living history within the Old Town is not enough to sate your curiosity, this is an excellent place to visit to learn about Swedish history around the time the stunning buildings in the area were constructed.
Between the stunning historic surroundings and plentiful sights to visit, it is no wonder that the Old Town is one of the most popular areas of Stockholm for tourists. As such, it is also one of the busiest districts and the narrow streets can get quite crowded.
Gamla Stan is well-connected by ferries and by metro (Tunnelbana), you can easily travel to other parts of the city with public transport.
The high demand does, of course, drive up the prices of many of the hotels in the area. However, it also encourages a wide array of options to spring up, so you will have plenty to choose from, despite Gamla Stan being such a compact area.
Along with boutique hotels and chic apartments, there are also quite a few cheaper options. Budget travelers will be able to find some great value hostels tucked away down the charming alleys.
Stay In Gamla Stan (Old Town) If you're a first-time tourist; You want to stay right in the heart of Stockholm city; You want to stay in one of the most historic areas in Europe; You are visiting Stockholm for a shorter trip and for a weekend.
Best places to stay in Gamla Stan:
🔍MORE HOTELS IN GAMLA STAN
2. Östermalm, where to stay in Stockholm for luxury, food, nightlife, museums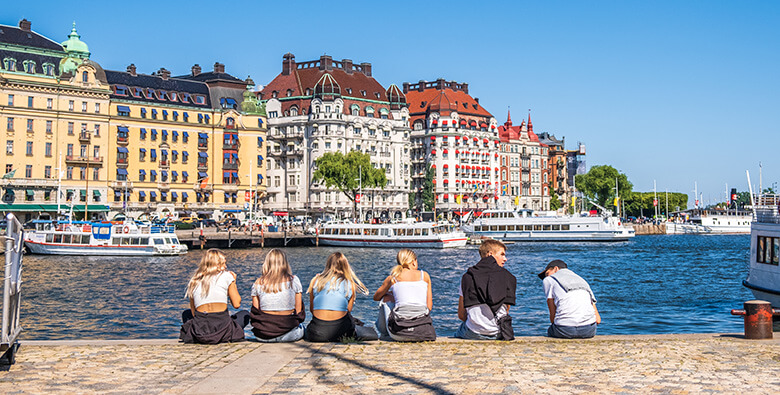 Located northeast of Gamla Stan, Exclusive and upmarket Östermalm is definitely not the neighborhood for anyone keeping to a tight budget. This is one of the most fashionable districts in the city, where the wealthy and famous spend their days, and their money.
The epitome of luxury, Östermalm is one of the top spots for shopping in Stockholm. The streets here are lined with high-end stores and designer boutiques. Ideal for any fashionista or shopaholic with the budget to indulge.
As well as shopping, Östermalm is a top choice for foodies. There are plenty of restaurants throughout the neighborhood, offering an array of cuisines. If you are looking for a high-class dining experience, this is where you should be heading come at dinner time.
For a more laid-back lunch, Östermalmshallen food market is a fantastic place to sample various traditional Swedish delicacies. Established in the 19th century, many of the original stalls remain, lending a historic atmosphere to the experience.
If you want to spend your evenings rubbing shoulders with celebrities and high-profile socialites, head to the Stureplan nightclub district after dark. This area is the most fashionable nightlife district in Stockholm.
The clubs here can be very exclusive, so be prepared for long queues and high prices. If you are visiting in winter, you might want to factor in the likelihood of waiting out in the Scandinavian cold for some time when you are planning what to wear.
Östermalm is more than just money and hedonism though. Close to the city center, there are plenty of museums and cultural sights to see. The Swedish History Museum covers everything from the Viking age to the early modern period. Displaying relics, art, jewelry, and furnishings from throughout the centuries, this is a great place to observe Sweden's development through the years.
A bit more out of the way, at the very northernmost tip of Östermalm, the Museum of Natural History is worth the effort to get to it. Appropriately situated in a sprawling, leafy park, the museum houses exhibits on everything from dinosaurs to geology and climate change.
With so much history to take in in Stockholm, the Museum of Technology is a refreshing alternative. Rather than ancient relics, here you can observe robots and machines and learn about how they have developed and progressed since their initial invention.
Another interesting museum is the Army Museum, where you can learn about the military history of Sweden from the Viking Age until the modern-day.
Östermalm also technically encompasses the region of Djurgården. That leafy little suburb has some of the most interesting museums in the city, so staying in Östermalm will ensure you are surrounded by plenty of things to do.
If you find yourself needing a break from all the museums, shops, and concrete buildings, there are plenty of parks in the neighborhood where you can relax in the fresh air. Most notable is the huge park in the north of Östermalm, boasting forests and lakes and the Natural History Museum.
That's perfect for when you really want to spread out, but it's a little out of the way. Pretty Humlegården is a bit more convenient to get to. Once one of the royal gardens, it is now home to the National Library of Sweden.
Alternatively, take a stroll along the waterfront Strand. The tree-lined avenue offers lovely views of the marinas and across to the Old Town.
Stay In Östermalm If You want to stay in one of the most fashionable areas in Stockholm; The idea of partying in the same clubs and bars as celebrities appeal to you; You love indulging in the best food the city has to offer;
Best places to stay in Stockholm in Östermalm:
🔍MORE HOTELS IN OSTERMALM
See more: 31 Best things to do in Stockholm, Sweden
3. Norrmalm, where to stay in Stockholm for shopping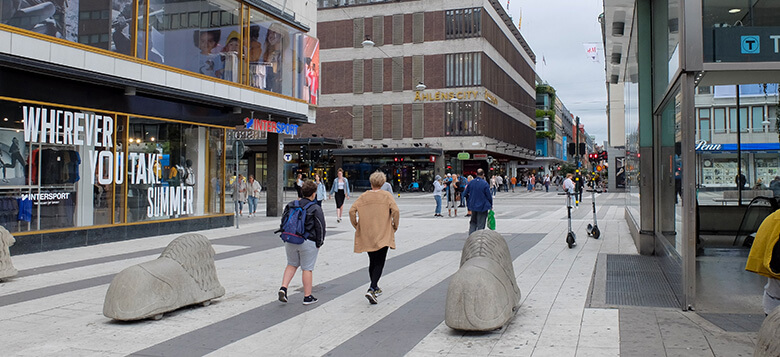 Östermalm's western neighbor and just north of Gamla Stan, Norrmalm is Stockholm's business and commercial district. If you prefer shining modern towers of steel and glass over historic stone cathedrals, this is the neighborhood for you.
The glistening Kristallvertikalaccent glass obelisk is an excellent example of how modernity defines Norrmalm. The thirty-eight-meter-tall column of glass and steel is best visited after dark when it glows with colorful lights.
It overlooks Kulturhuset, the cultural center that hosts frequent exhibitions and events. From art installations to debates, performing arts shows, and film screenings, there is always something going on at Kulturhuset.
Like Östermalm, Norrmalm is one of the top areas to go to if you love shopping.
Drottninggatan is the main shopping street in the area and one of the top shopping districts in the city. In the surrounding streets, you will find a mix of flagship chain stores, high-end designer brands, and exclusive boutiques. You will also find plenty of shopping centers and department stores.
The NK Department Store is the most famous in Stockholm and is often considered the most luxurious. NK boasts six floors of shopping and dining. Even the art nouveau building in which it is housed exudes grandeur. If you want a look at contemporary Swedish culture, this is a good place to find it.
The department store is packed with Swedish fashion, lifestyle, and homeware brands. The basement level houses a food hall where you can pick up traditional Swedish delicacies, or head to the restaurant and café on the top floor instead.
Shopping is not all Norrmalm has to offer though. Like the rest of Stockholm, there are various cultural and historical sights to take advantage of.
The National Museum of Sweden can be found in the southeast corner of Norrmalm. Surrounded by various palaces, it is the perfect setting to immerse yourself in the art, history, and culture of Sweden.
The Swedish Royal Opera House is located in the south of Norrmalm, right by the waterfront. It is a lovely, pink-walled structure, in the architectural style typical of Stockholm's grander buildings. The interior is even more ornate than the outside, so grab the opportunity to take a peek inside.
Right next to the Royal Opera house is the striking St Jacob's Church. The vibrantly red church is a stark contrast to the more muted tones of the surrounding buildings. You can appreciate the view of St Jacob's from within Kungsträdgården, which it overlooks.
Kungsträdgården is a leafy public park by the water, overlooking the Royal Palace. In addition to the frequent markets and various cafes around the park, throughout the year the park plays host to numerous festivals and events.
In the winter, you can join locals and tourists alike to skate on a bustling rink in the center of the park. In the spring, the park becomes the center of the city's Cherry Blossom Day festivities, as people flock to stroll and picnic beneath canopies of brilliant pink petals.
Whilst chic Norrmalm is not the cheapest of districts, it is not without its conveniences. Chiefly is its proximity to both the city center as well as Stockholm Central Station. If you are traveling into Stockholm by train and want to keep close to the station, Norrmalm is your best choice.
If you are hoping to stay in Norrmalm but don't have a luxury budget for accommodation, try looking in the northern end of the district, away from the city center. Here you will have a better chance of finding more affordable, mid-range options.
Stay In Norrmalm If you are traveling on business; You would prefer to stay in a chic, hypermodern neighborhood; Staying close to the main train station is ideal; Indulging in a high-end shopping spree is how you intend to spend your vacation
Best places to stay in Stockholm in Norrmalm:
🔍MORE HOTELS IN NORRMALM
4. Södermalm, hip and coool neighborhood to stay in Stockholm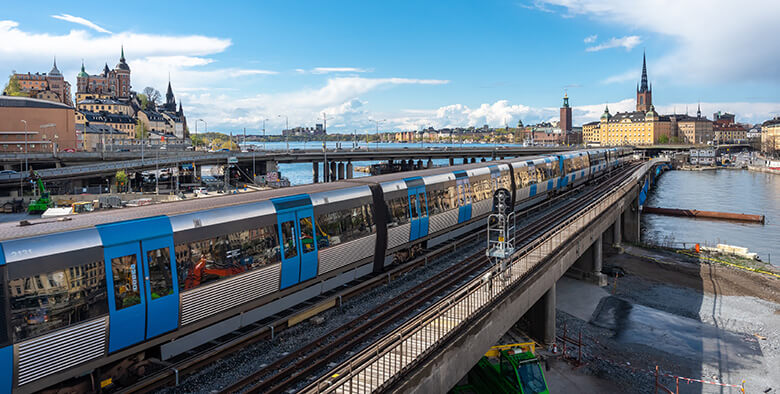 Immediately south of Gamla Stan is the trendy and hip neighborhood of Södermalm. Probably the coolest area of Stockholm, Södermalm is particularly popular with the city's younger population.
If you want to get to know the more modern Stockholm culture, then Södermalm is the perfect place to go. Södermalm is particularly popular with Stockholm's hipster crowd. There are plenty of cozy coffee shops to hole up in and vintage stores to browse for bargains.
One of the reasons that Södermalm is so popular with younger people is likely to do with its affordability. Even though it is just a short walk from the city center, everything from food to accommodation is much more reasonably priced here.
Södermalm is also where you can find the heart of Stockholm's LGBT community. With tons of gay bars and cafes, do not be surprised to see a lot of rainbow flags flying here.
Nightlife, in general, is pretty vibrant here, with plenty of restaurants, clubs, pubs, and bars to keep you entertained in the evenings.
Just south of Södermalm is the massive Avicii Arena, also known as the Ericsson Globe. One of Stockholm's principal events stadiums, the arena was renamed in honor of the late Swedish musician, Avicii.
Aside from being a popular venue for concerts and sports events, the Globe also offers some of the best views in the city. Visitors can take a trip in a gondola that rises more than 130 meters, traveling over the top of the domed arena.
There are also plenty of cultural attractions to enjoy here. Popular with the city's creative community, you can find lots of art galleries and intimate theatres.
Housed in a lovely 17th-century palace, right on the border between Södermalm and the Old Town, the City Museum offers a great opportunity to learn about Stockholm's history and development. Via various exhibitions of artifacts and photos from across the centuries, you can learn more about the city and its people.
Just a five-minute walk along the waterfront is Fotografiska, housed in a converted industrial building. Fotografiska is one of the best-respected photography galleries in the world. Hosting a rotation of four seasonal exhibitions each year, there is always something new to see here, even for repeat visitors.
The gallery is known for hosting the works of award-winning and ground-breaking photographers. If you are familiar with the world of photography, you are sure to recognize some of the artists represented here. Even the onsite restaurant here is award-winning.
Alternatively, if you want to spend some time in the open air, consider whiling away an afternoon in Tantolunden Park. Located in the west of Södermalm, Tantolunden Park offers winding trails, secluded beaches, and little cafes hidden amongst the trees.
Långholmen Island is also nearby which is a great spot for picnics and swimming. Here you will find a popular hostel, former of an old prison; Mälarvarvet, one of Stockholm's oldest shipyards, and a small Bellman museum with a café.
Södermalm hosts some affordable hostels, cozy apartments, and luxury boutique hotels. It is a great place to soak up the Stockholm local vibe.
Stay In Södermalm you want good nightlife; If you are looking for where to stay on a budget within walking distance of the city center; you want to stay in one of the trendiest neighborhoods in Stockholm; you are attending an event at the Ericsson Globe – Avicii Arena
Best places to stay in Södermalm:
🔍MORE HOTELS IN SODERMALM
5. Djurgården & Skeppsholmen, best area to stay in Stockholm for family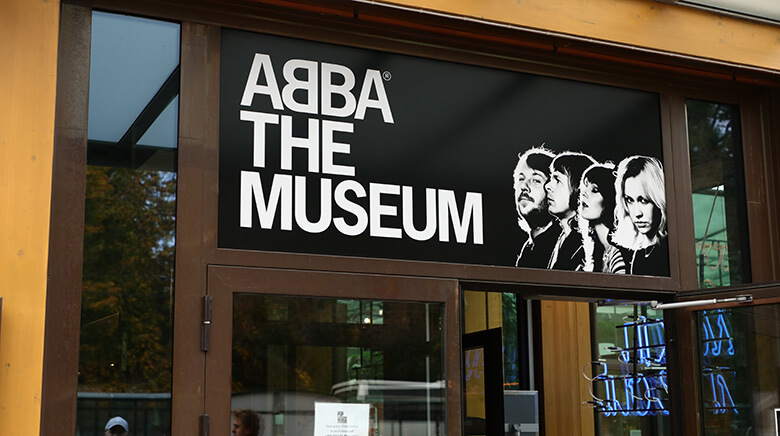 If you traveling to Stockholm as a family with children, Djurgården is your best bet. Plenty of fun museums, an amusement park, and activities for kids.
Djurgården boasts more of a country vibe, with sprawling parks and quaint, traditional houses and cottages. If you are looking for a quieter, more scenic area, without straying too far from central Stockholm, then this is the perfect location to consider.
As far as attractions, the area is absolutely packed with fascinating and varied museums. From art and history to toys, there is a museum for everyone in Djurgården.
One of the best, particularly if you are visiting in summer, is Skansen, the open-air museum.
The museum is a park filled with recreations of various traditional buildings from across Sweden. Actors and a small farm really bring it to life, so you can immerse yourself in the culture of Sweden through the ages.
If you are a fan of Sweden's best-known and beloved musical export, then you will want to stop by the ABBA Museum. With an array of interactive exhibits offering you the chance to sing, dance, and even dress like the iconic band, the ABBA Museum will be a hit for any pop fan.
Adult travelers might enjoy a visit to the Spirit Museum. Here you can learn about various Scandinavian alcoholic beverages. Distilled from a range of uniquely Nordic ingredients, there is sure to be something new for you to try. If you really love something you can pick up a bottle to take home.
For a broader look at the local culture, head to the nearby Nordic Museum. With exhibits of everything from traditional fashions throughout the ages to cultural events and festivals, there is tons to see here. Ideal if you want to learn about how Sweden and its neighbors have developed.
In the same vein of cultural history is The Viking Museum. With numerous genuine artifacts, brilliant replicas, and intricately recreated scenes, this is the perfect way to learn more about this significant aspect of Nordic history.
Just north along the waterfront is the Vasa Museum. The museum is dedicated to the rather unfortunate 17th-century warship, Vasa, which sank less than a mile into its maiden voyage. Despite having spent 333 years on the seafloor, the ship is remarkably well preserved.
Just outside of the Vasa museum are two more museum ships, these actually on the water and boardable. The ice-breaker Sankt Erik and the lightship Finngrundet, both built in the early 1900s, offer a more modern layer to Stockholm's maritime history.
Between its many parks, laid-back atmosphere, and numerous family-friendly attractions, Djurgården is the best area to stay in Stockholm for families. There are even plenty of attractions that will particularly appeal to children.
Foremost of these is Junibacken, the Children's Museum. Dedicated to children's literature, kids can play amongst replicas of fairy-tale houses and storybook scenes. Guests of all ages can appreciate the detailed installations and various statues to be spotted throughout the museum.
For a bit of a break from all the museums, you can enjoy a fun day out at Gröna Lund, Sweden's oldest theme park. With all the usual trappings of amusement parks, including rollercoasters and game booths, this is sure to be fun for the whole family. Some of the taller rides offer splendid views too.
Skeppsholmen is a small island right between Djurgården and Gamla Stan. Compact and leafy, this is a particularly delightful place to escape the crowds. Despite being little, there are several museums packed onto the island.
The Stockholm Toy Museum is another great one for the whole family. Children can gaze in awe at the largest collection of toys and comics in Scandinavia. Meanwhile, older visitors can revel in nostalgia, as they are sure to spot beloved toys and games from their youths.
The Moderna Museet art museum is a bit more geared towards adults. The gallery houses exhibitions of contemporary art and photography. There are tons of interesting pieces and installations amongst the various galleries and sculpture gardens.
An even tinier island to the south is home to the lovely red brick Kastellet. The Kastellet is set within the wooded Kastellparken park and viewing platforms offer lovely views across the water to Djurgården.
Djurgården has connections with the rest of the city by ferry and tram, but there is no metro station. the nearest metro in Östermalm, ten minutes away.
Stay In Djurgården & Skeppsholmen If you love browsing museums; you are traveling with children; you want to stay somewhere with a small-town atmosphere whilst keeping close to the center of town
Best places to stay in Stockholm in Djurgården:
🔍MORE HOTELS IN DJURGARDEN
6. Kungsholmen, for relaxation

Another more relaxed and quieter neighborhood is Kungsholmen. A primarily residential suburb to the northwest of central Stockholm, Kungsholmen is ideal if you want to experience living like a local.
You will still be within walking distance of the city center, without all of the tourist traps and crowds.
The main attraction in Kungsholmen is Stockholm City Hall. Right on the water's edge, the impressive red brick building towers over the waterfront.
As a functioning seat of governance, visitors can only explore within Stockholm's City Hall with a guided tour. It is well worth the fee though, as the interior is even more impressive than the façade.
From the accompanying City Hall Park, you can enjoy unobstructed views of Stockholm's Old Town across the water. You can also better take in the building's features, including the massive lantern that sits atop the hall's prominent tower.
If you are visiting in the warm summer months, you may want to spend an afternoon relaxing on one of the soft beaches. Made up of so many islands, there are of course quite a few beaches around Stockholm, but Kungsholmen boasts some of the best.
Little Smedsuddbadet is particularly lovely. The little beach is surrounded by a wooded park, creating a scenic barrier between it and the city. There are cafés and amenities within the park, so you can relax knowing you have everything you need within arm's reach.
Without the high demand of the more touristy districts, rates for accommodation in Kungsholmen are much more competitive. If you are looking for where to stay in Stockholm on a budget, this is one of the best neighborhoods to consider.
Just across the water from Stockholm Central Station, this is one of the top places to stay if you want to keep close to transport links. You can stay within a five-minute walk of the train station, without having to deal with the higher price point of upmarket Norrmalm.
Stay In Kungsholmen If You want to stay in a quieter area but still within walking distance of the city center; A more residential neighborhood where you can experience life like a local is ideal; You want to stay close to Stockholm Central Train Station;
Best places to stay in Kungsholmen:
🔍MORE HOTELS IN KUNGSHOLMEN
7. Vasastan, for local vibe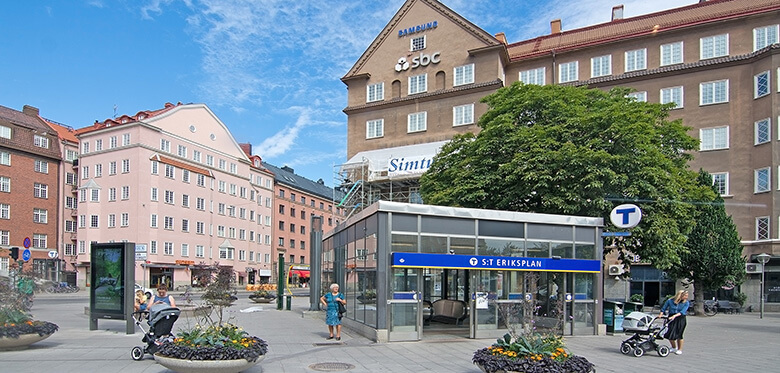 Vasastan (also known as Stone City) is a suburb in the northwest of Stockholm, a bit more removed from the city center. You won't need to worry about being bored if you stay here though. With its many lively bars, Vasastan is another excellent place to stay in Stockholm for local nightlife.
Vasastan is one of the best places to stay in Stockholm if you want vibrant but more relaxed nightlife. Rather than the bustling bars of the more central areas, Vasastan offers a more laid-back experience, where the locals go to kick back after sundown.
Boasting countless cozy cafes and bountiful vintage stores, Vasastan has a bit of what you might consider a hipster vibe. That said, it is more authentically charming than the gentrified hipster neighborhoods you may be familiar with.
Vasastan is particularly notable for its many art galleries. This is one of the best places to stay in Stockholm for those who love art and gazing at various paintings, sculptures, and masterpieces.
It is impossible to miss the shining brass exterior of the Sven-Harry Art museum. Whilst the museum boasts an impressive collection, the paintings are not the only things worth visiting the gallery to see.
In addition to the permanent and rotating exhibitions of paintings, there is also a roof terrace that houses a delightful sculpture garden. Make sure you head up to the very top of the Sven-Harry Art Museum to enjoy both the sculptures and the stunning panoramic view of Stockholm.
Just across Sabbatsberg Park is Bonniers Konsthall Contemporary Art Gallery. A relatively new museum, established in 2006, the Bonniers Konsthall Gallery is known for housing some of the most avant-garde pieces by Sweden's current generation of artists.
Meanwhile, if you prefer sculptures over paintings, Carl Eldh Studio, in the north end of the Vasastan district, is not to be missed. Carl Eldh was one of Sweden's most prolific sculptors during his lifetime and his former home and studio have been converted into an exhibition of his life and works.
Or perhaps you prefer the literary arts. In that case, you may want to enjoy a stroll or a picnic in Tegnérlunden Park. Along with pretty ponds and fountains, the park is also home to statues of notable Swedish writers, including the author of Pippi Longstocking, Astrid Lindgren.
If you want to take a break from the arts to appreciate something more scientific, then a visit to the Observatory will be a pleasant change of pace. Located in its own small park, the Observatory houses various astronomical instruments within its museum.
Being notably further out from the center of the city, accommodation in Vasastan is typically much more affordable. You will have plenty of budget-friendly, 3-star hotels and cozy B&Bs to choose from.
The only caveat is being further from the main tourist attractions. However, the public transport network can get you around the city in minutes, so it is only a small drawback.
Stay In Vasastan If you like local atmosphere; you don't mind not being right in the heart of the city; you love browsing art galleries; you want somewhere with a lively, but laid-back nightlife scene; you are looking for places to stay in Stockholm on a budget.
Best places to stay in Stockholm in Vasastan:
🔍MORE HOTELS IN VASASTAN
Where should I stay in Stockholm as a first time tourist?
Stockholm Old Town is the best area to stay in Stockholm for first-timers due to its prime location. If you stay here, you will be located in the middle of everything, within walking distance to major sights, as well as many restaurants, bars, and shops.
What are the best areas to stay in Stockholm?
Gamla Stan, Östermalm, Norrmalm, Södermalm, Djurgården & Skeppsholmen, and Kungsholmen are the best areas to stay in Stockholm for tourists because they are the most popular and safe neighborhoods that offer a wide variety of attractions and amenities.
Is 3 days enough for Stockholm?
Three days is enough time to get a taste of Stockholm and see the most popular attractions, but it may not be enough time to fully explore all that the city has to offer. If you want to delve deeper into the culture and history, you may want to consider extending your stay.
Is 2 nights in Stockholm enough?
Two nights in Stockholm may be enough to see some of the main attractions, but it may not be enough time to fully experience the city and all it has to offer. It is recommended to stay for at least three nights to have a more well-rounded and leisurely trip.
See more:
Overall, Stockholm Old Town is the best area to stay in Stockholm due to its super central location. If you stay here, you will be located in the middle of the action.
If you're planning to visit Stockholm, it's recommended to spend at least 3-4 days to fully explore the city's attractions and cultural offerings. This will give you enough time to experience the famous landmarks, museums, and historical sites, as well as the bustling nightlife and culinary scene.
With so many charming neighbourhoods to choose from, I have no doubt that you will have found a district of where to stay in Stockholm that appeals to you.