Where to stay in Copenhagen first time? for family, couple, on a budget? In this post, I will help you to find the best areas to stay in Copenhagen for first time visitors (include video and map), the best hotels in Copenhagen for all budget travelers, and the safest places.
The homeland of hygge, Denmark's capital and Scandinavia's largest city, Copenhagen is a cozy city that exudes comfort and charm year-round. Don't worry if you prefer a livelier vacation, there is plenty of world-class shopping and partying to be found here too.
The Danish capital may be small, but it is jam-packed with things to see and do. The city is divided into ten major districts with numerous sub-neighborhoods, each with its own distinct atmosphere and appeal.
Copenhagen is known as being the happiest city in the world, because of its shorter workdays, free university tuition, more holiday days. It is also one of the most expensive cities in the world, so you will want to budget accordingly.
Where to stay in Copenhagen first time?
The best areas to stay in Copenhagen for first-timers and tourists are Indre By/ Old Town, Vesterbro, Christianshavn, Osterbro, Nørrebro, Frederiksberg, Islands Brygge, and Amager East. These are the popular and safe neighborhoods, offering a variety of attractions and amenities.
In general, Indre By (Old Town) is the overall best area to stay in Copenhagen for first-timers due to its central location, easy access to public transportation and tourist attractions. Staying here allows you to be located within a short walk from major sights, restaurants, bars, and shops.
One important point to remember is that, despite being the largest city in Denmark, Copenhagen is still pretty small compared to other capital cities you may be familiar with. No matter where you wind up staying, you will be able to comfortably explore the whole city with ease.
To book hotel, I recommend spending at least three full days in Copenhagen if this is your first visit. This time will allow you to see the most famous tourist attractions and get the sense of the local culture and history. You can consider renting a bike to see places during your travel.
Map of areas and neighborhoods in Copenhagen:
Overviews of best areas to stay in Copenhagen for first-time tourists
Here is an overview of recommended areas in Copenhagen for first-time visitors:
| Best areas in Copenhagen for first-time tourists | Why should you stay in this area? |
| --- | --- |
| Indre By/ Old Town | Home to to iconic landmarks like Nyhavn, Christiansborg Palace, and the Round Tower. It has a charming atmosphere with picturesque streets, colorful buildings, many shops and restaurants. |
| Vesterbro | a former red-light district that has transformed into a hip neighborhood. It offers a mix of boutiques, cafes, bars, and nightclubs. The Meatpacking District is a popular spot for dining and nightlife. |
| Christianshavn | Located on a separate island, known for its canals, houseboats, and colorful buildings. It has a relaxed atmosphere and is home to Christiania, a unique self-governing area, charming streets, waterfront views, and good dining. |
| Osterbro | a residential area, known for its beautiful parks and upscale atmosphere. Østerbro offers a more laid-back and family-friendly vibe. You can explore the Fælledparken park, visit the Little Mermaid statue, or stroll along the lakes. |
| Nørrebro | A diverse and multicultural neighborhood that is known for its vibrant street life, trendy bars, and a wide range of international cuisines. It has a youthful and creative atmosphere, with many boutiques, cafes, and parks to explore. |
| Frederiksberg | an affluent and green area with spacious parks, charming streets, and the beautiful Frederiksberg Palace and Gardens. Frederiksberg also has a great selection of shops, restaurants, and cafes. |
| Islands Brygge | Located along the waterfront, a trendy and modern neighborhood with a mix of residential buildings, parks, and recreational areas. You can enjoy waterfront activities, visit the harbor bath, or relax in the green spaces. |
| Amager East | up-and-coming area has undergone significant development in recent years. It offers a mix of residential areas, cultural venues, and recreational spaces. You can explore the local art scene, visit the Copenhagen Contemporary art center, or enjoy the beach at Amager Strandpark. |
🎬 check out this short video about Copenhagen, or continue reading:
Best areas to stay in Copenhagen for first-time tourists are:
1. Indre By (Inner city)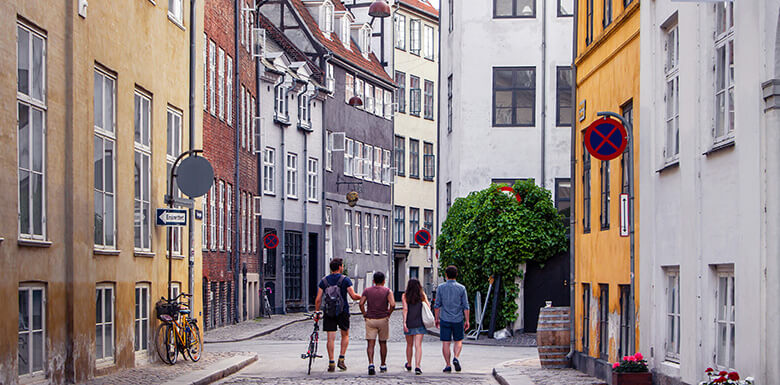 Indre By is the best overall area to stay in Copenhagen for first time tourists because it's the historic heart of the city where you will find most of the best attractions in the city, and a diverse range of quality restaurants, bars, and shops.
Indre By is also known as "inner city", or Copenhagen Old Town, which is the areas inside Sortedam Lake, Peblinge Lake, and Sankt Jørgens Lake.
Copenhagen Old Town is the city center and the oldest part of Copenhagen, dating back to the city's founding in the 12th century. As such, the area is steeped in history and culture going back through the ages.
As the medieval Heart of Copenhagen, Indre By has a wonderfully quaint and romantic atmosphere, despite being one of the busiest areas of the city.
Narrow cobblestone streets lined with historic buildings, palaces, squares, and museums make for a wonderful place to just enjoy a walk and take in the city's charm.
As Copenhagen's oldest area, there are tons of historic castles and palaces to be found in Indre By, including the:
Christiansborg Palace, now a government building but visitors are welcome to tour certain rooms and the grounds. You can go up to the top the palace's tower for free and enjoy views over the city.
Amalienborg Palace, the residence of the royal family of Denmark. The royal guards perform regular displays that are well worth the visit.
Rosenborg Castle, a 400-year-old Renaissance castle built by Christian IV, home to the Crown Jewels of Denmark. Guests can enjoy guided tours of the castle and grounds. The King's Garden is a beautiful place to enjoy a walk in the fresh air.
Speaking of Gardens, Rosenborg Castle is right next to the largest botanical garden in Denmark. With Østre Anlæg Park stretching to the north, this is the best area to stay if you want plenty of open space without leaving the inner city.
Indre By encompasses the lovely Nyhavn Port. The colorful houses that line the waterfront are an iconic view, making Nyhavn a must-visit for anyone passing through Copenhagen. From here you can also enjoy stunning views of Copenhagen Opera House across the water on Christianshavn island.
In the west of Copenhagen Indre By you can find Copenhagen City Hall overlooking City Hall Square. The town hall square is a popular venue for public events and open-air concerts and festivals.
Speaking about squares, the Old Town has an abundance of historic squares, which are popular meeting places, with lots of outdoor cafes, and restaurants to enjoy a meal and a drink.
In addition to the city hall square, there are the Hojbro Plads square (home to an equestrian statue of the city's founder); Gammel Strand square next to Slotsholmens Canal, Kongens Nytorv (The King's New Square), Amagertorv (Amager Square), and Gråbrødretorv square.
Just across the road from City Hall is one of the city's most popular attractions, Tivoli Gardens and theme park, built in 1843. Boasting an amusement park, as well as a restaurant aboard a pirate ship on the lake, this is a fantastic, family-friendly attraction.
In the evening, Tivoli Gardens are lit up by stunning illuminations. Even if you have visited during the day, it is definitely worth returning after dark, especially around Christmas with more than 1000 Christmas trees and a bustling market.
Tivoli Gardens are right next to Copenhagen Central Station. Serviced by both local metro and national rail lines, this is the biggest railway hub in Denmark and one of the best places to stay if you want to stay in Copenhagen near the train station.
If you love art, the National Gallery of Denmark (Statens Museum for Kunst) is a must-see place where you can find Danish and international art from the past seven centuries.
There are also many museums for history buffs to explore such as the Danish Jewish Museum, Museum of Copenhagen, Guinness World Records Mueum, Freedom Museum, Københavns Museum, Ny Carlsberg Glyptotek, Thorvaldsen Museum, Design Museum Danmark, Medical Museum, and War Museum.
In addition to the Christiansborg Palace's tower (Copenhagen's higest point), you can have great view of the city at the Rundetårnet (the Round Tower), which is an iconic 17th-century tower.
If you find yourself tiring of all the sightseeing, you can relax with some retail therapy at Copenhagen's shopping streets, inlcuding:
Købmagergade, the city's major pedestrian shopping street, connecting Strøget and Nørreport station, Denmark's busiest transport hub.
Strøget, a bustling pedestrian street is lined with high-end brands, and design stores you might only find in Denmark including the flagship store, HAY House, and ILLUM department store.
Copenhagen is a wonderland for foodies, with numerous Michelin-starred restaurants throughout the city. Indre By is no exception, with tons of world-class bars and restaurants to be enjoyed in the neighborhood.
You can head to the outskirts of Indre By to visit Reffen street food market for food from all over the world and for live music. Or grab a meal at cafes and bars alongside Frederiksholms Kanal or Christianshavns Kanal and watching the boats go by.
If you like to spend your time hitting the nightclubs once the sun goes down, you will want to look at the area near University of Copenhagen. Particularly around Gammeltorv, you will find tons of clubs to keep you busy. Alternatively, head towards Ørstedsparken if you are looking for LGBT-friendly nightlife. There are loads of gay bars and clubs in this area.
Indre By is lovely but very touristy. If you are looking to experience typical Danish life and live like a local, this is not the best area for that. However, you have a great choice of some of the best hotels in Copenhagen in Indre By.
There is a wide variety of accommodations available. There are lots of luxury hotels but also plenty of more budget-friendly options as well.
Stay In Indre By (Inner City) If you are visiting Copenhagen for the first time or a shorter trip and want to stay right in Copenhagen city center with Sightseeing; You love history and want to stay in the oldest part of Copenhagen; You want to stay close to the main train station.
Best places to stay in Copenhegen in Indre By for first-timers:
MORE HOTELS IN COPENHAGEN CITY CENTER
Read More: 22 Best things to do in Copenhagen, Denmark
2. Vesterbro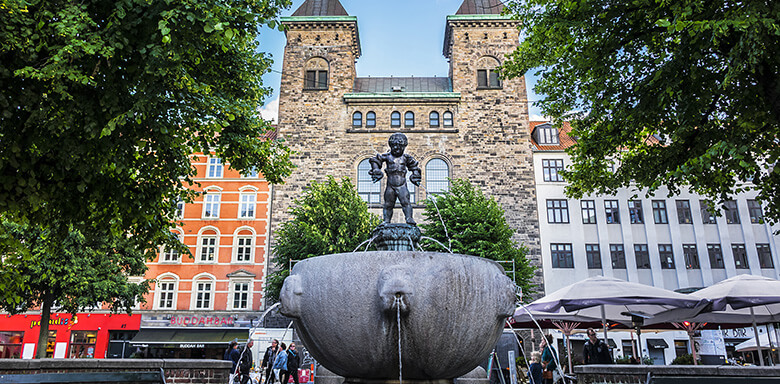 Vesterbro is a former red-light district, located on the other side of the train tracks from Indre By. It is the heart of Copenhagen's nightlife scene and the absolute best place to stay if you prioritize having plenty to do after dark.
Historically, Vesterbro was one of Copenhagen's poorest and most industrial neighborhoods. Home to the city's Red-Light District, the area has an edgy history that influences the colorful community today.
Vesterbro is where you will find many of Copenhagen's coolest bars and trendiest nightlife hotspots. For a little more cultured drinking session, head to the Carlsberg Brewery, where you can enjoy tours and tastings of the well-known beer. The Sankt Jørgens Sø, the southernmost of The Lakes, is also good place for local Copenhageners gathering and enjoy a beer.
Once full of factories and warehouses, Vesterbro is also home to the Kødbyen (The Meatpacking District). Like many areas of Vesterbro, the Meatpacking District has been elevated from its utilitarian roots and is now one of the best places in Copenhagen for foodies to explore.
From Michelin-starred restaurants to bustling street food markets, Vesterbro is the place to go to tantalize your tastebuds. Whether you are looking to sample the best of traditional Danish cuisine or are looking to enjoy the Danish take on dishes from around the world, the meatpacking district has something to satisfy every palate.
Like many once dodgy neighborhoods, Vesterbro is now popular with the city's hipster crowd. You can find plenty of trendy restaurants and cafes, hip music venues, and vintage shops along the busy streets.
It is also a popular area for Copenhagen's artist community. There are lots of small artist's studios and galleries dotted throughout the neighborhood.
If you stay in the east of Vesterbro, you will be within walking distance of many top attractions, including Tivoli Gardens theme park. With how lovely Tivoli Gardens are at night, they make a perfect accompaniment to the evening entertainments found in Vesterbro.
Vesterbro is also home to many other green spaces and parks:
Vestre Kirkegård for example, is not only Copenhagen's main burial ground, but also a public park for relaxing, walking, cycling, and running.
Skydebanehaven, small and peaceful park with a children playground.
Sønder Boulevard, a grassy strip with lots of the patios of cafes and restaurants.
If you want to watch a famous musical or play, head to the Det Ny Teater, a beautiful theater in Northern Europe, as well as Les Misérables, and Phantom of the Opera.
For a shopping experience, check out the old cattle market, Øksnehallen; Vesterbro's main shopping street, Istedgade, which is filled with stylish shops and cafés; and the Værnedamsvej (Little Paris), which is a shopping street with Paris atmosphere with French cafés, coffee bars, and wine bars.
As Copenhagen Central Station is located at the east end of Vesterbro, this is one of the best areas to stay if you are traveling into the city by train. Staying close to the central station means less time wasted traveling between the train and your hotel, and more time exploring the city.
Whilst the area has risen from its rough reputation of decades past, the fact that sex work is legal in Denmark means you may still stumble across the thriving remnants of the red-light district. Whilst it is perfectly safe, you might want to reconsider staying here with kids.
It is, however, ideal for budget travelers looking for cheap hotels in a bustling inner-city neighborhood. Full of budget-friendly hotels, apartments, and hostels, this is one of the best places to look for affordable accommodation in the city center.
Stay In Vesterbro If Vibrant nightlife is a priority; You want to stay right in Copenhagen city center; You want to stay close to the Central Train Station; You are looking for the best areas to stay in Copenhagen on a budget.
Best places to stay in Vesterbro for first-time visitors:
MORE HOTELS IN COPENHAGEN VESTERBRO
3. Christianshavn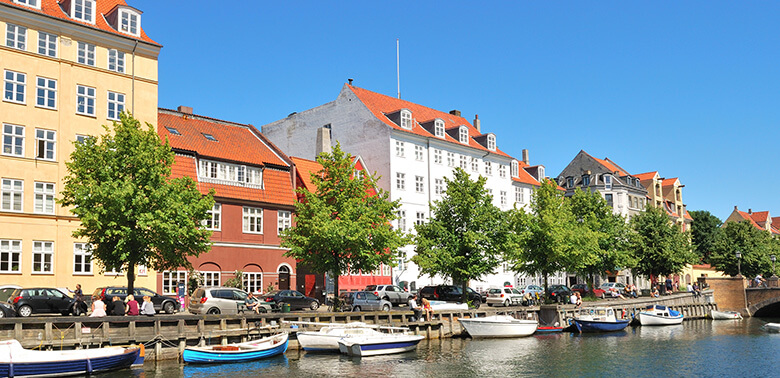 Christianshavn is a beautiful neighborhood just across the river from Indre By. Located on an archipelago of man-made islands built in the 17th-century, this is an incredibly unique location to spend your trip.
Quieter and more laid back than nearby Indre By, Christianshavn has more of a local, residential atmosphere. With the city center, a short walk away across Knippel Bridge (Knippelsbro), you can enjoy the benefits of a more relaxed neighborhood whilst still being right at the heart of the city.
If you are planning a romantic vacation, or even a honeymoon, in Copenhagen, then this is the best place to stay. Full of winding attractive canals lined with colorful houses, this is the Danish answer to Venice. Enjoy a romantic boat ride around the canals and take in the beautiful views across the water.
A lot of the area is car-free, so there is plenty of opportunity for romantic walks along the cobbled streets. Meanwhile, the area is known for its numerous cozy cafes and intimate restaurants.
Across the main river, you can take in stunning views of Nyhavn. The unobstructed distance allows you to take in the vibrant Nyhavn waterfront even better than if you were in Nyhavn itself.
Speaking of views, if you want to enjoy some of the most exceptional views of the city, you should definitely visit the Church of Our Saviour. The stunning 17th-century church is identifiable by its towering maroon and gold spire.
The spire is constructed in a spiral with an external walkway leading all the way to the top. Each year, more than 60,000 people climb to the top of the church. As long as you do not have a fear of heights, you can climb the spire for exquisite panoramic views across the whole city.
The east side of Christianshavn is known as Freetown Christiania (Christiania). Previously an abandoned military base, the area was taken over by the local hippy population in the seventies and has been something of an autonomous commune ever since.
Markets and small shops within Freetown Christiania are the perfect place to pick up some unique and quirky souvenirs. Pusher Street, once renowned for its open cannabis trade, is now the best place to find stalls selling local hippy merchandise, craft goods, and jewelry.
Any vegans and vegetarians visiting Copenhagen will want to stop by Christiania to enjoy the plethora of meat-free restaurants, cafes, and street food stalls in the neighborhood. In the summer it is lovely to sit outside on the street side dining terraces beneath a colorful sunshade.
Christiania's other draw is its music scene. There are numerous bars and venues where you can enjoy live music from local bands and artists. The Opera House is a modern feature in this area.
Christiania is home Wilders Square and Christianshavns Square. In the Wilders Square, you will find two story timber framed house which was former a sail maker's workshop, built in 1736. meanwhile, Christianshavns Square is the main square of Christianshavn home to a metro station.
There are also numerous of cultural and historical attractions including the Dutch baroque style church of Vor Frelsers, the rococo styled Christians Church, as well as B&W Museum, and the War Museum, where you can learn history of Danish Navy all the way back to 1650.
If you want to stay in a more laid-back neighborhood but still within walking distance of the city center, Christianshavn has few hotels and guest houses to book accommodation.
Stay In Christianshavn If you want to stay in the coolest area in Copenhagen; you want to enjoy some of the best views of colorful Nyhavn; you want to enjoy some of Copenhagen's best vegetarian and vegan food.
Best places to stay in Copenhagen in Christianshavn for first-timers:
MORE HOTELS IN CHRISTIANSHAVN
4. Osterbro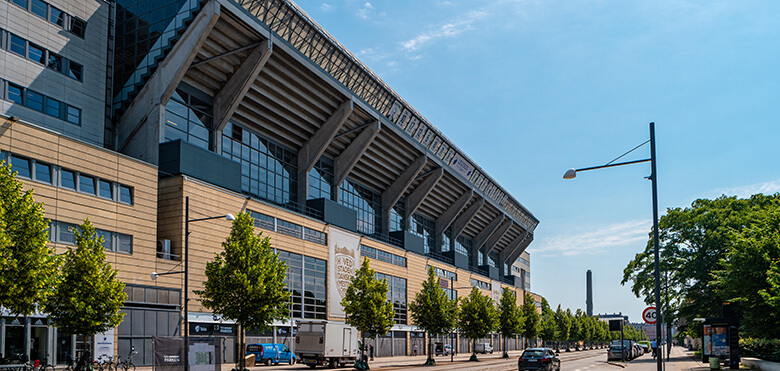 Osterbro is a large, residential affluent neighborhood to the north of Copenhagen. If you are looking for a laid-back, quieter suburb within walking distance from the city center, this is one of the best places to stay in Copenhagen.
Being less of a tourist neighborhood, the streets here are lined with cozy restaurants and cafes catering to the local population. With lots of small independent stores and weekend flea markets, if you want to experience everyday life like a local Dane, this is your best bet.
Osterbro is located close to the city center, but much less crowded, and with plenty of family-friendly attractions. Kids can run off some energy on Denmark's largest public park, Faelledparken with plenty outdoor activities, and home to the National Stadium of Denmark called Telia Parken.
There are green spaces for children such as the Vandlegepladsen splash park, as well as the Østre Anlæg Park, and The Children's Traffic Playground.
In addition to Osterbroo's open spaces, is the Copenhagen Lakes that include three lakes, Sortedam, Peblinge and St. Jørgen. The lake's promenade is popular place for walking and cycling.
One of Denmark's best-known authors, and writer of The Little Mermaid, Hans Christian Anderson is honored throughout the city. Along the waterfront, you can find the famous Little Mermaid statue. Posed on a rock out in the water, the bronze statue is one of the sweetest attractions in Copenhagen.
The statue is right next to the Kastellet, a star-shaped Citadel surrounded by moats and parkland. Just a five-minute walk from the Nyhavn waterfront, you can enjoy all of these riverside attractions in a relaxed afternoon.
If you are interest in modern Danish and international art, you can visit the Den Frie Centre of Contemporary Art opposite Østerport station. It was built in 1898 by artists which were motivated by what they perceived to be censorship of art at the Charlottenborg and Copenhagen.
Hitory lovers can take a look at the Brumleby Museum, The Hirschsprung Collection (in Ostre Anlaeg park), the Zoologisk Museum, and the Enigma – Museum of Communication.
Another not to miss place in summer months is visiting Svanemølle Beach. Here you will find 4,000 sqm. sandy beach, with a pie, and lifeguards. It's a good place for swimming and sunbathing.
If you visit in between May and September, you can join the Sunday Østerbro flea market at Svanemøllehallen near Svanemølle train station. It is located between Østerbro and Hellerup, you can easily reach by train and bus.
You will also find a wide variety of shops and stores in the neighborhoods on the streets around The Lakes, and along Østerbrogade, which is Osterbro's main street.
Most of the hotels here fall into the mid-range price bracket, with a few more high-end options. If you want somewhere with seafront views, Osterbro has some of the best hotels, apartments, airbnb, and hostels for you to choose from.
Stay In Osterbro If you travel as e family; you want a quieter, suburban neighborhood within a short walk of the city center; you are planning a family vacation; you want to experience life like a local; you want a room with sea views.
Best places to stay in Copenhagen in Osterbro for first-time visitors:
MORE HOTELS IN OSTERBRO
5. Nørrebro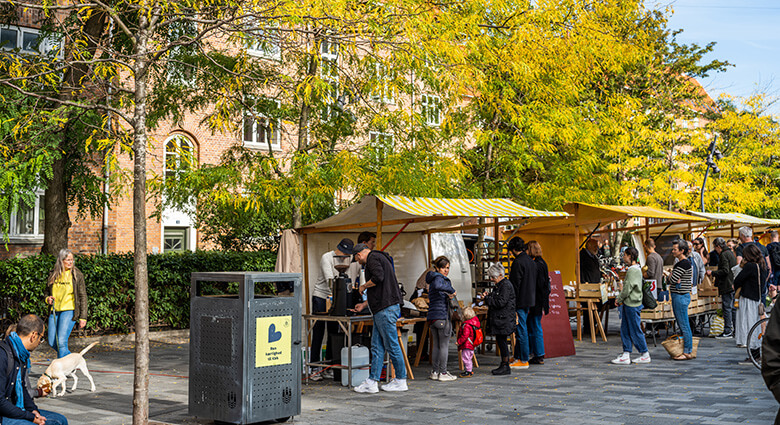 Nørrebro is a good place to stay in Copenhagen on a budget. Just across the Lakes from Indre By, Nørrebro is a super central location but just far enough outside of the main tourist area to be more affordable. It is a lively, multicultural neighborhood, and one of the trendiest areas of Copenhagen.
Nørrebro is a favorite of Copenhagen's student population. As such, you can find tons of hip bars and cafes catering to the younger crowd that frequent the area.
As one of the most diverse neighborhoods in Copenhagen, Nørrebro is the best area to stay if you want to be surrounded by incredible restaurants and bars offering cuisines from Denmark, the Middle East, Japanese, around the world.
If you stroll along Jægersborggade Street, you will find full of nitrogen-frozen ice cream shops, cafés and restaurants including Coffee Collective, porridge cafe Grød, and Michelin-starred Relæ. You can aslo shop for Danish design trainers on Elmegade.
The city center is just a five-minute walk away from Dronning Louises Bro, or Queen Louise's Bridge. The Bridge is an attraction in itself, a popular gathering place where you can enjoy the entertainment of street performers and musicians.
In summer you can hire a swan boat and head out onto the lakes themselves. Copenhagen lakes is popular spot for everyday life, filled with joggers, walkers and families. The Lakes is full of people in summer enjoy the beer and music.
For an alternative sightseeing trip, head to the Assistens Cemetery (Assistens Kirkegård). In addition to being the resting place of notable Danes including Hans Christian Andersen, there are also numerous unique grave markers here. It may seem a little morbid, but it is a fascinating and peaceful reprieve from the crowded city.
Nørrebro is also home to a beautiful square called Superkilen, that decorated with objects from 50 countries, shows Nørrebro's ethnic diversity and cultural background. There are modern Danish-design style, Moroccan tiled fountain, Japanese slide, Spanish bull, and Thai boxing ring.
If you are intereted in the history of Danish police and the famous criminals in the country, I recommend to check out the Politimuseet – Danish Police Museum.
Nørrebro has a wide choice in accommodation. You can easy to find all kind of budget options in this neighborhood ranging from budget to luxury.
Stay In Nørrebro If you're traveling on a budget; You want to stay in one of the trendiest areas of Copenhagen;
Best places to stay in Copenhagen in Nørrebro for first-timers:
MORE HOTELS IN NORREBRO
6. Frederiksberg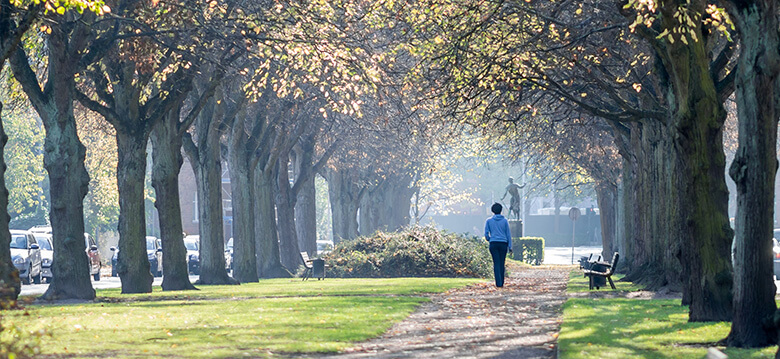 One of the most affluent areas of the city, Frederiksberg has a distinct upmarket village atmosphere. Whilst not too far from the city center, it is just removed enough that the neighborhood is much less crowded, with a more refined, residential vibe.
Frederiksberg has a charming, historic feel. Its cobbled streets are lined with chic cafes and expensive shopping centers, where the well-to-do relax in style. Frederiksberg is a good area to enjoy high-end shopping.
A good place to shop is the large shopping mall, Frederiksberg Centret, on Falkoner Allé, right next to Frederiksberg metro station. For more shopping, head to the tree-lined avenue of Frederiksberg Allé and Gammel Kongevej with plenty of exclusive shops.
Just a ten-minute walk from the city center, you can easily explore all the main attractions of Copenhagen from Frederiksberg. However, if you would rather keep closer to home, there is plenty to see in the neighborhood itself.
For a fantastic day out for the whole family head to Frederiksberg park. Amongst the lovely, English-style gardens you can discover lakes, cafes, numerous monuments, and , and curious structures. You will find:
the Frederiksberg Palace. Once a royal residence, visitors can take guided tours of the baroque palace and grounds.
the Copenhagen Zoo, one of the oldest zoos in the world, home to more than 4,000 animals. From hippos to polar bears, you can observe numerous exotic species from a wide variety of habitats.
Bakkehus Museum, to learn about the Danish Golden Age.
Cisterns in Søndermarken.
Being more of a residential neighborhood, there are fewer accommodation options to choose from here. However, as one of the fanciest areas in the city, what you can find are some of the best hotels in Copenhagen.
Stay In Frederiksberg If you want to stay in a quaint, upmarket neighborhood with a community atmosphere; you don't mind being a little removed from the city center; you prefer somewhere a little quieter than the crowded tourist districts.
Best places to stay in Copenhagen in Frederiksberg:
MORE HOTELS IN FREDERIKSBERG
7. Islands Brygge (Islands Pier)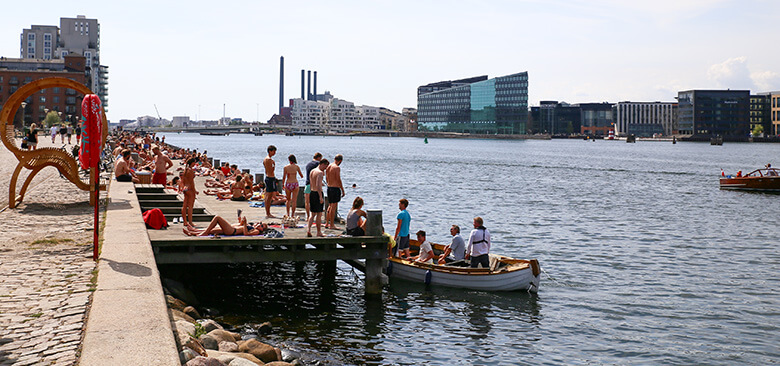 Islands Brygge is a small waterfront neighborhood that streches from Langebro Bridge to the Bryggebroen Bridge. Just a ten-minute walk from the sights and attractions of the city center, Islands Brygge is a quieter alternative to the busy city center tourist hubs.
One of the most popular draws to the area is the sea baths. A section of the river at the north of Islands Brygge has been sectioned off to allow for people to swim safely. It's particularly popular in the summer, but even in the frigid Scandinavian winters, you will still see some brave Danes taking a refreshing dip.
Along the riverside, there are numerous public parks to relax by the water. Meanwhile, the massive Monke-Ringen nature reserve stretches to the south. If you are looking for somewhere with plenty of open space to get out in the fresh air, this is a fantastic place to stay.
Apart from the waterfront, Islands Brygge is home to Kulturhuset Islands Brygge, the Islands Brygge cultural centre, that hosts many program and comedy. It has a cafe with sea views and communal picnic tables outside.
If you are traveling with children, Island's Brygge is a good option. There's plenty of space for kids to get out in the fresh air and burn off some energy. Meanwhile, it's within comfortable walking distance of the major attractions, even for little legs.
There isn't much hotels in Islands Brygge but you will able to find good 4-star hotels and guest houses with all amenities that you will need for your holiday such as an on-site restaurant, outdoor swimming pool, a fitness centre and bar.
Stay In Islands Brygge (Islands Pier) If you want to stay in a quiet, understated area close to the city center; you want to have easy access to plenty of open-air and green space; you are traveling with children; you would consider taking a plunge into the Baltic Sea.
Best places to stay in Islands Brygge for first-time travelers:
MORE HOTELS IN ISLAND'S BRYGGE
8. Amager East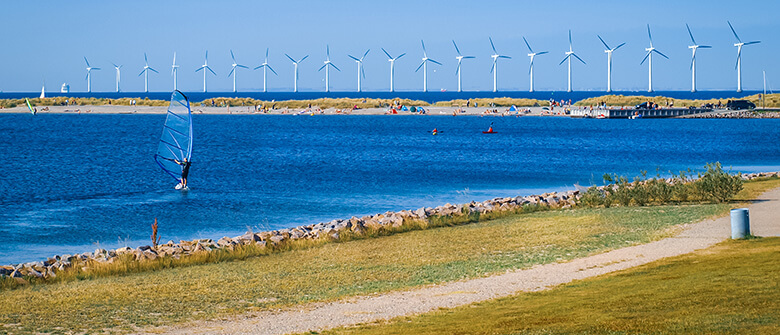 Amager East is a residential suburb, stretching along the coast between Christianshavn and Copenhagen Airport. Removed from the bustling city center, this is a much more residential area, with less of the touristy atmosphere you get from the inner-city districts.
One of the greatest draws to the area is the access to the sea. The neighborhood is especially lively in the summer, due to its long sandy beaches. As well as relaxing on the sand or going for a swim, you can also indulge in various water sports. Windsurfing is particularly popular here.
Amager East is also home to Den Blå Planet (The Blue Planet), the largest aquarium in northern Europe. The building itself is unmistakable, a sweeping, ultra-modern structure right on the water's edge. Within you can find numerous aquatic species and exhibits, including a shark tunnel.
Other places of interest in Amager East is the Amager Beach Park, Kastrup Sea Bath, and Copenhagen Cable Park.
Even though Amager East is further out from the main tourist districts, the metro system provides quick access to the city center. If you do want to go sightseeing whilst you are here, you can hop on the train and be surrounded by the major attractions within minutes.
The south end of Amager East borders Copenhagen International Airport. This makes it is the best place to stay for those passing through Copenhagen on layovers. With the easy connections to the city center, you will still have the opportunity to explore the city without worrying about missing a flight.
Stay In Amager East If You want to take advantage of the beaches and watersports; You want to stay close to the airport; You don't mind being a bit removed from the city center; Sightseeing is not your top priority.
Best places to stay in Copenhagen in Amager East:
MORE HOTELS IN AMAGER EAST
9. Copenhagen Airport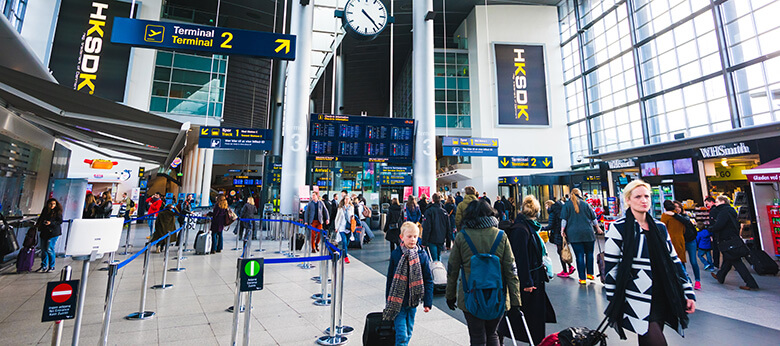 Copenhagen Airport (Copenhagen Airport Kastrup) is the biggest and busiest airport in Scandinavia, Nordic countries. If you are passing through Copenhagen on a layover and do not want to stray too far from the airport, then there are plenty of hotels to choose from in the area immediately surrounding Copenhagen International Airport.
The airport isn't terribly far from the inner city, only 8 km away. A taxi or bus ride will have you in the city center within half an hour. The metro would be even faster and stops at Kongens Nytorv, Nørreport, Frederiksberg and Vanløse. Trains from Copenhagen Central Station and the airport departs every ten minutes.
If you don't want the hassle of getting into the city center and would prefer to stay near the airport, there are things in the immediate area to keep you entertained. The town of Dragør to the south boasts several museums and charming waterfront Dragør Fort.
Alternatively, spend your time wandering the lovely seaside parks. There are various waterside cafes and restaurants for you to enjoy dinner with a sea view rather than dining at your hotel.
No matter your price range, you are sure to find something to suit your preferences in the area. Hotels within the airport grounds are typically more expensive, charging for their convenience. There are plenty of budget-friendly hotels within a five-minute taxi or shuttle ride of the terminals though.
Stay In Copenhagen International Airport If you are only passing through Copenhagen on a layover between flights; you have an early morning flight and don't want a mad rush to the airport before dawn; you don't mind being removed from the city centre.
Best places to stay near Copenhagen International Airport:
MORE HOTELS NEAR AIRPORT
Where should I stay in Copenhagen as a first time tourist?
Indre By is the best area to stay in Copenhagen for first-timers due to its close proximity to famous tourist attractions. If you stay here, you will be located in the middle of everything, within walking distance to major sights, as well as many restaurants, bars, and shops.
What are the best areas to stay in Copenhagen?
Indre By, Vesterbro, Nyhavn, Nørrebro, Østerbro, Christianshavn are the best areas to stay in Copenhagen for tourists because they are the most popular and safe neighborhoods that offer a wide variety of attractions and amenities.
How many days is sufficient in Copenhagen?
Copenhagen can easily be explored in just a few days, with a minimum of 3 days being sufficient to see the city's main attractions. To make the best of your 3 days, it is best to stay in the Old Town area.
See more:
Summary – where to stay in Copenhagen?
In conclusion, Old Town, Vesterbro, Christianshavn, Osterbro, Nørrebro, Frederiksberg, Islands Brygge, and Amager East are the best places to stay in Copenhagen for tourists and first-time travelers. They offer central safe locations with easy access to major sights, and a wide selection of hotels for all budgets.
Indre By/Old Town suits history enthusiasts, Vesterbro appeals to the trendy crowd, Christianshavn is ideal for waterfront lovers, and Østerbro offers a family-friendly atmosphere.
Nørrebro caters to the artistic and multicultural, Frederiksberg provides a peaceful retreat, Islands Brygge is perfect for outdoor enthusiasts, and Amager East offers a mix of urban and beach vibes.
Overall, Indre By is the best place in Copenhagen for first-timers due to its prime location and plenty of tourist amenities options that suit all budgets. With its good public transport, you can also easily visit other parts of the city.